Are you wondering where you should go on a vacation this upcoming October?
Greece is a country that's on everyone's bucket list, with thousands of islands waiting to be explored. You've got the likes of romantic Santorini, the less visited Folegandros, and the party paradise of Mykonos, and that's only scratching the surface.
Yes, the Greek mainland is truly beautiful, from the historical city of Athens to the gorgeous outdoorsy area around Mount Olympus, but we all need a bit of island life every once in a while. You're probably wondering which Greek island is best to visit in October. Well, it depends on what you're after.
Do you want a quiet escape, family time, or a crazy girls' weekend away? Well, you've come to the right place because we'll give you the answers you're looking for.
We've compiled a list of the top Greek islands to spend your holidays in October, so you can start planning.
Let's get started.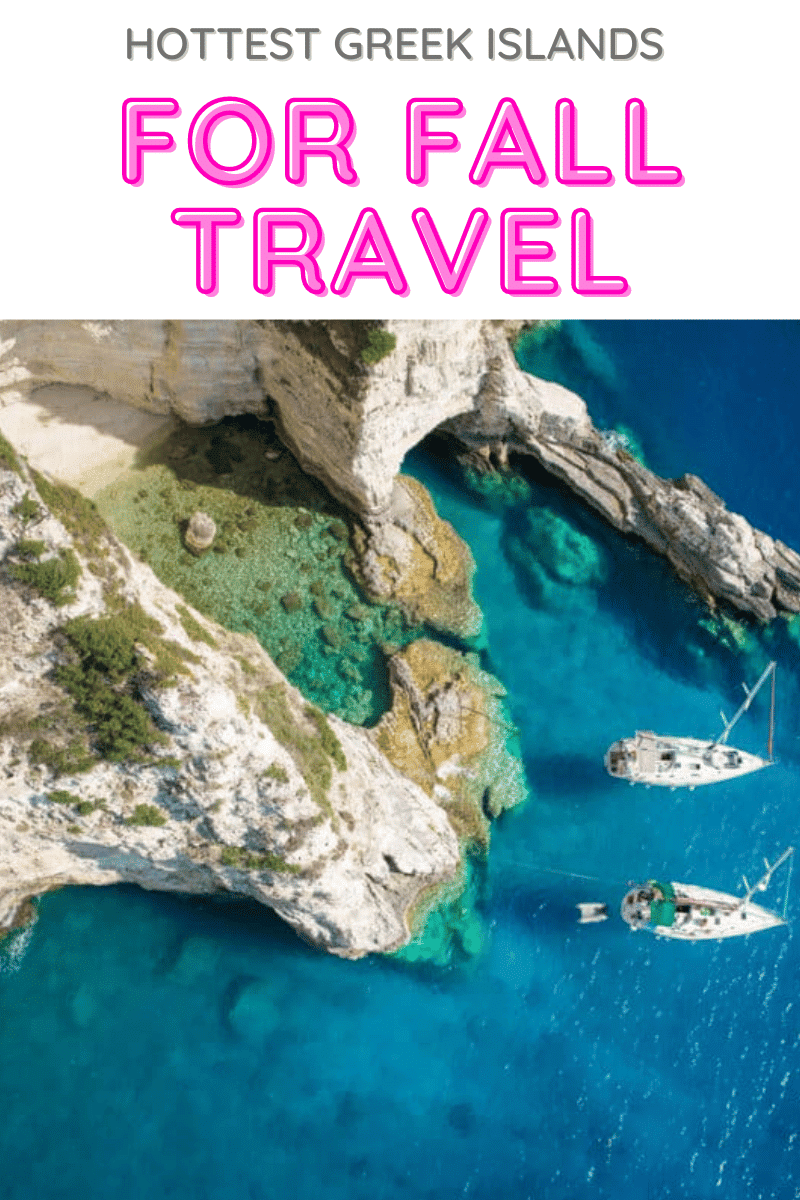 What's The Weather Like On The Greek Islands In October
Before choosing what Greek island to have a cheap holiday in October, you need to find somewhere hot with favorable weather.
By and large, the weather in the vast majority of the Greek islands is excellent in October, but it slowly becomes more unpredictable as the month goes on, so you should consider planning your trip at the beginning of the month. Average daily temperatures usually range between 20°C and 25°C, and in the evenings, it will be a little chillier, so be sure to bring a jumper.
Crete is the warmest of the Greek islands in October because of its geographical location in the South Aegean Sea, close to North Africa. While the heat isn't as insufferable as it is during the summer months, it's still a bit intense, mainly if you're not used to mid-20s temperatures.
Maybe you've already been to Crete before and are still trying to determine where else it is hot in October in Greece. Other islands like Kos, Rhodes, Paxos, and Santorini are excellent alternatives that get their fair share of sunny days throughout the month.
If you're after a cooler escape, islands in the Ionian Sea, like Corfu, experience lower temperatures in October, with daily average temperatures of 20°C.
Warm Greek Islands Map
Corfu
Corfu has always been popular for a short break to Greece in October. Situated in the Ionian Sea off the west coast of the Greek mainland and Southern Albania, this tropical paradise is gifted with an endless picturesque coastline, plenty of exciting tourist attractions like the Church of Saint Spyridon, and a fascinating history that you can discover in the Corfu Archaeological Museum.
Getting to Corfu isn't as tricky as some of the other islands as it has its own international airport connected with multiple daily flight routes that operate daily. Alternatively, you can take a ferry from the mainland port of Igoumenitsa, which only takes a little over an hour.
There's something for everyone in Corfu. If you're a small family looking to take a day trip somewhere, you'll love the tour that runs from Corfu Town daily to the Butrint National Park in Albania, where you'll see the remains of ancient Greek and Roman ruins. For those who aren't up for much sightseeing and want to party, the tiny village of Kavos is infamous for its world-class nightclubs and beach bars.
TRAVEL COMPANIES WE USE AND TRUST
Santorini
Many people spend their holidays in Greece in October on the enchanting island of Santorini, famed for its lavish hotels, volcanic beaches, and evening sunsets unlike anywhere else you have ever seen.
Santorini is located in the Aegean Sea, about 200 kilometers southeast of Athens. It's frequently visited by honeymooners and cruisers, especially in the summer months, which causes severe overcrowding and prices to skyrocket, so October is a brilliant time to go.
You'll never be bored in Santorini, with plenty of things to see and do throughout the island. By day, you could be wandering through the 3500-year-old town of Akrotiri, and in the evening, you may find yourself racing to the Akrotiri Lighthouse to watch the sun go down.
Some of Greece's most incredible sailing tours depart from Santorini in October. Imagine taking to the high seas on a catamaran in search of volcanic islands with a professional who knows all about navigating the Aegean Sea.
Crete
Crete is the largest Greek island and one of the hottest in October. You could easily spend a couple of weeks exploring the archaeological sites and learning about the ancient civilizations that once called Crete their home.
As you can tell, it's a history buff's playground, but that's not all this Mediterranean beauty offers; we can't forget about the Balos Lagoon embedded between the two capes of Gramvousa and Tigani, showcasing a panorama of dramatic turquoise waters or abandoned monasteries such as Aptera.
Compared to its neighbor across the water, Santorini, Crete is very affordable, with plenty of opportunities to find five-star resorts for half the price you would pay in other popular tourist destinations. As well as that, flights from Athens are pretty cheap too.
There are quite a few neighborhoods where you can base yourself for your trip to Crete. If you want to feel the local charm, Chania is lovely, with many delicious restaurants, cute cafes, and fascinating museums to escape the heat and learn a thing or two.
In Elounda, you'll find many luxurious beachfront hotels that big spenders and Greek celebs frequently visit, but the district isn't exclusive to these types of people. The old fishing village around there is a popular day trip for many and is usually combined with a stop at the historic site, the Spinalonga Island Fortress.
Ios
Ios lies in the heart of the Cyclades Islands, wedged in between Santorini and Naxos, and is known for its hectic party scene, relaxing beaches like Mylopotas Beach, and the open-air amphitheater of Odysseas Elytis Theatre. Some people get turned off because of Ios' wild reputation, but don't let that frighten you because there's so much more to this gem than meets the eye.
Since Ios is a seasonal island, much of the crowds have left once September comes, making it perfect for an October break in the sun. You can get your photographs taken in the quintessential Cycladic old town without any disturbances, climb up to Homer's Tomb minus the big groups on the trail, and dine in whatever restaurant you want without having to book in advance; that's what visiting Greece in October is all about.
The main form of transport on Ios is either ATVs or motorbikes, and unfortunately, these are always snapped up during the busy seasons, but in October, you'll have many options to choose from and only a fraction of the price.
Naxos
One of the best places to visit in Greece in October is none other than the stunning island of Naxos, sometimes described as Santorini without the hordes of tourists and exorbitant prices. There's much more of a relaxed atmosphere on Naxos, and easy to navigate regardless if you're on foot or have a car hire for your trip.
Besides the peaceful villages of Haiki and Apiranthos and quaint beaches like Orkos Beach, there are still plenty of intriguing sights to see if you're not into relaxing on vacation. Take a tour of the well-preserved castle of Castro, go on the lookout for the unfinished temple of Portara, or climb up to the top of Mount Zas, the highest place you can go in the whole of the Cyclades.
Many travelers combine Naxos with a trip to Santorini and Ios because of the short distances between the three islands. Ios is only a 35-minute ferry from Naxos, and then it's only another 35-minute ferry from Ios to Santorini. During busy periods, these ferry journeys can be expensive, but in October, they're much more affordable, and you could probably get away without booking your tickets far in advance.
There's a common misconception that you can't fly to Naxos, but you can. The island has a small airport that serves domestic flights only, so you can fly from the likes of Athens without having to put yourself through the four-hour ferry ride.
Mykonos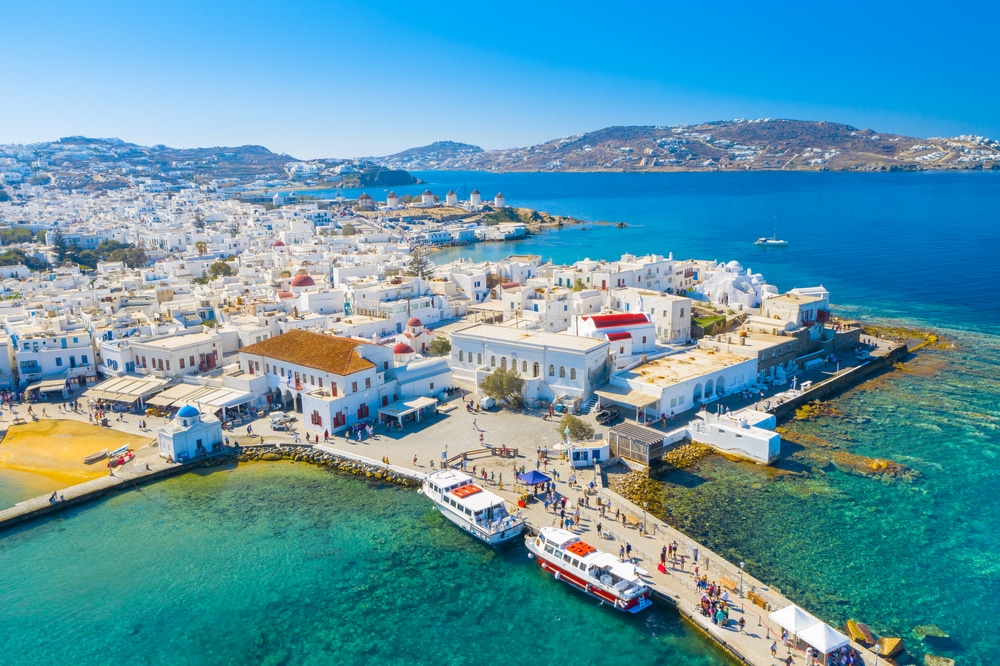 Undoubtedly, you've heard of Mykonos, perched between Tinos, Syros, Paros, and Naxos and famous for Little Venice, the Mykonos Windmills, and the mesmerizing Paradise Beach. Many people get turned off Mykonos because of its reputation for being the priciest of islands in the Cyclades, but a trip there is well worth a splash to see its cubed white villages, world-class eateries, and energetic nightlife scene.
Every day you'll spend in Mykonos is like an adventure. Make your way up to the white-washed Paraportiani Church to admire its insane architectural designs, book a day trip to the sacred island of Delos and finish up dancing the night away with a fruity cocktail at the Cavo Paradiso.
Even if you're not one for watching your pennies while traveling, you'll still find Mykonos overpriced; that's just the nature of the island. To cut back on some costs, stick to local delights like gyros and souvlaki, avoid hotels in the old town, have some drinks in your hotel before you go out in the evening, and visit museums when they offer visitors free admission.
Paros
One of the must-see islands in Greece in October is Paros in the Central Aegean Sea, ideal if you want a bit of everything on holidays, boasting unique forms of traditional Cycladic architecture, mysterious villages, old-age landmarks, and vibrant nightlife districts.
Paros has enough attractions to keep you busy for the duration of your stay. The Byzantine monument of Panagia Ekatontapiliani is well worth a look at, you can easily spend the day exploring the fishing village of Naousa, and Golden Beach has an abundance of water sports available for visitors to indulge in, from stand-up paddle boarding to kayaking.
Paros is relatively small compared to other Greek islands, so you could easily get around the whole islands and see most of what you want in a couple of days, but to really get a feeling for the place, you should give yourself a week there. That way, you can fit one or two lazy days in on the beach, see the main sights and drink copious amounts of Greek wine without worrying about getting up early the following morning.
The three central neighborhoods to stay on Paros are Naousa, Parikia, and Lefkes; all offer something a little different from the other, but regardless of where you base yourself, you're in for a fantastic trip.
Zakynthos
Being the southernmost of the Ionian Islands, home to an endangered sea turtle species and dramatic sea cliffs, it's easy to see why Zakynthos gets a lot of attraction. You may have heard of a Greek island called Zante before, but it's actually Zakynthos; Zante is just its nickname.
Apart from immersing yourself in Zakynthos' bustling party lifestyle, you can take a boat trip to the likes of the bewitching Blue Cave, the Navagio Beach (Shipwreck Beach) or go snorkeling to see the Loggerhead Sea Turtles at Laganas Bay. If boats aren't your thing, you can always unwind with a coffee in Zakynthos Town, put your feet up on Porto Limnionas Beach, and watch the world go by.
Getting to Zakynthos is sometimes seen as pain compared to other islands. You have to take a ferry from the port of Killini or a flight from Athens. The problem with these options is that Athens is over the other side of the country, so you must make your way there and then trek back on another flight.
As for the ferry option, the port that operates the route to Zakynthos isn't near any of the main tourist hot spots, so you would either have to drive from Athens or take a bus to get there. The only other alternative would be to take a 6-hour and 56-minute bus and ferry journey from Corfu.
Astypalea
Astypalea is a wonderful island in the southeast of the Aegean Sea, often referred to as the "butterfly of the Aegean" because of its unique shape. It's about four hours away from Naxos but feels worlds apart due to its remote vibe. In fact, only a couple of thousand residents are on the island, adding to the undisturbed ambiance.
The main things to do in Astypalea include seeing the Our Lady of the Castle white facade church, checking out the Archaeological Museum of Astypalaia, and visiting the Castle of Astypalaia. And that's before you spend time on one of the jaw-dropping beaches like Tzanaki Beach and Kaminakia.
Even though Astypalea is a tiny island with only an area of 96.9 km², an airport serves a couple of flights from Athens every week during the summer season. On the other hand, ferries operate much more frequently from nearby islands and the capital but be warned; they can take quite a while, especially the one from Athens, which takes 9 hours and 45 minutes.
Rhodes
Staying in the southeast of the Aegean Sea, we have another great location to travel to in Greece in October, which is the smashing island of Rhodes. It's the largest of the Dodecanese islands and has always been popular for its sumptuous beachside complexes, ancient ruins, and photogenic medieval streets, where you'll find yourself more often than not.
Rhodes has it all, from a rich history seen through sites like the Acropolis of Lindos to enthralling beaches and bays such as Agios Pavlos Beach and Saint Paul's Bay. When you get fed up with the main touristy areas, you can rent a car, spin around the island through unspoiled mountain settlements, and stop at captivating viewpoints with vistas of mainland Turkey in the distance.
It would be a crime to visit Rhodes without taking a day trip to Symi Island, only a short boat ride away and renowned for being the birthplace of the daughters of Zeus. As you can probably already tell, this island has a lot of historical sentiment, but that doesn't overshadow its charm, as seen through its neoclassical harbor, rugged mountains, and eye-catching monasteries.
The easiest way to get to Rhodes is by flying into Rhodes Diagoras International Airport, but if you're making an island hopping trip, you can also take a ferry from most of the main islands in the region.
Kos
Kos is the third largest of the Dodecanese islands and lures a younger type of crowd because of its energetic club scene in Kos Town. When you get off your ferry and walk through the vicinity for the first time, you may think that it's overrun with big hotel chains and souvenir shops. But once you get outside of there, you'll be treated to remains of ancient castles, daily sunsets from cute villages like Zia, intriguing wineries, and bright white sandy beaches that you won't be able to resist.
If you're traveling with your family, you must pay a visit to Lido Waterpark, one of the largest in all of Greece, spanning 75,000 square meters with slides for people of all ages. The Triantafylloupus Vineyard tour is one that everyone raves about.
There's no better place to learn how Kos's fine wine is produced, and obviously, it would be rude not to try some for yourself. On the days that the heat isn't too bad, climb up to see the Roman Odeon, which dates back between the 2nd and 3rd century and was once a place where various music events and shows were held.
Like all the other main Greek islands on this list, you can either access Kos by plane or ferry. A couple of airlines offer direct routes from Athens, like Aegean Air, Sky Express, and Olympic. Many ferry companies have daily services to and from Kos daily, but because you'll be traveling during October, you need to consider that not as many ferries are operating because the demand is much lower, so please do your research before making any concrete plans.
Paxos
Last, on our list of the best Greek islands to visit in October, we have Paxos, one of the smallest of the Ionian Islands, sitting just south of Corfu. Often overshadowed by its more visited neighbor, Paxos is one of the less touristy islands in the Ionian Sea and attracts holidaymakers searching for a slow pace lifestyle amongst peaceful crystal clear seas and lush green olive groves.
Much of Paxos's activity resides along the island's coastline, and visitors can base themselves in one of the three main towns of Gaios, Lakka, and Loggos. Gaios is the most popular because it's where many of the ferries come in, so naturally, people don't want to travel too far to get to their hotel, but accommodation prices there are usually much higher than the other two.
Lakka is in the north of the island and pretty quiet, with only a few bars and restaurants. Loggos is like a happy medium; there's enough there to keep you occupied regarding food and drink, and it's a great place to learn about the island's Ottoman and Italian history.
After you've had your fix of traditional Greek towns, you can head out and discover some of Paxos's main landforms like the Tripitos Arch, the Blue Cave, Erimitis Beach, and the list goes on. If education is more your thing, the Paxos Museum at the waterfront in Gaois has a brilliant exhibition about the island's eras and how citizens in the past lived through these periods.
Wrap Up On The Greek Islands In October
Greece may not hold the number one spot for having the best weather in October in the world, but I think that it comes pretty darm close. So, as our list of the best Greek islands to visit in October comes to a close, we hope you've found a couple of options for your upcoming vacation. With so many destinations, it can be pretty overwhelming, especially when you hear mixed opinions from different types of travelers. There's only one way to do it, go with your gut feeling, select a location, and go see for yourself.