Here is all the Paxos Island travel advice that you need. We've got a list of what to do in Paxos, Greece, top Paxos sites, and tips for where to stay in Paxos.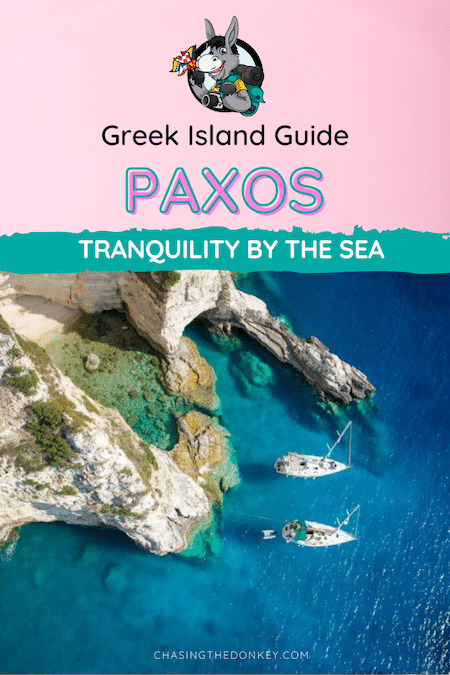 Tiny and just a stone's thrown away from the cosmopolitan Corfu, Paxos is a very small Ionian island with incredible green areas and a few small towns with some lovely urban landscapes.
There are enough activities available for an entertaining short break. In this Paxos guide, we introduce to you all the things to do in Paxos for a stunning vacation by the sea.
Where Is Paxos Island
Also known as Paxi, the island is located in the Ionian Sea in Greece, close to the big island of Corfu and not far from the Italian coast. It's easy to reach Paxos, and it remains a green paradise that nobody visiting Greece should miss.
How To Get To Paxos Island Greece
To reach Paxos, you need to travel either from Corfu or from the Greek port of Igoumenitsa on the Ionian coast of mainland Greece. All boats arrive at the port of Gaios, the main town on the island. There are at least two ferry connections from Corfu daily during the summer, while connections in winter are not so frequent and are subject to weather conditions.
When Is The Best Time To Visit Paxos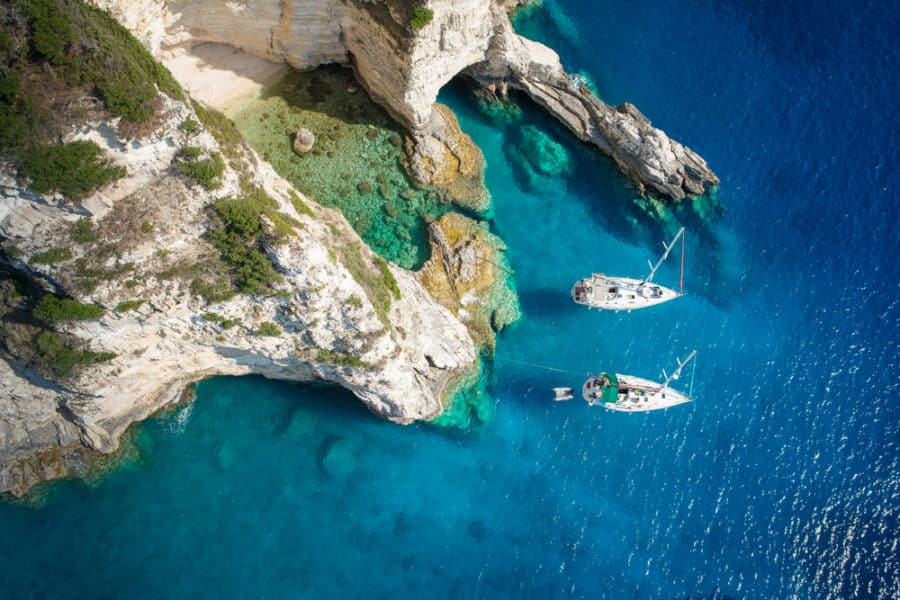 To reach the island with ease, summer is definitely the best moment to visit, as, during winter, there are almost no tourist activities nor enough ferry connections from the nearest port of Corfu or from Igoumenitsa.
The island has a gorgeous climate also during autumn, but keep in mind that the waters could still be cold in this period. To enjoy a more pleasant sea temperature, it's better to visit in September, a month that's perfect also to avoid inflated prices and overcrowded beaches
TRAVEL COMPANIES WE USE AND TRUST
Things To Do On Paxos Island
Green and fascinating, the small Paxos island, as well as its nearby sister, Antipaxos, is one amazing destination that had remained quite off the beaten track until recent years.
The island is surrounded by beaches that are not as impressive as most Greek beaches; there are very few interesting cultural attractions and archaeological sites to discover, yes the Island of Paxos has become increasingly popular among yacht owners exploring the islands of the Ionian as it is laid-back and relaxing.
If you're looking for incredible shores, hidden sea caves, and pristine beaches, this might not be the right destination; however, just a few minutes away, the even smaller island of Antipaxos can offer all that Paxos lacks.
Let's see what are the best things you can do in Paxos for a fantastic vacation.
Visit The Capital, Gaios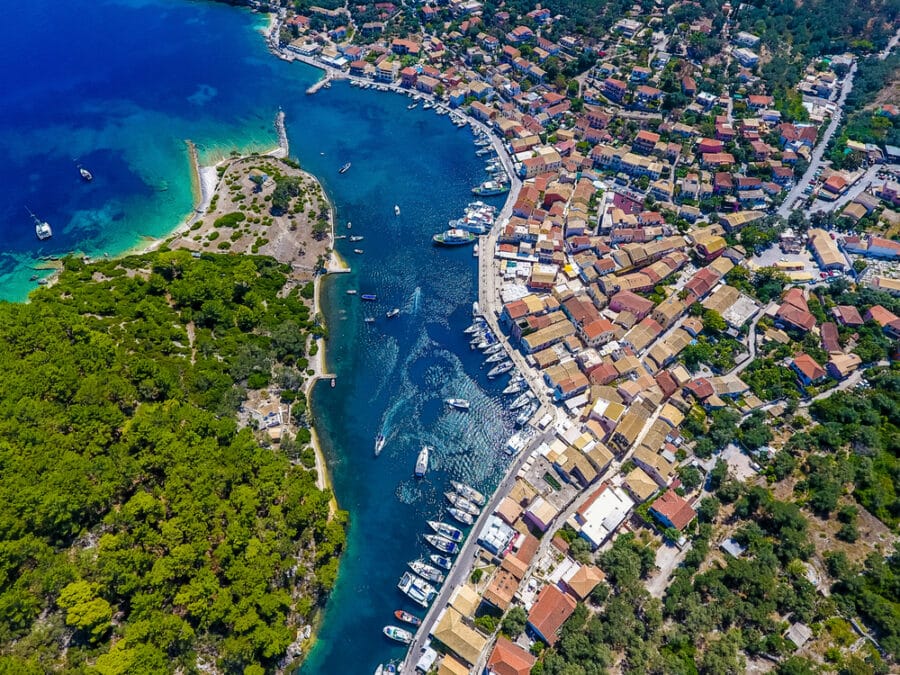 The capital of the island is also the most important settlement in Paxos. This is a small, picturesque town with a beautiful central square around which you will find dozens of restaurants, souvenir shops, and ice cream parlors.
The center of the town is only a few steps from the port, where dozens of luxurious yachts anchor every day during the high summer season. A walk along the promenade is a common thing to do every evening after a succulent dinner in town.
Discover The Folklore Museum Of Paxos
This is the only museum you will find on the island, and it can be quite interesting to explore, especially if you're in Greece with children. This would be the only cultural activity that they could enjoy on the island.
The museum stands in an old school on the seafront of Gaios and it showcases the way houses used to be during the eighteenth century, including ancient costumes, furniture, and other objects, such as kitchen utensils, musical instruments, letters, portraits, and coins.
Discover The Small Village Of Logos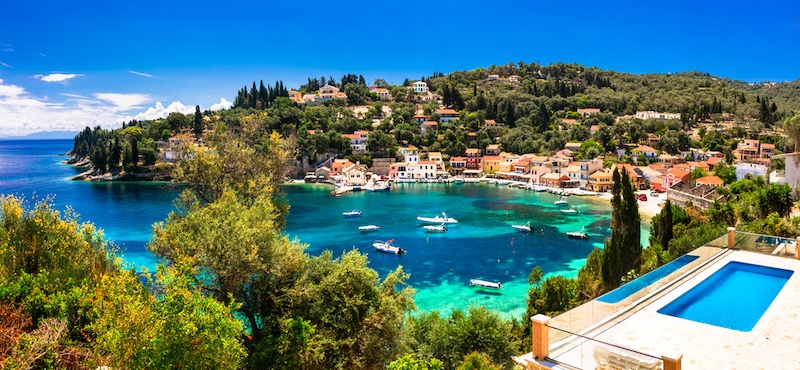 Also spelled Loggos and Longos, this tiny settlement is probably the most beautiful on the island. It has a few magnificent villas with lavish facades that clearly show the richest face of Paxos.
Although its main beach is small and not really organized, many people choose the shores around Logos to spend the day.
Visit Lakka And The Surrounding Area
The last and third village worth a visit on the island is Lakka. It is located on the southern portion of Paxos and it's another destination for a small excursion. Even when small enough to see the whole village in just a couple of hours, there are some interesting Venetian buildings worth checking out.
Arguably the most interesting sight in Lakka is on the coast, from where it is possible to see the landscape of the nearby Corfu island. In fact, the main reason to visit Lakka is to explore the nearby small beaches, maybe the only ones worth a stop in Paxos.
Check Out The Nearby Antipaxos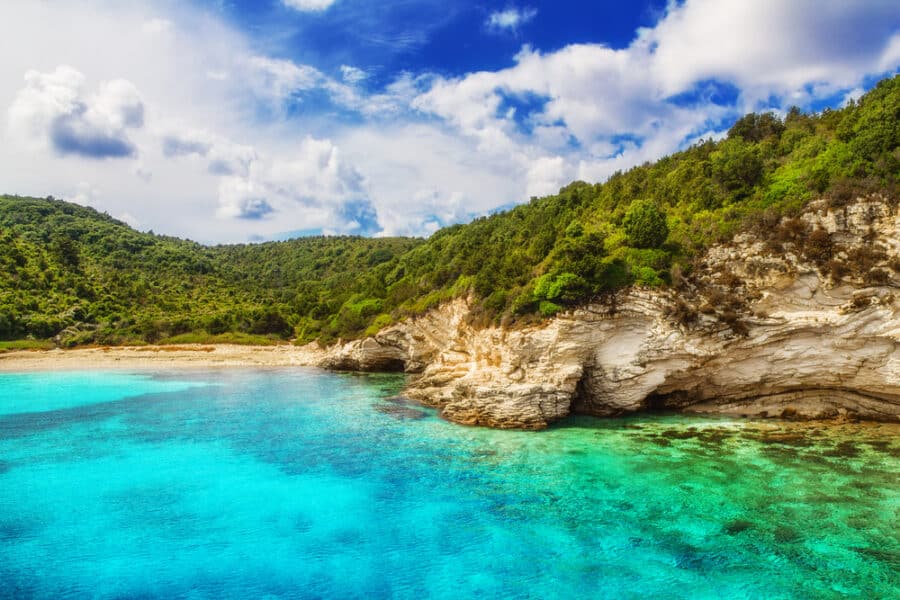 As you may have already guessed, the best things to do in Paxos are, in fact, on the nearby island of Antipaxos!
Antipaxos is really a paradise on earth for immersions, swimming, incredible beaches, and some of the most stunning scenes in Greece.
It is easy to get there as there are dozens of organized tours, boat trips, and catamarans leaving daily from the port of Gaios directed to Antipaxos.
Although the island offers very few options for accommodation, not many restaurants, and no tourist services, this is the most visited place around Paxos because it's only 2 kilometers away and features some of the best beaches in the Ionian.
Best Beaches In Paxos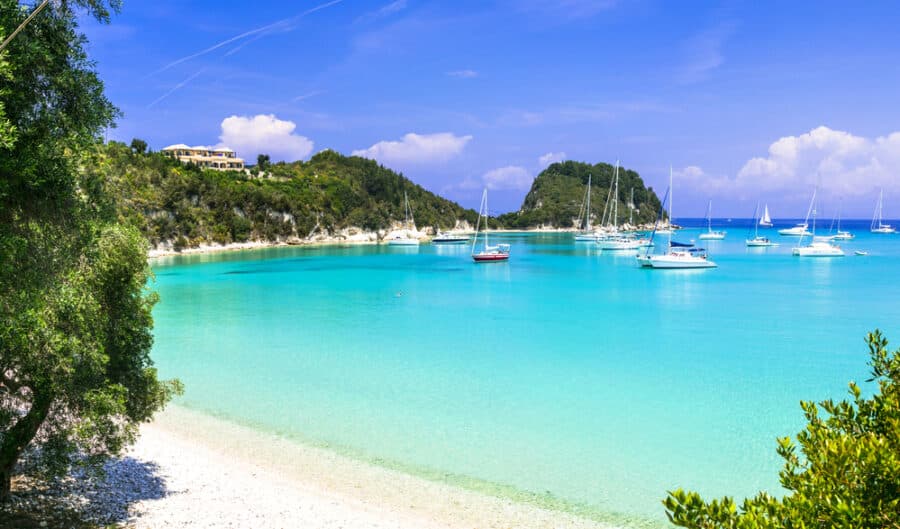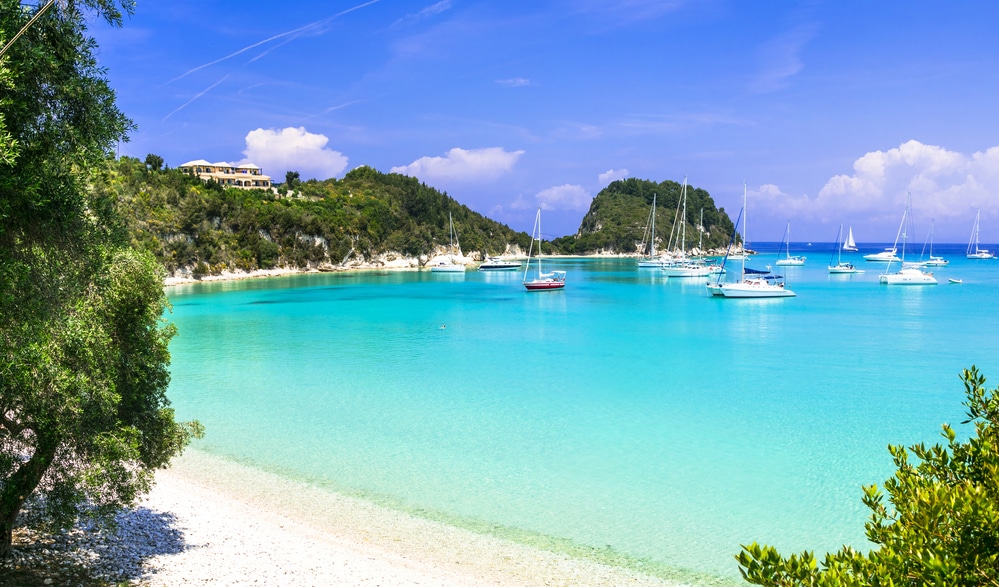 As we've already stated, the beaches in Paxos are scarce and only a few of them are worth a visit. You should really jump on a boat and venture to Antipaxos for the best beaches in the area.
However, if you're not keen on sailing to Antipaxos every day of your vacation, these are the shores you can check out in Paxos.
Magonissi Beach
Located at the end of the coastline in Gaios, this is the only sandy beach that you'll find in the area near the capital. Of course, it is not really organized, however, being so close to the center, it's easy to pack a lunch and spend a day over here.
The sea is quite shallow and calm, which makes it quite safe for families with children.
Drendriatika & Monodendri Beaches
Located just a few minutes from the village of Logos, this is one of the beaches worth a visit. It is a calm bay with a breathtaking view and dozens of trees offering natural shadow, although there are no organized facilities.
Only a few steps from the beach, the twin shore known as Monodendri is another bay not so popular, making it a perfect place for quiet swimming and sunbathing in a relaxing environment.
Harami Beach
This is Lakka's village's main beach and even when it is not really as beautiful as other Greek shores, it is an organized shore where families and groups of friends can spend the whole day.
There are enough structures and restaurants, so packing a lot to spend the day won't be really necessary. Not far from Harami, another similar beach is Kanoni, where there are also some snack bars by the sea to have a drink or a bite.
Paxos With Children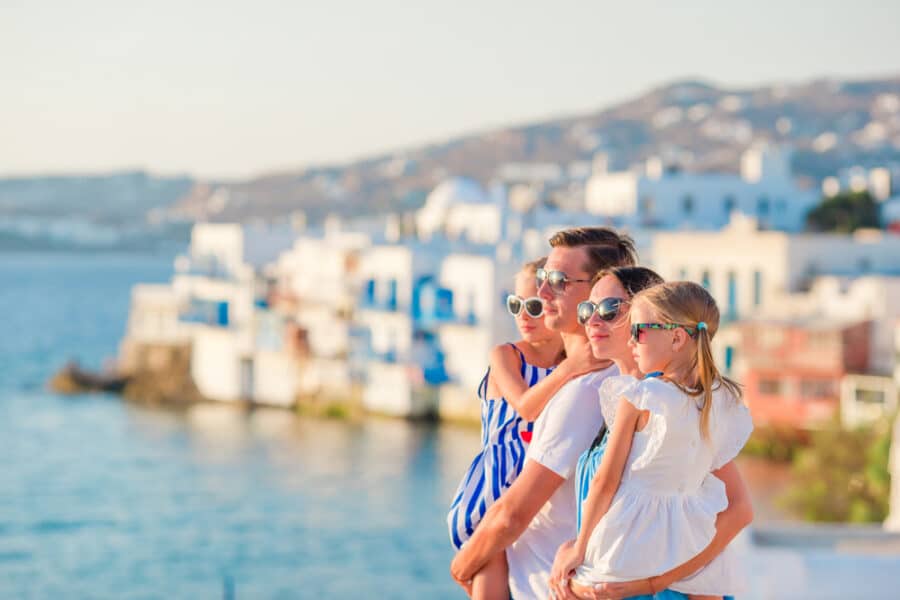 There are not many things to do with children on the island, nor there are interesting activities especially thought for kids or families. However, the place is a relaxing destination for small kids who do not need a lot of things to do to enjoy their vacation
When visiting Paxos, do consider at least a day trip excursion to Antipaxos for kids to enjoy swimming and the beaches on this nearby island.
Island Of Paxos Nightlife
Paxos Island is quite small, which in a way limits the activities you can do at night, however, the capital of the island, Gaios, has just a few lounge bars that you can hit after dinner for a round of cocktails and some good music too.
If you prefer to explore, check out the center of the small villages of Logos and Lakka, where a few music bars serve cocktails until a few minutes after midnight.
Best Places To Eat In Paxos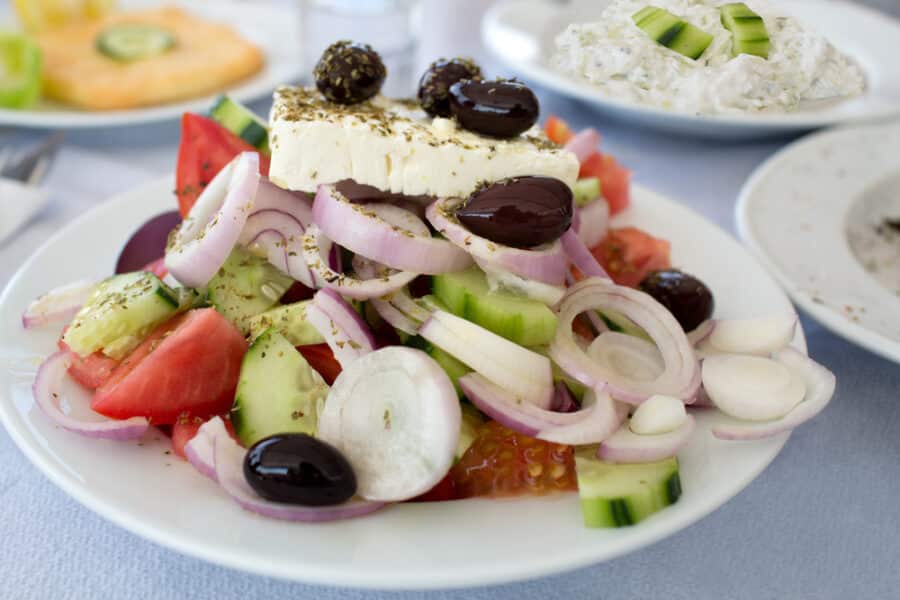 These are some of the most popular places to eat on Paxos Island.
To Paxoimadi is an authentic but quite modern Greek restaurant located in the village of Lakka. It serves slightly different food based on traditional Greek recipes with plenty of options for kids, vegans, and vegetarians. Portions tend to be huge, but prices are quite affordable
Roxi Bar Paxos is the right place to go for a selection of snacks and delicious cocktails. This beautiful bar is located facing the small bar of Logos and is a must-visit place for dinner in Paxos.
Carnayo Gold Lounge Cafè is a very popular place for food on the Ionian island, which specializes in food from the Apulia region in Italy. Carnayo is the right place to go for those who enjoy refined Italian food by the sea. More info is available on the website. )
Top Accommodation In Paxos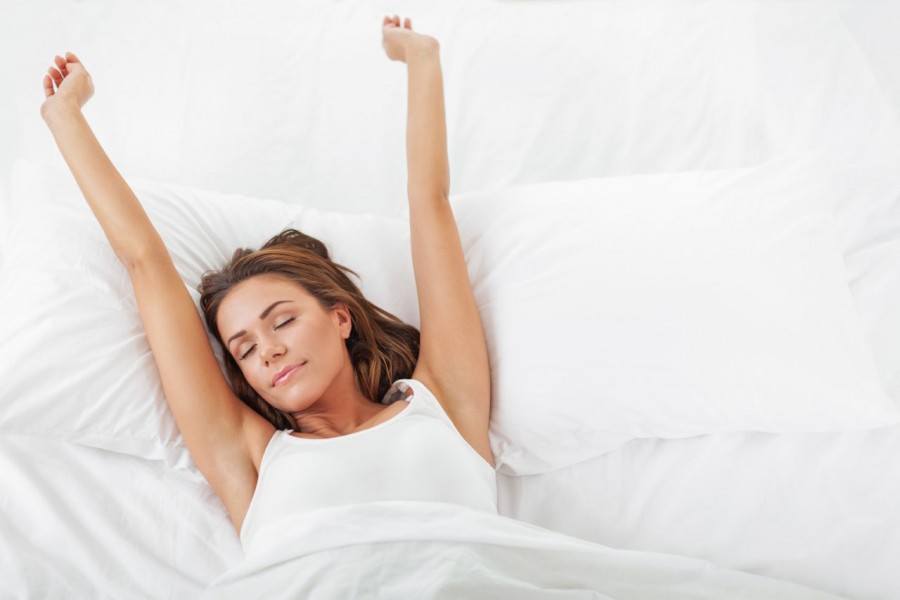 Paxos has some gorgeous hotels in Gaios as well as some family-run studios and guest houses in other small villages. Since the island is not so big but tourists flock during the whole summer, booking your place in advance is the right thing to do if you want to find good prices.
These are the places to stay in Paxos that I recommend checking out when it's time to book the place where you'll spend your nights on the island.
Budget Places To Stay In Paxos
Margarita Apartments Paxos – Studio Illa: These flats are located in the capital of the island, Gaios. The place is just 700 meters from Lakkos Beach and it features a seasonal outdoor swimming pool, a terrace, and free WiFi. To better explore the island, there is a car rental service available. Check out the hotel & prices here ↳
Amfitriti Hotel & Studios: Located on Lakka Bay, this 3-star hotel is surrounded by lush greenery and only steps from Harami Beach. At the property, you'll find a small pool with a poolside bar, a sunbathing terrace, and spacious rooms with furnished balconies overlooking the sea or the garden. Check out the hotel & prices here ↳
Mid-Range Places To Stay In Paxos
Paxos Bonzai Studios: The place offers accommodation in the city of Gaios, less than one kilometer from the port. The studios offer an outdoor pool with a covered terrace, and they are all equipped with a convenient kitchenette or kitchen with a fridge, mini oven, and microwave. The scenic villages of Logos and Lakka are under ten kilometers from the accommodation. Check out the hotel & prices here ↳
Captain Spiros Delfino: This beautiful apartment featuring mountain views offers accommodation with a terrace around 500 meters from Bartek Beach. In the garden, guests can take advantage of the barbecue facilities. There is also free private parking available. Check out the hotel & prices here ↳
Luxury Places To Stay In Paxi Greece
Galazio Sunset Villas: This amazing holiday home in Gaios is located within a 5-minute walk from Galazio Beach. Inside the property, you'll find two swimming pools, two furnished sun terraces, and a 350s square-meter garden. Every self-catering unit comes with a furnished balcony or a patio, a seating area, and a fully equipped kitchen. Check out the hotel & prices here ↳
Anassa Mare Villas & Residences: This exclusive property is a magnificent place to stay on Paxos Island, only a few minutes from the port of Gaios. Perfect for families and pet-friendly, the property has a garden and a private beach area and offers bikes and cars for rent. Some units have a seating area or a terrace, as well as a kitchenette with an oven and refrigerator. Check out the hotel & prices here ↳
Now that you have this Paxos Island travel guide and the things to do in Paxos, Greece, tell us, where will you go first on the Island of Paxos?