Privacy & disclaimers →
Island Hopping From Crete – Closest Islands To Crete
Did you know you can visit beautiful Greek islands from Crete, Greece? The largest Greek island is a popular summer destination; however, few people know that it is also a great base to plan your Greek island hopping adventure.
This blog gives you the best tips for which islands to visit from Crete. We have listed five of the closest islands to Crete we love and know you will too.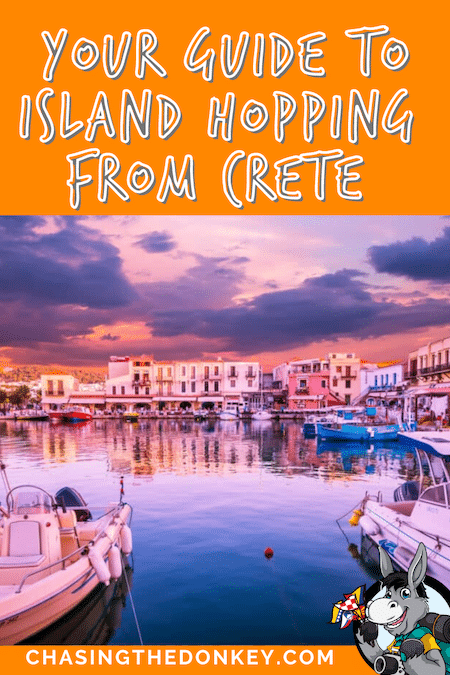 Santorini (Thira)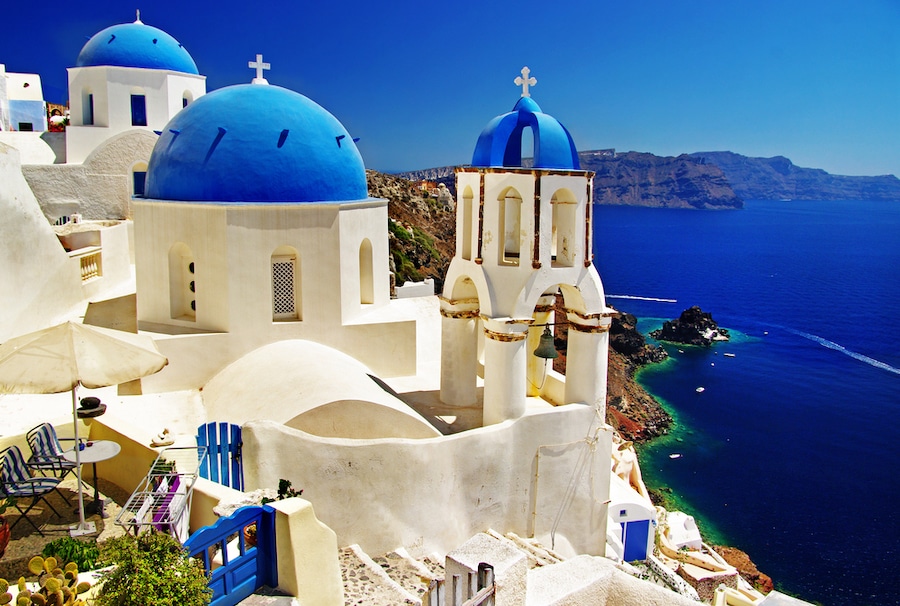 Best island hopping from Crete for couples
The quintessential Greek islands, Santorini's dramatic landscapes, stunning sunsets, and white and blue-tipped cliffs are straight out of a postcard. The perfect place for couples and honeymoons, Santorini is home to charming boutique hotels with views over the 'caldera' and luxurious beachside resorts. Located in the southern branch of the Cycladic islands, it is easy to get to Santorini from Crete.
The best way to travel from Crete to Santorini is by ferry. Most ferries to Santorini depart from Crete's Heraklion port up to five times a day during the summer months. Ferries also serve Crete's Rethymnon port twice weekly, on Tuesdays and Saturdays throughout the summer.
Given the islands' proximity, a fast boat takes around two hours, and a regular boat takes about four hours journey time. Due to the popularity of these destinations, it is best to organize your ferry travel ahead of time, as prices can range from 25 euros to over one hundred euros in high season.
READ MORE ABOUT SANTORINI
We've got the low-down on all things Santorini here:
TRAVEL COMPANIES WE USE AND TRUST
Elafonissi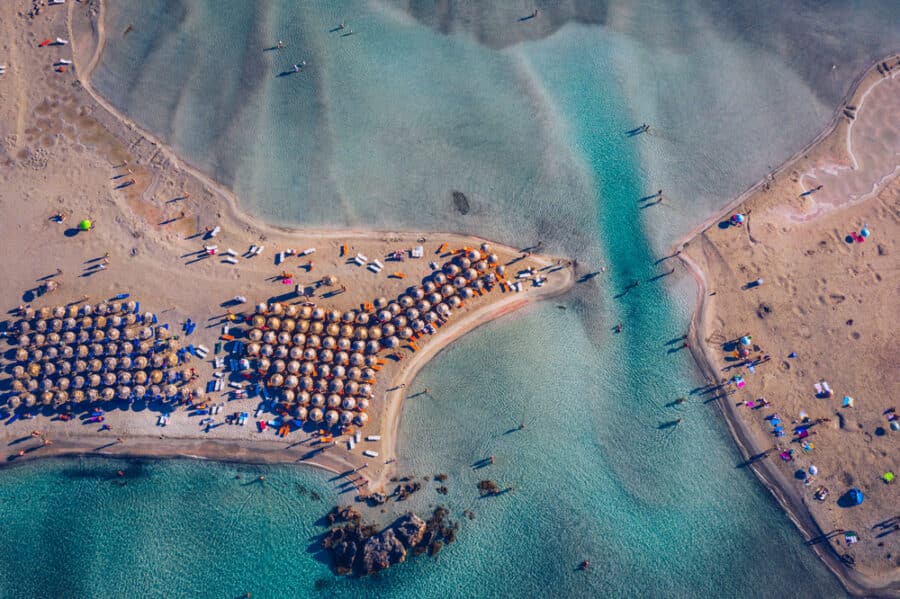 The closest island to Crete
Not only is Elafonissi the closest island to Crete – it is the easiest to reach. Elafonissi is something out of this world; it is an island that is connected by a lagoon and shore to Crete.
The water is also so shallow you can walk across the different sides. Start your day as early as possible. The sun beds and umbrellas fill up by mid-morning. However, because of the size, you can keep walking and find privacy somewhere, but there may not be shade. This can be a problem during the high-heat summer months.
There is also a wind tunnel at the beach, so prepare for wind-blown beach hair. If you start early, you'll have plenty of time to enjoy the city in the evening and catch another epic sunset in the Old Harbor.
Gavdos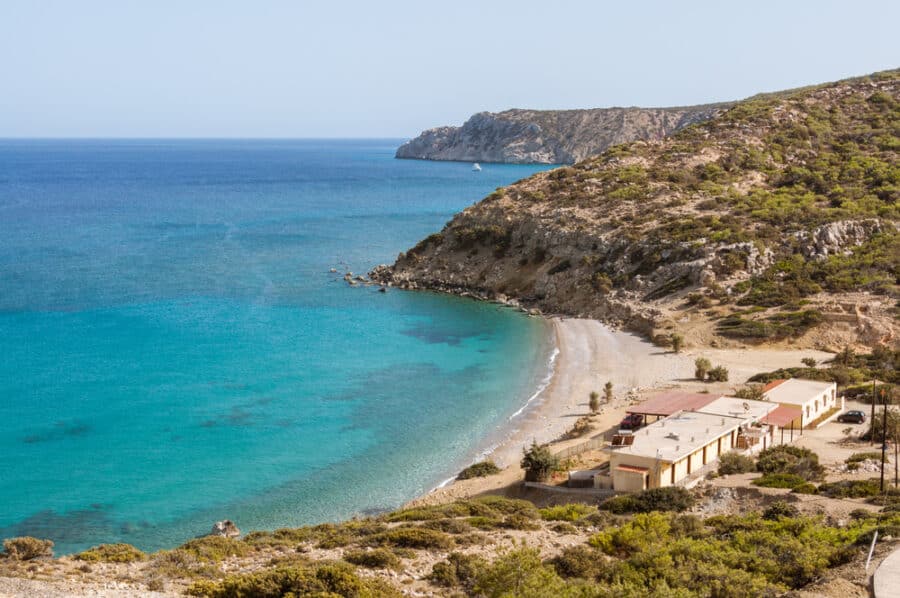 Best island hopping from Crete for those who are adventurers
This is one of the islands near Crete that is a small, untouched Greek island located at the most southern point of Europe.
Gavdos is an unspoiled paradise. With remnants of a hippy past, Gavdos is the perfect place for adventurers who enjoy getting off the beaten path. While the island has white-handful white-sand beaches, dense pine forests, and hidden coves, there is minimal tourist infrastructure, and many tourists still camp on the shores. Gavdos is an excellent spot for some proper exploration of the southwestern tip of Crete; Gavdos is only 50 km from the city of Chora Sfakion, where private tours and ferries depart to the island during the summer months. You can easily reach Chora Sfakion from the larger town of Chania by public bus or taxi.
Gavdos can also be reached by ferry from the ports of Paleochora, Plakias, and Sougia. Unfortunately, due to its location, ferry routes to Gavdos are not standard and can vary based on weather conditions. It is best to contact the port authorities when you are in Crete to discover the ferry schedule.
Ios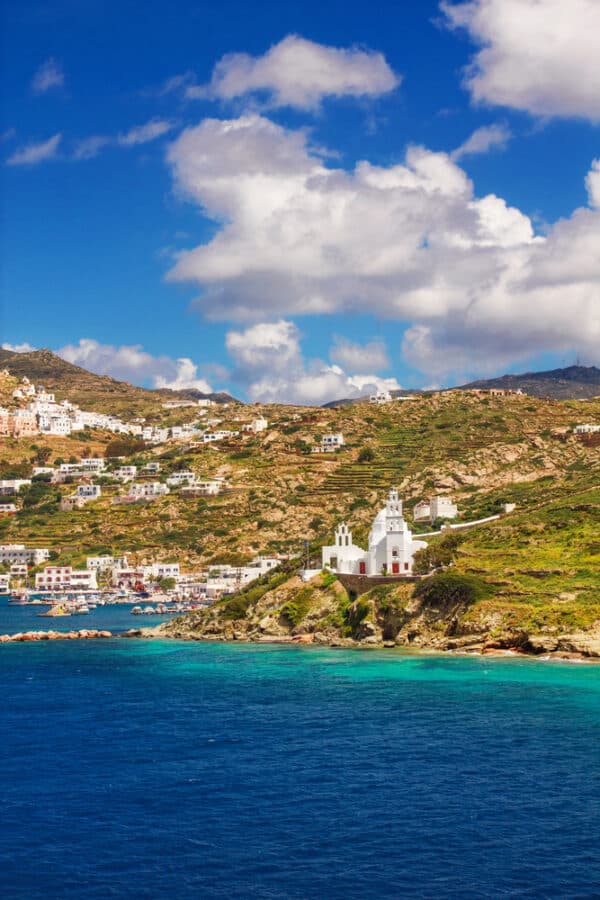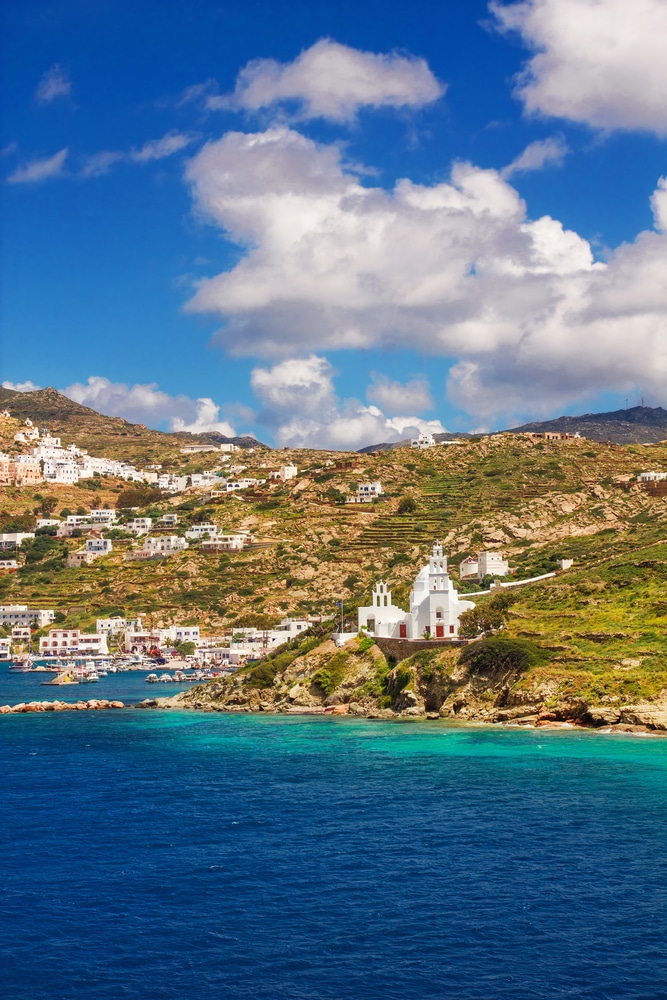 Best island hopping from Crete for those who want nightlife
Known for its lively nightlife, Ios is one of the closest islands to Crete, which is a beautiful island perfect for young travelers and backpackers.
One of the most popular destinations in Greece, Ios boasts all the classic Cycladic island beauty: white-washed houses, blue-domed chapels, turquoise blue coves, and show-stopping sunsets. There is plenty to do on Ios, from exploring the winding alleys of Chora, hiking to the famous windmills above the town, rentingATV'ss, and taking a boat tour.
Although the island is famed for its lively nightlife, Ios is rich in culture and charm. Each year the island hosts performances in its Odysseas Elytis Amphitheatre, including a three-day long Festival of Homeria celebrating Homer, the famous poet buried on the island.
Ferries connect Crete to Ios from Heraklion port. Four ferry companies (Golden Star Ferries, Hellenic Seaways, Minoan Lines, and Sea Jets) offer multiple daily crossings throughout the week in the summer months, with journey time taking around three hours.
Karpathos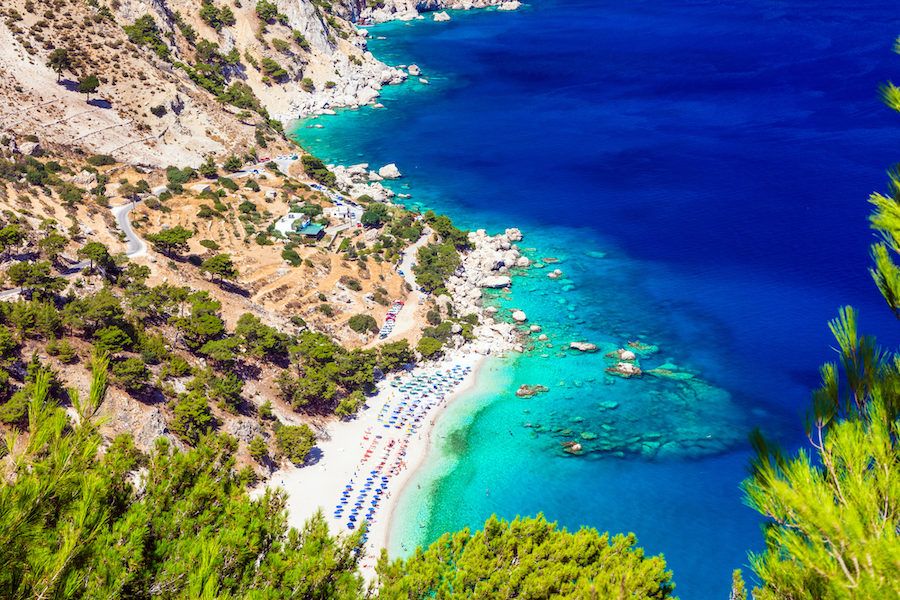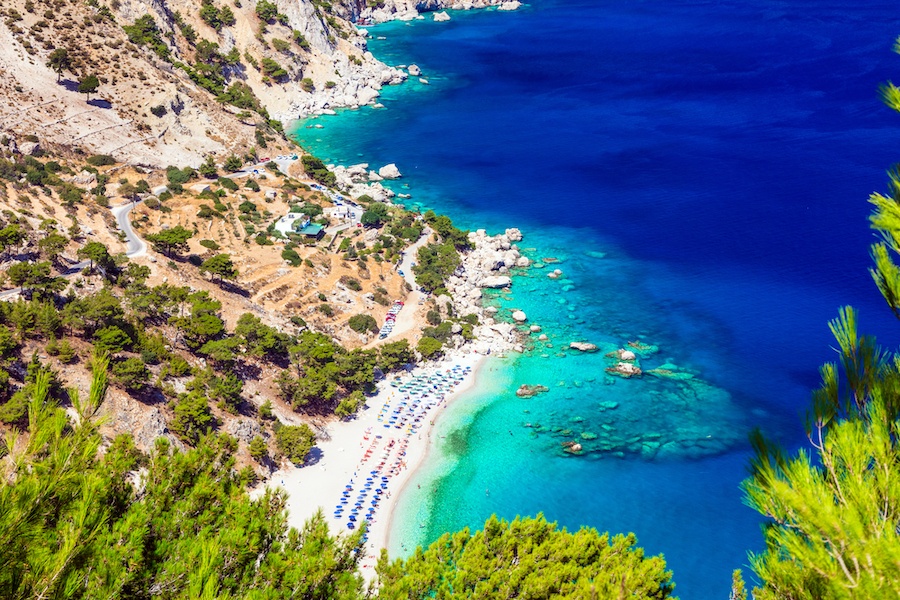 Best for island hopping from Crete for nature lovers
Karpathos is one of the islands near Crete that is the ideal destination for nature lovers; Karpathos offers spectacular landscapes, unspoiled beaches, and amazing trekking opportunities.
This little-known island has escaped mass tourism, meaning it's the perfect place to relax and get back to basics exploring its traditional villages and learning more about the island's traditions.
The main tourist hub lies on the southern coast, which offers a wide choice of accommodation, water sports, food, and nightlife options. However, from there, you can explore all the island has to offer, including the town of Olympos, the site of Ancient Various, and the Ancient Acropolis of Arkasa.
Located in the southeastern Aegean Sea, Karpathos sits between Rhodes and Crete. You can reach Karpathos' main port, Pigadia, by ferry from Heraklion and Sitia ports in Crete. The crossing durations vary significantly depending on your departure point, with ferries from Heraklion taking eight hours and ferries from Sitia taking around four and a half hours.
Paros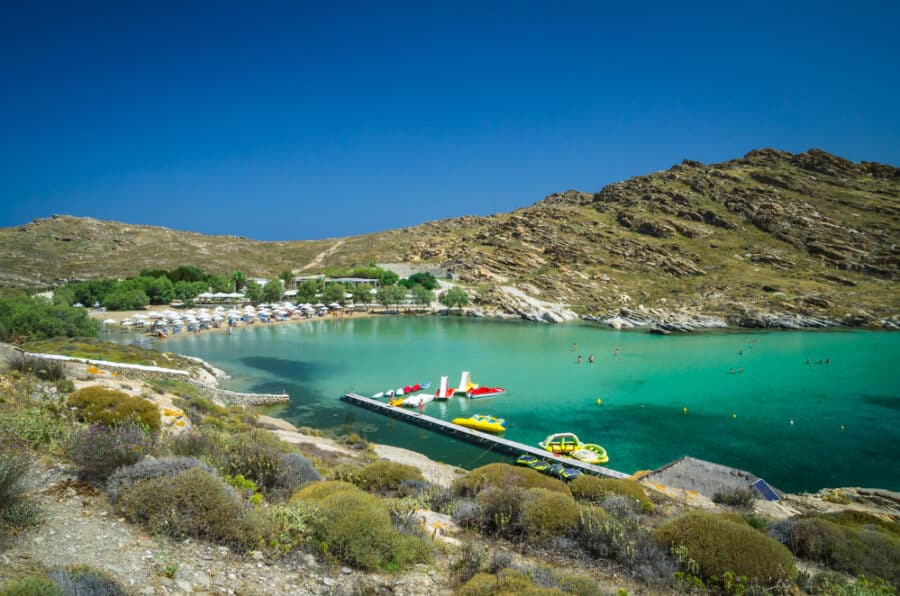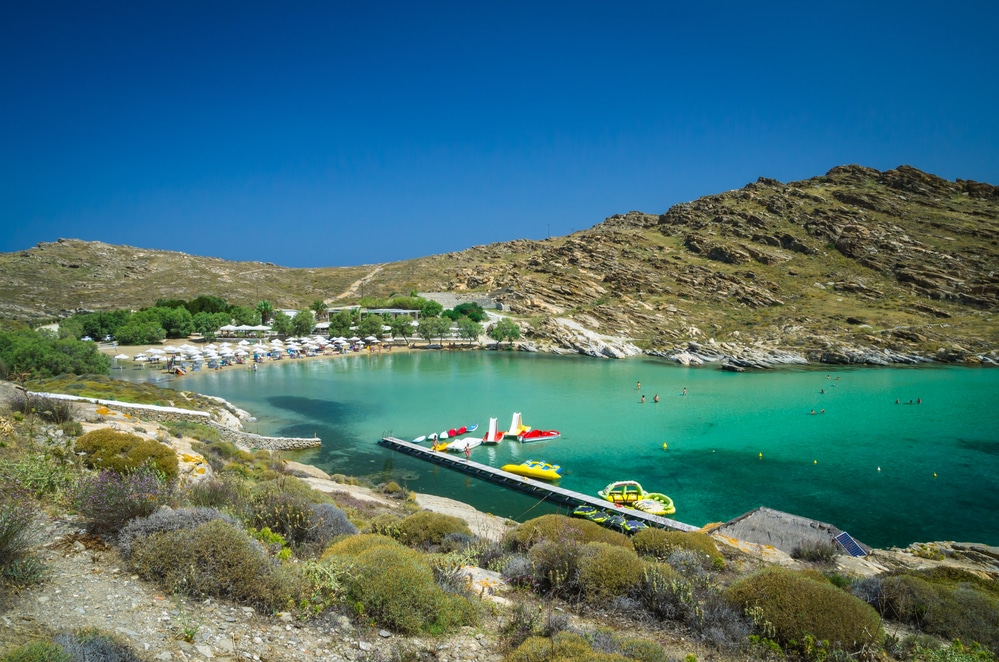 Best for island hopping from Crete for families and groups
Paros has an excellent range of things to do, beautiful beaches, fantastic nightlife, and accommodation options for all budgets; Paros is an all-around perfect island for families or groups.
Located in the middle of the Cyclades, this charming island has a rich history of the marble industry, with some of the best-known Ancient Greek sculptors hailing from the island. The island's towns have a unique charm. The beautiful towns of Paroikia, Naousa, and Lefkes are popular destinations full of boutiques, cute cafes, traditional tavernas, and great bars and clubs.
You can travel from Crete to Paros by ferry during the summer season. Depending on the route, the crossing can take between four to six hours, often with stops at Santorini. Four ferry companies operate routes daily throughout the summer season., Ios and Naxos.
ISLAND HOPPING FROM CRETE FAQs
How many days should I spend on Crete before island hopping?
To really see a good portion of the island, 5 days is a good goal on Crete before you venture off to other islands.
Which islands can you go to from Crete?
The closest islands you can travel to are:
Santorini (Thira)
Elafonissi
Gavdos
Ios
Karpathos
Paros
Should I take a cruise ship to island hop from Crete?
Don't do island hopping cruises. It's simple to book ferry tickets and explore the islands on your own.
Is it expensive to island hop from Crete?
While ferry rides are not expensive, they also aren't as cheap as they used to be. We recommend picking 2-3 islands and spending a longer time exploring each, saving money on additional transport costs.
If traveling on a mid-range budget, plan on about 130-140 euros per day when island hopping (transport, accommodation, food and activities). If traveling on a tight budget, you can usually find a way to spend closer to 50-60 euros per day.
What is the closest Greek island to Crete?
Elafonissi – it's 100m away and even possible to walk to if the tides are right.
What is the best island to visit from Crete for partying?
Ios
What is the best island to visit from Crete for families?
Paros
What is the best island to visit from Crete for adventure and nature?
Gavdos and Karpathos
What is the best island to visit from Crete for honeymooners and couples?
Santorini
Can you day trip from Crete to Santorini?
Absolutely! If you take the first ferry of the day leaving Heraklion you can be in Santorini at 9:00 am, ready to explore all day long.
What islands can you take a ferry to from Crete?
Crete is home to 4 ferry companies offering 13 routes that leave from Heraklion. These routes connect to: Santorini (Thira), Milos, Mykonos, Paros, Naxos, Syros, Anafi & Ios, Chania to Milos, Sitia to Milos, Santorini (Thira) & Anafi & Rethymno to Santorini (Thira).
Do I need to buy my ferry tickets in advance when island hopping near Crete?
We recommend buying tickets at least 24 hours in advance.
Island hopping from Crete is the perfect way to see many beautiful Greek islands! So tell us, will it be Santorini, Gavdos, Ios, Karpathos, or Paros for you?