We may earn commission from affiliate links →
Your Guide To Andros Greece – A Beach Island Getaway
Andros is the second biggest island in the group of the Cyclades, as well as a lively summer destination featuring some really fantastic beaches. The island is quite close to Athens, but it does not have many ferry connections with other Greek islands. In this guide, we will offer all the essentials you need to keep in mind when planning a holiday in Andros.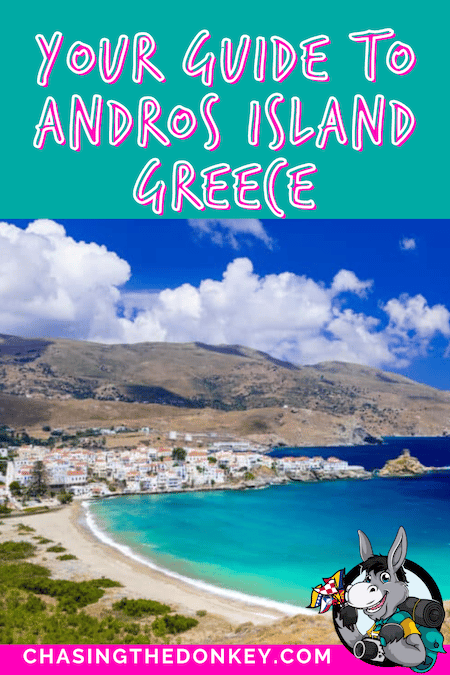 Where Is Andros Greece
Andros is an island belonging to the group of the Cyclades, and it is located in the Aegean Sea. It is about two hours from Athens.
How To Get To Andros Island
The only way to get to Andros is by ferry, as the island does not have an airport. There are several ferries departing from the port of Rafina, in Athens.
There are also a few weekly connections with other Greek islands, including Mykonos, Syros, and Tinos.
When Is The Best Time To Visit Andros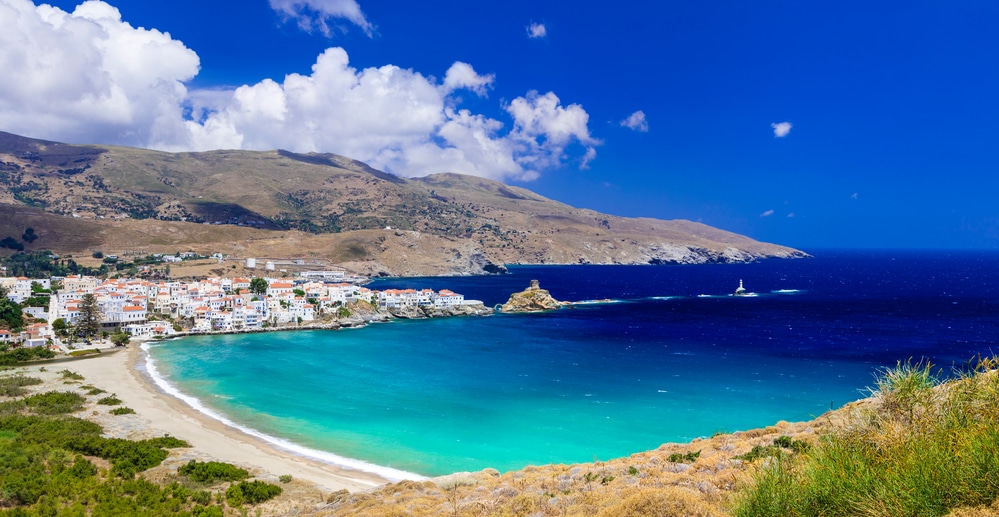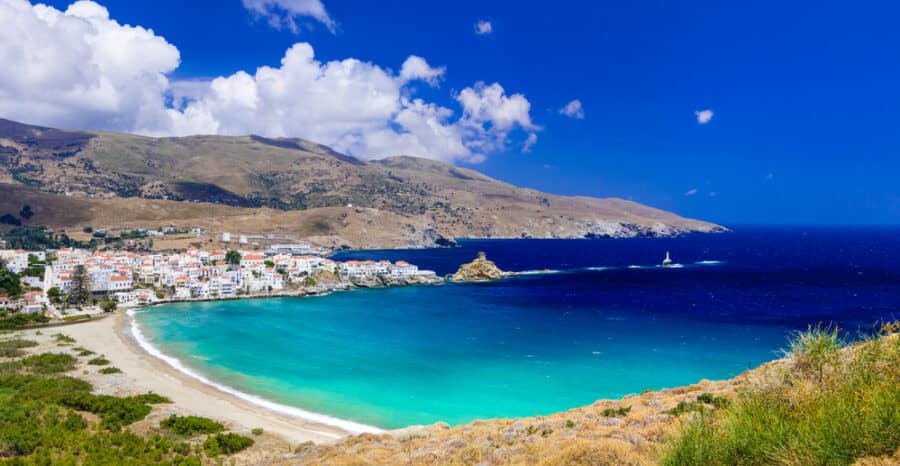 As with most Greek Islands in the Aegean, the most popular time to visit is summer, between July and August. However, we often recommend our readers check out these islands before or after that period to enjoy better prices, fewer crowds, and still wonderful weather.
Visiting in winter can be difficult due to the shortage of ferry connections with the mainland and because there will not be a lot to do on the island as most accommodations and restaurants will be closed.
PLAN AHEAD TO GET THE BEST DEALS
Things To Do In Andros Greee
With hospitable locals, delicious food, amazing landscapes, and unique seaside shores, Andros is an underrated destination in Greece that does not receive as many visitors as it should.
The island is big and green, there are good accommodation options and its rich history and heritage are worth understanding with visits to its museums and other landmarks.
Here are the best things you can do in Andros for a fantastic vacation.
Check Out Andros Chora
Facing a gorgeous bay, the capital of Andros, Chora, or Andros Town, is the most attractive town on the island and one of the most visited spots, together with the coastal village of Batsi (about 10 kilometers away).
In town, walk around the alleys built with marble from a local quarry. Not far from the main bus station, you can admire the elegant Neoclassic building, once the place where the most important families on the island used to live. There are also beautiful squares with fountains which are a clear display of the island's rich past.
Near the center of Chora, you will find some beautiful beaches, Nimbori and Paraporti, while from the old port of Plakoura, there are daily boats that take visitors to enjoy the lonely beach of Akla.
Explore The Old Town
Locally known as Palea Poli, this small area of Chora is located at the end of the city's main road. Although the place is mainly residential, the beautiful small houses with green plants and colorful flowers on their facades offer a unique landscape for a short, relaxing walk.
Pay A Visit To The Archaeological Museum
A small but interesting exhibition with organized informative signs, the Archaeological Museum is located in the Chora of Andros.
On the premises, you can see ancient objects discovered in the old town, as well as funerary objects and different sculptures. There is also an ancient kouros, and the so-called Hermes of Andros, a statue from the fourth century.
Discover Batsi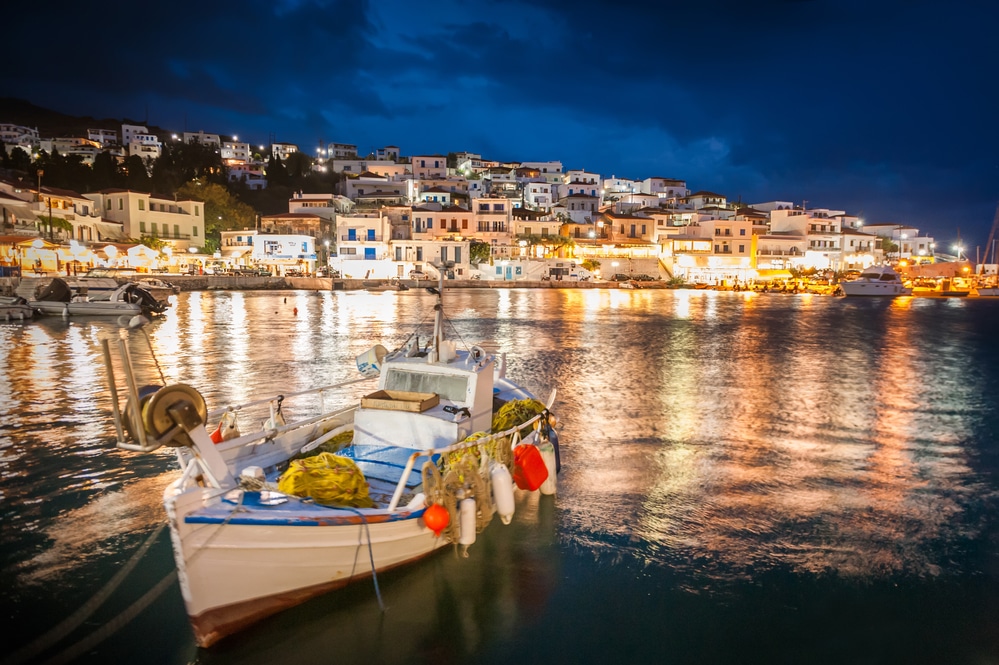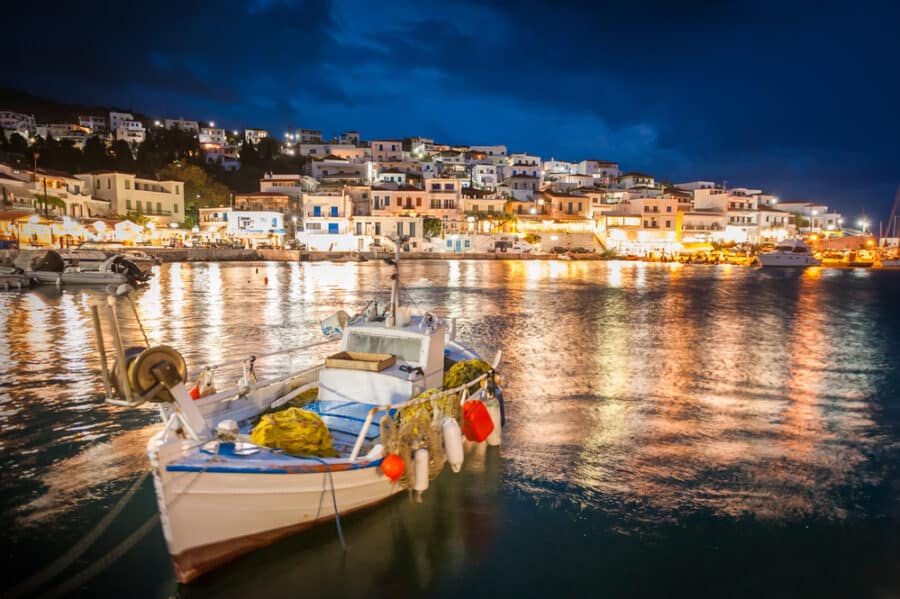 The most important resort town in Andros is Batsi, the best place to find accommodation and entertainment and certainly one of the places to see when you visit. Over here, there is also a beautiful beach (often quite crowded) with a sea often described as incredibly clean…. but cold!
Explore The Goulandris Modern Art Museum
Not far from Chora's Archaeological Museum, this exhibition features interesting pieces of modern and contemporary art.
The collection is displayed over four different floors, including the works of some of the most important modern Greek artists as well as art by Warhol and Rodin. The museum also hosts temporary exhibitions, especially in summer.
Discover The Archaeological Site Of Paleopolis
An ancient settlement that is located about 8 kilometers from Batsi, the place flourished around the sixth century BC and, according to different research, it is believed to have been continuously inhabited until the end of the eighth century AC.
The place is open to visitors. Remember to carry enough sunscreen, a hat, and sunglasses if you visit during summer as the site is not covered.
Admire The Old Castle
Heading south from Chora, you will reach Paleokastro, also known as Faneromenis Castle.
Although only a few ruins remain of this old Venetian castle, its imposing location on top of a rock more than 500 meters over the sea is the main reason to visit since the views are nothing short of breathtaking.
Visit The Village Of Kortis
Also known as Ormos Kortiou or even Ormos, this is one of the most touristic villages on the island. The place is a beloved location for those who enjoy surfing, and it's even the place where the Greek surf team practices the sport.
Hike The Andros Route
Andros has made quite a reputation among experienced hikers in Europe; the well-known Andros Route crosses the whole length of the island, from the northern coast to the south, covering a path that extends for more than a hundred kilometers.
Along the way, pastoral landscapes with old stone bridges offer unexpected views and perfect settings for photography. The trail has been mentioned in several hiking manuals and has been awarded the Leading Quality Trails – Best of Europe Award by the European Ramblers Association.
If you are not an experienced hiker, starting with an easier trail is a good idea. For instance, the Andros-Paleopolis loop hike is about 3.7 kilometers long and can be easily completed even if you are not that fit.
Best Beaches In Andros Greece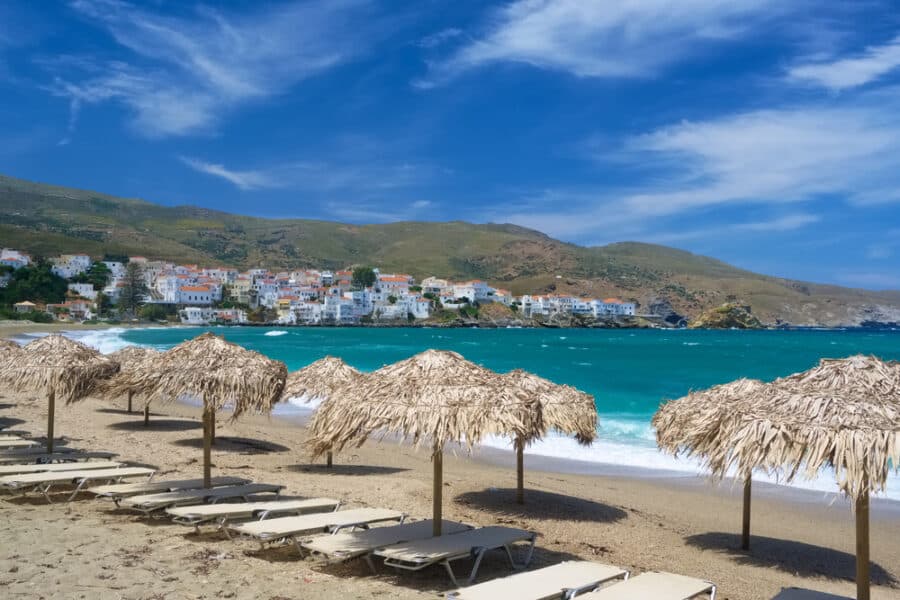 Some travelers agree that Andros is home to some of the best beaches in Greece. Not just in terms of beauty, but also because there is a huge variety of shores to choose from. From sandy coves to sea caves and rocky shores, there are a lot of amazing beaches to discover on the island
These are some of the top beaches that you should visit in Andros.
Agios Petros Beach
The biggest shore on the island, this place caters to all types of visitors. It has a fashionable area where you'll find exclusive beach bars with music and serving delicious drinks, but also an area devoted to water sports.
Since the shore is so large, there is also a portion of the beach, tranquil and relaxing, which is more secluded and offers an intimate environment to relax, sunbathe, rest, and swim too.
Chrissi Ammos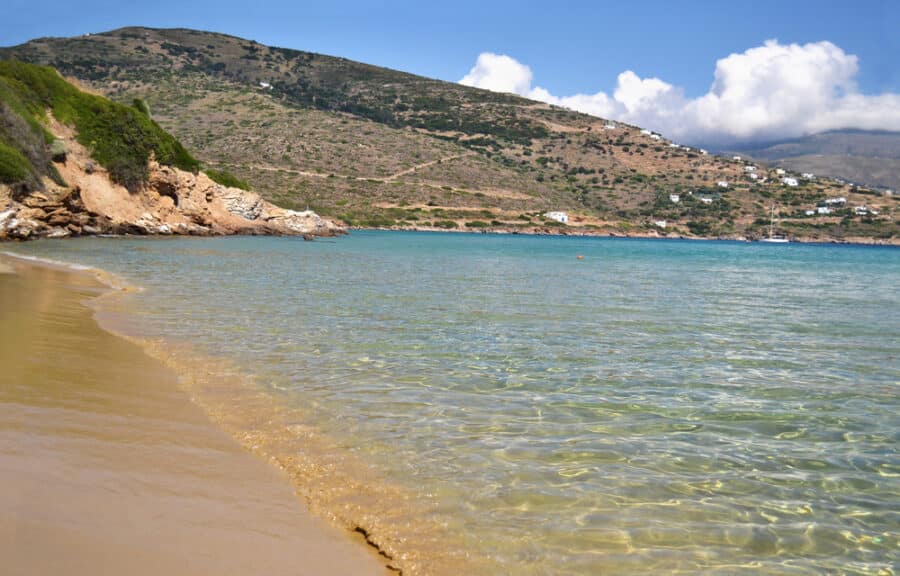 Considered the most popular bay on the island, this is a sheltered beach where you can be certain that winds won't affect you – a top thing to consider when traveling with families. The beach features shallow, clean, and calm water, and beautiful fine sand, two other ingredients that families enjoy.
Although it tends to be quite crowded, there is loud music and enough organized structures to keep you busy all day long, once the crowds leave during sunset, this is one of the most magical places where to be on the island.
Vitali Beach
Pristine and relaxing, this is one of the most beautiful beaches you can check out on the island. It is a great place to spend a whole day by the sea, enjoying long hours sunbathing on the soft sand or swimming in the crystal-clear seas.
If diving is something you enjoy, you will certainly appreciate the rocks standing on the sides of the beach from where, many divers, have fun trying brave jumps.
Tis Grias To Pidima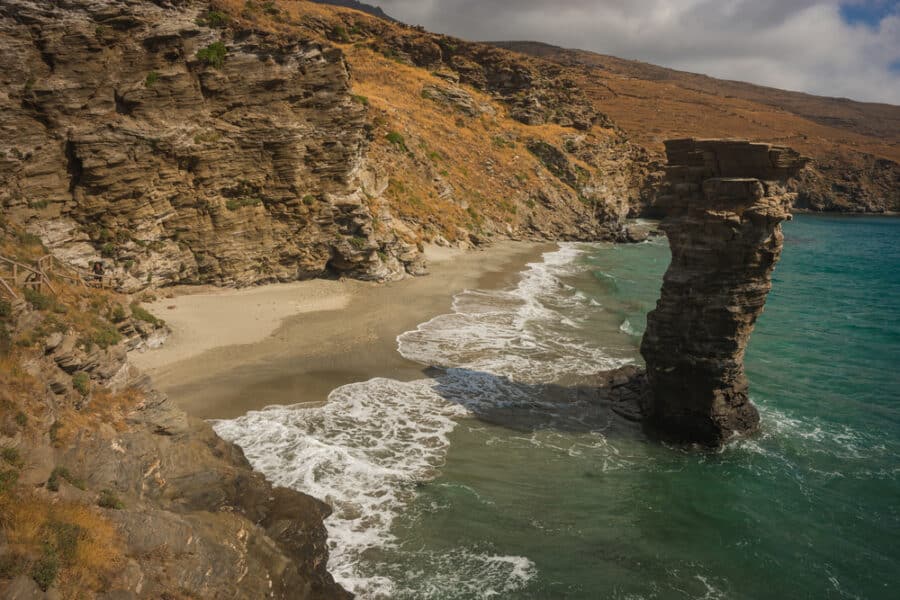 Certainly, the most famous place on the island, this beautiful shore with clear sand and blue waters is known for an imposing rock standing over 20 meters above the beach and is surrounded by the sea.
The name of the beach could be translated as the Old Woman's Jump. This is because it is said that Ottomans only managed to conquer Andros with the aid of an old lady who, feeling extremely guilty and sorry for allowing the Turkish to conquer the island, jumped from the rock to find her death at sea.
Apothikes Beach
Another favorite beach on the island is Apothikes. This is a beautiful shore with crystal-clear waters and soft, golden sand quite safe for families with kids. This is one of the top places on the island if you're looking for calm waters to swim in for hours.
Around the beach, you can explore the rustic landscape and discover some ancient warehouses carved on the rock where, in the past, sailors from Andros used to shelter their fishing boats from the winter winds and cold weather. These caves are safe to explore and not exclusive to this Andros beach.
Island Of Andros With Children
The island of Andros, Greece can be a great summer destination for families, since the island is quite big. It offers a variety of activities that kids can enjoy, including some of the calmest and safest beaches in the area.
On Andros, families will find a relaxing atmosphere, enough organized infrastructure and cultural events every summer, including music nights, theater exhibitions, and special activities organized at the museums.
The island also offers sports opportunities. It's possible to hike the dozens of Andros' Routes, go horseback riding, and taste local, healthy food inspired by the Mediterranean diet.
Overall, the island offers a welcoming atmosphere especially geared toward families with small children.
Island Of Andros At Night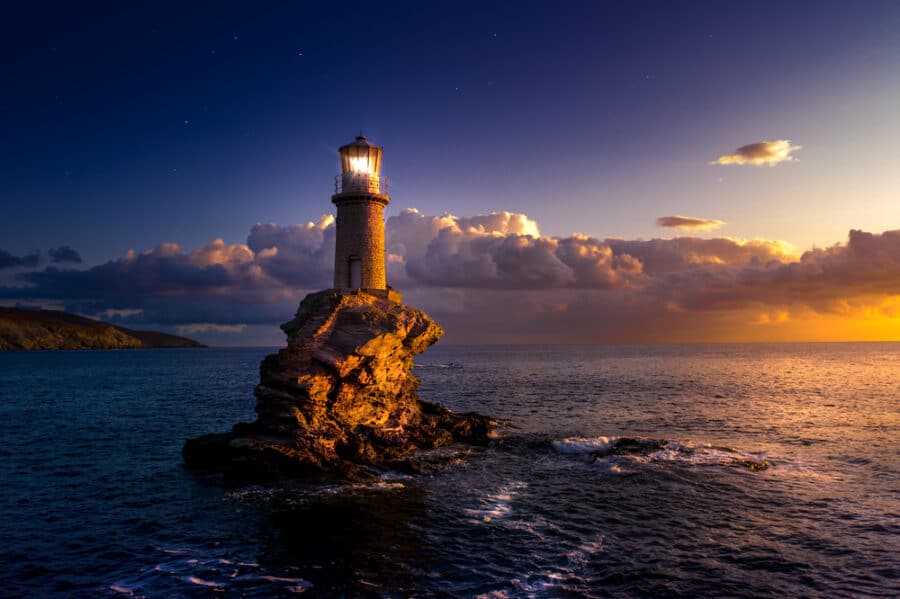 The best place to enjoy the nightlife in Andros is definitely Chora, the main settlement. Although small, the capital of the island features several speak-easy bars, pubs, and lounges where to listen to music and enjoy good drinks.
If you head to Baltiza, a 20-minute car ride from the port, you will also find a few clubs, pubs and wine bars open after midnight.
Best Places To Eat In Andros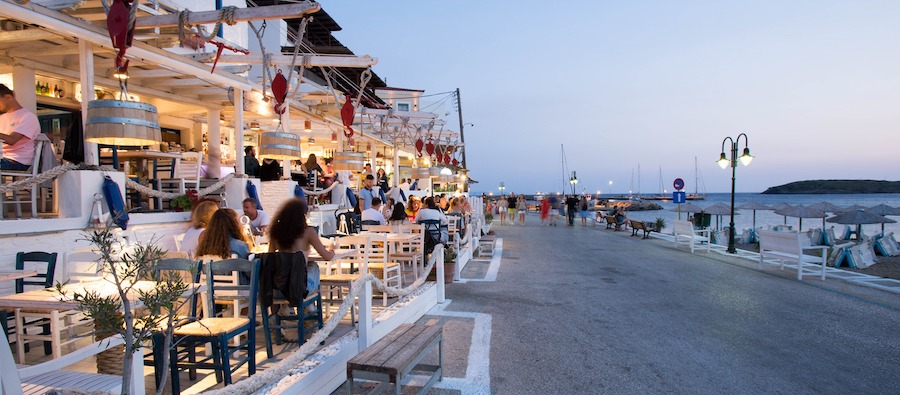 These are some of the most popular places to eat on Andros Island.
Mi Se Meli
Mi se Meli is a unique taverna set in a traditional stone house in Batsi. The place serves traditional Cycladic food paired with a remarkable wine list. There are vegan and gluten-free options as well as simple dishes for small and picky guests.
Oti Kalo
Oti Kalo is a place that you might visit more than once as the food is excellent. The place offers stunning views of the beach in Batsi and some of the best dishes of the local cuisine. There are also plenty of choices for children.
Mastello
Mastello is the fish restaurant to check out on the island! A visit to this restaurant guarantees that you'll savor unique recipes with products from Greek producers. This famous spot has also a branch in Athens.
Accommodation On Andros Island
Andros is quite a big island, offering a varied choice when it comes to accommodation, mostly made of family-run hotels, studios, and small villas for rent. These are my favorite places to stay in Andros.
Budget Places To Stay In Andros
Stenies'Nook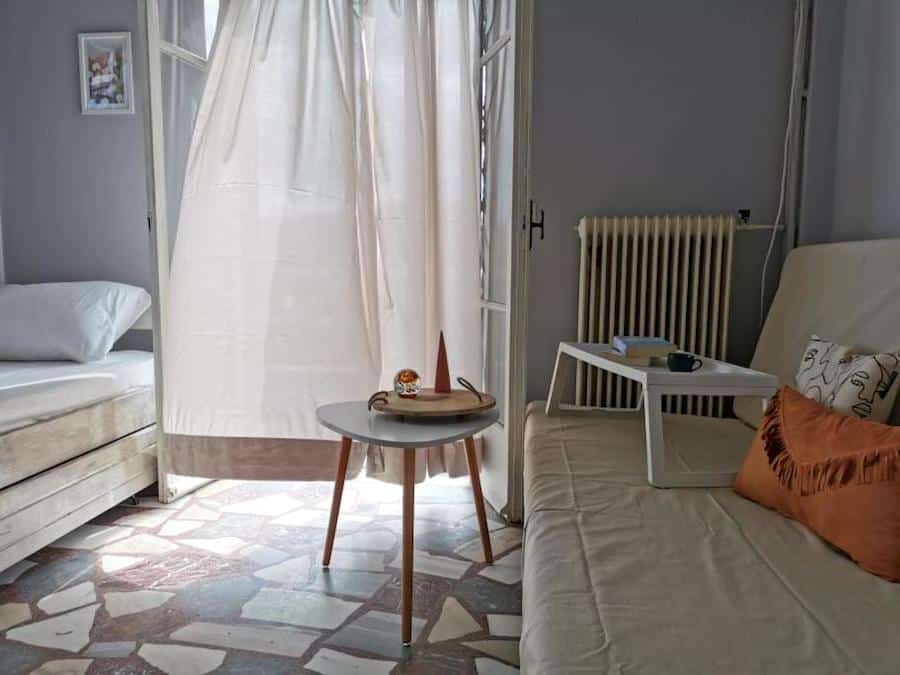 Located in Andros Chora, this place is within a short walk from some of the most popular beaches on the island, including Piso Gialia, not far from the Archaeological Museum of Andros. Stenies'Nook has a shared garden while rooms come with a terrace with beautiful views of the coast.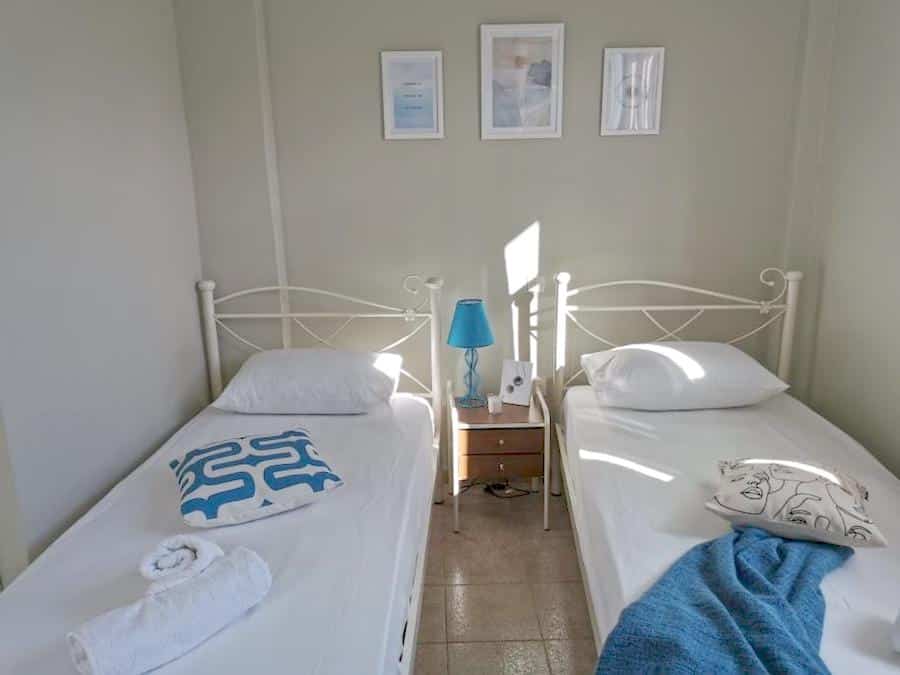 .
Handakas Studios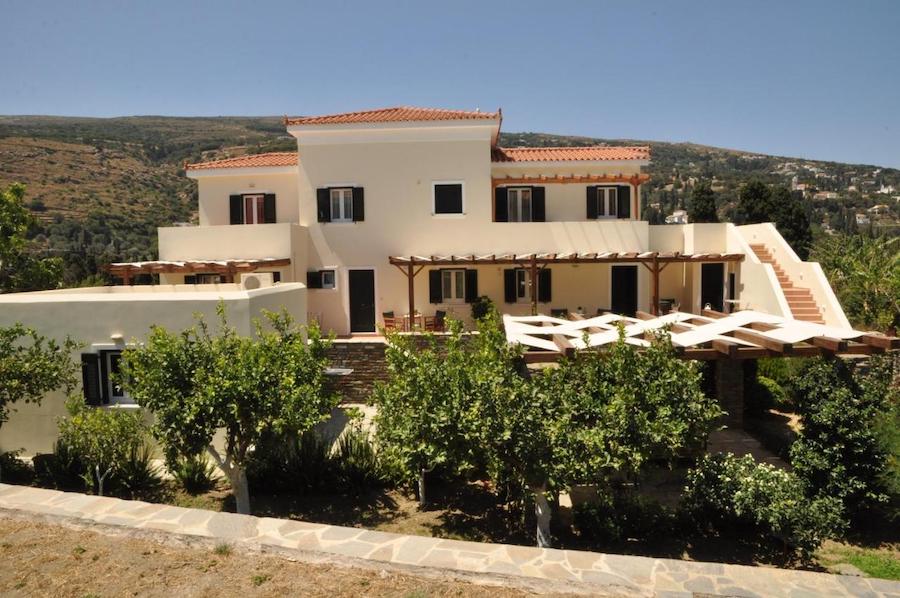 This is a beautiful property in the village of Messaria, about 15 minutes from the main town of Andros. The place features tastefully decorated studios and apartments opening out to furnished, stone-paved patios.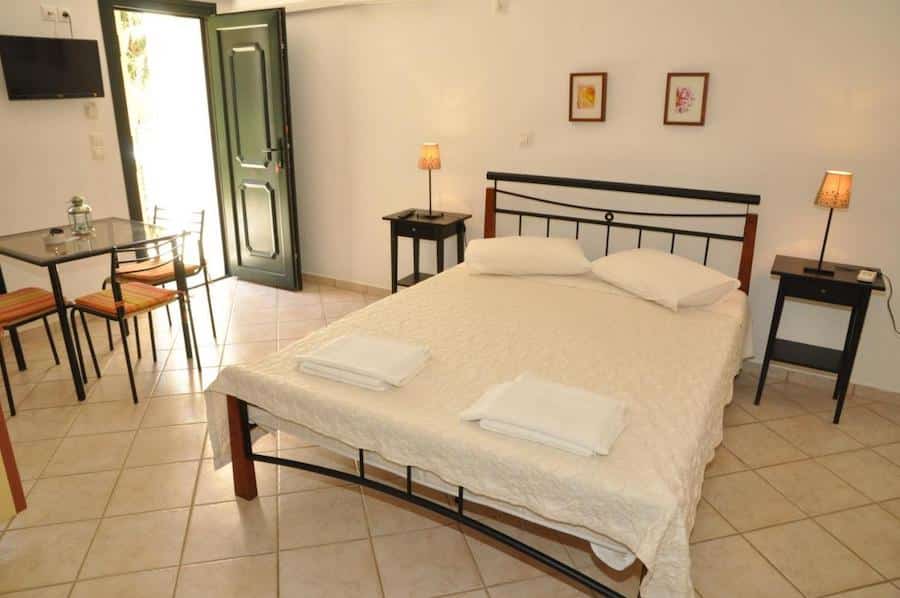 .
Mid-Range Places To Stay In Andros
Vassiliki Studios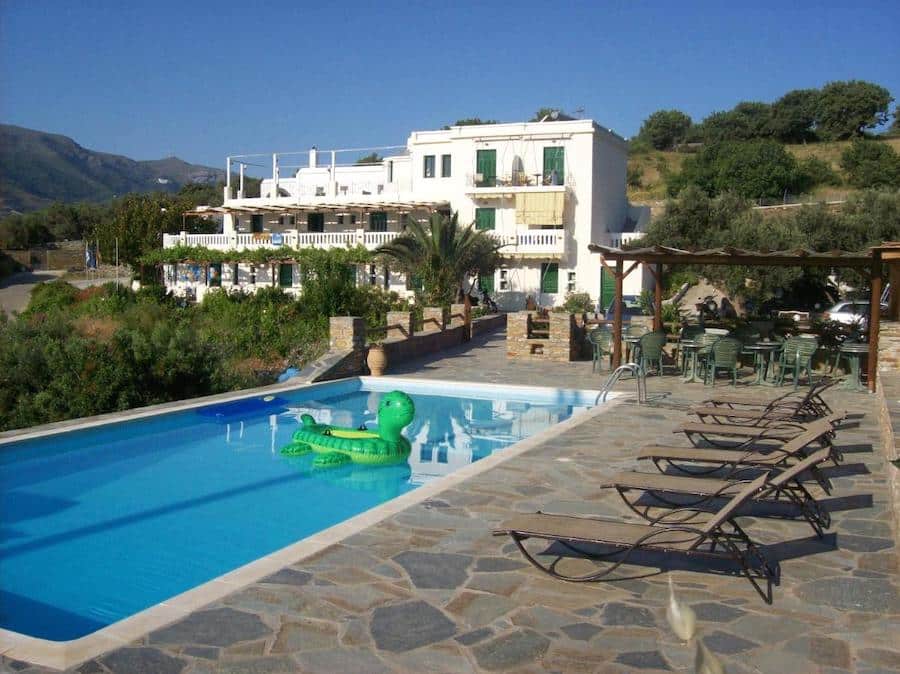 The property boasts self-catering accommodation with Aegean Sea and Andros Town views. There is also a seasonal outdoor pool as well as a gorgeous furnished sun terrace. Vassiliki Studios is only steps from the sandy Neimporio Beach and there are several restaurants, bars, and shops nearby.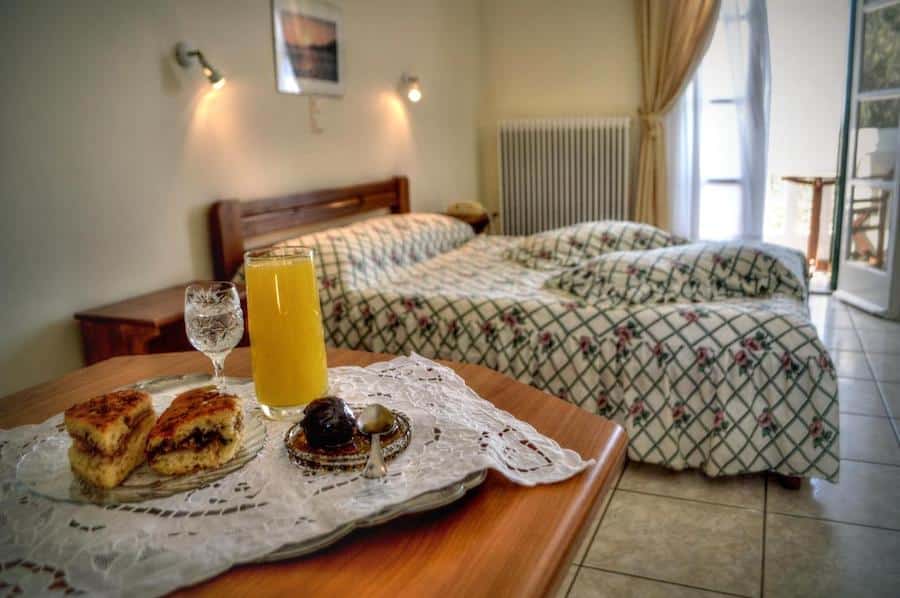 .
Silia Galini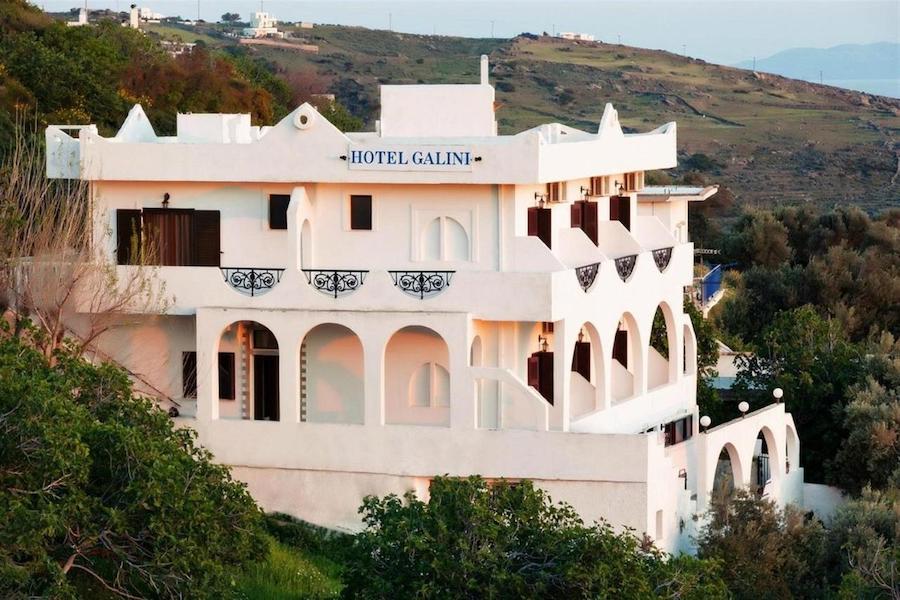 Perfect for families, this 3-star hotel is located in Andros Chora. It features comfy units with air conditioning and stunning views of the sea.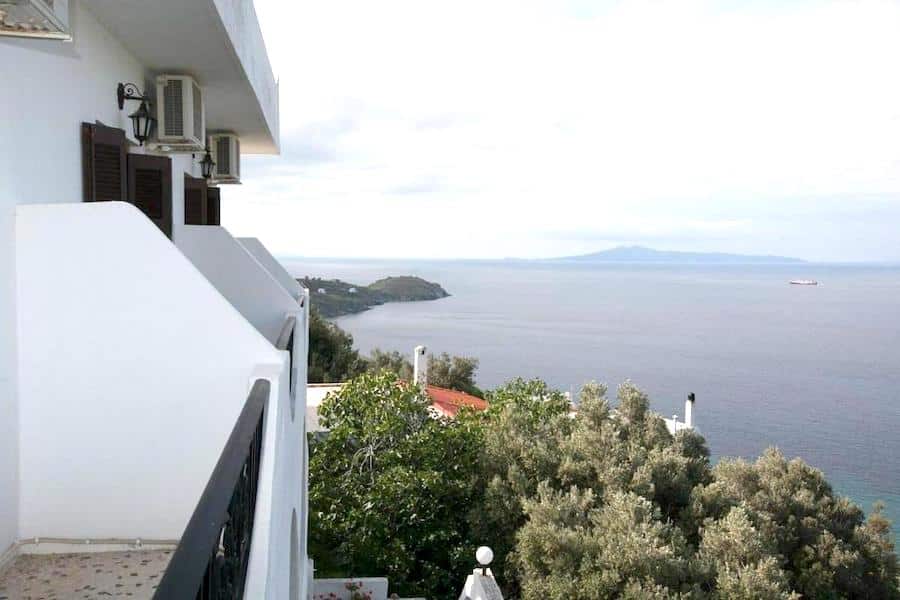 .
Luxury Places To Stay In Andros
Paradise Art Hotel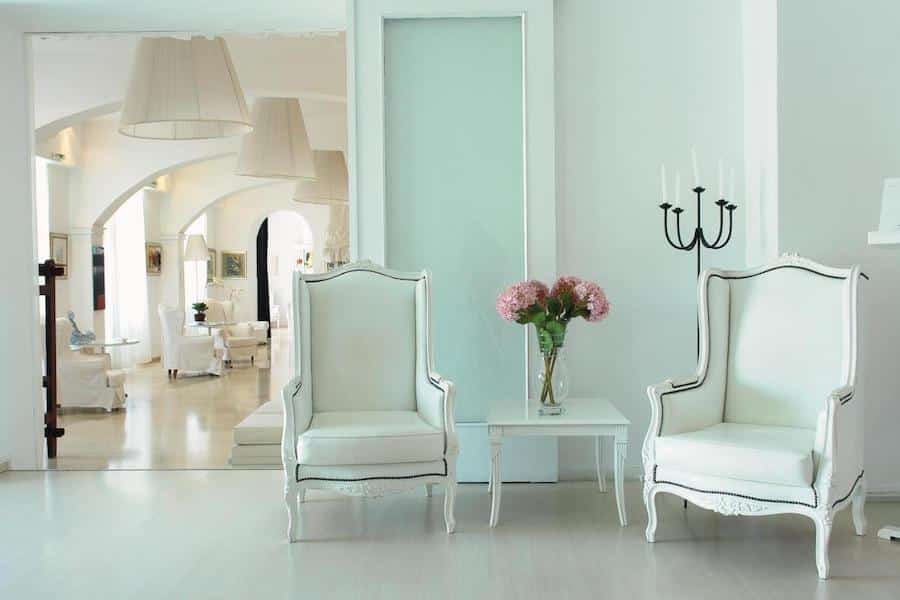 Belonging to the Small Elegant Hotels of the World, Paradise Art Hotel is just a short walk from the best beaches on the island. Suites at this hotel feature a unique old-world style of architecture and elegant balconies. There is a common terrace with sea views as well. The property serves a delicious American breakfast and offers a swimming pool and a tennis court.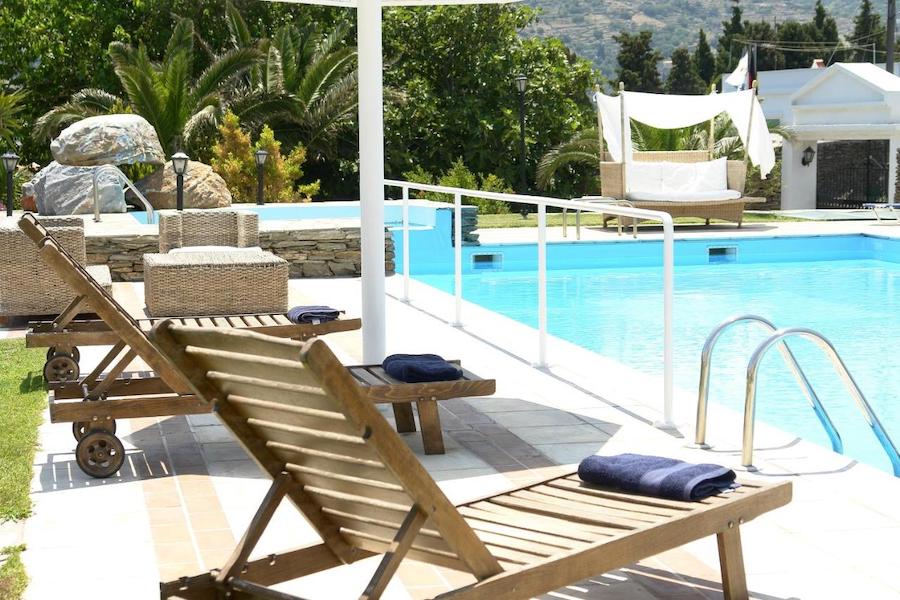 .
Andros Escape Condos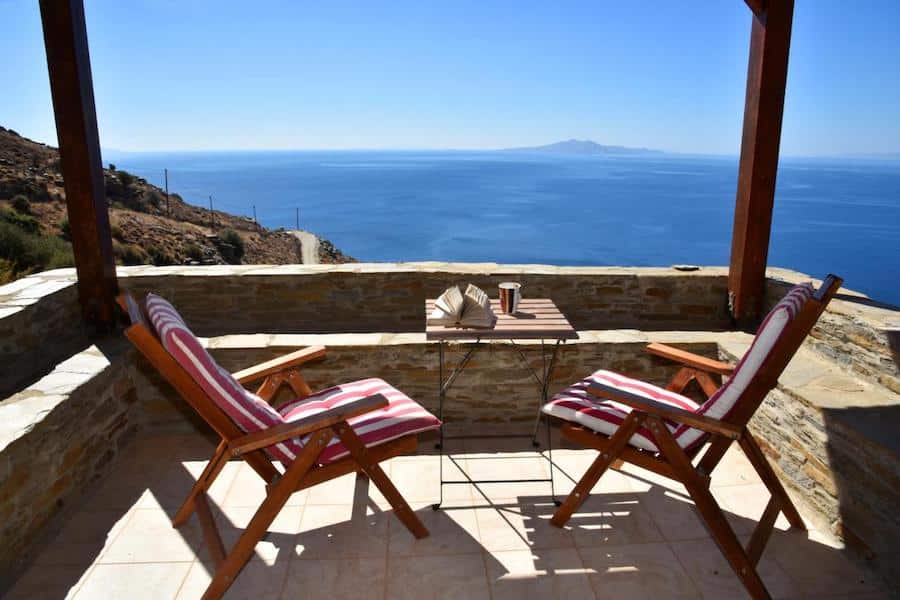 The ideal place if you're looking for relaxation and amazing views! The condos feature a beautiful garden and a swimming pool. All self-catered units have a terrace offering sea views, a dining area, and a well-fitted kitchen.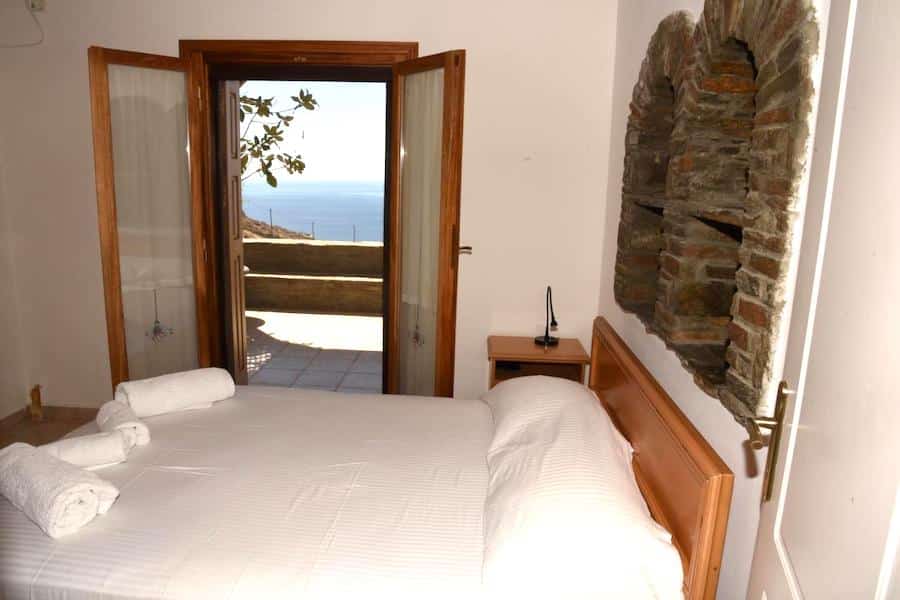 .
Now that you have your Andros Island travel guide, and a list of things to do in Andros, tell us, where on the Island of Andros, Greece, you will go first.
Share