Syros is a small but prosperous Cycladic Island, the capital of the Cyclades. A relatively recent touristic development makes it entirely off the beaten track and relatively free from mass tourism. It's a perfect place for a tranquil holiday and ideal for enjoying pristine, empty beaches, traditional villages, excellent gastronomy, and local music.
Syros Island is famous for its excellent restaurants, its rebetika music, and some delicious sweets such as loukoumi (Turkish Delight), mandolata (nougat), and halvadopita (a softer kind of nougat).
Ermoupolis, the capital of Syros, shines with a myriad of neoclassical mansions of exquisite taste and elegance, beautiful churches, and romantic alleys. The city is also close to some of the most amazing Syros beaches, most of them concentrated on the southern and western coasts.
Finally, a great trait to remember when deciding what Greek Islands to visit is that Syros is straightforward to reach from Athens and other islands, such as Mykonos or Santorini. This transforms the island of Syros into a convenient destination to add to your island-hopping itinerary.
Now, our Syros travel guide below will tell you everything you need to know to plan a perfect holiday in Syros!
How To Get To Syros Greece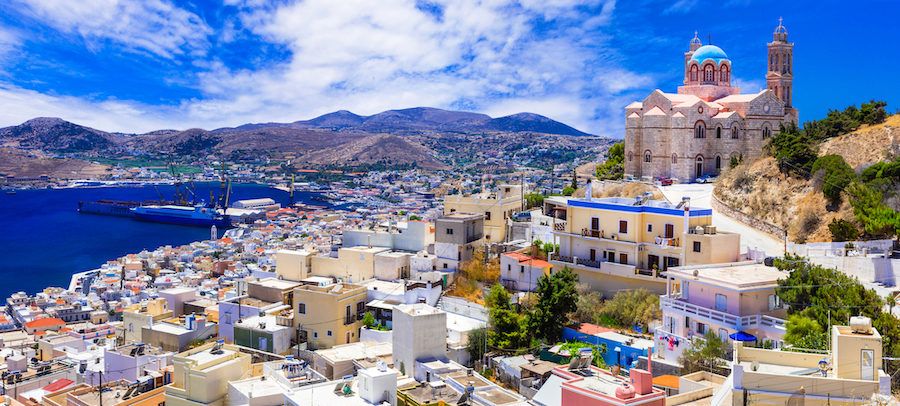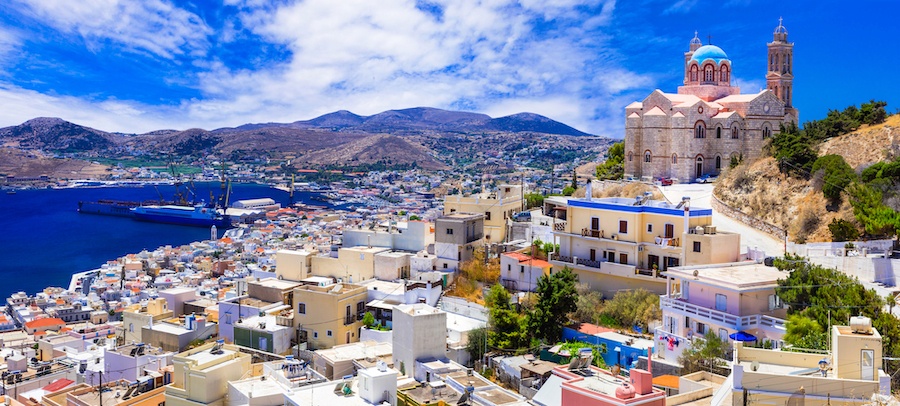 Since the island is the capital of the Cycladic cluster, there are different ways to travel to Syros.
How To Travel To Syros By Plane
The island is connected to Athens all year long, with more than five flights managed by Olympic Airways every week. During summer, there are seasonal flights from Thessaloniki as well.
The airport is located a few minutes from the center of Ermoupolis (only two km), and it's necessary to hire a taxi to reach the center of town since there is no bus service at the time of writing available from the airport. The flying time from Athens to Syros is about 30 minutes.
How To Travel To Syros By Ferry
Ferry travel is the most popular and convenient way to move around when visiting Greece and discovering the islands. You can reach Syros from Athens, either from the port of Lavrio (2-4 ferries weekly, with a 4-hour travel time) or from Greece's main port, Piraeus (2-3 daily ferries, travel time of 3-4 hours).
Syros is also connected to most Greek Islands via ferry. You can reach Syros from Amorgos, Andros, Astypaleia, Ikaria, Milos, Mykonos, Naxos, Paros, Patmos, Samos, Santorini, Serifos, and other smaller islands too.
TRAVEL COMPANIES WE USE AND TRUST
What To Do In Syros – Things To Do In Syros
Despite being relatively small compared to other islands in the Aegean, there are plenty of things to do in Syros. It's a good idea to plan a stay of at least four days to have a complete panorama of the island, visit some of its fantastic beaches, discover its gastronomy and music, and explore traditional villages and its mountainous landscape.
This list below features some of the most unforgettable things to do and see in Syros for a fantastic vacation on the beautiful Greek island of Syros.
Discover The Gorgeous Architecture In Ermoupolis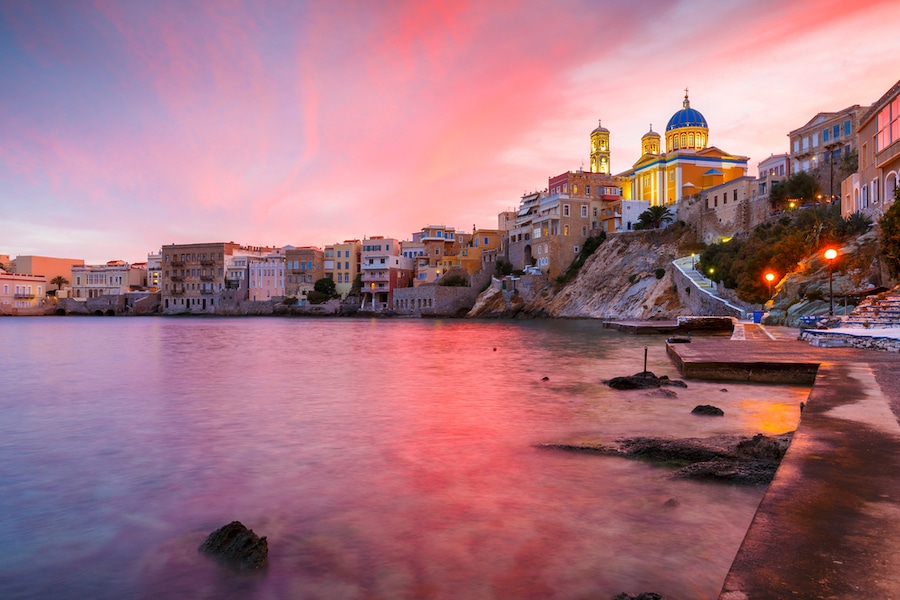 Arguably one of the most attractive cities in the Cyclades, the capital of Syros, deserves at least a short visit when discovering the island. Home to some of the most unique architecture in Greece, Ermoupolis takes pride in its imposing neoclassical buildings.
Many of these mansions stand along the seaside promenade, next to bars and cafeterias, as a memory of when the island of Syros was one of the most important ports in Greece.
The city is divided into two distinct areas: the lower town, with an Orthodox tradition, and the upper Ermoupolis, home to most Catholics.
Wander Around Miaouli Square
Known in Greek as Platia Miaouli, this central square is located in an exquisite pedestrian area covered in colorful bougainvillea and palm trees. Here, visitors can discover some of the best cuisines on the island and fantastic cafeterias to have a late brunch or a cocktail after dinner.
Here, it's also possible to visit the Archaeological Museum of Syros, which features objects coming from the island and Paros and Amorgos.
Check The Orthodox Quarter
Once you've visited the square, take the steps along Benaki Street and reach Vrondado Hill, the place hosting the Orthodox quarter of Ermoupolis. In this area, don't miss a visit to the Church of the Resurrection (Anastasis), offering a breathtaking panorama of the neighboring islands of Mykonos and Naxos from the top of its dome.
If you are interested in the churches on the island, not far from Miaouli Square, pay a visit to the Church of the Resurrection, which houses a holy icon of the Virgin, made by the famous painter El Greco during his young years.
Explore Vaporia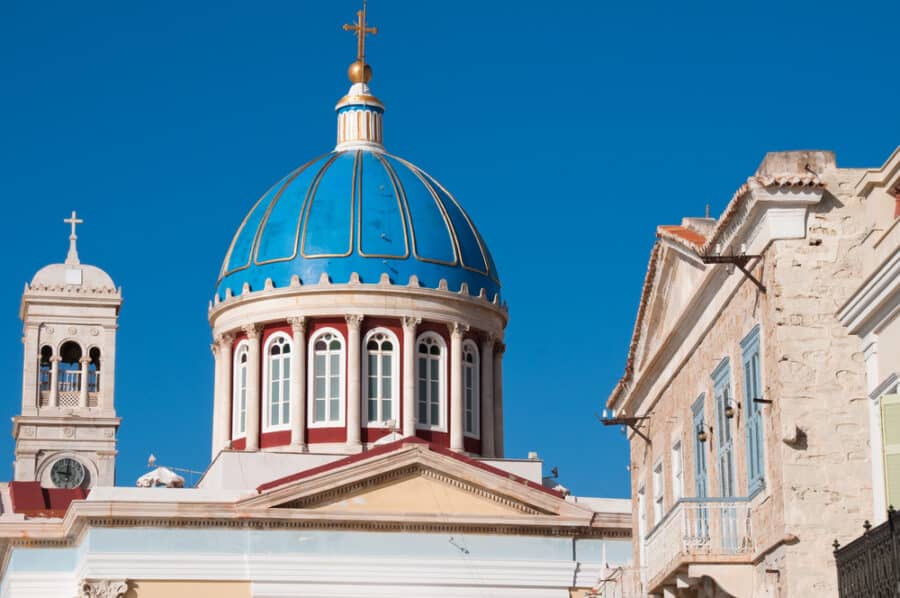 Probably the most beautiful neighborhood in Ermoupolis, Vaporia used to be the quarter where the wealthiest merchants and shipowners on the island built their stunning mansions.
Located close to the port, the area's splendor is highlighted by the paved alleys with arches and neoclassical buildings with marble details, paintings, and frescoes. Opposite the site, you can also visit the church of Saint Nikolas, the patron saint of Ermoupolis.
Admire The City From Ano Syros
Not far from Miaouli Square, you will find the highest hill in Ermoupolis, home to the medieval quarter of Ano Syros (Upper Syros). Get lost walking along the magical alleys of the area, which host several Catholic churches. Don't miss the beautiful Saint George Cathedral or the Capuchin Monastery of Saint John, dating back to 1535.
Also, in Ano Syros, it's a good idea to visit the Markos Vamvarakis museum. Vamvarakis was one of the most crucial rembetika musicians in Greece. Rembetika, also known as the urban blues of Greece, is an underground music style that flourished during the twentieth century as a combination of traditions and expressions of social concern.
Syros is one of the best places to discover more about rembetika as it is also the place where the Festival of Rembetika takes place every year.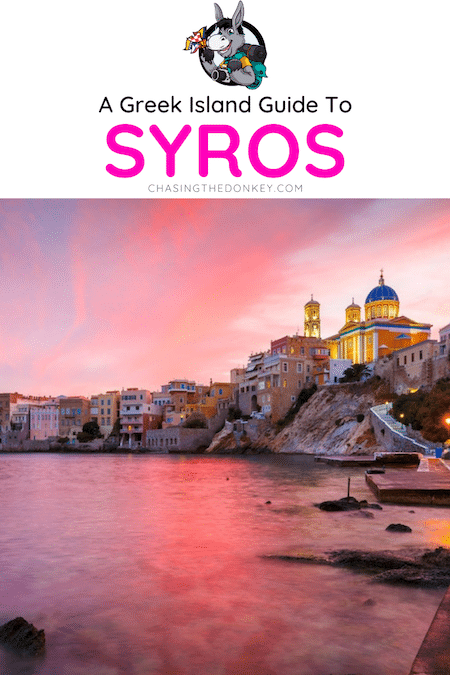 Check Out Some Of The Best Beaches On The Island Of Syros
There are several beautiful beaches to discover in Syros, not crowded even during the season's peak, which comes with that famously sunny Syros weather.
Galissas Beach
Galissas is the biggest beach on the island. It has a pristine sandy shore with shallow waters, ideal for families.
Since it's just minutes from Ermoupolis, it's easy to reach by bus. This makes it popular among visitors.
Fr om Galissas, it's possible to reach the small naturist beach of Armeos, often quite solitary.
Agathopes Beach
The beach features a fantastic, unspoiled nature, with white beach lilies blossoming on the sand. This beautiful shore is a protected area ideal for swimming. There are several diving centers in the area, so it's possible to experience the magnificent underwater life of Syros.
The beach is well-organized. There are sunbeds, umbrellas, and taverns to enjoy a refreshing drink and a traditional lunch. In the area, there are also several hotels and studios.
Azolimnos Beach
The tiny and attractive village of Azolimnos is a great place to stay on the island. Located 4 km from Ermoupolis, this small beach is excellent for a calm swim and unforgettable underwater experiences. The beach features crystal clear waters, several diving centers, and fish taverns by the sea.
Several hotels and studios near the beach offer both luxury and budget accommodations. You will be happy to know Azolimnos is connected to Ermoupolis by bus.
Finikas Beach
From Galissas Beach, you can ride the bus that takes you south to reach, in about 10 minutes, the long and narrow beach of Finikas.
The area is well-developed, with bars, cafes, and places to stay. Not far from this shore, you can also reach the nearby beach of Posidonia, also known as Delagrazia Beach.
Megas Gialos Beach
South of Posidonia, the beaches of Megas Gialos and Ambelia are two long beaches with trees offering plenty of natural shade to spend the whole day in total relaxation.
Kids especially love the coast in the area as it's shallow and safe; besides, it's possible to rent a boat to discover some unique hidden caves by the sea.
Ahladi Beach
Probably the best family-friendly beach in Syros, the place is protected from the typical wind of the Aegean, the Meltemi. Therefore families with children often seek refuge in the area on windy days.
Kini Beach
Located about 7 km west of Ermoupolis, Kini is another family-friendly area in Syros. Here, there are also several simple tavernas and restaurants for a quick but tasty Greek lunch. The sandy beach is protected and relatively shallow. It's also possible to rent sunbeds and umbrellas or lay down under the several tamarisk trees that grow by the sea.
Discover The Culture Of Syros Greece
The Town Hall And The Archaeological Museum
The Town Hall is located in Ermoupolis, in Miaouli Square. The neoclassical building dates back to 1898 and has clear traits of Bavarian architecture. Its central area is entirely made of marble, while an imposing marble hanging ladder leads to the first floor.
The Town Hall also hosts the Archaeological Museum of Syros, the Court of Law, and other public services, and it is often described as one of the most beautiful Town Halls of Greece.
Taste Local Wines
Don't miss the opportunity to check the wines of the island. The small Syros Winery is located in the village of Talanta village, on the way to Galissas Beach. Here, wine lovers can sample the rare Cycladic vineyards blessed by the island's microclimate: intense sun, northern winds, and sandy terrain.
Shop For Traditional Products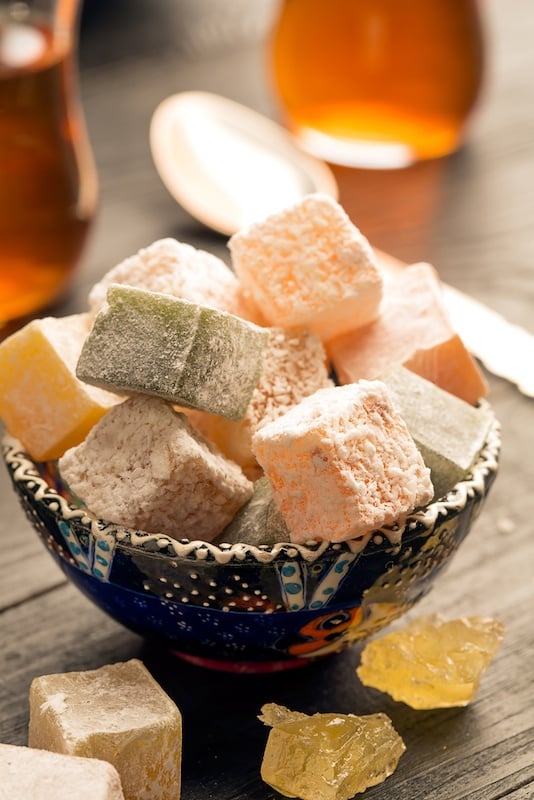 There are several art galleries and souvenir shops to visit in Syros. However, some of the most traditional souvenirs you can take home from Syros are the delicious sweets produced on the island. The most famous of all is loukoumi, also known as Turkish Delight.
These delightful candies are known all over Greece, but Syros produce some of the best quality ones. They are handmade gummy sweets traditionally made with almonds, starch, and sugar.
Loukoumi comes in unique flavors, including mastic, rose, and pistachio. Different tour companies in Ermoupolis organize day trips to taste this delicacy and witness the production process. You can pay a visit to a loukoumi factory too.
The Casino Of Syros
Try your luck on the island! The Casino of Syros, Greece, opened in 1997 and is one of the few casinos in the Aegean.
There are different board games inside the Muses hall, including Roulette, Blackjack, Stud Poker, and some slot machines.
Archaeological Site Of Halandriani
Not huge, but indeed interesting, this archaeological site was discovered back in 1895.
The main feature is a cemetery from the Early Cycladic period, with graves housing lots of expensive items with a solid connection to the marine essence of the island.
Most of these objects can be admired at the museum of Syros.
Cycladic Art Museum
Also, in Ermoupolis, this museum in Miaouli Square was founded in 1983 and is housed in an impressive two-floored neoclassical mansion designed by an Italian architect.
Minimalistic figurines of Cycladic origin are among the most remarkable objects, some dating back to the 3rd millennium BC.
The museum organizes frequent guided tours for adults and children
Syros Island With Kids
Kids will adore the beaches of Galissas and Kini, walk the streets of Ermoupolis and explore some of the museums on the island.
In Kini, children can have a great time visiting the small aquarium. Although the place is reasonably small and can be seen in less than an hour, the local aquarium of Kini features various local fish and marine creatures from the Aegean Sea. The aquarium also features a small exhibit area of artifacts found under the sea and an exhibition of divers' underwater photographs from shipwrecks.
Another activity that kids will enjoy in Syros is horseback riding. The Equestrian Club of Cyclades offers riding lessons, trail riding, pony rides, and other educational activities for adults and children alike.
Boat rides are an excellent opportunity to spend a fun day with kids in Syros. Some rides take you to the unspoiled northern coast of Syros, part of the Natura 2000 program, for families to discover unique beaches with enchanting waters. Most tours depart from Kini Beach.
Where To Stay In Syros Greece
Budget Places To Stay In Syros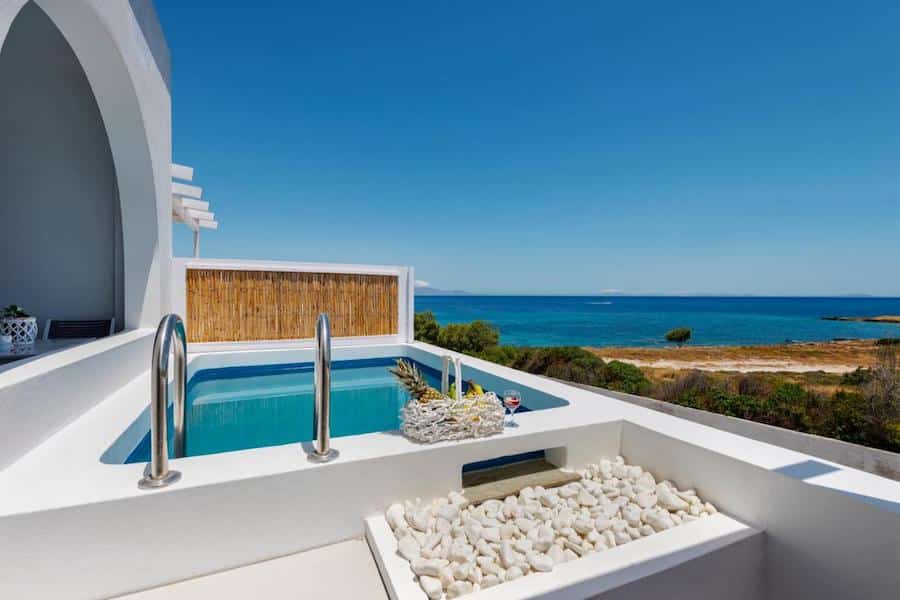 Galini Rooms and Apartments is a fabulous place to stay in Finikas, only 500 meters from the beach. The property offers a children's playground, a garden, and free private parking for all its guests.
All units feature a fully equipped kitchen, a dining area, a TV with cable channels, and a coffee machine are also provided. Moreover, there's a barbecue and a terrace for the guests.
Aegean Paradiso Vacation Club has excellent reviews and is a great place to stay for families. It's located only steps from the beach, in the village of Azolimnos.
The property features an outdoor swimming pool, self-catered accommodation with a terrace or balcony, and pool or sea views. Surrounding the pool, guests can find free sunbeds, umbrellas, and a children's pool.
Mid-Range Hotels In Syros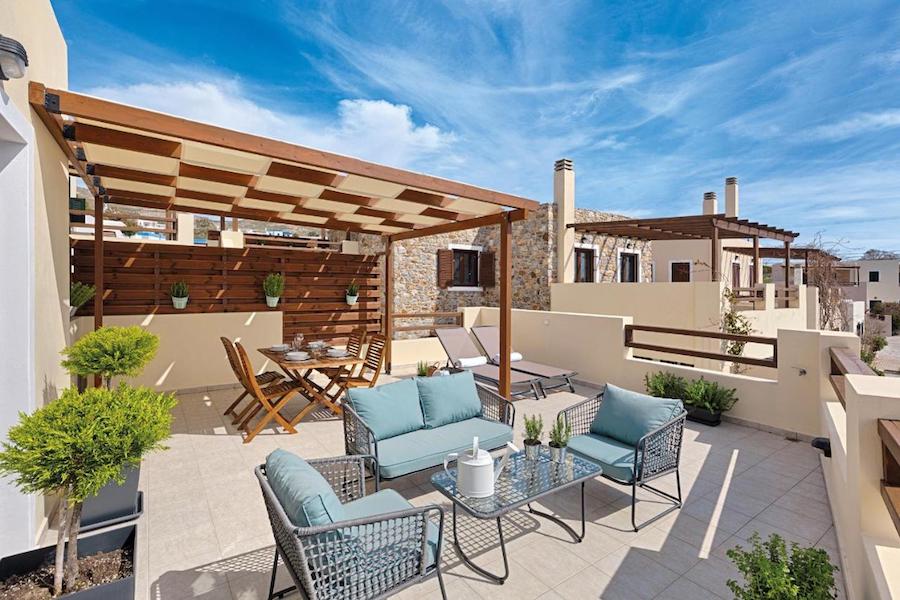 Syra Bay is a super convenient place to stay in Syros if you want to spend your time enjoying one of the best beaches in Syros.
This comfortable property is located steps from Megas Gialos Beach and is only 12 km from Kini Beach. This is a complex with self-catering units, all of them with a terrace or a balcony, and fully equipped for a comfortable stay.
Magnolia Senses is a pet-friendly and convenient hotel with a beautiful garden in the area of Kini. The accommodation features air conditioning in every unit and studio with a comfy seating area or a terrace.
Luxury Hotels In Syros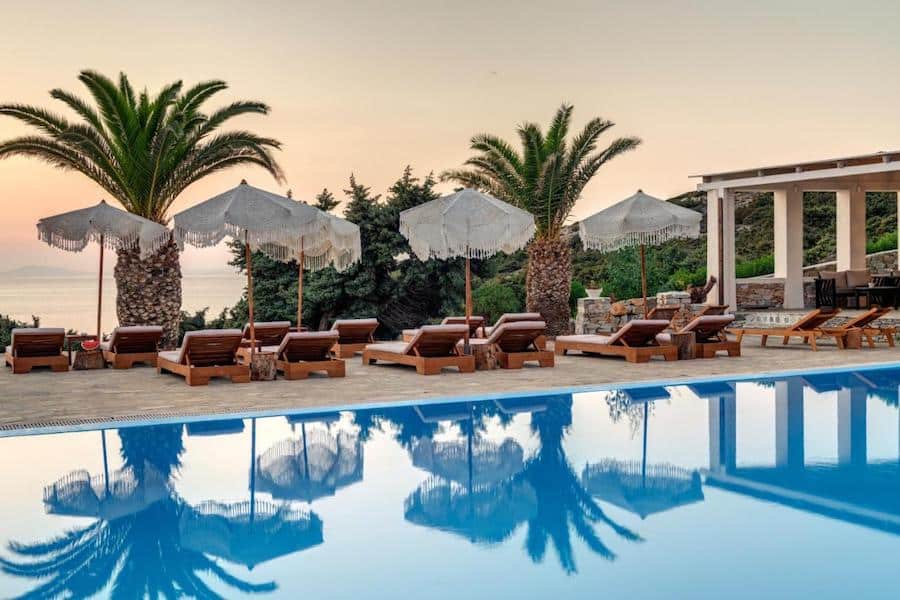 Faros Resort is a comfortable Syros hotel for families right by the sea. It overlooks a private natural bay and boasts stunning views over the Aegean.
Among the things that guests appreciate the most are the elegant pool with sun terrace and bar and the whitewashed rooms combining Cycladic style and modern aesthetics.
This resort is just 3.5 km from Ermoupolis and only 350 m from Azolimnos sandy beach. Families prefer this place since it also offers babysitting services, making it one of the best Syros hotels for young families.
Syros Village Suites in Vari is one of the top hotels to stay in Syros. It features a great location, only 600 meters from Vari Beach. Families love this Syros hotel since it offers free bikes, an outdoor swimming pool, a garden, and a bar. Guests also love the possibility of spending time in the hot tub or booking a room with a plunge pool.
Where To Eat In Syros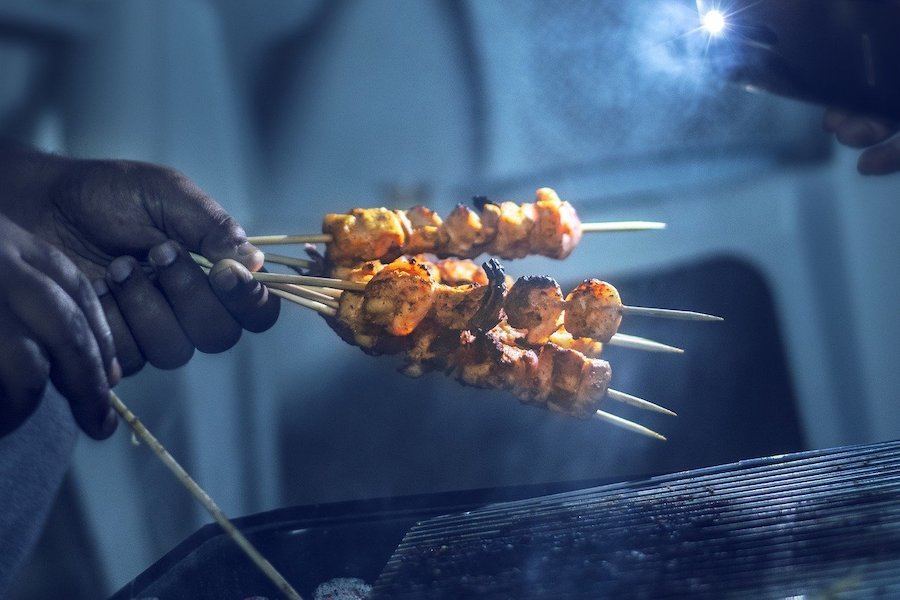 Allou Giallou
If you're spending some time in the village of Kini, then reach the beach and enjoy the cuisine of Allou Giallou. Dishes combine traditional Greek flavors with a modern preparation and presentation. Seafood is king in this venue; the setting is romantic, perfect for a dinner under the stars next to the sea.
Kouzina Syros
Right in the heart of Ermoupolis' main square, this friendly place is a perfect option for a family meal. Kouzina Syros serves simple, no-frills cuisine as well as family-friendly dishes.
Ousyra
Another great place to eat in Ermoupolis, Ousyra, is a chic venue specializing in fine dining. Here, go for their hearty risottos and other great dishes with a strong Mediterranean influence. If you're looking for a top-class culinary experience, head to this venue in the romantic alleys of the town.
Savvas
Are you planning to spend your day in Galissas Beach? Then don't miss a meal at Savvas, serving excellent Mediterranean dishes in a beautiful location with fantastic sea views.
Now that you have this Syros travel guide, we hope you have a great time discovering all the things to do on the Island of Syros, Greece.