Are you planning on going on your honeymoon in Santorini? Then you are not alone! I was married in Santorini last year and stayed for another week there for my honeymoon. It was one of the best trips of my life.
This is my Santorini honeymoon guide, which includes the best honeymoon hotels in santorini, things to do in Santorini for couples, and more to make sure you have a romantic santorini vacation.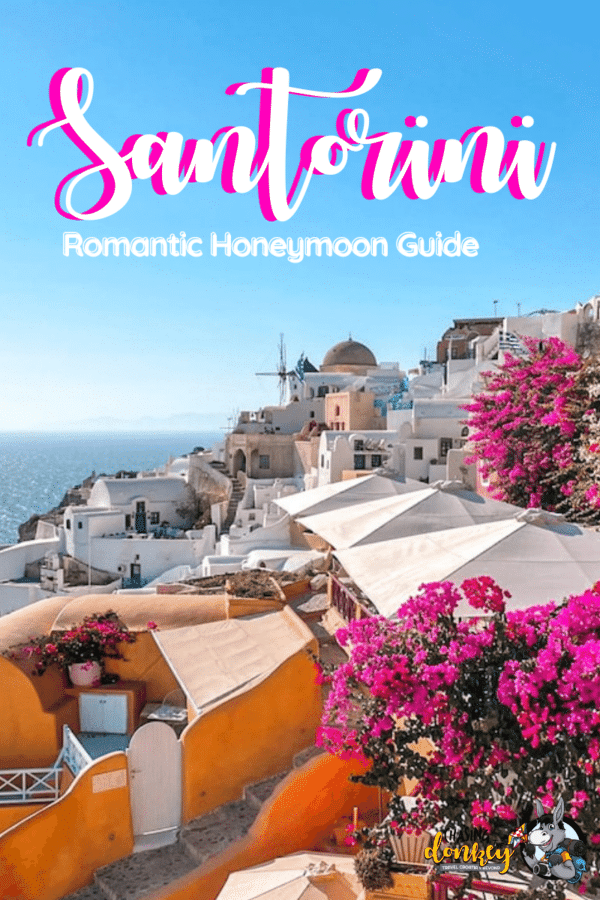 Santorini is one of the most romantic islands in the world. Whitewashed houses, stunning blue waters, and cute villages make for an amazing destination for honeymooners. It is incredibly charming and filled with romantic restaurants and bars.
As your honeymoon is one of the most special experiences in your life, it is important to get it just right. In this blog post, I will share with you some of the top things to do in Santorini for honeymooners and the most romantic places to see.
From watching the sunset to the best hotels with incredible views – I've got you covered.
Let's get to it!
Is A Santorini Honeymoon A Good Idea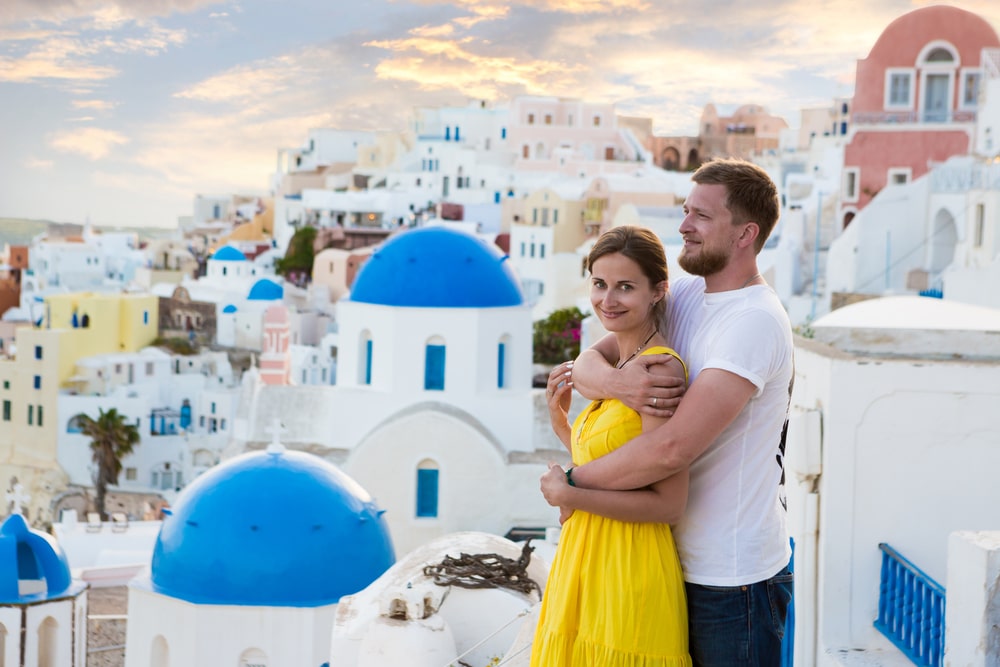 Yes! Santorini is an amazing choice for a honeymoon for many reasons. The breathtaking scenery is just one of them.
Iconic landscapes, dramatic cliffs overlooking the beautiful blue Aegean Sea, and picturesque villages are what make the island much more special than any place in the world. And, of course, the sunsets in Santorini are to die for.
The island is prepared for honeymooners, so there is no end to luxurious and intimate boutique hotels, private villas, and honeymoon suites. Many of the hotels in Santorini have private terraces with stunning views of the caldera.
Even the restaurants on the island cater primarily to couples and honeymooners. Many places offer romantic candlelit dinners alongside delicious Greek wines.
A Santorini honeymoon is a great idea s there are many activities for honeymooners to enjoy besides chilling at a beach bar. Especially sunset boat tours to the volcano and wine tasting are popular among honeymooners.
Where To Stay For Your Santorini Honeymoon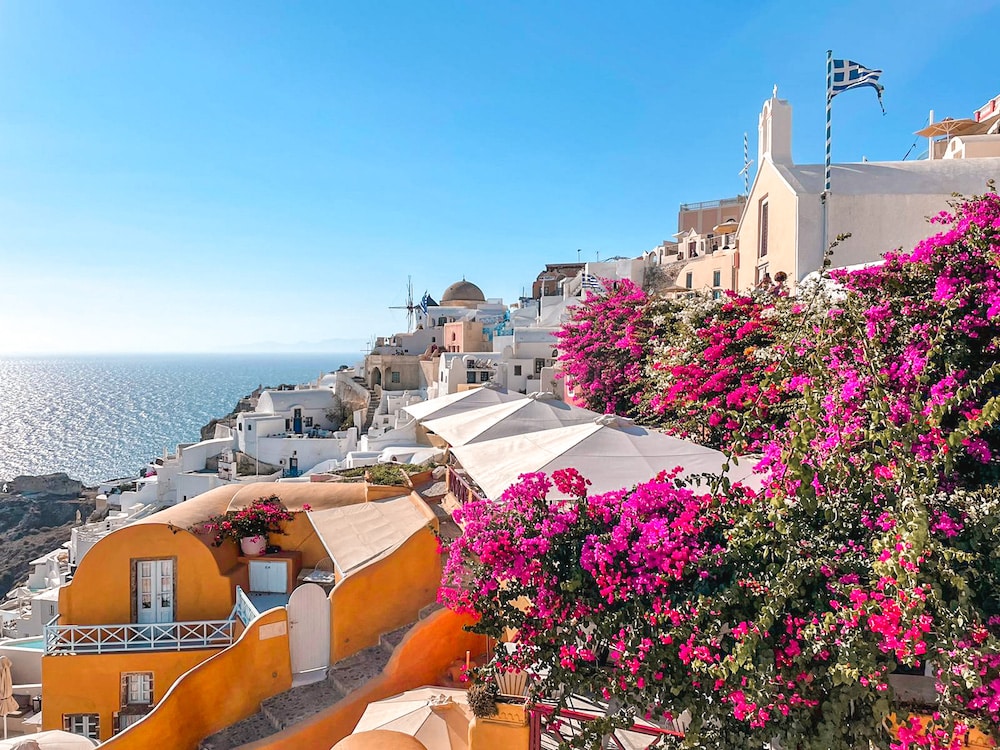 Santorini is an amazing place for a honeymoon because of its abundance of luxury hotels like these. Many fabulous hotels with private suites and private plunge pools are perfect for newlyweds.
When it comes to "Where to stay in Santorini for a honeymoon," I suggest staying outside the famous cities of Oia and Fira since it can get quite crowded there. While the honeymoon hotels advertise private terraces, people will be standing next to you on the walkways.
Azanti Suites in Megalochori is one of the best luxury boutique hotels on the island. Their honeymoon suite has a private infinity pool with an amazing view over the island, and it is also where we spent our honeymoon.
TRAVEL COMPANIES WE USE AND TRUST
How To Get Around Santorini On A Honeymoon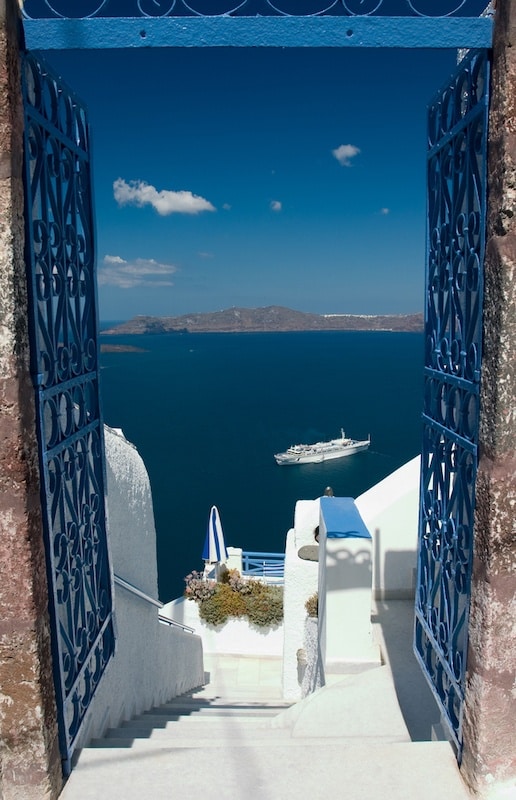 Upon arrival at the airport, it is best to pre-arrange private transport to your accommodation. There are not a lot of taxis on the island, so that you might wait a while. Many hotels also offer free pick-up service.
Once you have arrived, the easiest way to get around Santorini is either with a rental car or an ATV. Since many streets are small and winding, you might not always be able to use the rental car, so we opted for the ATV. It is also pretty romantic to explore together, hugging each other on the vehicle.
10 Romantic Things To Do In Santorini On Honeymoon
Here are some ideas for you to jot down for your Greece Santorini honeymoon that are both romantic and fun:
Have A Romantic Dinner In A Charming Village
Dinners in Santorini are the most romantic thing to do on a honeymoon. Most restaurants on the island offer beautiful views of the Aegean Sea combined with delicious Greek food. You can enjoy your meal and watch the sunset while eating.
The combination of delicious Greek cuisine and excellent wine from the island will be something you won't forget quickly. Many restaurants have candlelit tables and fairy lights to create a romantic atmosphere.
Remember that restaurants in Oia are extremely expensive and generally more touristic, so you absolutely need reservations.
For a quieter experience, you should try restaurants in Imerovigli, Firostefani, Pyrgos, or Megalochori. Those are some charming villages with fabulous restaurants, typically at a lower price than Oia.
Marvel At The Stunning Santorini Sunsets!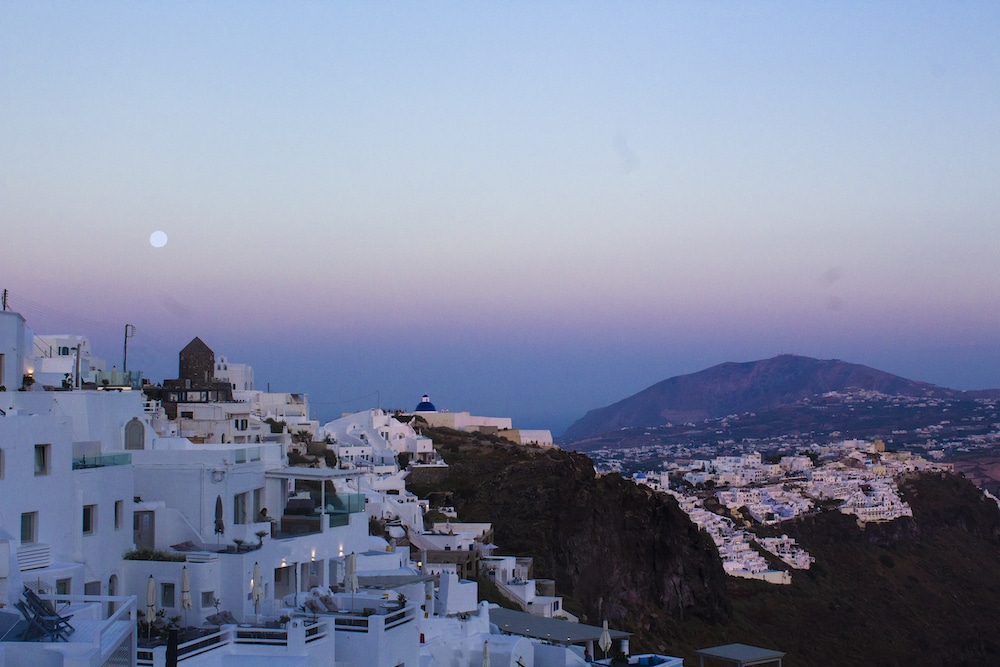 Santorini sunsets are famous for being unique and super romantic. From many viewpoints, you can enjoy an unobstructed view over the Aegean Sea and the sunset.
The combination of the whitewashed buildings and colorful skies in the background make the sunsets that much more special.
The most famous spot to watch sunsets in Oia. Sadly, it gets incredibly crowded during sunset, and the experience is anything but romantic. Unless you have a sheltered reservation somewhere, I suggest watching the sunset from Pyrgos, a cute little elevated village on the island.
Imerovigli and Firostefani are also great places to watch the sunset. If you are adventurous, why not watch the sunset from a catamaran?
Relax On Santorini's Fabulous Beaches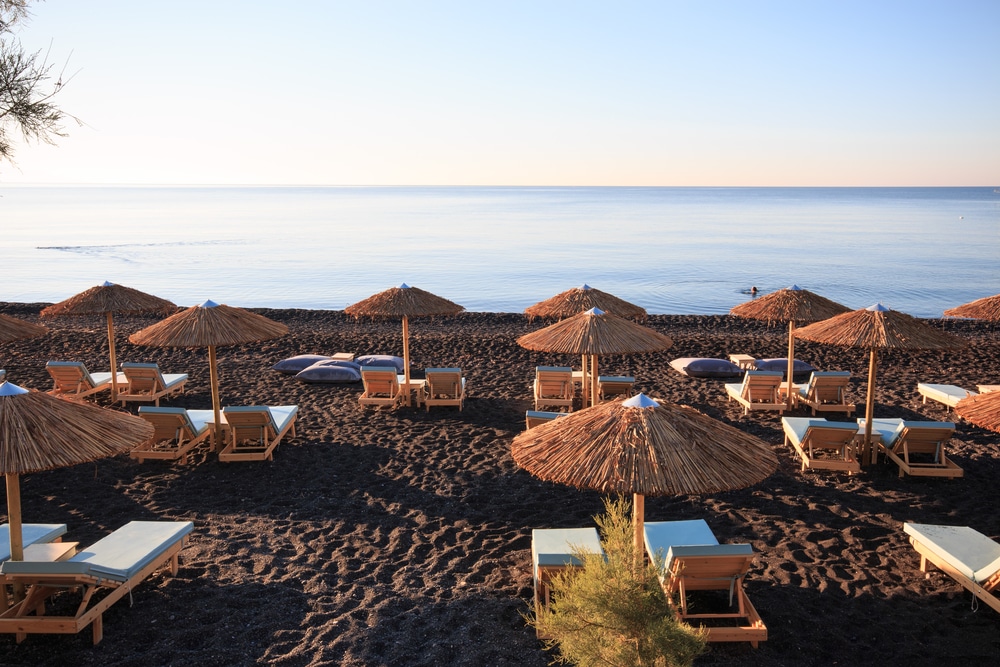 Santorini is not internationally known as a beach destination, but you might be surprised! They do not offer the standard white sandy beaches, but something much more interesting.
Here are my favorite beaches to visit in Santorini for honeymooners:
Red Beach is located near the ancient site of Akrotiri. The beautiful beach gets its name from the red volcanic rocks in the area. Red Beach is great for swimming and is also an amazing spot for snorkeling. It can be hard to reach, so you might want to take an organized day trip there
White Beach is also known as Aspri Beach. It is a beautiful and unique beach that is simply perfect for honeymooners. It is located near the stunning Red Beach, and its name comes from the white volcanic cliffs surrounding it. You can combine a visit to Red Beach and White Beach with each other
Kamari Beach is a black sand beach, and it is an excellent spot for some relaxation. It has a lively boulevard attached to it, so you can do some shopping or stroll along the promenade. The beach is lined with cute restaurants and chic beach clubs so that you can spend the entire day there without worry
Taste Authentic Santorini Wine!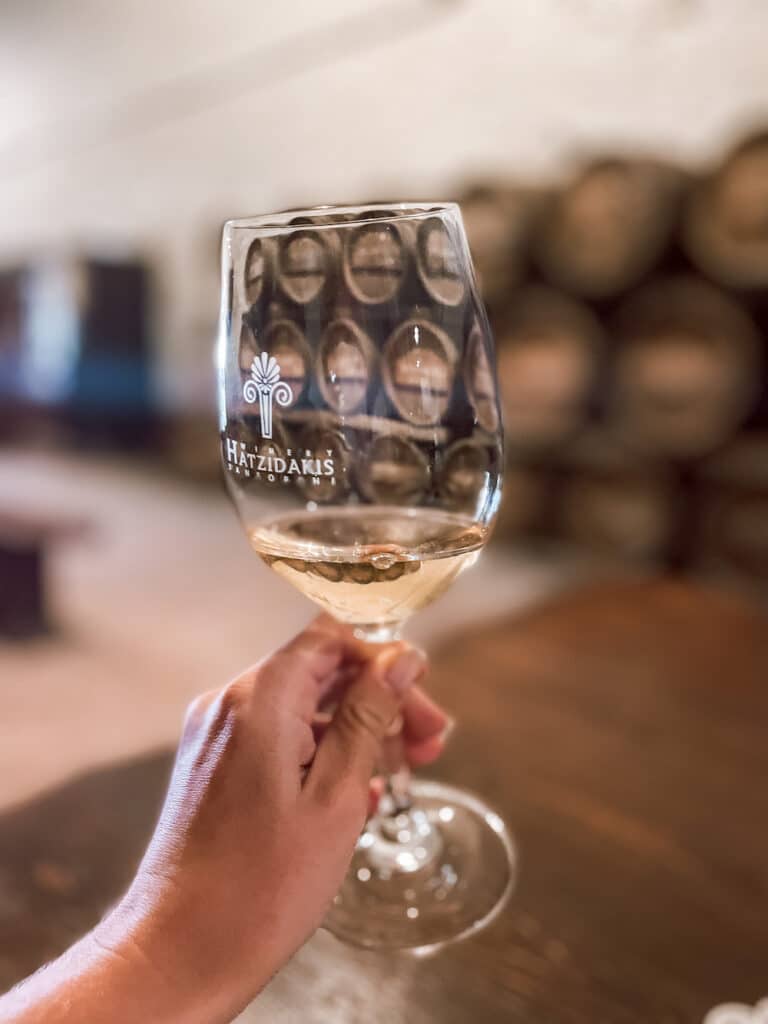 Santorini is famous for making a really special wine. Because of the island's volcanic grounds, Santorini wine is quite unique.
Wine tastings are one of my favorite things to do in Santorini on a honeymoon. They offer some great wine-tasting packages on the island.
Many of the wineries in Santorini also offer stunning views over the Aegean Sea. Santo Wines Winery, for example, is located right on the cliffside. Their terrace has the best view of the sunset, and their wines are of the highest quality. You should definitely put the wine tasting at Santo Wines on your honeymoon to-do list.
If you love wine tastings, Canava Roussos should also be on your list; the experience is a bit less commercialized than Santo Wines. Their lovely garden is the perfect place to sip wine and try some delicious local snacks. They even have a special wine called "The Love Wine."
If you are looking for a more organized experience, you can even take a pre-arranged wine tour of the island. They will take you to see the vineyards, and you will visit up to 5 different wineries.
Have Breakfast With A View Of Oia, The White House Town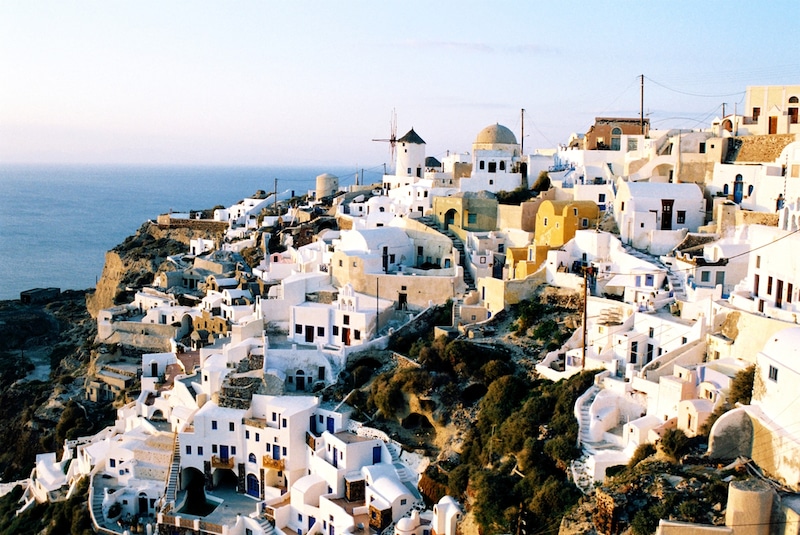 Oia is an amazingly picturesque village with whitewashed houses and blue-dome churches. It is also one of the most famous villages in Santorini since it is nicely perched on the edge of a cliff.
Sadly, Oia gets super crowded since it is so famous. Later in the day and especially during sunset time, it is not as nice to visit anymore.
However, Oia is still worth visiting, and you should definitely check it out on your honeymoon. The best time to go there is for breakfast since it is the quietest time of the day.
The small, winding alleys will remain empty earlier in the day so you can explore the area nicely. If you arrive quite early, you will have the town almost to yourself. Make sure to arrive before cruise ships are in port.
You can grab a coffee at one of the cute little cafes or hike up to the Old Castle of Oia. Many sweet restaurants offer breakfast with a view if you get hungry!
Stroll around the winding streets hand in hand, and snap some amazing photos as a reminder of your trip – you won't find a more picturesque place than this.
Visit The Hot Springs Of Nea Kameni On A Sunset Sailing Trip
Sunset sails like this are one of the most booked excursions in Santorini. It is also my favorite way to experience the island's stunning beauty while being on a bit of an adventure.
Many of these catamaran tours depart in the afternoon. The cruise will take you on a scenic tour of the caldera. The caldera is the volcanic crater that Santorini is famous for. You will most likely also pass by Red Beach and White Beach on the way.
Nea Kameni is a volcanic island located in the center of the caldera, and it is also one of the stops on the cruise. This is quite an impressive moment to share with your spouse.
Usually, the sailing tour continues to the hot springs of Palea Kameni. If you wish, you can swim in the warm waters created by the volcano's thermal activity. The hot springs are said to be super relaxing and even have health benefits. Make sure to try it out with your loved one. Just don't wear a white swimsuit, the thermal water stains!
As the sun begins to set, the boat will take you to a lovely spot overlooking Oia for sunset. Many of the sunset cruises offer dinner and an open bar. You can enjoy the sunset while sipping Santorini wine and eating a traditional Greek dinner on the boat.
If you prefer to go on a trip during the daytime, they also offer fabulous cruises around the island's beaches in the morning.
Take A Helicopter Tour And See The Island From Above
You can explore the island from a whole new perspective by booking a Sunset sails like this. If you and your spouse enjoy flying, you will love the helicopter's aerial views of the island and the sea.
While this experience is a little bit more expensive, it is, in my opinion, totally worth it. The views from the sky are incredible. Also, the helicopter tours are usually private so that you can spend some good quality time on your honeymoon in Santorini.
Explore The Island Yourself With ATV And Discover Some Amazing Ruins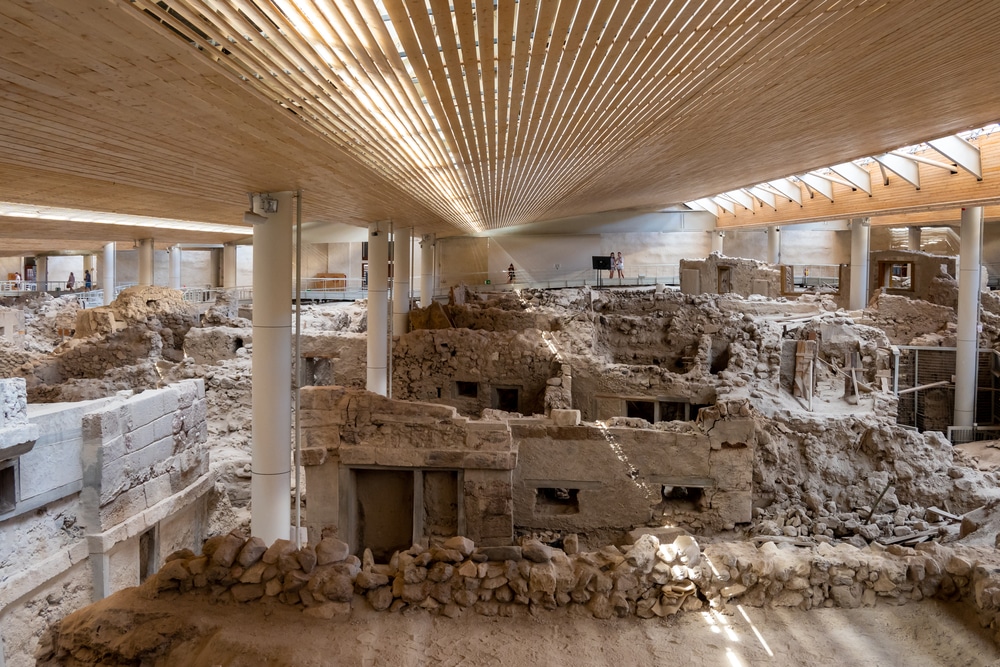 Exploring Santorini with an ATV is a great bonding activity. Not only will you and your loved one have to navigate yourself, but you will also be sitting close to each other in the vehicle.
The island of Santorini is relatively tiny. An ATV allows you to easily navigate the small streets and even explore a bit off the beaten paths. You can see the island at your own pace and have lots of freedom to stop wherever you like.
The ruins of Akrotiri and Ancient Thira are worth a visit when exploring with the ATV. If you drive all the way to the other end of the island, you even get to see the beautiful lighthouse.
There are also many cute little villages like Pyrgos, Kamari, and Megalochori that you can visit. Have some lunch there or stroll around. Of course, you can also drive along the coastline for some magical views.
Maybe even stop off the beaten path for the open-air cinema or a cooking class. If the ATV is too quick for you, why not discover Santorini on horseback or a jet ski?
Have A Spa Day And Completely Unwind Together
Relax and unwind with a couples spa day in Santorini. Many of the island's luxury spa hotels offer treatments for honeymooners. The choices are endless as the island lives and breathe relaxation and luxury.
You can relax with a couples massage, soak in a hot tub, and enjoy a range of pampering treatments designed to help you unwind and de-stress. Many spas use products made from regional herbs and products for their treatments. This is one of my favorite honeymoon experiences in Santorini.
The most renowned spas on the island are Grace Santorini, Canaves Oia Epitome, Astra Suites, and Mystique Santorini.
You will have to book your treatment a bit in advance since many spas are incredibly busy. Your hotel staff will be able to help you with that.
Book A Photo Shooting And Make Some Memories!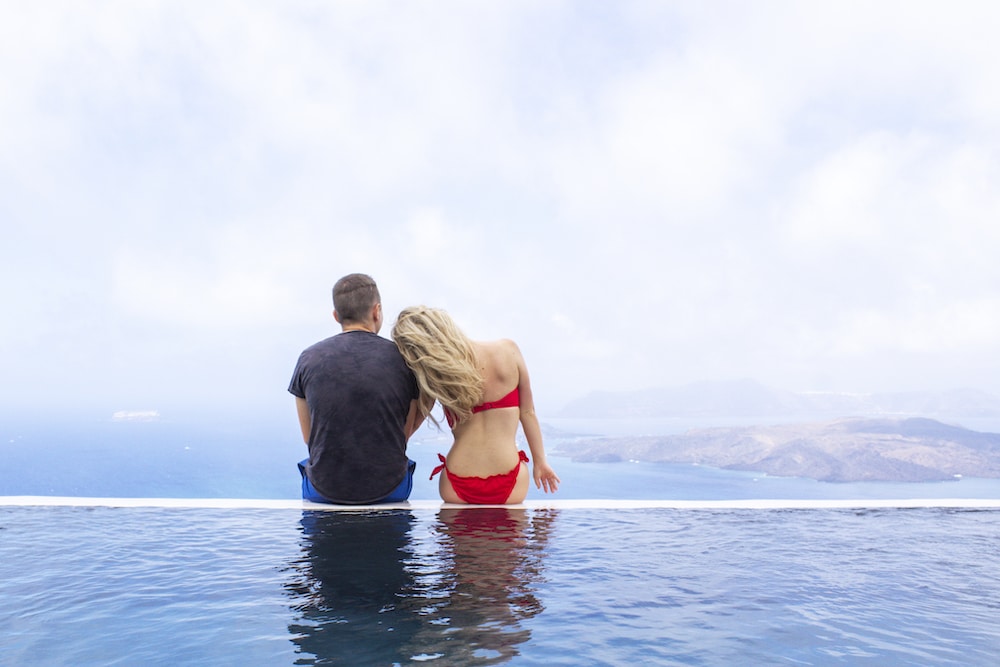 Many photographers in Santorini specialize in capturing romantic moments for honeymooners. Not only will you get amazing pictures to take home, but you will also explore Santorini with a local that knows many great spots.
Many of these photo shoots often occur at some of the island's most picturesque locations. You might get to go to Oia or the capital city of Thira. Sometimes the photographers take you to some real hidden gem locations that you would have never found by yourself. Our photoshoot took place in Megalochori, and we had some amazing moments in that village.
Some of the photography packages include transportation, hair and makeup services, and shootings at multiple locations. They usually also offer budget options if you prefer that. Make sure to relax and have fun – and the photos will turn out amazingly!
Wrap Up On Your Honeymoon In Santorini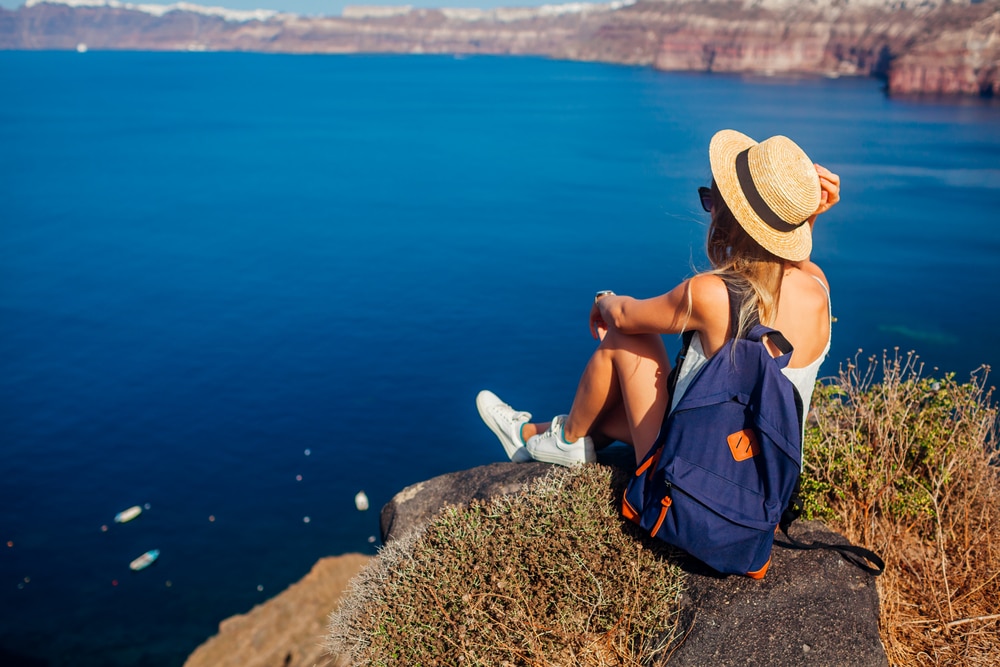 Santorini is undoubtedly one of the world's best places for a honeymoon. Not only is the island, with its whitewashed houses and blue dome churches, super scenic but there is also a lot to do.
From relaxing on the private terraces of the many luxury hotels to sailing around the island with a catamaran – honeymooners have an amazing choice of romantic activities.
While Santorini has the reputation of being touristic and crowded, you can still enjoy an amazing honeymoon away from the masses. Keep in mind that private and secluded experiences usually have their price, so Santorini is definitely not a budget-honeymoon destination.
SANTORINI HONEYMOON FAQS
Why is Santorini good for a honeymoon?
Incredible caldera views, awe-inspiring sunsets, exceptional wine, unique beaches and charming village walks all make Santorini a romantic destination.
When is the best time to honeymoon in Santorini?
If you want to save a bit of money and skip the crowds, head to Santorini during the shoulder season. March-May or September-October.
How long should I stay in Santorini for a honeymoon?
There is really no wrong answer, and it all depends on how much of Greece you want to see. 3 days is a great amount of time to get a taste of the island, but you can easily spend a whole week relaxing here.
Where is the best area to stay in Santorini on a honeymoon?
Anywhere outside the famous cities of Oia and Fira as these tend to get quite busy.
Where can I find romantic dinner restaurants in Santorini?
We'd recommend heading to the charming village of Ammoudi or check out restaurants along the Caldera with stunning views.
What is a romantic winery to visit in Santorini?
Canava Roussos is a romantic winery with a lovely garden. They even have a special wine called "The Love Wine."
Overall, a honeymoon in Santorini has to be one of the most romantic places in the world and should be number 1 on everyone's Greece honeymoon wishlist. Do you feel ready to choose one of these top honeymoon hotels in Santorini now?