Have you been to Athens, explored it, and want to see what else is close by? Embarking on a day trip from Athens, Greece, offers an incredible opportunity to explore the captivating surroundings beyond the city's bustling streets. With a rich historical heritage, breathtaking landscapes, and cultural gems, there are numerous destinations within reach that promise to leave you enchanted.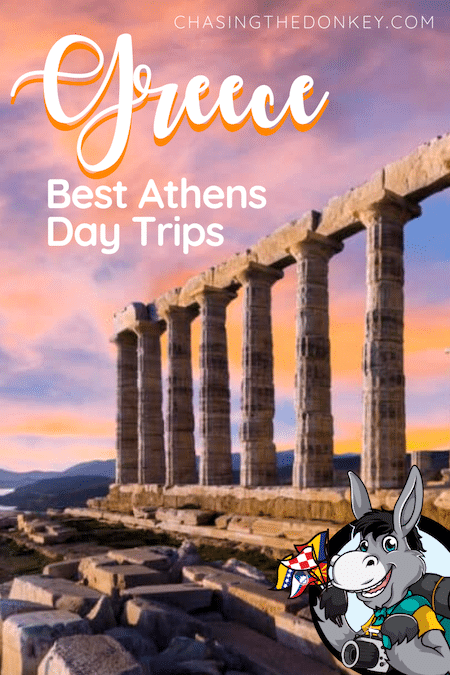 Undoubtedly, Athens is a treat for any explorer and well worth investing many days exploring it. Though, Athen's attractions extend beyond the city's boundaries and traditional things to do.
Here is our selection of the most incredible Athens day trips you can choose from while you're in Athens.
Day Trip From Athens To Aegina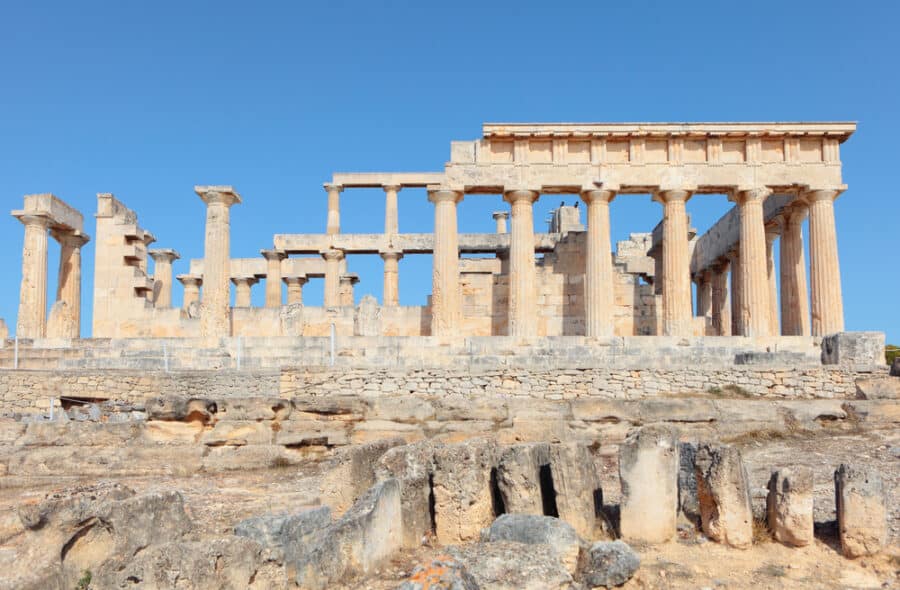 Do you want to take the quickest island day trip from Athens? If yes, then Aegina is the location you are looking for. The island in the Saronic Gulf offers the ideal fusion of ancient remains, soothing sandy beaches, elegant neoclassical architecture, and regional specialties like pistachios.
What to see
The picturesque town of Aegina
Doric-style Temple of Aphaia
Villages of Agia Marina
Huge Orthodox church of Agios Nektarios
Fishing village of Perdika
How to get there
An Athens to Aegina day trip is easy to arrange; simply take the metro from Athens to the 25-minute-distance Piraeus harbor. Take a ferry or hydrofoil sixteen kilometers to Agia Marina port or Aegina Town. The ferry from Athens to Aegina takes roughly 40 minutes.
If you want to take other trips from Athens to Greek islands, we suggest:
TRAVEL COMPANIES WE USE AND TRUST
Day Trip From Athens To Epidaurus
The breathtaking amphitheater constructed in Epidaurus during the 4th century B.C. is its most prominent feature of Epidaurus. It still stages performances and boasts outstanding acoustics, offering stunning panoramas of the surroundings from its uppermost seats. In addition, Epidaurus is home to one of Ancient Greece's most significant healing places, like temples.
What to see
Temple of Asklepios
Archaeological Museum of Epidaurus
Ancient Theater of Epidaurus
How to get there
From Athens' Kifissos Bus Terminal, take a bus to the Epidaurus village. It takes about two hours to travel to Epidaurus from Athens.
Day Trip From Athens To Delphi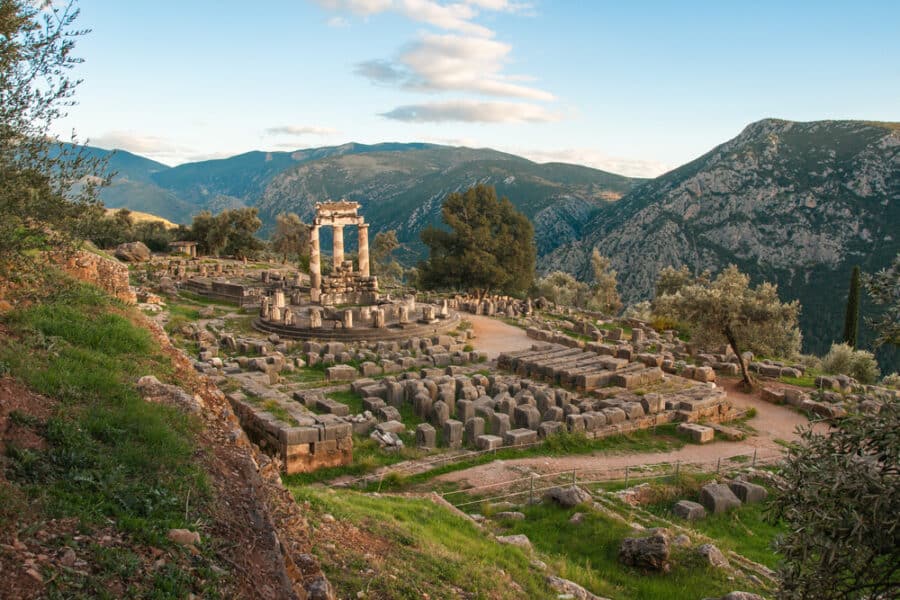 When we term one of the best day trips from Athens, Delphi, the navel of the world comes to mind. In Greek mythology, the navel, or the center of the world, means the meeting point of two eagles released by Zeus. History, myths, and breathtaking mountains come together to form the stunning location of Delphi.
What to see
Home to Pythia, The sanctuary of Apollo
Ruins of the Temple of Apollo
Delphi Archeological Museum
Temples at the Sanctuary of Athena Pronaia
Delphi stadium and ancient theatre on the hill
Circular temple of Tholos

Clifftop village on the slopes of Mt Parnassos
How to get there
Get the KTEL bus from the Athens Terminal station. It takes about two and a half hours to travel the 110 miles to reach Delphi from Athens.
Day Trip From Athens To Cape Sounion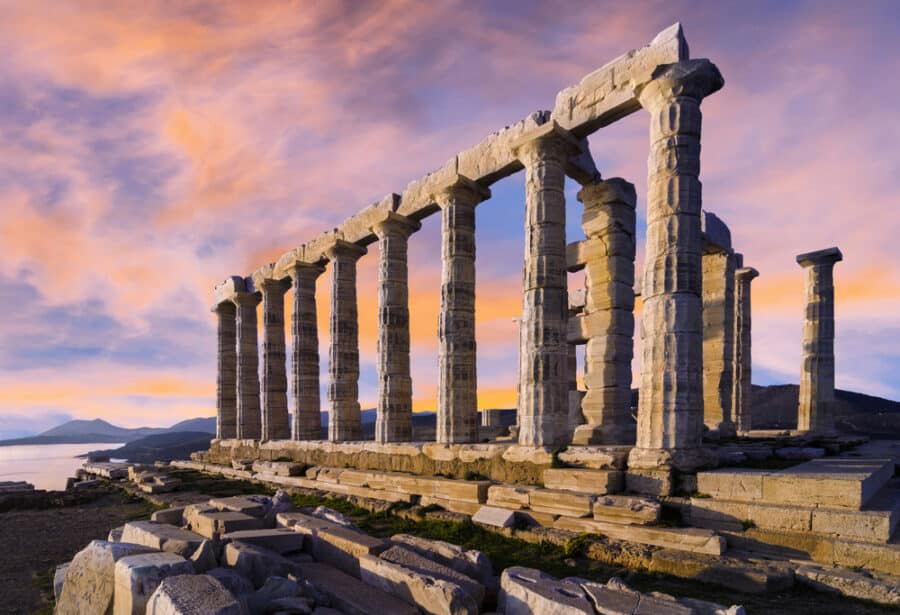 One of the most well-liked day trips from Athens is to Cape Sounion. Visitors take advantage of the warm weather to relax, stroll along palm-lined seaside promenades, and soak up the sun on well-kept beaches. One of the most memorable things is to catch the gorgeous sunset and take in the breathtaking views of the sea. The Aegean Sea bears King Aegeus' name since it is said that he jumped to his death from Cape Sounion.
What to see
Temple of Poseidon
Fish taverns in the nearby town of Lavrio
The archaeological museum
The tomb of Athenians fallen in the battle
Lake and dam
How to get there
Rent a car from the Pedion Areos terminal station or board a KTEL intercity coach bus. Traveling to Cape Sounion from Athens takes an hour and a half.
Day Trip From Athens To Meteora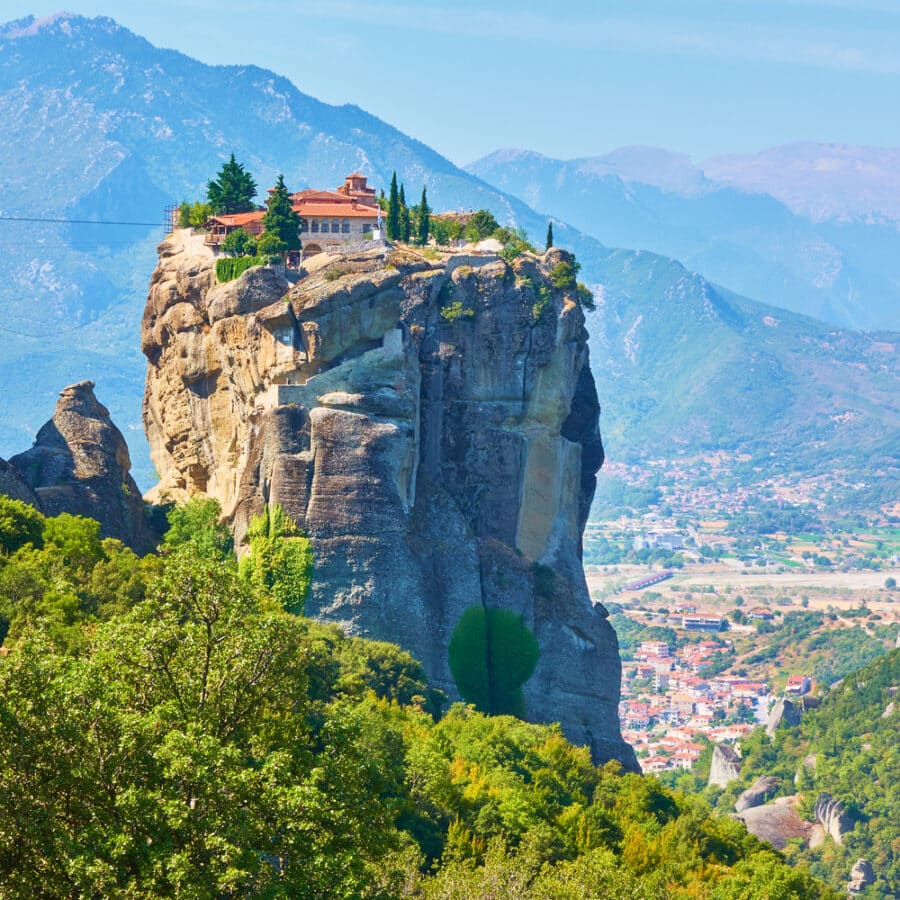 A Meteora day trip from Athens is a popular destination for hikers, rock climbers, and photographers because of its magnificent landscape. It is undoubtedly one of the most popular tourist destinations in the nation because of magnificent Byzantine monasteries perched on enormous rock formations. The monasteries of Metéora seem to ascend towards heaven and express human strive for holiness with their dizzying heights and almost supernatural inaccessibility.
What to see
Great Meteoron Monastery
Holy Trinity Monastery
Monastery of Varlaám
How to get there
You can rent a car or travel to Kalampaka by early-morning train from the Athens train station. It takes roughly four to five hours to travel 225 miles to Kalampaka from Athens.
Day Trip From Athens To Corinthia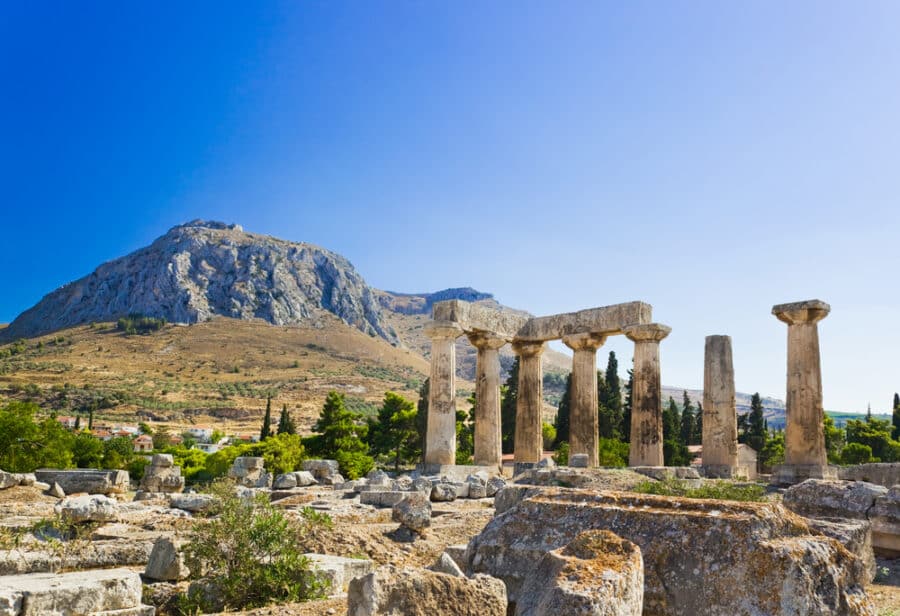 The extensive yet condensed ruins of this ancient city loom within the contemporary and modern community of Corinthia. The streets of Ancient Corinth got traveled by Pausanias and St. Paul, who proclaimed the message of Christ there. It was also the home of the fabled Jason of the Argonauts, thief of the Golden Fleece. For those who enjoy history, there are treasures like the renowned twin Kouroi statues and a collection of Corinthian pottery.
What to see
Temple of Apollo
The Peribolos of Apollo
The ancient theatre
Acrocorinth fortress on the hill
Archaeological Museum of Ancient Corinth
Corinth Canal
How to get there
You can rent a car from Athens' Kifissos Bus Terminal or take the bus to Corinth. Take a taxi or a bus from Corinth to the ancient Corinth archaeological site. The journey takes around one hour. Traveling to Corinth by Suburban Railway from Plakentias Station will take one hour and fifteen minutes.
Day Trip From Athens To Nafplio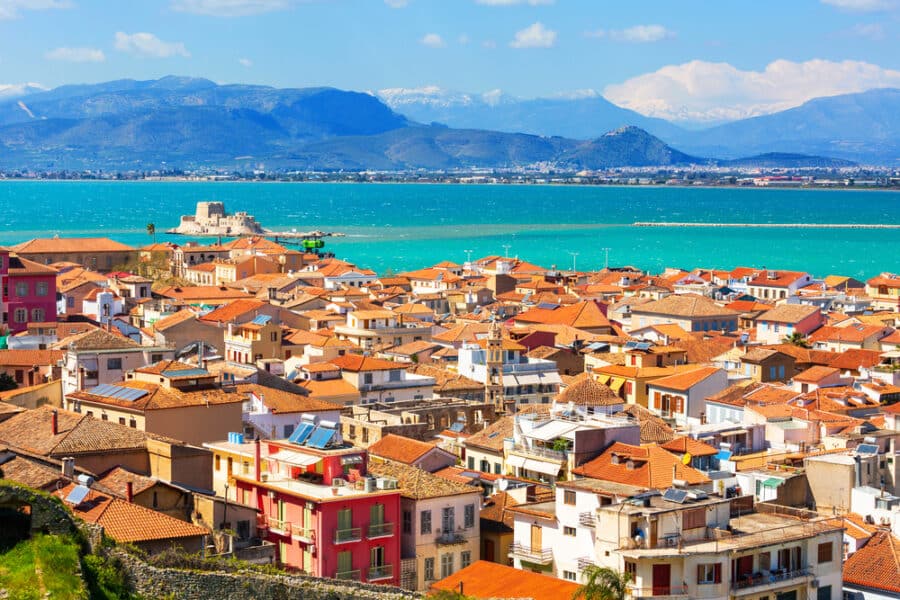 Nafplio is a gorgeous day excursion from Athens. On Nafplio day trips, you'll witness a charming seaside village that served as Greece's first Capital. Spend the day visiting the city's winding streets, Venetian architecture, and neoclassical building styles. Nafplio is a very well-liked place for a day trip or a more extended stay because there are many chic hotels, beautiful boutiques, and little restaurants tucked away in winding lanes. Additionally, the area offers several pleasant sandy beaches and public wineries.
What to see
Syntagma Square
Palamidi castle
The Venetian fortress of Bourtzi on the islet of Agioi Theodoroi
Argos Archaeological Museum

Ancient Theater of Argos
Ramparts of the Akronafplia Castle
How to get there
Take a KTEL bus from Athens Kifissos station or rent a car. It takes 1.5 to 2 hours by road from Athens to Nafplio.
Other Day Trip Ideas From Athens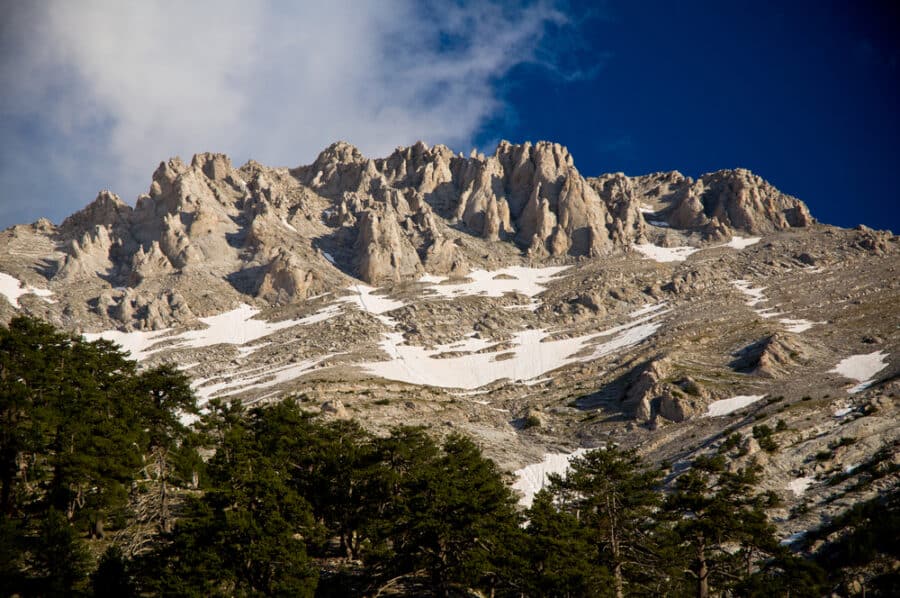 Athens to Mycenae day trip
Lake Marathon
Athenian Riviera
Holy Monastery of Kaisariani
Moni
Mount Olympus
Boat trips from Athens
Sail to Agistri
One day tour to Mykonos from Athens
Athens to Sparta day trip
Renting A Car In Greece
For our day trips, we always choose to drive where possible to give us the best freedom to stop and go as we, please. Driving in Greece is easy, and the roads are of great quality. We book our rental cars with DiscoverCars or Rentals Cars.
Final Thoughts On Day Trips From Athens
Athens, a world-class city, is teeming with sights and entertainment that will keep any visitor busy for weeks. Athens is definitely a marvel, and the surrounding places are no less. The extraordinary past is common to the city, as many beautiful historical and archaeological sites are nearby. When you are in the Greek Capital, plan a day excursion to one of these locations to experience some of the wonders of antiquity.