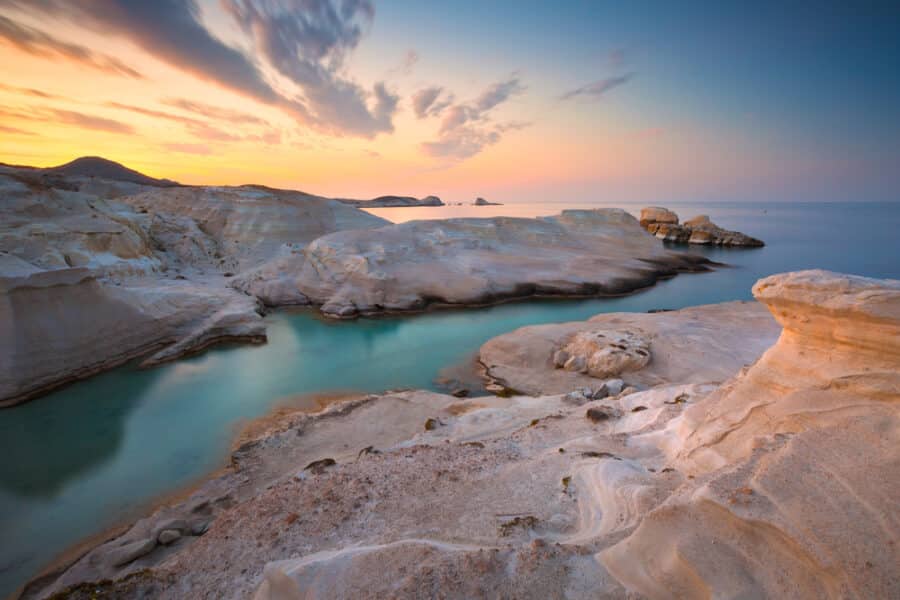 One of the Greek islands with volcanic terrain is Milos, located at the southernmost point of the Cyclades archipelago. Milos has magnificently colorful scenery and a coastline with more than 40 distinctive beaches thanks to its volcanic nature.
The three main villages of the island are:
Adamas, the island's main port
Pollonia, a touristically developed destination and
Plaka, the island's capital city
In addition Milos contains other minor villages dispersed over the island. One of the most well-known is Klima. It is a charming fishing community with typical sirma cottages and a great ambiance. There are plenty of additional sites on Milos that have stunning resorts. This guide will go through all areas to stay on the island and mention our recommendation for a hotel in each area.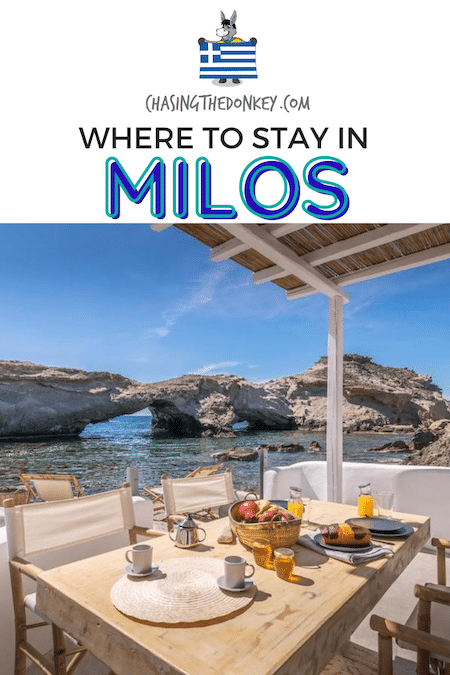 Where To Stay In Adamas, Milos
With more than 1300 permanent residents, Adamas is one of Milos' largest towns, and the main ferry terminal is also there. The beach town, 4 km from Plaka, the island's capital, has a traditional Cycladic feel, with whitewashed cottages reflecting in the Aegean Sea's glistening waves.
Due to its sizable, secure natural harbor and advantageous location in the eastern Mediterranean Sea, Adamas began to develop and eventually became a significant cultural and commercial hub. The village was built over the remains of an ancient ruin that had collapsed hundreds of years earlier. After a failed uprising against the Ottomans, refugees from the island of Sfakia in Crete established the settlement in 1835.
There are a few beaches in the Adamas area and several other amenities like banks, post offices, medical facilities, travel companies, and port police offices. The primary attractions in Adamas are museums and churches, although there are also many different kinds of hotels.
The region is particularly well-known for its vibrant nightlife. You may find many stores, eateries, cafes, and pubs worth visiting as you stroll through the Adamas' stone-paved alleys. Additionally, a few significant cultural institutions in Adamas draw numerous people daily. Visit the Mineralogical Museum to learn more about fascinating local geological features and the Nautical Museum to see artifacts related to the sea that date back to the prehistoric age. Among Adamas' iconic structures is the historic Conference Centre.
Santa Maria Village Resort & Spa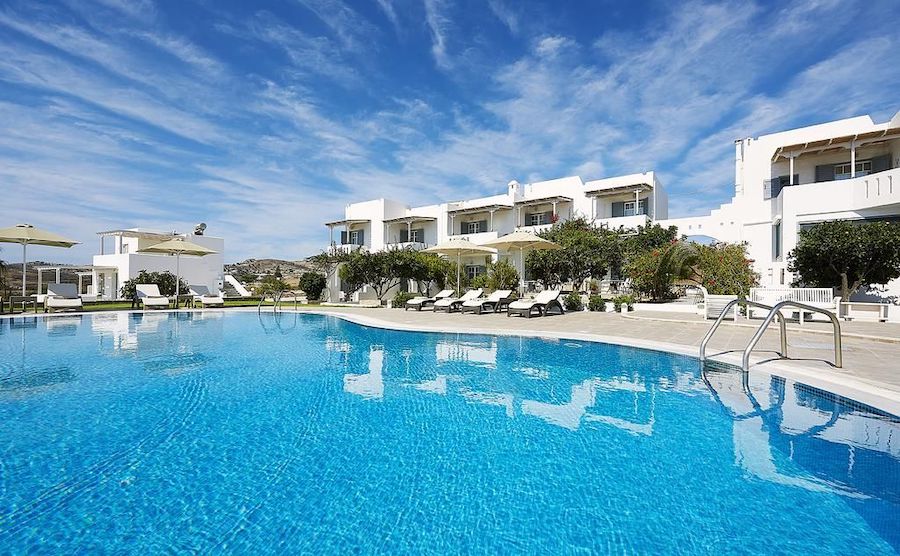 A magnificent 4-star resort with elegant rooms and suites, Santa Maria Village Resort and Spa, is situated in the port town of Adamas on the Greek island of Milos. This resort's luxury and cutting-edge amenities will make the visitor's stay unforgettable. Additionally, the Santa Maria Village spa offers several unique treatments.
Visitors at Santa Maria Village Resort and Spa in Milos can select from double, triple, or superior rooms with views of the pool or the sea and one of the resort's luxurious suites. The 4-star resort features a big swimming pool with fresh water, outdoor hydromassage, a 24-hours front desk, early breakfast service, and a buffet.
DON'T MISS OUT - BOOK NOW!
Where To Stay In Firopotamos, Milos
The charming fishing village of Firopotamos Milos is a must-visit location on the island because of its white and blue-colored boat homes, crystal clear lagoon, beautiful sandy beach, and traditional Cycladic church.
Book yourself a night or two in one of the nicest Milos beaches, Firopotamos Beach, and spend some time observing the waves and taking in a slower pace of life if you're searching for a more genuine Greek Islands experience.
Frankie's Traditional House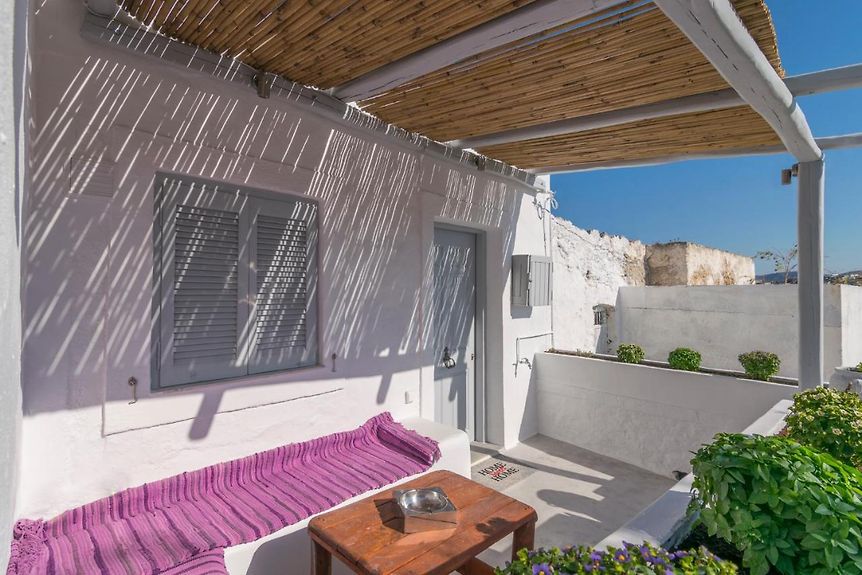 Frankie's Traditional House accommodation offers free WiFi, air conditioning, a garden, and a terrace. Each apartment has a patio, a kitchen with a refrigerator, a dining area, and a lounge area with a flat-screen TV. The private bathroom contains a shower and a hairdryer. 
The aparthotel offers both a car and a bicycle rental service, and nearby trekking is also an option.
Where To Stay In Klima, Milos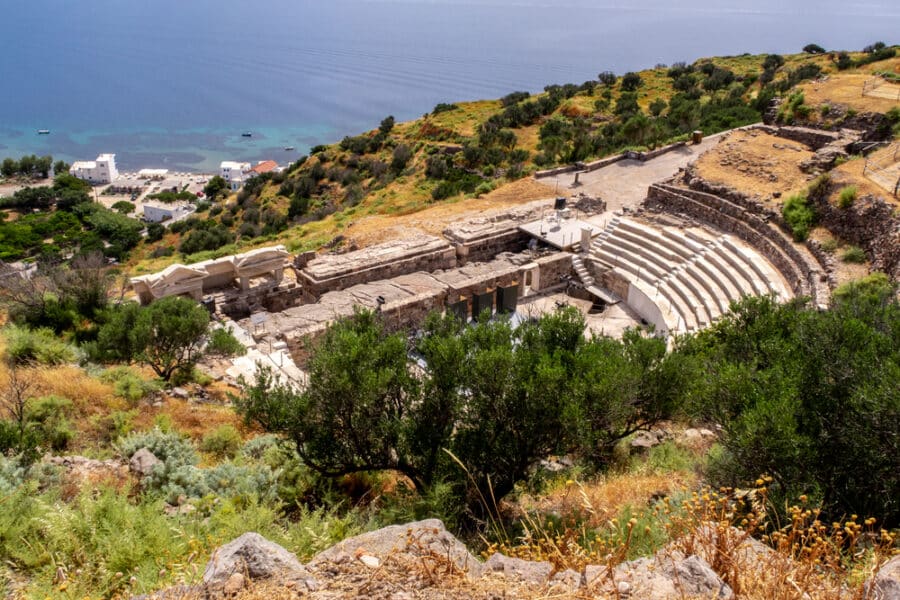 Milos' Klima Village, which has less than 20 year-round residents, is a must-see for all tourists despite being one of the island's smallest villages. 
Regarding its past, it is thought that the first settlers were Dorians, who came to the region in the seventh century BC. Due to its waterfront location and port, Klima was a heavily developed area and a commercial hub in the past. 
The Hellenistic Ancient Theater and the Catacombs of Milos are a few nearby ancient relics that can still be seen in this region, even though the old settlement of Klima was eventually abandoned.
The iconic boat homes in Klima, known as "syrmata," are the reason for their modern-day popularity. Syrmata are old traditional two-level houses that local fishermen used during the previous century. The first story would be a home, with the ground floor serving as a boat storage area. The positioning of the water and the brightly colored wooden doors and windows are what make these homes unique.
Today, most of them have been completely renovated and are being utilized as tourist lodgings, making it possible to enjoy your vacation in Milos with the sea just outside your door. They make an excellent choice for romantic couples due to their limited housing capacity and the charming environment of the village.
A reservation is required at least a few days in advance at the few eateries in this region if you want to eat there. As there is a small, pebble-covered beach in the village, you can also go swimming there, though not many tourists visit it. Take the route from Triovasalos village to get to Klima by car. From Adamas station, you can also take a bus to go there.
Milos Cove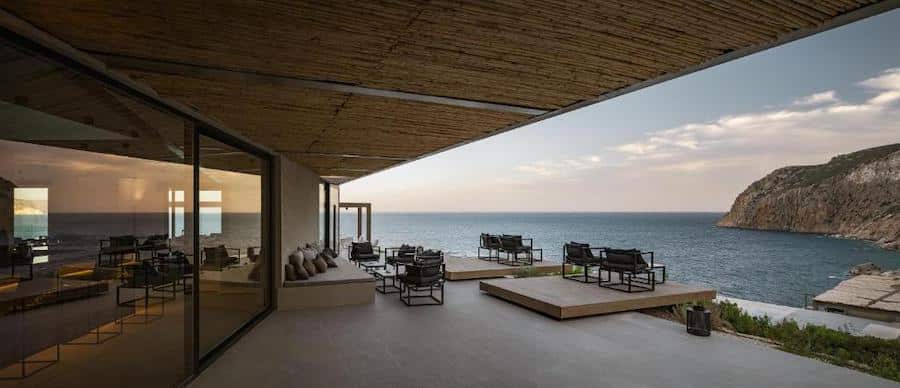 Milos Cove is located in Thiorikhía Mílou and offers free WiFi access throughout the resort and a secluded beach area. The establishment has a restaurant as well as a fitness center, and a seasonally open swimming pool. The hotel has a front desk open around the clock. At the hotel, every villa and suite has a dipping pool or a private pool. All of the rooms at Milos Cove feature air conditioning and some of them also have terraces. The Pathos Restaurant and The PathosPrive Restaurant & Opbisidian Spa are two of the hotel's restaurants, along with Agkali Beach Bar and Pnoe Pool Bar. This hotel is great for romantic couples.
Where To Stay In Mandrakia, Milos
The charming Mandrakia town may be found on the island of Milos in the Cyclades. Mandrakia village is the ideal place to unwind and take pleasure in the gentle, quiet rhythms of life by the sea because of its lovely, whitewashed buildings, thick flora that trails into the sea, and crystal-clear waters. In essence, the entire scene of the tiny village is so exquisitely picturesque that it seems more like a set for a film than a place where people actually live.
Fishermen's caves, which were figuratively constructed on the waves, are huddled around the small bay. There are also the classic "syrmata," which are homes for fishermen with a distinctive boat garage on the bottom floor.
Casa Mylonas Deluxe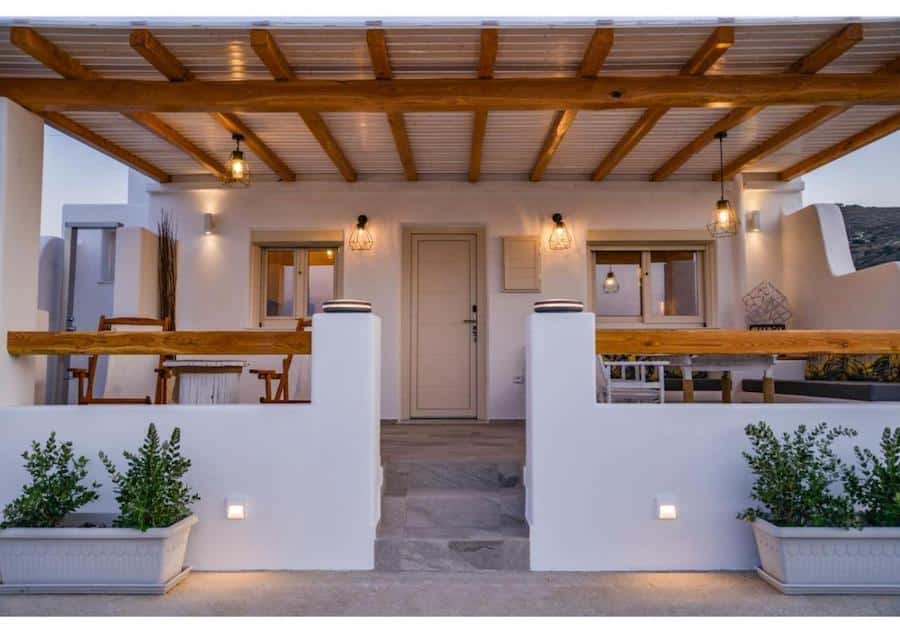 This property may be best described as luxurious and comfortable. You can take in the sea view from your veranda while using the outdoor shower, and you can relax on the exterior sofa while it is filled with large pillows. Whole accommodation is brand new and fully furnished with everything you'll need to enjoy the luxury of a distinctive setting.
Additionally, every morning, your breakfast will be delivered to your door.
Where To Stay In Pachaina, Milos
On the north shore of Milos Island, Pachaina is a lovely coastal community and peaceful vacation destination. It is situated about 7 kilometers from Adamas and 3 km west of Pollonia; Pachaina has a lovely sandy beach, several tamarisk trees that provide shade during the warm summer months, and a few syrmata buildings.
Main Pachaina beach is accessible by foot from most accommodations in the area. Visitors will probably choose to rent a vehicle to travel to other locations or beaches in Milos or to go shopping, since Pachaina lacks mini-markets and bakeries.
Aqua House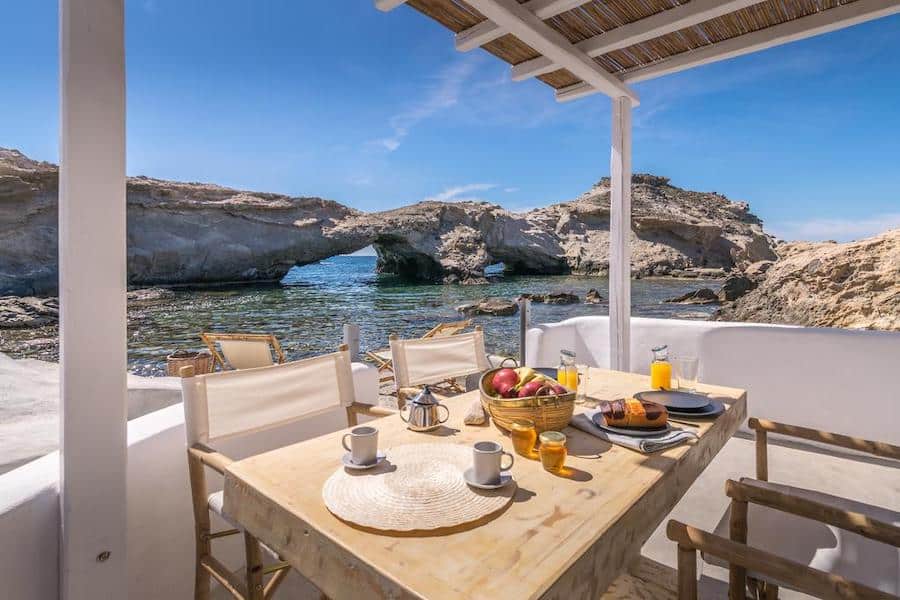 Aqua House is an open space beach house for 5 people, with one double bed, two single beds and a big sofa. It is very stylish and comfortable, decorated with boho and cozy design styling combined with the Cycladic culture. It is located on a small bay, with impressive rocks that form a secluded cove in front of the house. The house has direct access to a sea view veranda, with a big dining table.
 The house is equipped with all amenities to provide you with a pleasant and unforgettable stay. The only thing you have to worry about is taking with you as many beautiful memories as possible.
Where To Stay In Paliochori, Milos
Paliochori (also known as Paleochori) is one of the most famous beaches on the island, and for a good reason. It is made up of three distinct sections gathered around an extended bay.
The main beach is accessible through a well-constructed asphalt road. During high season, this place becomes highly crowded, yet frequent buses make it simple to travel around. Two restaurants have been established here in addition to the many guesthouses, and at the height of summer, another beach bars are open. In contrast, it is incredibly quiet in the early and late seasons.
Although there will be other guests along the beach, you won't have trouble finding a spot for yourself. The West side of the beach was known as a nudist spot.
Artemis Seaside Resort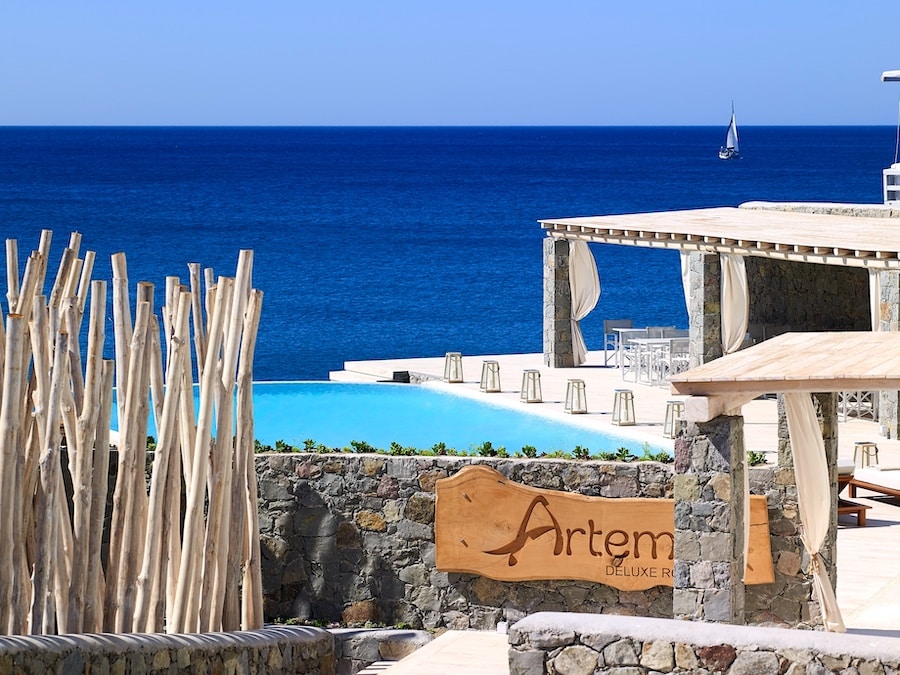 Artemis Seaside Resort is located on the south side of Milos, just 50 meters from the stunning beach of Paliochori, overlooking the infinity of the sea and the sky. The island's traditions inspired the hotel's minimalist décor and elegantly designed rooms. You may find everything you need in the coastal town of Paliochori, including lovely tavernas, beach bars, summery cafés, restaurants, bars, stores, art galleries, supermarkets, pharmacies, doctors' offices, banks, and ATMs.
Where To Stay In Plaka, Milos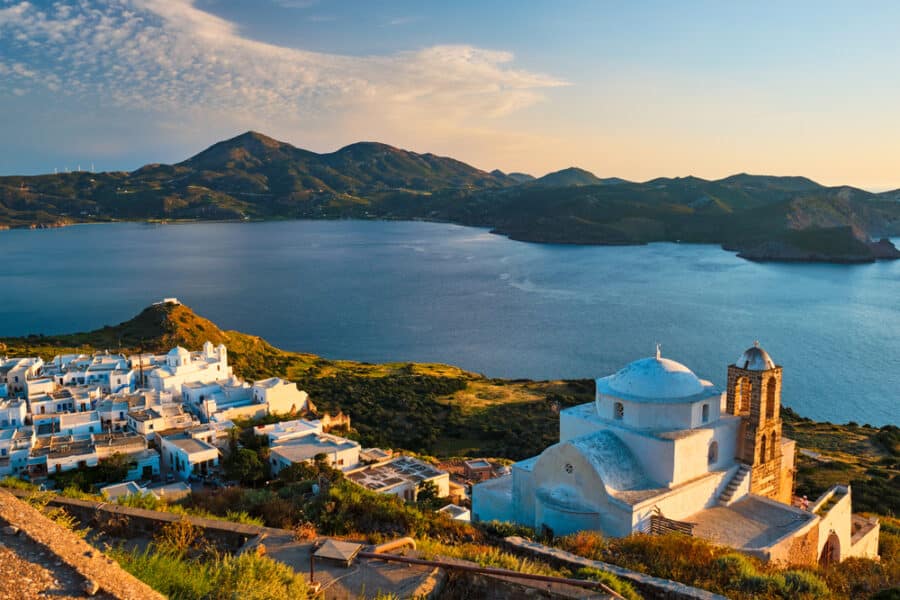 Plaka is capital city of Milos. Plaka is among the island's most stunning tourist destinations with its classic Cycladic architecture. Whitewashed homes with colorful windows and balconies covered with bougainvillea flowers line the alleyways of this small city. It is surrounded by the villages of Triovasalos, Plakes, Pera Triovasalos, and Tripiti; and is situated north of the Milos Gulf. The town is separated into the New Town and the Old Town (Venetian Castle). Along with charming cathedrals and a few museums, this region is home to restaurants, cafes, pubs, and boutiques.
The remains of the castle walls of a Venetian defensive bastion from the 13th century surround the historic part of the town. Since the castle is regarded as Plaka's best viewpoint, hikes to the Castle (Kastro) are highly popular around sunset. Outside the castle walls, Plaka's new section was built. Also worthwhile are visits to the nearby churches. One of the most significant landmarks in Plaka is Panagia Korfiatisa Church among them. Plaka is home to many cultural institutions. The largest is the Archeological Museum, which displays genuine artifacts from various historical eras. The Town also boasts a Folklore Museum where you may find everyday household items that have historical importance dating back to the 17th century.
It is a fantastic idea to stop by one of the neighborhood cafes or restaurants while you are in Plaka. It is mandatory to taste the native cuisine and purchase some souvenirs! Many adorable boutique stores and gift shops are also there, particularly in the Old Town region.
Sunset Mansion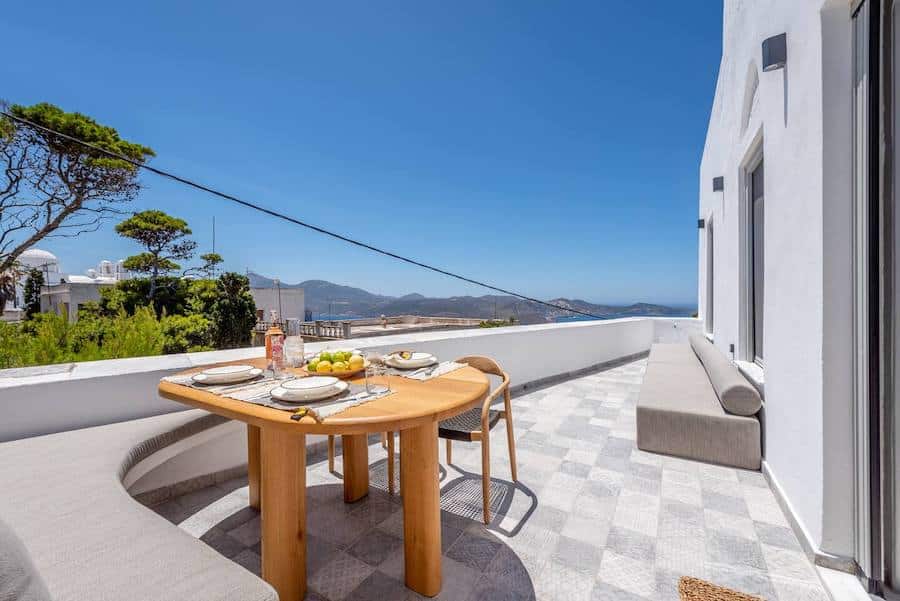 A vacation villa with free WiFi, air conditioning, and a patio, Sunset Mansion is situated in Plaka Milou, 1.5 km from Klima Beach and 1.6 km from Plathiena Beach. The Catacombs of Milos are 1.9 km away, and Adamas Port is 5.7 km away from the property. This is a fully renovated, luxurious contemporary house of the 1840s. The villa has a dining area, a fully functional kitchen, a balcony with views of the ocean, three bedrooms, three bathrooms, bed linens, and towels. It also has a flat-screen TV with cable channels. High ceilings, ample spaces, a veranda offering a unique sunset view, and a design combining simplicity and luxury are some key aspects characterizing this special house. Within walking distance, you will find Four restaurants, a cafe bar with snacks, and a traditional bakery, all within walking distance.
Where To Stay In Pollonia, Milos
Milos Pollonia Village is the second-largest settlement and is situated in the northeastern region of the island. It is a lovely fishing community that has been constructed around an inlet and has a tiny harbor. The fishing community is well-developed and recognized as a significant tourist destination despite its scenic setting and traditional character. Pollonia, as one of the prettiest seaside villages in Milos, is full of whitewashed cottages that line the coastline and maintains the original Cycladic architectural style. There are several exciting places to see, enjoyable activities, and a nice beach nearby.
Pollonia is thought to have gotten its name from the old shrine of Apollo. As a fishing village, Pollonia is well known for its fish and seafood restaurants, and it's also one of the most incredible places to stay in Milos, with affordable studios, family apartments, luxurious suites, and everything in between. Visitors can find anything they need in terms of tourist amenities, from convenience stores and shops to places to rent a car.
The Port in Pollonia is much smaller than Adamas, so only used by local fishing boats and boats that provide transportation between Pollonia and the islands of Kimolos and Glaronissia. Due to this, visiting Kimolos for the day or staying longer is always an option. 
The gorgeous Cycladic island of Kimolos is unlike Milos because it has not been overrun by mass tourism and has managed to keep a modest profile with a calm mood and a traditional character. If you like traveling to unusual places, it is a fantastic option. 
On the other hand, Glaronissia is an uninhabited islet that can only be reached by boat because of its rocky coastline. It is entirely composed of lava, has remarkable rock formations, and has significant geological significance. Glaronissia excursions are highly well-liked. You can either take a planned tour or rent a boat on your own to get there.
Pollonia conveniently offers an excellent beach for swimming or just lounging by the water. Sand, shallow water, and trees that naturally provide shade are all there. Families with kids are particularly fond of Pollonia's beach. If you like doing long hikes, you can take the path from Pollonia to Phylakopi and take in the scenery. Phylakopi is an important archeological site that dates back to the Prehistoric period.
Milos Breeze Hotel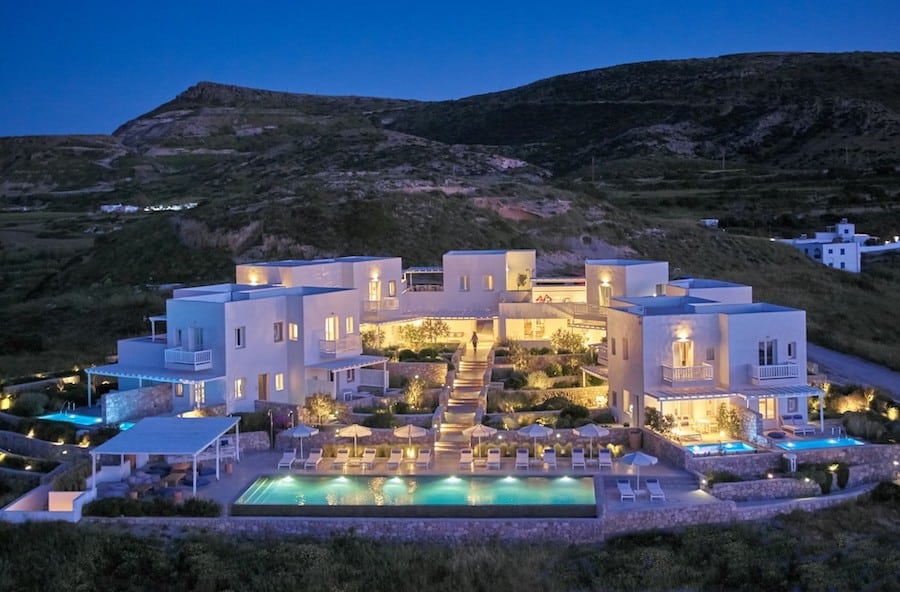 The Breeze Boutique Hotel provides some of Pollonia's best sea views. The hotel's complex of buildings is situated in a tranquil setting on a hill and provides lodging in a fully Cycladic environment. The Breeze Boutique Hotel has rooms and suites that may sleep two to four people, and some have private pools. They are very beautifully furnished and have a contemporary look influenced by classic Cycladic architecture.
Among the amenities provided are a parking space, a garden, a pool, a breakfast room with sunbeds, and a luggage room. Various services are offered, including room service, daily housekeeping, private transfers, vehicle rentals, and beauty treatments (upon request).
Where To Stay In Triovasalos, Milos
There are two settlements, Triovassalos and Pera Triovassalos, on the way down the hill from Adamas shortly before arriving in Plaka. These two settlements have been combined into one currently undergoing significant commercial development. They were given their names in honor of Andreas Vassalos, its founder. Both are densely populated and have traditional Cycladic island architecture. Communities have a lot of stores, cafes, bars, and lodging options. The intriguing church of Agios Spyridon in Triovassalos has merged with the church of Agia Marina.
Villa Vipera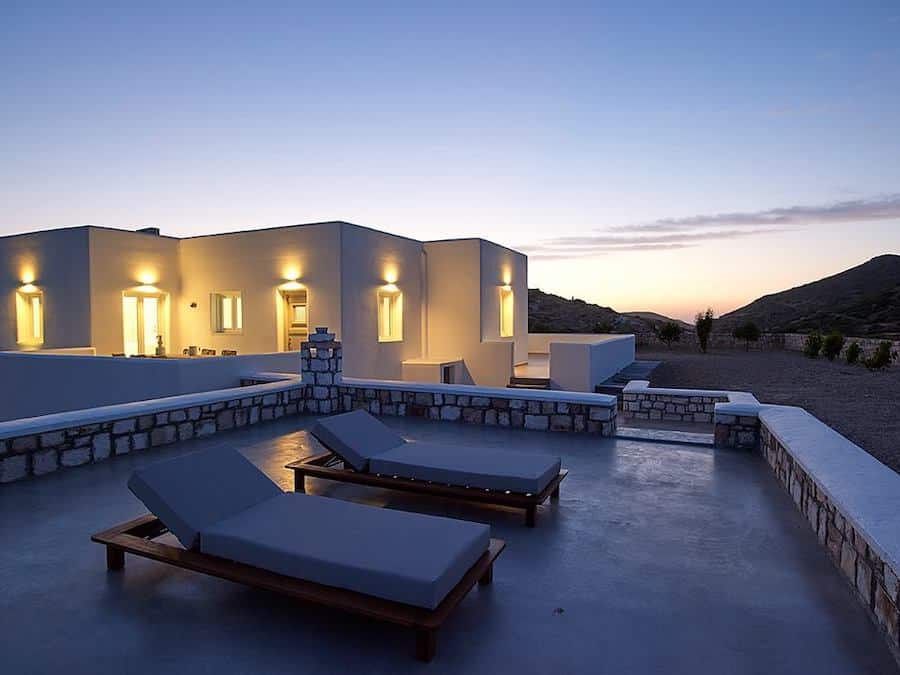 Luxury villa with a sophisticated design that features contemporary furnishings and accents drawn from Cycladic nature. Away from the busier areas of the island, Villa Vipera guarantees moments of full serenity and relaxation. It has room for up to 6 people. Accommodation The villa offers two bathrooms with showers, a living room, a dining area, a fully furnished kitchen, and three bedrooms. A garden, a sun patio with furniture, and a parking space are all present. Hosts offer car rentals, private transport, and housekeeping services.
Where To Stay In Tripiti, Milos
In the vicinity of Plaka, in a region with a long history that was incredibly wealthy during the Classical and Hellenistic eras, there is the charming village of Tripiti. The village is named by its terrain, which is composed of soft volcanic rock and appears to have been holed up, and it is located on a hill that slopes down to the sea (tripiti means full of holes in Greek). 
 On the village's highest point are a row of charming white windmills, some of which have been converted into luxury guest apartments. The Church of Agios Nikolaos in Tripiti is another notable feature. It can be seen from a great distance. It has a tiny square in the center of an even smaller lane.
Villa Blue Sky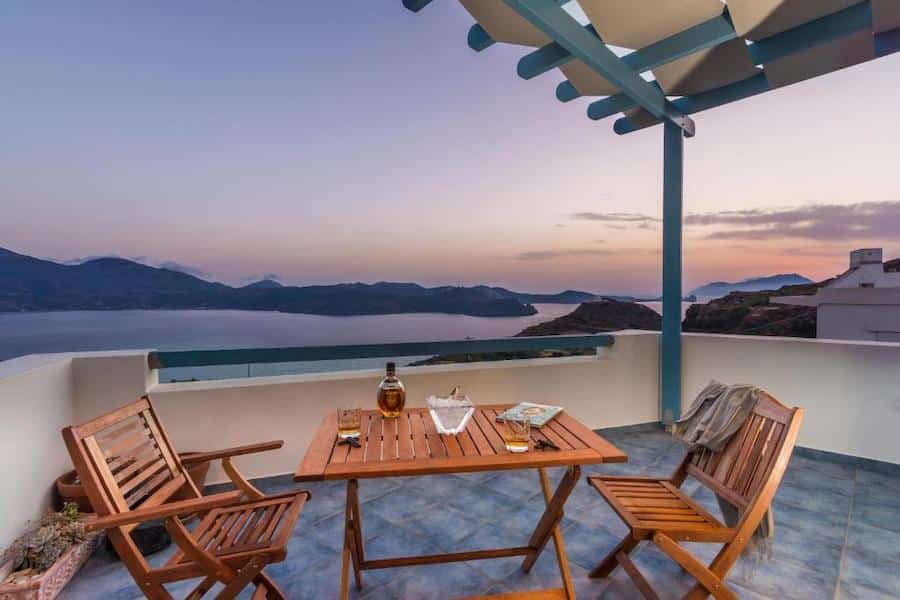 Located in Trypiti, within 2.3 km of Gerania Beach, is an excellent villa with three bedrooms, two bathrooms, a living room, a fully equipped kitchen, and a terrace with an incredible sea view. Guests are free to use all areas of the house and the terrace. The house is excellent for business travelers and families. The nearest airport is Milos Island National, 6 km from the holiday home, and the property offers a free airport shuttle service.
Chasing the Donkey - Balkan travel blog includes affiliate links. If you decide to make a purchase through these links, we receive a commission without any additional cost to you. We appreciate your support helping to keep this site free. Find our disclaimer & privacy policy here.