Here is all the Lefkada Island travel advice that you need. We've got a list of things to do on Lefkada Island, as well as top Lefkada Island sites and tips for traveling with kids.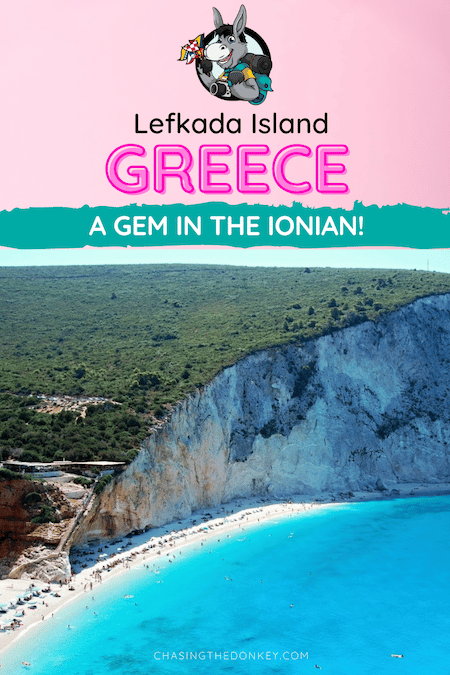 Picture this: Dramatic white cliffs, dazzling turquoise waters, and powdery golden sand contrasting against a lush green background. A gem in the Ionian boasting the prettiest beaches in Greece. That's what Lefkada is all about.
Popularly known as the Greek Caribbean, Lefkada is a gorgeous Greek island connected to the continent by a floating bridge. Even when this allows for easy access to Lefkada, the island is quiet and low-key.
Lefkada is another breathtaking Greek natural landscape and one of the most scenic shores in Greece, an ideal place for those wanting to discover a completely different Greek destination. Maybe a bit off-the-beaten-path, definitely exotic, and certainly not as popular as the neighboring islands of Corfu or Zakynthos.
Where Is Lefkada?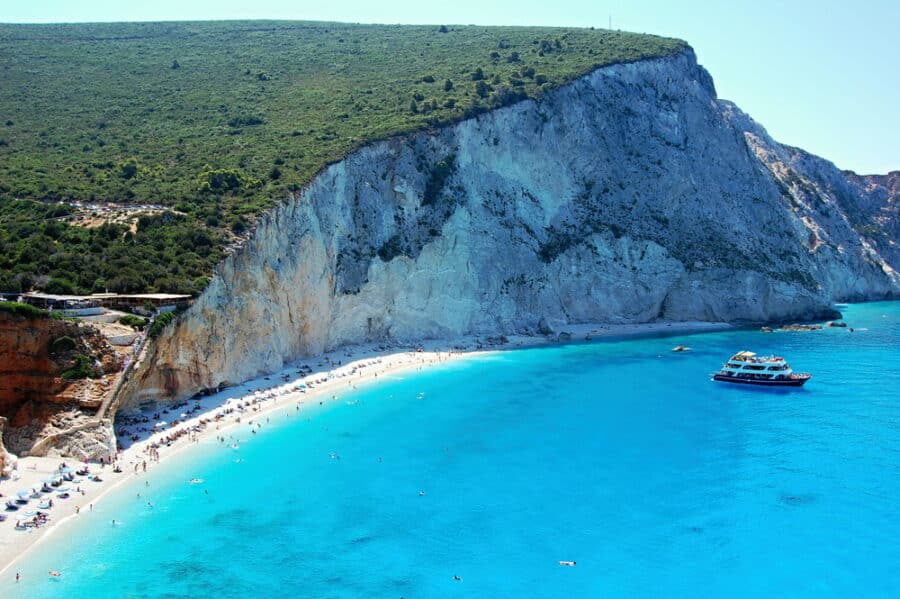 The island of Lefkada is located on the Ionian Sea, on the West coast of Greece, north of Ithaka and Kefalonia, Zakynthos, and south of Corfu. Close to Lefkada is the famous Skorpios, an island once owned by Aristotle Onassis and Kalamos. Nearby cities on the continent include Preveza and the coastal resort of Parga. The closest port is Patras.
What Is Lefkada Famous For?
Lefkada is the right destination if you are into water sports. The island has earned a reputation as the place to go for surfing, kite surfing, and windsurfing as a few bays boast the ideal winds during summer, especially on the beaches of Agios Ioannis and Vassiliki. Other popular activities include snorkeling and diving, while several water sports schools and centers are scattered all over the coast of Lefkada.
The island, like most of Greece, features a gorgeous mountainous landscape, attracting travelers who enjoy mountain biking, trekking, and hiking. Lefkada features small but magnificent forests and unexpected waterfalls that make outdoor activities entertaining and rewarding.
How To Get To Lefkada?
The island is close to the coast of Greece, and since it is connected to the mainland with a causeway, one of the easiest ways to get there is by car or bus. Of course, this means that there are no ferry services from the mainland.
Ferries to Lefkada depart from the nearby islands of Kefalonia and Ithaka, and there is also a tiny boat connection from the nearby island of Meganisi. The island has two ports, Vassiliki and Nidri. There are also ferry connections to Lefkada from the ports of Patras and Kyllini in the Peloponnese.
There are no airports on the island, so that you can fly to Aktion National Airport, located in Preveza town, Epirus (about 20 km from Lefkada). The airport receives flights from Zakynthos and Corfu because no flights arrive in Preveza from Athens. Once you've arrived at Preveza airport, it is easy to reach Lefkada by bus (managed by the local KTEL company), taxi, or renting a car.
If you're wondering how to get to Lefkada from Athens, you will need to fly to Corfu and then take a connecting flight or Zakynthos and board a ferry. Alternatively, you can drive from Athens or get there by bus (also managed by Ktel). Lefkada is 378 km from Athens, and the trip is about 4-5 hours.
Moving around: As with many other Greek Islands, renting a car is the best way to move around the island. Instead, if you do not want to drive, you can also move around with local buses and taxis, and since the island is not so big, this won't affect your budget. You can also access more remote shores by boat.
TRAVEL COMPANIES WE USE AND TRUST
When Is The Best Time To Visit Lefkada?
Just as with many islands on the Ionian, the best season to discover Lefkada is between late May and early September, as the island has short but mildly cold and rainy winters that make practicing water sports difficult and even dangerous.
Those traveling on a budget can choose to visit in June and September since the central months of July and August are often more expensive for accommodation. Besides, June and September are not as crowded or hot as the peak of the summer, making it perfect for families with small kids that want to avoid intense sun and extreme temperatures.
Top Things To Do In Lefkada
Lefkada is an excellent destination for outdoor lovers and sports enthusiasts, but it also allows travelers to experience the tranquil pace of life in small mountain villages or the entertaining opportunities offered by bigger, coastal resort towns. With its vineyards and olive groves, the island is a paradise for those who love Greek cuisine. Let's now see all the fantastic things you can do in Lefkada during your vacations.
Explore Lefkada Town
As soon as you get to the island, visiting the main town of Lefkada is a must. Head directly to the gorgeous Ioannou Mela Street, one of the most picturesque places in town with plenty of souvenir shops and nice cafeterias.
Although you might expect to find a traditional Greek settlement, the city is more modern. Different earthquakes hit the island in the 1950s, tearing down Lefkada's old town; therefore, most constructions were completely rebuilt.
Only a few structures survived the quakes, which should be included in your visit, such as the church of Agios Spyridon, dating back to the seventeenth century.
Check The Archaeological Museum Of Lefkada
Also, in Lefkada Town, this archaeological museum is a small but very interesting place to visit. It exhibits ancient objects on the island, covering a period ranging from the Palaeolithic to the late Roman Empire.
Visit A Fishing Village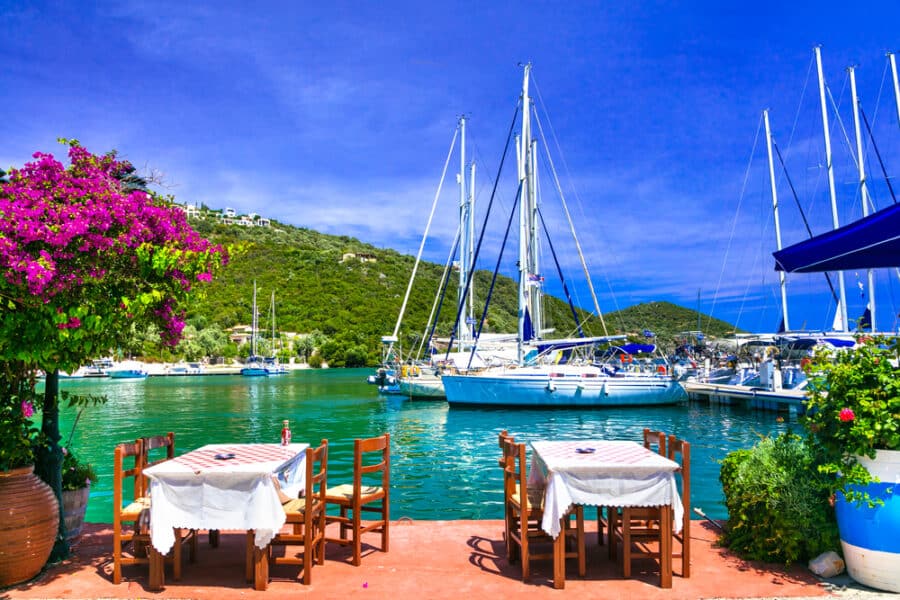 If you're into traditional Greek towns and coastal settlements, then head south of Lefkada to explore Vassiliki, a picturesque fishing village built around a calm natural port.
In the area, it's possible to indulge in delicious fresh fish sitting at one of the waterfront tavernas. In Vassiliki, it's also possible to explore the local beach or spend some time practicing water sports, especially windsurfing.
Spend Time In A Beautiful Monastery
The Monastery of Panagia Faneromeni is a beautiful building to explore in Lefkada. It hosts a very ancient church, and it was built in 1634 on top of a former Greek temple dedicated to the goddess of hunting, Artemis. Inside the monastery, you can check the Ecclesiastical Museum if you are interested in ancient Byzantine icons and religious manuscripts.
Considered the most important religious building on the island, this picturesque monastic complex is located in the village of Frini, on a high position overlooking the main town of Lefkada, therefore offering impressive views of the town, the whole island, and the mainland.
Marvel At The Waterfalls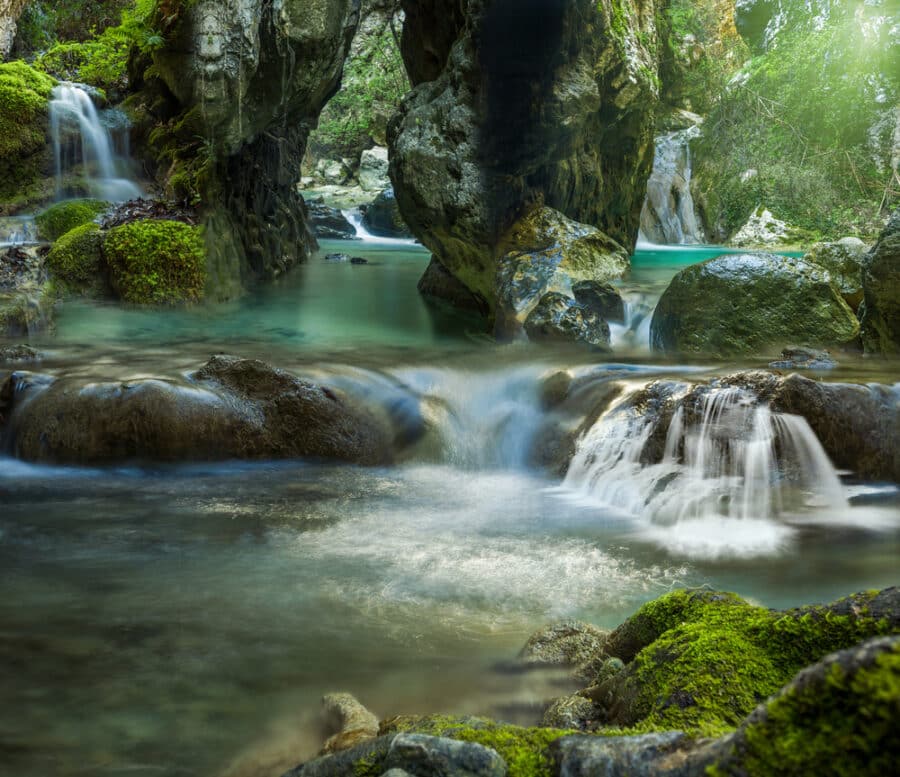 The Nidri waterfalls (also known as Dimosari) are among Greece's most beautiful waterfalls. The Nidri waterfalls are about 12 meters high and have frigid waters, especially in winter.
They are located inside a gorge on the outskirts of the Nidri village and surrounded by an exuberant green landscape. They are an ideal place to cool off on a hot day.
Discover The Castle Of Agia Mavra
The imposing castle of Agia Mavra stands very close to the bridge that connects Lefkada to the rest of mainland Greece. The remarkable structure has Italian and French influences, dating back to the fourteenth century.
During summer, the castle holds several festivals and celebrations, representing an excellent opportunity to experience the island's lifestyle and learn more about the local culture. If you happen to visit the area in summer, do not miss attending a festival in this place.
Spot A Lighthouse
An iconic spot on the island is Cape Ducato (also locally known as Lefkatas) which hosts the Lighthouse of Lefkada. The lighthouse stands in a phenomenal location, on top of the Leucadian cliffs on the southernmost point of the island, which is also a famous spot for paragliding.
According to the legend, this is the exact point from where Sappho, an Archaic Greek poetess, leaped to her death after being rejected by her lover Phaon, a mythical boatman from Lesbos.
Enjoy Sports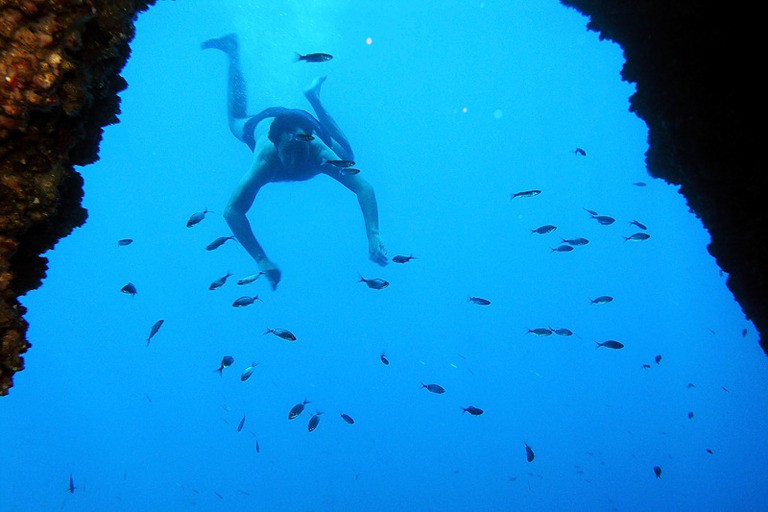 As we have told you, Lefkada is the right Greek destination to practice different sports. Here you can find a list of the most popular ones and suggestions for places where to practice them.
Paragliding
Travelers love the thrilling adventure of flying over an island from the high cliffs of Lefkada, which lets you experience the views of the magnificent Ionian coast on Kathisma Beach from an entirely different perspective.
Those unfamiliar with the sport also have the opportunity to fly with an instructor in complete safety for about 30-45 minutes, depending on the weather.
Windsurfing
Windsurfing is one of the most popular sports on the island. Lefkada is known for the strong winds that, especially in summer, blow in the afternoons on some special locations. Regarding windsurfing, the best place to go is Vassiliki, on the island's southern side. There are different windsurfing schools as the conditions are suitable for all levels of expertise.
Kite Surfing
This is another popular sport in Lefkada which can also be practiced in Vassiliki or on the big beach of Agios Ioannis, not far from Lefkada Town. Here, super thermal wind (an average between 15-20 knots) blows steadily during the whole summer. In Agios Ioannis and Vassiliki, it is possible to contact one of the many local centers to join one of their courses or rent the equipment.
Sailing
Sailing is a magnificent and relaxing activity that you can easily enjoy during a trip to Lefkada.
Most sailing trips include swimming in some of the island's best and most hidden beaches or even visiting other small nearby islands that could not be reached with any other alternative transport.
Kayaking And Canoeing
These are two very popular things to do on the island of Lefkada and excellent ways to visit the crystal-blue waters of Rouda Bay on the southeastern coast and the area of Nidri. When booking a kayaking or canoeing experience, guests also have the opportunity to explore some amazing sea caves and try their snorkeling skills in the Ionian Sea.
Scuba Diving
Although not yet as popular as the previously mentioned sports, it is possible to have a great time in Lefkada if you are a fan of immersion. The island shelters several fantastic underwater spots, including caves, old wrecks, and colorful reefs.
To enjoy this activity, it's always better to contact a local diving center. Most of them are located in Vassiliki and Nidri and offer courses and trips to different diving sites.
Beaches In Lefkada That You Must Visit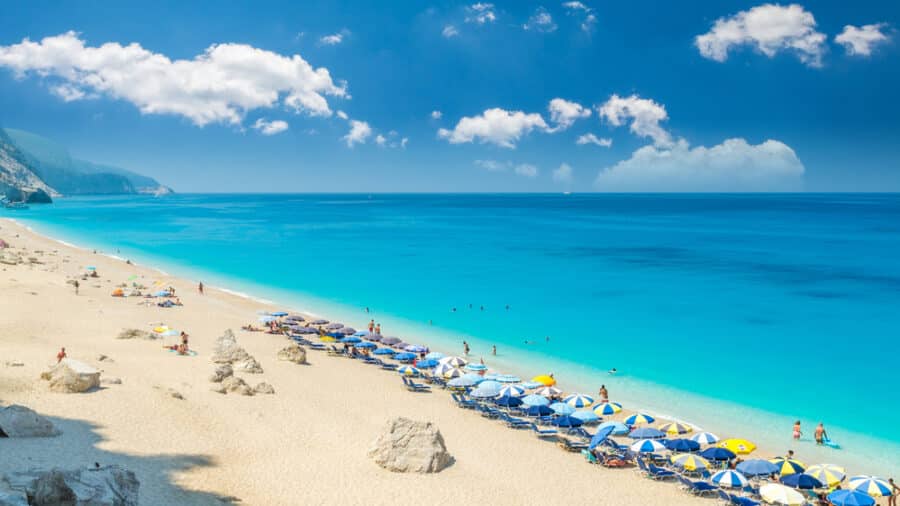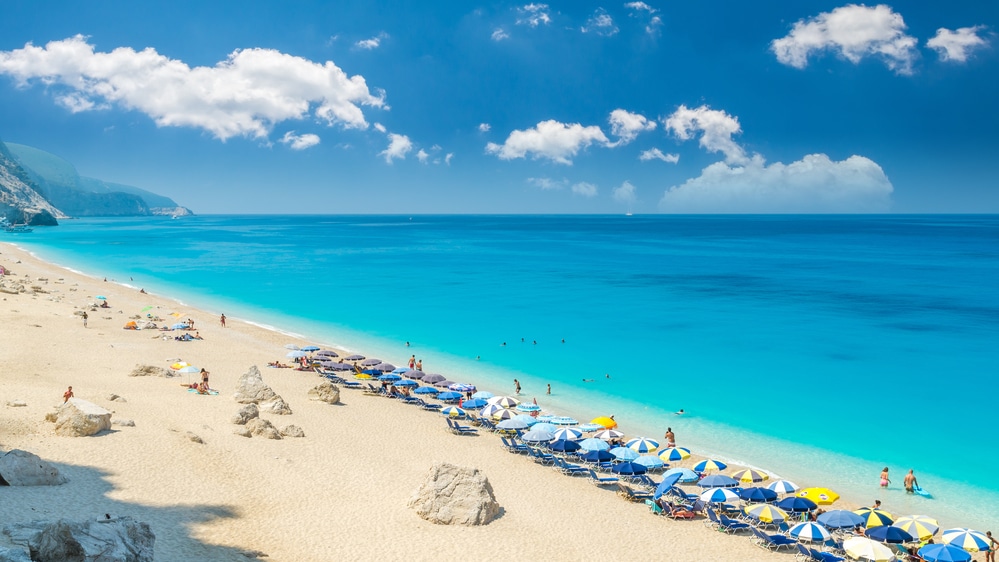 Unique beaches dot the inspiring coast of Lefkada, some of them unique and among the most beautiful in the Mediterranean. One of the main characteristics common to most beaches on the island is the incredibly deep blue color of the water. If you're eager to experience the best beaches in Lefkada, check the following spots during your trip.
Porto Katsiki Beach
Located about 45 km south of Lefkada Town, Porto Katsiki is undoubtedly the most famous beach on the island, boasting an alluring exotic landscape. Its most characteristic feature is the imposing, abrupt high cliffs surrounding the gorgeous stretch of sand and pebbles. The best way to reach Porto Katsiki is by boat, although you can also get there by car. It is also a good beach for families, with some quiet areas, despite being such a popular spot. The sea is of a gorgeous blue, but it can get deep, even very close to the shore.
Vassiliki Beach
Another beautiful beach to visit, near the picturesque fishing village of the same name, Vassiliki Beach is a bit more than 35 km from the center of Lefkada Town. The atmosphere is relaxing, with beautiful green hills as a backdrop.
The beach features a mixture of sand and small pebbles, and it is a bit windy, especially after midday. This makes Vassiliki Beach the local mecca for windsurfing, sailing, and kayaking. The beach is well organized, featuring cafes and tavernas. This is another favorite beach for families with kids.
Agios Nikitas Beach
Located just 10 km from the town of Lefkada, this beach offers the best of the Ionian Sea colors, ranging from sparkling turquoise to deep marine blue in striking contrast against the green cliffs and mountains.
This is a very family-friendly beach in Lefkada. The pebbled shore is not very big, but it is calm and has a relaxing atmosphere. There are organized facilities, including restaurants and snack bars, and it can be easily reached from Lefkada Town.
Egremni Beach
An unmissable beach on the island, Egremni is a tranquil beach about 40 km from Lefkada town with breathtaking views and relaxing spots. The area is considered a bit remote, easily reached by boat, which makes it a favorite place for naturism. The coast features very deep waters with strong currents, so those that are not good swimmers should be extra careful. Egremni is wide and spacious, perfect for kids to play and relax; however, the sea can be too deep for little swimmers. Keep this in mind if you're organizing a visit with the family. The beach is organized with sun loungers to rent and snacks available at a local bar.
Kathisma Beach
If you're looking for a shore that will make everyone in the family happy, then head to Kathisma. This is a long sandy beach surrounded by a mountainous landscape. As we have seen before, the area is a favorite spot for paragliding. The beach offers organized facilities, bars and restaurants, and umbrellas for rent on the sand. Access is relatively easy from Lefkada Town by car or public transport.
Nidri Beach
Another spot you shouldn't miss on Lefkada Island is Nidri Beach, a few minutes from the village of Nidri. It features an inviting crystal clear sea and a fantastic sandy shore with trees for shade. There are a lot of structures offering water sports centers, sunbeds and umbrellas for rent, cafeterias, and beach bars. This beach is especially popular among families.
Milos Beach
This pretty shore features a virgin sandy beach with a magnetic turquoise sea. Milos is close to the village of Agios Nikitas, from where you can board a sailing boat that takes you to the beach.
Pefkoulia Beach
Despite not being as famous as Porto Katsiki, this is probably the most incredible landscape that you will find on the island, with a deep green sea and clear sand as well as pine trees along the extreme tips of the beach. Easily accessed by car from the village of Agios Nikitas, Pefkoulia is another family-friendly shore with good organization, also preferred by naturists.
Lefkada With Children
Lefkada is an excellent place for a family vacation, with small villages and towns offering activities, museums, and entertainment for kids of all ages. Kids are welcome to try adventurous sports, including surfing and windsurfing, and enjoy many swimming opportunities on some of the great beaches around Lefkada's coast.
The island also has attractive opportunities for outdoor walks and hikes. Kids enjoy discovering the wild beauty of the Nidri waterfalls and walking along the hiking paths worth a stroll for the whole family.
Older kids and teens can experience adrenaline-infused experiences such as kite surfing and paragliding in Kathisma. Even when your children might be too small for such an extreme sport, they will certainly enjoy watching the colorful paragliding wings in the sky.
Children will also be interested in local tours, including visiting the Olive Oil Museum or the local olive groves, which host centennial trees. You can take your visit to explore the ancestral traditions of the island through a visit to the Lefkada Folklore Museum in the village of Karya.
Alternatively, visits to the Archaeological Museum and the Phonograph, Radio, and Traditional Museum in Lefkada Town appeal to every family member.
Where To Stay In Lefkada
There are many exciting areas you can choose to stay in Lefkada.
LEFKADA TOWN AND VILLAGE GUIDE
Lefkada Town
You can book a hotel in the capital, Lefkada Town, in the northeastern island area. This is a colorful town, with narrow streets, plenty of shops and restaurants, a harbor and a marina, and a few pedestrian areas. Lefkada Town has a good choice of hotels and apartments to stay in for your vacation.
Sivota
This small village is in a sheltered bay often visited by boats and yachts coming from all over the Ionian. It's about 33 km from Lefkada Town and has a laid-back atmosphere. In the area, there is also a small beach, as well as dozens of bars, restaurants, and shops along the waterfront.
Nidri
This is probably the most visited village on the island and the wisest choice when it comes to places to stay for families. Nidri is a busy resort that appeals to people of all ages, including mature travelers, couples with kids, and young travelers. Nidri is about 20 km from Lefkada Town and features shops of all kinds, supermarkets, banks, international restaurants, and much more.
Nikiana
Another village to stay in Lefkada is the remote fishing village of Nikiana, a relaxing spot about 10 km from Lefkada Town as well as 10km from Nidri.
Mikros Gialos
Mikros Gialos is a postcard-perfect seaside resort on the southeastern coast of Lefkada, below the inland village of Poros. It features a gorgeous blue flag beach on Rouda Bay surrounded by deep green vegetation.
Top Lefkada Hotels
Budget Places To Stay In Lefkada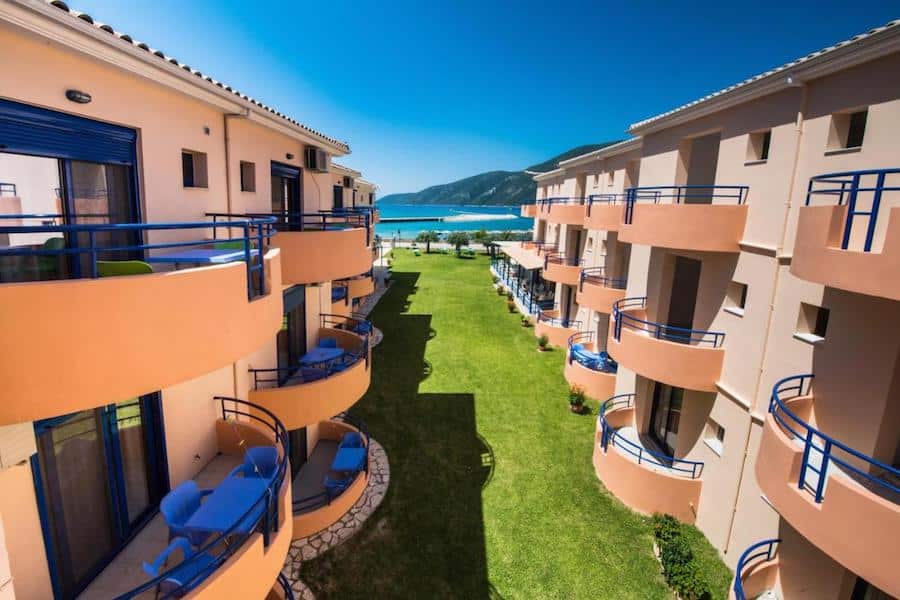 Hotel Nostos (Nidri) is a family hotel located a kilometer from Nidri, only 100 meters from the small Perigiali Beach. The hotel offers rooms with a furnished balcony overlooking the sea. The property serves a delicious homemade buffet breakfast every morning, while coffees and drinks are available all day at the hotel snack bar. Lefkada Town is about 15 km from the hotel.
Akroyiali Resort (Vassiliki) is a perfect budget option if you visit the island to spend time practicing windsurfing on Vassiliki Beach, which is just a minute away. The hotel is conveniently located, with restaurants and seafront cafés only meters away. The studios have furnished balconies overlooking the Ionian Sea, a kitchenette, and a small dining area. Guests are offered a welcome drink upon arrival. The village of Sivota is only 15 km from the property.
Mid-Range Places To Stay In Lefkada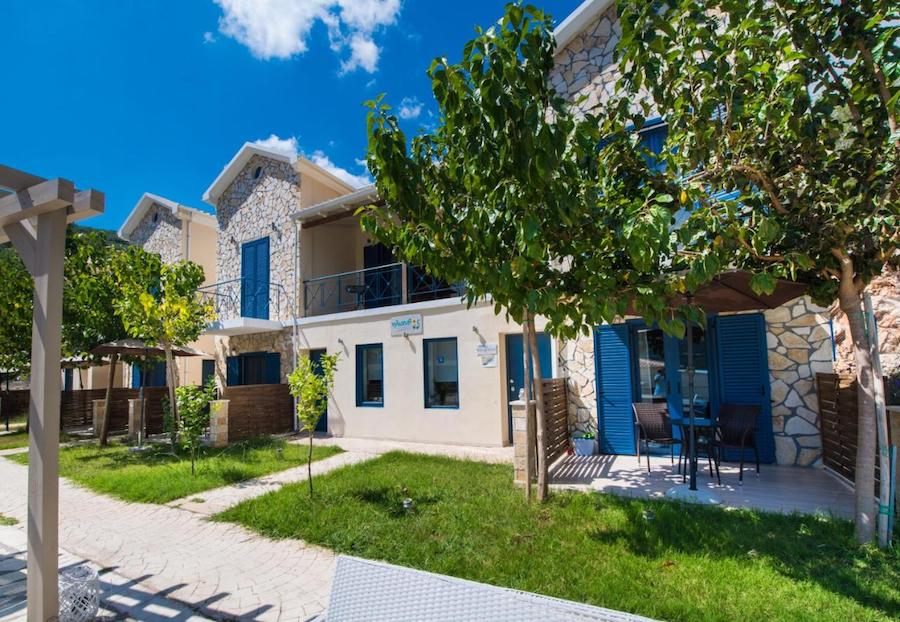 Ilianthos Apartments & Rooms (Mikros Gialos) is a guest house offering comfortable accommodation only meters from the fantastic Mikros Gialos Beach. It has units with beautiful garden views, equipped with comfy beds and coffee-making facilities. Lefkada Town is about 22 km from the guest house.
Cabernet Houses (Lefkada Town) is a complex of modern units surrounded by lush gardens located in Lefkada Town. All the units come with a fully equipped kitchen and a dining area. Some units include a seating area and a balcony. The apartments are located near Saint George Square, in the center of town, not far from the Phonograph Museum.
Luxury Places To Stay In Lefkada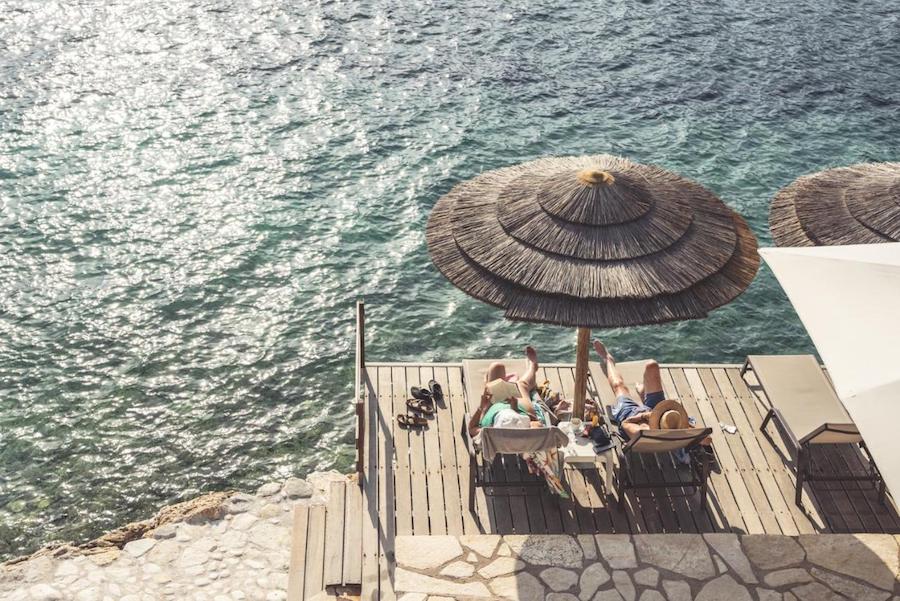 San Nicholas Resort Hotel (Poros – Mikros Gialos) is a fantastic resort located in Poros, a 6-minute walk from the beach. The newly built hotel overlooks Mikros Gialos's beach and Kefalonia and Ithaka's neighboring islands. The hotel features a swimming pool, a children's pool, and access to a private beach.
Serenity Boutique Hotel (Athanion) is a beautiful property located about 15 km from Nidri village; it stands on an elevated position in the tranquil area of Athani. The hotel features guest rooms with sea views and has an infinity pool, a restaurant, and a wellness center. Nearby attractions include the beaches of Egremni and Porto Katsiki, located within a 10-minute drive, while Lefkada town is 35 km away.
Best Places To Eat In Lefkada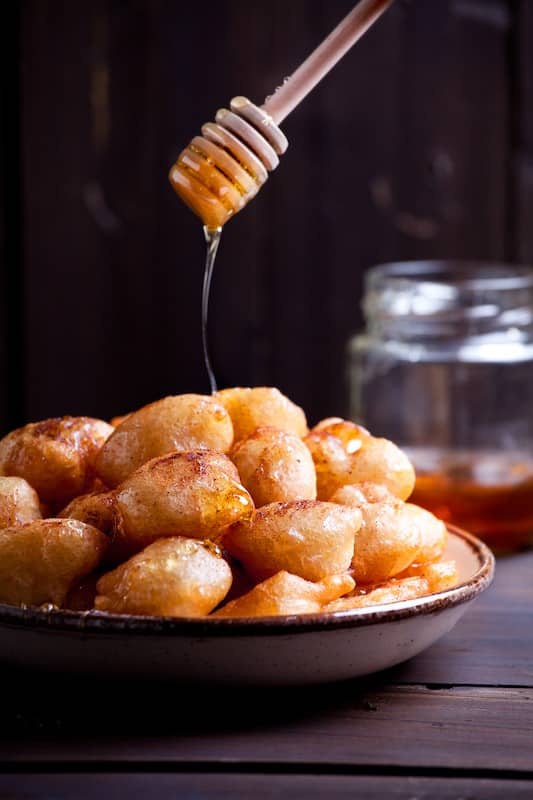 These are some of the most popular places to eat in Lefkada.
To Loukoumadaki Cafe
To Loukoumadaki Cafe in Lefkada Town serves a variety of hot and cold coffees, juices, and delicious loukoumades with honey (Greek donuts).
De Blanck Wine & Champagne Bar
De Blanck Wine & Champagne Bar is a good place for Greek appetizers on the main boulevard in Nidri. They have a great variety of Greek beers and local wines and also sell Lefkada labels in their wine shop.
Zorbas Restaurant
Zorbas Restaurant in Vassiliki offers a variety of seafood, Italian pasta, and other Mediterranean specialties and ranks among the best places to eat in this village.
T'Aloni
T'Aloni is the perfect place for a romantic dinner with a view. It prepares delicious meat dishes in the area of Vassiliki.
LEFKADA ISLAND FAQs
Where is Lefkada Island located?
Lefkada is an island located in the Ionian Sea, off the western coast of Greece. It is connected to the mainland by a floating bridge.
How do I get to Lefkada Island?
You can reach Lefkada by flying into Preveza-Aktion Airport on the mainland and then driving or taking a bus to the island via the floating bridge.
What are the best beaches to visit in Lefkada?
Lefkada boasts several stunning beaches. Some of the most popular ones include Porto Katsiki, Egremni, Kathisma, and Milos Beach.
Is Lefkada a suitable destination for families?
Yes, Lefkada is a family-friendly destination with beautiful beaches, calm waters, and various activities suitable for children of all ages.
What is the best time to visit Lefkada?
The best time to visit Lefkada is during the summer months (June to September) when the weather is warm and ideal for enjoying the beaches and outdoor activities.
Are there any water sports available on Lefkada island?
Yes, Lefkada offers a range of water sports, including windsurfing, kiteboarding, and sailing. Vassiliki Beach is famous for its excellent windsurfing conditions.
What are some popular attractions on Lefkada Island?
Aside from its beautiful beaches, Lefkada has other attractions worth exploring, such as the picturesque village of Agios Nikitas, the waterfalls of Nidri, and the ancient site of Dimosari.
Can I rent a car to explore the island of Lefkada?
Yes, renting a car is a convenient way to explore Lefkada Island at your own pace and visit various beaches, villages, and attractions.
Are there any hiking trails on Lefkada?
Yes, Lefkada offers some hiking trails with stunning views of the island's landscapes. The trails in the Lefkada Mountain Range and the Faneromeni Monastery path are popular options.