Best Places & Cities In Kosovo You Must See
Although not the largest of countries, Kosovo does have many different features. There's plenty of natural variety found here, from its central plains and valleys to the Sharr Mountains in the southeast and the Albanian Alps in the southwest – let us help you discover all the things to do in Kosovo.
Culturally, Kosovo has plenty to offer, including an incredible UNESCO World Heritage Site and a handful of fascinating cities.
Rather unfortunately, this small country in the heart of the Balkans is still often associated with the Kosovo War of 1998 and 1999, part of the turbulent break-up of Yugoslavia in the '90s.
However, those events are now two decades ago, and Kosovo is once again a country that's safe to travel to. All the places to visit in Kosovo in this post are easily accessible and popular Kosovo tourist attractions.
However, there are a few areas, such as Mitrovica and the border area near Serbia, where tensions occasionally flare up. This is, after all, a country that's not recognized by some other nations.
Its neighbor Serbia, of which Kosovo used to be a part, is still the strongest disputer of Kosovo's claim to independence. More than 100 other United Nations members do acknowledge Kosovo sovereignty.
Either way, political discussions and disagreements aside, Kosovo is a beautiful and undervalued European destination, whether you see it as an independent country or autonomous Serbian region.
It's one of the least visited countries in Europe—a real unexplored, authentic gem.
Top Attractions In Kosovo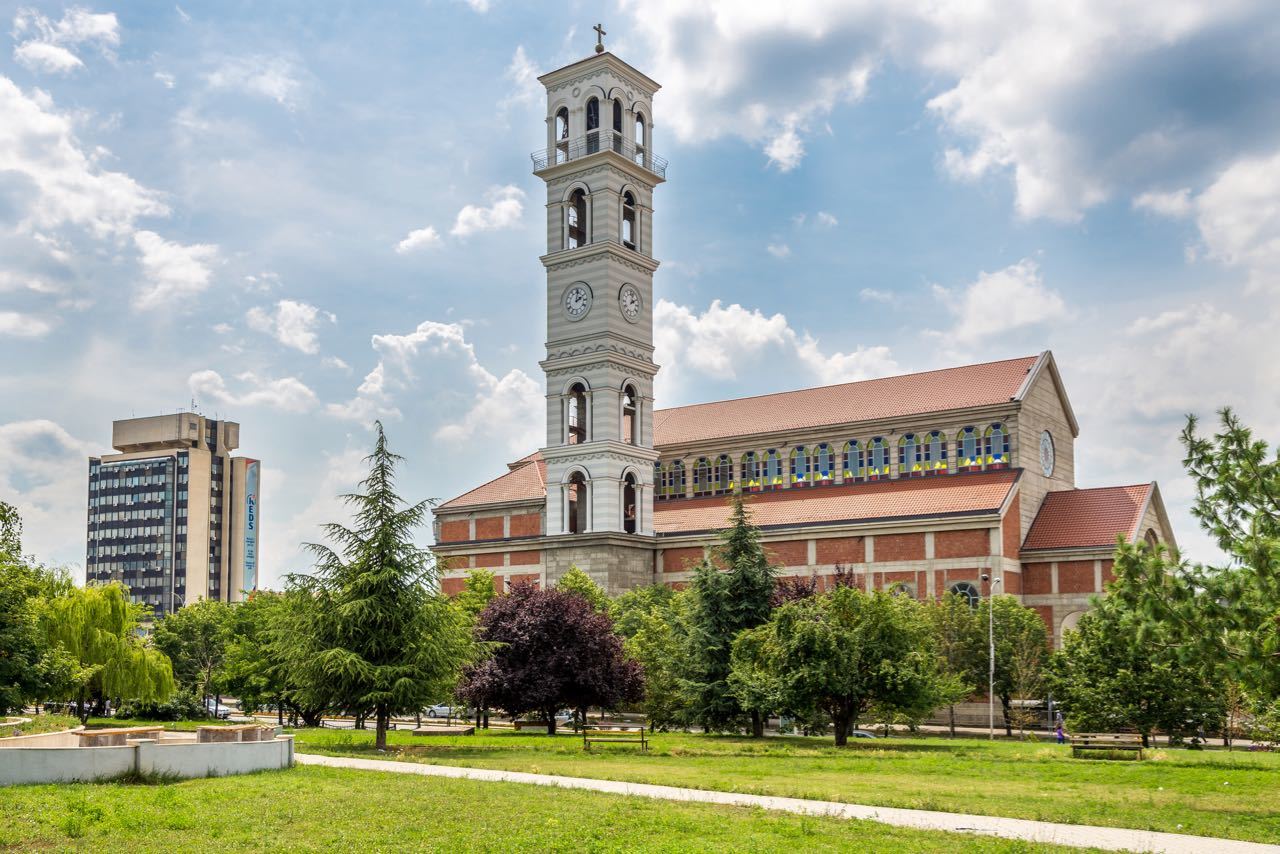 Yes, other more well-known Balkan countries such as Croatia, Slovenia, and Montenegro do receive the lion's share of tourists in the region. But that doesn't make Kosovo any less worth exploring.
In fact, it's just because Kosovo tourism is still in its infancy that it offers some of the last real authentic experiences in southern Europe. Unspoiled by tourists and untouched by hordes of selfie-snapping visitors, Kosovo is a bastion of "realness," home to super-friendly and hospitable people and glorious nature.
If you're wondering the best places to visit in Kosovo, you'll find the top destinations in the overview below!
PLAN AHEAD TO GET THE BEST DEALS
TRAVEL COMPANIES WE USE AND TRUST
Kosovo Towns To Visit – Kosovo Sightseeing
From the capital of Pristina to smaller historic towns in the southern corners of the country, Kosovo has plenty of history and culture to offer. If you're an architecture enthusiast or history buff, you'll find there are enough places to visit in Kosovo to keep you occupied for a week or more.
Pristina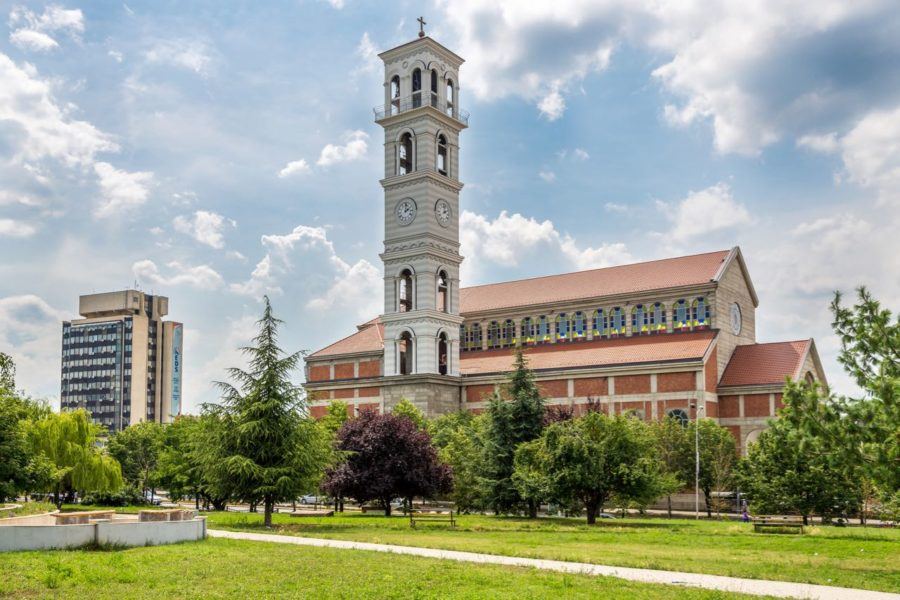 The capital of Kosovo, Pristina, is the largest city in the country, home to a majority Albanian population and numerous institutions and monuments. It's also Kosovo's transportation hub, a crossroads for air, road, and railway travel. You'll most likely start your Kosovo trip in Pristina.
Like other major cities in the Balkans, for example, Sarajevo, Zagreb, and Skopje, Pristina is a fascinating mix of old and new. Sometimes, that means very old and ultra-new. This rapidly changing city might not be the most picture-perfect location, but its character and charm are undeniable. Its atmosphere, bustling markets, and many historic buildings and museums make it a fantastic Kosovo destination.
Some absolute highlights in Pristina are the Museum of Kosovo, Emin Gjiku Ethnographic Museum, Sultan Mehmet Fatih Mosque, Germia Park, and the vibrant NEWBORN sculpture.
Prizren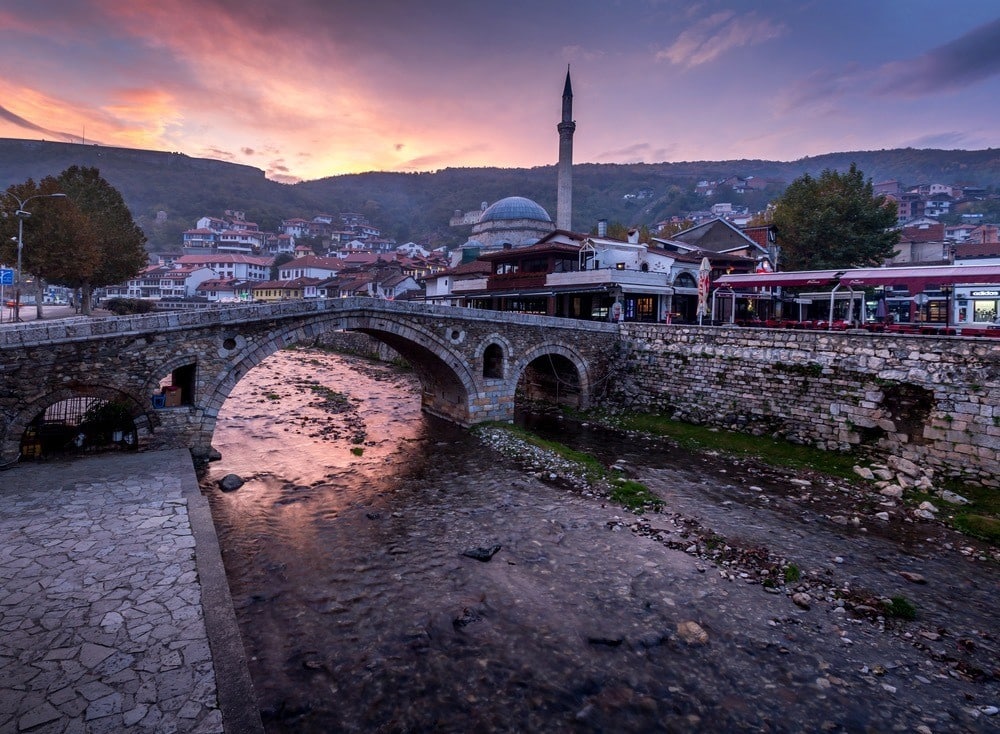 While Pristina is the largest city in Kosovo, many people consider Prizren its capital of culture. Situated in the Sharr Mountains' foothills and near the border of both Albania and Macedonia, Prizren is an ancient town chock-full with historical sites.
Its history goes back to early Roman times, and there are numerous influences from the Middle Ages and the Ottoman Period. Prizren is an "undiscovered tourist treasure" unlike many others in the Balkans. Its Old Town is dotted with Byzantine and Ottoman architecture, has a restored 16th-century Old Stone Bridge, and is home to the UNESCO-listed Our Lady of Ljeviš Church. The 11th-century Prizren Fortress is particularly great for sunrise and sunset watching. With some imagination, you might even call it a miniature version of Mostar, although pretty much unknown.
Add to that easy access to spectacular mountain scenery, and you've got one of the best places to visit in Kosovo.
Peć (Peja)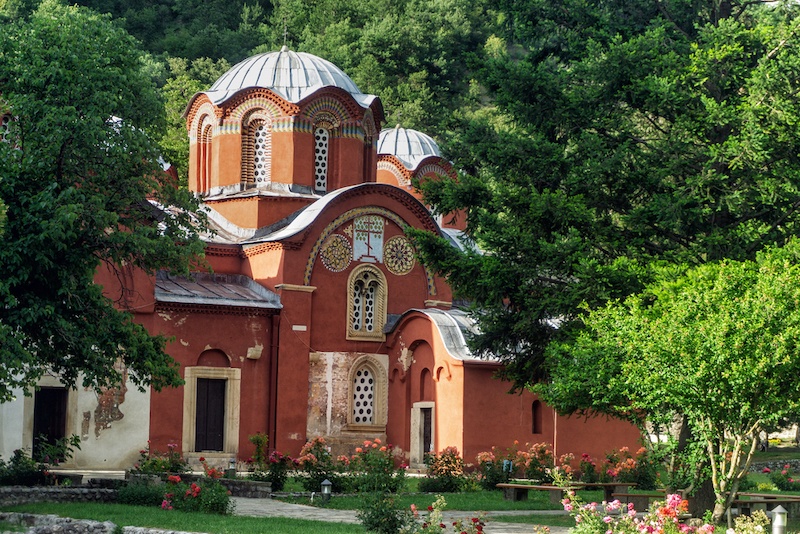 Called Peja in Albanian, this town's Serbian name is Peć. About 85 kilometers to the west of the capital, Peć makes for a fantastic weekend trip from Pristina. Not only is the Peć Old Town filled to the brim with traditional cafés and restaurants where you can try traditional cuisine, religious and historical monuments, and charming shops, but there's also plenty of outdoor adventures in the area.
The spectacular Rugova Canyon and Bjeshkët e Nemuna National Park, see both below, are only a few kilometers from the city center, making Peć an excellent destination for both culture and nature.
Gjakova
A fantastic stopping point while traveling between Prizren and Peć, the laidback town of Gjakova is one of the top places to go in Kosovo for one main reason. It's home to the longest bazaar in the Balkans.
Known as the Old or Grand Bazaar, it stretches for a full kilometer and is lined with around 500 shops. There's also a mosque, a clocktower, and several türbes (a type of Turkish tomb). The 16th-century Hadum Mosque lies nearby as well.
Other Kosovo attractions include the towering Saint Paul and Saint Peter Church and the Ethnographic Museum of Gjakova.
Other cities in Kosovo you should look at
If you're spending more than a few days in Kosovo, then check out of these Kosovo cities:
Vushtrri
Gjilan
Rahovec
Mitrovica
Natural Highlights In Kosovo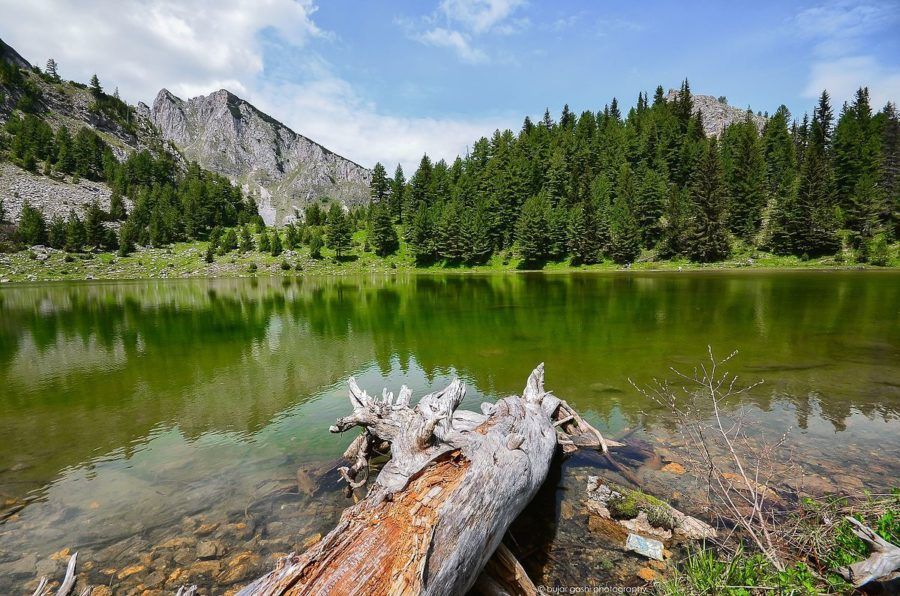 In addition to beautiful historic cities, centuries-old monuments, bustling bazaars, and cozy cafés, there are also plenty of fantastic nature destinations in Kosovo. The country is home to two stunning national parks and a couple of unique natural features.
Rugova Canyon
One of the top Kosovo attractions for nature lovers—if not simply the top attraction—is Rugova Canyon. Located near Peć and in the spectacular Prokletije Mountains, it was created by the retreating Peć glacier and water erosion. Now, the Peć Bistrica river flows through the canyon. Its length of 25 kilometers and a maximum depth of 1,000 meters is one of the longest and deepest canyons in Europe.
There's plenty of outdoor recreation in this area, from hiking to rock climbing and speleology. A major attraction is a so-called "via ferrata" or "iron trail," which is the only one in the Balkans. Other highlights include a few waterfalls, the Gryka e Madhe Cave, and the historic Patriarchate of Peć Monastery.
Bjeshkët E Nemuna National Park
There are several epic natural attractions in Kosovo, and Bjeshkët e Nemuna National Park is one of the very best. Also located just west of Peć, near Rugova Canyon, this gorgeous national park covers mountain ranges, several lakes, coniferous and deciduous forests, and other alpine scenery.
It's a partially significant area for birdlife and offers refuge to other animals like chamois, roe deer, gray wolves, lynx, eagles, and even brown bears. The park shares a border with Albania's Valbonë Valley National Park, a similarly beautiful park and one of Albania's top national parks.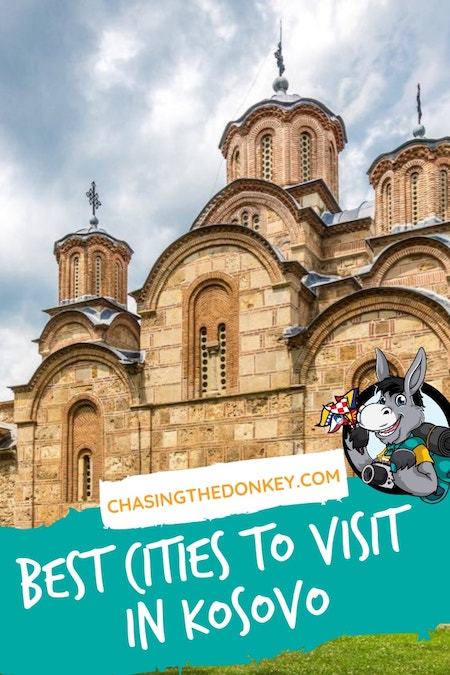 Sharr Mountains National Park
In the southeast of Kosovo lies Sharr Mountains National Park, one of the two Kosovo national parks. Located close to Prizren, its length of 70 kilometers and width of 30 kilometers make it one of the largest mountain parks in the Balkans. It's also one of the highest parks on the Balkan peninsula.
If you're after unspoiled nature, you'll definitely find that here. The park's glacial lakes, rugged mountain scenery, meadows, forests, caves, and gorges harbor a wealth of biodiversity. It's a dream destination for nature lovers, from 1,500 plant species to about 200 species of birds and more than 140 kinds of butterflies. High-profile resident animals include gray wolves, chamois, lynx, brown bears, and deer, similar to the other national park above.
The Marble Cave
A local man casually working in his garden in the 1960s discovered that the Marble Cave is one of Kosovo's greatest natural highlights. Only about 20 kilometers south of Pristina, this cave is mainly unexplored. Yet, about 400 meters of it are accessible to visitors.
You can explore three galleries featuring a wide range of colors, from red and blue to white and yellow. Of course, there are countless stalactites, stalagmites, and other cave formations as well.
Medieval Monuments In Kosovo UNESCO World Heritage Site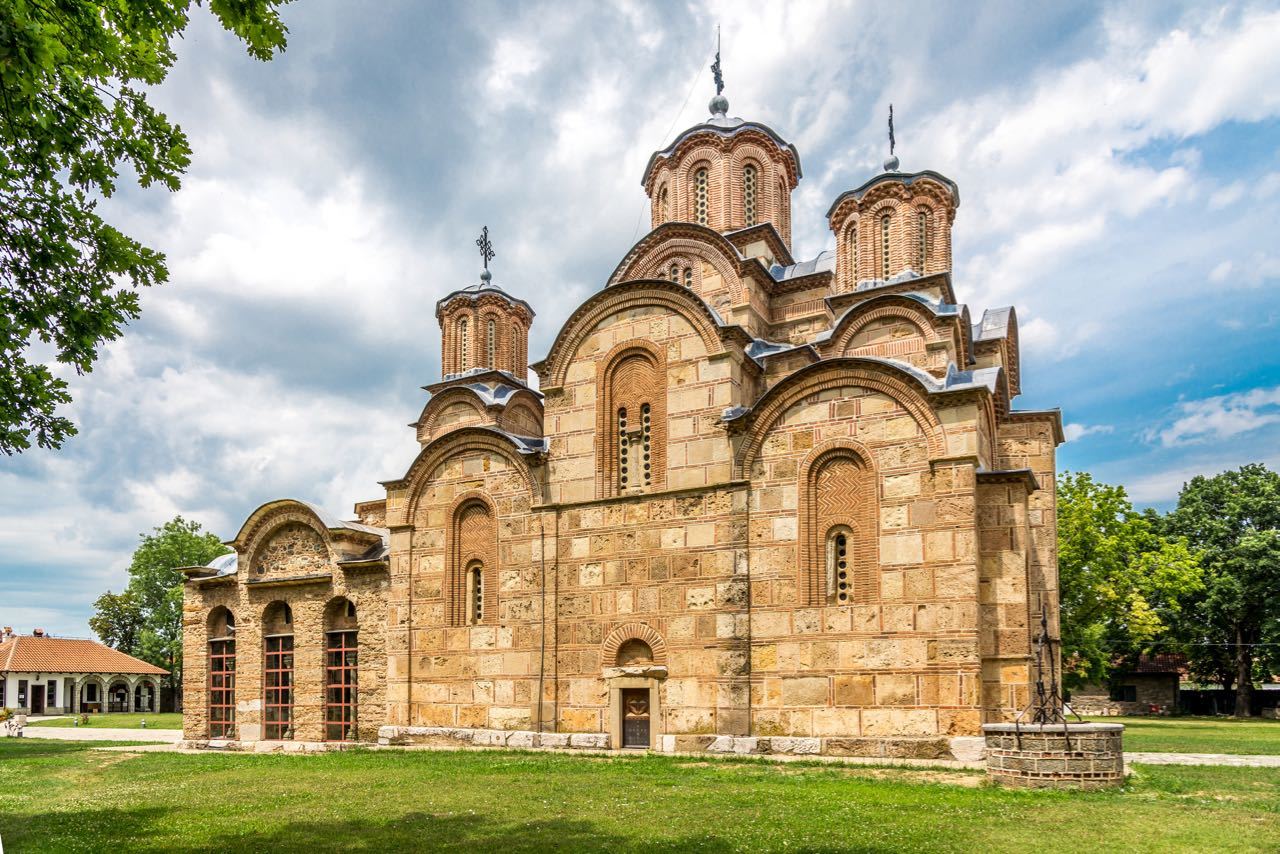 There may be only one UNESCO World Heritage Site in Kosovo, but it's a whopper! The Medieval Monuments in Kosovo site consists of four different sites spread throughout the country.
All four sites are Serbian Orthodox churches and monasteries. They're so precious because of their mix of Eastern Orthodox Byzantine and Western Romanesque architecture. They represent the heyday of Byzantine-Romanesque ecclesiastical culture, especially the remarkable wall painting style that originated in the Balkans from the 13th to the 17th century.
The four monuments are respectively:
Patriarchal Monastery of Peć – a collection of four medieval domed churches at Rugova Canyon's entrance near Peć. The seat of the Serbian Patriarch and featuring stunning wall paintings.
Our Lady of Ljeviš Church – a 14th-century Serbian Orthodox church in Prizren with early-1300's frescoes representing the Palaiologan Renaissance style's emergence.
Gračanica Monastery – built in 1321 on top of a previous 6th-century basilica remains, is one of Kosovo's most beautiful monuments and places to visit.
Dečani Monastery – founded by Serbian king Stefan Dečanski in the 14th century, this gorgeous church boasts a monumental interior and the founding king's mausoleum.
These are the best places to visit in Kosovo, from Kosovo cities to natural attractions. Include them as the cornerstones in your Kosovo itinerary—you can see them all on an enjoyable road trip.