Fun Things To Do In Pristina Kosovo
Pristina, also seen written as Prishtina, is a city with a different vibe, melting old museums and architecture with the newer Pristina landmarks. Where is Pristina, you ask? You'll find Pristina in the North-Eastern part of Kosovo, close to the Goljak mountains in the District of Pristina.
What To See And Do In Pristina Kosovo
Of course, there are loads more than ten things to do, but these will get you started:
Visit the Emin Gjiku Ethnographic Museum
Of the ten best places to visit in Pristina is the Emin Gjiku Ethnographic Museum. It's located in an old 18th-century house in the Bazaar area and shows what Kosovar life was like from the 15th to the 20th century. The tour guides explain how all the furniture, tools, pottery, clothing, jewelry, musical instruments, and weapons were used and give you some insight into Pristina traditions.
Visit The Monument At Skanderbeg Square
Next on the list of places to see in Pristina is Skanderbeg Square. After the Kosovo conflict in 1999 ended, the Albanians in Kosovo erected this monument to Gjergj Kastrioti, who's famously known as Skanderbeg.
He was a nobleman from the 15th century who fought against the Ottoman rulers. This Pristina top 10 contender, locally known as Sheshi Skënderbeu, resembles statues in Tirana, Albania, and Skopje, Macedonia.
Visit The Sultan Mehmet Fatih Mosque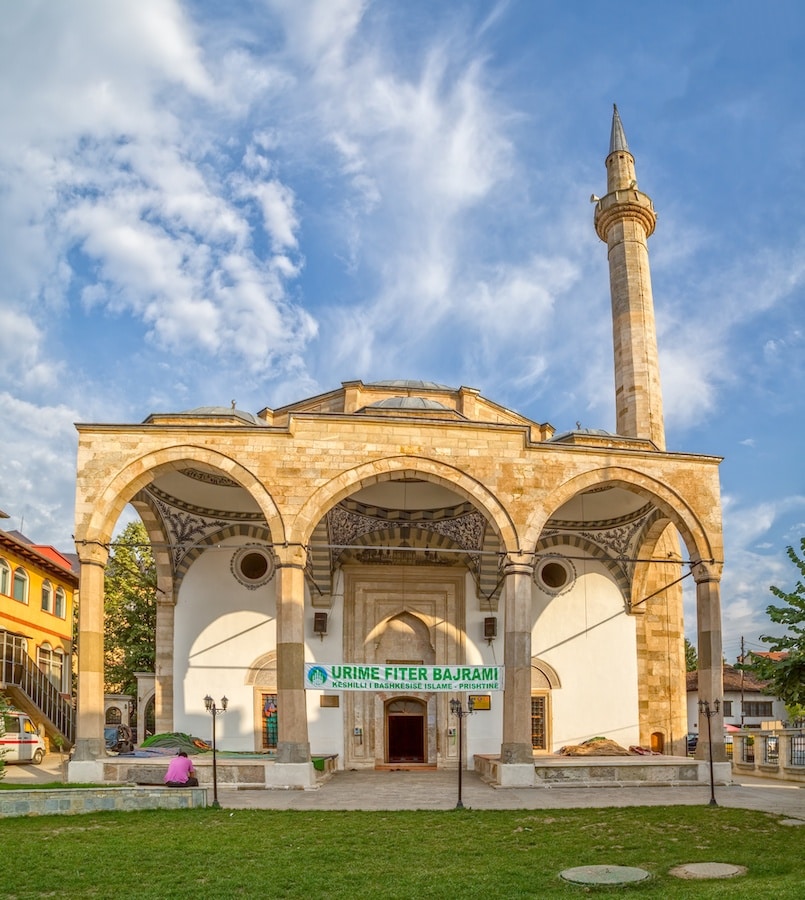 As locals call it, the Sultan Mehmet Fatih Mosque, or the Imperial Mosque, is among the best places to see in Pristina. It was built by Sultan Mehmet II Fatih in 1461 and also served as a Catholic Church during the 17t17th-century to-Turkish wars.
The interiors and walls of this Pristina tourist attraction are covered with beautiful paintings and murals. As the most important mosque in Pristina, it is a must-see while sightseeing in Pristina.
Wander Through The Bazaar Of Pristina
Pristina Bazaar, the Bazaar of Pristina or Carshia e Prishtines, was the main bazaar in the Old City of Pristina since the 15th century. Much of it was destroyed during the 1950s and 1960s, and government buildings were put up in their place.
But you can still see the old Bazaar Hammam and Bazaar Mosque, which are also Pristina tourist attractions. The remnants of the bazaar area are filled with vendors selling vegetables, appliances, and many flea market items. A must-see in Pristina!
Visit The Mesozoic Era Gadime Caves
Found in 1966 by a villager named Ahmet Asllani while working in his garden, the Marble Cave, or Gadime Cave in theime e Ulët, Lipljan is a Mesozoic era karst limestone cave.
FulTheves can be visited on a guided tour. A and full of remarkable stalactite and stalagmite formations although you'll have to drive for half an hour to get here, it's one of the most amazing places to visit around Pristina.
Visit The Weird National Library Of Kosovo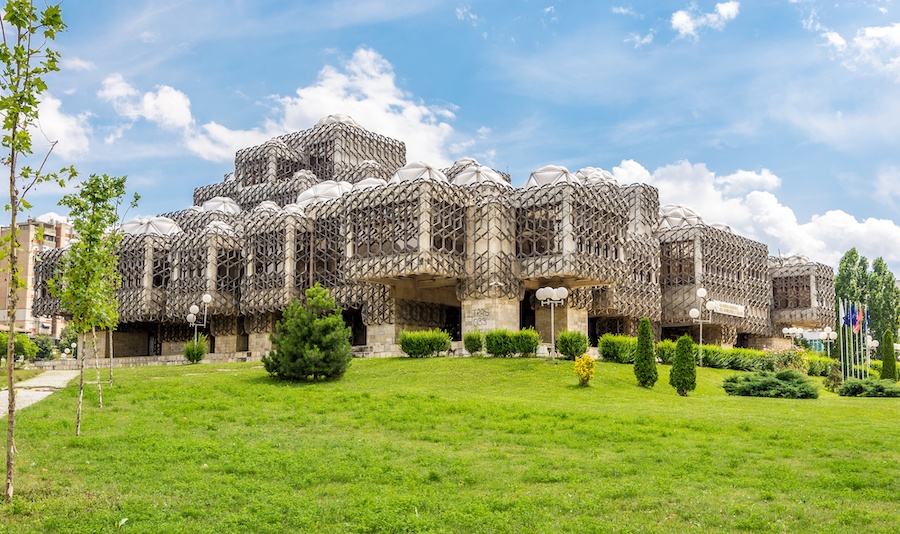 This kind of weird-looking structure is one of the top places of interest in Pristina and is listed as one of the ugliest buildings in the world.
The National Library of Kosovo must be seen while in Pristina! Supposedly a melting of Byzantine and Islamic architecture, the 99 white domes provide natural lighting to the library and resemble the Albanian national hat "plisi." This Pristina attraction is like a prison outside and a regular library from the inside.
See The Museum Of Kosovo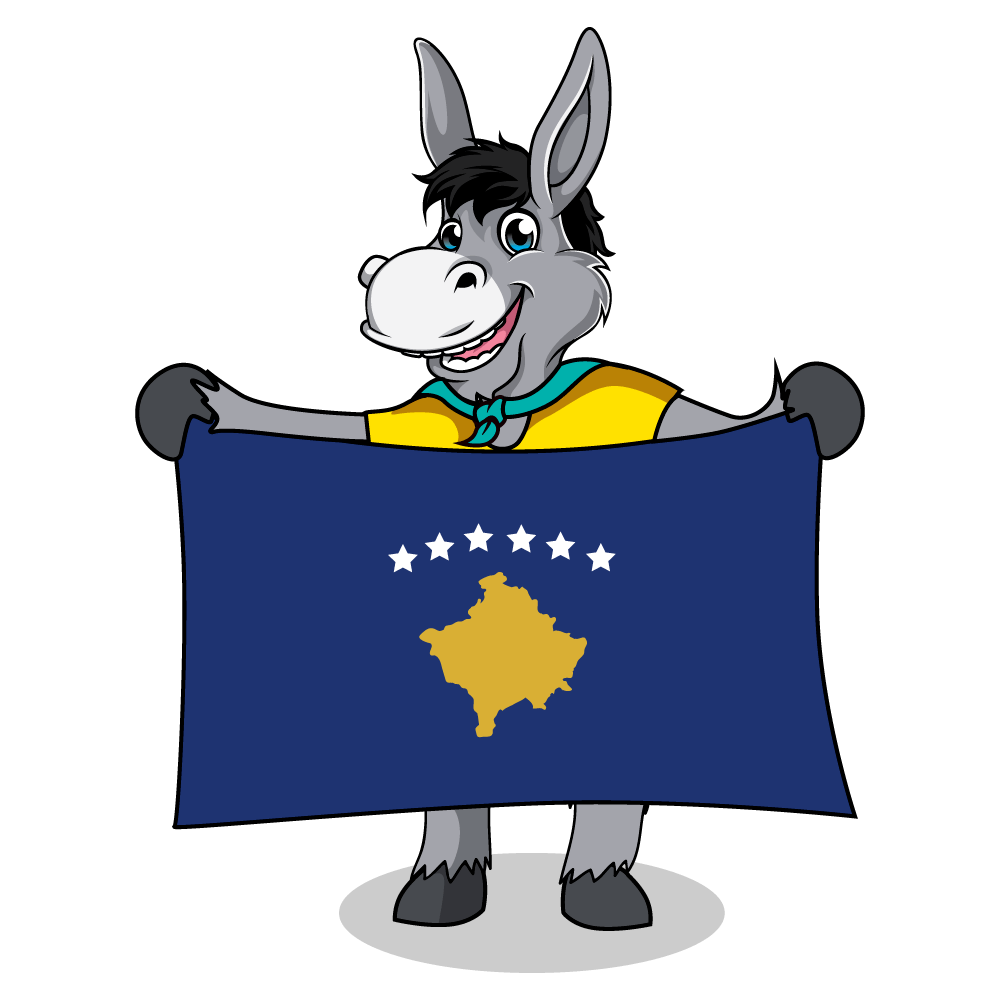 Among the top 10 tourist attractions in Pristina is the Museum of Kosovo that opened in 1949. The museum is located in a building that was built in 1889 to house the military high command. Recently renovated, the Museum of Kosovo is no doubt one of the top things to see.
See Pristina's Oldest Mosque
Sultan Bayezid I lost his father, Sultan Murad I, in the battle of Amselfeld, which they won against the Christian defenders.
To commemorate the victory and remember his father, Sultan Bayezid, I built the Carshi Mosque in 1393. Also known as the Bazaar Mosque, Stone Mosque, or Sultan Murad Mosque, it is one of the famous places in Pristina and the city's oldest mosque.
Standing in the Bazaar area near the start of the Old Town, it's an essential addition to the list of what to see in Pristina.
Visit Saint Teresa Cathedral
BuiBuilt-in07, the Cathedral of Blessed Mother Teresa is dedicated to the Albanian nun, Saint Teresa of Calcutta. It was inaugurated in 2010 by President Ibrahim Rugova of Kosovo on the 100th anniversary of Mother Teresa's birthday.
One of the tallest buildings in Pristina is possible to go up the bell tower at certain hours. The Cathedral is one of the popular destinations in Pristina for followers of Saint Teresa.
Take A Day Trip To The Gracanica Monastery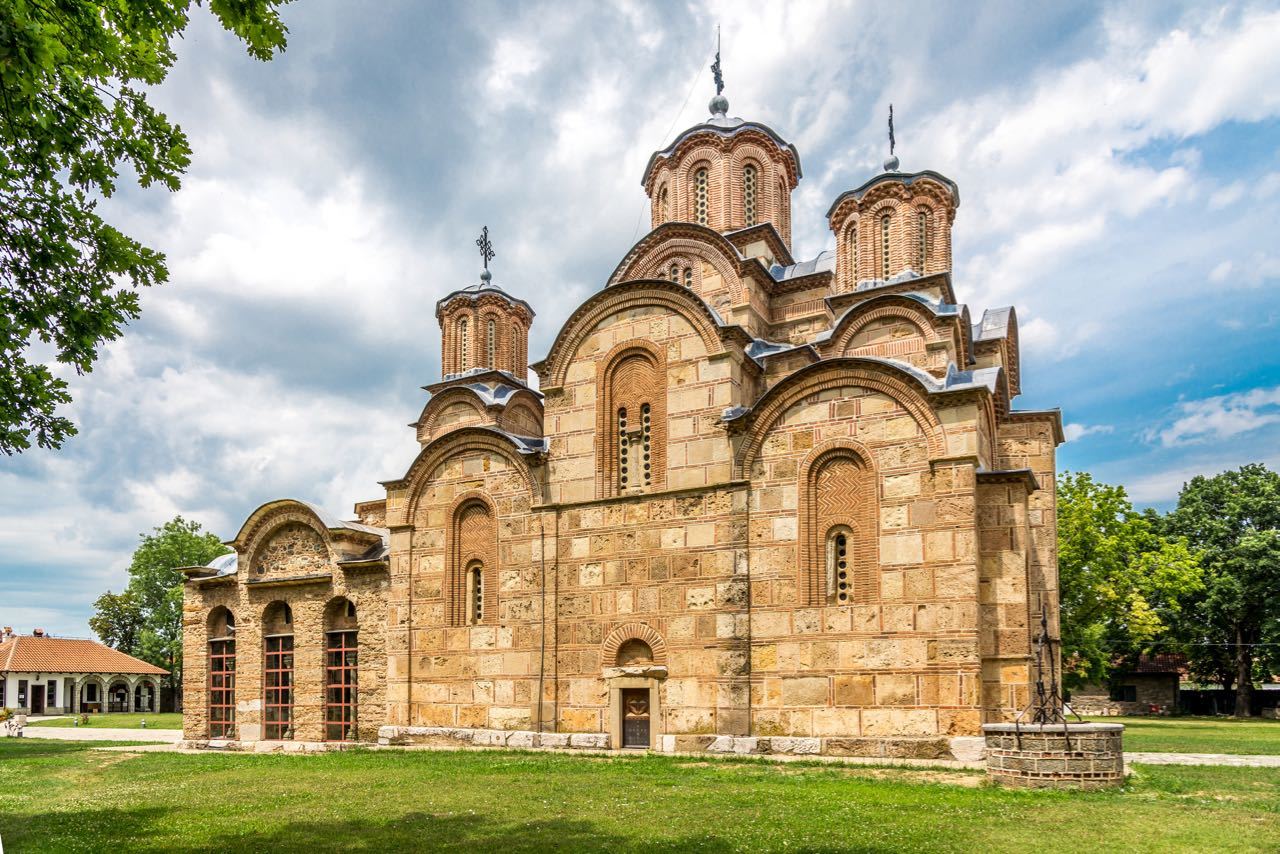 To get to this top tourist site in Pristina, you will need to travel. Grancanica Monastery is located 10 km away from the city – so not too far.
Built by King Stefan Milutin in 1321 on a 6th-century church's ruins, the monastery is famous for its double inscribed cross ceiling and dome structure. One of the best sites in Pristina reflecting Serbo-Byzantine architecture, the monastery is now the offBishop of Raska's official seat andUNESCO World Heritage site.
What language do they speak in Pristina? Most of the population speaks Albanian and Serbian, but English, German, Bosnian, and Turkish are also widely spoken.
Did you know? After Tirana, Pristina ranks as the second-largest city in the world in terms of an Albanian-speaking population.
Other Ideas Of What To Do In Pristina Kosovo
Other than these best things to do in Pristina, there are quite a few Pristina sites to see that we'd recommend.
Visit the Newborn Monument, one of the Pristina points of interest that celebrates Kosovo becoming a country
Wondering what to do in Pristina at night? See a play at the National Theatre of Kosovo!
Another must-do thing in Pristina is to capture shots of street art all over the city
Visit one of Prishtina top attractions, the statue of 14th-century Serbian knight Milos Obilic, honored for murdering the Ottoman Sultan Murad I
Wave at the 11 feet tall Bill Clinton statue. He's one of the favorite Pristina landmarks because he supported Kosovo's independence
Also on the list of Pristina places to see is the Pristina Spomenik, a 1960s Yugoslav monument for brotherhood and unity
Visit the yetyet-to-be-finishedrist the Saviors Cathedral
Take photos of the old Clock Tower
Visit the Partisan Martyrs Cemetery
Take a drive to Batlava Lake, the source of potable water for major cities in the Pristina district
Visit the 1870 Cathedral of Our Lady of Perpetual Succour to see the Skanderbeg fresco painted in 1883 by the Albanian monk and painter Gjergj Panarati
Take a trip to the nearby Visoki Decani Monastery bu,ilt by the Serbian King Stefan Decanski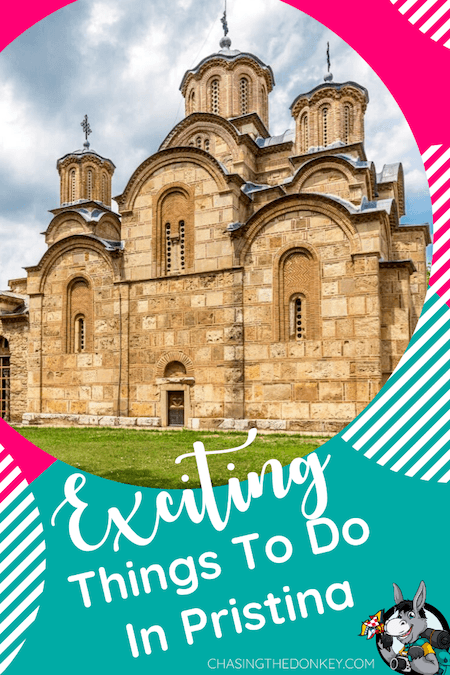 Best Places To Visit In Pristina To Taste Local Food
Food is something you can never do without on your travels! And why should you when there's such delicious local fare to taste when you visit Pristina? Getting stuffed with steaks and ajvar or drinking local craft beers is a fun thing to do in Pristina! Here are our favorite places to visit in Pristina to satisfy the foodie in you:
Eat at Te Syla or Alhambra
Located in Sejdi Begu in Shadervan, the Te Syla is a riverside restaurant started by a street food vendor named Sylejman Dapko in 1967. The simple décor and superb location complement the exquisite dishes served here. If you visit, try the fantastic Balkan Grill, kebabs, grilled pastries, and other dishes. The official name of the restaurant though, it Alhambra.
Besimi Beska
The colorful plates at Besimi Beska are so pretty; they'll leave you not wanting to touch your food. The portions are generous, and the food is delicious. Try the mixed grill, the goulash, steaks, and local bread with cheese. The bread, naans, and pizzas her made in traditional brick ovens. The restaurant is located in Shadervanit 56 in Old Town and has a small pond and trees.
Princessa Gresa Restaurant
Located on Fehmi Agani street, the Princessa Gresa Restaurant is famous for its special Fish Plate and Ramstek viqi Veal Steak. It's one of the top tourist destinations in Pristina that keeps guests coming back for more!
Soma Book Station
A local favorite, Soma Book Station, looks like an extensive library that serves food and drink. Local beers and seasonal wines accompany the tasty food served here. Guests can spend hours here and rent books for just 1 Euro or play old vinyl records. If you love John Cage, Chet Baker, and Sonny Rollins, you'll love grabbing a drink or meal at Soma Book Station. It's a must on your Pristina to-do list!
Pishat
Pishat is one of Pristina towtown'sder restaurants that has been serving local Albanian food for over 35 years. It's easy to find, priced slightly on the higher side, but serves excellent Lavazza coffee and a range of Albanian dishes.
Restaurant Liburnia
Enter Restaurant Liburnia, and you'll feel like you've entered a fairytale or a novel. The restaurant thaated close to the Townhall is filled with lamps, vinand e creepers and has a traditional ambiance. It's on the list of top Pristina places to visit to try local freshly baked bread and meat dishes.
Renaissance
This restaurant is easy to miss because the wooden doors look juse they belong to someone's home. There's no sign outside to indicate you've reached one of the famous Pristina attractions. There's no menu here ei,ther! You go in, get seated, and the server serves you a variety of local food and drinks till you're full. It's like a buffet on your own. Sometimes you have to wait long for a table, but it's worth it! A favorite with the locals, the Renaissance is at the top of the list of things to do in Pristina for food lovers.
Tiffany
One of the cool things to do in Pristina when on holiday is to sit out on a sunny terrace and enjoy a glass of wine. You can do that here at the Tiffany while tasting delicious organic food and freshly baked bread. The restaurant also sells jars of its famous Ajvar sauce that you can take home as a memento of your Pristina travel.
Where To Stay When You Visit Pristina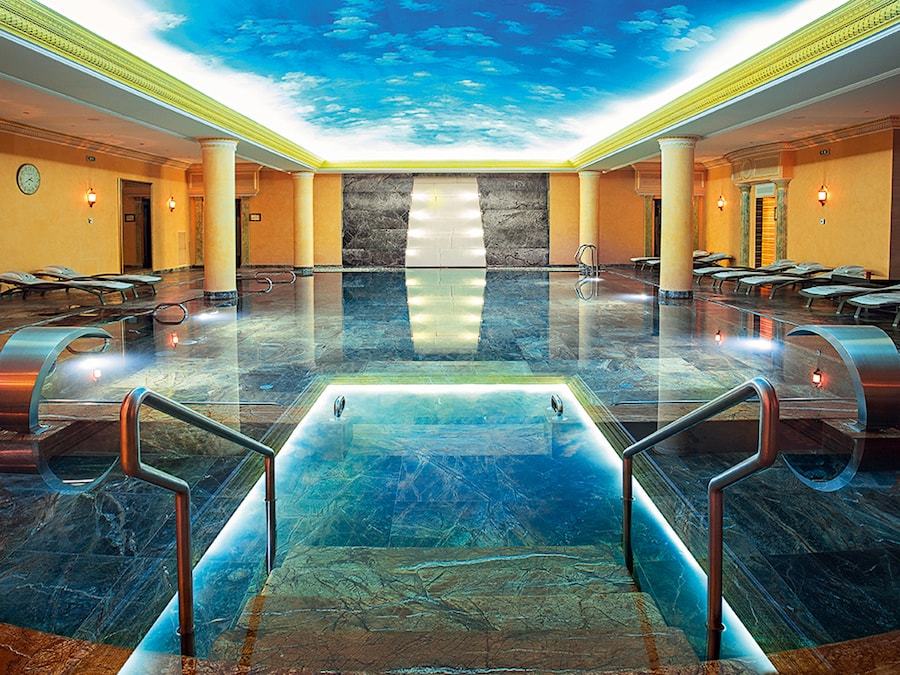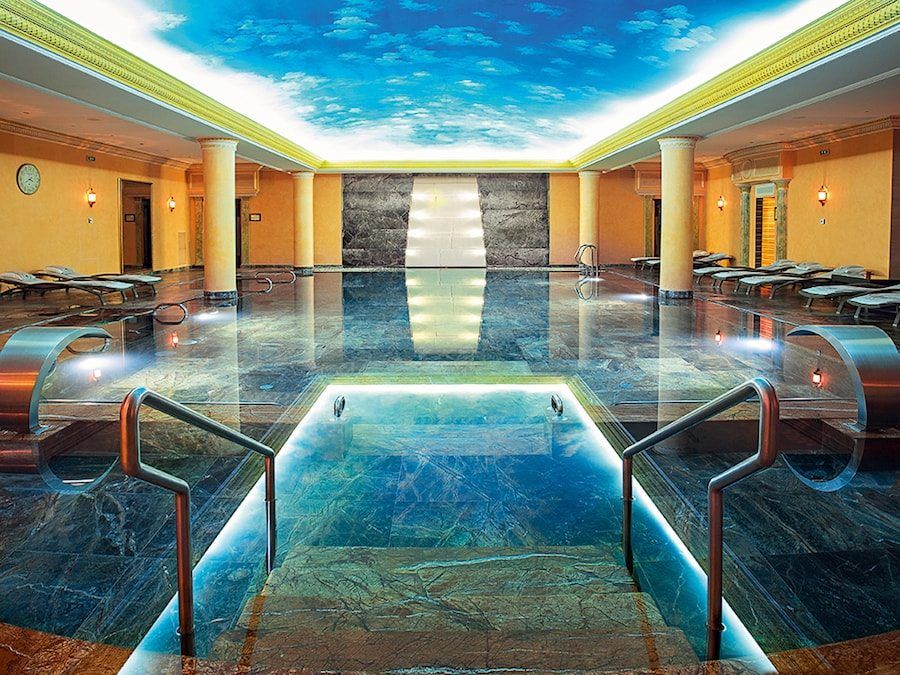 You'll find plenty of accommodation close to the things to do in Prishtina; here are some of our top picks:
Just 100 meters from the Center of Prishtina, and right next to the landmarks in Pristina such as the Parliament Hall and National Theater, the Swiss Diamond Hotel Prishtina offers 5-star facilities and Kosovo's most prestigious spa
A stone's throw from the best things to see in Pristina, the luxurious Hotel Sirius has a fantastic rooftop restaurant with views of the best Pristina sights
If you're wondering where to go in Pristina, that's simplistic but rich; the Golden Hotel has beautiful rooms and suites where all the beds have lovely golden borders. It's within 1 km walking distance from the Mother Teresa Cathedral
Centrally located in Pristina, the Hotel Nartel offers comfortable and straightforward 4-star rooms within a 5500-meter walk from all the restaurants and stuff to do in Pristina
Close to the City Centre and Pristina attractions, the Hotel Pejton offers clean and comfortable rooms within walking distance of all the top places to see in Pristina
With economical and decorated elegant rooms, the Hotel Adria is in the heart of town and within walking distance of the top tourist attractions in Pristina
Share