Written by Travel Writer Christian Vollmert: Volle on Tour
Visiting Croatia is a MUST DO when traveling to Europe. Stunning coastlines, ancient cities with rich histories, crystal clear water, beautiful islands, and especially many outstanding national parks.
One of the national parks high on my list was Krka National Park since I first thought about coming to Croatia. There is another big and very famous one called Plitvice National Park, but Krka is just as good, maybe even better, if you only want to go for a day.
To give you my opinion up front: one day is enough to get a good impression of the Krka National Park or np Krka as it's locally known. You can do multiple days to see some other special sights, but if you only stay for a day, you'll already be amazed. Trust me, and it's awesome!
How To Get To Krka National Park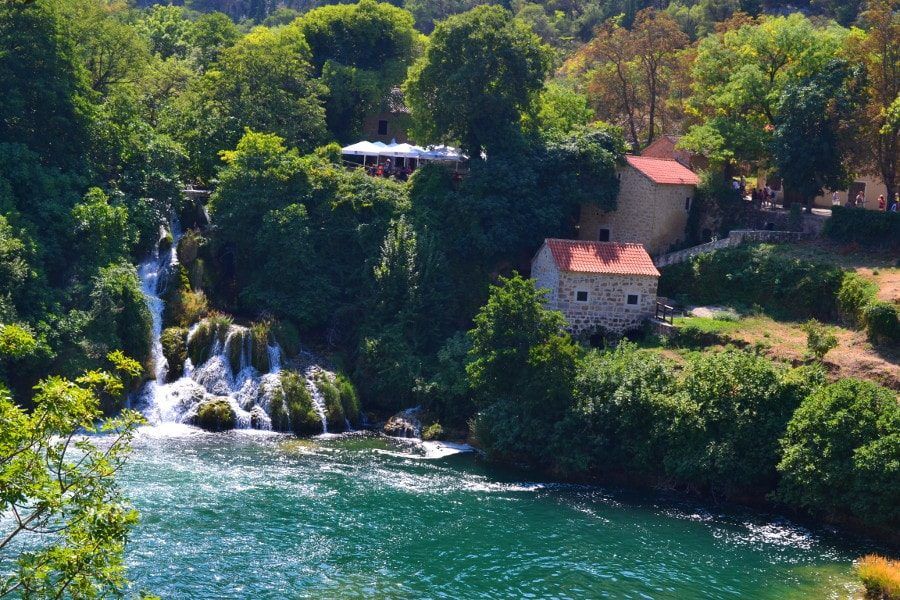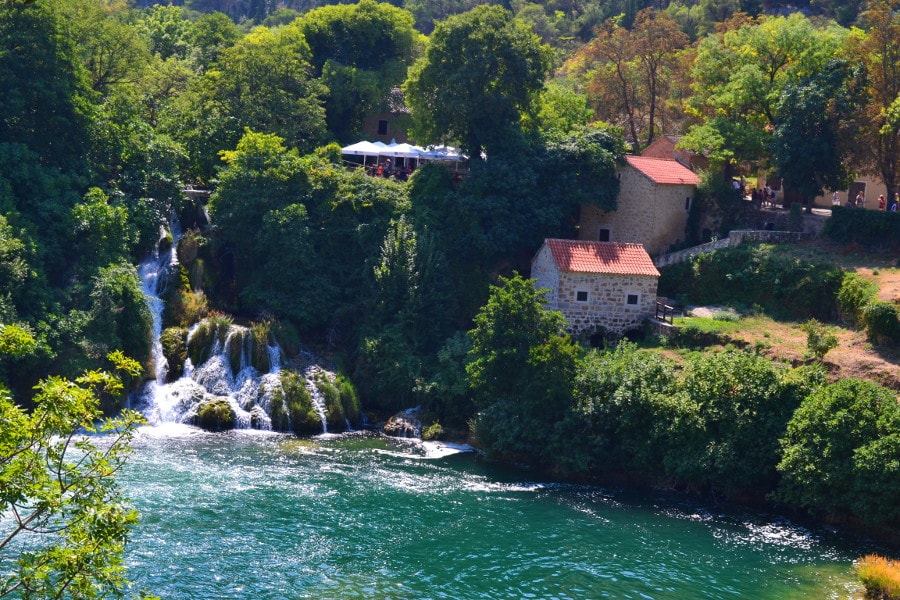 How to get to Krka National Park from Split
It's about a 1-hour 20 mins drive from Split to Krka National Park, and the journey is really nice. You'll drive through some flatlands of Croatia and some beautiful mountain areas. The landscape is pretty dry, and it gets even drier the closer you get to Krka. Along the way, there are many small villages, which are full of old country homes with the typical Croatian red rooftops.
It's actually quite nice to have a stopover for lunch or breakfast at a local restaurant. Croatians have delicious cuisine, even though I have to admit, I could not really find much typical Croatian food, so I suggest you ask a local for suggestions.
On your way from Split to Krka, you won't find many other cars, so you definitely won't get stuck in any kind of crazy traffic jams. The Krka National Park is somewhat isolated. This is a good thing; otherwise, it would be even more crowded than usual.
If you're traveling on a budget, you can also catch a bus from Split to Krka from the Split bus terminal. The Split to Krka bus takes a little longer than driving to Krka National Park, but at least you'll save some cash.
TRAVEL COMPANIES WE USE AND TRUST
Krka National Park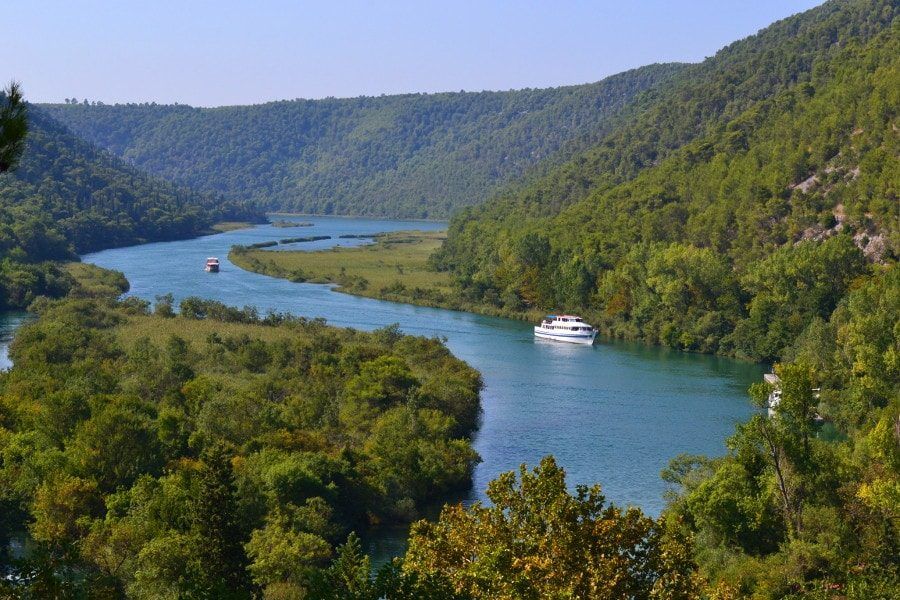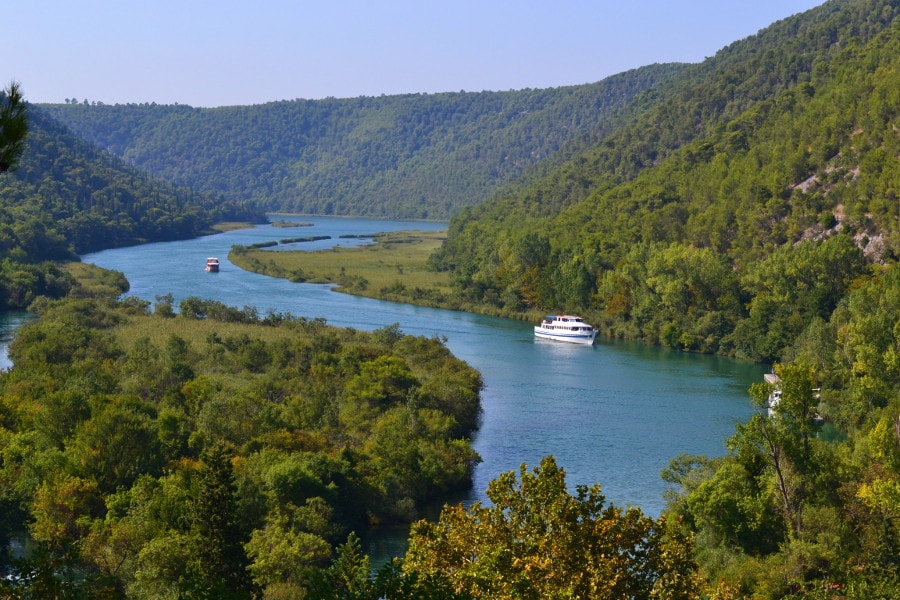 The first thing I need to tell you is that you'll have to expect many tourists at Krka National Park. It's a big tourist magnet, and you will pretty quickly recognize the reason why once you arrive.
Croatia Travel Tip: Go in the offseason, okay you can't swim, but the natural beauty of the place is enhanced without the bustling summer crowds.
It is a truly beautiful place. To be honest, I think I haven't seen many national parks in my life with such an extraordinary beauty as Krka has.
It already starts when you enter the park. You can either take the tourist bus to get to the entry, or you walk down towards the start of the small walkabout. The walk downwards is absolutely stunning, because you get a first good impression of the wonderful landscape.
The Krka National Park is like an oasis in between the dry flatlands of the Croatian countryside.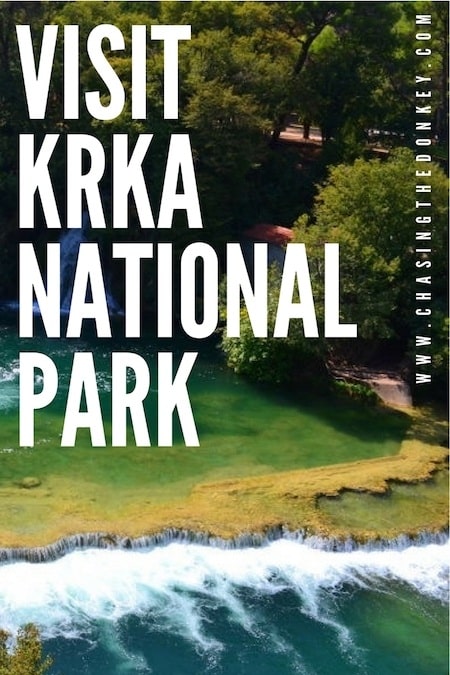 The Krka river (72,5 km) passes through most parts of the park. Next to it are strong and healthy forests, which go all the way until the highest points of the surrounding hills. What a superb view!
Once you have made it to the end of the path, you get to the start of the walkabout. The whole walk takes about 1,5 hours, but I promise you will take longer as you stop for photos and admire the view. You will not be able to resist. I guarantee it.
Krka is a natural and karst phenomenon. It inhabits over 800 species of plant life, more than 200 bird species, and 18 different types of bats that call this national park their home.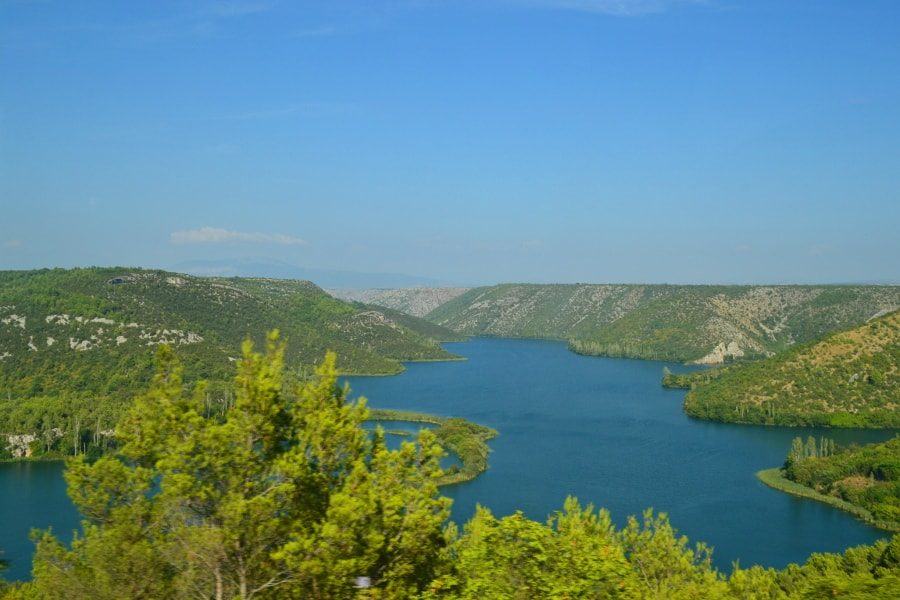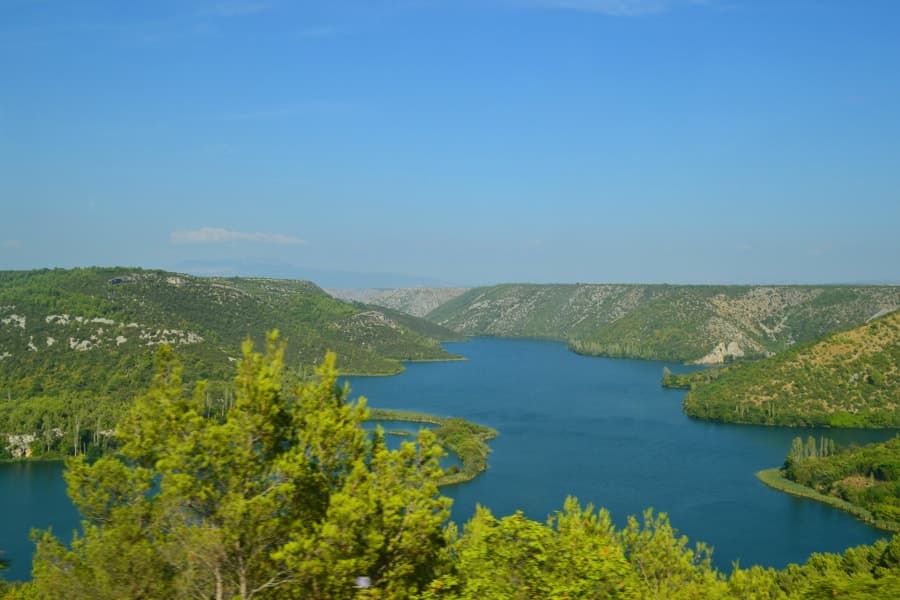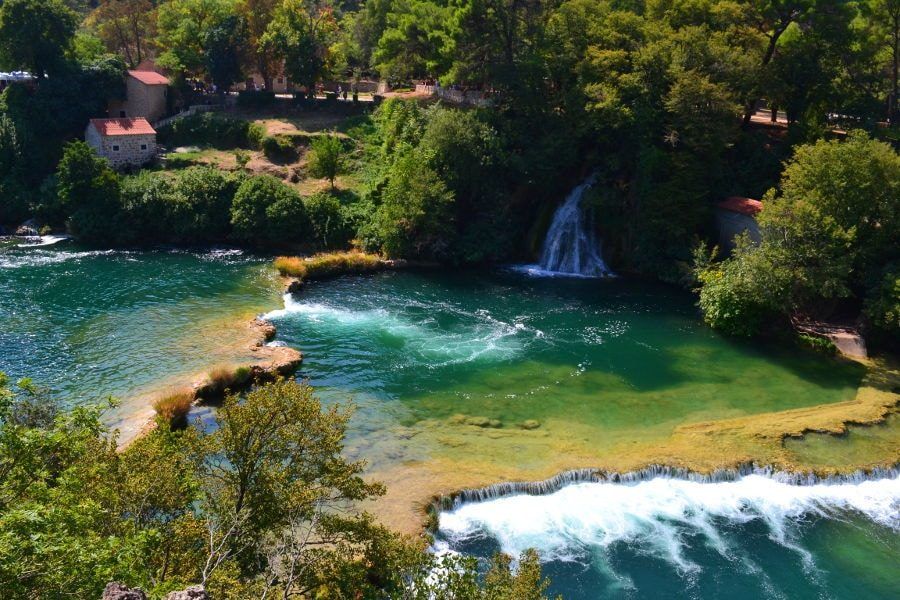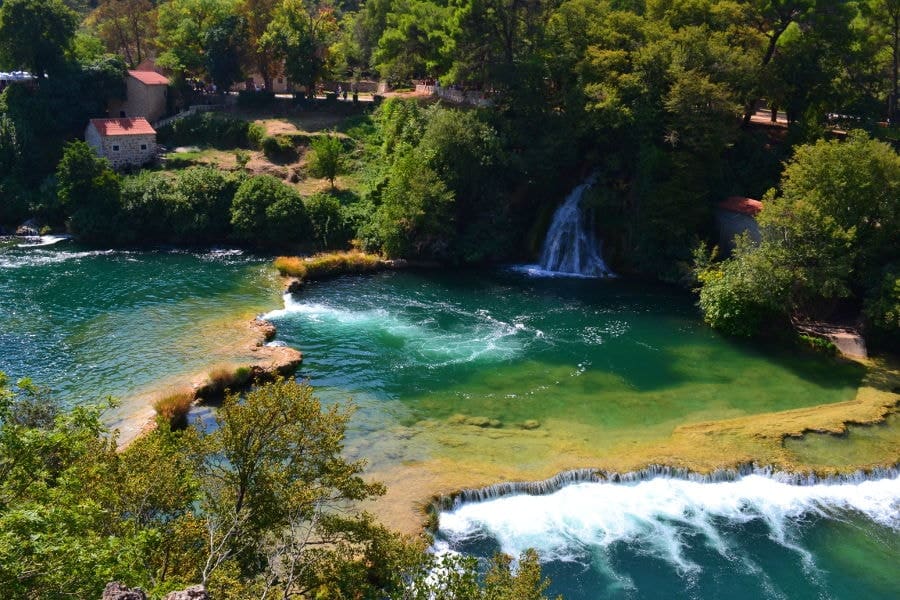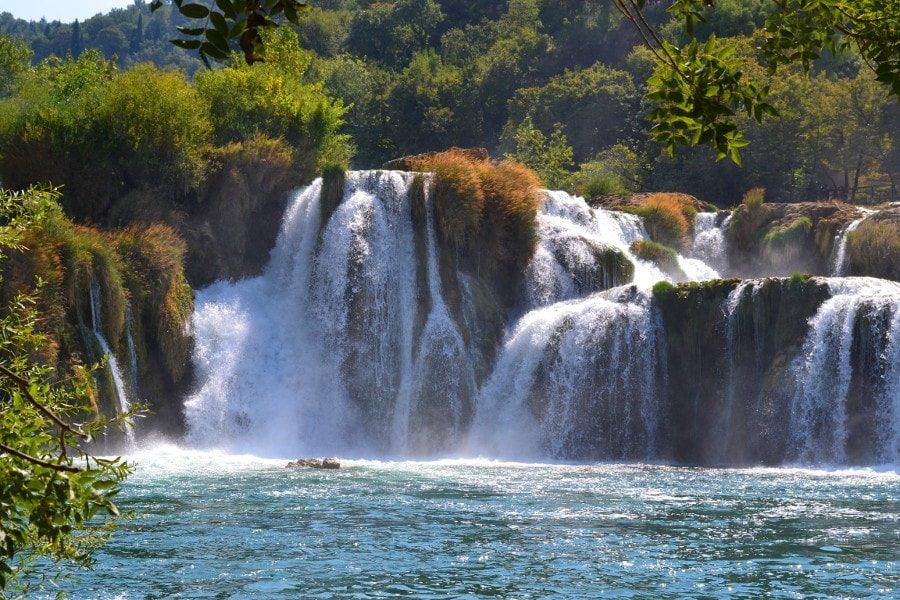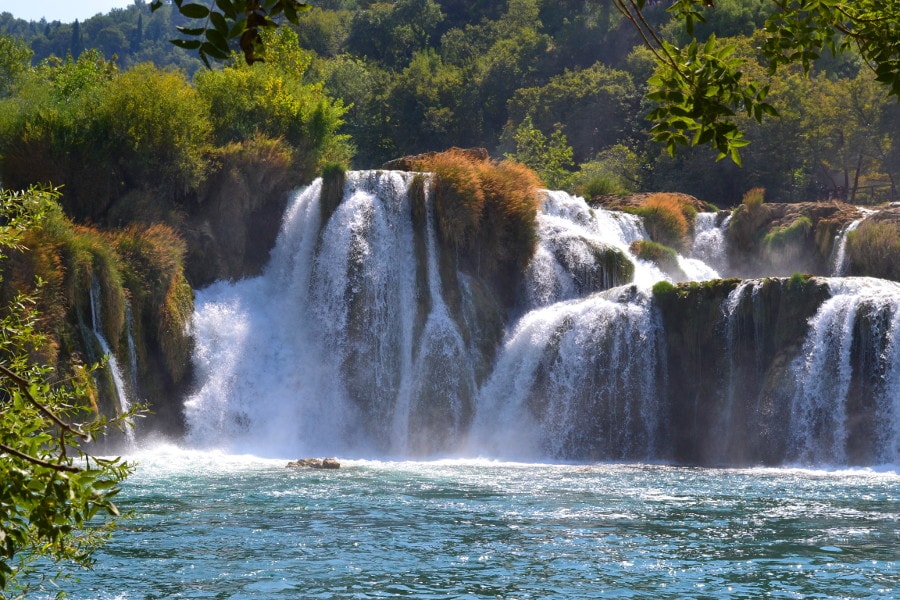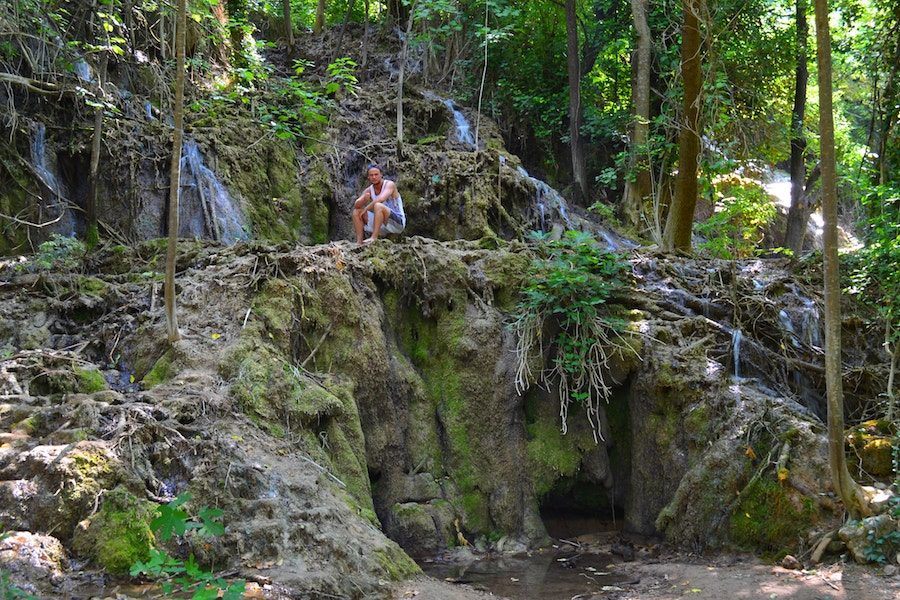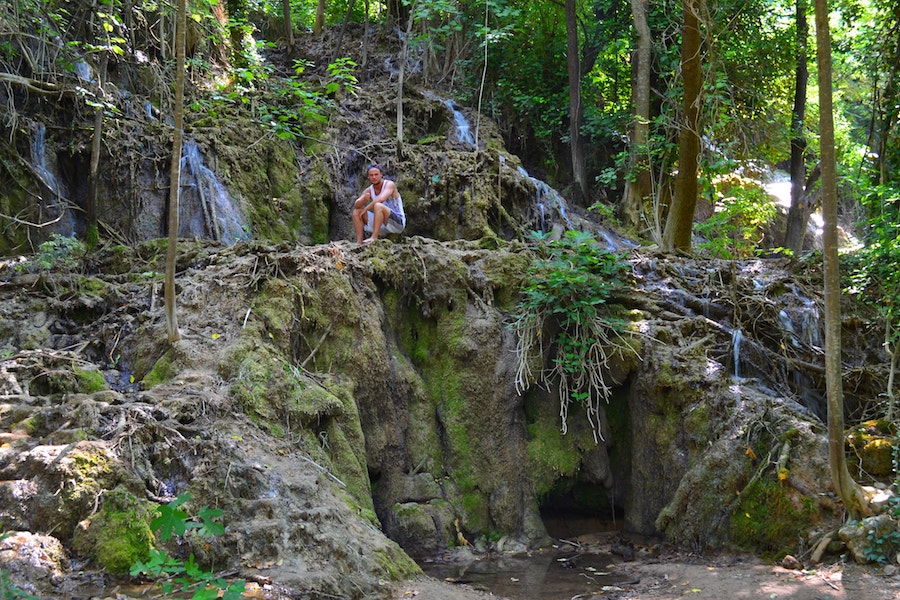 During the walk, you'll see various small streams, lots of waterfalls (small and big ones) as well as the clearest water you have probably ever seen. But this is not everything…
The Krka National Park also includes a series of 12 waterfalls on a space of 450 meters. Some of the waterfalls are so small that they look like natural stairs. The biggest waterfall is over 22 meters high and 60 meters wide. It's right at the end of the "stairs."
On your way through Krka, you can also leave the path and make your way through the forest. You might find some hidden waterfalls and small caves, just like I did ;-)
Additionally, you can go for a refreshing swim in a designated area with light blue freshwater right next to a massive waterfall called Skradinski Buk. You have a fantastic view over the chill-out area and some other parts of Krka from the nearby bridge.
Another highlight of the Krka National Park is only reachable by ferry. It's a small island called Visovac with a monastery and a church on it, which were built in 1445 and rebuilt in the 18th century after being demolished. Franciscan monks have lived there until today. The monastery contains a big number of well-preserved artifacts, writs, and an old library.
At the end of the tour, you can stop at a tiny village as well. This village has some small restaurants, souvenir shops, and a couple of hundred-year-old smithery, which you can have a look at.
Best Krka Tours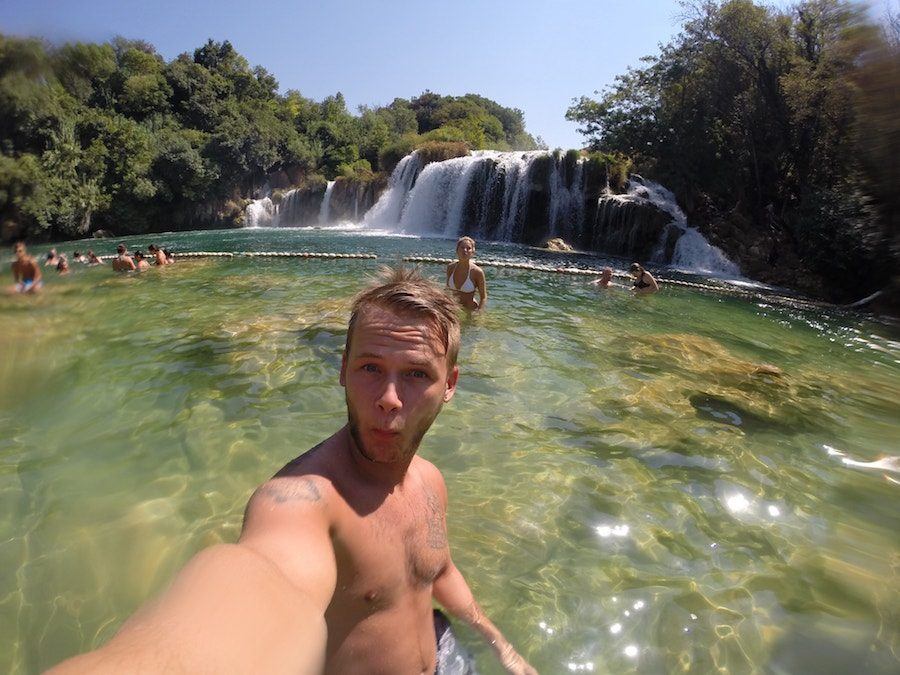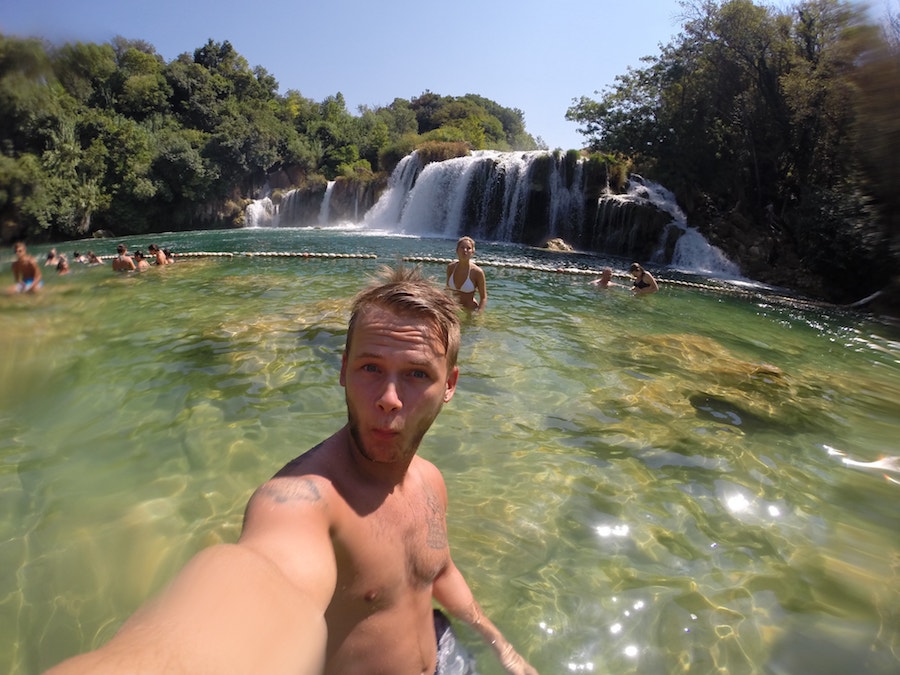 If you want to take a trip and have someone drive you and show you the sights, we recommend one of these tours. This way, you can sit back and relax.
Entry Fees To Krka
Prices vary depending on the time of year, and children under seven years are free.
Any time of the year is a good time to visit, as the various seasons show a different side of the park. However, summer is the most popular time, with swimming available in the park's southern part.
My Opinion On Krka National Park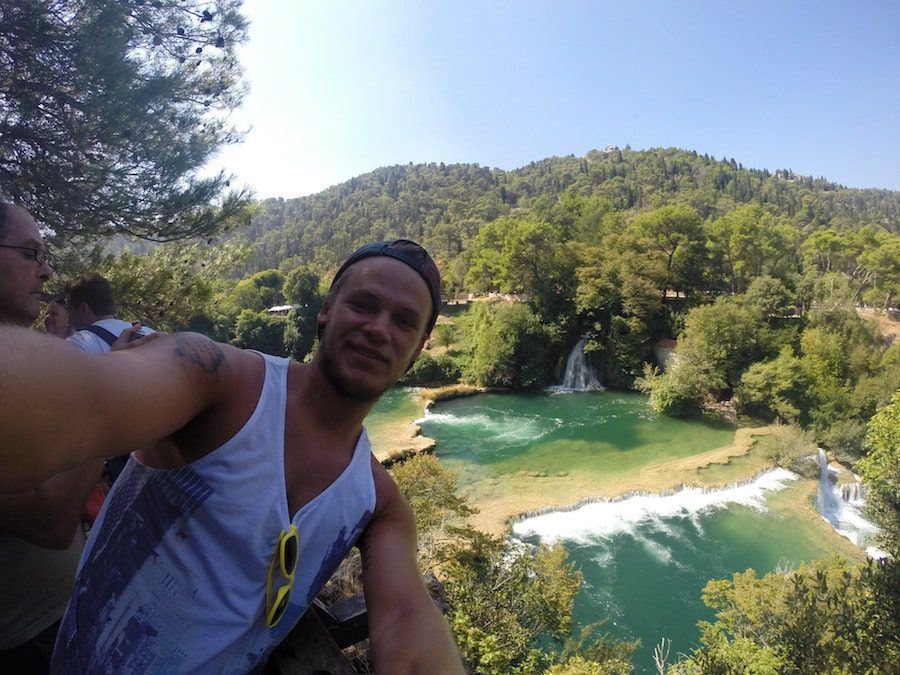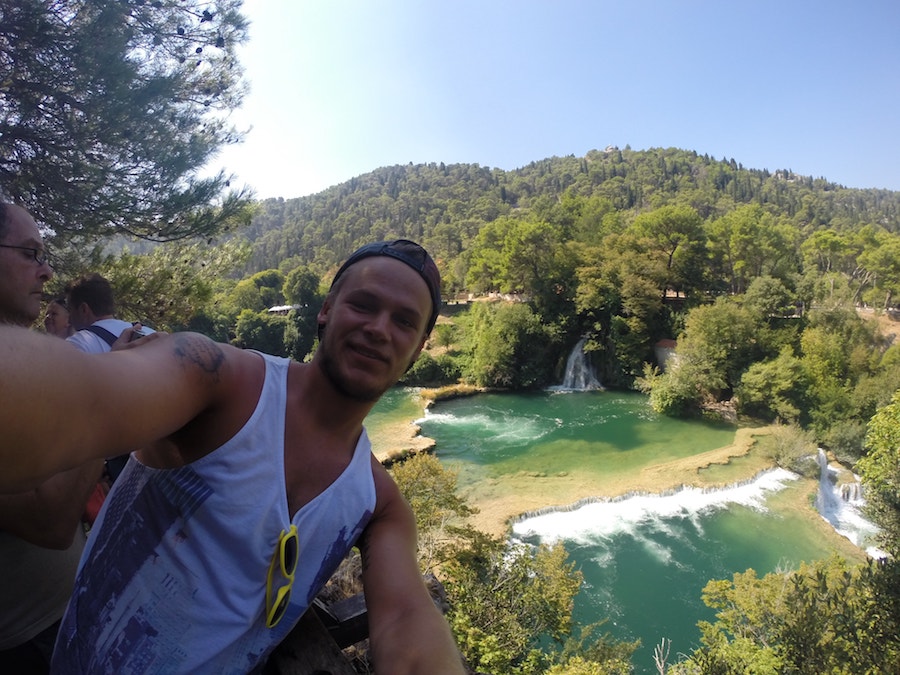 I want to keep this short: Ultimately, I can only say that the Krka National Park is an absolute landmark of Croatia, and you have to have a look at it. It's a well-refined diamond of nature and a symbol of the country that you just can not miss out on!
This is also my personal packing list, where you can see everything I take on all of my trips.
So, now, tell me are you heading to Krka on a day trip or what?