Here is your guide to all of the best all-inclusive resorts in Turkey, as well as the pros and cons of Turkish all-inclusive hotels.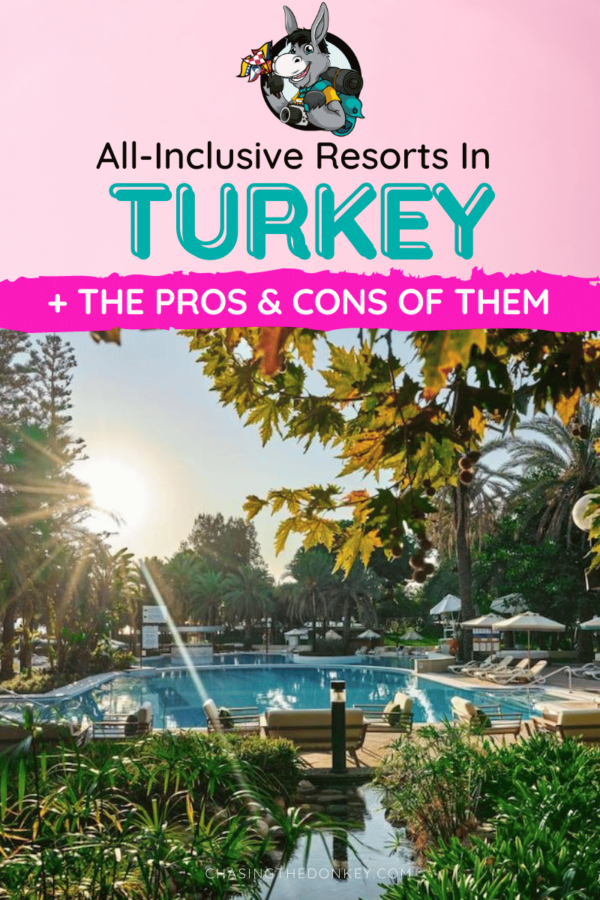 These days, we have to think about saving money. The cost of living has risen in almost every country, and while we still want to head off and enjoy our summer holidays, it might mean cutting costs here and there.
For that reason, more and more people are thinking about going all-inclusive in Turkey. But is it a good idea?
Turkish all-inclusive resorts vary in quality from town to town, and it's important to research before choosing one. Yes, the cost of booking an all-inclusive break is higher at the actual booking point, but once you're in the Turkish resort, you pay less because your food and drinks are included in the price.
You could argue that all-inclusive restricts how much you can see and do outside the hotel grounds. After all, if you've already paid for food and drinks, why would you go outside and pay more? These hotels also have many on-site facilities, so many people don't bother to go for a walk to see the local area or head out on excursions.
I think all-inclusive hotels in Turley are a good idea for families or if you really want to try and cut the cost of your holiday and budget a little better. But, and it's a big but, you should try to get out and see the area if possible. You can't say you've been to a place if you've only sat in the hotel!
Turkey's main tourist resorts all have a range of all-inclusive hotels, and some are seriously large, with countless on-site facilities. Food quality varies, and most people say that it occasionally gets a bit repetitive, but if you're okay with that, it's not an issue. You could also go out and eat once or twice during your holiday, and not spend too much extra.
So, what do you need to know if you're thinking of going to Turkey this year and an all-inclusive break tempts you?
Let's break it down.
Best all-inclusive Hotels/Resorts In Turkey, Region-By-Region
There are some seriously impressive all-inclusive hotels and resorts in Turkey. You only have to check out Antalya's Lara Beach as one example, and you'll find some of the best you'll ever see, such as the world-famous Titanic Hotel.
So, to help you pinpoint your ideal choice, here are some of the best all-inclusive hotels in Turkey, region by region.
All-Inclusive Hotels In The Dalaman Region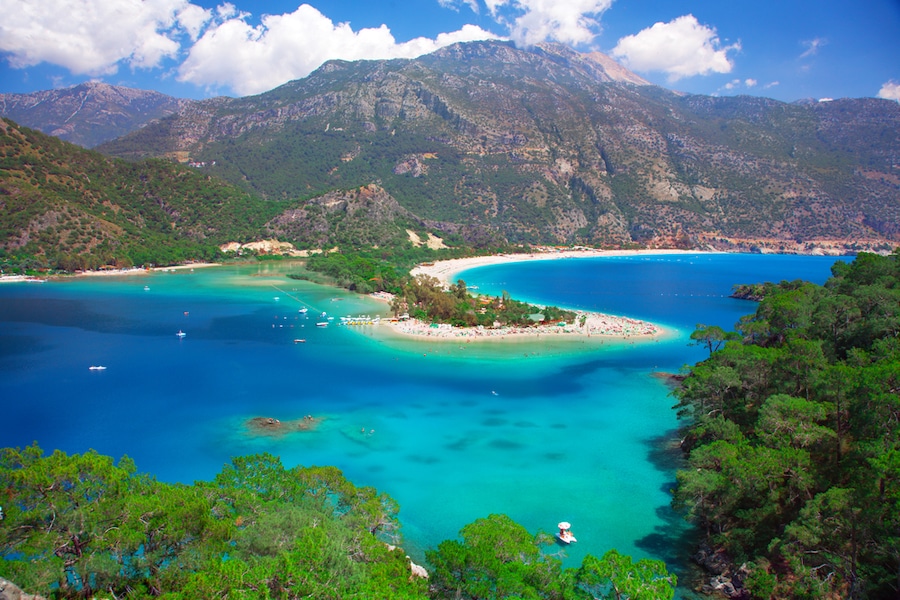 Samara Hotel Bodrum, Bodrum: Check out the hotel & prices here ↳
Costa Luvi Hotel, Bodrum: Check out the hotel & prices here ↳
Sundia by Liberty Exclusive, Oludeniz: Check out the hotel & prices here ↳
Hotel Belcekiz, Oludeniz: Check out the hotel & prices here ↳
Liberty Lykia, Fethiye: Check out the hotel & prices here ↳
Club Tuana, Fethiye: Check out the hotel & prices here ↳
Residence at TUI Blue Sensori Barut, Fethiye: Check out the hotel & prices here ↳
Club & Hotel Letoonia, Fethiye
The Beachfront Hotel, Marmaris: Check out the hotel & prices here ↳
Green Nature Resort & Spa, Marmaris: Check out the hotel & prices here ↳
Marmaris Palace, Marmaris/Icmeler: Check out the hotel & prices here ↳
Hotel Aqua, Marmaris/Icmeler: Check out the hotel & prices here ↳
Hilton Dalaman Sarigerme Resort & Spa, Sarigerme: Check out the hotel & prices here ↳
All-Inclusive Hotels In The Antalya Region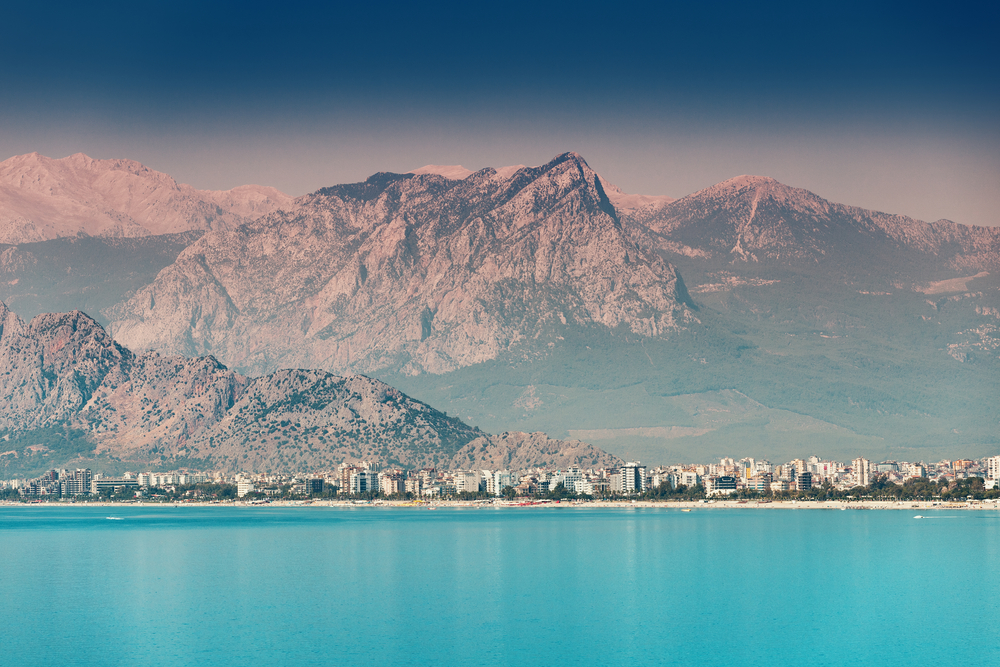 All-Inclusive Hotels In The Izmir Region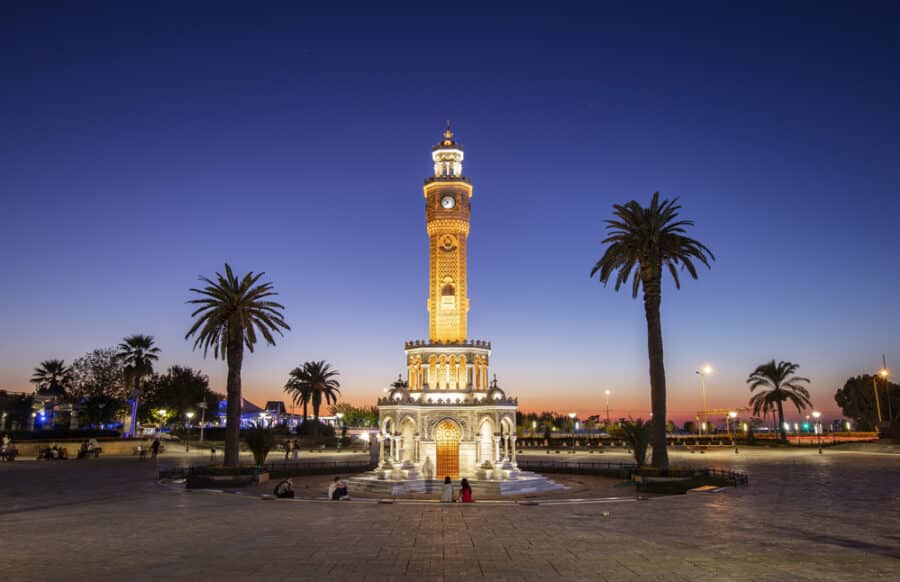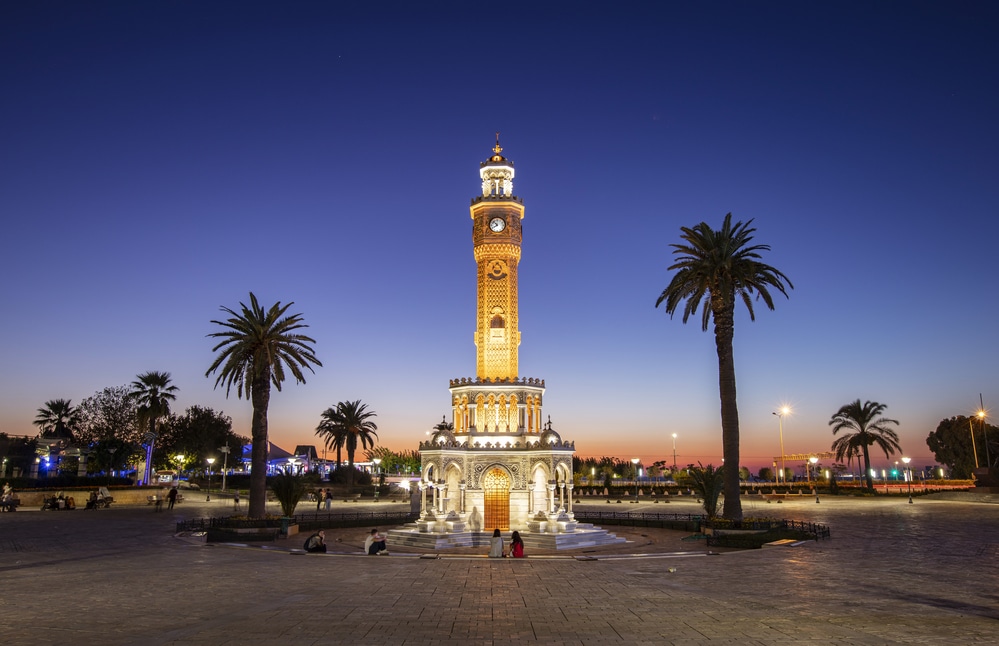 Atlantique Holiday Club, Kusadasi: Check out the hotel & prices here ↳
Aqua Fantasy Aquapark Hotel & Spa, Selcuk: Check out the hotel & prices here ↳
Palm Wings Ephesus Beach Resort, Selcuk: Check out the hotel & prices here ↳
Club Resort Atlantis, Izmir: Check out the hotel & prices here ↳
Club Hotel Maxima, Izmir
Ilıca Spa & Thermal Resort Hotel, Cesme: Check out the hotel & prices here ↳
Reges Luxury Collection Resort & Spa, Cesme: Check out the hotel & prices here ↳
TRAVEL COMPANIES WE USE AND TRUST
Pros Of An All-Inclusive Holiday In Turkey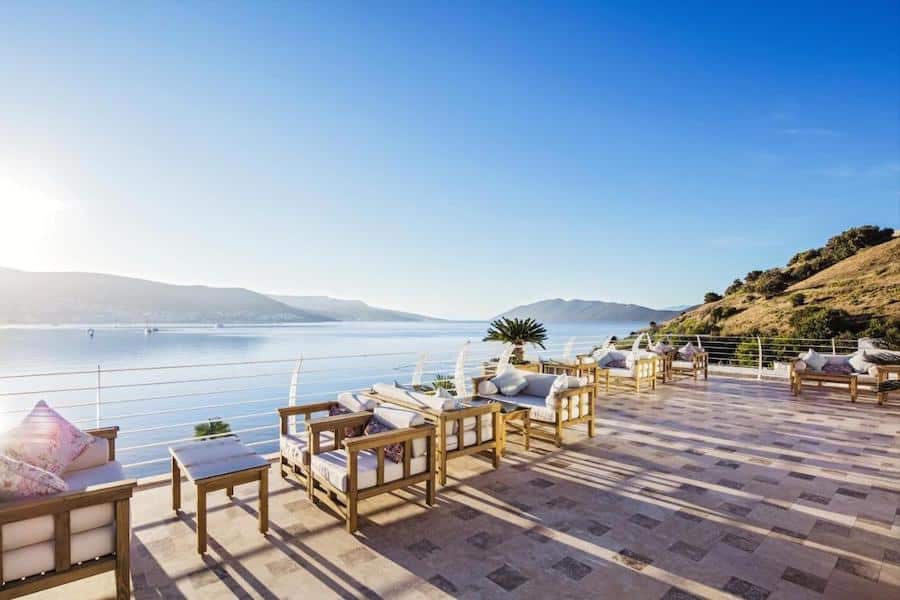 TURKEY all-inclusive PROS
Unlimited Drinks: If you're traveling with children, the unlimited drinks are a major plus point. The weather is HOT and children will want to keep drinking; if you're in a bar or restaurant, that will be a large price tag. In an all-inclusive, it won't.
Unlimited Ice Cream: In some all-inclusive hotels, you get unlimited ice cream for the children – do check this as it's not in all hotels, but if it is in yours, that's also a great benefit for the kids and will save money.
Food Costs Included: Food is included in your price, so you don't need to budget extra unless you want to go out for one or two nights during your stay.
Local Alcohol Included: all-inclusive hotels offer alcoholic drinks as part of their packages, although this is usually limited to local alcoholic beverages. If you want to import drinks, you typically have to pay extra.
On-Site Entertainment: Most all-inclusive hotels have on-site entertainment, including kids' discos and poolside entertainment. That means adults can kick back and relax a little, safe knowing that the little ones are happy and entertained.
Plenty Of On-Site Facilities: all-inclusive hotels in Turkey tend to be large and have a lot of facilities within them, including tattoo parlors, hairdressers, shops, excursion desks, etc.
Spas: Many all-inclusive hotels have resorts on site, although you probably have to pay extra for services.
Air Conditioning Included: Air conditioning is usually included in the price of your hotel – although do check!
Guest-Only Access: These hotels only allow guests within the grounds, which increases safety and reduces noise – hopefully!
Easier To Budget For It's a lot easier to budget with this type of holiday, which means you have spare cash for shopping in the local bazaars.
Perfect For Chilling: If you want to chill out and are not so bothered about exploring, all-inclusive hotels are a good choice.
Great For Making Friends: There's a strong possibility of meeting other like-minded people in these types of hotels, and you could make friends for life. Again, if you're traveling with children, they'll probably make their own friends that will give them an even better holiday.
Cons Of An All-Inclusive Holiday In Turkey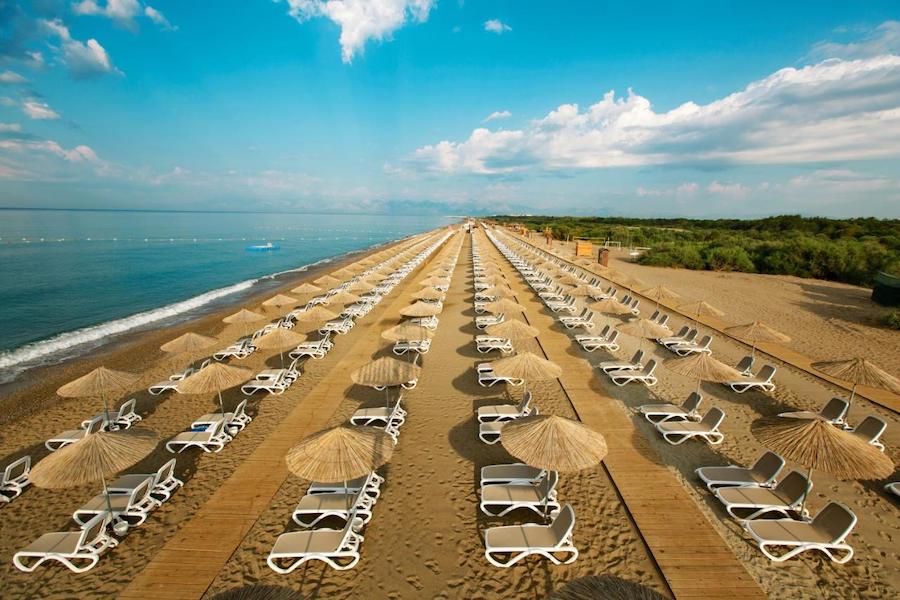 TURKEY all-inclusive CONS
Lack Of Food Options: While the food is included in your price, it's not going to be anywhere near the standard of what you would get from a nice restaurant in town. You're also not going to be able to try authentic cuisine, as these hotels tend to offer international food. Food can also get quite repetitive throughout the course of your holiday and is served buffet style. This might not be an issue, but if you like the experience of having a meal served to you, it might put you off.
Specific Alcoholic Beverages Cost Extra: Imported alcoholic drinks are unlikely to be included in the price of your package, and if you want a specific beverage, you'll need to pay extra. That's a bit annoying when you've already paid for your drinks.
Entertainment Might Feel Repetitive By The End: Entertainment in these types of hotels can also become repetitive – there are only so many times you can hear the macarena around the pool during the day!
You May Not Explore Local Area As Much: You're missing out on exploring the local area. In all Turkish resort towns, there are some fantastic local restaurants to try, and you won't want to do that if you've already paid for your food. Additionally, can you really say you've 'seen' the area if you've only been to the hotel grounds? You might be tempted to stay around the pool during the day and in the hotel bar at night, which means you're really missing out.
Excursions Offered Are More Expensive: all-inclusive hotels sell tours to local areas of interest, but the prices will likely be higher than those you would get from excursion desks on the main streets.
Spa Treatments Cost Extra: If you want to use spa facilities, you'll probably find that you have limited access unless you pay extra for treatments.
Expected Costs Of All-Inclusive Packages In Turkey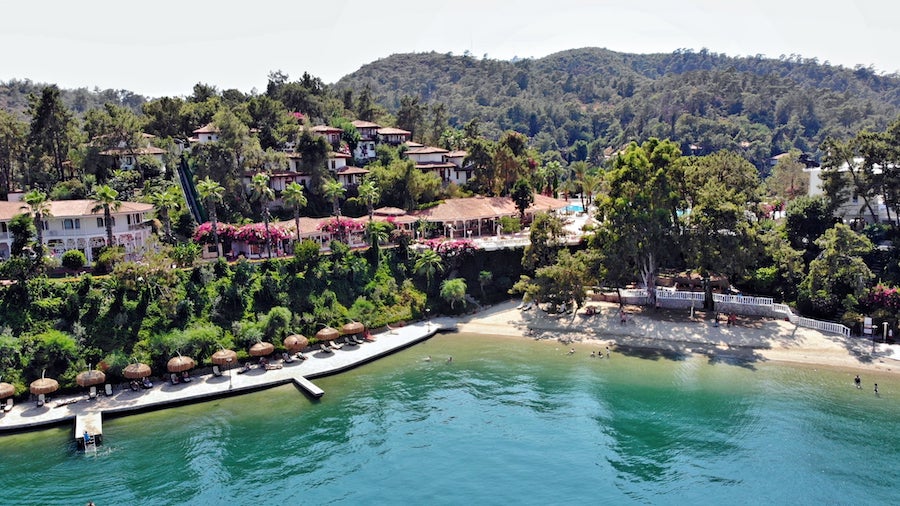 It isn't easy to pinpoint the cost of an all-inclusive package in Turkey or any other country because there are so many variables at play. Turkish hotels follow the same star rating as other countries, so you'll pay more for a four or 5-star hotel than a 3-star. It also depends on the time of year you go.
If you travel in July and August, you can expect prices to be much higher than in May, June, the end of September, or October.
October is a great time to visit Turkey and grab a low-cost deal on an all-inclusive. The weather is still very warm, and the evenings are much more comfortable, making sleeping easier.
However, it's clear that an all-inclusive hotel will cost more than a self-catering or bed & breakfast choice because you're paying a little more at this stage for your food and drinks.
The best advice is to look at some deals and compare them to other package options. Does it work out cheaper to book all-inclusive than to go self-catering and eat out every night? And how much does that matter to you?
What To Look Out For When Choosing An All-Inclusive Package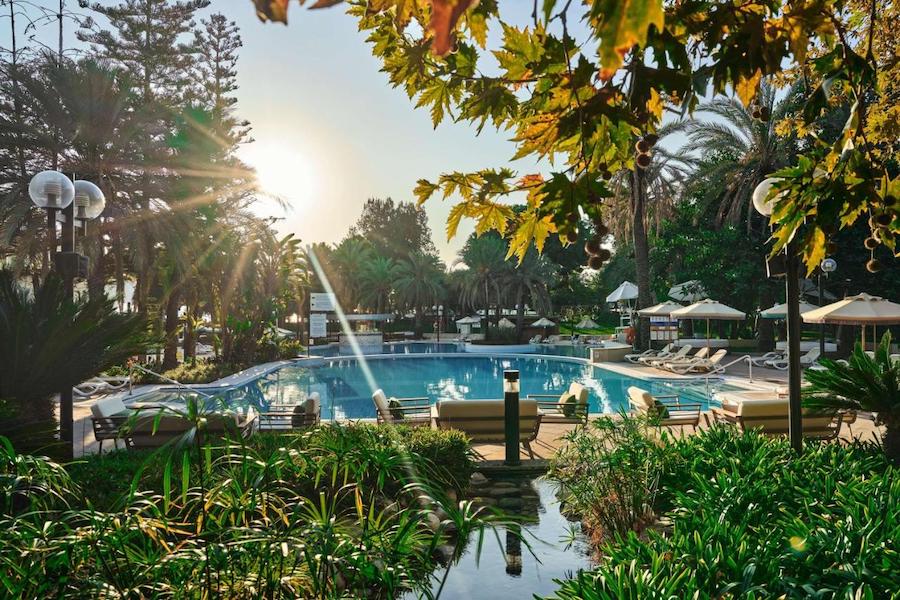 If you want to book an all-inclusive, you should start short-listing potential matches. So, here are some things to look for when choosing.
Make sure you know what the hotel you opt for offers when it comes to these things:
all-inclusive OFFERINGS TO CONSIDER
Free Air Conditioning: You will need it no matter what summer month you travel!
Alcohol Limits: Check whether the hotel limits alcoholic drinks per person daily.
Ice Cream: Does the hotel offer free ice cream for children, and if so, how many per day?
Imported Drinks: How much extra do you need to pay for imported drinks, and are they even available?
Special Diets: Does the hotel cater to special diets?
Beach Proximity: How far from the nearest beach is the hotel? Some are pretty far out from local resort towns.
Entertainment Times: How frequent is on-site entertainment?
Swimming Pool Hours: Are swimming pools open all year round?
Additional Facilities On-Site: What other facilities are included, e.g. children's playground
Extra Facility Costs: What on-site facilities must you pay extra for?
Special Restaurant Options: Are there any special restaurants you can book, e.g., a la carte, and do you need to pay extra?
Potential Turkish All-Inclusive Hotel Scams To Be Aware Of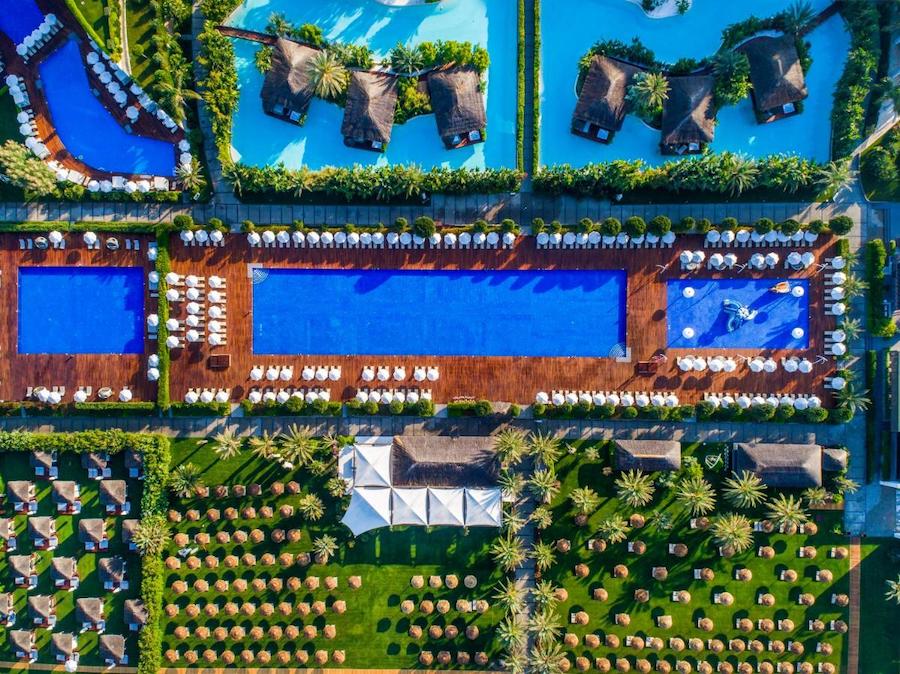 Like anything in the tourist industry, a few scams might spoil your holiday if you're unaware of them beforehand.
Here are a few that are connected directly to all-inclusive hotels and resorts:
all-inclusive SCAMS TO KNOW
Limiting Drinks: Some hotels offer a certain number of alcoholic beverages per guest per day. This may not be an issue for you, but if you're someone who likes to drink, you're paying for something you're not getting enough of!
Mini Bars: If your hotel has a minibar, don't assume the contents are free. They might not tell you, but you will have to pay extra for these things and they will appear on your bill when you check out.
Confiscating Food/Drinks: If you go outside the hotel and buy a takeaway or you buy some drinks from the local market, you SHOULD be able to take these inside, but some hotels have rules that don't allow this. In that case, you may find the security guard on the door decides to take them off you. Yes, they'll probably enjoy them themselves.
Air Conditioning Not Included: This doesn't seem to be as much of an issue these days, but in the past, not all hotels offered free air conditioning as part of the booking price. In some cases, you had to pay extra per day. All-inclusive hotels shouldn't come with this problem but do check as, in some cases, you'll have to pay extra, and that's not something you'll want to discover when you check-in, and it's almost 40 degrees outside.
Always Use A Safe: This is unlikely but has been heard of. Always put your belongings in a safe in the room and make sure it's secure. Never leave valuables or money in your room. There have been reports of things going missing, and while it's scarce and unlikely, you really don't want that kind of shock.
S Is An All-Inclusive Hotel Holiday In Turkey – Yes Or No?
It's a personal choice, and it really depends on what you want from your holiday. I would say all-inclusive is a good choice for families and those keen to keep prices down but who will occasionally go out of the hotel. I wouldn't recommend simply staying in the hotel and never going out of it!
However, if you're keen to explore the local area and want to try authentic cuisine, all-inclusive won't be worthwhile for you.
More and more people choose to stay in an all-inclusive resort simply because it allows for easier budgeting. We're living in tough financial times, and if staying in an all-inclusive helps you to get a holiday, then I say go for it. Just make sure you head out occasionally, even if only for a walk before dinner.
Turkey has some fantastic all-inclusive resorts, so make sure you research and pick the right one for you.
MORE TURKEY ACCOMMODATION BLOGS
Chasing the Donkey - Balkan travel blog includes affiliate links. If you decide to make a purchase through these links, we receive a commission without any additional cost to you. We appreciate your support helping to keep this site free. Find our disclaimer & privacy policy here.