Known as the Stunning Turquoise Coast, Fethiye in Türkiye is an excellent holiday destination. Catering to every kind of visitor, Fethiye hosts an impressive coastline, breathtaking mountains, unexpected lagoons, and dozens of exciting things to experience.
A visit to the gorgeous old town or a day admiring heritage wonders and archaeological sites will undoubtedly be the highlights of your trip.
Planning where to stay in Fethiye is not as difficult if you know exactly what area is the right one for you. The city offers plenty of options for families, groups of friends, couples, and even solo travelers. Let's check out the best places to stay in Fethiye.
Best Time To Visit Fethiye
Like most countries facing the Mediterranean coast, Fethiye enjoys sweltering summers and relatively moderate winters with mild temperatures and some rain.
For those interested in spending plenty of time on the beach, the best time to visit is between June and the first weeks of September, with July and the first weeks of August being the hottest months.
For those interested in visiting some archaeological sites or taking up sports and outdoor adventures, the best time to visit is in early autumn, when the crowds are already gone, prices are down, and the weather is cooler.
Spring is an excellent alternative to beat mass tourism and avoid sweltering days.
Unmissable Things To Do In Fethiye
Fethiye is an eclectic town on the Turkish coast facing the Aegean that combines ancient monuments, beautiful beaches, archaeological sites, natural parks, and more.
Relics & Tombs
You can explore the impressive Lycian relics in the old town or the ancient tombs cut out on the side of the cliffs just next to the historic district.
Cali Beach & Oludeniz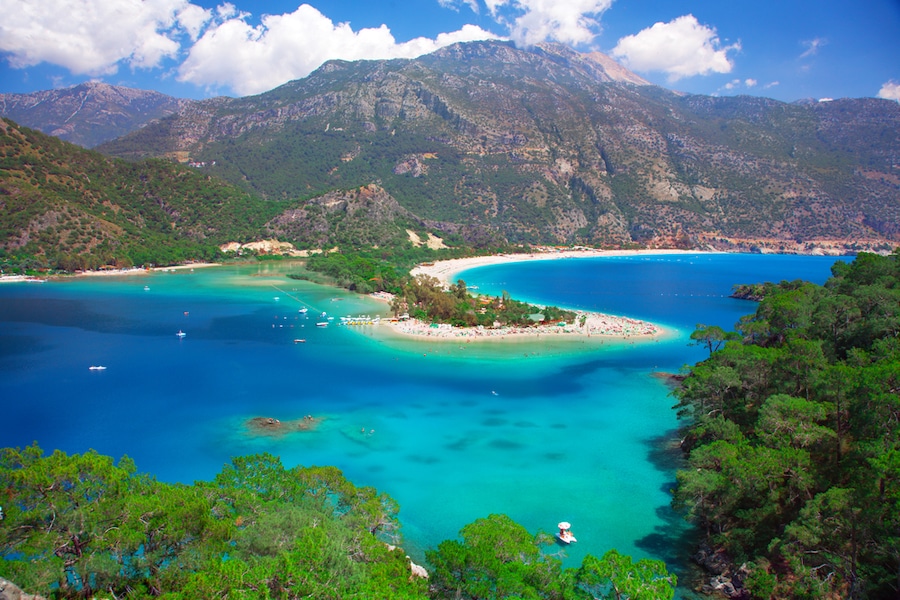 Cali Beach and Oludeniz, probably the two best beaches in the region, offer endless hours under the sun and various water sports for an adventurous vacation. In Fethiye, you can pick between parasailing, kayaking, jet-skiing, and paragliding.
Walk Along The Lycian Way
Do not miss a walk along any portion of the Lycian Way, more than 500 kilometers along the coast from Fethiye and Antalya, that takes you on an exciting journey through the remains of Ancient civilizations and pristine coastal views. More historic gems include the Roman Amphitheater and the Castle of Fethiye.
Unique Explorations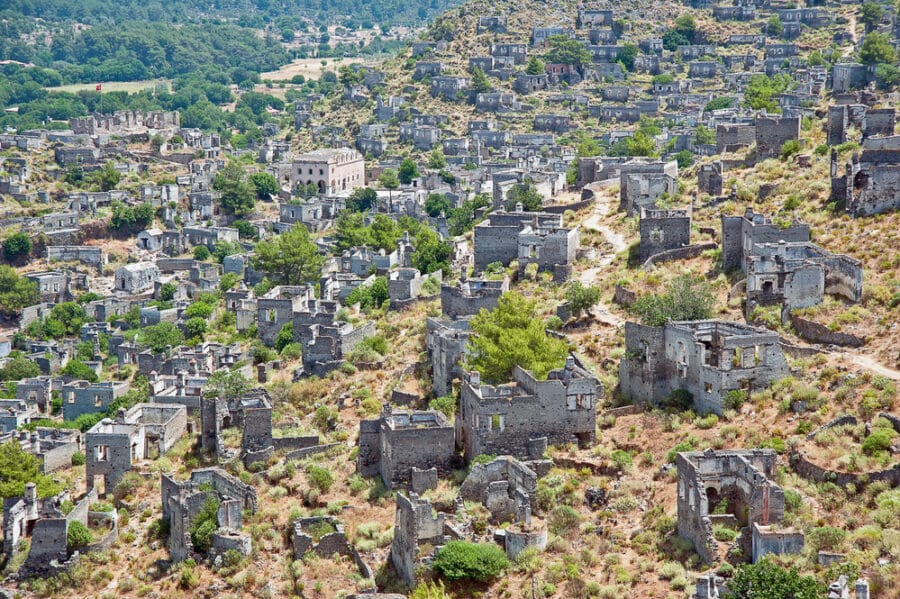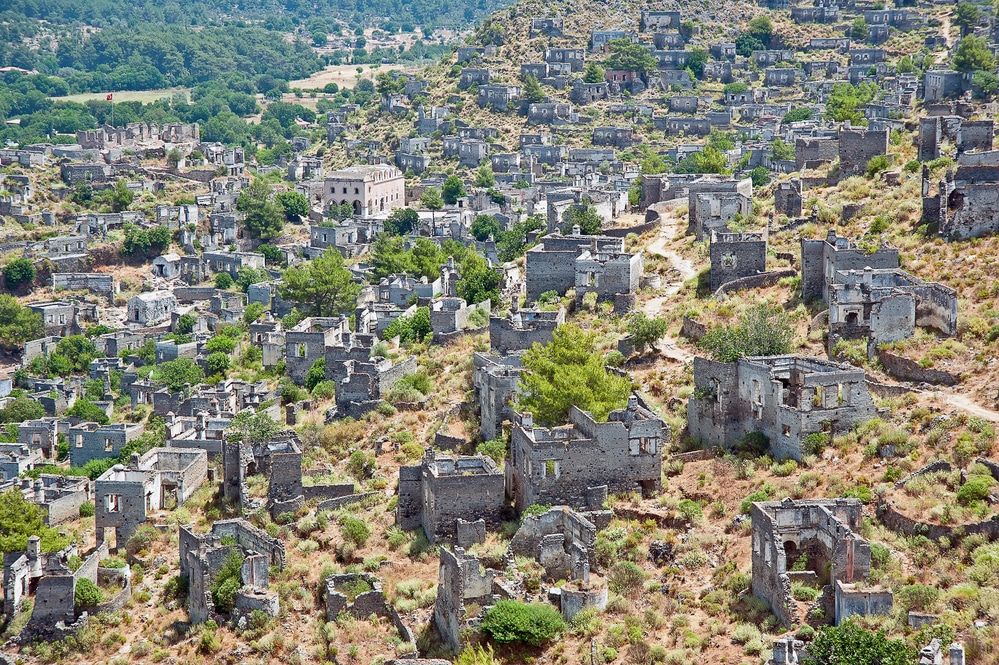 Adventurous visitors can also explore the gorge of Saklikent or the ghost town of Kayakoy. At the same time, shoppers will adore the farmers' market and the plenty of souvenir shops all over town.
Fethiye & Ece Marinas
You can sail to small nearby islets or breathe the sophisticated atmosphere in Fethiye and Ece Marinas, enjoy a cocktail on the promenade and admire the stunning sunsets.
Kabuk
And if you're up for a solitary, heavenly location, head to Kabak, one of the most striking bays on the Turkish coast.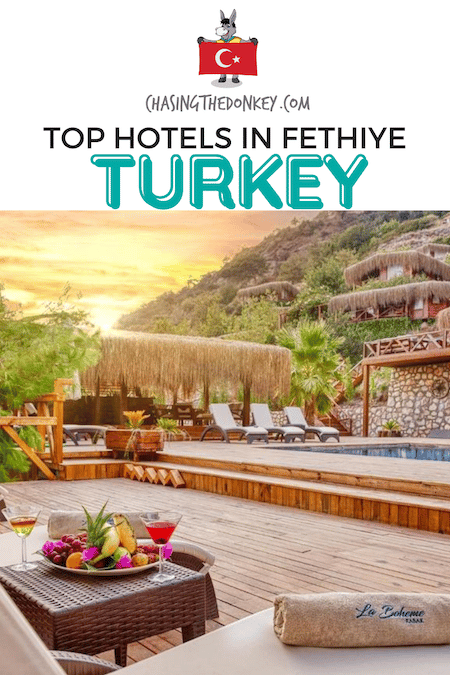 TRAVEL COMPANIES WE USE AND TRUST
Best Areas To Stay In Fethiye
This guide will highlight the most convenient areas and districts in and around Fethiye.
We will also provide information about convenient hotels, family-friendly properties, and good seaside resorts with a touch of luxury. Let's begin!
DISTRICTS IN & AROUND FETHIYE
City Center
Known as Paspatur, the old district of Fethiye is the best place to begin exploring the area. It offers easy access to several means of transport that will let you reach beaches or archaeological sites reasonably easily.
In Paspatur, travelers will find gorgeous alleys with dozens of excellent restaurants, shops, and small bars where locals enjoy meeting up for a coffee and a chat.
Not far from the center, visitors can reach the hills overlooking the city, where it's possible to visit the Tomb of Amyntas, an ancient Greek funerary monument in the rocks belonging to the old city of Telmessos. It is located at the mountain's base and dates back to 350 BC.
Best Hotels Downtown Fethiye
HZD Apartments Hostel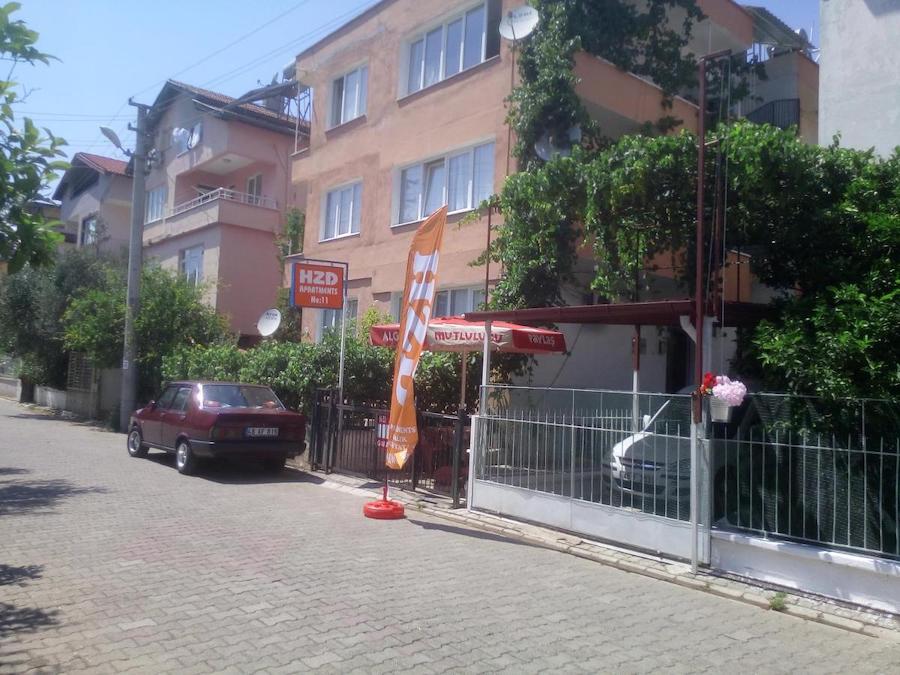 Perfect for young backpackers and solo travelers, this hostel has excellent reviews and offers superb value for money.
The property is within two kilometers of Fethiye Marina, providing accommodation with shared bathrooms, free WiFi, and sitting areas in some dorms.
There is also a shared kitchen and lounge. Nearby attractions include the Fethiye Museums and the Telmessos Rock Tombs. At the same time, other important places of interest, such as the Butterfly Valley and Saklikent National Park, are located about an hour away.
Elite Rooms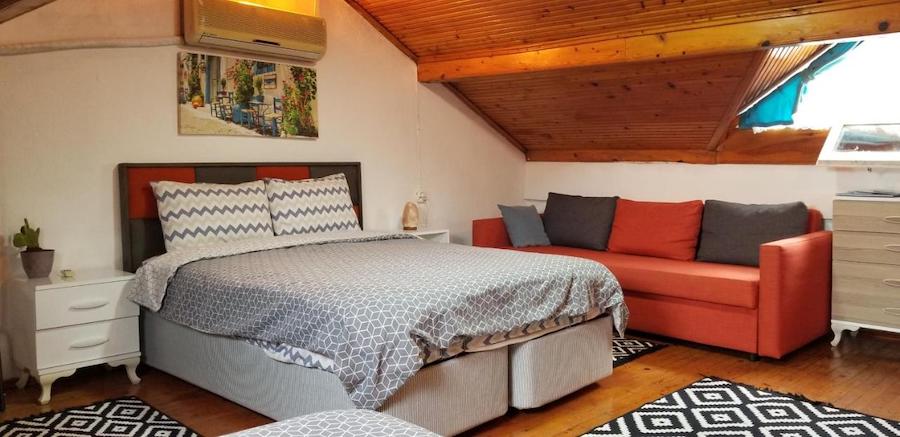 Affordable suites and rooms a few steps from the heart of the old town, the property offers accommodation with free WiFi, air conditioning, a shared lounge, and a garden.
Every unit has comfy seating and dining areas, while a continental or halal breakfast is served on the property.
The guest house also offers a concierge service to organize day trips and bike rentals. The hotel also offers a paid shuttle service to and from the airport.
Yeniceri City Hotel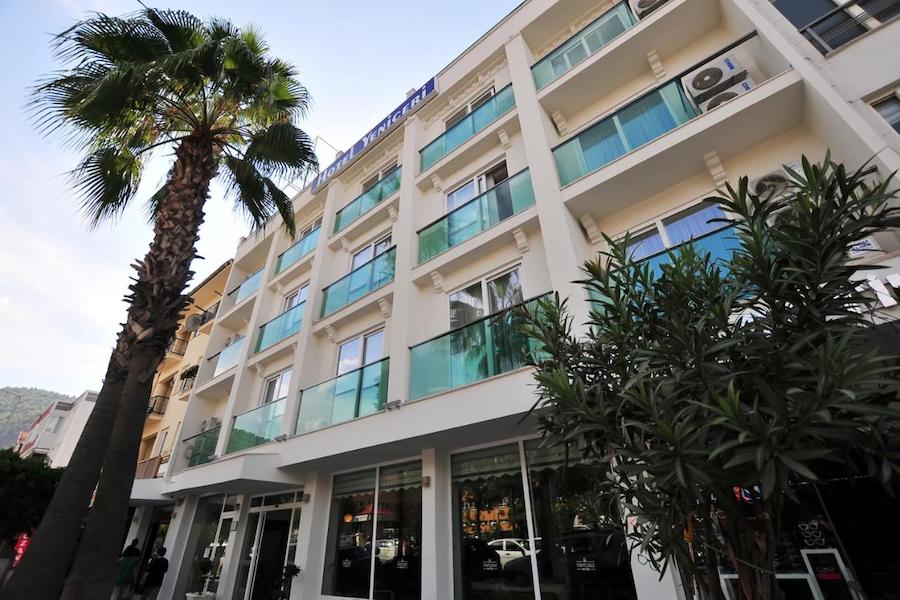 Only 100 meters from the beachfront and with stunning sea and mountain views, this hotel is steps from the center of town and offers convenient accommodation and fantastic amenities. There is a daily buffet breakfast at the property that can be served in your room or the restaurant. All the comfortable air-conditioned rooms feature TVs with satellite channels.
There are also snacks available upon request, both for lunch and dinner. Fethiye Grand Bus Station is just minutes from the property for those interested in day trips.
Cali Beach
Over two kilometers long, Cali is one of the best and most expansive beaches in the Mediterranean; this is an ideal location for families with kids.
A stay near Cali Beach (also known as Calis Beach) will offer a balanced holiday made of long days by the sea and exciting evenings walking along the alleys of the vibrant old district, minutes from the beach (several taxi boats cover that route daily offering an easy and affordable way to get to the old district). In the area, there are superb walks by the shore as well as interesting shops and restaurants.
Nearby attractions for the whole family include the Cali Beach Bird Sanctuary and the entertaining Sultans Aquacity AquaPark that kids adore!
Best Hotels In Cali Beach
Olimpia Hotel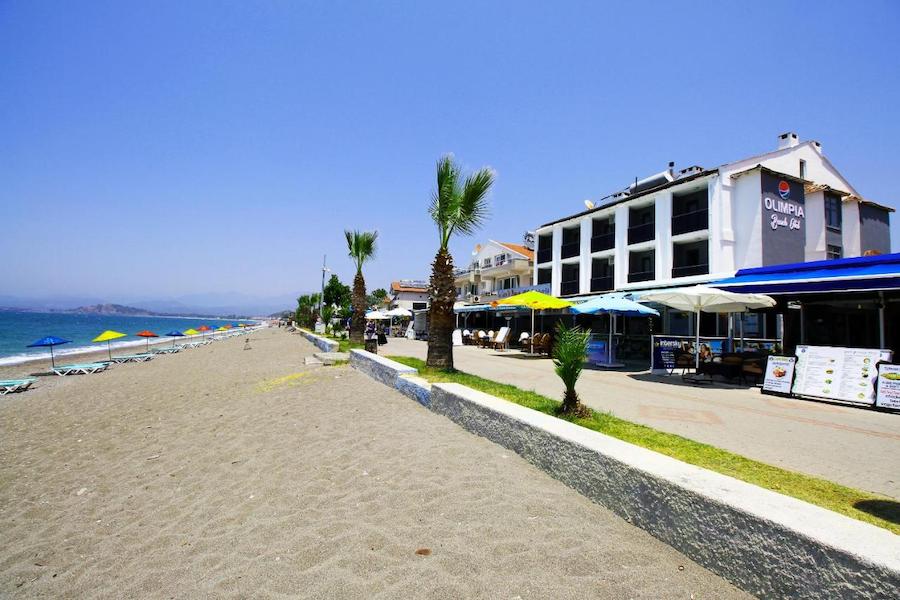 Located only steps from the coast of Fethiye, this is an affordable place to stay in Calis Beach. The property features panoramic views, and it's situated only seven kilometers from Calis Bird Sanctuary. All rooms feature air conditioning and a balcony, most of them facing the beach.
Guests can take advantage of the hotel's à la carte restaurant, while breakfast is also included in the nightly fee. It's also good to know that this is a pet-friendly property.
Sundia Exclusive By Liberty Fethiye – Ultra All Inclusive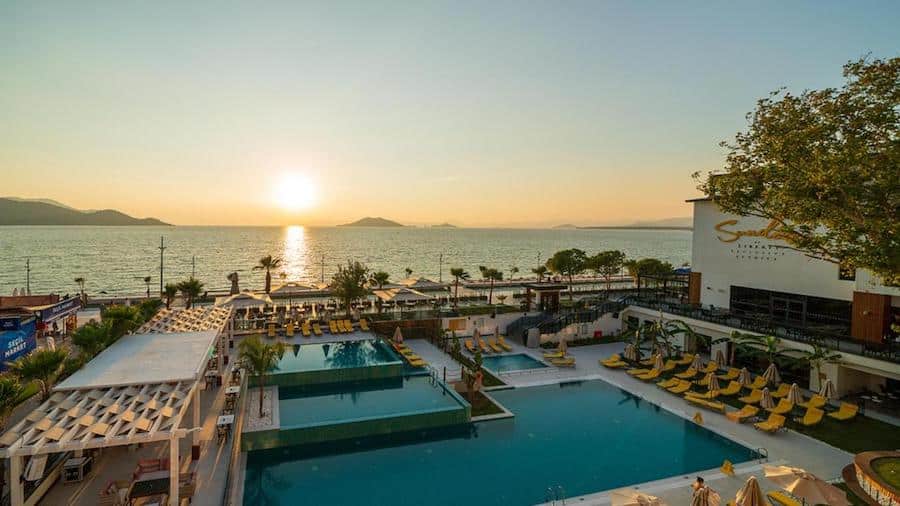 This is a super five-star property with ravishing reviews and surprisingly affordable fees. The hotel offers a restaurant, a seasonal outdoor swimming pool, a garden, a fitness center, a bar, and a super convenient 24-hour room service. Car rental is also available at the property.
Visitors praise the fantastic beachfront area, the hotel's free parking service, and the continental and buffet breakfast options.
Sunset Beach Resort Aqua Lettings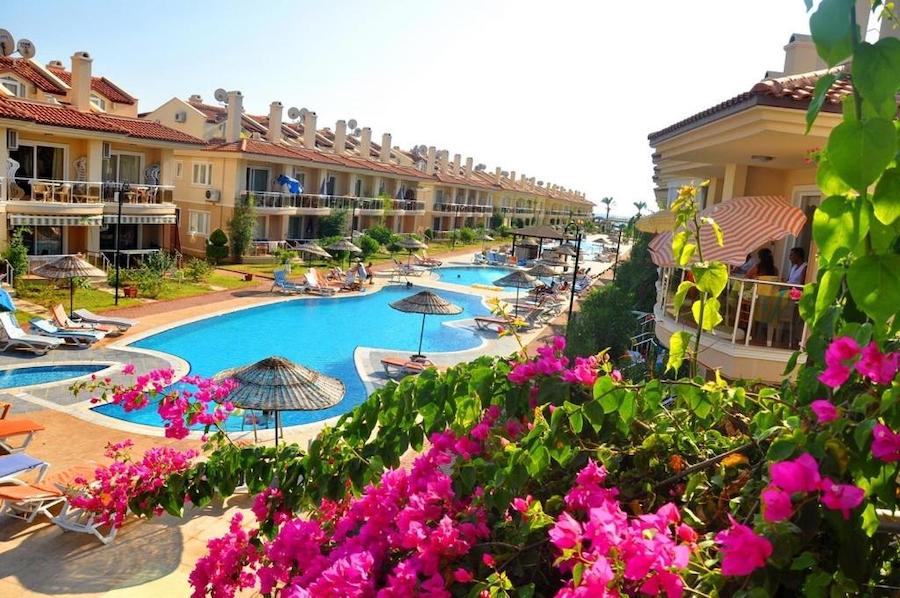 Another impressive hotel located directly on the beach, about 8 kilometers from the old town, this resort offers accommodation just minutes from the central area of Cali Beach.
The venue comes with a gorgeous garden and a terrace with an outdoor pool. There is also a beach area with free parasols and sun loungers. You'll find a sauna, massage treatments, and a Turkish bath among the activities you can choose to relax and enjoy.
All rooms feature a living room, a kitchenette with a dining area, and a washing machine. Laundry, dry cleaning, and ironing services are available at a surcharge.
Fethiye Marina
This area features several high-end dining options, exclusive shops, and boat excursions to visit the coastal regions and nearby islands.
Being relatively close to the old district, staying near Fethiye Marina allows you to visit fascinating historic sites after a brief walk.
Best Hotels In Fethiye Marina
Alesta Yacht Hotel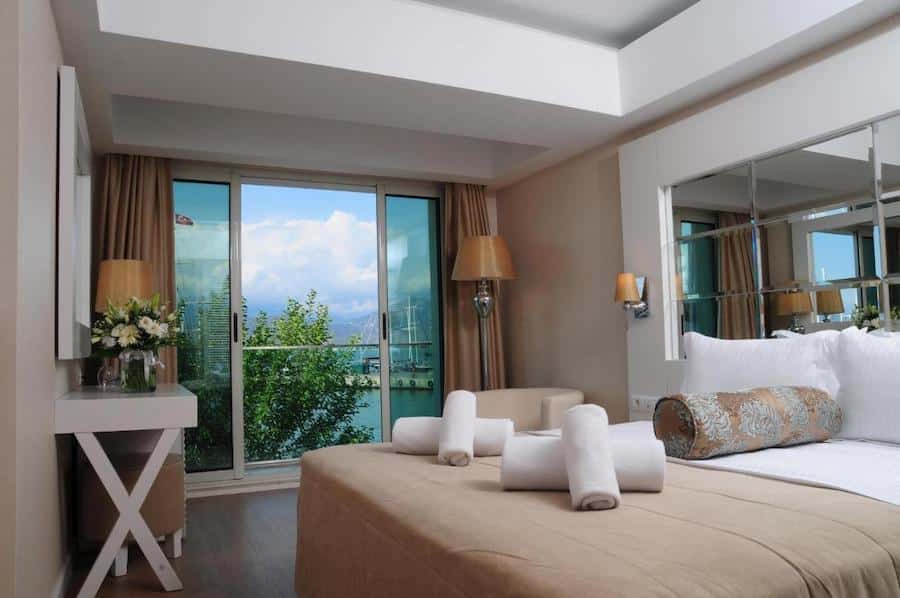 This hotel is a breathtaking property at a convenient nightly fee; this hotel strategically faces Fethiye's exclusive yacht marina area. Featuring an outdoor pool and a private beach, the design hotel offers a spa and wellness center, a sauna, and a hammam.
All rooms come with soft colors, wooden floors, a seating area, and a desk. Some suites also offer a private spa bath and a balcony with sea views. At the property, there is a buffet-style restaurant and a Mediterranean à la carte restaurant.
The hotel is conveniently located minutes from the center and only 17 kilometers from the famous Lycian Trail Way.
Yacht Boheme Hotel-Boutique Class – Adults Only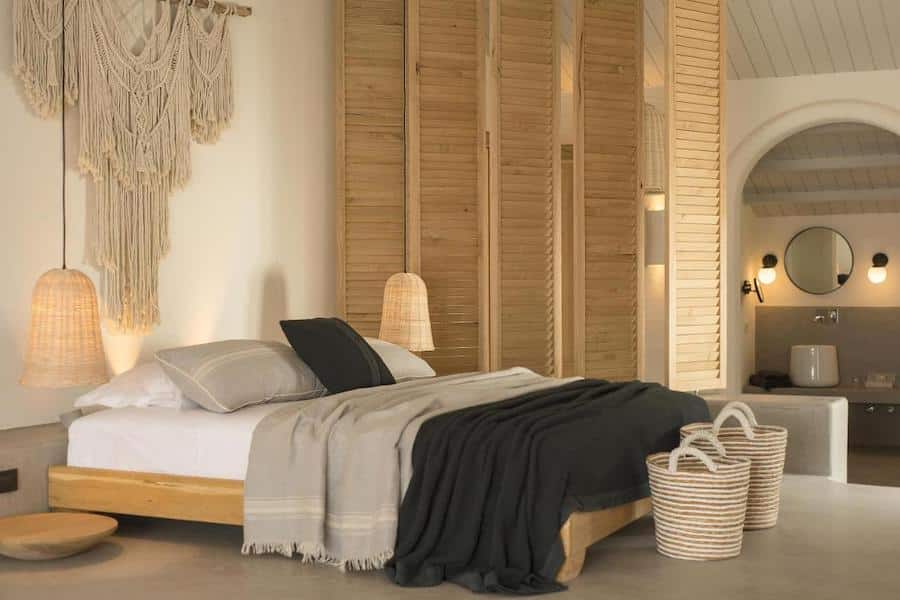 Ideal property for a romantic escape, this adult-only boutique features top-class accommodation only meters from the beach, with panoramic views of the Ece and Fethiye marinas near Fethiye's Ancient Theater.
The boho-chic design rooms come with a minibar, free WiFi, and smart TV. Some of them have balconies with sea views as well. Other amenities include an outdoor pool, a hot tub, and free private parking.
The hotel also offers a tour desk and a games room, while the pool snack bar serves delicious snacks and drinks.
Jajayacht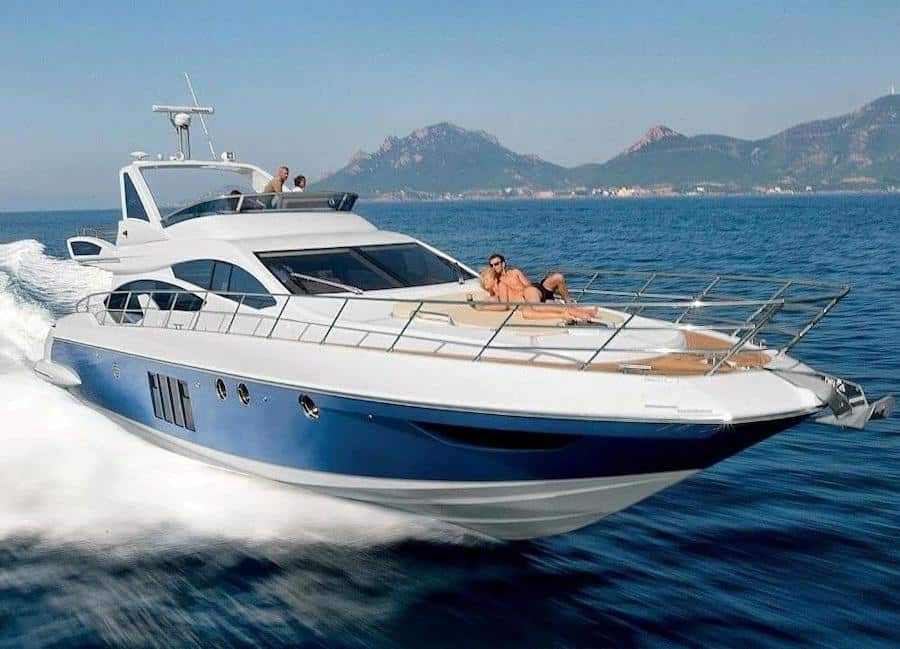 Wouldn't it be fantastic to stay on a yacht? At the Fethiye Marina, this is possible! Although prices can be a bit higher than usual, renting a yacht for a night or two could be the perfect way to celebrate an anniversary, a significant birthday, or any other special occasion.
Perfect for families with older kids, this boat has three bedrooms, three bathrooms, bed linens, towels, a flat-screen TV with satellite channels, a dining area, a fully equipped kitchen, and a terrace with sea views.
Moreover, every morning it is also possible to savor a mouthwatering buffet breakfast on the deck of your boat. Small kids and pets are also allowed on board.
Kabak Beach
Located about 30 kilometers from the Marina, this is a fantastic hideaway for a quiet stay.
This hidden spot with a very laid-back atmosphere is situated a bit off the beaten track, about an hour from Fethiye, on the southern coast.
Although the area is relatively small, it can enjoy gorgeous paths and hikes surrounded by a lush, verdant landscape.
When it comes to night entertainment, everything is low-key and relaxing, just a few informal restaurants, a few exotic beach pubs, and a promenade walk along the coast from where to spot one of the best sunsets in Turkey.
Near the area, visitors can enjoy a morning wandering the Butterfly Valley or go hiking in Badabag Mountain.
Since the Kabak is quite off-the-track and unknown and not many tourists stretch as far as Kabak, we've included only those hotels that offer as many services as possible or that can at least cater to most of your needs.
Best Hotels In Kabak
La Boheme Kabak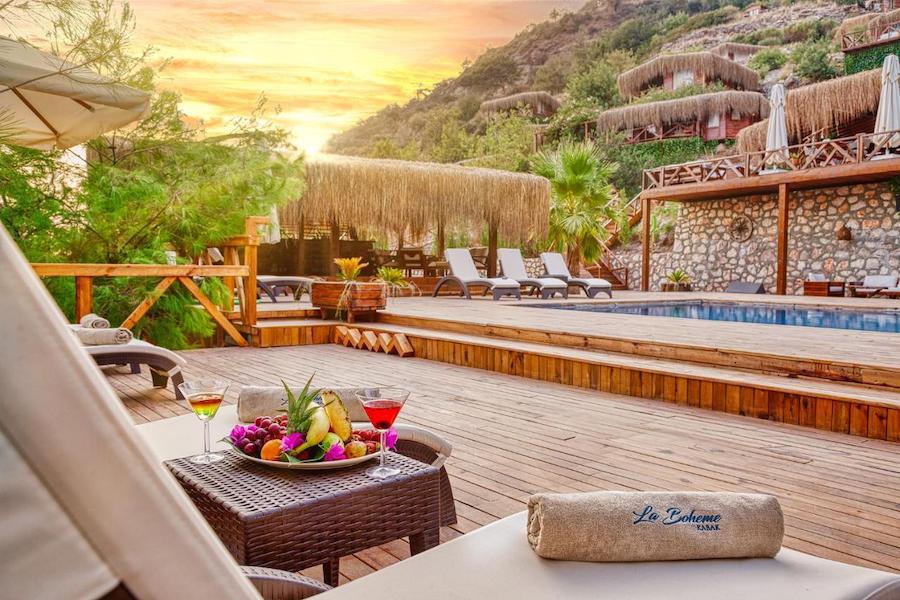 Incredible views, utmost relaxation, and impeccable services highlight this seafront property in Kabak.
The property, just 500 meters from Kabak Bay Beach, offers top accommodation with a restaurant, free private parking, a bar, and a garden. The hotel also offers airport transfers and daily continental breakfast.
Turan Hill Lounge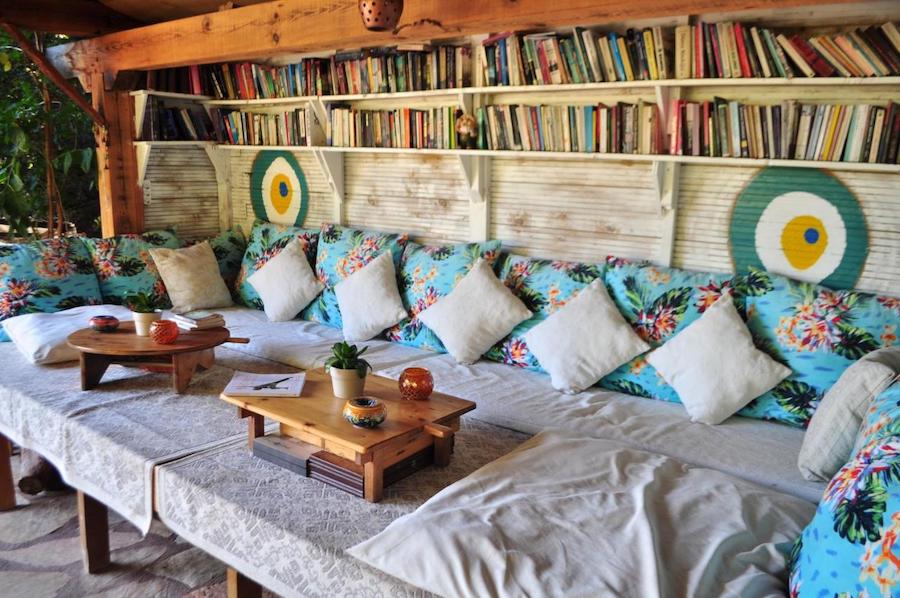 Idyllic is the word that could best describe this stunning lounge hotel that features luxury tents and bungalows in Kabak. It is situated only minutes from the seafront, right on the Lycian Trail, surrounded by green nature and featuring a natural outdoor pool.
Superior bungalows offer air conditioning, while some of them have fans. All rooms and tents include private bathrooms.
At the property, the delicious daily breakfast features homemade delicacies such as local bread, while dinners, in buffet style, include Turkish, Mexican, Italian, and Aegean cuisines. The property also has a yoga platform and spacious outdoor lounges with comfortable cushions.
Sea Valley Bungalows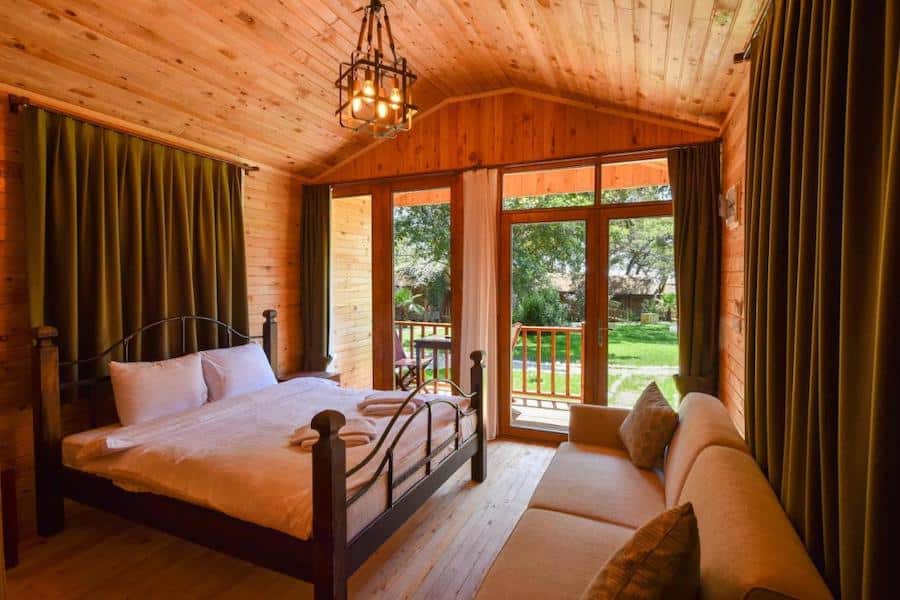 One more dreamy property by the sea in the Kabak area, this wooden bungalow collection is the perfect place for a romantic and tranquil vacation. The place offers accommodation with a private patio, air conditioning, and a seating area.
The on-site restaurant serves local Turkish dishes as well as international cuisine. The bar offers a variety of drinks and light snacks. There is also an outdoor swimming pool and a children's playground.
Oludeniz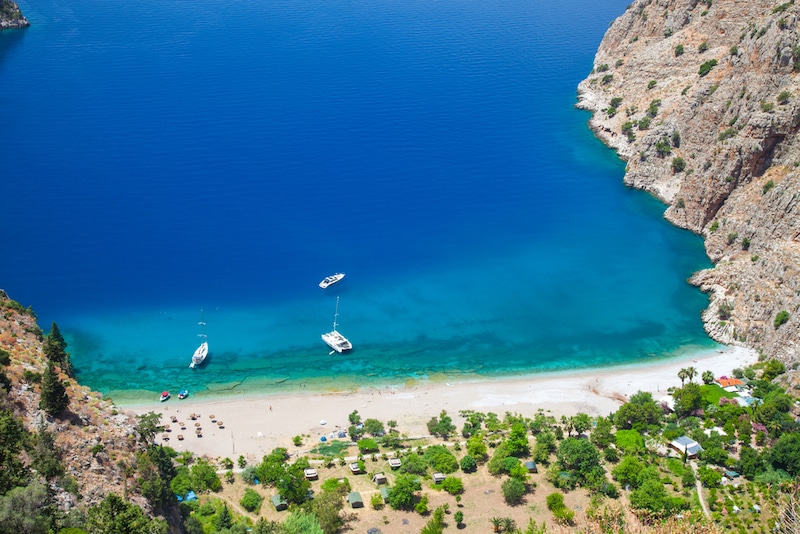 Oludeniz is famous for its shallow coast. This is a well-protected bay where kids can have a great time in total safety. The sea is calm, with clean and clear waters, where it is possible to practice water sports such as snorkeling or scuba diving.
You will also find plenty of shops, bars, restaurants, and fabulous seaside resorts offering all-inclusive accommodation at quite convenient prices. Since the area is very popular, booking early is always a good idea.
Best Hotels In Oludeniz
Ocean Blue High-Class Hotel & SPA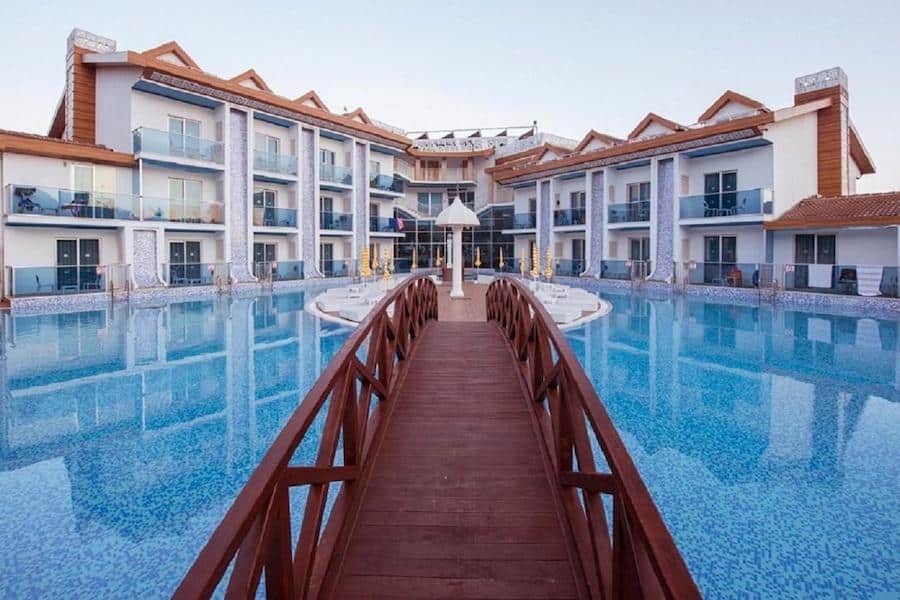 If you want to visit Blue Lagoon Beach in Oludeniz, this is the right hotel for you. This is a four-star property with affordable guest rooms in the Hisaronu area of Oludeniz, only 3 kilometers from the beautiful Blue Lagoon Beach.
On the premises, guests can take advantage of the outdoor and indoor pools, a Turkish bath, and a restaurant with a buffet and a la carte services. In every room, there is a minibar, as well as tea and coffee-making facilities.
There is also a children's pool and a shuttle service to and from the beach at certain times.
Sertil Royal Forest Hotel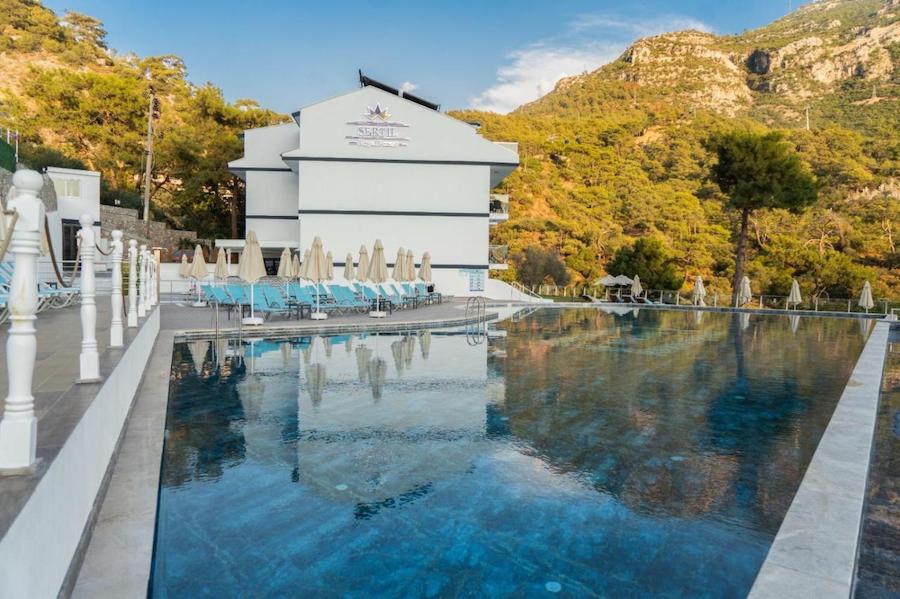 Although not directly on the beach, but just 10 minutes from the sea, the accommodation offers a seasonal outdoor swimming pool and a fitness center. There is also a restaurant, free private parking, a bar, and a garden.
All rooms have pool views, a minibar, air conditioning, a safety deposit box, and a flat-screen TV, and some of them have a terrace.
Both buffet and halal breakfast options are available daily. For further convenience, the property offers a paid airport shuttle service. Bike and car hire are also available.
Magic Tulip Beach Hotel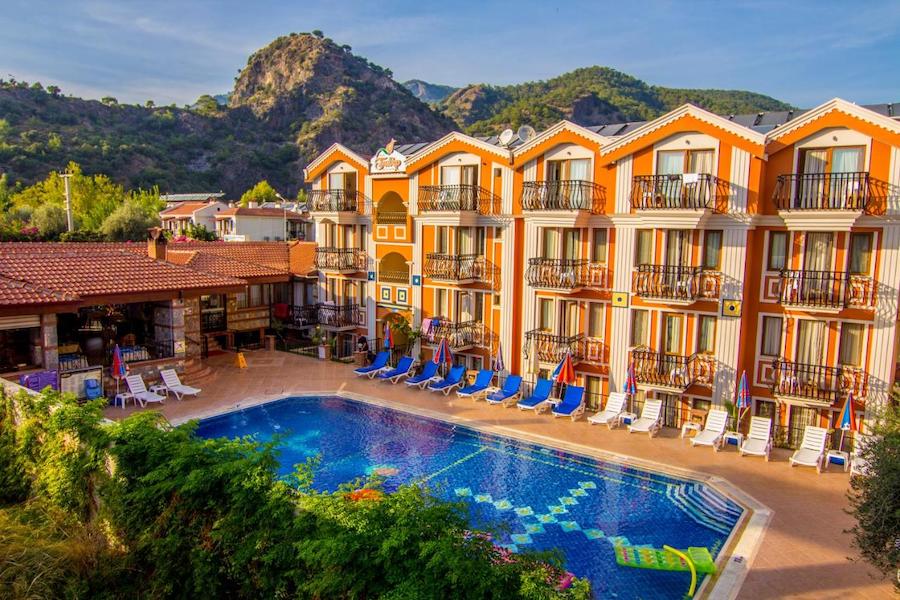 Right in the center of Oludeniz, this hotel is just a two-minute walk from the beach and five minutes from the Blue Lagoon National Park.
It has an outdoor pool with a sun terrace and offers rooms with balconies for guests to admire the stunning views of Babadag Mountain.
Every morning, the hotel serves a buffet breakfast with fresh fruit. There is also an on-site snack bar while dozens of fish taverns and restaurants are just meters from the property.
If Fethiye is on your travel horizon, bookmark this article so you won't miss your favorite hotel in town!
Chasing the Donkey - Balkan travel blog includes affiliate links. If you decide to make a purchase through these links, we receive a commission without any additional cost to you. We appreciate your support helping to keep this site free. Find our disclaimer & privacy policy here.