Are you wondering if you should visit Milos or Paros? Then this guide is for you! We share detailed information to help you weigh Paros vs. Milos and show what each island offers and who should (and should not) visit.
For good reasons, the Greek Islands are a popular destination for summer vacations every year! With beautiful beaches, warm weather, and stunning landscapes, they are a slice of heaven for relaxation.
But when it comes to planning a dream getaway in the Greek Islands, it can be hard to choose between the islands. Though island hopping is popular, it also comes with its share of stress, which isn't everyone's cup of tea.
Two islands that many visitors choose between are Milos and Paros. Each island has its own distinct charm and attractions that cater to different travel preferences.
Milos stands out with its unique beaches, mesmerizing rock formations, and opportunities for boat cruises, while Paros offers a taste of Santorini's beauty at a more affordable price.
In this post, we'll explore the highlights of both Milos and Paros, allowing you to make an informed decision based on your desired vacation experiences.
Keep reading below for our in-depth analysis on weighing up Milos vs. Paros.
What To See In Milos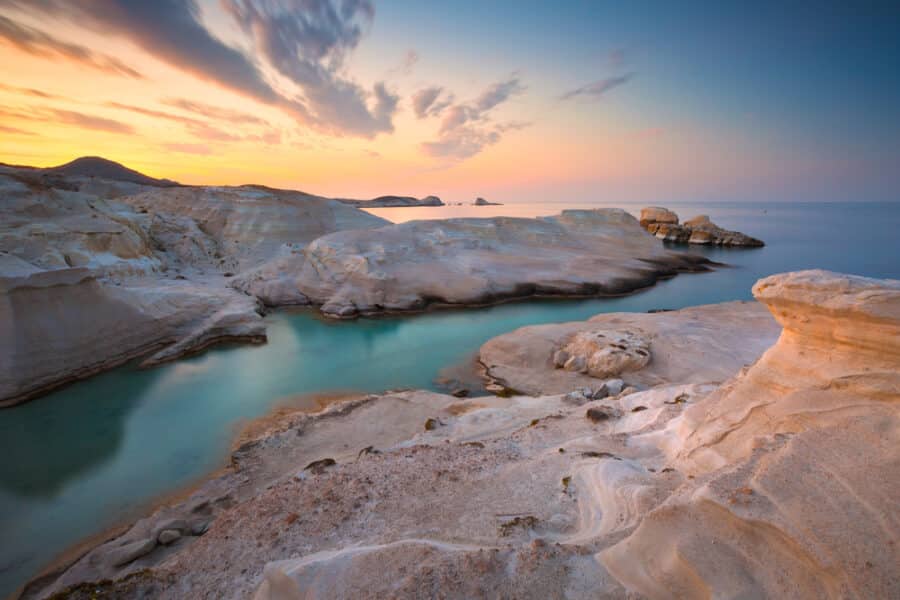 Milos is one of those Greek Islands that has something for everyone. It's even got things to do for people who don't like going to the beach, which is quite rare in the Greek Islands!
When you visit Milos, you'll be greeted with a high number of incredible sights and experiences. One of the highlights of this Greek Island is its unique beaches, especially those that showcase stunning rock formations.
One example is Sarakiniko Beach, famous for its lunar-like landscape, offering a truly surreal experience. Imagine stepping foot on the moon but with gravity! That pretty much sums up Sarakiniko. The site is vast and even offers a thin white sand beach.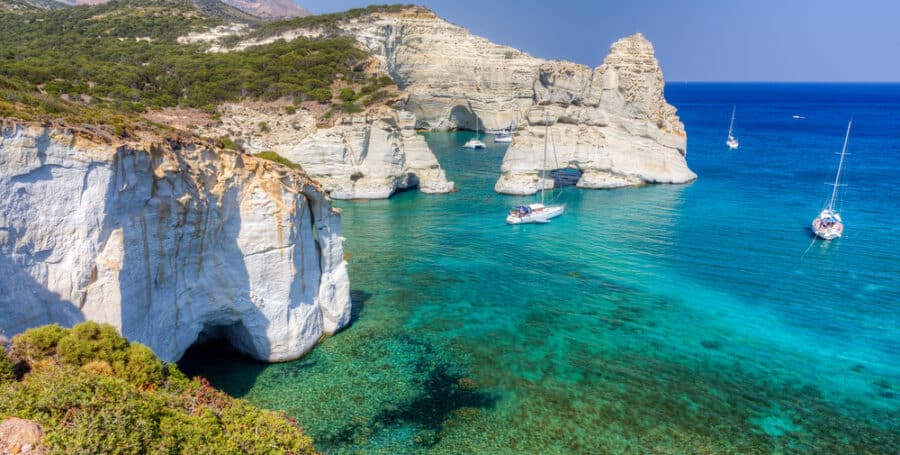 Another popular activity in Milos is a boat tour to beautiful Kleftiko, where you'll encounter deep turquoise clear waters, magnificent caves, and impressive rock formations.
This secluded spot can only be accessed by boat, providing a romantic and peaceful setting. We recommend heading there by private boat so you can enjoy your time more leisurely. That also allows you to stop at other secluded beaches where you'll find absolutely no one!
While in Milos, make sure to explore Plaka, this charming white-washed village located north of Adamas. There, you'll find a castle that offers a breathtaking 360-degree view of the island.
It's the perfect place to witness a captivating sunset, creating a truly magical atmosphere. Don't be surprised if you find other people there, though, as it is a popular spot. We recommend going about 30 minutes before sunset and bringing a snack!
Milos is also home to picturesque fishing villages such as Mandrakia. The colorful houses perched on the water's edge, the sight of octopus drying in the sun, and the small shops selling unique souvenirs all contribute to the authentic charm of these villages. They are the perfect places to wander around on your way back from the beach.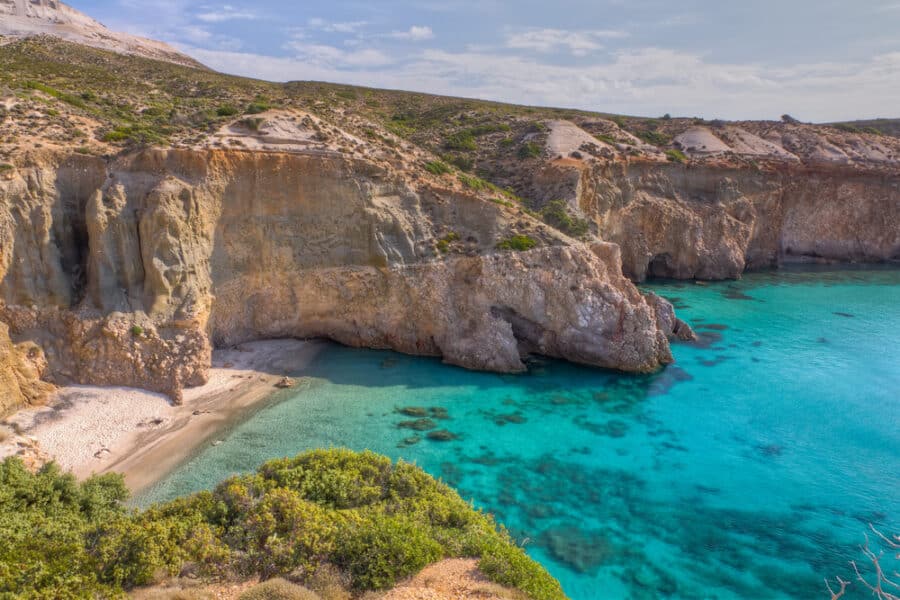 For more unique beaches, you can head to Tsigrado Beach. This famous beach requires descending a ladder to reach its small and secluded shores.
If you've got a fear of heights, you might like its neighbor Fyriplaka Beach better. Despite its size, the beach offers transparent waters and a sense of isolation, making it a memorable destination.
Milos is the ideal destination for those seeking unique beaches, traditional villages, and an immersive Greek experience. You'll have the opportunity to explore breathtaking landscapes, soak in the rich local culture, and create lasting memories.
Whether you're strolling through the enchanting streets of Plaka, lounging on the otherworldly Sarakiniko beach, or discovering the hidden gems of the fishing villages, Milos promises an unforgettable adventure.
TRAVEL COMPANIES WE USE AND TRUST
Pros And Cons Of Visiting Milos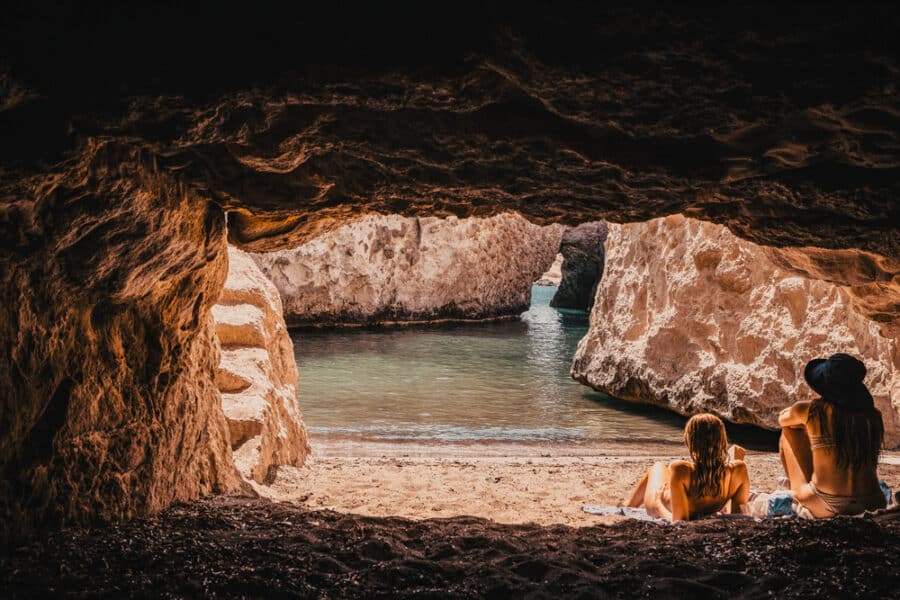 When considering a visit to Milos, weighing the pros and cons is important to make an informed decision. Let's explore the advantages and disadvantages to help you plan your trip effectively.
PROS OF VISITING MILOS
Public Transportation: One of the advantages of visiting Milos is that it's possible to get around the island using public transportation. This can be convenient and cost-effective, allowing you to explore various attractions without the need for a rental car
Unique Beaches: Milos is renowned for its abundance of unique beaches. From the moon-like landscape of Sarakiniko to the secluded shores of Tsigrado, you'll have the opportunity to discover stunning coastal spots with remarkable rock formations and crystal-clear waters
Historical Sites: The island is rich in history, offering attractions such as the Ancient Theatre of Milos. Exploring these historical sites provides a glimpse into the island's past and adds a cultural element to your visit.
Airport Accessibility: Milos has its own airport, making it easier to reach the island by air. This can save you time and provide more flexibility in planning your travel arrangements
Colorful Fishing Villages: Milos is home to charming, colorful fishing villages like Mandrakia. These picturesque settlements offer a glimpse into the traditional way of life on the island, creating a unique and authentic atmosphere
CONS OF VISITING MILOS
Windy Conditions: One of the downsides of Milos is that the island can get quite windy, particularly on the northern coast, which can affect the time spent at the beach.
Limited ATV Usage: Unlike some other Greek islands, Milos is not as easily navigated by ATV. It's recommended to rent a car for better mobility, which can be more expensive compared to renting an ATV. You can also travel by bus, which is a cheaper alternative.
Accommodation Costs: Milos is generally slightly more expensive than other islands like Paros when it comes to accommodation options. It's essential to consider your budget and plan accordingly to ensure you find suitable accommodations within your price range.
What To See In Paros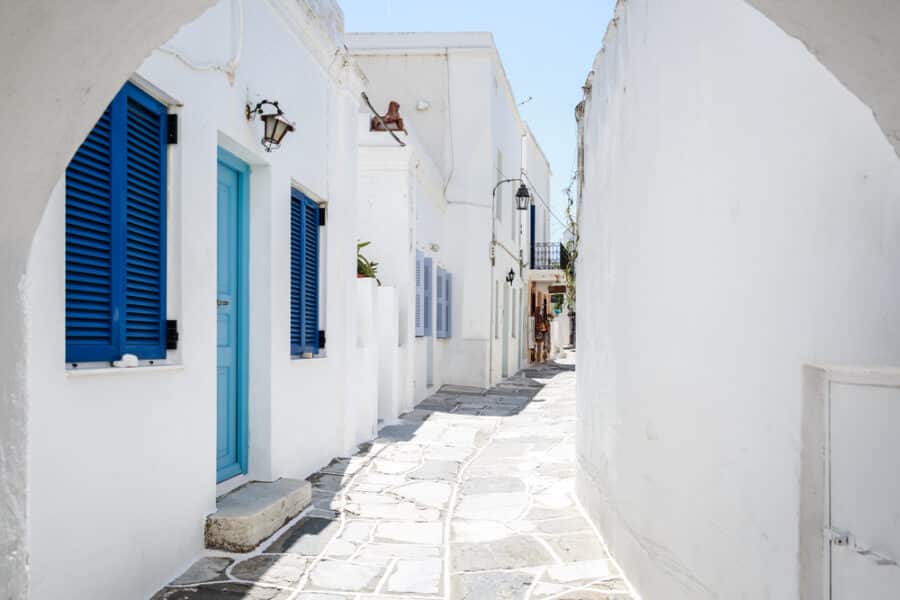 Known as the authentic Santorini, Paros offers a laid-back atmosphere and beautiful landscapes while being cheaper than its neighbor.
Though a relatively small Greek Island, Paros offers everything most people come to look for in Greece, such as an idyllic atmosphere, stunning beaches, and breathtaking sunsets.
Both are worth a visit. They are picturesque white-washed villages located by the sea. Strolling through their narrow streets, you'll encounter charming shops, traditional taverns, and lovely cafes. You can enjoy stunning sunsets from the port, boardwalks, or your favorite restaurant.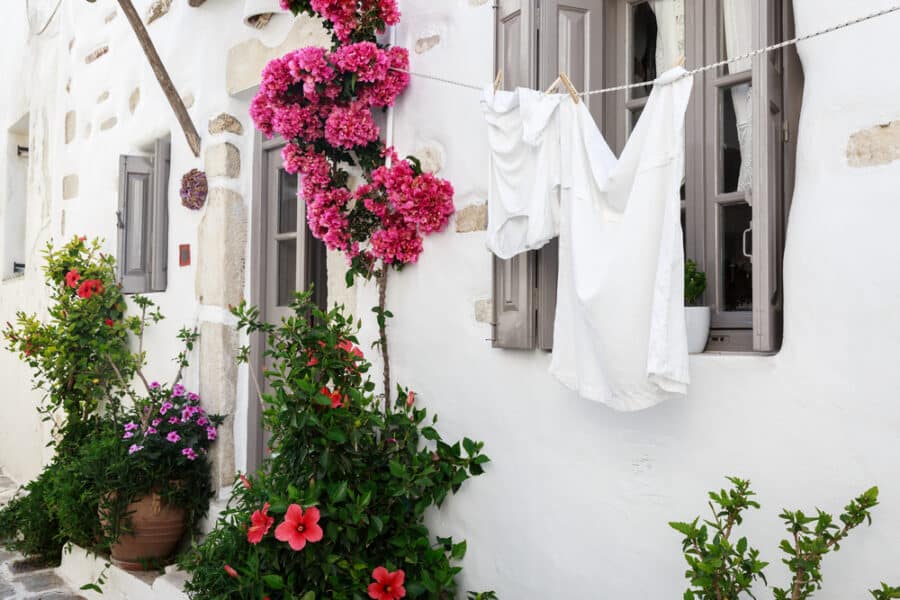 Parikia, more specifically, features charming churches and a castle. Start your day with breakfast by the port, where you can admire the boats and enjoy a relaxing atmosphere. You can also stroll along the windmills, soaking in the island's unique ambiance and capturing memorable photos.
One of the best things to do in Paros is to take a day trip to Antiparos, the sister island of Paros.
Accessible by bus and ferry for just a couple of euros, Antiparos offers its own unique charm. You can explore the quaint streets or relax on the beautiful beaches there. It's a wonderful opportunity to experience another enchanting Greek Island without traveling much.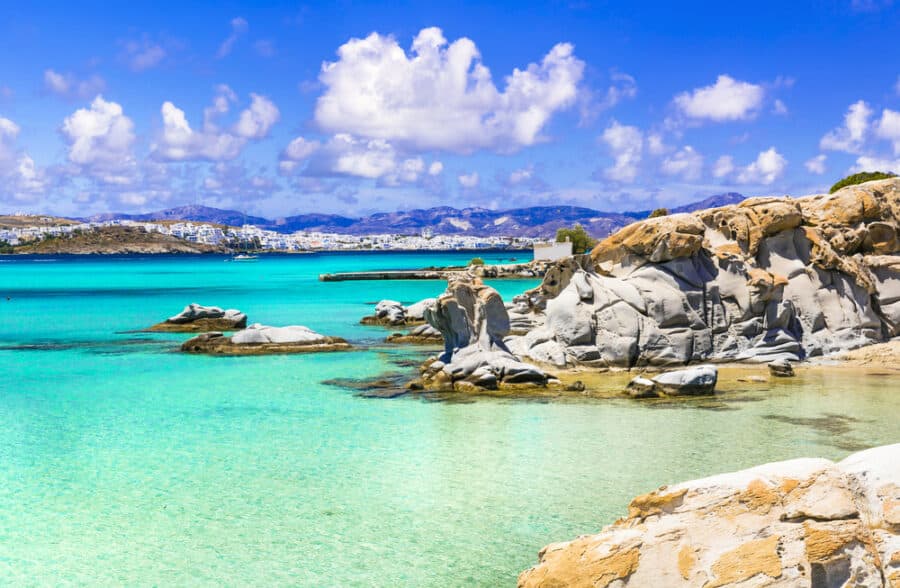 Paros is also blessed with many stunning beaches boasting shallow turquoise waters, most of them being perfect for snorkeling. Golden Beach and Santa Maria are popular choices, perfect for swimming and sunbathing. In the north, Kolimpithres Beach is a must-visit.
You can reach it by taxi, boat or by road. The beach is surrounded by large rock formations reminiscent of the Lavezzi Islands in France.
Paros offers a more laid-back and authentic experience compared to its luxurious counterpart, Santorini. Paros has much to offer for a memorable vacation with its white-washed villages, stunning sunsets, inviting beaches, and historic sites. Immerse yourselves in the island's beauty, embrace the relaxed atmosphere, and create lasting memories in this Greek gem.
Pros and Cons of Visiting Paros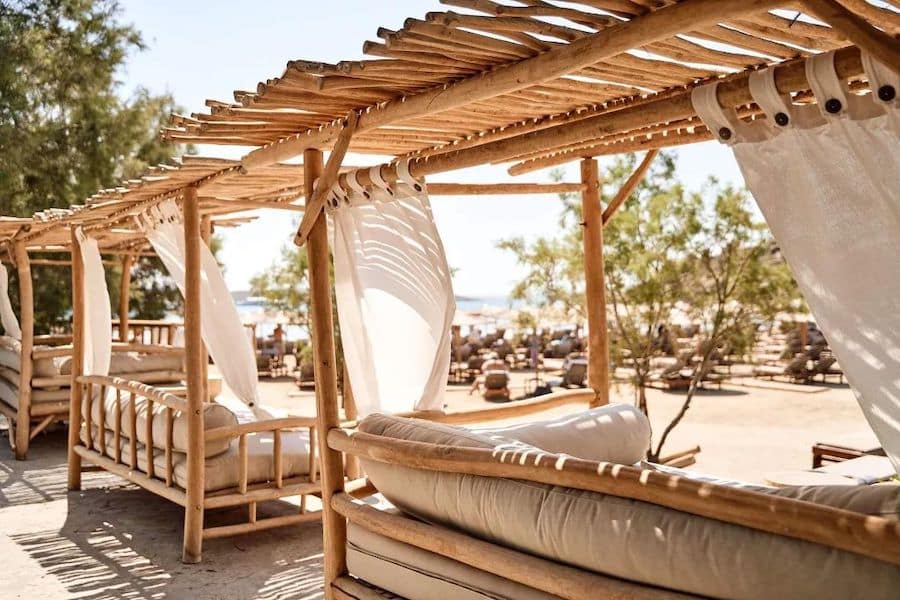 Paros has many pros due to its distinct charm and appeal, but we've also highlighted some cons compared to Milos.
Considering these pros and cons, you can make an informed decision about visiting Paros, depending on whether you're seeking a more affordable and laid-back island experience (Paros) or prioritize historical sites and unique beaches (Milos).
PROS OF VISITING PAROS
Similar To Santorini But Cheaper: Paros offers a similar aesthetic to Santorini with its white-washed villages, stunning landscapes, and sunsets, but at a more affordable price point. You can enjoy the beauty and charm of the Cyclades without breaking the bank.
Less Busy Than Milos: Paros is a great choice if you prefer a more relaxed and peaceful vacation. It is not as busy as other popular Greek Islands like Milos, allowing you to explore and enjoy the island more leisurely.
Affordable: Paros is known for being budget-friendly. From accommodations to restaurants and activities like renting an ATV, you'll find more affordable prices compared to some of the more popular tourist destinations in Greece.
Easy Transportation: Getting around Paros is convenient as you can rely on the efficient bus system to explore different parts of the island. Additionally, the island is mostly flat, making it easy to drive an ATV and navigate the scenic roads.
Typical White Villages: Paros showcases the iconic white-washed villages that are characteristic of the Cyclades. Villages like Parikia and Naoussa can help you immerse yourself in the authentic Greek Island atmosphere.
Airport On The Island: Paros has its own airport, making it easily accessible for travelers. You can conveniently fly directly to Paros or connect through Athens, saving you time and hassle.
CONS OF VISITING PAROS
Limited Historical Sites: While Paros offers natural beauty and charming villages, it may not have as many historical sites compared to other Greek Islands like Milos. If you're primarily interested in ancient ruins and historical landmarks, you may find Paros to be less fulfilling in that aspect.
Beaches May Lack Uniqueness: Paros boasts stunning beaches but may not have the same level of uniqueness as some other Greek Islands. Except for Kolimbithres Beach, which features distinctive rock formations, the beaches in Paros offer a more traditional beach experience.
Comparison Between Paros And Milos
When comparing Milos and Paros, it's important to note that neither destination is inherently better than the other. It ultimately depends on what you and your travel companions are seeking in your vacation.
If you're looking to experience the allure of Santorini at a more affordable price, along with stunning sunsets, white villages, and beautiful beaches, then Paros is an excellent choice. It offers a laid-back atmosphere, easy transportation options, and the chance to explore typical Greek island charm.
On the other hand, if you're craving a more unique and adventurous experience, with one-of-a-kind beaches, caves, moon-like landscapes, and the opportunity to embark on a boat cruise, then Milos may be the perfect fit. Its distinct natural beauty and the chance to discover hidden gems by the sea will leave you and your partner in awe.
Ultimately, the choice between Milos and Paros depends on your personal preferences and the type of vacation experience you desire. Both destinations have their own unique offerings, so consider what appeals to you most and embark on a memorable journey in the Greek islands.
Final Thoughts On Choosing Milos Or Paros
The best part of choosing between Paros and Milos is that there is no wrong choice. Both islands are stunning, and each has features that the other doesn't have. Of course, the best option is to be able to visit both during your trip. But even though island hopping is common, it's not always very relaxing. If you're looking to get to an island and stay there to fully relax, you'll have to pick.
So which will it be? Who won our Paros Vs. Milos showdown? Paros to relax on stunning beaches or Milos to explore unique landscapes?