There are pros and cons in choosing either Sultanahmet or Beyoglu; in this guide, we break them down for you – making the choice easier and helping you have a better vacation in the right place for you.
Location is everything when you're looking for somewhere to stay in Istanbul. So, in this post, we'll tell you all about the best neighborhoods in Istanbul to stay in. Which Istanbul areas are most convenient for tourists? Should you stay at hotels in Beyoglu or at hotels in the Sultanahmet area? You'll find the answers below!
A quick Google search of apartments and hotels will throw up so many choices you'll be totally overwhelmed. Remember that Istanbul is a huge city, meaning a massive selection of accommodations in Istanbul.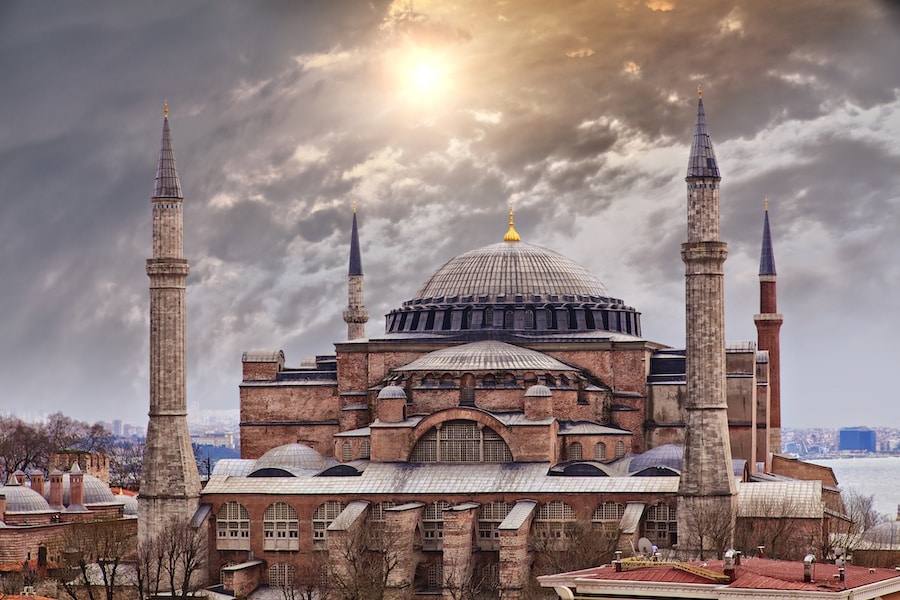 Best Hotels In Istanbul Map


The problem with finding Istanbul accommodations is that some hotels and apartments are far from the main sights. Because of the city's sprawling nature and how generally busy it is, it's straightforward to find yourself stuck in a hotel, which requires you to travel halfway across this massive city to get to where you want to be.
For that reason, it's super-important to look for hotels in the Istanbul city center and try to find the best place to stay in Istanbul for sightseeing.
Districts In Istanbul
There are also countless districts in Istanbul. The main ones are:
Sultanahmet
Fatih
Besiktas, which covers the Ortakoy area
Bebek
Eminonu
Kadikoy (Asian side)
Uskudar (Asian side)
That is not an exhaustive list, and you should not underestimate some of these districts' sizes. For example, Besiktas stretches from the central part of the district right down to the bottom end of the seafront near Sariyer. That's a considerable distance!
Sultanahmet or Beyoglu Istanbul?
Most people decide to stay in either Beyoglu or Sultanahmet. Both areas in Istanbul have many things going for it, including numerous excellent options of strategically located lodging in Istanbul.
Sultanahmet – Best Area To Stay In Istanbul For Sightseeing
The main reason why many visitors consider Sultanahmet to be the best area of Istanbul to stay for tourists is its wealth of attractions.
This is, after all, where the main historic sights are located, including the Grand Bazaar, Blue Mosque, Hagia Sofia, Basilica Cistern, Topkapi Palace, etc. Many touristic restaurants around here serve traditional Turkish food.
Beyoglu
However, Beyoglu is the ideal spot for being central. From there, you can get anywhere, and you're also in the middle of nightlife and shopping centers, with Taksim on your doorstep. The iconic Istiklal Street offers everything you could want and more.
So, which is best? Beyoglu Or Sultanahmet
It depends on what you're looking for and what you want.
Let's cover the main points of each one.
TRAVEL COMPANIES WE USE AND TRUST
Accommodation In Sultanahmet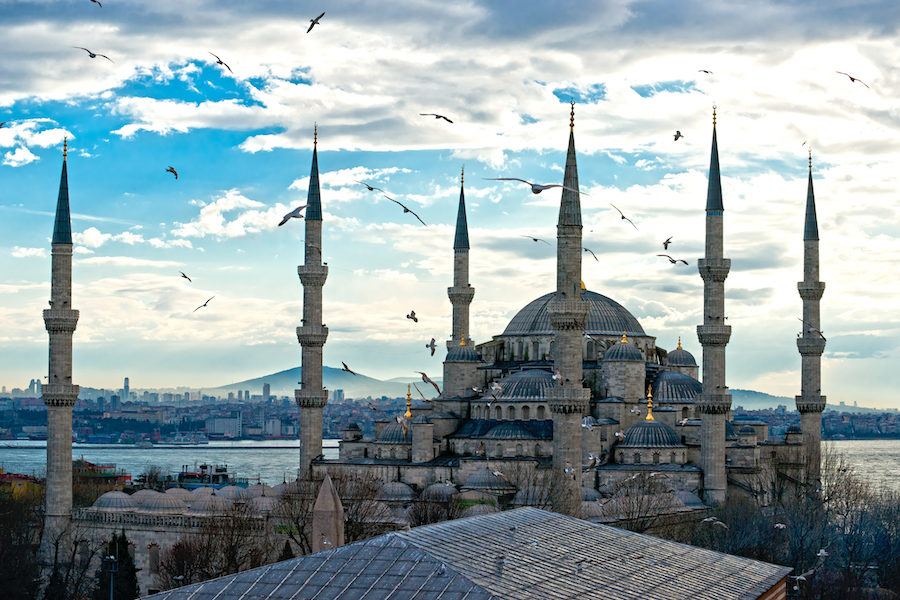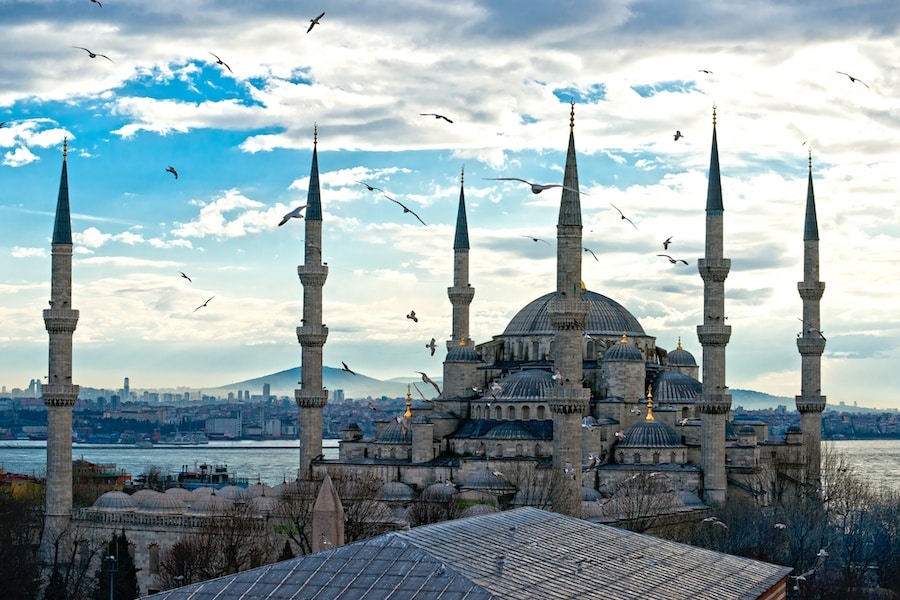 As with every other district of Istanbul, Sultanahmet is sizeable, but it's one of the smaller ones by comparison. Do not confuse Sultanahmet with Fatih, which is vast. Fatih runs from the back of Sultanahmet and stretches on for miles. You'll find countless hostels and cheap accommodations in Istanbul in Fatih, but you will need to get the bus or a taxi to be able to go anywhere of any substance.
So, if you're sure that you want to be close to the major historical sights we mentioned earlier, make sure you check the walking distance to those attractions on a hotel's page. Alternatively, you can Google it.
The problem with Sultanahmet is the expense. Because this is where history is mainly located (although Istanbul entirely is full of history), you'll find that prices are higher.
If you want to eat a Turkish meal in Istanbul, to be honest, you're best avoiding Sultanahmet for price and quality and going to Taksim or Besiktas, where you'll find better for cheaper.
However, millions of people every year decide to stay in this part of the city. It's also quiet at night, which could be a plus point for you if you want a good night's sleep. So, if you enjoy peaceful evening strolls while visiting a historic city, this is one of the best places to visit in Istanbul at night.
If you choose the wrong hotel in Taksim, on the other hand, you could end up next to a nightclub which doesn't close its doors till the sun has long been up!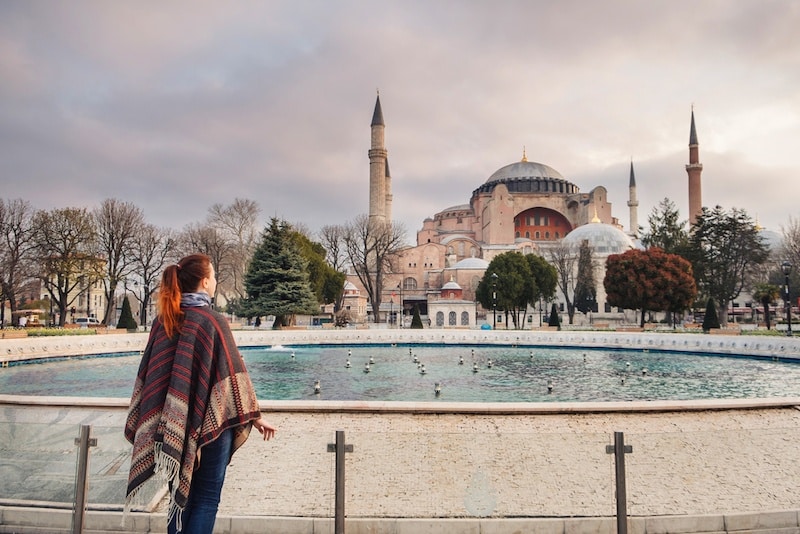 Staying In Sultanahmet Pros:
Staying In Sultanahmet Cons:
Very touristic
It can be difficult if you end up staying in Fatih
Getting to other parts of the city from Sultanahmet is possible, but not that easy because of the traffic and how busy the Metro and Tramway is
Hotels in Sultanahmet tend to be more expensive, as does food
Best Hotels In Sultanahmet Istanbul
Alzer Hotel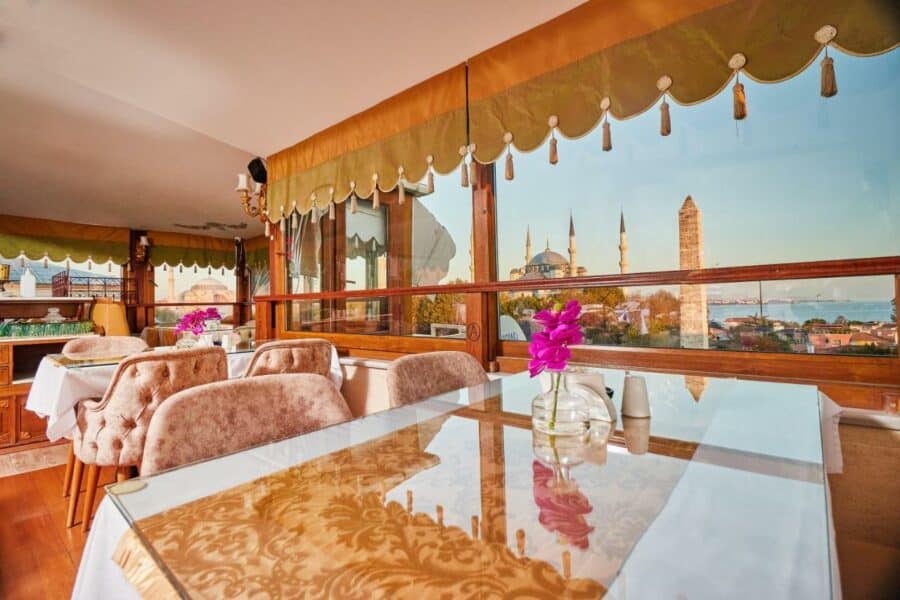 WHERE WE STAYED
This is the hotel in Sultanahmet where my family and I stayed in 2023 and loved.
The Alzer Hotel, located in Istanbul's famous Sultanahmet area, is ideal for those looking for a comfortable and convenient base from which to explore the city. The prime location opposite the Blue Mosque allows guests to experience the best of Istanbul.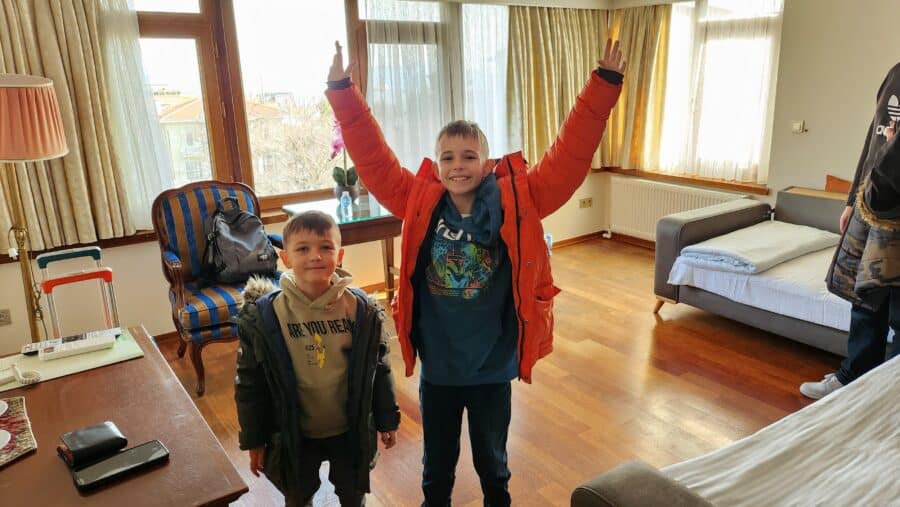 With its high-quality amenities, the King Suite at Alzer Hotel is ideal for visitors looking to see Istanbul in elegance. However, the King Suite's main selling point is its breathtaking sight of the Blue Mosque and the Mediterranean. Waking up with a view of one of the world's most magnificent buildings and the sea is an unforgettable experience.
Click here for more information and the latest prices.
The White House Hotel
The White House Hotel is undoubtedly one of the leading contenders as the best place to stay in Sultanahmet. It is located at the heart of the historic peninsula, within walking distance of the Blue Mosque, Hagia Sophia, and the Grand Bazaar. Perhaps surprisingly, not all of the luxury hotels in Istanbul are in Sultanahmet, but this one certainly fits the criteria. This deluxe four-star plus property has many well-appointed, elegant rooms, some with balconies. All have cable flatscreen TVs, and the hotel has a bar, lounge, and restaurant.
Celine Hotel
With its Ottoman mansion location, the Celine hotel could well be the best place to stay in Istanbul for couples. Its decor gives it an unashamedly romantic vibe, and this stunning property has a quintessentially Turkish interior. Public areas have stone walls and floors featuring exotic patterned tiling, while rooms feature carved wooden furniture and rich, luxurious fabrics. Celine hotel has an indoor garden with a fireplace, lounge, and bar, plus flatscreen cable TVs in all rooms. The Grand Bazaar is just over 500 meters away.
Romance Istanbul Hotel
Even those looking for 5-star hotels in Istanbul would not be disappointed with the boutique-style Romance Istanbul hotel. It offers a range of accommodations in a pleasant, green part of the southern peninsula, from city doubles to deluxe triples and luxurious suites with hot tubs. The hotel has a cafe, bar, restaurant, and sauna, and the rooms are classically elegant with an eastern twist. Guests rave about the property's beauty, great breakfast, helpful staff, and location.
Magnaura Palace Hotel
The Magnaura Palace Hotel is elegant inside and out and is located less than 250 meters from Hagia Sophia. An outdoor terrace is a particular highlight, as it offers guests views over the historic Sultanahmet district. The Marmara Sea can even be seen from some rooms. Accommodation is decorated with Turkish textiles, air conditioning, LCD TV, and a seating area. Food, cleanliness, and comfortable beds are among the features most loved by previous guests.
Accommodation In Beyoglu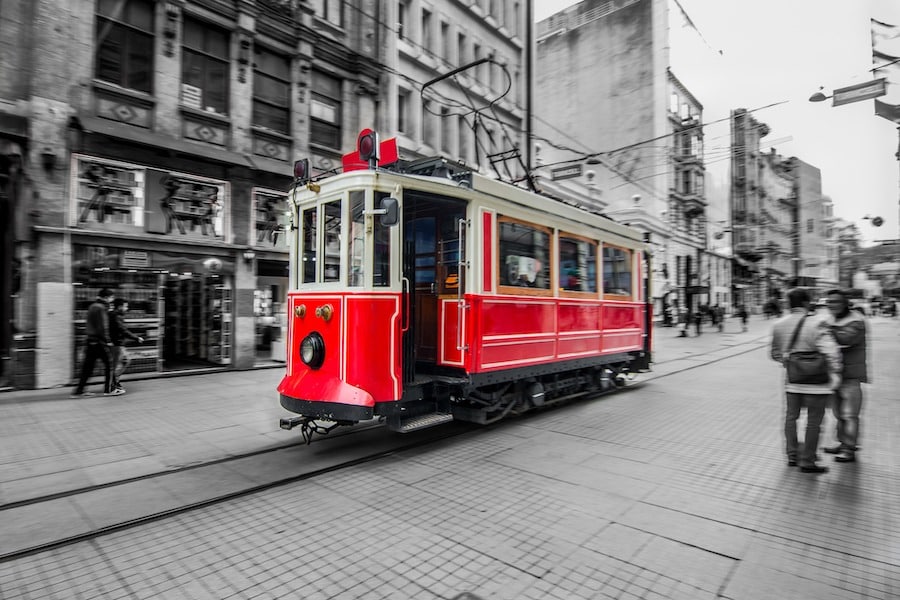 Beyoglu is a huge district that covers the Taksim area and beyond. This is where most people tend to stay in Istanbul, and it's a very bright and vibrant spot. There are equal pros and cons to staying in Beyoglu as there are Sultanahmet, and again, it depends on what type of holiday you're looking for.
Taksim itself is very busy. You may never have seen crowds like it when you stand at the top of Istiklal Street and look down. It can be crazy busy, especially at weekends. However, it's crazy busy for a reason.
There is a lot to see and do here, and while Beyoglu isn't the most historical part of Istanbul, there are still plenty of sights to see here that date back centuries, including old churches and museums.
Taksim links to most other parts of Istanbul, and it's considered the heart of the town, even though many other districts lay claim to that also. However, the main point of staying in this part of the city is entertainment and ease of travel. Taksim is also packed with places to eat, drink, shop, and party.
This is where the most vibrant nightlife is, so if you're looking for the best places for nightlife in Istanbul, this is where you'll find them. However, you'll also find an equal number of tea gardens, coffee shops, and small restaurants in this area, making it one of the most vibrant districts of Istanbul.
The downside? There is a vast choice of places to stay in Beyoglu, and because of its size, it can be hard to figure out whether you're staying in a good part. The reason is that some very rough parts of Beyoglu are best avoided. Try and stay in central Taksim to prevent these.
Staying In Beyoglu Pros:
Close to the leading entertainment and nightlife spots
A bustling area, so you're not going to be bored
A massive selection of accommodations, from family hotels in Istanbul to some of the coolest hotels in Istanbul
Some very low-priced choices of places to stay here
Easy access to other parts of Istanbul
Staying In Beyoglu Cons:
Bustling area, which may not suit you
Some parts of Beyoglu are pretty rough
Not an incredibly historic part of the city; however, there are still some fantastic sights to see
Best Hotels In Beyoglu Istanbul
Hotel DeCamondo Galata
Past guests highly rate the location and facilities of this super clean hotel. Rooms have character features like exposed brickwork, wooden beams, and flooring and typically have white walls and indigo accents. This contemporary hotel has a restaurant, bar, and terrace and offers a 24-hour front desk, concierge, and currency exchange. A la carte or continental breakfast options are offered daily.
Hammamhane
Located in a restored building close to Istiklal Avenue, Hammamhane offers a range of suites. The main highlight is the Turkish bath - Cukurcuma Hammam - on site, from which the property takes its name. Hammamhane is within walking distance of the shops, galleries, restaurants, and cafés of Cukurcuma. The air-conditioned suites have high ceilings, cork flooring, flatscreen TVs, and fully equipped kitchens. Some also feature their terrace.
Archeo Hostel
Hostels make unique places to stay in Istanbul. Suitable for solo travelers, they are a great way to meet like-minded people. Istanbul hostels don't come much more memorable - or highly rated - than Archeo. Archeo Istanbul is super clean, laid-back, and decorated in an appealing, quirky style. Beyoglu is under a mile from Taksim Square and just over a mile from the Spice Bazaar. Accommodation options include male and female dorms, double rooms, and a cafe on-site.
Taksim Wooden House Hostel
This spotless and well-run hostel is in an area straddling Beyoglu and Taksim. The property is around 500 meters from Taksim Square, on the inland side. Rooms have city views, and the hostel has its own garden for guests' use. There are double and bunk rooms and the property, and travelers can pick a four or eight-bed dorm. Some have garden views or a balcony. The excellent location and modern facilities like free WiFi, 24-hour desk with currency exchange, and shared kitchen make this a perfect option for those on a budget.
Sultanahmet Or Beyoglu Istanbul Wrap Up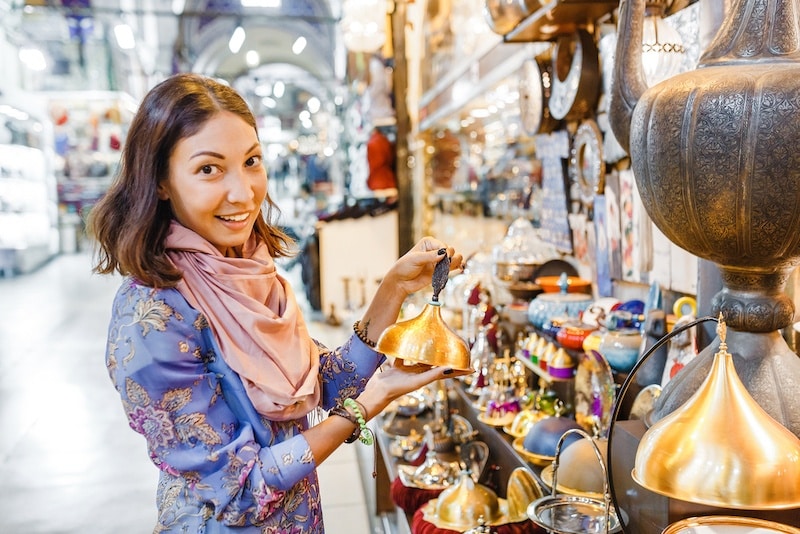 As you can see, there are pros and cons to choosing either Sultanahmet or Beyoglu. Which area is the best place to stay in Istanbul for you comes down to your personal needs and wants. You won't struggle to find somewhere to stay in either Istanbul area, and you're sure to have a great time too!
FAQs BEYOGLU OR SULTANAHMET
Which area is better for accommodation: Beyoglu or Sultanahmet?
The choice between Beyoglu and Sultanahmet depends on your preferences. Beyoglu offers a lively atmosphere with many shops, restaurants, and nightlife, while Sultanahmet is closer to historical landmarks like the Blue Mosque and Hagia Sophia, making it convenient for sightseeing.
Is Beyoglu a suitable place for nightlife and entertainment?
Yes, Beyoglu is known for its vibrant nightlife scene with numerous bars, clubs, and live music venues, making it an excellent choice for those seeking entertainment.
What are the advantages of staying in Sultanahmet?
Staying in Sultanahmet provides easy access to major historical sites like the Topkapi Palace, Grand Bazaar, and Basilica Cistern, making it convenient for sightseeing.
Does Beyoglu offer a variety of dining options?
Yes, Beyoglu offers a wide range of dining options, from traditional Turkish cuisine to international dishes, catering to different tastes.
Is Sultanahmet crowded with tourists?
Yes, Sultanahmet is a popular tourist area, and it can get crowded, especially during the peak travel seasons. However, the historical attractions are worth visiting despite the crowds.
Which area is better for budget travelers?
Beyoglu is generally considered more budget-friendly than Sultanahmet, as it offers a wider range of accommodation options and dining choices at various price points.
Are there public transportation options to travel between Beyoglu and Sultanahmet?
Yes, there are public transportation options, including trams and buses, that connect Beyoglu and Sultanahmet, making it convenient to explore both areas.
Is Sultanahmet safe at night?
Sultanahmet is generally safe at night, especially in well-lit and tourist-populated areas. However, it's always a good idea to stay vigilant and take standard safety precautions.
How to get to Taksim from Sultanahmet?
To get to Taksim from Sultanahmet, you can use public transportation, such as the tram and metro, or take a taxi for a convenient and quick journey between the two areas.
Things to do in Beyoglu
Beyoglu offers a wealth of activities, including shopping along Istiklal Avenue, visiting the historic Galata Tower, exploring the vibrant Tünel area, and enjoying the local cafes and art galleries.
Places to visit in Sultanahmet
In Sultanahmet, you must visit iconic sites like the Blue Mosque, Hagia Sophia, Topkapi Palace, Basilica Cistern, and the Grand Bazaar, as they showcase the rich history and cultural heritage of Istanbul.
Hopefully, this has helped you figure out the best part of Istanbul to stay in for your next trip. Enjoy!
MORE TÜRKIYE TRAVEL BLOGS