Here is all the Kalamata travel advice that you need. We've got a list of things to do in Kalamata and top Kalamata sites.
All I knew about Kalamata in Greece was the area's infamous Kalatama olive – which I eat hundreds of yearly. That is until I went there this year.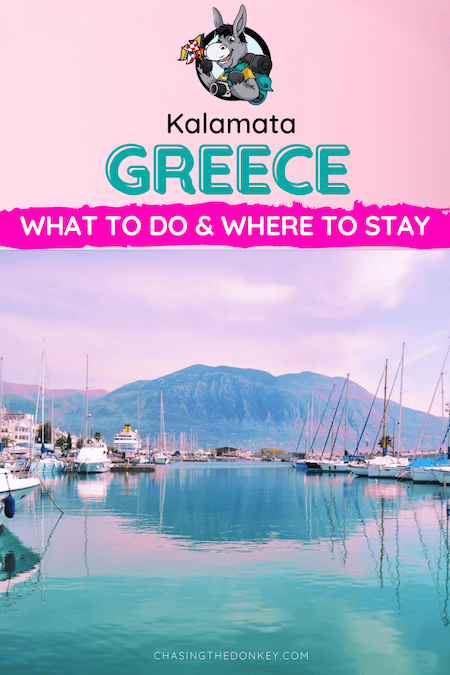 So, let me introduce to you Kalamata, a Greek city nestled along the azure waters of the Mediterranean. With its sun-kissed beaches, rich history, and captivating landscapes, Kalamata is an enchanting destination that beckons adventurers and culture enthusiasts alike.
In Kalamata, you can explore the ancient ruins that bear witness to the city's storied past, indulge in the tantalizing flavors of traditional Greek cuisine, and immerse yourself in the lively atmosphere of the bustling local markets. Whether you seek relaxation or exhilaration, Kalamata promises an unforgettable experience that will leave you yearning for more.
Kalamata is the second most important city in the Peloponnese (right after Patras) and the capital and main port of the Messinia region, a fantastic destination in Greece.
The populous city stands surrounded by the mountains and the sea, right below the shadows of the Taygetos Mountains. Kalamata features excellent weather and a delicious gastronomic scene which most of us immediately identify with its world-famous olives.
This guide will find essential and clear information if you're planning a visit, as well as the top places to discover and the best things to do in Kalamata, Greece.
Where Is Kalamata Greece
Kalamata is an important coastal suburban center and port located in the southern Peloponnese region in Greece, around 240 km southwest of Athens.
The popular summer destination lies on a long stretch of sandy beach at the foot of Mount Kalathi in the Taygetos Mountains. Kalamata is about 3 hours from Athens and the same distance from Patras by car.
What Is Kalamata Famous For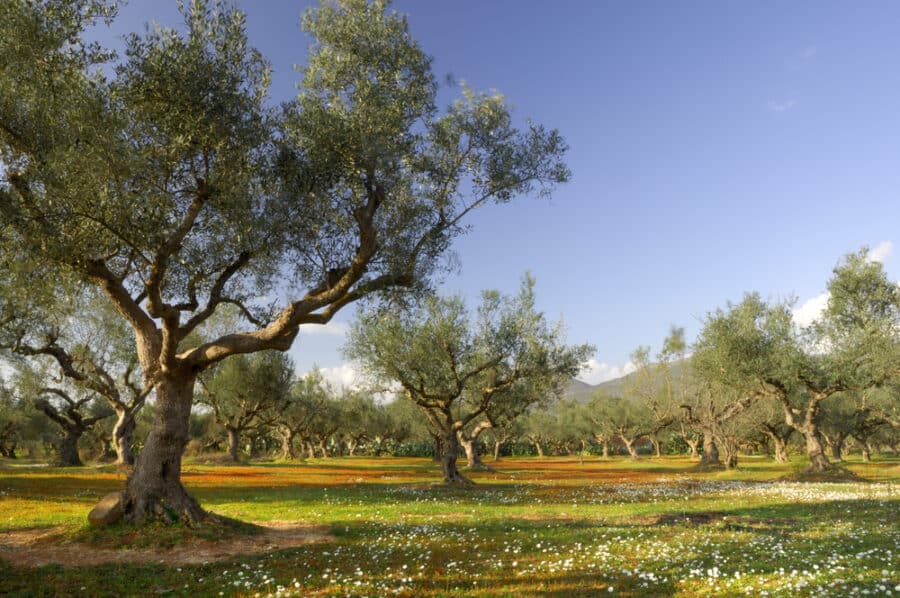 Black Kalamata Olives are the most famous product in the region. However, there is much more than olive groves in the region. Kalamata is also known for its unique dance festival, the old town, the traditional public market, and some of the most delicious figs you will ever try!
How To Get To Kalamata Greece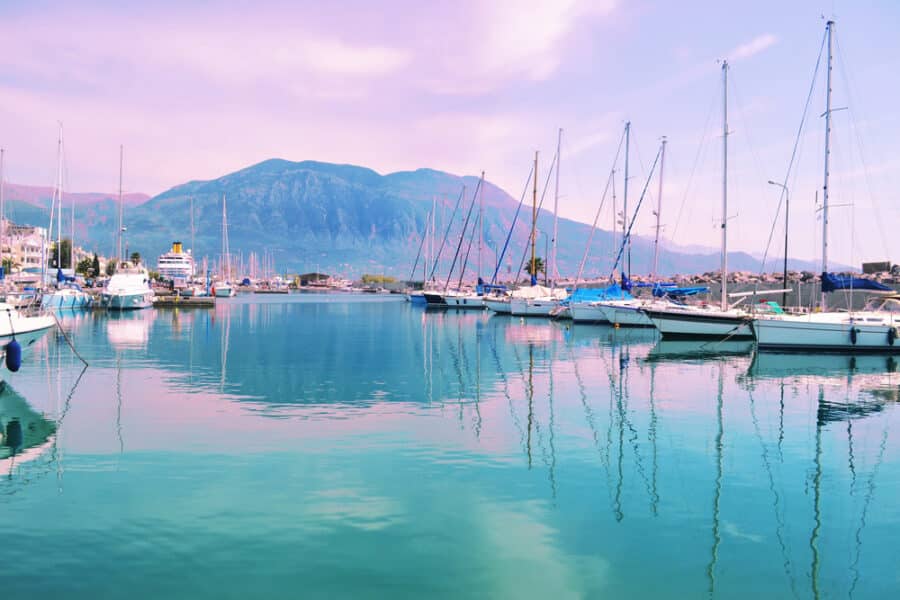 Since Kalamata is a beautiful place to stay to visit other areas of the Peloponnese, this section of the guide can also be helpful if you're visiting the rest of the Messinia region or the Peloponnese.
The best way to get to Kalamata from Athens is by car; the trip is about three hours. On the way there, stopping and admiring the fantastic Corinth Canal or even the ancient sites of Mycenae and Epidaurus with its imposing ancient theater is a good idea.
Alternatively, you can take a bus. The bus to Kalamata departs from the KTEL Kifissos bus station in Athens. The trip also takes about three hours, but keep in mind that traffic tends to be heavy all year round in Athens and the surrounding areas.
The airport of Kalamata receives flights from several European countries, including the UK, France, Austria, Russia, and Germany. There are no direct flights between Athens and Kalamata, although it is possible to fly into Kalamata from Thessaloniki.
TRAVEL COMPANIES WE USE AND TRUST
When Is The Best Time To Visit Kalamata
Kalamata has mild, Mediterranean weather all year round. Since it is not exclusively a beach destination, it is possible to visit any time of the year, especially if you are interested in discovering the local city attractions, including the old town, the museums, and some of the important archaeological sites in the surrounding area.
Instead, if you prefer to enjoy outdoor activities, including hiking or mountain biking, early autumn and spring are the ideal seasons. For beach fans, the summer stretches from the end of May until late September, which happens to be a great time to visit Greece in general.
Visiting during the shoulder season (April-May and September-October) is excellent for budget travelers since prices tend to be lower during those months.
Top Things To Do In Kalamata Greece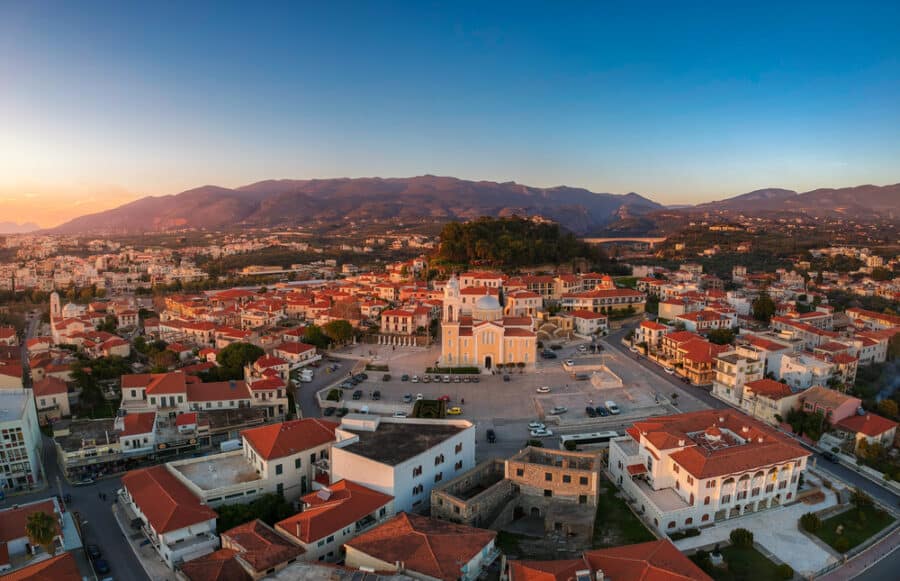 Kalamata is an authentic Greek destination in the Peloponnese, perfect for those travelers who prefer to stay far from overcrowded destinations such as Mykonos, Crete, or Santorini.
The city is also a top departing point to visit the rest of the Peloponnese, it features a kid-friendly sandy beach, and there are a few interesting local attractions to visit. Here are some of the best places to see and the best things to do in Kalamata, Greece.
The Old Town
Just like many other cities in Greece, Kalamata is home to a picturesque old town with cobblestoned pedestrian streets and picturesque houses. The historic area of old Kalamata is located under the city fortress (Kastro) and is dotted with souvenir shops, neoclassical buildings, traditional cafés, and Greek taverns.
This historic quarter is in the northern part of the city and houses imposing churches, such as the Byzantine Church of the Apostles, dating back to the twelfth century.
Ipapanti Cathedral is another place to visit in the old town, featuring famous icons, including an icon of Baby Jesus and the Virgin Mary from 672 AD, that originally belonged to another church and that suffered severe damage during the Ottoman occupation.
Municipal Market Of Kalamata
The central public market of Kalamata is a key place of interest, especially if you like to taste new flavors and discover unique ingredients. The marketplace features about 400 different vendors that are happy to let you taste the unique Kalamata olives, nuts, local cheeses, honey, figs, apples, and lalagia, a typical Kalamata fritter that are genuinely delicious.
The market opens to the public twice a week. You can visit the market on Wednesdays or on Saturdays when most stalls are open.
Victoria Karelias Collection of Traditional Greek Costumes
This place in Kalamta will be interesting for families with kids; the Karelias Collection or Museum of Traditional Greek Costumes is a delightful place to visit in town.
Prepare to embark on a captivating journey through time at the Karelias Collection, an extraordinary museum nestled in the heart of Kalamata. Step into a world where traditional Greek costumes come to life, showcasing the exquisite artistry and cultural heritage of the region.
From intricately embroidered garments to ornate jewelry and accessories, each exhibit tells a vibrant story of centuries-old traditions and the indomitable spirit of the Greek people. Immerse yourself in the meticulously curated displays, where you can admire the dazzling array of colors, patterns, and textures that have adorned generations of Greeks.
The Karelias Collection is a treasure trove of beauty and history, offering an immersive experience that will ignite your imagination and leave you with a deep appreciation for Greece's rich cultural tapestry.
At the Karelias Collection or Museum of Traditional Greek Costumes in Kalamata, you will encounter a captivating display of traditional Greek attire spanning centuries. As you wander through the museum, you will be greeted by a stunning assortment of meticulously crafted costumes, each representing different regions of Greece. The moving exhibits feature an impressive array of garments, including intricately embroidered dresses, embroidered shirts, elaborately adorned vests, and luxurious outerwear.
The collection spanning three levels, also showcases a variety of accessories such as jewelry, headdresses, belts, and footwear, all intricately designed to complement the traditional attire. As you explore each level, you will witness the evolution of Greek fashion and gain insight into the cultural significance and symbolism behind each costume.
The Karelias Collection offers a rare opportunity to immerse yourself in the enchanting world of Greek traditional costumes, where artistry, history, and culture converge in a truly unforgettable experience.
Address: Stadiou 64, Kalamata
Folklore And History Museum Of Kalamata
The Folklore Museum of Kalamata features objects and curious items related to modern times, such as folk objects of domestic use, objects related to the Greek War of Independence (1821), and a super interesting collection of objects related to typography. In fact, Kalamata was the first place in Greece to have a publishing and printing house.
The museum's vibrant displays of traditional costumes, musical instruments, and everyday artifacts transport you to a bygone era, while whimsical multimedia presentations bring historical figures to life in a truly unforgettable way.
Whether you're a history buff or simply curious about Kalamata's heritage, the Folklore and History Museum promises an immersive, fun-filled experience that will ignite your imagination and leave you with a deeper appreciation for the colorful tapestry of Greek culture.
The Castle Of Kalamata
Commonly known as Kastro, the ancient Castle of Kalamata stands on top of a verdant hill dominating the landscape. The building dates back to the thirteenth century and well withstood the several quakes that have affected the city over the centuries.
If you are looking for a good, solitary place with unique views to enjoy the sunset in Kalamata, this is the best area you will find!
Archaeological Museum
Known as the Archaeological Museum of Messenia, this museum exhibits a small collection of objects found in the Peloponnese region. It is simple but well organized and can be visited in less than an hour.
Dance Festival
One of the most important annual celebrations in Kalamata is the renowned Kalamata International Dance Festival which takes place in summer, usually in July. Since the celebration is very popular all over Greece, it is essential to book accommodation in advance when visiting during the festival.
The official site offers details in advance: Kalamata Dance Festival
Check Out The Local City Beach: Paralia Kalamatas
One of the best things to do in Kalamata is to enjoy a seaside walk along the famous seafront promenade, Navarino Avenue. You can stop for a cold coffee or a round of appetizers in one of the many bars and taverns along the road.
Instead, head to the beach if you prefer to relax, sunbathe, or swim. The long Kalamata Beach (Paralia Kalamatas) offers organized areas with comfortable facilities, including umbrellas, showers, bars, and more.
You will also find beaches out of the city center, which you can reach by car or by bus. Santova and Kalamitsi are the most popular ones.
Kalamata Railway Museum
Opened in 1986, this public railway park is home to eight locomotives, eight carriages, some railcars, and a collection of freight wagons. Admire the old railway paraphernalia and marvel at the traditional railway station, which hosts a pedestrian metal bridge, platforms, a water tower, and more.
This open-air museum park is located on 54 acres of land, and visitors can enjoy a day of recreation while visiting with basketball and volleyball courts, two playgrounds, a small lake, and a canteen that can be found on the ground floor of the renovated "Kalamata Port" station.
Best Places To Eat In Kalamata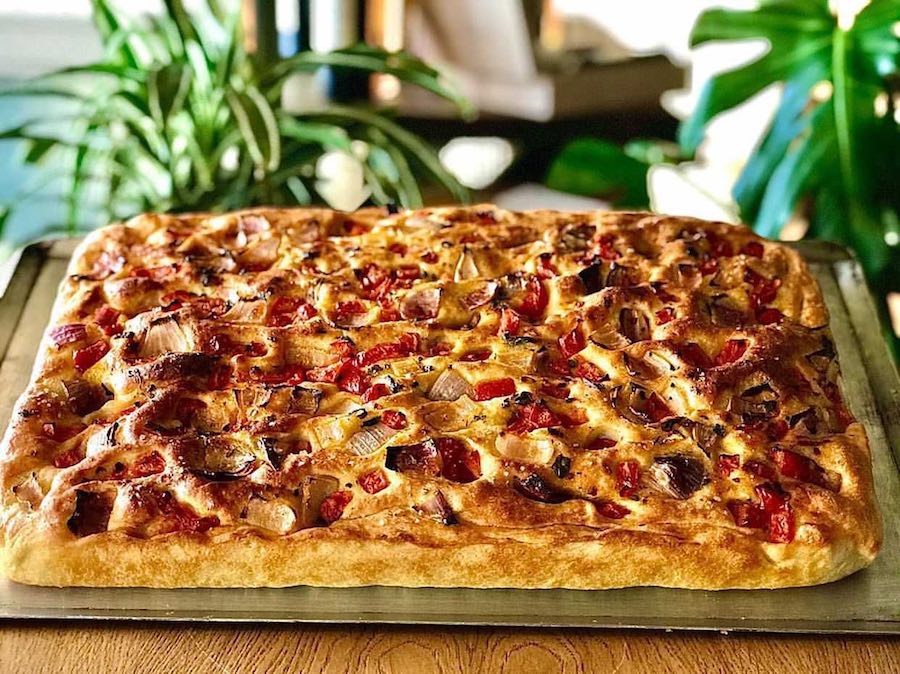 These are some of the most popular places to eat in Kalamata along with places to make food stops for items to take home with you.
Restaurants
Bistroteka
Indulge your senses and satisfy your culinary cravings at BistroTeka, a gastronomic haven in Kalamata. The menu is bursting with tantalizing flavors, which include expertly crafted cocktails. The fusion of Mediterranean and international cuisine tantalizes your taste buds, offering a symphony of exquisite dishes prepared with the finest locally sourced ingredients.
Platea
Platea is a favorite among locals and visitors alike; this unique spot is in the main square of Kalamata. The wine bar and cafeteria also serve a varied menu, including seafood, pizza, pasta, and salads.
Kardamo
Kardamo is one of the best-known places in Kalamata for excellent local dishes. It features a unique menu of comfort cuisine with delicious dishes and traditional Greek appetizers. You can check their website to ​​discover the enticing menu.
Ta Rolla
Ta Rolla is a historic Kalamata food place founded in 1924 by a local returning from the US, where he worked as an immigrant. The family-run restaurant is in the city's center near the central food market. It is known for serving traditional dishes made with fresh ingredients.
Ladolemono
If you are looking for something fast, Ladolemono is where you should head. This local fast food​ lunch stop​ serves excellent Pita & Souvlaki!
Shops And Markets
To Kelari Tis Agoras
Owned by Vaggelis & Dimitra, To Kelarai Tis Agoras is a great local find. This little market sells traditional food products as well as excellent wines using grapes from local vineyards.
​What I suggest you eat and buy

Sfela Cheese (salty)
Graviera cheese (mild)
Kalamata table olives
Petimezi (grape syrup)

​Drinks to buy

any of the

wine

​s​

tsipouro
ouzo

​

​

mastiha
Oikonomakos
Giorgos & Panagiotis have continued the traditions of this historical meat shop, and it continues to remain a local's favorite, with people from Athens turning up to buy 8-10 kilos of meat to take back home even!
​What I suggest you eat and buy

​​

Sigklino (smoked meat)
Orange sausage

​ & ​

pickled eggplant

​ (which comes in a handy plastic jar for easy travel)​
Chrisanthi
Another of our favorite shops on our travels, this food market offers delightful sweet treats.
​What I suggest you eat and buy​

lihnarakia/

kaltsounia –

soft creamy pastr

​ies​

diples – syrupy roll
Koulourakia – Granny's biscuits with olive oil and orange juice
Konstantineas
Konstantineas is THE place to buy fresh bread.
Diakoumis
Head to Diakoumis for local cheese.
Top Places To Stay In Kalamata – Best Kalamata Accommodation
There is a good range of accommodation for your stay in Kalamata. You can choose from various properties with different price options, from small hotels and residences, flats, family-run guest houses, elegant hotels, and resorts. These are my top picks for places to stay in Kalamata.
MAP OF KALAMATA ACCOMMODATIONS
Budget Places To Stay In Kalamata
Hotel Fotini
Hotel Fotini is a 3-star hotel located a short walk from the beach of Kalamata with gorgeous views of the Taygetos Mountains and the Bay of Messinia.
The hotel features bright and ample rooms and suites with private balconies, an equipped kitchen, and a dining area. Everything is only meters from Verga Beach. The property has a seasonal swimming pool, a sun terrace, and a snack bar serving daily breakfast. The hotel also offers free parking facilities.
Click here for more information and the latest prices.
Sunny City Studio
Sunny City Studio is a picturesque apartment for two guests located about two kilometers from the city beach.
The flat is in a modern apartment building. It features one bedroom, a bathroom, a flat-screen TV, a dining area, a fully equipped kitchen, and a balcony with city views. The apartment is eleven kilometers from the Kalamata Airport.
Click here for more information and the latest prices.
Tiny Treehouse
Have you ever stayed in a tree house? Tiny Treehouse east of Kalamata is an original place to stay for two guests offering accommodation with free WiFi, a garden, and free private parking. The treehouse has a bedroom; this holiday home has a patio and a small living room.
Click here for more information and the latest prices.
Mid-Range Places To Stay In Kalamata
Comfy Boutique Hotel
Comfy Boutique Hotel is a contemporary property located a 2-minute walk from the main beach of Kalamata. The 3-star hotel offers minimal accommodation and top-rated friendly service. On the premises, there is also a fantastic rooftop pool with views over Taygetos Mountain.
The boutique hotel has 17 uniquely styled guest rooms with modern en suite bathrooms. Every morning, the hotel offers a rich Greek buffet breakfast, including fresh orange juice, bread, homemade jams and cakes, various juices, and traditional pies. The hotel is in a quiet spot, close to the harbor, with many elegant restaurants, shops, open-air cafes, and bars. This is a family-friendly hotel with comfortable air-conditioned rooms with balconies overlooking the Aegean Sea or the garden.
Click here for more information and the latest prices.
Kalamata Art Hotel
Kalamata Art Hotel is situated in the central square of Kalamata, featuring accommodation with kitchenettes and a gorgeous terrace with city views or balconies.
Guests can enjoy the comfortable bicycle rental service to discover the coastal road and the different areas in town. The hotel is pet friendly.
Click here for more information and the latest prices.
Luxury Places To Stay In Kalamata
Guest House Smaro
Guest House Smaro is a fantastic, traditional stone house with a beautiful garden and air conditioning.
The property is perfect for a big family as it features three bedrooms, two bathrooms, a dining area, a fully equipped kitchen, and a patio with garden views.
Click here for more information and the latest prices.
Grecotel Filoxenia Hotel
Nestled at the foot of the Taygetos Mountains, this luxury hotel and spa is the perfect place to unwind.
Rooms are decorated with calming neutral colors and plush linens, all with sea or garden views and marble bathrooms.
Guests can enjoy the 3 hotel pools, the menu of spa treatments, drinks at the 3 hotel bars and dining at a gourmet restaurant. Definitely a place to stay if you're looking to splurge!
Click here for more information and the latest prices.
Elite City Resort
Elite City Resort is a 4-star beachfront hotel in a strategic position, only a minute from the beach. The resort is situated at the heart of Messinia Bay at the foot of Mountain Taygetos. The property has a large swimming pool, a restaurant, and a decked terrace.
The on-site restaurant Ef Zin serves Greek and international dishes prepared with fresh, local ingredients.
Click here for more information and the latest prices.
Places To Visit Near Kalamata
When exploring Kalamata, you can embark on a day trip to discover some of the most gorgeous corners of the Peloponnese.
Sparta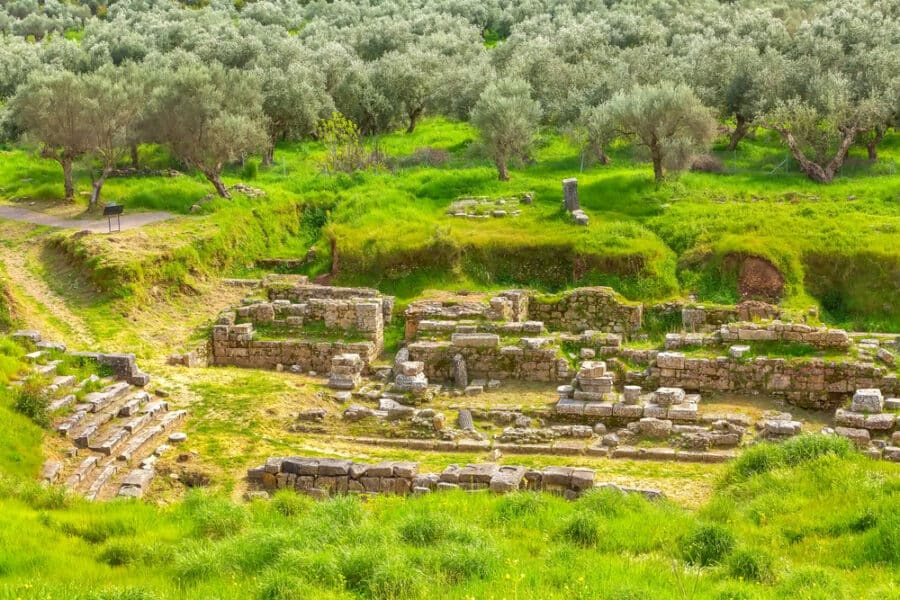 Some places to explore include Sparta, with its fascinating museums, such as the Museum of Olive Oil and Greek Olive Oil, where you can learn about ancient olive presses, interact with scale models, and learn about all the uses of olive oil.
Gythio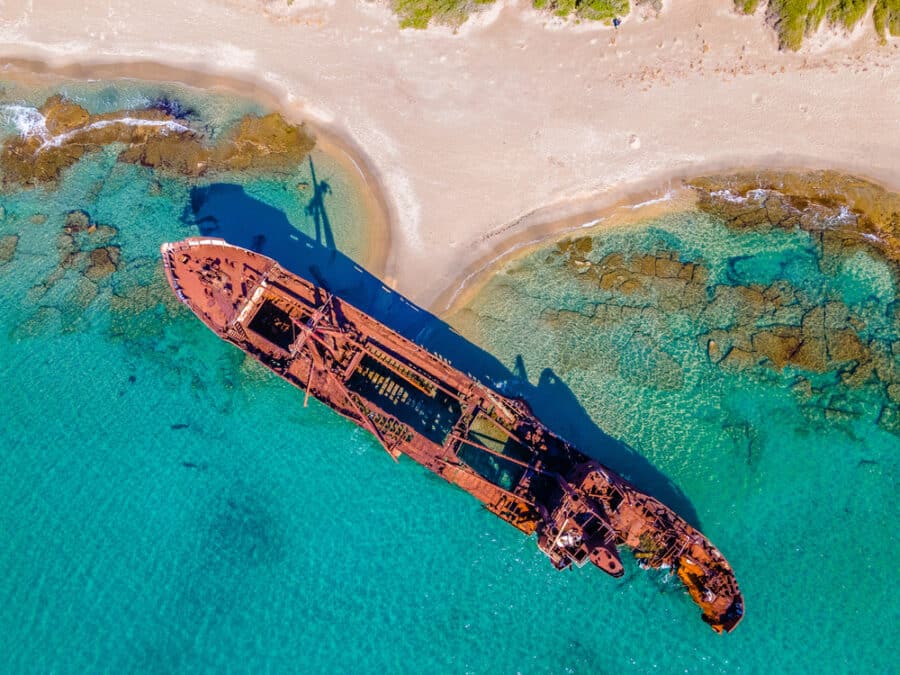 Another wonderful nearby place to visit in the nearby area is Gythio. A small but significant town on the eastern coast of the Mani Peninsula, Gythio was the Ancient Seaport of Sparta. It is a traditional port town with dozens of delicious fish taverns and authentic cafés.
Messinia Beaches & Mystras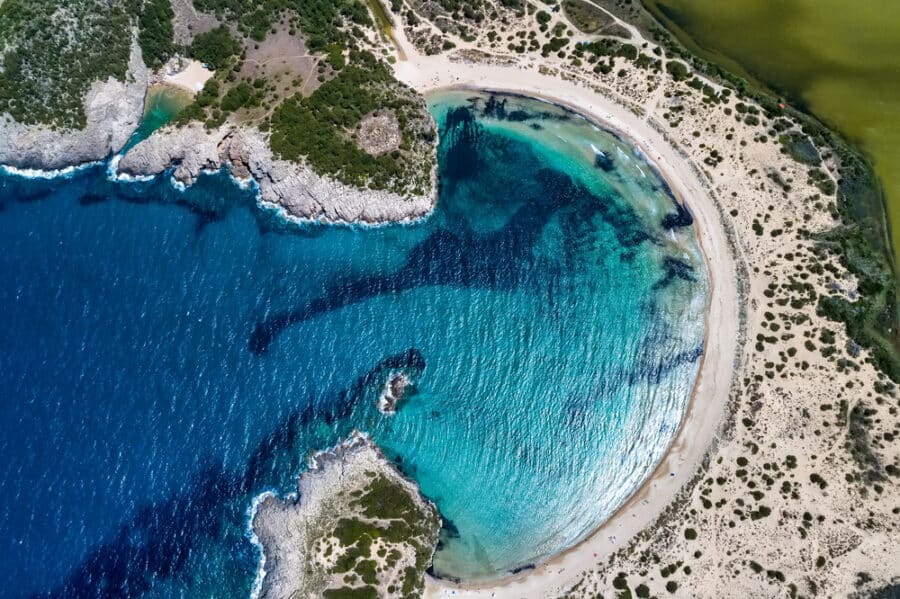 It is also possible to discover the beaches in Messinia or explore the ancient city of Mystras.
A UNESCO-protected site, home to one of the most impressive ruins dating back to Medieval times, where you can admire the ruins of abandoned monasteries, palaces, and the imposing Castle of Mystras.
KALAMATA GREECE FAQs
Where is Kalamata located?
Kalamata is a city located in the region of Messenia in the southern part of the Peloponnese peninsula in Greece.
How can I get to Kalamata?
You can reach Kalamata by air, as it has its own international airport (Kalamata International Airport – KLX) with domestic and international flights. Alternatively, you can also access the city by bus or car.
What are the popular attractions in Kalamata?
Kalamata offers various attractions, including the Kalamata Castle, the Archaeological Museum of Messenia, the Municipal Railway Park of Kalamata, and the beautiful Kalamata city beaches.
Is Kalamata known for its olives?
Yes, Kalamata is famous for its Kalamata olives, which are dark purple olives with a unique almond shape and a rich flavor. They are widely exported and known as one of the most popular Greek olives.
What is the best time to visit Kalamata?
The best time to visit Kalamata is during the spring (April to June) and autumn (September to October) when the weather is pleasant and the tourist crowds are not as large as during the peak summer months.
Are there any nearby beaches worth visiting?
Absolutely! Kalamata has some beautiful nearby beaches, including the sandy beach of Almyros and the pebbly beach of Mikri Mantinia. Both offer clear waters and scenic views.
Can I explore the surrounding countryside from Kalamata?
Yes, Kalamata serves as a good base for exploring the picturesque countryside of Messenia. You can visit historical sites, and traditional villages and enjoy the scenic landscapes.
What are the local dishes I should try in Kalamata?
When in Kalamata, don't miss trying local dishes such as "Kalamata pie" (a savory pie with olives and feta cheese), "Pasteli" (a sesame and honey candy), and fresh seafood from the Mediterranean Sea.