Some posts contain compensated links. Please read this disclaimer for more info.
Where To Stay In Slovenia (Best Hotels In Slovenia Included!) For 2022
Slovenia is seriously on the tourist map these days, and with some of the most stunning countryside and scenery on offer, it's really no wonder. The cities are a melting pot of culture. The small but lively capital, Ljubljana, is a fantastic place to visit for those who want to experience Slovenian traditions but do it all with a modern twist.
Of course, the country lies in what most people called the Balkans (though some here hate that term), with the huge Julian Alps dominating the scenery and a stretch of Adriatic coastline. This all means that anyone wanting to experience the great outdoors is perfectly catered to here, while beach lovers also have more than enough chances to enjoy the crystal-clear waters and white sand.
Whether you're visiting the capital, the second city of Maribor, Bled with its famous lake, or Idrija, or perhaps Piran, amongst many other destinations, you will t no doubt think about where you're going to stay. Below, we've compiled the best places to stay in Slovenia for you.
Check out these suggestions of where to stay in Slovenia in 2021.
Best Hotels In Slovenia For 2022
Hotels In Ljubljana
Antiq Hotel Palace & Spa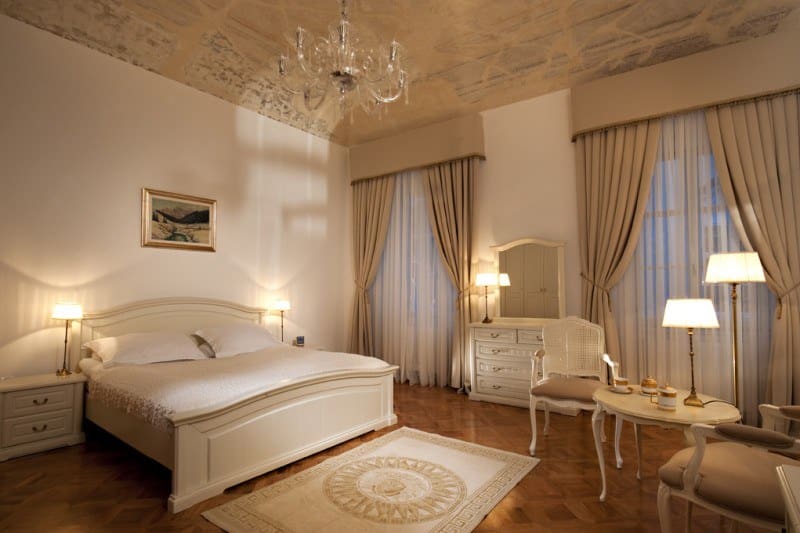 The capital is home to plenty of superb accommodation, so if you're wondering where to stay in Ljubljana, you'll have numerous choices. This particular hotel is one of the best options, upmarket without the price tag. Set in a 6th-century house, this is a high-end hotel choice, located within walking distance from all the main attractions, such as Ljubljana Cathedral and Castle.
The rooms are decorated in a sophisticated and opulent style, with wooden furnishings and a comfortable, spacious vibe. All rooms come with free Wi-Fi as standard, flat-screen TV, minibars, and coffeemakers for your morning java.
Continental breakfast is served free of charge in a large on-site restaurant, while there are two bars to choose from when it comes to evening drinks. If you want to up the style, there is a spa with a hot tub, three saunas, treatments, and a fitness center. For your evening chill out, head to the garden lounge, with roaring fires in the winter and a relaxed vibe in the summer.
Check Rates or Find More Ljubljana Hotels Here
Cubo Hotel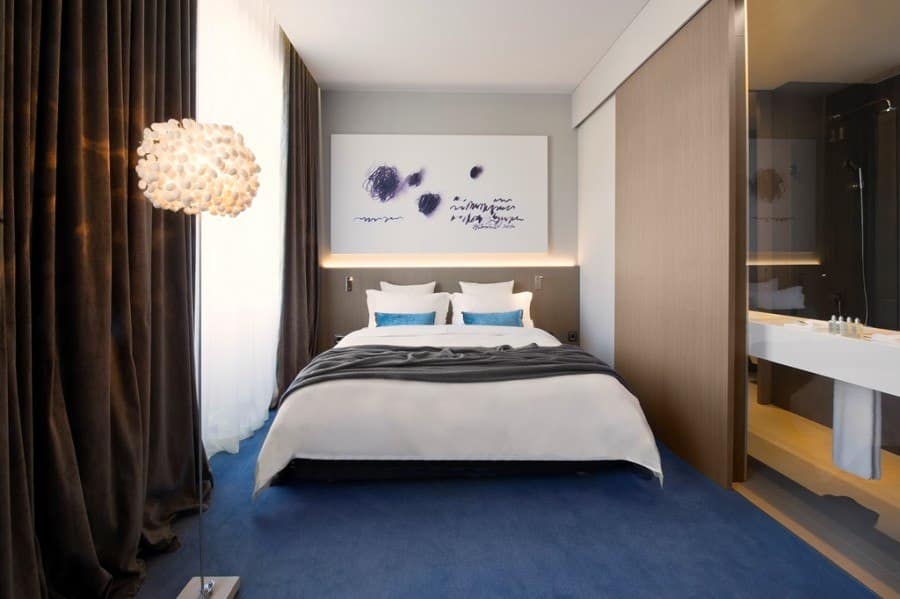 Many hotels in Ljubljana are stylish, and this particular one is no different. Modern with hints to the past, the Cubo Hotel is very centrally placed, around three minutes from Congress Square. Rooms are equally as modern, with flat-screen TVs, minibars, and all mod cons. There is free Wi-Fi throughout, including in the rooms, and toiletries are also complimentary – always a plus!
The 26 rooms in this boutique hotel keep the whole experience intimate and service personal. The hotel lies mere minutes from major highlights in the city, such as Ljubljana Castle and the Triple Bridge. Some rooms even feature a view of the castle!
Again, breakfast is free, and the restaurant serves local and international dishes for you to choose from. Seafood is a big specialty here, so certainly give it a try if you love anything fishy! If you'd like to go out instead, there are numerous bars, restaurants, and cafes just a short stroll away. The on-site fitness room will allow you to work off any indulgences. The fact that you are so centrally based by choosing this hotel means exploring the city itself is easy, without worrying about public transport.
Check Rates or Find More Ljubljana Hotels Here
Vander Urbani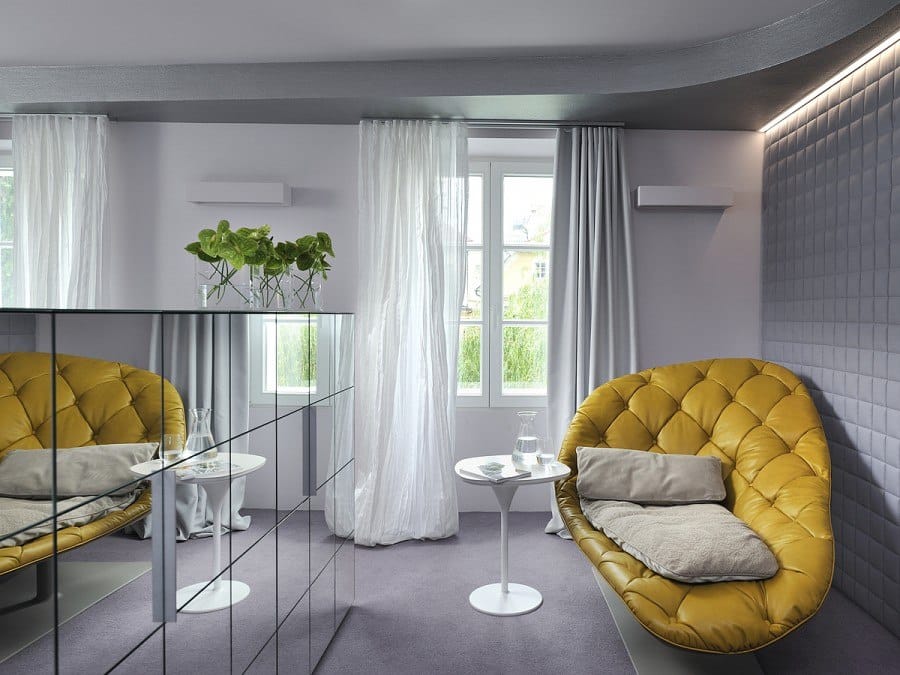 This particular hotel is one of the capital's more modern options, with sleek lines and glossy surfaces everywhere you look! Located right in the heart of the city, it is close to everything, so you don't need to worry about transport. Everything is accessible on foot. Despite its modern appearance, the hotel is immaculate and comfortable, with many amenities to make your stay that little bit more special, such as the wine cellar and a la carte restaurant on site. If you love trying local food made from fresh produce, this is the place for you to dine.
Looking out over the city from the rooftop terrace is a fantastic way to end the day, and there is also a rooftop swimming pool and yoga studio for those endless sunny days.
This particular hotel is great for business travelers and those looking for a modern hotel without the older feel to some other places. It is a very upmarket option for your stay in the capital!
Check Rates or Find More Ljubljana Hotels Here
Hotel Nox

Boutique hotels are often found in major cities, and this particular hotel is a very modern and stylish choice. Located just under ten minutes' walk from the city's main center, you are within easy reach of everything while being out of the main hustle and bustle. The hotel offers family rooms and standard rooms, with family rooms having an extra adjoining bedroom.
If you want to up the glamour, you can upgrade to a suite with an additional sitting room and a few other extra perks. Rooms are all individually decorated in a minimalist manner, with flat-screen TVs, free minibars, and Wi-Fi.
You might think that being in the center of the city is enough to choose accommodation. However, being comfortable is a must as well, especially when you have been pounding the pavements for hours, checking out the sights. The central location of this hotel is, therefore, perfect.
Check Rates or Find More Ljubljana Hotels Here
Radisson Blu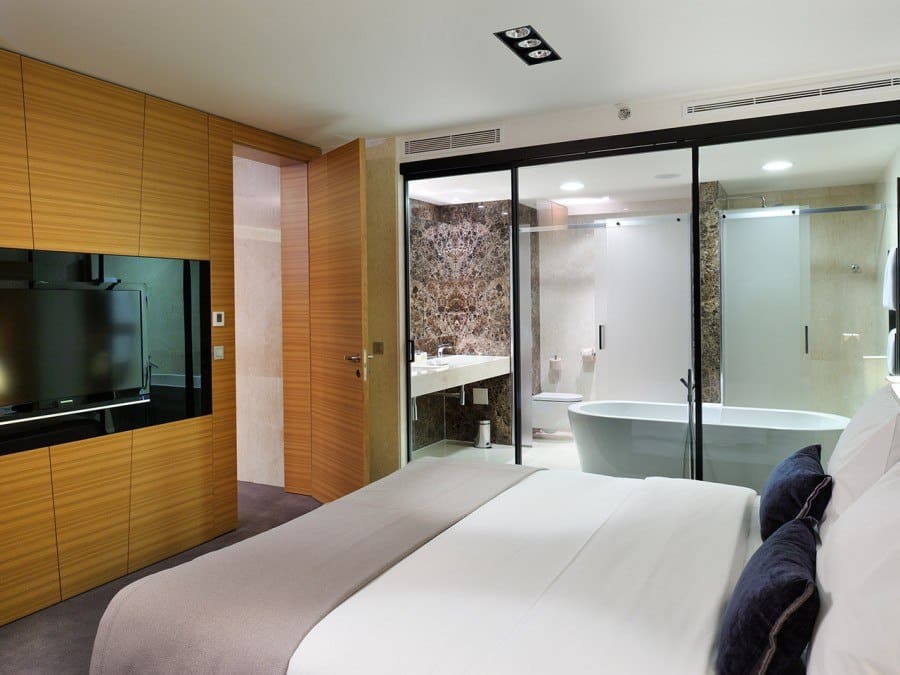 We all know that Radisson is a huge name in the hotel world, so that should give you instant reassurance that you will get quality. This Ljubljana hotel is no different. This is a stylish option and a great one for both business travelers and couples. The hotel is located around 8 kilometers from Congress Square, so while it isn't completely central, it is far enough away to be quiet, but close enough to allow ease of travel.
Rooms are modern and contemporary, with Wi-Fi throughout the hotel, including in rooms, flat-screen TVs, and minibars. Suites can be upgraded to enjoy extra perks, such as Nespresso machines and separate living room/seating areas. The free breakfast buffet will fill your belly, prepare you for exploring, and guests also enjoy access to the waterpark nearby. The on-site restaurant serves regional and international dishes, for perhaps trying something new while meeting rooms/business facilities are on hand for anyone who needs to do a spot of work during their visit.
Check Rates or Find More Ljubljana Hotels Here
Hotel Slon
Located in Ljubljana's heart, Hotel Slon is one of the most unique places to stay in the capital. Its name literally means "elephant" in Slovenian. This historic hotel dates from the mid-19th century, and upon completion, people considered it the most modern and beautiful hotel in the entire city.
The hotel lives up to this standard to this day, offering a wide variety of amenities and no fewer than 170 rooms and suites spread across six floors. There is a fitness center and spa, a bar and restaurant, and even a pastry shop. Free Wi-Fi is available, while valet parking is convenient in this pedestrianized area in the city center. If you're looking for cheap hotels in Slovenia, this one offers some serious value for money, being more affordable than many similar hotels in Ljubljana.
Check Rates or Find More Ljubljana Hotels Here
Hotels In Bled
Hotel Triglav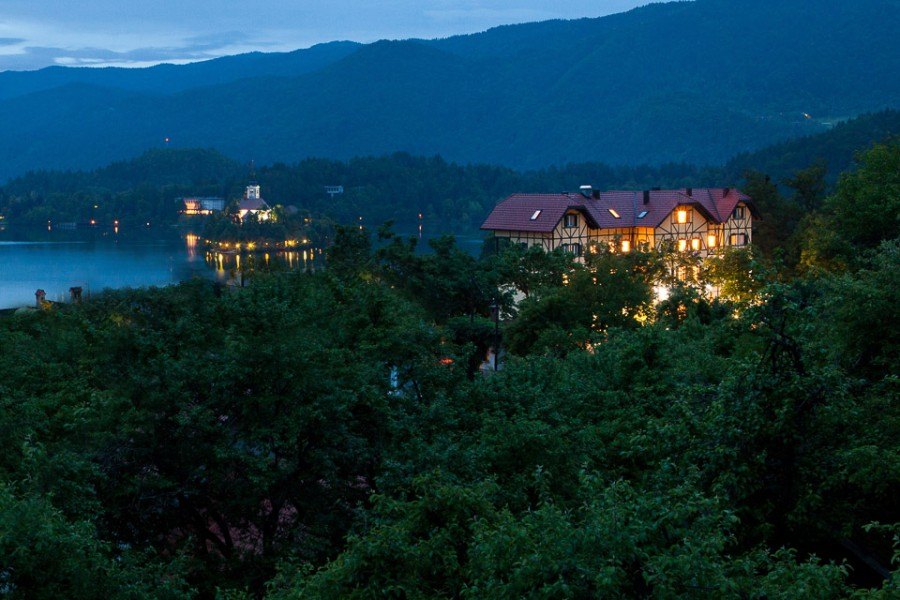 If you're thinking about where to stay in Bled, there are many options to choose from, including the Hotel Triglav. A comfortable base to explore the Lake Bled area and its beautiful countryside, this particular hotel has lots of history. Every history buff will love its architecture dating back to 1906, while the décor is elegant and sophisticated.
Boasting arguably the greatest Slovenia location for a hotel, you overlook the lake itself, which is a fantastic sight to wake up to in the morning! The actual lake is only two minutes away on foot, and the hotel is also very close to Bled Castle and the train station.
The hotel rooms themselves are very comfortable, and most have balconies with lake views. The breakfast is buffet-style and complimentary, and the restaurant overlooking the lake is a wonderful place to sit and relax while you fuel up. If you love wine, the rustic wine cellar is the place to go. Alternatively, perhaps you simply want to head for a swim in the indoor pool before warming up in the spa and sauna.
Check Rates or Find More Ljubljana Hotels Here
Grand Hotel Toplice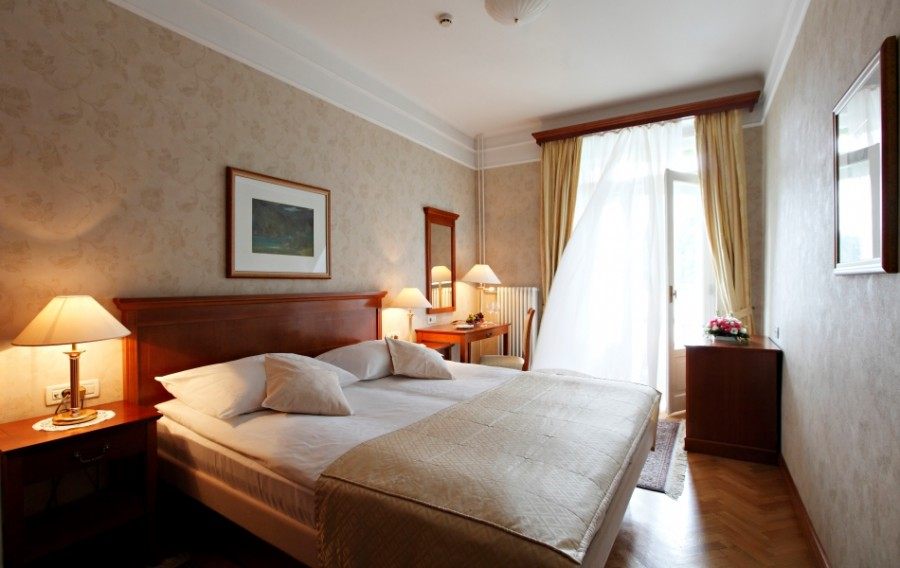 Right on Lake Bled banks, you will find this beautiful hotel backed by the imposing Julian Alps. Because of the natural and idyllic surroundings, you can expect this hotel to be a little more upmarket, and that's certainly the case. The hotel is a 19th-century throwback and is close enough to Bled's central town to allow ease of travel but far enough away for relaxation.
Rooms are decorated very traditionally, and all have a lake view. Internet is available in the rooms, and there are flat-screen TVs and fridges for keeping your refreshments cool. If you upgrade to a suite, you are given an additional living room area.
There are also restaurants on site, a private beach, and a boathouse. The spa opens up a world of treatments to you, while the comfortable indoor pool is heated to optimum temperature. Basically, a stay at this wonderful accommodation in Lake Bled is relaxing with a capital R.
Check Rates or Find More Ljubljana Hotels Here
Pension Vila Prešeren
There is hardly a better setting for a hotel than this one. Located under two cliffs of Bled Castle, right on the iconic lake's shores, which the town is best known for, this is a traditional villa dating back to the 19th century. It has two suites available, as well as six standard rooms. If you want to stay in the middle of town, while also being in one of the most scenic positions in the area, this is definitely the best Bled accommodation.
The ground floor of this Lake Bled pension is quite sophisticated, as it has an on-site coffee shop, selling all manner of drinks and snacks, including pastries and cakes. The restaurant is also top-notch and has an extensive wine menu. If you want to head outside on a warm day, the terrace overlooks the lake and countryside beyond. Despite its contemporary and stylish décor, the hotel is very homely, which is the ideal base for a break in this beautiful area, unquestionably one of the best places to visit in Slovenia.
Check Rates or Find More Ljubljana Hotels Here
Garden Village Bled
A few minutes away from Lake Bled, this spectacular place offers romantic, adventurous, exclusive, and almost surreal accommodation. While technically not a hotel, this is one of the best places to go glamping in Slovenia, basically staying in an adventurous, outdoor-focused hotel.
You can choose from sleeping in treehouses, pier tents, glamping tents, or a luxury family apartment. Fun, comfortable yet glamorous, natural and private, with a special nook for the newly-weds, no campsites in Slovenia come close to this. Moreover, all the fish you can catch in their fish pond can be prepared for you at the restaurant on site.
Alternatively, the Garden Village Bled restaurant is one of the most fun places to eat in the entire country. Herbs and grass grow on the tables while a bubbling stream flows right through the venue. Lake Bled camping huts don't get much better than this!
Check Rates or Find More Ljubljana Hotels Here
Hotels In Soca Valley
Hotel Hvala
The valley of Soca is a stunningly beautiful and very natural area of Slovenia to visit, and many of the accommodation options in this region are very rustic and often family-run. Hotel Hvala is no different but has many added extras thrown into the mix. Located just a stone's throw from the town center, this is a relaxed and laid-back hotel providing comfort for low prices.
There is free Wi-Fi throughout the hotel, with in-room TVs and large balconies to enjoy the scenery. Breakfast is also included in the price, so you can fill up before you start exploring one of the most unique places in Slovenia.
The significant difference between this hotel and other Soca Valley accommodation is that there are a few comfort extras. These include a sauna for chilling out, an upscale restaurant, and a very knowledgeable staff, who can offer some useful tips for exploring this region, certainly one of Slovenia's most beautiful places.
Check Rates or Find More Ljubljana Hotels Here
Hotel Dvor
Housed in a former medieval estate, Hotel Dvor consists of two houses set in the heart of the Brda wine region. Surrounded by undulating vineyards and offering fantastic views, this beautifully restored hotel is ideal for a rustic and peaceful getaway in the Slovenian countryside. There are five rooms and five apartments, all featuring modern amenities. A swimming pool is also available to guests.
Hotel Dvor is one of the best and most tranquil places to stay in Slovenia with the family, with its relaxed vibe and friendly hosts. Additionally, it also has one of the most fantastic Soca Valley restaurants. Breakfast on the sun-soaked terrace is an absolute delight in the morning, while evening dinners are prepared with home-grown and/or locally sourced produce.
Check Rates or Find More Ljubljana Hotels Here
Tourist Farm Kranjc
Anyone who's into agritourism should definitely check out Tourist Farm Kranjc, situated less than four kilometers from Kobarid in the gorgeous Soca Valley. This wonderful family-run farm offers accommodation in eight rooms and one family room. You can enjoy an extensive breakfast in the dining room, which is also the setting for evening dinners, prepared with produce from the farm's own garden. That garden is also a popular spot for al-fresco drinks.
This amazing, family-friendly tourist farm is a superb base from which to explore the Soca Valley and Triglav National Park. Nearby, Kobarid is a hub for outdoor activities, from hiking and canoeing to paragliding, canyoning, and whitewater rafting.
Check Rates or Find More Ljubljana Hotels Here
Hotels In Bohinj
Hotel Majerca
A 4-star hotel in Stara Fuzina, Bohinj, Hotel Majerca is a great base to explore the beautiful Lake Bohinj area, including the glorious farmlands and spectacular Triglav National Park. The property consists of free private parking, a garden and terrace, a restaurant and bar, and well-equipped rooms. All units have a private bathroom, flat-screen satellite TV, seating area, and a desk.
Free WiFi is available, while guests can also indulge in an a la carte breakfast in the morning. Additionally, there's room service as well. The hotel has a ski pass sales point and bicycle rental service, too. It's highly recommended to adventurous travelers, with easy access to hiking and biking paths, ski slopes, and water-based activities.
Check Rates or Find More Ljubljana Hotels Here
Hotel Gasperin
One of the top-rated hotels in Bohinj, Hotel Gasperin, lies in Ribcev Laz, which is within Triglav National Park and mere minutes from Lake Bohinj's shore. Accommodation is available in en-suite rooms with a fridge, satellite TV, desk, and air-conditioning, among other features.
Guests can stay in touch with the rest of the world thanks to complimentary WiFi, while the communal lounge area has a TV, a selection of books, and various board games. In the morning, they can fuel up with an elaborate buffet breakfast, including cold cuts, cheeses, hot dishes, cereals and bread, fruit, and veggies. Hotel Gasperin is also a quick stroll from the town center, which has numerous shops, cafes, and restaurants.
Check Rates or Find More Ljubljana Hotels Here
Don't miss our giant post on Lake Bohinj hotels for more great ideas!
Hotels In Luče
House Raduha
Situated in the historic center of Luče, a small town in northern Slovenia, House Raduha is named after Raduha Mountain. This is not so much a hotel as a collection of wooden houses designed to offer guests a chance to reconnect with nature. The interior is exceptionally cozy, featuring felted decorations, lavender cosmetics, and flax fabrics. Additionally, there is a private massage pool, free Wi-Fi, and an LCD TV.
If you're planning your itinerary and figuring out where to stay in Slovenia, it's worth making the detour to just stay at this sensational place. Besides the superb accommodation, House Raduha is also renowned for its world-class food. The dishes served are prepared according to the recipes from a trifecta of cooks: the owner's mother, grandmother, and great-grandmother. All ingredients are sourced locally to offer an authentic taste of this gorgeous region.
Check Rates or Find More Ljubljana Hotels Here
Hotels In Piran
Hotel Piran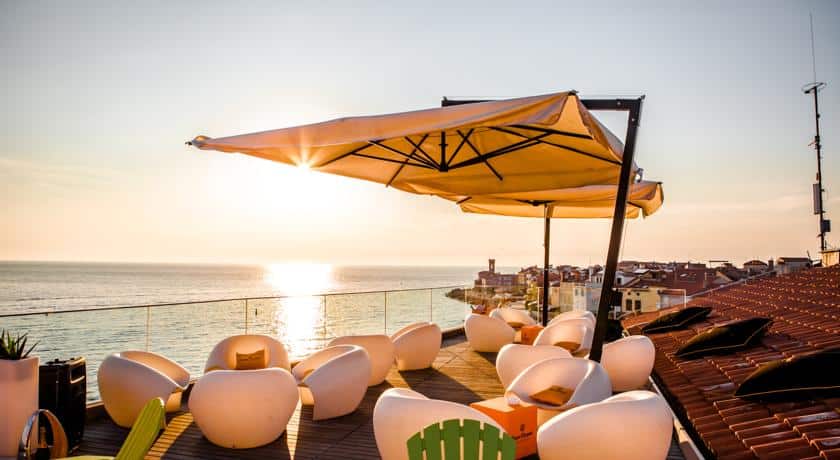 Piran is the perfect city to explore when looking for a seaside destination in Slovenia. With picturesque coast views and a Venetian city vibe, it's worthwhile to stay close to the water's edge. Hotel Piran is situated between the Adriatic and Piran's old town, giving guests 4-star luxury with stunning views of both the sea and the city's ancient architecture.
Comfortable rooms come with free Wi-Fi and extra comforts like room service to make your stay cozy. Family rooms are available, and pets are also allowed, making the accommodation great for families of all kinds. An aromatherapy boutique on-site will have your sore muscles relaxed in no time, and the short one-minute walk to the beachfront will keep your days full of saltwater, sunshine, and sea breezes.
Other fun extras include packed lunches, bike rentals, the on-site library, and water sports facilities. There is something for everyone to love about Hotel Piran, one of the most lavish Slovenia hotels.
Check Rates or Find More Ljubljana Hotels Here
Hotel Tartini
The popular and well-rated Hotel Tartini is without question one of the best hotels in Piran, Slovenia. This 3-star hotel boasts a perfect location overlooking the town's main square and a short stroll away from numerous cafes, bars, and restaurants. The summertime rooftop terrace is where you'll have some of the best views in town (except the one from the church tower, of course). There's nothing quite like enjoying an Adriatic sunset from up there!
What sets this hotel apart is its extremely friendly staff, extensive buffet breakfast, and, again, sensational location. When you're not out and about exploring picturesque Piran, you can relax with a good book at the Tartini Coffee House.
Check Rates or Find More Ljubljana Hotels Here
Second Life In Piran – Hotel Zala
Situated in the middle of the Piran town center, Second Life in Piran – Hotel Zala is mere steps from the wonderful waterfront promenade. Previous visitors consistently rate its location as 5 stars. Tartini Square is only 5 minutes away, while the ferry terminal to Venice is less than a kilometer from this excellent Piran hotel.
In terms of amenities, there's free WiFi and a variety of dining options. All rooms have air-conditioning, a flat-screen TV, and a bathroom with a bath or shower. Once you step outside the front door, you can explore Piran's charming narrow streets, enjoy beautiful Adriatic Sea views, and go shop and eat at local boutiques and restaurants.
Check Rates or Find More Ljubljana Hotels Here
Hotels In Portoroz
Kempinski Palace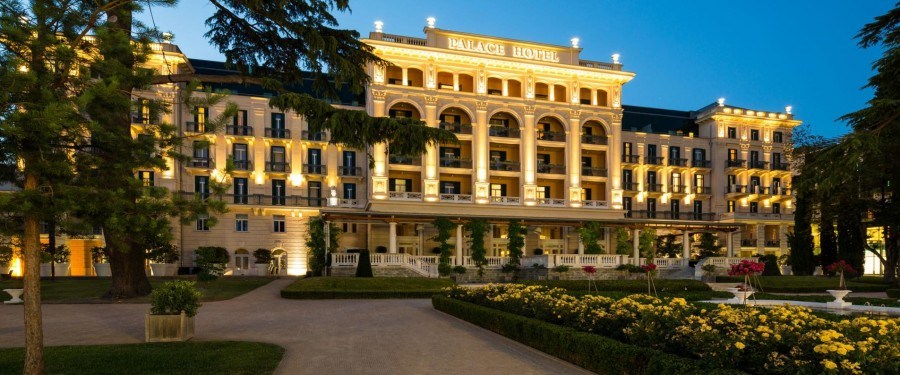 If you're looking for a breathtaking view over the sea, head to Portoroz and check out Kempinski Palace. The word 'palace' appears in that description because that is exactly what it is. This is a former palace that was often visited by royalty and is now a hotel located on a high hillside, gazing out over the Adriatic.
The hotel is very close to several areas of interest, including Secovlje Saline Nature Park. You can choose between a view of either the garden or the sea from your room, which comes with flat-screen TVs, minibars, and Wi-Fi. If you want a suite, you can upgrade easily and enjoy a large kitchen space and possibly even a whirlpool tub.
The large restaurant is authentic and rustic, serving some of those delicious Slovenian dishes. There is also an outdoor pool for those warm sunny days and a kids club, which makes this an excellent choice for traveling families. If you're searching for "luxury hotels Slovenia," it's hard to imagine a better result than this one!
Check Rates or Find More Ljubljana Hotels Here
Hotels In Toplice
Hotel Balnea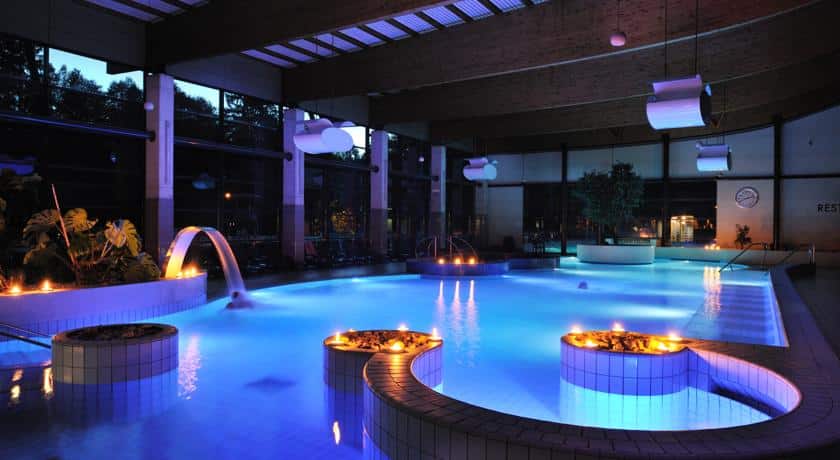 This particular hotel is a relatively new option, which means it is ultra-modern and packed with mod-cons to enjoy and take advantage of. Toplice is a stunningly natural village, which visitors will love to explore and enjoy the welcoming culture. There are 62 rooms, all luxurious and high-end but warm and comfortable at the same time. The fitness studio will sort out any exercise urges, and there is also a wellness center built onto the hotel for anyone who feels like some pampering.
Despite this high-end nature, the feel is still very relaxing, which perfectly fits the green surroundings. You may pay a little more for this hotel, though. However, if you want to splash a little and enjoy your comforts, this is an excellent choice for couples, groups, and anyone who enjoys being surrounded by nature. A highly recommended hotel, this is one of those unique places to stay in Slovenia.
Check Rates or Find More Ljubljana Hotels Here
Hotels In Ptuj
Hotel Mitra
This modern hotel is indeed packed with character, with around 29 rooms for guests to stay in and four suites available for an upgrade. Rooms have a double bed and are furnished in four different styles. Depending on which room you go for, the styles include hints to the Middle Ages, Roman Era, secession, and a modern theme. Whichever you go for, you will be privy to modern surroundings and comfort.
The restaurant offerings are extensive and varied, so there is certainly something for everyone. Additionally, there is also a coffee house and wine cellar for those morning and evening libations. Mithra's garden is ideal for chilling out and casting your cares away. This is a great hotel to get away from the busy nature of the main town, while at the same time also being a short distance from all the action. Business travelers are catered for with meeting rooms and computers on hand. However, this is an ideal hotel for all kinds of visitors, including families and couples.
Check Rates or Find More Ljubljana Hotels Here
Hostels In Slovenia
Hostels In Ljubljana
Zeppelin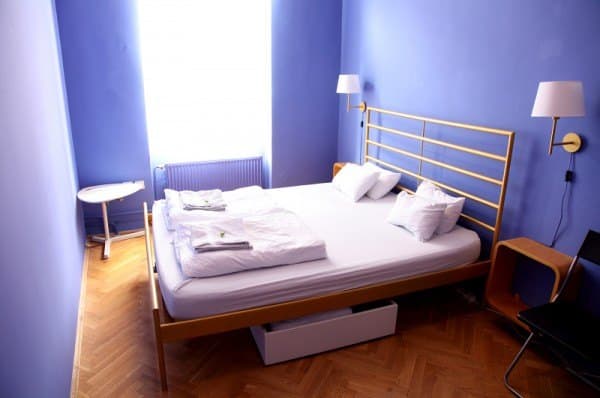 This Ljubljana hostel is located right in the city center, which is a requirement for anyone who wants to truly explore this historic city's culture and architecture. It lies only five minutes' walk from the central train station. Upon walking in, you will instantly see that this hostel is bright, colorful, and packed with character. The staff are accommodating and knowledgeable and will be more than happy to help you with any advice on what to see and do. They are all former young travelers themselves.
Room-wise, you can expect a few double rooms. However, these will need to be booked ahead of time. The main accommodation options are dormitory rooms, which are available at very affordable prices. As we mentioned, the décor of the whole place is bright, making it a comfortable, friendly, and ideal as a central base, a great place to stay for budget-conscious, cheap holidays to Slovenia.
Check Rates or Find More Ljubljana Hotels Here
Vila Veselova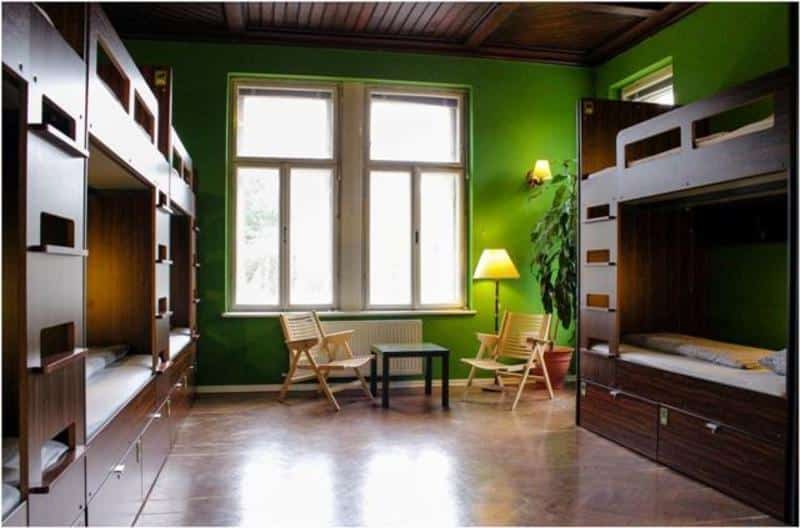 Many hostels are extremely central in cities and great bases for urban exploration. However, if you don't want to be in the middle of the noise, but you still want to be close enough to be able to get there with ease, this particular Ljubljana hostel is ideal, a wonderful option for Slovenia budget travel. This is a traditional building, designed over a century ago, yet it has a very modern feel.
The staff is on hand to help you with anything you need, and there is also endless tea, coffee, and juice on hand for you to enjoy throughout the day and night. The kitchens are fully equipped, so you can cook your own meal if you don't want to head out on any particular evening.
Rooms are dormitory-style, and again, if you want access to one of the private double rooms, you should book ahead of time to be sure to get one.
Check Rates or Find More Ljubljana Hotels Here
Celica Art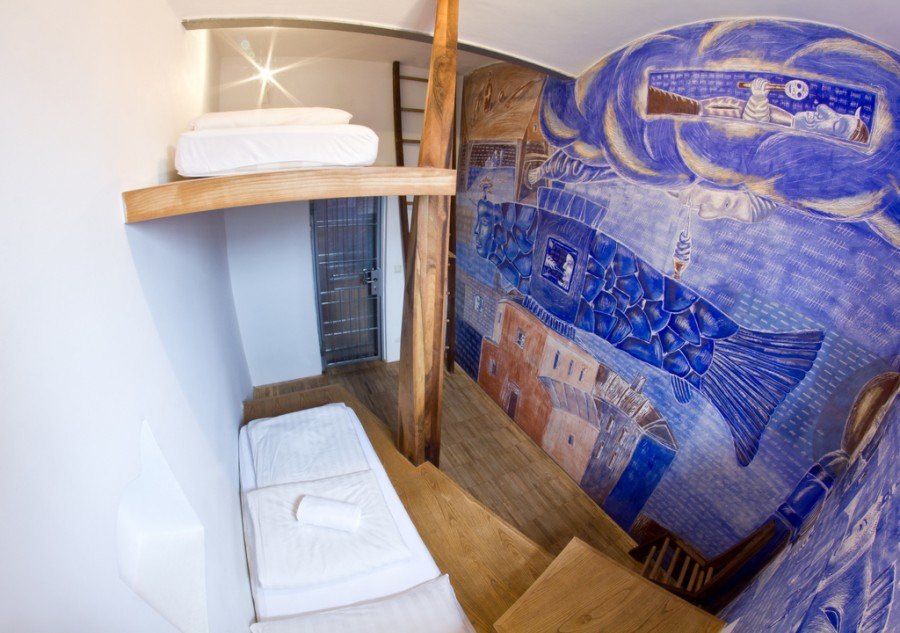 For hostels offering you something a little different, a unique stay, you can't find anything better than this! Located in a building that used to be a prison, rooms are still cells, but local artists have decorated them to feel more comfortable. If you've ever fancied staying in prison, without the charges, this is for you!
The hostel is only around 8 minutes on foot from the center of the city. Packed with historical character, this is certainly a quirky establishment, offering truly exceptional accommodation in Slovenia. Rooms can accommodate up to five people, and mixed or single-sex rooms are available, with shared bathrooms. Some rooms have en-suite bathrooms.
Free Wi-Fi is available everywhere, and a buffet breakfast is also included in the price. On top of that, there is an on-site café to enjoy and a bar and garden terrace, equipped with hammocks for summer relaxation.
Check Rates or Find More Ljubljana Hotels Here
Hostels In Bled
Jazz Hostel & Apartments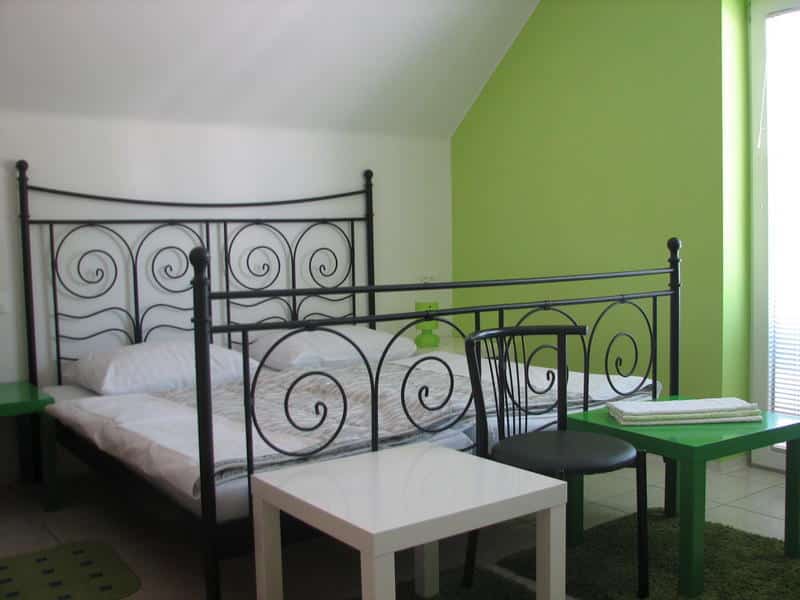 The capital doesn't claim all the hostels in Slovenia; there are also a few hostels in Bled. This is one of those hostels near Lake Bled. Much more like a cheap hotel than a traditional hostel, it is run by a local couple who can give you tons of information on things to see and do. Set in the middle of the great outdoors, this is ideal for anyone who wants to be surrounded by nature and explore on foot.
Rooms are dormitory-style, have four beds included (two sets of bunk beds), and are spotless and spacious. Large lockers are provided for your belongings, while there are two shared bathrooms for the rooms. The kitchen is clean, large, and well-equipped, so you can quickly rustle up a meal for your breakfast or dinner on site.
Check Rates or Find More Ljubljana Hotels Here
Hosteller
A great answer to the question "where to stay in Lake Bled?" this small, family-run hostel is a little larger than some other hostels in the region. It can house up to 15 people at any one time. Located right in the heart of the beautiful Bled countryside, around 900 meters from the lake itself, this is ideal for anyone who isn't interested in towns and wants to breathe in the fresh, country air.
Wi-Fi is available in public areas of the hostel, and there are plenty of lockers available for your belongings. The terraced outdoor area overlooks the countryside and surrounding lake, with a BBQ area for summer treats. The staff is on hand to help give you advice on what to see and do in the area, as well as hiring bikes if you want to head out and get a little exercise during your visit.
Check Rates or Find More Ljubljana Hotels Here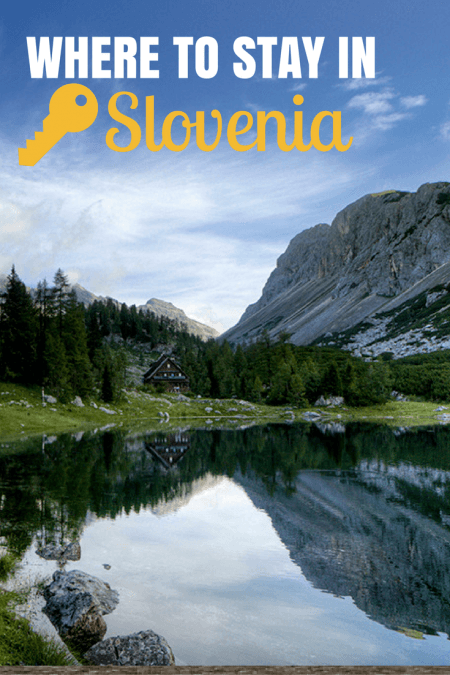 Slovenia is packed with accommodation options. Therefore, it really depends on what you want to see as to where you go and your budget as to where you actually stay. Remember that hostels these days are certainly much more hotel-like than they used to be, so if funds are low, check out the extensive range of hostels on offer around the country. If you can splurge a bit more, we definitely recommend staying at one of the hotels in Slovenia mentioned above.
Choosing where to stay in Slovenia in 2021 can be hard with so many great options. Which one suits you best?
More Slovenia Travel Blogs
Share