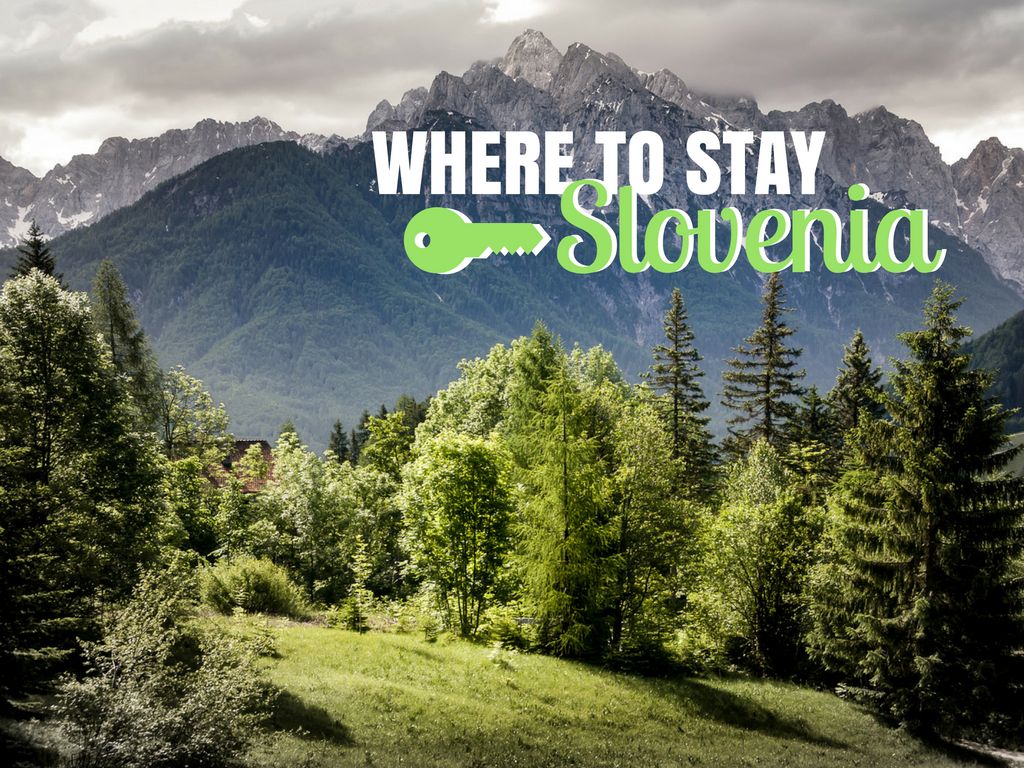 Slovenia Accommodation: Where to Stay in Slovenia
Slovenia is seriously on the tourist map these days, and with some of the most stunning countryside and scenery on offer, it's really no wonder. The cities are a melting pot of culture, and the small but lively capital, Ljubljana, is a fantastic place to visit for those who want to experience Slovenian traditions but do it all with a modern twist.
Of course, the country lies in what most people called the Balkans (though some here hate that term), with the huge Eastern Alps dominating the scenery, as well as a long stretch of coastline on the Adriatic. This all means that anyone wanting to experience the great outdoors is perfectly catered for here, with beach lovers also having more than enough chances to enjoy the crystal clear waters and white sand.
Whether you're visiting the capital, the second city of Maribor, Bled with its famous lake, or Idrija, or perhaps Piran, amongst many other destinations, you will be wanting to think about where you're going to stay. Well, luckily for you, we've done the hard work already.
Check out these suggestions of where to stay in Slovenia.
Hotels in Ljubljana
Antiq Hotel Palace & Spa
The capital is home to plentiful accommodation, but this particular choice is upmarket without the price tag. Set in a 6th-century house, this is a high-end hotel choice, which is within walking distance of all the main attractions, such as Ljubljana cathedral and castle. The rooms are decorated in sophisticated and opulent style, with wooden furnishings and a comfortable, spacious vibe. All rooms come with free Wi-Fi as standard, flat screen TV, minibars and coffeemakers for your morning java.
Continental breakfast is served free of charge in a large on-site restaurant, and there are two bars to choose from when it comes to evening drinks. If you want to up the style, there is a spa with a hot tub, three saunas on offer, as well as treatments and a fitness center. For your evening chill out, head to the garden lounge, with roaring fires in the winter, and a cool vibe in the summer.
Cubo Hotel
Many hotels in the capital are stylish, and this particular choice is no different. Modern with hints back in time, the Cubo Hotel is very centrally placed, around three minutes from Congress Square. Rooms are equally as modern, with flat-screen TVs, minibars, and all mod cons. There is free Wi-Fi throughout, including in the rooms, and toiletries are also free – always a plus!
Again, breakfast is free, and the restaurant serves local and international dishes for you to choose from – seafood is a big specialty here, so certainly give it a try if you love anything fishy! The on-site fitness room will allow you to work off any indulgences, and the fact that you are so centrally based by choosing this hotel means exploring the city itself is easy, without having to worry about public transport. This is an affordable choice too, which is a definite plus point.
Vander Urbani
This particular hotel is one of the capital's more modern choices, with sleek lines and glossy surfaces everywhere you look! Located very central, right in the heart of the city, it is close to everything, so you don't need to worry about transport, as everything is accessible on foot. Despite its modern appearance, the hotel is immaculate and comfortable, with many amenities to make your stay that little bit more special, such as the wine cellar and a la carte restaurant on site. If you love trying local food, made from fresh produce, this is the place for you to dine!
Looking out over the city from the rooftop terrace is a fantastic way to end the day, and there is also a rooftop swimming pool and yoga studio for those endless sunny days.
This particular hotel is great for business travelers and those looking for a modern hotel without the older feel to some other places – it is a very upmarket option for your stay in the capital!
Hotel Nox
Boutique hotels are often found in the major cities, and this particular hotel is very modern and stylish choice. Located just under ten minutes' walk from the main center of the city, you are within easy reach of everything, while being out of the main hustle and bustle. The hotel offers family rooms and standard rooms, with family rooms having an extra adjoining bedroom. If you want to up the glamor then upgrade to a suite, which has an additional sitting room and a few other extra perks. Rooms are all individually decorated in a minimalistic manner, with flat screen TVs, free minibars, and Wi-Fi throughout.
You might think that being in the center of the city is enough when it comes to choosing accommodation, but being comfortable is a must, especially when you have been pounding the pavements for hours, checking out the sights. The central location of this hotel is, therefore, perfect.
Radisson Blu
We all know that Radisson is a huge name in the hotel world, so that should give you instant reassurance that you are going to get quality, and this city center hotel is no different. This is a stylish option, and a great one for business travelers, or couples. The hotel is located around 8km from Congress Square, so while it isn't completely central, it is far enough way to be quiet, but close enough to allow ease of travel.
Rooms are modern and contemporary, with Wi-Fi throughout the hotel, including in rooms, flat screen TVs, minibars, and suites can be upgraded to enjoy extra perks, such as Nespresso machines and separate living room/seating areas. The free breakfast buffet will fill your belly, ready for exploring, and guests also enjoy access to the waterpark nearby. The on-site restaurant also serves regional and international dishes, for perhaps trying something new, and meeting rooms/business facilities are on hand for anyone who needs to do a spot of work during their visit.
Hotels in Bled
Hotel Triglav
If you're looking for a comfortable base to explore the Lake Bled area and its beautiful countryside, then there are many options to choose from, including the Hotel Triglav. This particular hotel has lots of history, which means anyone into the past will love it, with architecture dating back to 1906. The décor is elegant and sophisticated, and you are overlooking the lake itself, which is a fantastic sight to wake up to in the morning! The actual lake is only two minutes to walk to, as well as being very close to Bled Castle and the train station for getting around elsewhere.
The hotel rooms themselves are very comfortable, and most have balconies with lake views. The breakfast is buffet-style and complimentary, and the restaurant overlooking the lake is a wonderful place to sit and relax while you fuel up. If you love wine, then the rustic wine cellar is the place to go, or perhaps you simply want to head for a swim in the indoor pool, before warming up in the spa and sauna.
Pension Vila Prešeren
There is probably no better setting for a hotel than this one – located under two cliffs of Bled Castle, right on the shores of the iconic lake which the town is best known for. This is a traditional villa, dating back to the 19th century, and has two suites available, as well as six standard rooms. If you want to stay in the middle of town, while also being in one of the most scenic positions in the area, this is for you.
The ground floor of the hotel is quite sophisticated, as it has an on-site coffee shop, selling all manner of drinks and snacks, including pastries and cakes. The restaurant is also top-notch and has a large wine menu too. If you want to head outside on a warm day, the terrace overlooks the lake and countryside beyond. Despite its contemporary and stylish décor, the hotel is very homely, which is the ideal base for a break in this beautiful area of the country.
Hotels in Toplice
Hotel Balnea
This particular hotel is a relatively new option, which means it is ultra-modern and packed with mod-cons to enjoy and take advantage of. Toplice is a stunningly natural village, which visitors will love to explore and enjoy the welcoming culture. There are 62 rooms, all luxurious and high end in design, but warm and comfortable at the same time. The fitness studio will sort out any exercise urges, and there is also a wellness center built onto the hotel for anyone who feels the need for a spot of pampering.
Despite the high-end nature of this hotel, the feel is still very relaxing, which fits in perfectly with the green surroundings. You may pay a little more for this hotel, but if you want to splash a little and enjoy your comforts, then this is an excellent choice for couples, groups, and anyone who enjoys being surrounded by nature.
Grand Hotel
Right on the banks of Lake Bled, you will find this beautiful hotel which is surrounded by the backdrop of the imposing Julian Alps. Because of the natural and idyllic surroundings, you can expect this hotel to be a little more upmarket, and that's certainly the case. The hotel is a 19th-century throwback, which is close enough to Bled's central town to allow ease of travel, but far enough away for relaxation.
Rooms are decorated very traditionally, and all have a lake view. The Internet is available in the rooms, and there are flat screen TVs and fridges for keeping your refreshments cool. If you want to upgrade to a suite, you are given an additional living room area. There are also restaurants on site, a private beach, and a boathouse. The spa opens up a world of treatments to you, as well as an indoor pool which is heated to optimum temperature. Basically, a stay here is relaxing with a capital R.
Hotels in Soca Valley
Hotel Hvala
The valley of Soca is a stunningly beautiful and very natural area of Slovenia to visit, and many of the accommodation options in this region are very rustic and often family run; Hotel Hvala is no different but has many added extras to throw into the mix. Located just a stone's throw from the center of the town, this is a relaxed and laid-back hotel, which offers comfort for low prices. There is free Wi-Fi throughout the hotel, with in-room TVs and large balconies to enjoy the scenery. Breakfast is also included in the price, so you can fill up before you head off exploring.
The significant difference between this hotel and the others in the same area is that there are a few comfort extras thrown into the price, such as a sauna for chilling out, an upscale restaurant, and a very knowledgeable reception area, who can help you get around the area and see the main sights.
Hotels in Piran
Hotel Piran
Piran is the perfect city to explore when looking for a seaside destination in Slovenia. With picturesque coast views and a Venetian city vibe, it's worthwhile to stay close to the water's edge. Hotel Piran is situated between the Adriatic and Piran's old town, giving guests 4-star luxury with stunning views of both the sea and the ancient architecture of the city.
Comfortable rooms are decked with free WiFi and extra comforts like room service to make your stay cozy. Family rooms are available and pets are also allowed, making the accommodation great for families of all kinds. An aromatherapy boutique on site will have you sore muscles relaxed in no time, and the short 1 minute walk to the beach front will keep your days full of salt water, sunshine and sea breeze. Other fun extras include packed lunches, bike rentals, onsite library and water sport facilities. There is something for everyone to love about Hotel Piran!
Hotels in Portoroz
Kempinski Palace
If you're looking for a breath-taking view over the sea, then head to Portoroz and check out Kempinski Palace. The word 'palace' appears in that description because that is exactly what it is – this is a former palace which was often visited by royalty and is now a hotel which is located on a high hillside, gazing out over the Adriatic. The hotel is also very close several areas of interest, including Secovlje Saline Nature Park. You can choose between either a view of the garden or the sea from your room, and the rooms are certainly comfortable, with flat-screen TVs, minibars, and Wi-Fi available. If you want a suite, you can upgrade easily, and then you will be given a large kitchen space, and possibly even a whirlpool tub.
The large restaurant is authentic and rustic, and you can try some of those delicious Slovenian dishes. There is also an outdoor pool for those warm sunny days, and a kids club too, which makes this an excellent choice for traveling families.
Hotels in Ptuj
Hotel Mitra
This modern hotel is indeed packed with character, with around 29 rooms for guests to stay in, and four suites available for an upgrade. Rooms have a double bed and are furnished in four different styles. Depending on which room you go for – the styles include hints to the Middle Ages, Roman era, secession, and a modern theme – the choice is yours. Whichever you go for you will be privy to modern surroundings and comfort.
The restaurant is vast and varied, so there is certainly something for everyone, and there is also a coffee house and wine cellar as extras. Mithra's garden is ideal for chilling out and casting your cares away. This is a great hotel to get away from the busy nature of the main town, while also being within easy reach at the same time. Business travelers are catered for with meeting rooms and computers on hand. However, this is an ideal hotel for all kinds of visitors, including families and couples.
Hostels in Ljubljana
Zeppelin
This hostel is located right in the center of Ljubljana, which is a must for anyone who wants to truly explore the culture and architecture of this historic city. Around 5 minutes' walk from the main train station, you will instantly see that this hostel is bright, colorful, and packed with character. The staff are very helpful and knowledgeable, and will be more than happy to help you with any advice on what to see and do; they are all former young travelers themselves.
Room-wise, you can expect a few double rooms. However, these will need to be booked ahead of time, as well as dormitory rooms which are available at very affordable prices. The décor of the whole place is bright, as we mentioned, making it a comfortable, friendly, and ideal as a central base.
Vila Veselova
Many hostels are extremely central in cities, but if you don't want to be in the middle of the noise, but you want to be close enough to be able to get there with ease, then this particular hostel is ideal. This is a traditional building, designed over a century ago, yet it has a very modern feel while also being within easy reach of everything you might need.
The staff is on hand to help you with anything you need, and there is also endless tea, coffee, and juice on hand for you to enjoy throughout the day and night. The kitchens are fully equipped for you to stay, so you can make your food if you don't want to head out on any particular evening.
Rooms are dormitory style, and again, if you want access to one of the private double rooms, then you should book ahead of time to be sure to get one.
Celica Art
For hostels offering you something a little different, you can't get better than this! Located in a building which was once a former prison, rooms are still cells, but they have been decorated by local artists to give them a more comfortable feel. If you've ever fancied staying in prison, without the charges, this is for you!
The hostel is only around 8 minutes on foot from the center of the city, and it is certainly a quirky establishment, packed with character. Rooms can accommodate up to 5 people, and mixed or single sex rooms are available, with shared bathrooms; some rooms have en-suite bathrooms. Free Wi-Fi is available throughout, and a buffet breakfast is also included in the price. There is an on-site café to enjoy, as well as a bar and garden terrace, equipped with hammocks for summer relaxation.
Hostels in Bled
Jazz Hostel & Apartments
The capital doesn't solely own all the hostels in Slovenia, and there are also a few in Bled too. This particular hostel is much more like a hotel than a traditional hostel, and is run by a couple who are local and can give you plentiful information on things to see and do. In the middle of the great outdoors, this is ideal for anyone who wants to be surrounded by nature and who wants to explore on foot.
Rooms are dormitory style, have four beds included (two sets of bunk beds), and are spotless and spacious. Lockers are provided for your belongings, which are enormous, and there are two bathrooms for the rooms to share. The kitchen is also clean, large, and well stocked, so you can easily rustle up a meal for your breakfast or dinner on site.
Hosteller
This small, family run hostel is a little larger than some other hostels in the region and can house up to 15 people at any one time. Located right in the heart of the beautiful Bled countryside, around 900 meters from the lake itself, this is ideal for anyone who isn't interested in towns and wants to breathe in fresh, country air.
Wi-Fi is available in public areas of the hostel, and there are plenty of lockers available for your belongings. The outdoor area is terraced and overlooks the countryside and surrounding lake, with a BBQ area for summer treats. The staff is also on hand to help give you advice on what to see and do in the area, as well as hiring bikes if you want to head out and get a little exercise during your visit.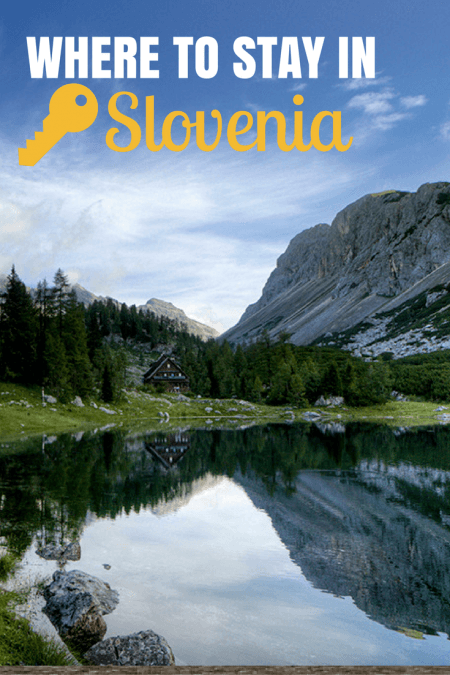 Slovenia is packed with accommodation options, and it really depends on what you want to see as to where you go, and what your budget is as to where you actually stay. Remember that hostels these days are certainly much more hotel-like than they ever have been before, so if funds are low, check out the extensive range of hostels on offer around the country.
Choosing where to stay in Slovenia can be hard with so many great options – which one suits you best?