Privacy & disclaimers →
Glamping In Slovenia: Find The Best Glamping Slovenia Spots
Glamorous camping, or glamping as it's popularly called, is the latest trend in the camping world. It offers all the luxury of a five-star boutique hotel with great outdoor living spaces, accompanied by organic and locally sourced food, wellness, and much more.
In only a few years, Slovenia has made significant steps in developing sustainable luxury tourism. Slovenia (declared the world's first green destination) offers many adorable, family-friendly facilities you can choose from, but also fabulous romantic retreats just for two. It's impossible to overlook all the diverse cabins, lodges, huts, and 'deluxe' tents designed to take advantage of an area's natural settings for that one-of-a-kind vacation experience.
If you are a modern nomad seeking an epic yet luxurious and comfortable escape into lush, hidden nature with dreams of a bed beneath the stars, look no further. Feast your eyes on Slovenia's finest glamping hotspots, where childhood dreams of living in a treehouse or modern glamour tents can turn into a delightful reality. Relive some of the memories with your kids.
Here are some stunning getaway camping/glamping Slovenia options for your bucket list.
Best Glamping Slovenia Spots
1. Camping Lake Bled, Bled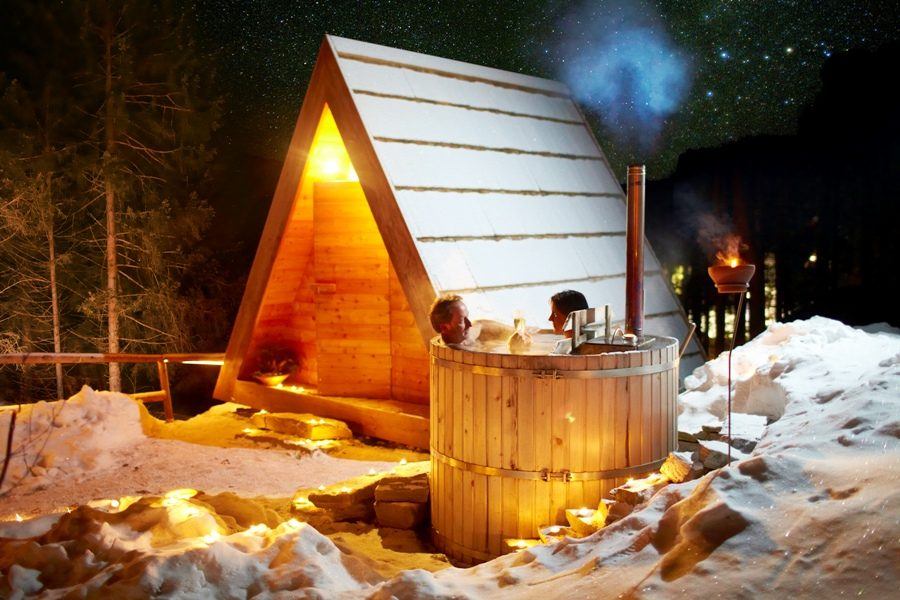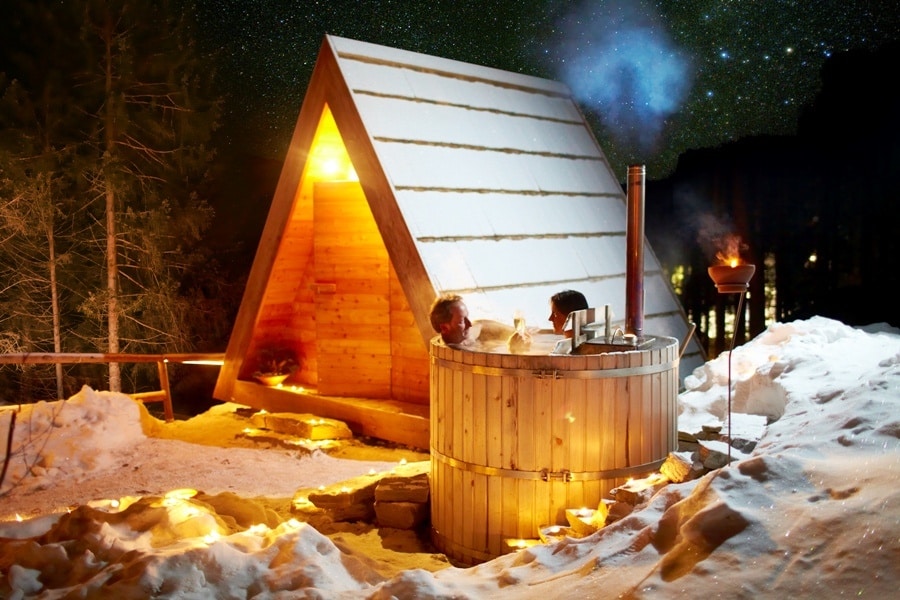 Bled, with its fairytale-like beauty, always leaves us wanting more, no matter how many times we've seen it. Camping Lake Bled Slovenia, besides regular camp facilities, offers secluded and comfortable retreats. Gozdne Vile/Forest Villas are suitable Lake Bled camping huts for couples overlooking Slovenia's most famous lake. Forest' fairies' are made from organic, untreated larch wood, insulated, heated, and accompanied by a free firewood hot tub. Care for a soak in all seasons?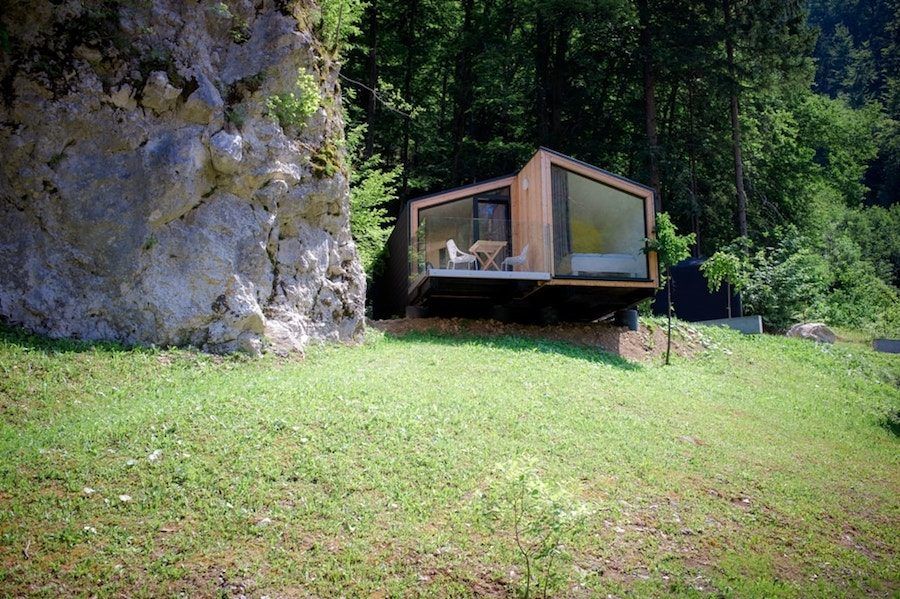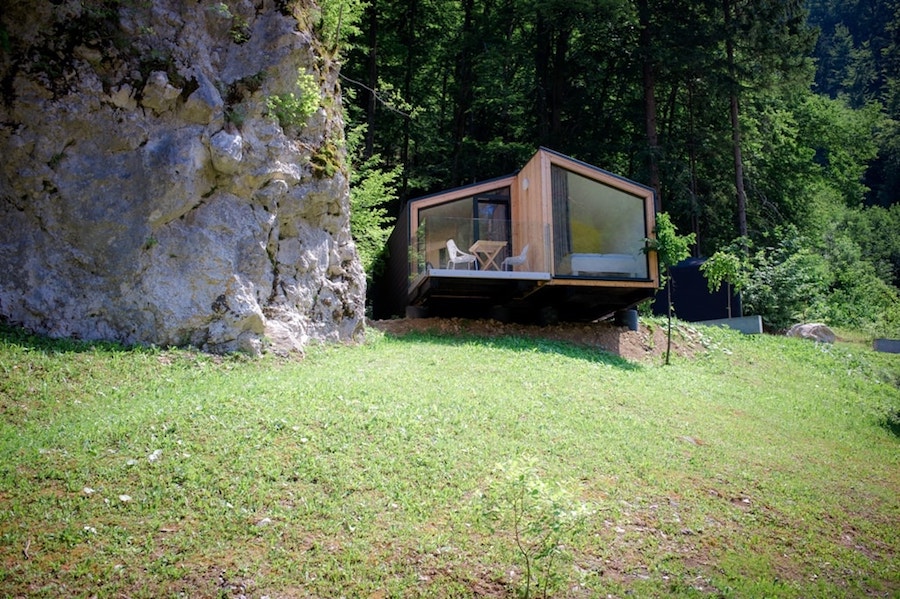 Additionally, larger groups looking for Bled camping accommodation can book one of the Family Glamping houses.
Check Rates or Find More Options for Glamping in Slovenia Here
2. Glamping Ribno, Ribno Near Bled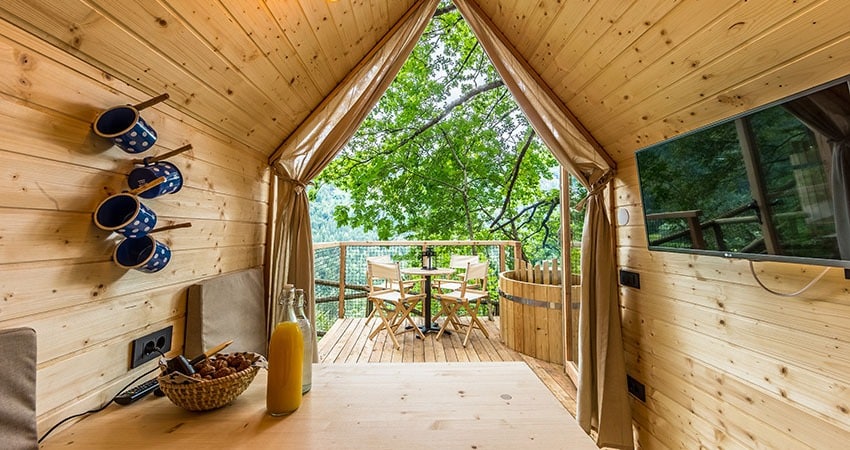 Nest in luxury treehouse accommodation among the green pine treetops above the blue Sava River. Ribno provides luxury interior design, a private outdoor shower, private bathroom, sauna, shared lounge with fireplace, and outdoor massage parlor with beautiful views. Each house welcomes up to four people, is insulated and equipped with heating, and is suitable for a stay throughout the year.
Check Rates or Find More Options for Glamping in Slovenia Here
TRAVEL COMPANIES WE USE AND TRUST
3. Garden Village Glamping, Lake Bled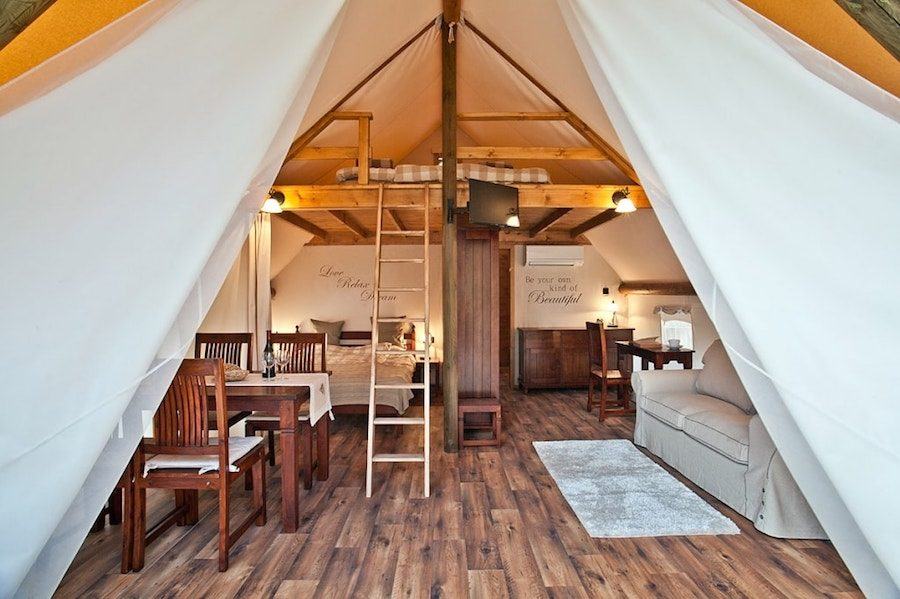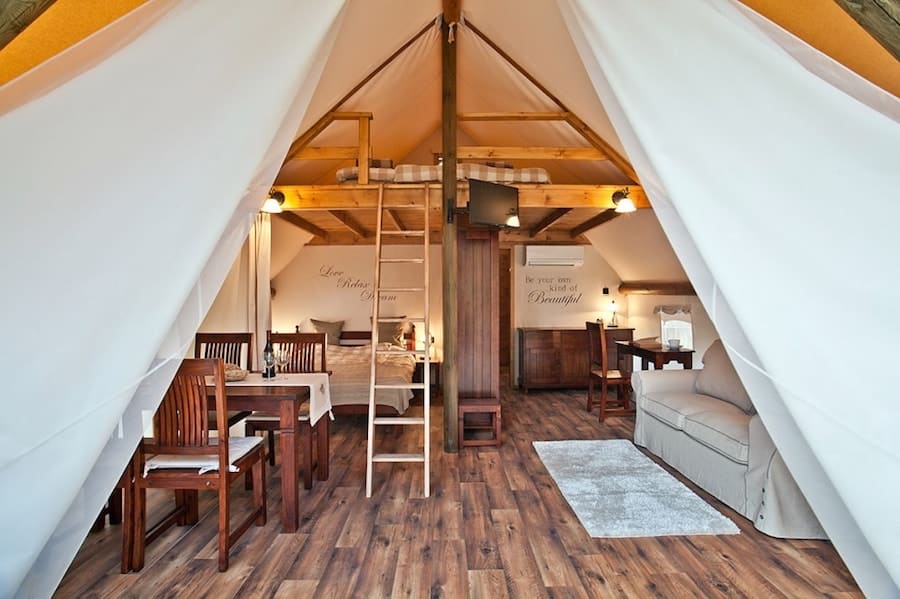 A few minutes away from Lake Bled, spectacular place offers romantic, adventurous, exclusive, and almost surreal glamping accommodation. You can choose from sleeping in treehouses, pier tents, glamping tents, or a luxury family apartment. Fun, comfortable yet glamorous, natural, and private spot, with a special nook for the newlyweds. And all the fish you can catch in their fish pond can be prepared for you at the on-site restaurant. Lake Bled camping doesn't get much better than this!
Check Rates or Find More Options for Glamping in Slovenia Here
4. Green Resort, Radlje ob Dravi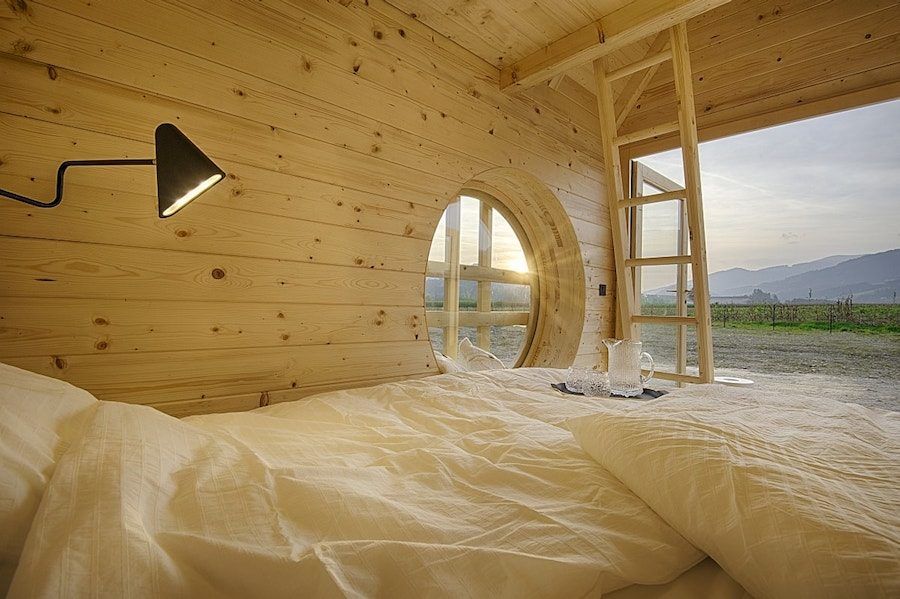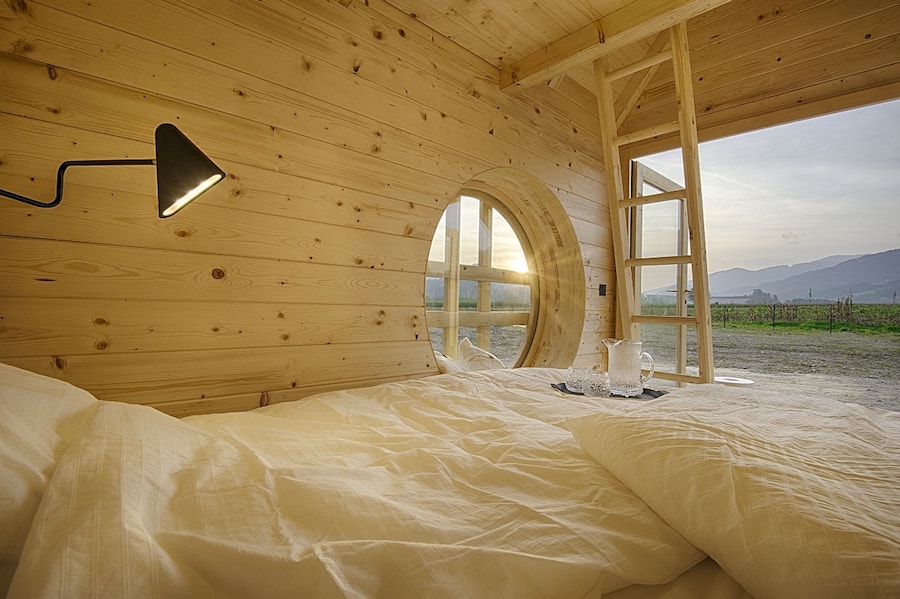 Glamping settlement Green Resort is located inside the water park Radlje ob Dravi. It features a flattering title: Slovenia's first and only biological pool. Wooden houses are between wheat fields reminiscent of the old watermills that once operated on the Drava River. The cleanliness and quality of the water are delivered solely by natural organisms.
Check Rates or Find More Options for Glamping in Slovenia Here
5. Herbal Glamping Resort, Ljubno ob Savinji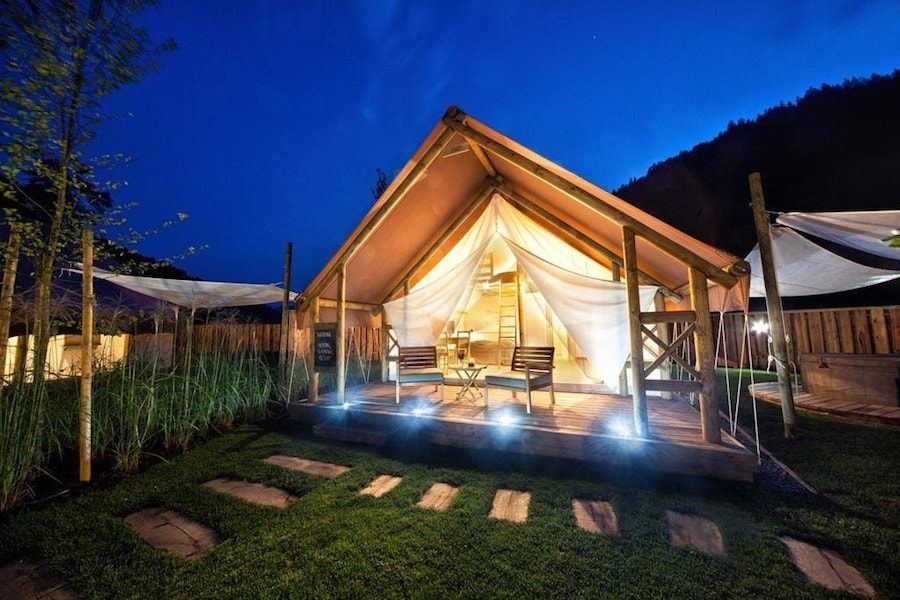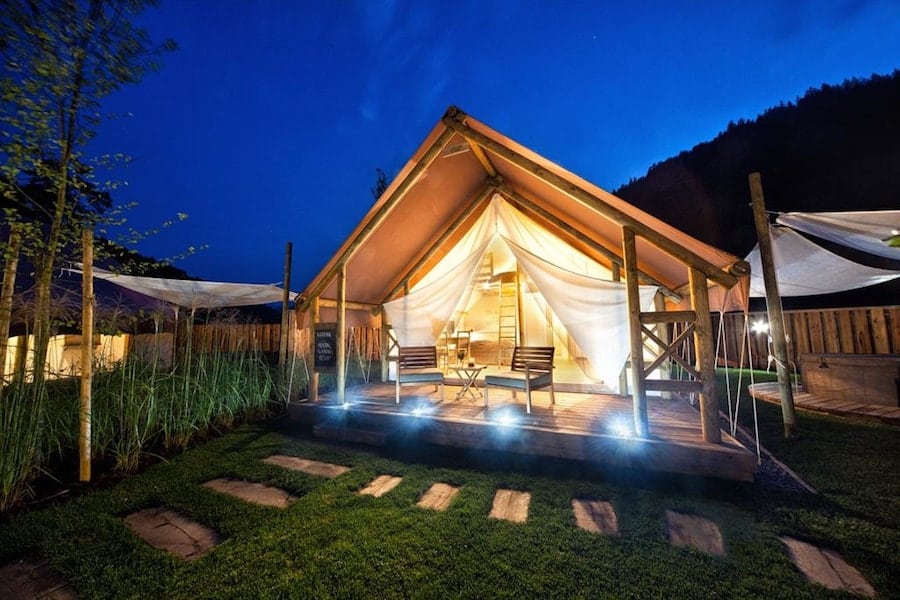 This resort is placed in Slovenia's most beautiful and untainted parts and is one of the most incredible places for luxury tent holidays in Slovenia. Their specialty is an herbal restaurant using all the best ecological ingredients with the herbs and spices picked daily from their herbal gardens. Luxury and extravagance are kings here, and you'll sleep in the most amazing tents, which provide a natural oasis of peace with comfort, technology, and the highest level of privacy.
Check Rates or Find More Options for Glamping in Slovenia Here
6. Vinska Vas/Wine Village, Ptuj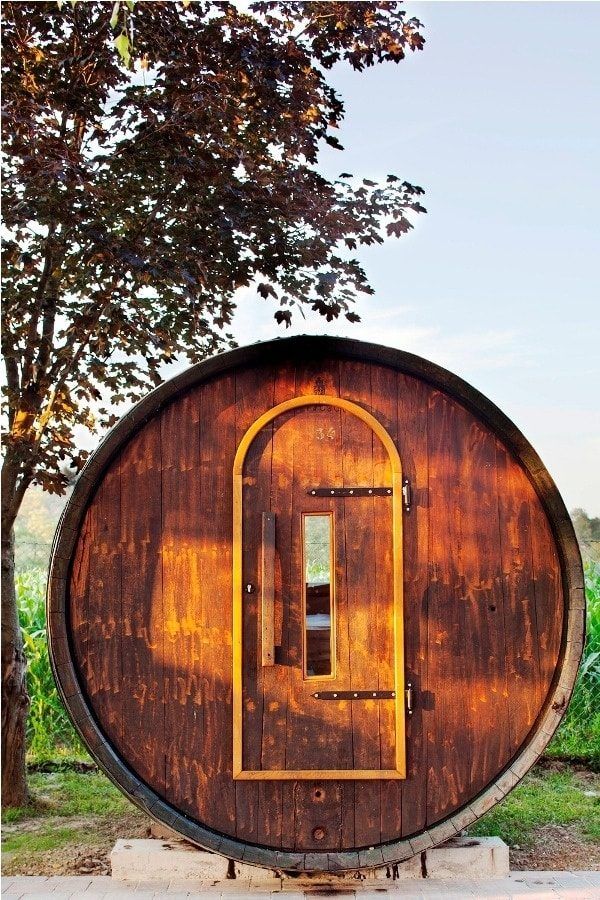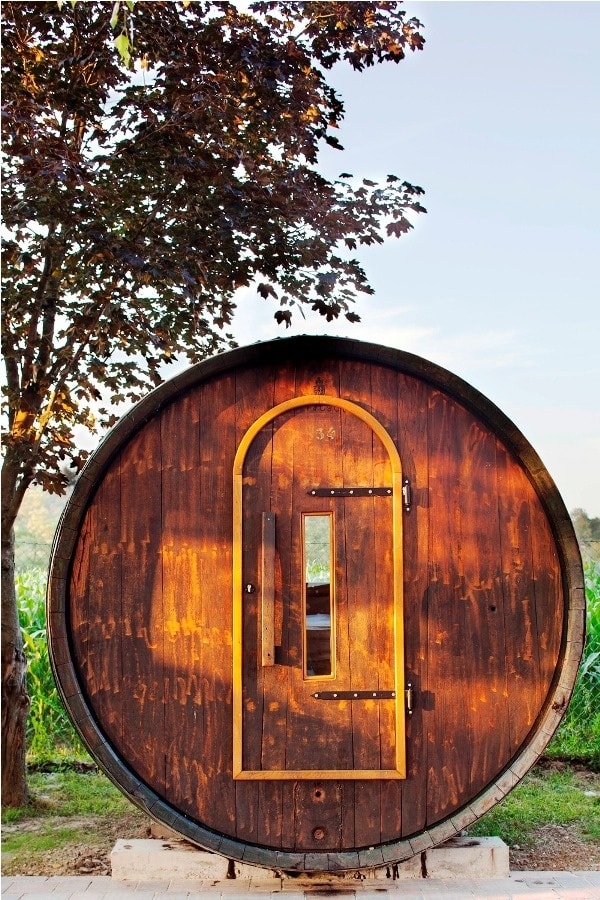 This unique glamping in Slovenia accommodation is located among the vineyards in Terme Ptuj. You can relax and sleep in eight fully equipped, enormous wooden wine barrels suitable for two persons. If you're Googling the best places for "camping Slovenia," this is definitely one of the most extraordinary spots you'll come across.
A Thermal Aqua Park with many swimming pools and slides is the leading children's attraction nearby and is a holiday experience you and your kids will never forget. This is an excellent option if you're looking for a genuinely unique Slovenia camping experience. Wine Village is open from April to October.
Check Rates or Find More Options for Glamping in Slovenia Here
7. Glamping Chateau Ramšak, Počehova Near Maribor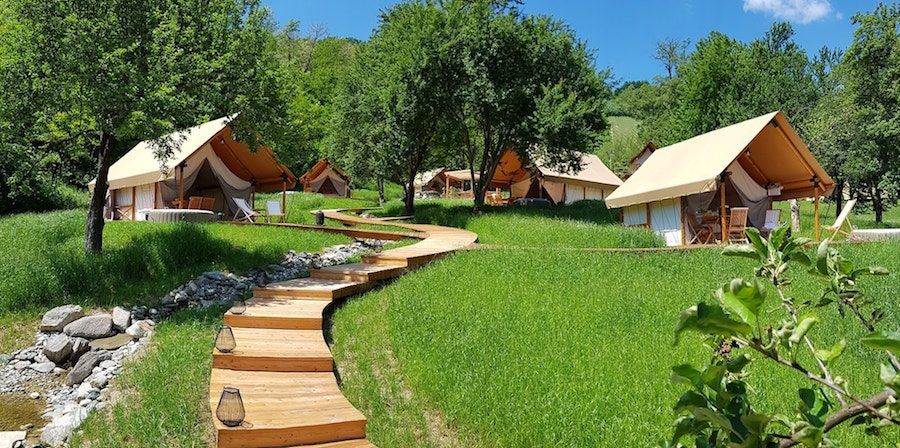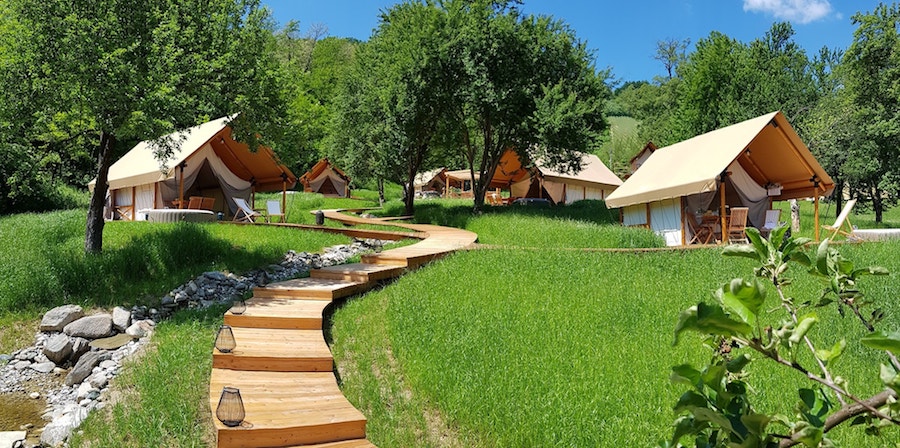 This fantastic luxury tent accommodation offers proper stress relief that really works! This new glamping resort is located in the picturesque wine-growing county Styria/Štajerska, with carefully designed glam tents, a treehouse, and a calming view of a private vineyard. With its wine cellar and the largest wine press in Europe, this remarkable mansion also offers wine tastings from the Ramšak estate.
Check Rates or Find More Options for Glamping in Slovenia Here
8. Glamping Park Idila, Bloke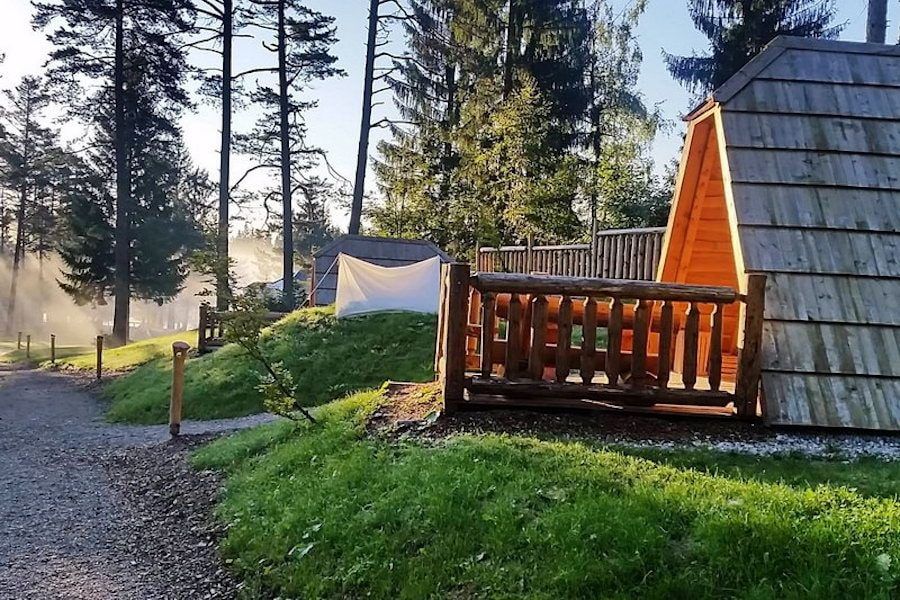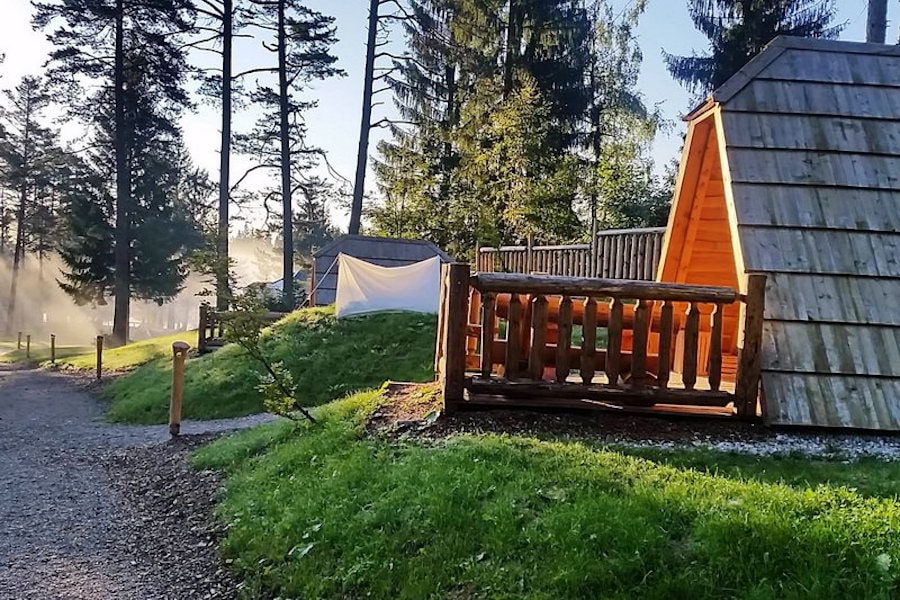 Situated by the Bloško Lake/Jezero, this idyllic place is ranked among Slovenia's top ten accommodation facilities in the Guardian article. And it's unquestionably one of the best places to go glamping in Slovenia. Eco-friendly wooden houses designed with the sign of a bear (with a character) hints that this is bear country, where you can admire them in their environment and from a safe distance.
Irresistible, peaceful, and unspoiled nature will recharge your' batteries.'
Check Rates or Find More Options for Glamping in Slovenia Here
9. Turizem Malerič, Dragatuš – Bela Krajina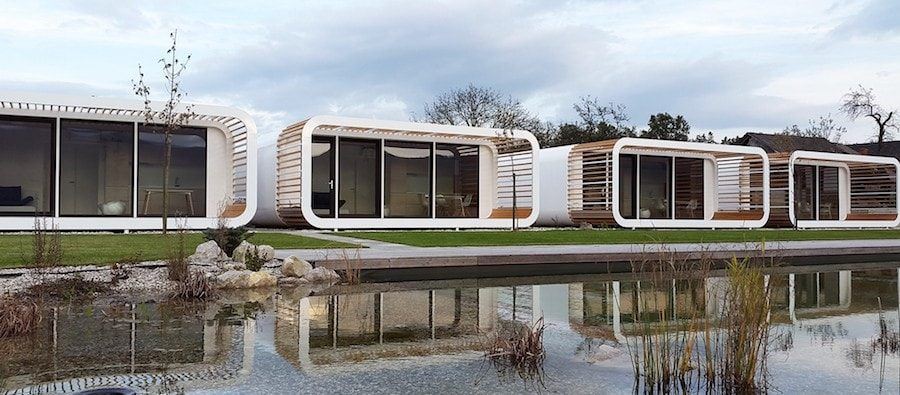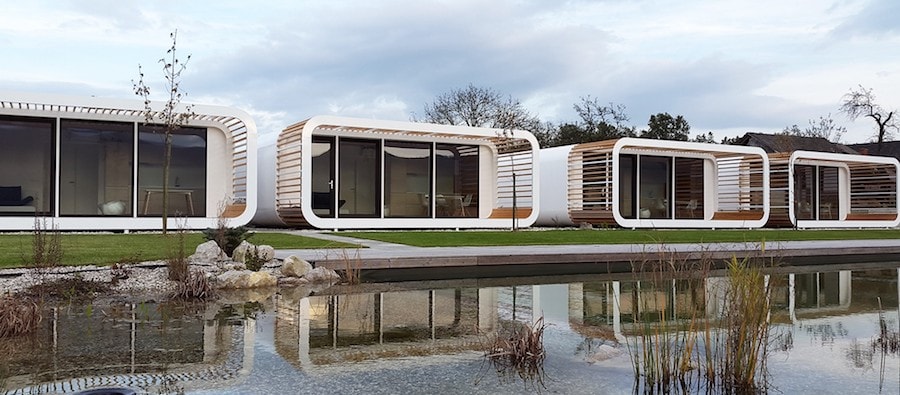 Bringing modern design to a serene natural environment, these four modern, sophisticated modular glamping houses set beside a natural swimming pond offer a great starting point for numerous sports and culinary activities in the Lahinja Regional Park.
Check Rates or Find More Options for Glamping in Slovenia Here
10. Glamping Bizjak, Preddvor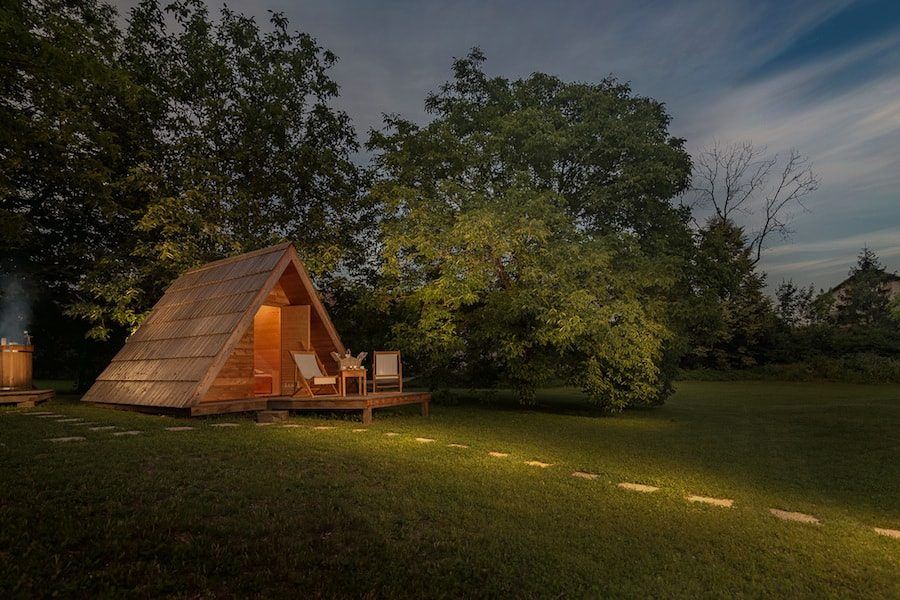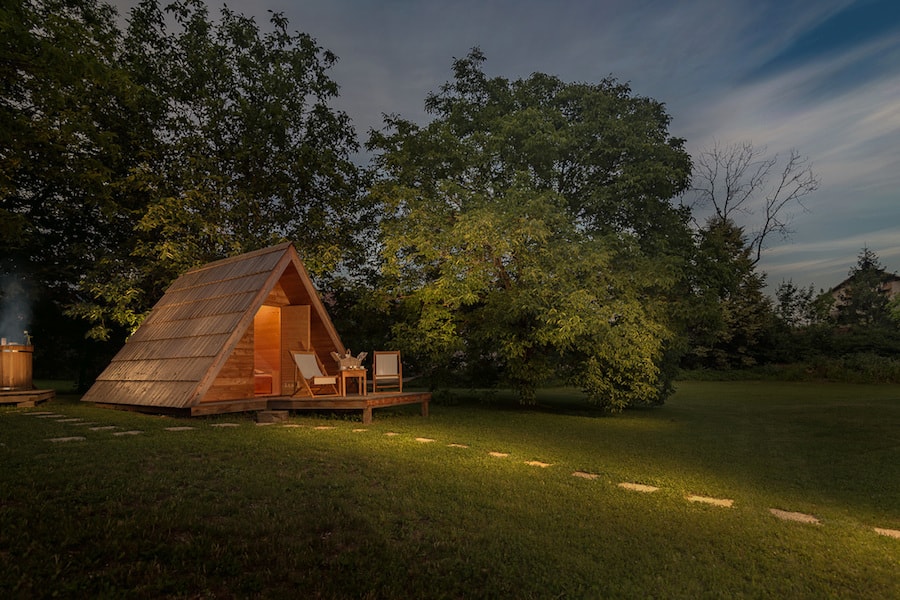 Located in Preddvor (30 km from Ljubljana), this clamping site offers accommodation in triangular wooden houses next to the Inn, with more than 200 years of tradition. Enjoy your elegant breakfast basket of locally produced goodies that awaits you on your terrace every morning while relaxing in an outdoor hot bath. Why? Because you are worth it!
Check Rates or Find More Options for Glamping in Slovenia Here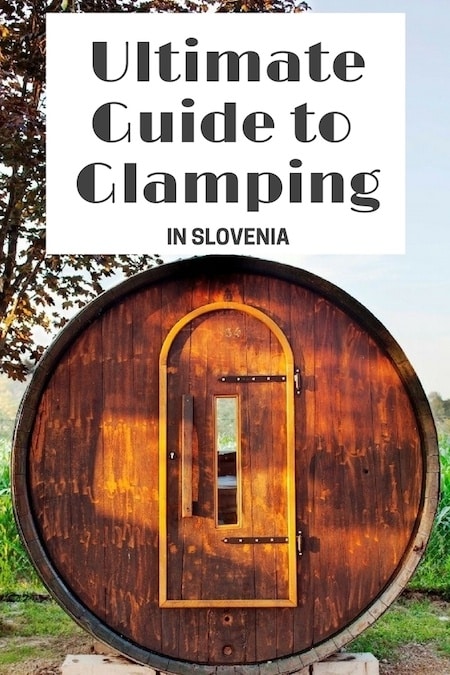 11. Camp Eco Resort, Velika Planina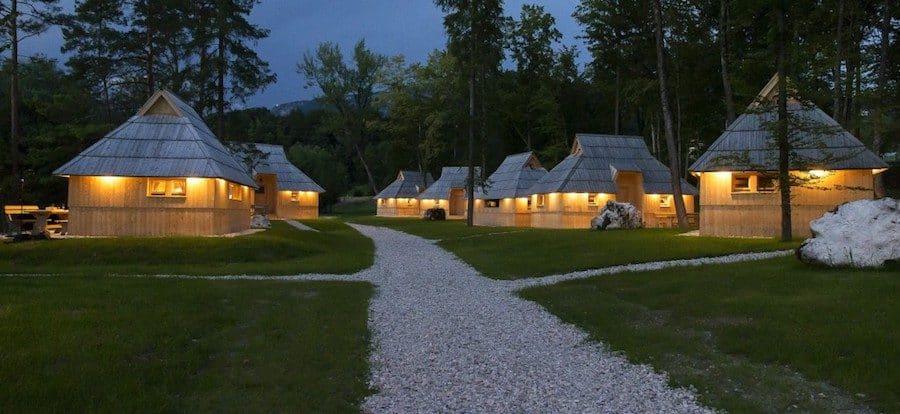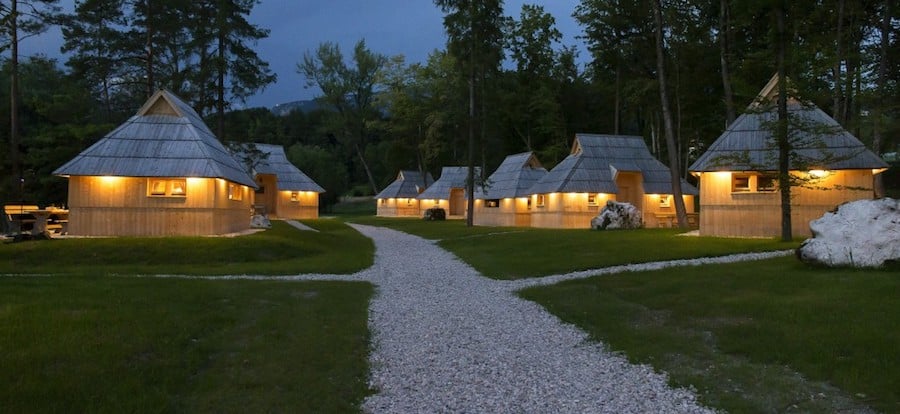 This new tourist resort is situated at Velika Planina's foothills in the Godič village near Kamnik and the Kamniška Bistrica River. Here, everyone will find a place for tranquility or, should it be more your style, many adventurous activities in and around glamorous shepherd's huts.
Check Rates or Find More Options for Glamping in Slovenia Here
12. Nebesa/ Heaven, Kobarid
Glamping Triglav National Park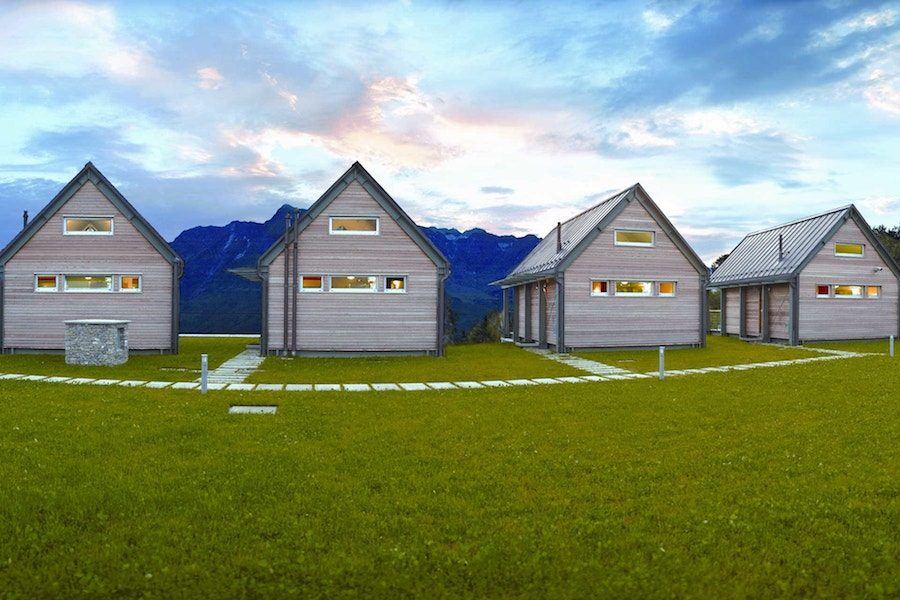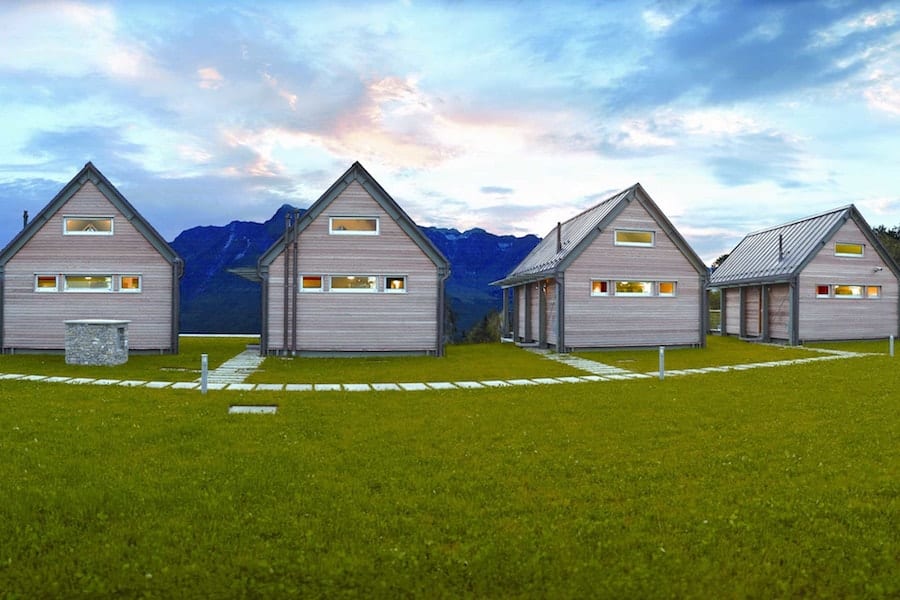 Heaven, I'm in heaven… I can hear Fred Astaire singing. And I mean literally! This Slovenia glamping resort is an excellent starting point for hiking, biking, sightseeing, or for a little more adrenaline, adventures such as rafting and paragliding. A contemporary, elegant house provides luxurious panoramic views of the Soča valley and Triglav National Park while taking a daily sauna, yoga, pilates, or Kneipp treatments.
Check Rates or Find More Options for Glamping in Slovenia Here
13. Ortenia, Podčetrtek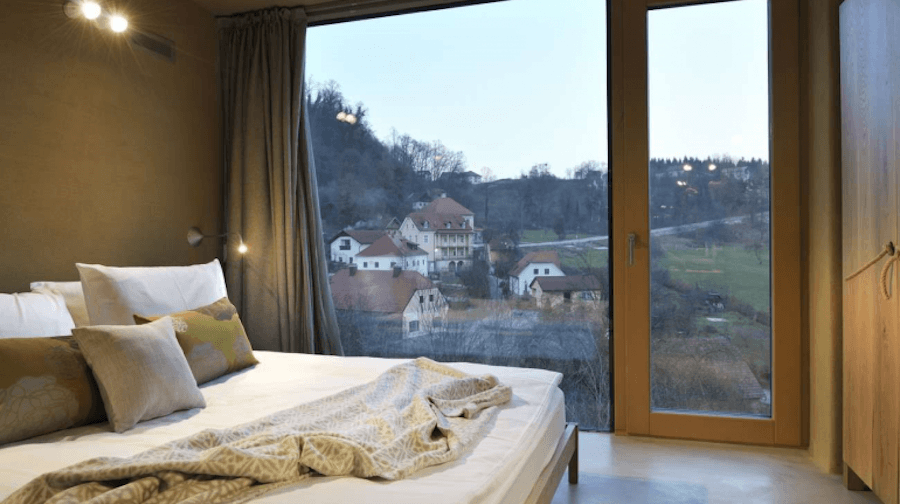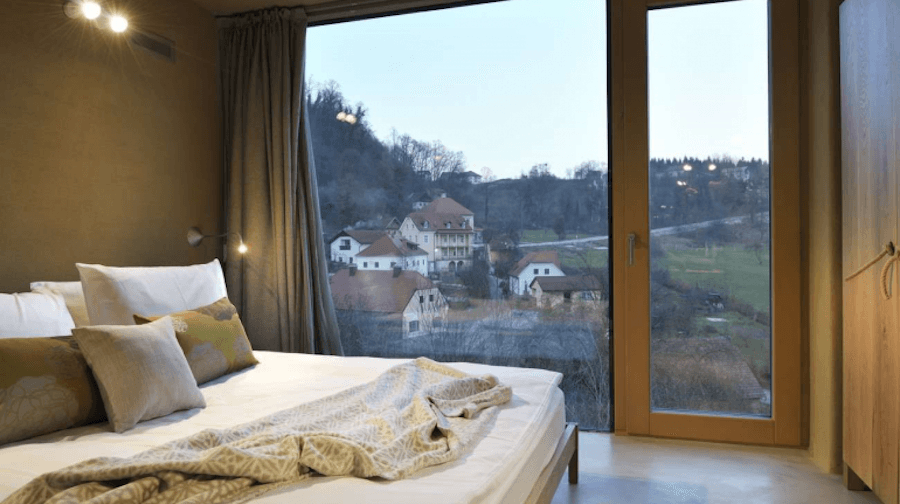 The first eco-sustainable apartments in Slovenia are located in Podčetrtek, in an idyllic location on Podčetrtek Castle's slopes, just a few minutes from Terme Olimia. Splurge your taste buds with local cuisine from home-produced food and wine in between those "grueling" wellness treatments they offer.
Check Rates or Find More Options for Glamping in Slovenia Here
14. Glamping Eco Tourist Farm Šlibar, Kovor Near Tržič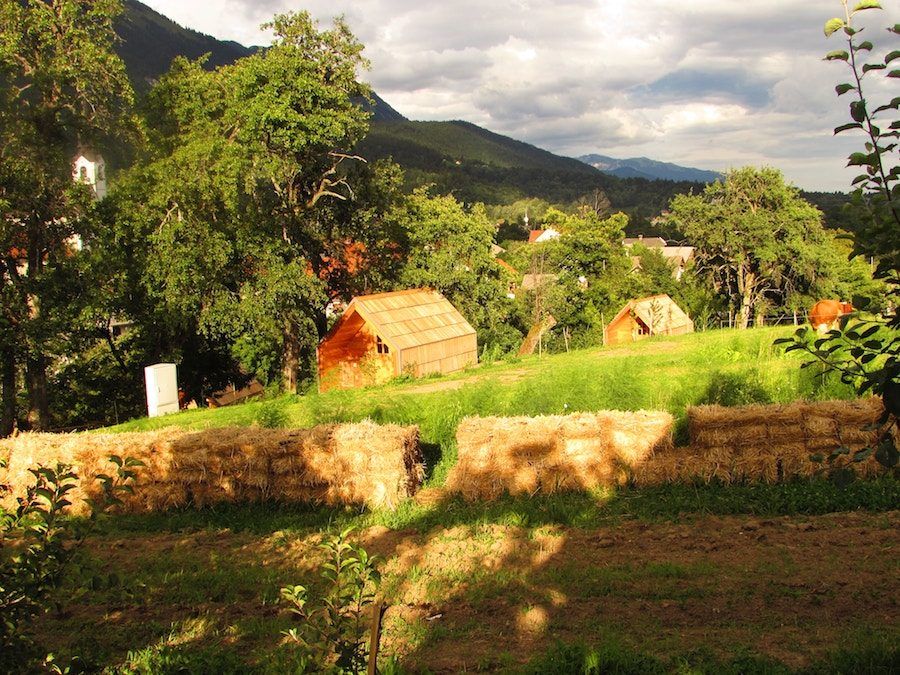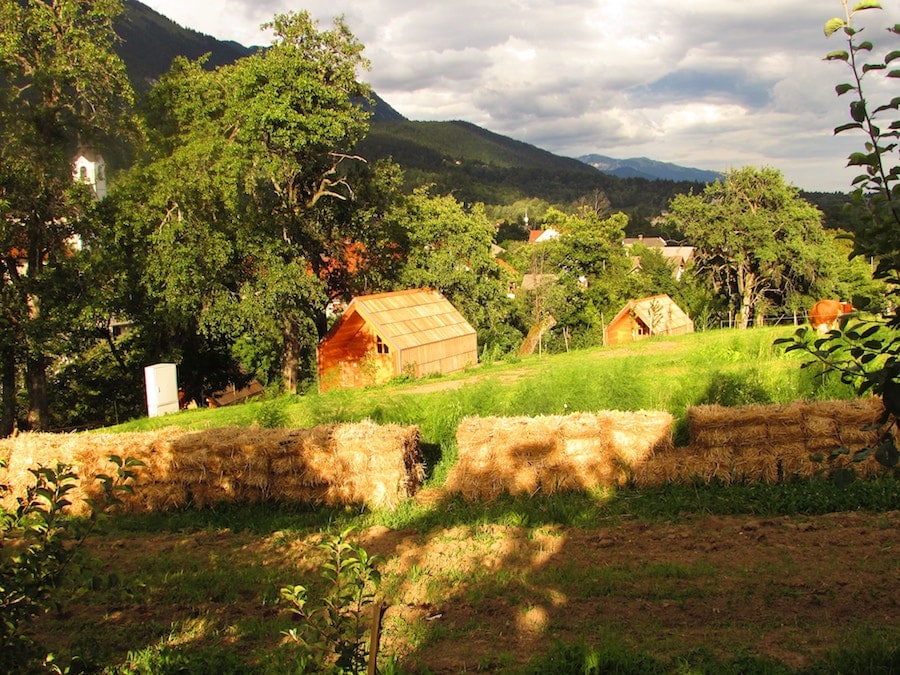 Šlibar organic farm, close to Bled and not far from Ljubljana, is a family farm with domestic animals, fields, and orchards. Quench your thirst with a cold one, as they are proud to be the first organic beer producers in Slovenia. You can stay in cute wooden glamping huts and explore the hidden natural beauty.
Check Rates or Find More Options for Glamping in Slovenia Here
15. Celtic Cottage in Camp Podzemelj, Podzemelj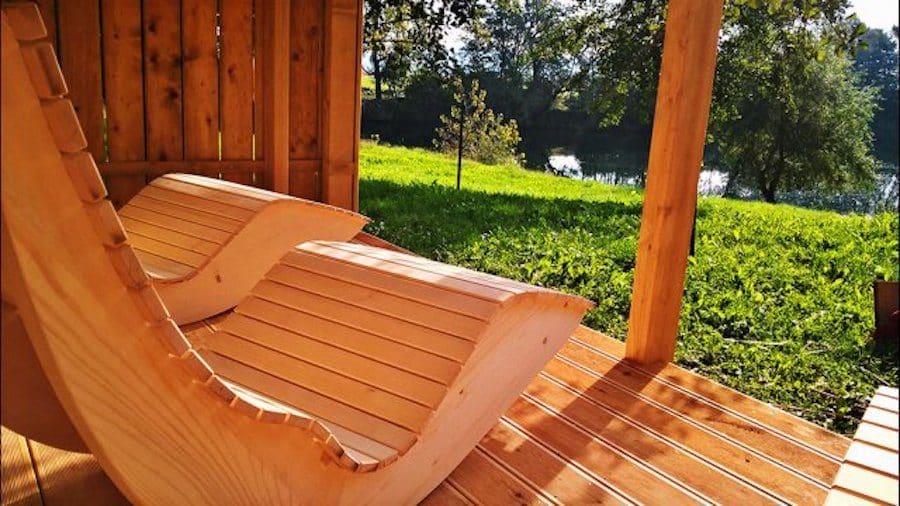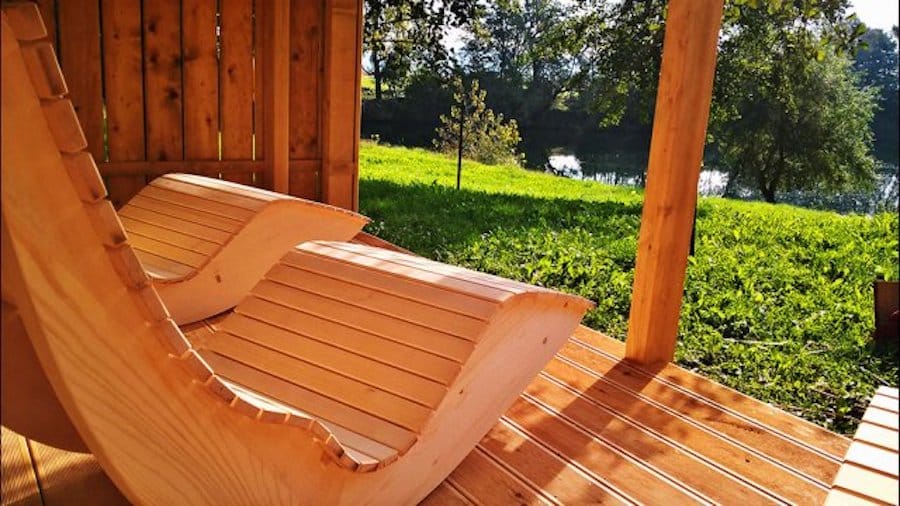 This small camp near Kolpa River, with more than 20 years of family tradition, offers active vacations in Adrenalin Park, regular camping, and an authentic glamping experience with a Finnish sauna/spa for couples. Wooden Celtic Cottages covered with traditional straw roof instantly gives you a warm and comfortable feeling.

16. Glamping Kolpa Resort, Gradac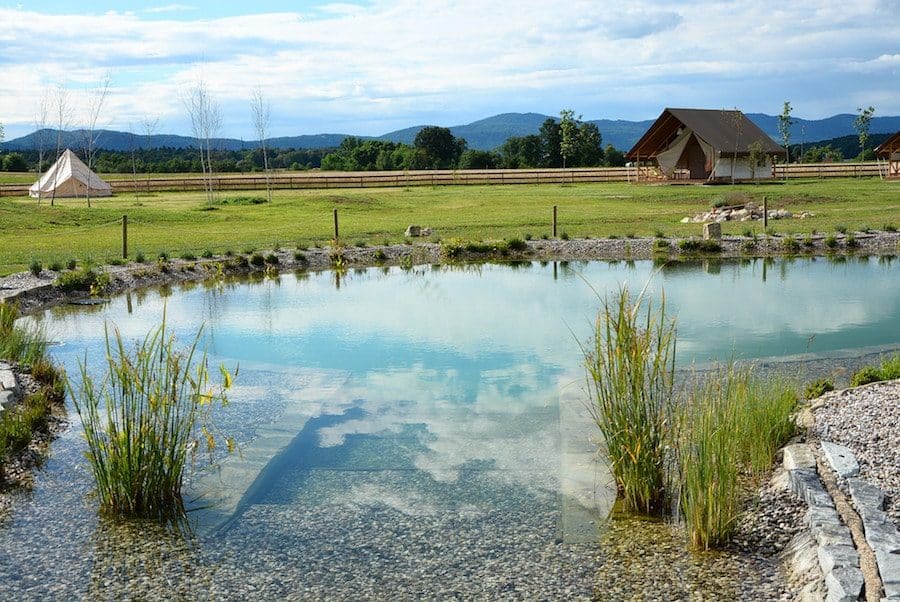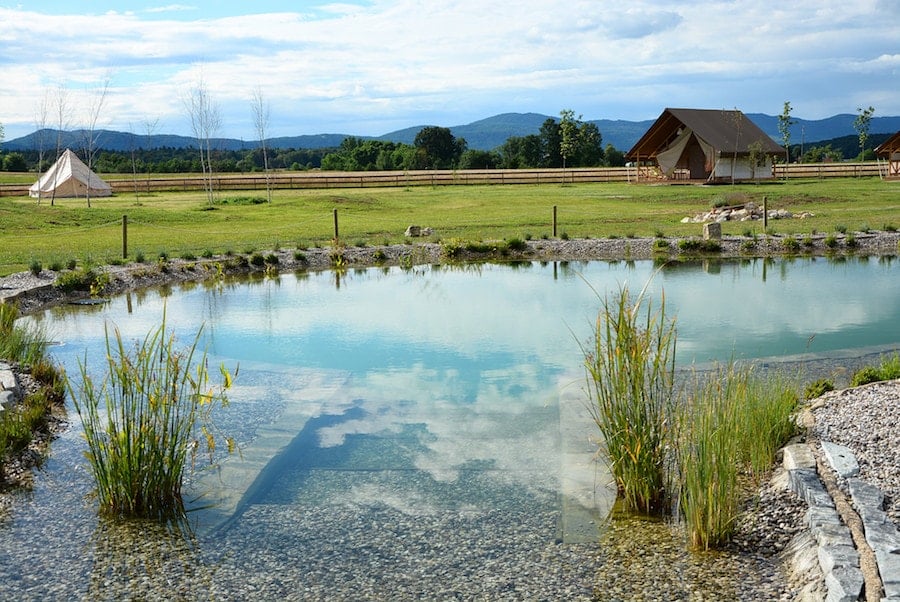 Situated in Gradac, Glamping Kolpa Resort is a fantastic option for those looking for a glamping experience near the beach. This place is literally less than a 10-minute stroll from a private beach, a great choice to go camping on the Slovenia coast.
In addition to this glorious location, this luxury tent hotel also has free WiFi, free parking, and a seasonal outdoor pool. Active travelers can rent bicycles or go canoeing and hiking in the area. Each tent has a bed, a dining area, and a sitting space. Some of them also have a patio. They all come with a private bathroom with a shower or tub.
Check Rates or Find More Options for Glamping in Slovenia Here
17. Big Berry Holiday Home, Metlika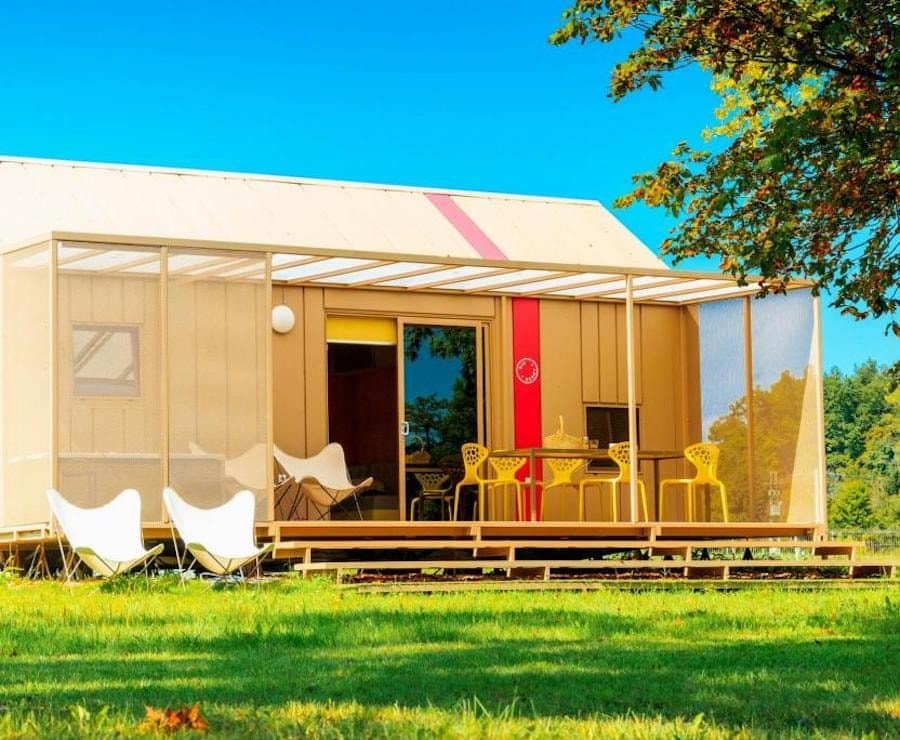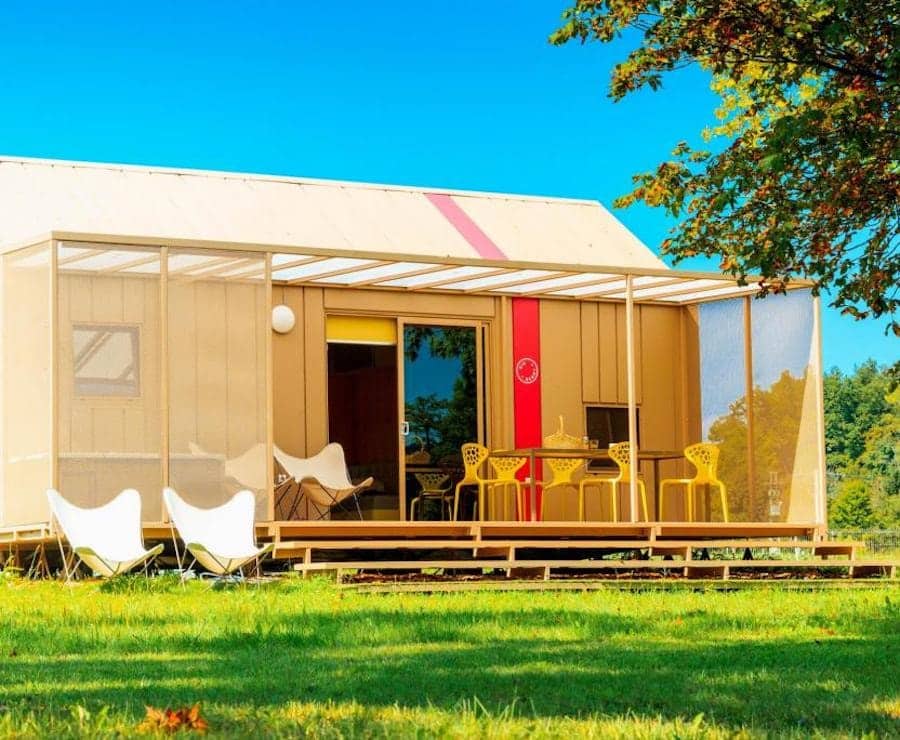 A truly beautiful place, Big Berry Holiday Home is set in the countryside of Metlika and features a playground, hot tub, and free bicycle rentals. If you'd like more bathing and relaxing, you can visit the Dolenjske Toplice or Šmarješke Toplice thermal spas, respectively, 15 and 17 miles from the property. All units have a microwave, tea kettle, flat-screen TV, and private bathroom, while some also include a terrace or dining area.
Check Rates or Find More Options for Glamping in Slovenia Here
18. Glamping Olimia Adria Village, Podčetrtek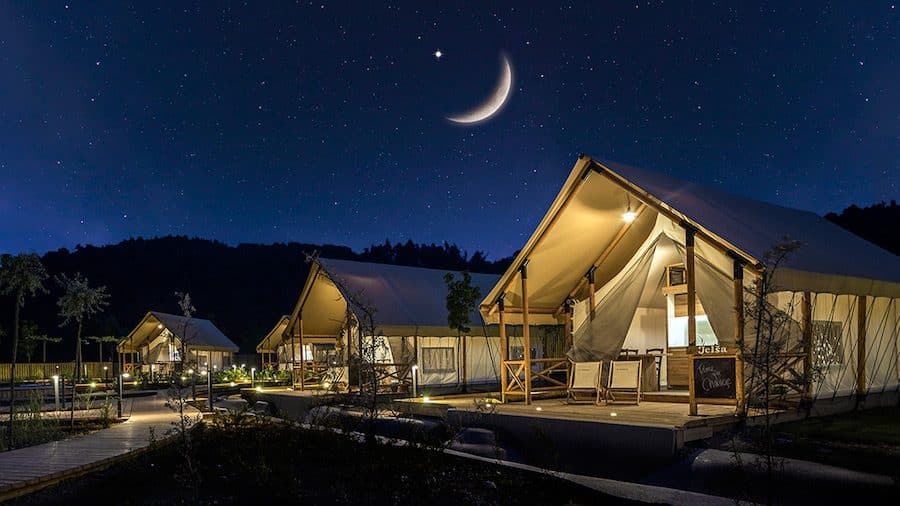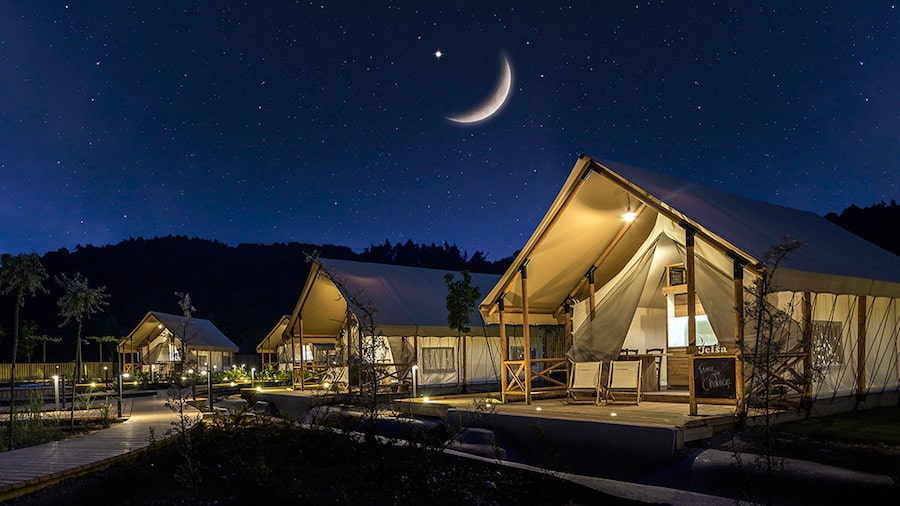 Few glamping accommodations in Slovenia have as many facilities and amenities than Glamping Olimia Adria Village. Its name is no lie: this is an actual village consisting of tents, an outdoor pool, an on-site bar and restaurant, a convenience store, and even a water park! You won't find any secluded glamping in Slovenia here; instead, you get ultimate luxury and convenience.
You could easily spend all your time relaxing on the property, but if you want to go for an excursion, Zagreb is only 30 miles away. This is a superb accommodation choice for a family vacation, one of the most fabulous and fun Slovenia family resorts.
Check Rates or Find More Options for Glamping in Slovenia Here
19. Glamping Pibernik – Pr' Hostar, Bled
Located less than 2 kilometers from the Bled city center, Glamping Pibernik – Pr' Hostar are a fun and well-rated glamping resort in one of Slovenia's most beautiful regions. Each unit, a small yet comfortable cabin-style building, has a terrace with garden views and private bathrooms. Additionally, there are barbecue facilities and free WiFi.
Things to do in the area are the obvious Lake Bled classics, such as hiking and cycling, boating, and fishing. This is a particularly popular glamping in Slovenia destination among couples.
20. Glamping Sun Valley Biotherme, Mala Nedelja
Offering luxury glamping accommodation in northeastern Slovenia, Glamping Sun Valley Biotherme is a resort village comprised of various wooden cabins interconnected by wooden walkways and platforms. This is an ultra-modern place to stay, each unit equipped with air-conditioning, a kitchen, a TV, and free WiFi. A buffet breakfast is served every morning, while the outdoor swimming pool can be used in summer.
In addition to a pool, the resort has its own waterpark, making it a super-popular summer vacation destination.
Bonus: Additional Popular Camping Options
Camp Kolpa, Vinica: clay huts; villas for (motor)cyclists
Camping Menina, Rečica ob Savinji: lodges, huts, mobile homes
Camping Danica, Bohinjska Bistrica
Camp Koren, Kobarid: wooden eco chalets
Camping Šobec, Lesce: wooden bungalows
Camp Terme Čatež, Podčetrtek: Indian Village and Pirates Bay
Camp Adria, Ankaran: mobile homes
Eco Camp Korita, Soča: 4 Soča villas
Camp Nadiža, Podbela near Kobarid
Camp Natura Eco Camp, Kranjska Gora: tents, a tree tent, and a safari tent with a king-size bed
Check Rates or Find More Options for Glamping in Slovenia Here
Don't waste any more time, and start planning the vacation of your life glamping in Slovenia!
MORE SLOVENIA TRAVEL BLOGS
Why You Should Consider Staying In A Log Cabin