We may earn commission from affiliate links →

Where To Stay In Lake Bled, Slovenia
Picture postcard perfection! That's what you'll see when you visit Lake Bled or as the locals say Blejsko jezero.
Where Is Lake Bled?
Lake Bled is in Northwestern Slovenia, in the region of Bled. It's a natural wonder that was formed during the ice age in the Julian Alps. The lake even has its own little island (Bled Island) that houses the Assumption Church of Mary.
To the North of Lake Bled is the historic Bled Castle, perched on a cliff with sweeping views of Lake Bled and Bled town.
The area near Lake Bled is perfect for a vacation to enjoy the wonders of nature. The best area to stay in Lake Bled is of course near the shore, but staying in the neighboring town of Bled has its perks too. Here are some of the best places to stay in Lake Bled.
Where To Stay In Lake Bled
Here are several excellent options for your upcoming vacay to Lake Bled, Slovenia.
Lake Bled Hotels Map
5-Star Hotels In Lake Bled
Grand Hotel Toplice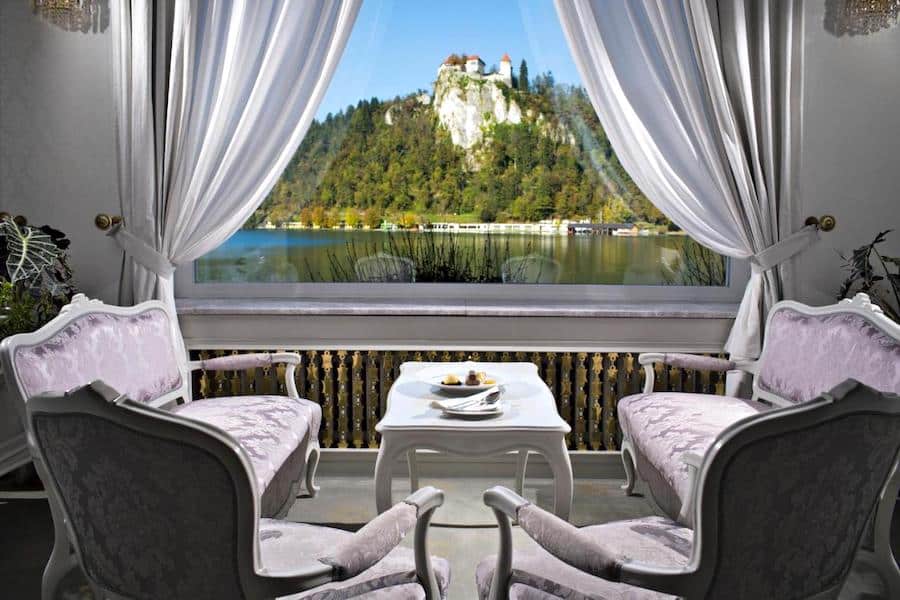 One of the best locations in Lake Bled, the Grand Hotel Toplice is the only five-star hotel in Lake Bled. The elegant hotel has impressive views of the Alps and the lake. Bled Straža ski lift, Sports Hall Bled, Baby Straza Ski Lift, Bled Castle Bathing Area, Adventure Park Bled and Bled Castle are less than 700 meters away.
All of the spacious rooms and suites are stylishly designed with warm colors, and well equipped. The onsite restaurants serve delicious Slovenian and international fare, while the bars and cafes serve a range of drinks. Guests have access to a private beach, boathouse and a swimming pool filled with thermal water from a well.
Rowing boats are available on hire, and free WiFi is available throughout.
Naturally, the rooms facing the lake have the best view!
Boutique Hotels In Lake Bled
Adora Luxury Hotel
Previously known as Vila Istra, the Adora Luxury Hotel is one of the best hotels in Lake Bled with unique views of Bled Island, Lake Bled and Triglav Mountain.
The center of Bled town is 10 minutes away, while the Straza Mountain is 100 meters away and the Saza River is 300 meters away. Most attractions are within a km distance.
Chandeliers adorn the ceilings of this lovely Lake Bled accommodation, while rooms are brightly lit and filled with classically styled furniture. Cozy rooms feature free WiFi, refrigerators, desks, tea/coffee makers, minibars, and essential amenities. Baby cots and family rooms are available. The suites and luxury rooms also feature seating areas and balconies with sunbeds. Perfect for that romantic vacation in Bled!
Vila Bled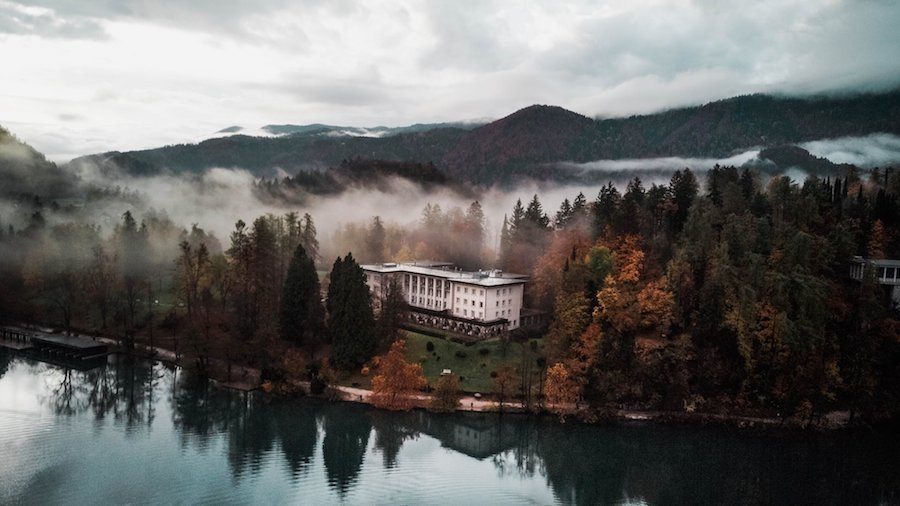 Located on the shores of Lake Bled, Vila Bled was built in 1947 and was formerly President Tito's summer palace. This is one of the Lake Bled luxury hotels that looks like it came right out of a fairytale. The spacious rooms feature cable television, minibars, free WiFi, refrigerators, and all amenities. Mt Straza is 2 km away while Bled Castle is 1.2 km away.
Free parking is available on site, and pets are allowed free as well!
Cheap Accommodation In Lake Bled
You won't find any cheap hostels in Lake Bled, but there are guest houses and pensions that are easy on the pocket.
Pension Zaka
The Pension Zaka bed and breakfast, Lake Bled is situated just 10 meters from the shore of the lake. The Olympic swimming pool is next door while most of the Lake Bled attractions are within 2 km distance since it's on the opposite side of the lake from the town. Supermarket Mercator is 500 meters away.
Rooms at this cheap accommodation in Lake Bled are very spacious and well equipped with refrigerators, coffee makers, heating, air conditioning and TV with satellite channels. The 35 m² comfort room also includes a balcony with a view of the Lake.
Free parking is allowed on-site, and pets are allowed at a charge.
Guest House Mlino

This family-run accommodation in Lake Bled is situated next to the boat rental. It's also one of the best places to stay in Lake Bled if you want to walk to all the attractions.
Rooms at the Guest House Mlino are simple and clean and include all amenities, including free WiFi and mosquito nets. Rooms on the upper floors are accessible only by stairs. If you have difficulty climbing, please contact the hotel to request a room on the lower floors once booked.
The onsite Restavracija Penzion Mlino serves Mediterranean, international and European cuisine, and guests love the breakfast here. Guest House Mlino is one of the best cheap hotels in Lake Bled!
Carman Guest House
Carman Guest House may not be one of the luxury hotels in Lake Bled, but it's one of the best budget-friendly places to stay in Lake Bled. The bright and colorfully decorated rooms make you forget their small size. They come equipped with an electric kettle, hairdryer, iron, free WiFi, air conditioning, and cable TV.
The 38 m² Comfort Double Room also includes a balcony, dining area, seating area, a well-equipped kitchenette, and a private sauna. Perfect for a romantic weekend away.
Free parking is available onsite.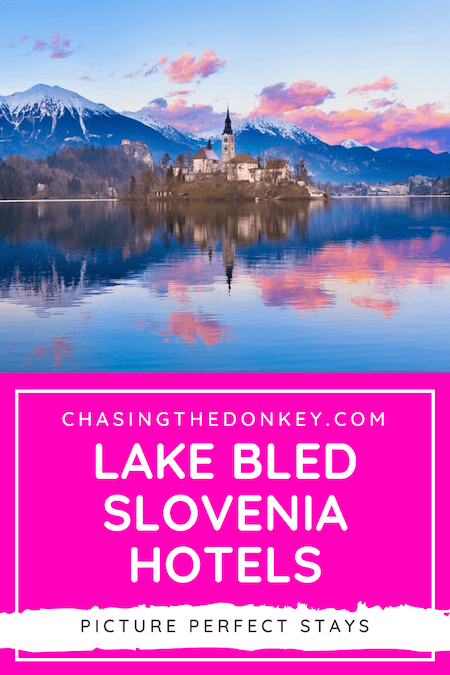 PLAN AHEAD TO GET THE BEST DEALS
Private Accommodation In Lake Bled
There are loads of private accommodation options in Lake Bled, here are just a few to get your search started.
Lake Bled Apartments
Lake Bled Apartments look like an artist has decorated them. These 120 m² apartments can accommodate up to six people in 3 bedrooms. Guests have access to a fully equipped kitchen and free-to-use barbecue. Hypoallergenic linen and cleaning products are available, as is free WiFi and free parking.
Guests at Lake Bled Apartments enjoy perfect views of the mountains, lake and of the town of Bled. Bled Castle is 900 meters away, while the cave under Babji zob is 5 km away. The apartment manager can arrange hiking, fishing, windsurfing, and other activities at a charge.
This apartment comes well recommended as the perfect private accommodation in Lake Bled.
Apartments Mojca
This private accommodation in Lake Bled is clean and well furnished. Guests can choose from 20 m² rooms or 45 m² or 55 m² apartments. The apartments also include free WiFi, a seating area, dining area and a well-equipped kitchen with oven, stovetop, coffee machine, toaster, electric kettle, and more.
The entire apartment is wheelchair accessible, and free parking is available onsite. All of the attractions are within a km walking distance. Perfect for a private stay in Lake Bled!
Hotels In The Town Of Bled
The previous accommodation options we suggested were along the lake, now these ones are in town – if you'd prefer to be closer to shops and restaurants.
4-Star Hotels In Bled
Hotel Kompas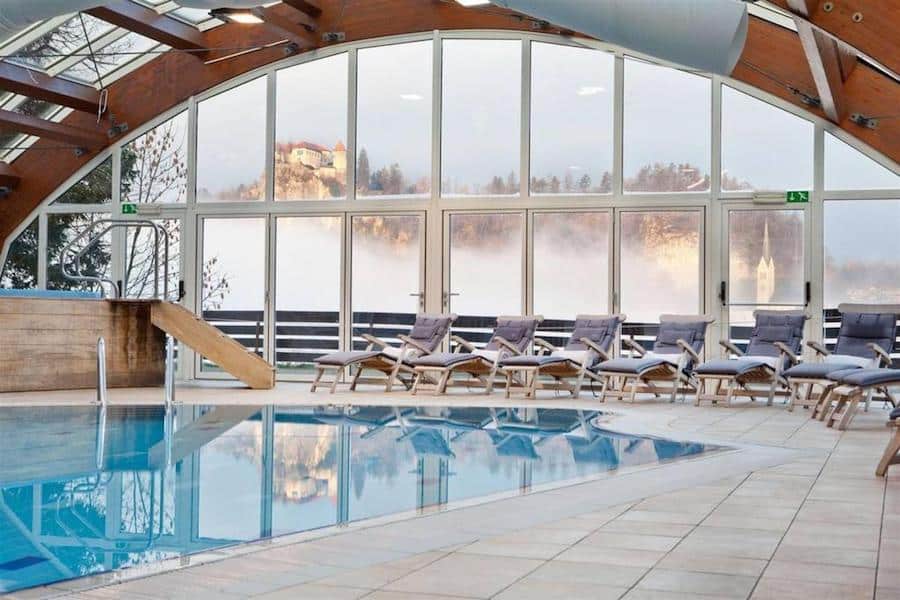 If you're looking for boutique hotels in Lake Bled that are closer to the center of town, Hotel Kompas is the ideal choice. This pet-friendly hotel is right in the center of town, about 200 meters from the lake and 700 meters from Grajska Beach.
Guests have access to the pool, well-equipped gym, and spa facilities. The massage, sauna, and hamman are charged extra.
With 95 stylish rooms to pamper its guests, the hotel's hilltop location only adds to its benefits. Well-lit rooms feature flat-screen TV s, minibars, free WiFi, air conditioning, desks, hairdryers and bathrooms with heated flooring. Family suites are also available.
Ask for a room with a lake view to enjoy your morning coffee!
Hotel Park – Sava Hotels And Resorts
Sava Park Hotel, Lake Bled is situated in the center of Bled, about 500 meters from Grajska beach. It overlooks Lake Bled and the Julian Alps. This Lake Bled luxury hotel is within 1 km of all the attractions and 1.6 km from Bled Island. Ljubljana Jože Pučnik Airport is 31 km away, and Klagenfurt Airport is 36 km away.
Ski centers and centers or nature activities are close to the hotel.
Rooms and suites feature balconies or lake views, satellite TVs, safes, minibars, hairdryers, desks, seating areas, and free WiFi. Free parking is available onsite. Pets are allowed on request. Charges may be applicable.
The onsite Rikli Pizzeria serves a variety of pizzas, pasta, and salads. The Park Restaurant and Cafe at the Sava Hotel is the home of the original Bled cream cake or cremeschnitte, the popular dessert that
Bled is famous for. Definitely, a must-try while in Bled!
3-Star Hotels In Bled
Penzion Berc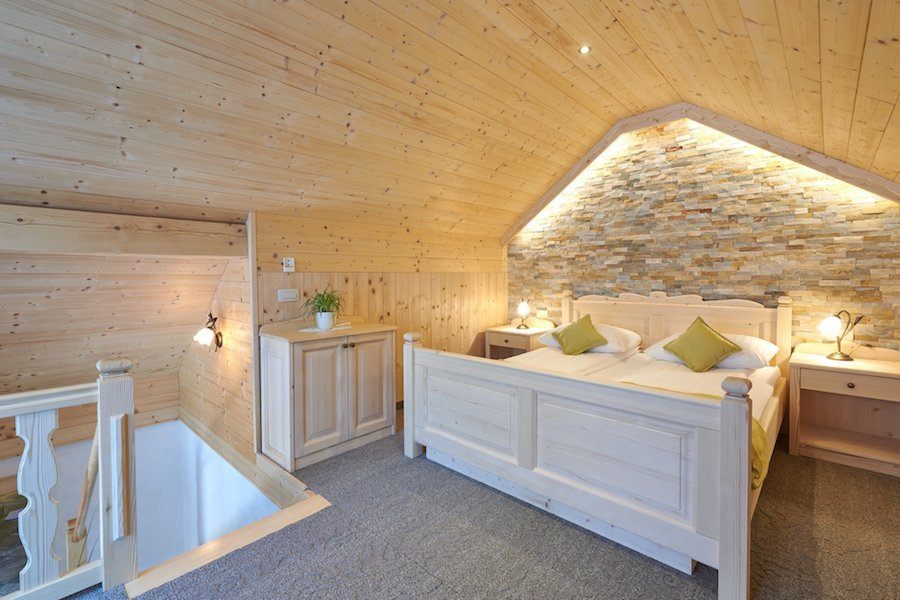 Penzion Berc is a renovated rustic farmhouse from 1843. This accommodation in Lake Bled's vicinity has beautiful traditional roofs that you just have to take pictures of.
It's located about 300 meters walk from Lake Bled and 300 meters from the center of town. Tourist Information Centre Bled, Bled Straža ski lift, Sports Hall Bled, Baby Straza Ski Lift, Adventure Park Bled, Bled Castle Bathing Area and Bled Castle are less than 700 meters away.
The rooms and suites are all beautifully finished and include the best amenities as well as refrigerators. Every room has a dining area and balcony.
The garden and the grounds are perfect for relaxing in, and guests can also rent e-bikes for free. The local food served here tastes fantastic along with their selection of Slovene wines. Guests get to enjoy live piano music every night.
Vila Mia
The beautiful decor at Vila Mia makes you feel right at home when you enter. The rooms and apartments at Vila Mia are decorated in shades of white and beige and look just perfect.
The double room includes free WiFi, heating, air conditioning, hairdryer, satellite TV, and has a small balcony with a garden view. The apartments also include well-equipped kitchens, and seating and dining areas, and can house up to 4 adults and one child.
Vila Mia overlooks the Julian Alps and Bled Castle. Lake Bled is a 5-minute walk away while Grajska Beach is 10 minutes away. Several cafes, restaurants, bakeries, and supermarkets are open nearby.
Vila Mia is the perfect place to stay at in Bled if you're looking for privacy and easy access to the lake and food.
Old Bled House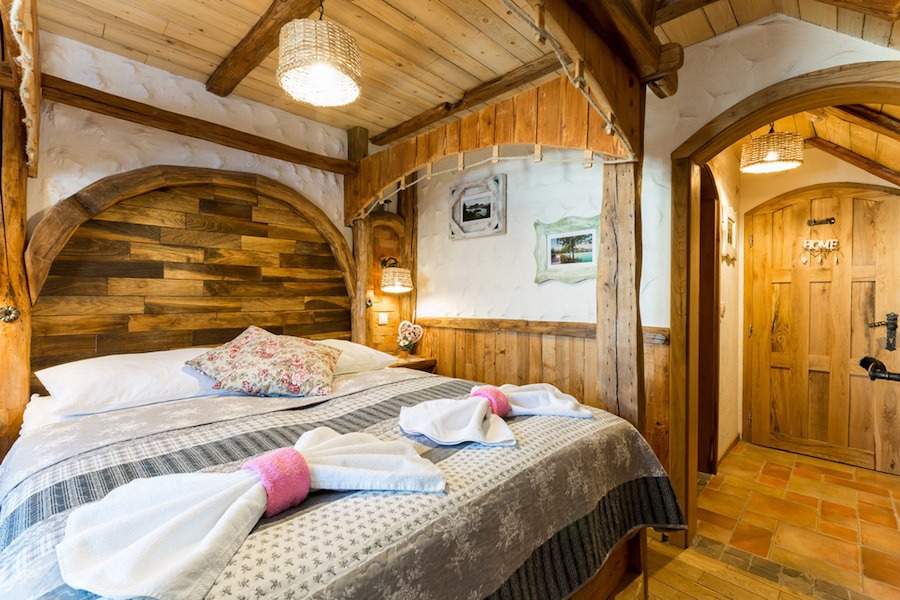 Reminiscent of days long gone, Old Bled House has a rustic feel to it. This cheap hotel in Lake Bled is located 300 meters from Bled Lake, 1.8 km from Bled Island and 800 meters from the Straza ski lift.
Rooms at the Old Bled House are well furnished will all amenities, including refrigerators.
The wooden furnishings and stone pots make you feel like you've gone back in time. Suites, family rooms, and interconnected rooms are also available.
Pets are allowed at a charge, and free parking is available onsite. Old Bled House is the ideal budget-friendly accommodation.
Top Things To Do In Lake Bled
Putting together a list of what to see in Lake Bled in preparation of your visit? Here is a list of where to go in Lake Bled.
Ride on a wooden boat to visit the Assumption of Mary Church situated on the Bled Island in Lake Bled
Visit the historical Bled Castle that's been around since 1011
Visit the lovely village of Bohinskja Bela
Ride the Toboggan at Straza near Lake Bled
Visit the nearby Vintar Gorge
Go kayaking, sky diving, windsurfing, hiking, paddling, boating, ballooning, diving, swimming or cycling around Lake Bled
During winter you can hike up a frozen waterfall or go skiing and sledding near the lake
Taste some delicious Bled Cream Cake in the lakeside cafes
Take a ride on the 110-year-old steam train of the Bohinj Railway
Enjoy your time at beautiful Lake Bled, and come back to comment and let us know how it went.
More Slovenia Travel Blog Posts