Some posts contain compensated links. Please read this disclaimer for more info.
Things To Do In Piran Slovenia A Seaside Delight
While Croatia's Adriatic coast gets all the attention—and the hordes of tourists—Slovenia's coast remains more of a locals' destination. This is ideal if you're looking for a laid-back seaside holiday destination. Slovenia's Adriatic coast is much smaller and quieter than Croatia's (merely 29 miles compared to 3,600 miles). Yet, it has essentially the same things to offer. You should focus your attention on Piran, the main town on the coast of Slovenia.
Piran is ridiculously picturesque. Situated on a long and narrow peninsula jutting out into the Adriatic, this small town is particularly pretty around sunset.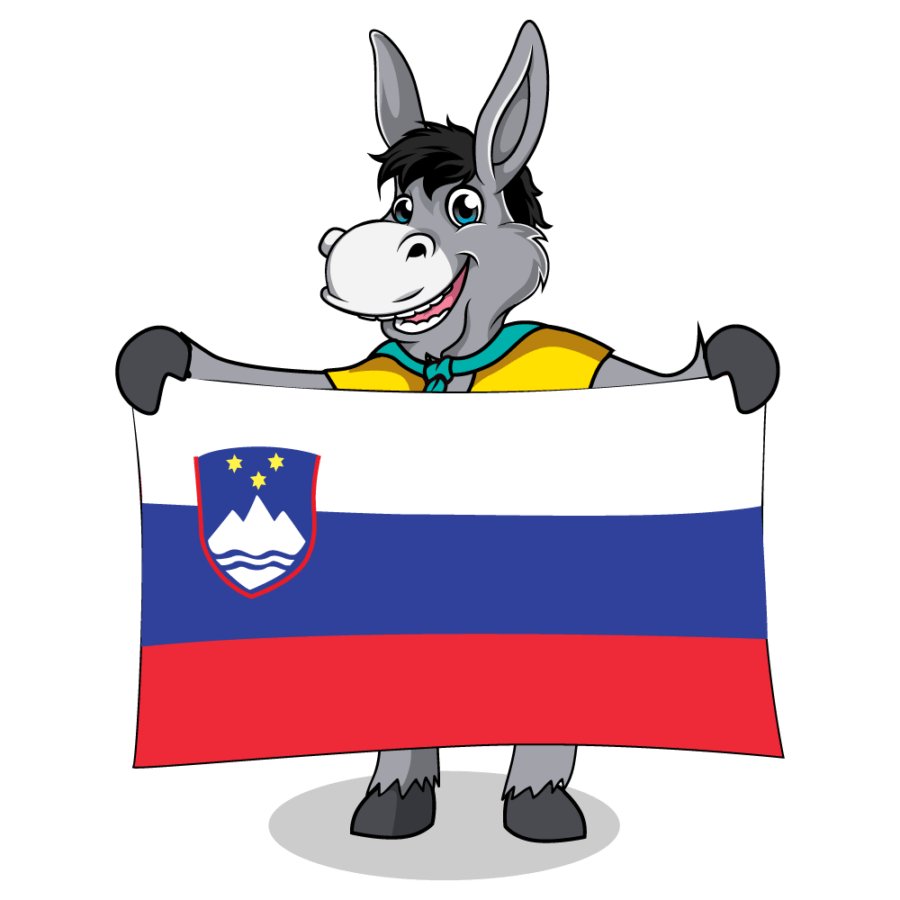 Where most towns on the Adriatic coast are tourist-centered and rather soulless, Piran has managed to keep its historic charm and remain a vibrant, authentic community. Its Old Town is among the best-preserved anywhere in the Adriatic, the beautiful architecture boasting Venetian influences and all kinds of vibrant pastel colors.
Just like other towns on the northern Balkan coast, Piran was once part of Venice—the same applies to Croatian coastal places like Rovinj. Incidentally, Piran and Rovinj both lie in the region of Istria, which encompasses the Slovenian coast and the northern coast of Croatia.
It's this region that has distinctly Venetian (and Italian) features, including the local dialect and architecture. Even the road signs and towns' names are in Italian and, respectively, Slovenian and Croatian. Piran is known as Pirano in Italian, and you'll see this mentioned all over the place, even in Slovenia.
Find your Piran accommodation here!
Piran's Exceptional Charm
When visiting Piran, it can sometimes feel as if you're walking around in a postcard. The Old Town oozes charm with its maze of narrow streets, pastel-colored buildings, and the town wall. Almost entirely surrounded by water, this a place characterized by seafood restaurants, salty sea air, and glorious sunsets. And then, there's Tartini Square, the town's main square, which is a goosebumps-kind-of pretty.
Just try not to fall head over heels in love with this charming, atmospheric, and—above all—authentic Slovenian gem. In Piran, you can see fishermen casting their nets from the pier in the morning while local farmers deliver their products and produce to the market. Locals start their day with a cup of coffee, overlooking the sea, talking and greeting passersby with a friendly nod of the head.
Although it's not as busy as many other towns on the Adriatic coast, Piran does receive its fair share of visitors in summer. It can be crowded at times, but it's never too much. The mix of foreign nationalities that explore Piran's winding alleyways in summer adds to its liveliness. If, however, you'd rather have more peace and quiet during your sun-and-sea vacation, you're advised to visit in June or September.
Things To Do In Piran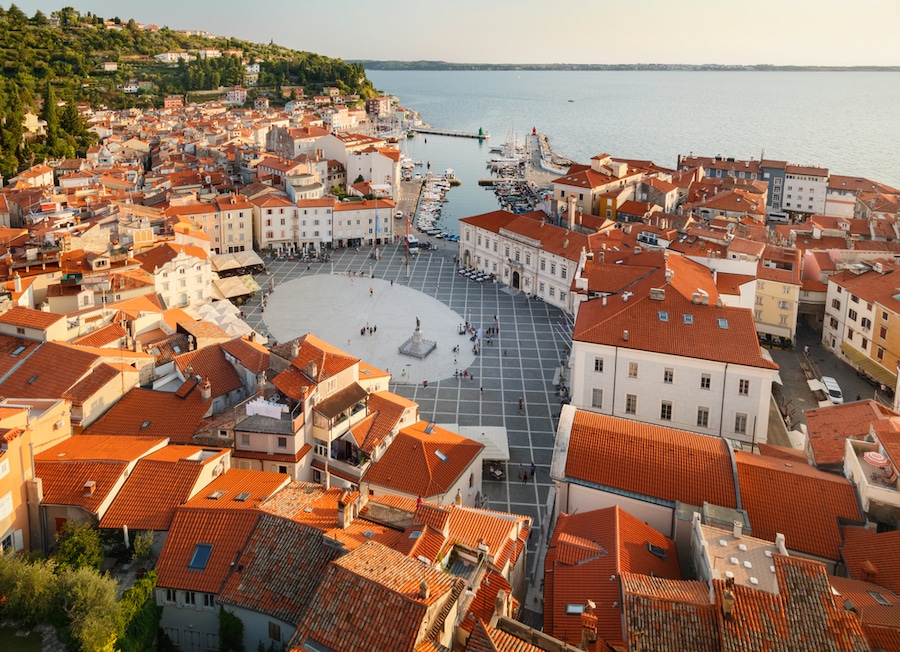 First of all—let's get it out of the way—there are no sand beaches in or around Piran. As is the case, pretty much anywhere in the Adriatic, the beaches are made up of pebbles and rocks (with some Sandy beach exceptions). In Piran's Old Town, you can go swimming, though. Simply walk down the rocks on the edge of the peninsula and jump in the water. Sunbathing will have to be done on those rocks, so make sure to bring something comfortable—chairs or inflatable mattresses are ideal.
Piran is a small town. It's possible to hit all highlights (see below) in just a few hours. This, of course, makes it an ideal day trip destination. However, you're absolutely recommended to spend at least one night in town to really experience its ambiance, including an evening. Using Piran as a base to explore the rest of this gorgeous region is an even better idea. Consider staying at Hotel Piran, which boasts a superb location right next to Tartini Square and mere steps from the waterfront.
When you've covered all the tourist attractions, simply relax and bask in the town's undeniably fantastic atmosphere. Meander through the narrow alleys in the Old Town, go for a swim in the Adriatic Sea, enjoy some people-watching from a waterfront café or take a walk in the photogenic harbor. Again, make sure to stick around for the sunset—it can be downright phenomenal.
Piran has essentially three major tourist attractions, which, as mentioned earlier, takes you about three hours to visit. This is part of the town's charm, too—the fact that you don't need to plan much when visiting Piran. Instead, you can just play it by ear and take your time exploring. There's no better or prettier place for a relaxed seaside holiday.
Tartini Square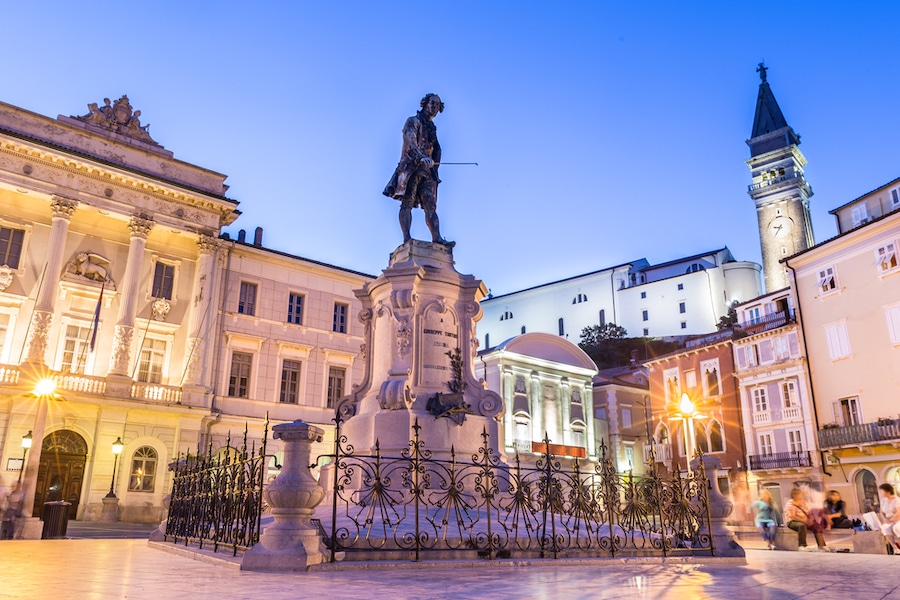 Known as Tartinijev Trg in Slovenian, Tartini Square is Piran's crown jewel. This magnificent oval-shaped square is one of the most attractive public spaces in Slovenia. A former inner harbor, this space was filled up in 1894 and transformed into a square.
Gorgeous pastel-colored buildings surround Tartini Square, while a striking statue and the imposing Church of St. Peter act as prominent landmarks. When visiting Piran, definitely grab a cup of coffee (kava in Slovenian) and take a seat at one of the many outdoor terraces.
Also, note the Venetian windows in some of the buildings around the square. The appropriately named Venetian House is the perfect example of surviving Venetian architecture in Piran—it's also the oldest building on Tartini Square. It's bright red and easily spotted.
Cathedral Of St. George
While Piran has more than twenty churches, the Cathedral of St. George is the main one. Located atop a small hill just behind Tartini Square, this 14th-century building dominates the townscape. Its most striking feature is its beautiful bell tower.
You can visit the cathedral and its modest museum with the treasury and small crypt, but climbing the bell tower is the most popular thing to do. After ascending 146 steps, you'll be able to enjoy the best views in town.
Maritime Museum
Piran's maritime history is exhibited at the fine Sergej Mašera Maritime Museum. Housed in the beautiful Gabrielli Palace, the museum offers information on sailing, the Adriatic Sea, and salt-making right at the waterfront.
The exhibits are explained only in Italian and Slovenian, but you can get English descriptions at the front desk. While this is by no means a spectacular museum, it does offer you an insight into Piran's history—always helpful when visiting a new place.
MORE SLOVENIA TRAVEL BLOGS
MORE CROATIA TRAVEL BLOGS
Share