We may earn commission from affiliate links →

Best Hotels In Piran, Slovenia
Piran is a beautiful town in Slovenia and is full of Venetian style architecture and narrow streets. The town was a part of Venice's Republic from 1283 to 1797 when Austria annexed it. France and Italy also governed it at different times before becoming a part of the now independent Slovenia in 1991.
The famous composer and violinist Giuseppe Tartini was born in Piran on 8th April 1692. Tartini Trg, or Piazza Tartini, which is named after him, has a statue of the great composer.
The charming town of Piran is the perfect place to go on a culinary adventure and spend some quiet time enjoying the sea and the sights. There are no five-star hotels in Piran, but the 4-star and boutique accommodation in Piran is enough to enjoy a luxurious, pampered stay.
Boutique Hotels In Piran
Here are several options for small boutique hotels in Piran.
Hotel Piran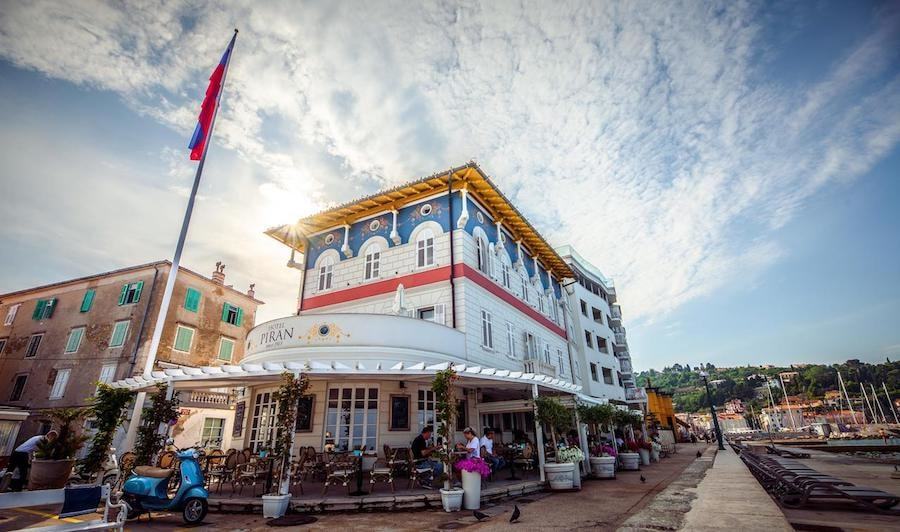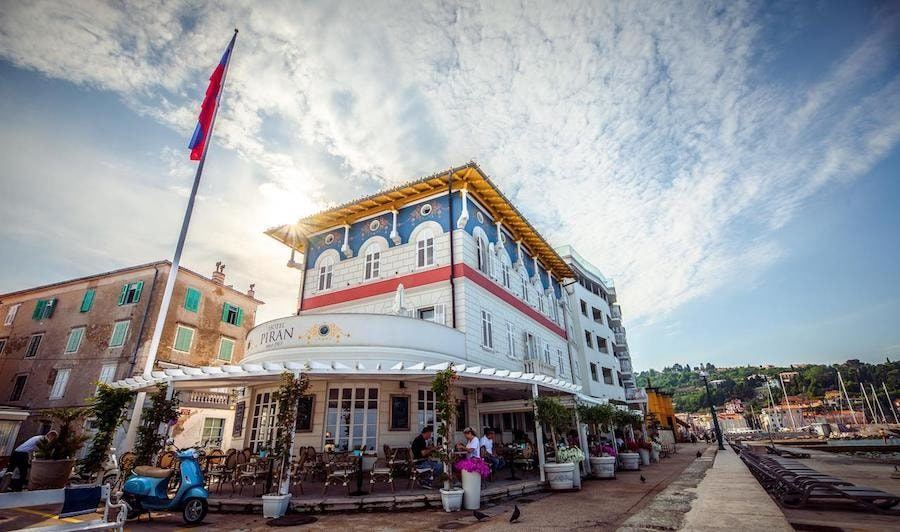 Cocoon couches on a deck by the bay with picture-perfect views of the sea. That's what you'll get when you stay at this hotel in the historic center of Piran.
Since the Hotel Piran is located in a car-free zone, guests can park in the Garage House Piran above the city, but free shuttle buses run from Fornace to Piran Centre every 15 minutes.
Hotel Piran in Piran is a family business located a stone's throw from Tartini Trg and St. George's Bell Tower. Rooms include air conditioning, heating, flat-screen cable TVs, safety deposit boxes, telephones, and free WiFi. Suites also include sofas and minibars. Some of the suites/rooms have balconies. Ask for a room with a sea view!
Hotel Histrion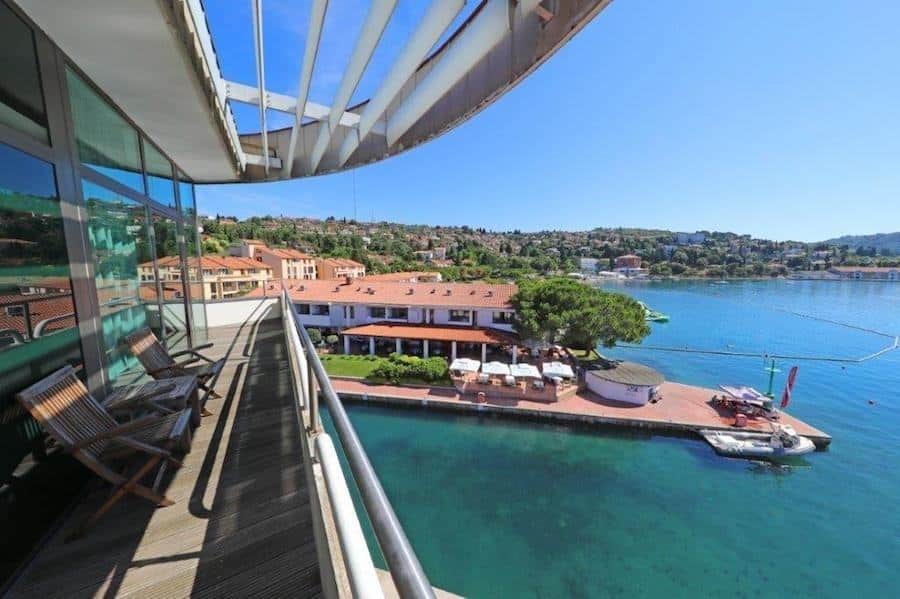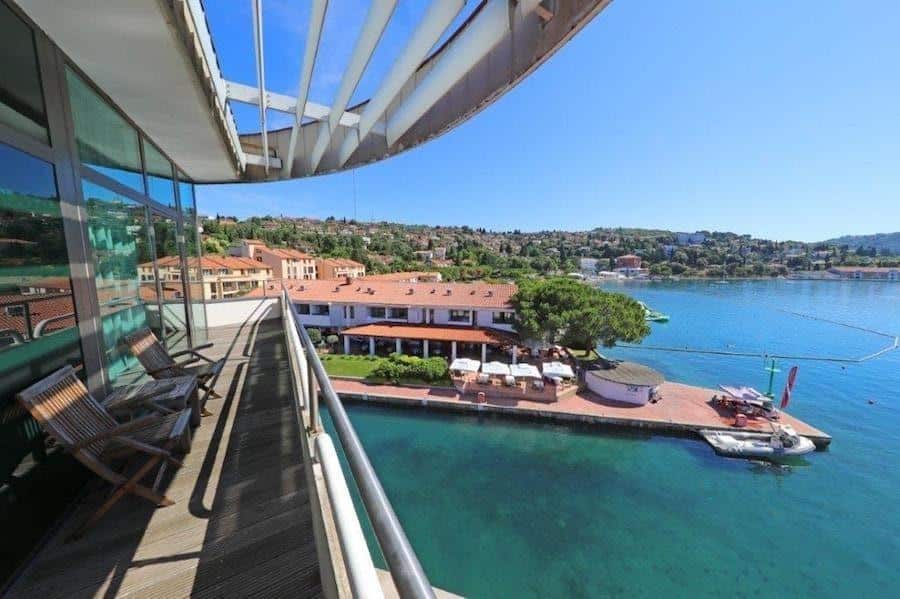 Hotel Histrion is located 1.6 km outside of Piran, near the town of Portoroz, right next to the monastery church of St. Bernadin.
Guests at this Piran luxury hotel have access to the Casino Bernadin – the largest on the Slovenian coast, the Laguna Bernardin Water Park, and the Wellness Center Laguna.
Guests at the hotel have access to a spa, swimming pool, indoor pool, and private beach. The air-conditioned rooms at this Piran hotel include heating, telephones, TVs with cable channels, safes, minibars, telephones, hairdryers, balconies, radios, desks free WiFi. 34 m² family rooms are available for guests with children.
The 50 m² suites include a seating and dining area and can sleep up to 4 adults.
Portoroz Thermal Spa, Fiesa Lake, Tartini Square, and St. George's Church are less than 2 km away. Bernadin Beach and Vile Park Beach are within walking distance. There is also a free shuttle bus to Piran that guests can take advantage of.
PLAN AHEAD TO GET THE BEST DEALS
Cheap Hotels In Piran
Need to save a little on your accommodation in Piran? No worries, these budget-friendly hotels will suit just great!
Barbara Piran Beach Hotel & Spa
Hotel Barbara Piran is located in a green bay between the Adriatic Sea and the beautiful Fiesa Lake. Tartini Square in the City center is a 20-minute walk along the ocean, while Portoroz and Strunjan thermal Spas are a little bit further.
Rooms and suites at Hotel Barbara Piran include air conditioning, heating, minibars, hairdryers, flat-screen TVs, balconies, desks, clothes racks, and free WiFi. Beachfront or ocean view rooms are also available.
Art Hotel Tartini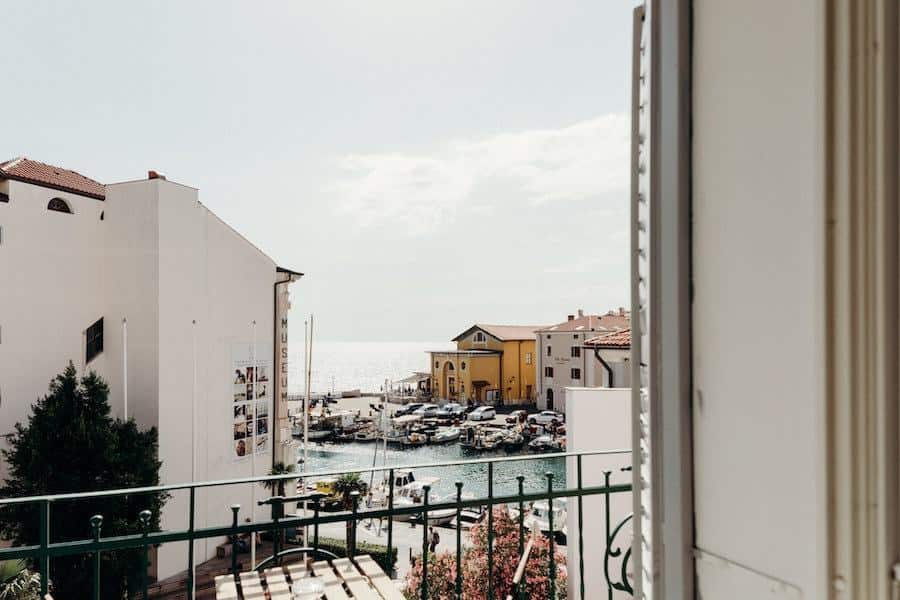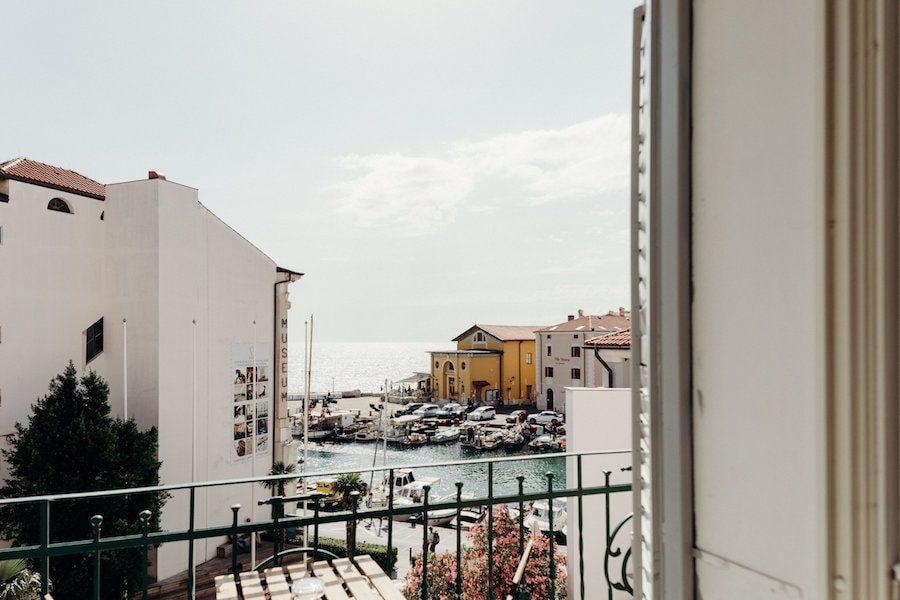 Classy artwork by the Slovenian artist Jasa adorns the walls of this comfortable yet cheap accommodation in Piran. Art Hotel Tartini is one of Piran hotels that mixes modern design with bright, tasteful colors.
The hotel is one of the Piran restaurants to feature culinary classics from chef Crt Butul and Mediterranean and international cuisines.
Spacious rooms and suites are equipped with flat-screen TVs, a seating area, safes, telephones, air conditioning, heating, soundproofing, balconies, and free WiFi. Rooms on the upper floors are accessible by elevators.
Public parking is available nearby at 8 Euros per day, and pets are allowed at additional charges. This Piran accommodation is the perfect location to enjoy your Piran holidays.
Hotel Fiesa
This hotel is an excellent 4-star place to stay in Piran. It's right on the water, about 200 meters from Fiesa Lake and within a 15-minute walk from the historic center of Piran.
Rooms at this cheap accommodation Piran include minibars, flat-screen TVs, refrigerators, fans, desks, telephones, air conditioning, heating, and free WiFi. Suites have sea-view balconies and can accommodate up to 5 people, while quadruple rooms with bunk beds can accommodate up to 4 guests.
Free parking is available on site, and pets are allowed at a charge. The onsite restaurant serves child-friendly meals, and special diet items are available on request.
Hotel Fiesa can arrange for diving, canoeing, hiking, and other offsite activities at a charge. Snorkeling is possible right in front of the hotel.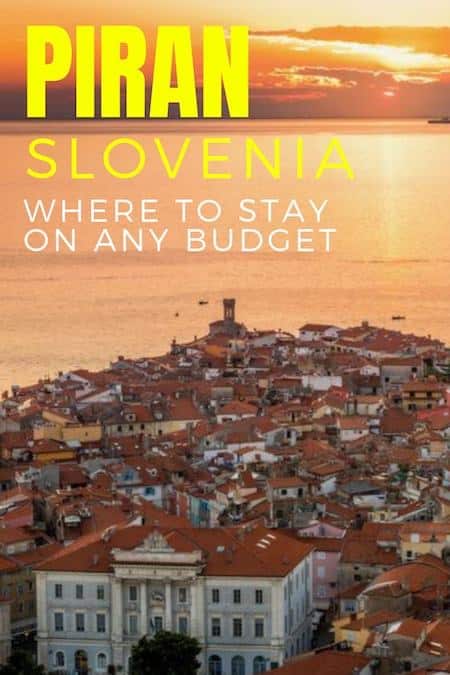 Piran Apartments
These apartment ideas will be sure you have extra space to enjoy while in Piran.
Casa Al Porto Antico
These apartments are located in the best area to stay in Piran, the heart of the city. Located close to Tartini Square and the beach, this 4-star private accommodation in Piran is perfect for travelers who want privacy. The elegantly decorated 28 m² and 35 m² apartments can accommodate four guests, while the 48 m² can house six guests.
This Slovenia accommodation is fully furnished with all amenities, including free WiFi and hypoallergenic linen. It also has a living room, dining area, and a patio/balcony. The kitchen is equipped with a refrigerator, microwave, kitchenware, electric kettle stovetop, toaster, coffee machine, high chairs for children, and indoor and outdoor dining areas.
The apartments are within walking distance of several cafes, restaurants, and bars; and less than 3 km from Strunjan and Portoroz thermal spas.
Casa Al Porto Antico may well be one of the best places to stay in Piran!
Apartment Buena Vista Piran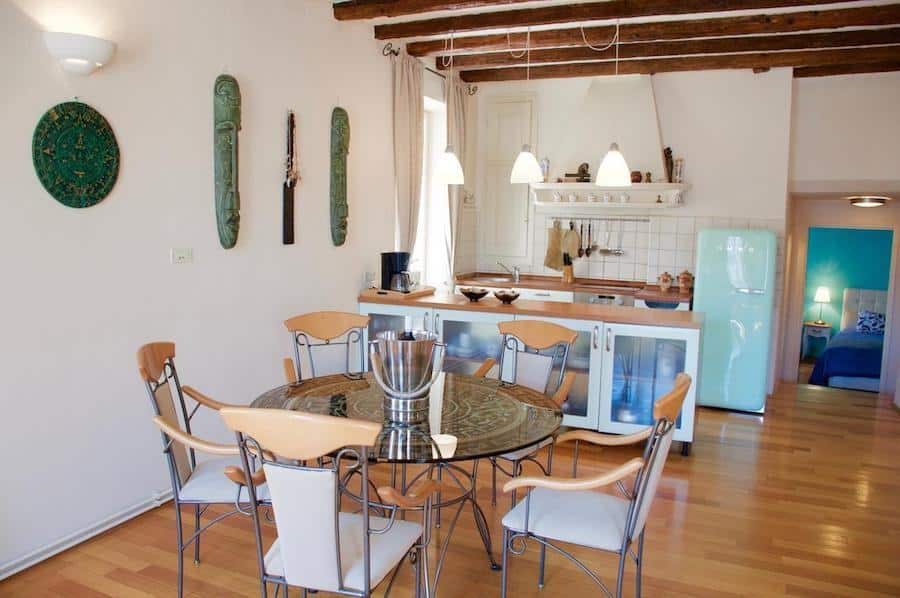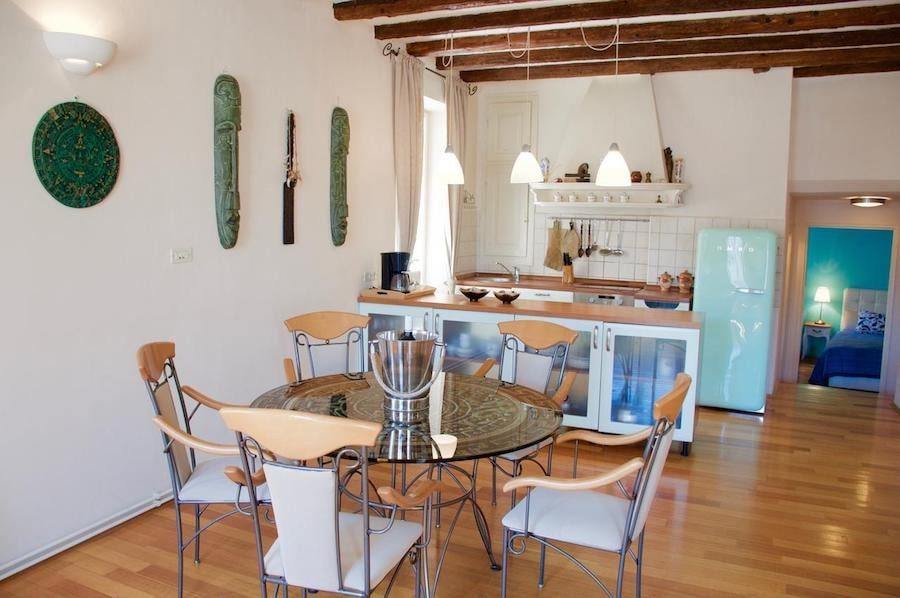 Just 50 meters from the center, this is literally the best place to stay in Piran. The apartment overlooks the old fisherman's harbor and is within walking distance of a baroque court, museum, Tartini Theatre, St. George's Church, Tartini square, the aquarium, and the beach.
The bright and sunny 113 m² apartment still has its old stone walls, wooden beams, and kitchen chimney. The rest of the apartment features a stylish and classy design. There are 3-bedrooms, a living room, dining room, kitchen, and a jacuzzi bathroom.
The apartment can house six guests. There is a washing machine, free WiFi, DVD players, and hypoallergenic linen in addition to regular amenities. The well-equipped kitchen includes a dishwasher, refrigerator, electric kettle, kitchenware, oven, toaster, and a stovetop.
The apartment is located on the 3rd floor of a historic building with no elevator. Public parking is available nearby at Euro 17 a day. Pets are not allowed. Children's cribs are available. The Apartment Buena Vista Piran is one of the best places to stay in Piran for a semi-luxurious private holiday.
Romantic Maisonette
Located close to the Piran attractions, the Romantic Maisonette is a 3-bedroom apartment with a terrace that can house five guests.
It is located in the Punta, the old part of Piran where cars are not allowed. Nearby attractions include a charming baroque water cistern, the Church of St. George, and the Tartini Teg.
Cafes Mestna Kavarna, Čakola, and Al fine di mondo are close by, as are restaurants Riva and Trattoria Ivo. Yet, the kitchen is equipped with wine glasses, high chairs, a dining table, cleaning products, a stovetop, oven, kitchenware, an electric kettle, and a refrigerator if you want to eat at home.
In addition to regular amenities, the apartment includes cribs for children, mosquito nets, baby safety gates, outdoor games for children, and clothes racks. Outdoor furniture is also present. The unique apartment is perfect for a private stay in Piran.
Bed And Breakfast Piran
A little home-away-from-home awaits you here:
Benecanka Casa Veneziana Piran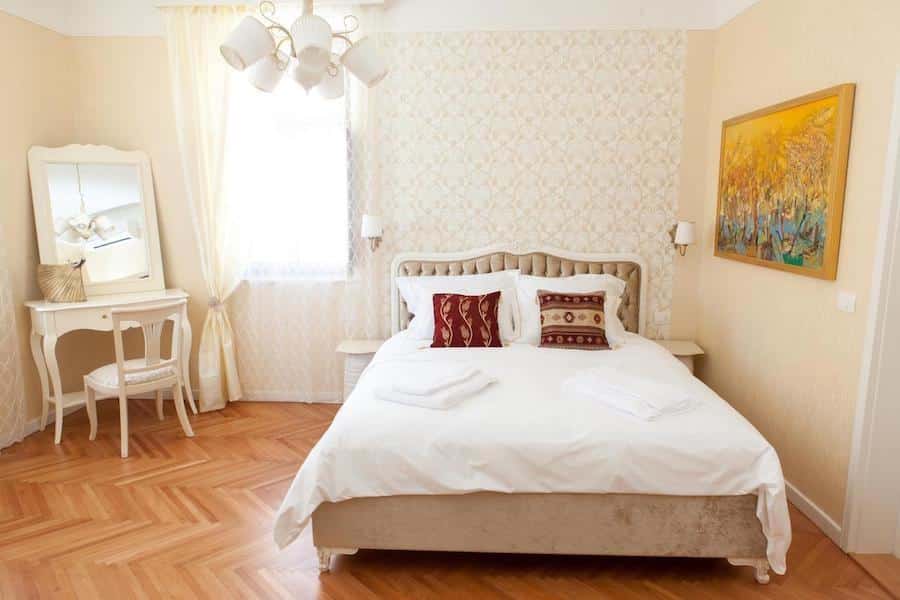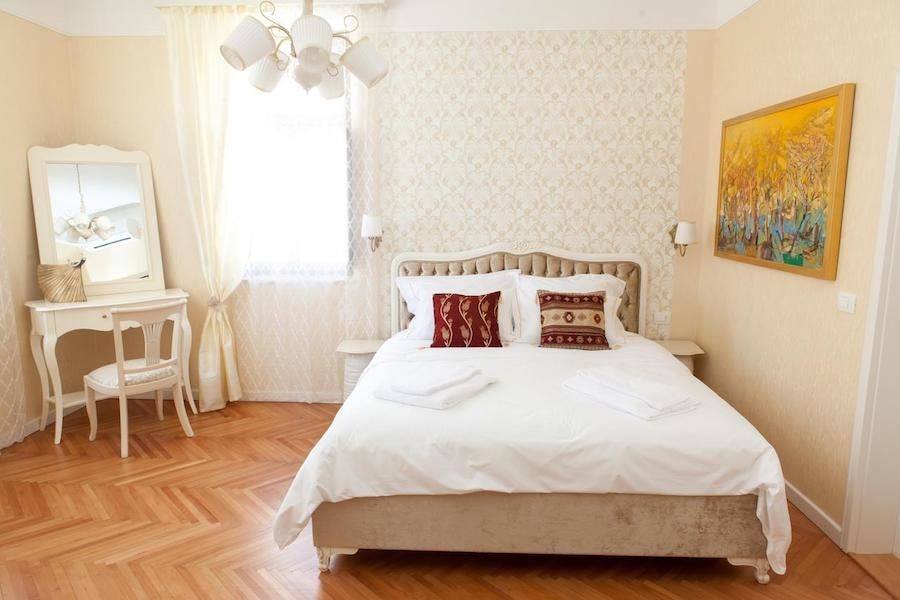 This accommodation in Piran is located just steps from Tartini Square and close to the sea. It is also close to the town hall, churches, and museum. The building is one of the oldest in Piran, built in the 15th century.
There is a legend associated with the house. It was built by a wealthy Venetian salesman from del Bello for his beautiful girl Margareta from Piran. The balcony that she used to stand on waiting for him still stands.
In addition to regular amenities, the 28 and 50 m² rooms at this bed and breakfast include executive lounge access, tumble dryers, blue-ray players, radios, coffee machines, and ironing facilities.
The floors have charming hardwood designs, while the furnishings take you back to times long past. The staff and landlord at this Piran accommodation are very friendly and helpful. Benecanka Casa Veneziana Piran is the best choice for a stay in the heart of Piran.
Max Piran
Situated quite close to Tartini Teg, this bed and breakfast Piran is ideal for an economical stay in the old town. Fiesa Lake is 1 km away. Max Piran is within walking distance of St. George's Church, restaurants, cafes, and supermarkets.
Rooms at this cheap accommodation in Piran are small but cozy and individually decorated. You do not have room numbers, but names such as Eva, Francesca, Sofia, Julia. Rooms include free WiFi, air conditioning, LCD cable TVs, hairdryers, radios, desks, sitting areas, soundproofing, heating, clothes racks, and hypoallergenic linen.
Ronchi Dei Legionari Airport is 33.7 km away by taxi. Public parking is available nearby at Euros 12 per day. The hotel can arrange biking, snorkeling, diving, fishing, cycling, water sports, and other activities.
Piran Hostels
Hostel Piran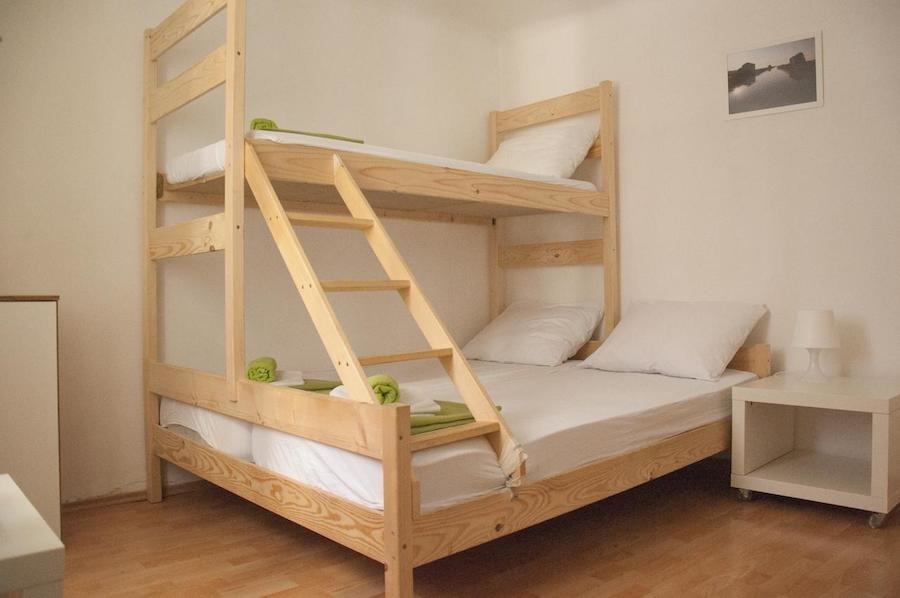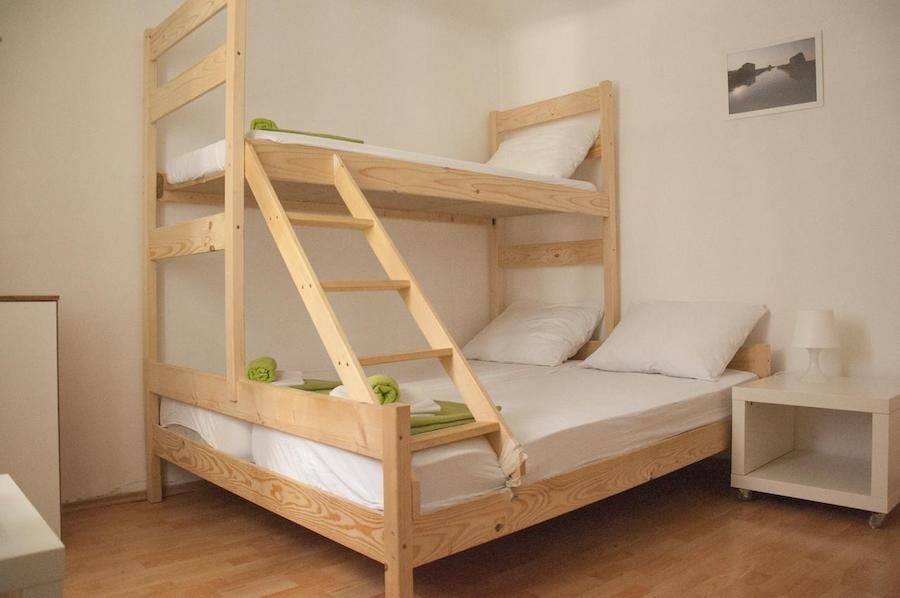 The 2-star Hostel Piran is an excellent place to stay when you visit Piran, the Portoroz beaches 3 km away, and the Strunjan nature reserve 4 km away. It is close to the center of Piran's main attractions and less than 100 meters from cafes, restaurants, and bars.
Guests at Piran hostel can stay in either double, triple, or quadruple rooms with heating, fans, cable TV, and free WiFi. They also have access to a shared bathroom and kitchen. Public parking is available nearby at Euro 17 per day.
The kind hosts can arrange offsite activities such as diving, snorkeling, cycling, and tennis for an additional fee.
Top Things To Do In Piran
Wondering what to do in Piran? There are so many things to do in Piran on your visit. Here are essential things in Piran to see.
Learn about Piran's Maritime history at the Sergej Masera Maritime Museum
Eat at one of the restaurants in Tartini Teg or Tartine Square
Climb 146 steps to see the Bell Tower of the Cathedral of St. George or Chiesa di San Giorgio
Stroll along the harbor or go sailing
See the rock art around Piran's coast
See the walls of Piran that were built in the 7th-century
Visit the nearby Strunjan National Park for a hike
See the Secovlje Saltpans, where salt is still made naturally
Visit the Museum of underwater activities
Visit Giuseppe Tartini's birthplace – Tartini House
Visit the Piran Minorite Monastery
Marvel at the architecture in Serkev Sv. Frančiška
Enjoy a few hours at Fiesa Lake or Bele Skale Beach
Have a great stay in Piran! Also, comment below and let us know how it went and what other hotels we should add to this list.
Don't Miss Our Slovenia Travel Guides