6 Scenic Slovenian Lakes (Other Than Lake Bled)
Written by Slovenian local Mateja List.
Lake Bled is, without a doubt, the most famous lake in Slovenia. Its small island with a church, romantic pletnja boats, and an iconic castle make it a popular destination.
Sadly it also became one of the most crowded.
In 2018, the Slovenian locals complained about the crowds and traffic congestion, which now begins as early as May each year.
If you want to avoid the crowds, Slovenia has many other beautiful lakes, and we chose six of them for you.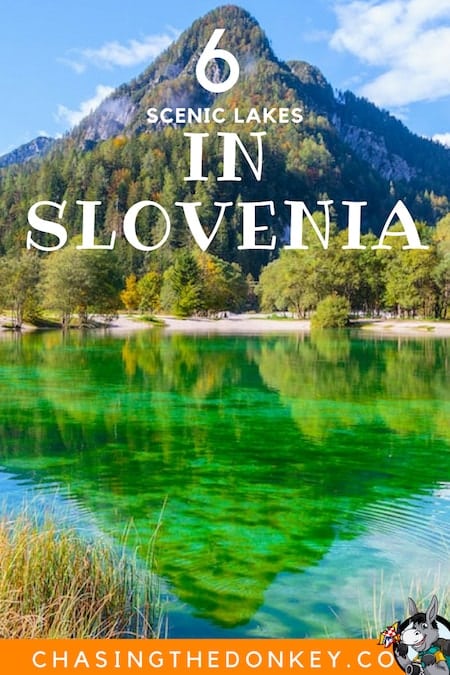 Lake Bloke (Bloško Jezero)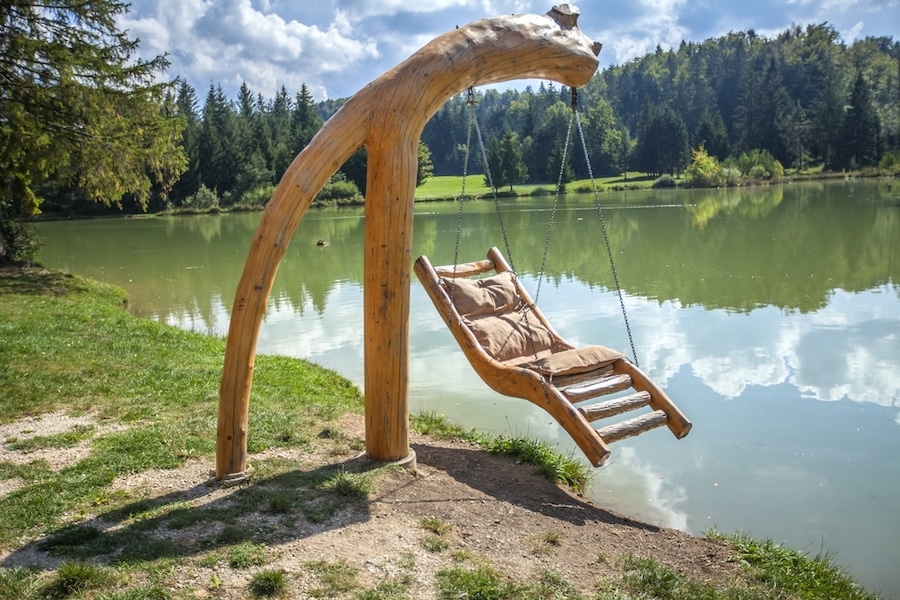 Another lake made by man, but it is located in the middle of pure nature. Locals decorated its shore with entertaining handmade wooden sculptures, which include bears. Not only sculptures, you can see live brown bears in the area, but don't worry, they don't mingle with visitors. You will have to use one of the several specialized observation sites.
Lake Bloke area is exceptional for one-day visits or longer stays at the Hija Glamping site. All cabins in it were handmade by a local family. Only timber from nearby forests was used. A log cabin next to the lake offers a wide variety of food and drinks. It can get very crowded on a hot summer day when nature lovers from near and far come to cool in the shade by the lake.
Bloke's water is perfect for swimming in the summer and ice-skating in the winter. Unlike some other Slovenian lakes, Lake Bloke is quite warm. The area of Bloke is also the cradle of Slovenian skiing. Janez Vajkard Valvasor first described it in his "The Glory of the Duchy of Carniola," published in 1689. How those first skiers looked can be seen in a nearby Bloški smučar museum.
TRAVEL COMPANIES WE USE AND TRUST
Lake Jasna (Jezero Jasna)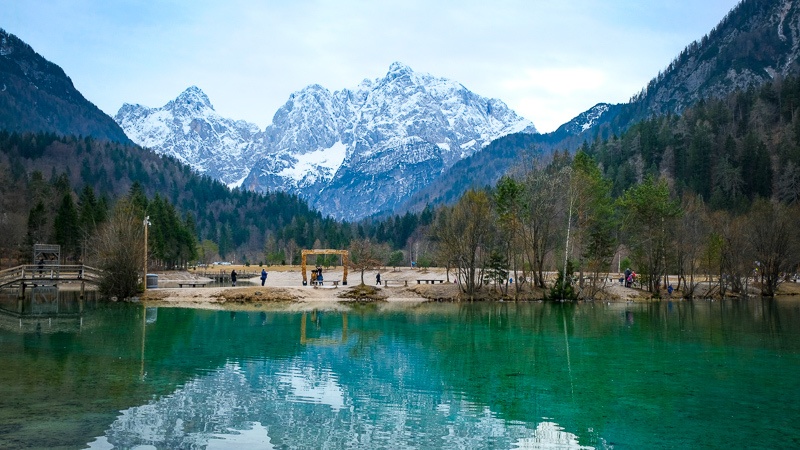 This stunning alpine lake is located two kilometers from Kranjska Gora. Lake Jasna is the name for two smaller artificial lakes. High mountain peaks provide a breathtaking view from this swimming location.
Jasna is a popular girl's name in Slovenia, and it means clear. A perfect name for this lake. The crystal clear water looks inviting, but only the bravest dare to enter it due to cold temperatures. For those, there is a three-level diving platform.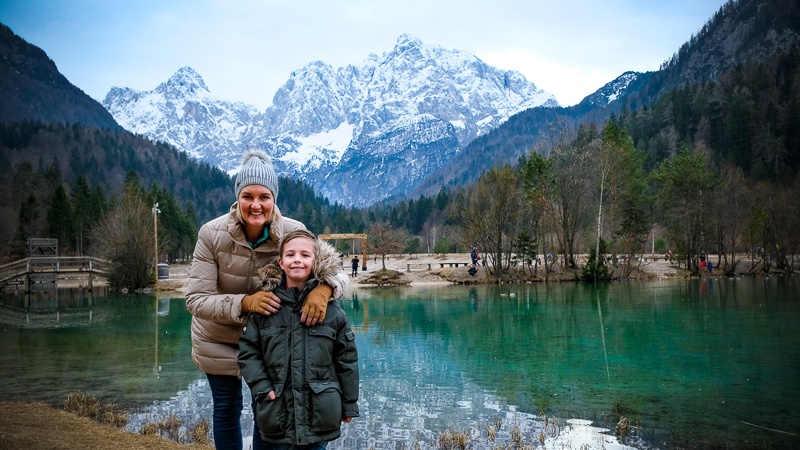 Local ducks will come to check if you have brought any food with you. Lake Jasna is also a popular fishing spot and is located in an area known for many different walking trails. Do you prefer reading a book in a cool shade? Do find a Library by the lake in a little wooden hut.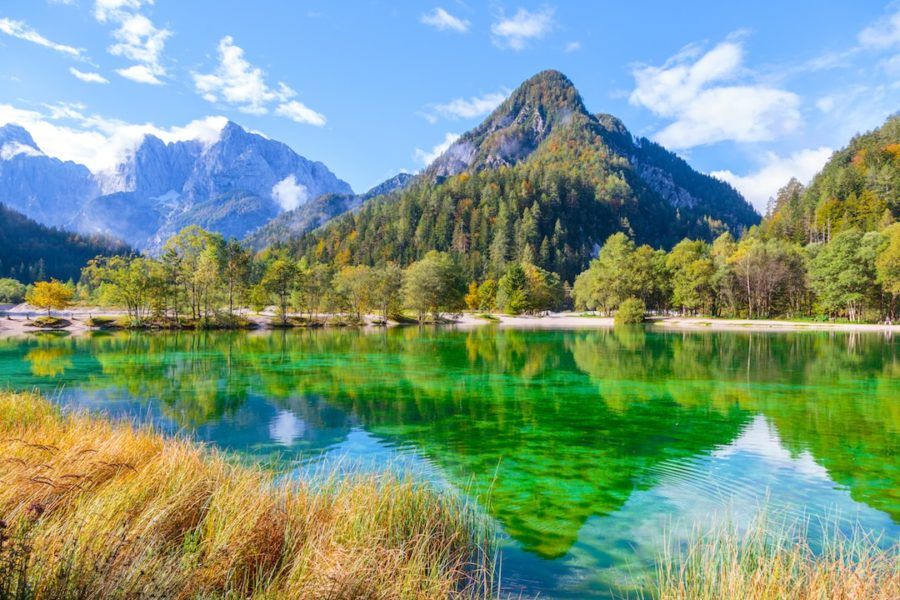 The first thing most visitors usually do is take a selfie with a bronze statue of a golden-horned ibex. He is a popular character from a legend about Zlatorog (golden horn). According to the story, he was a key to a great treasure, hidden somewhere around mount Triglav.
Find our favorite Kranjska Gora accommodation here!
Lake Trboje (Trbojsko Jezero)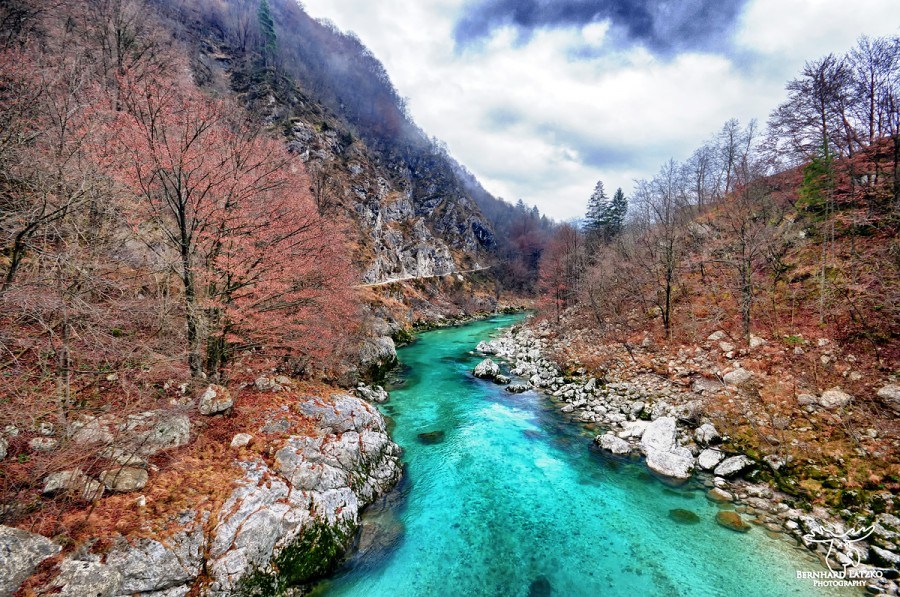 Are you a SUP enthusiast? Lake Trboje is a popular Stand-up paddling point. Another artificial lake is located in the Gorenjska region. Since it is close to the town Kranj, it is also known by the name Kranjsko Jezero.
The best area is next to the Kavarna Čolnarna Trboje, home of the Amfibija Waterfront SUP School. To get to the shore, one must master many stairs, so it is safe to say it is not the best place for anyone with walking difficulties. Once you get to the water level, all is forgotten. Delicious homemade cakes and desserts with fresh strawberries make the descent worth doing.
As an alpine country, Slovenia has a very small coastline but numerous lakes of all shapes and sizes. There is no need to limit yourself to the two most popular ones, lakes Bled and Bohinj. If you somehow manage to run out of lakes to visit, there are also many great clean rivers you can swim in. If you are feeling brave, start with the ice-cold Soča river.
Lake Zbilje (Zbiljsko Jezero)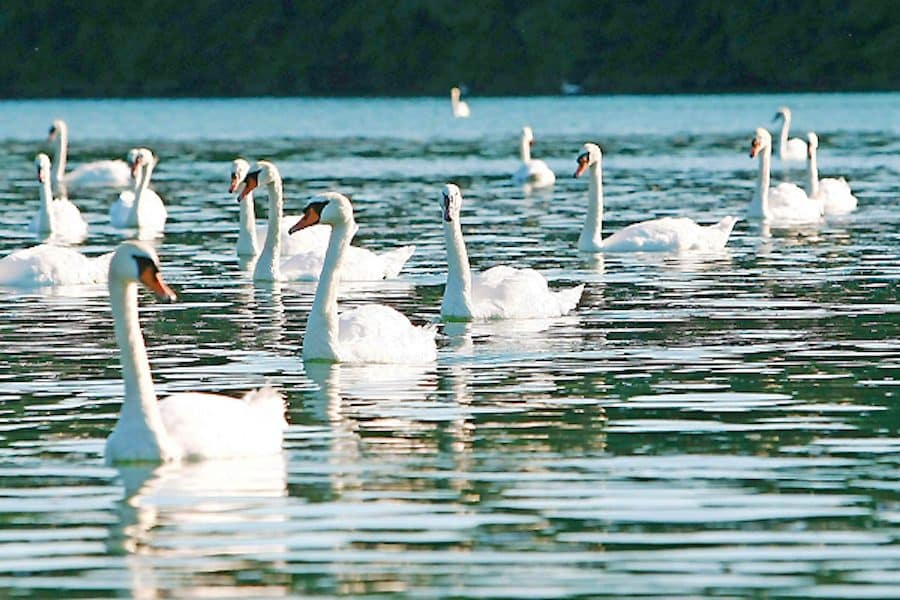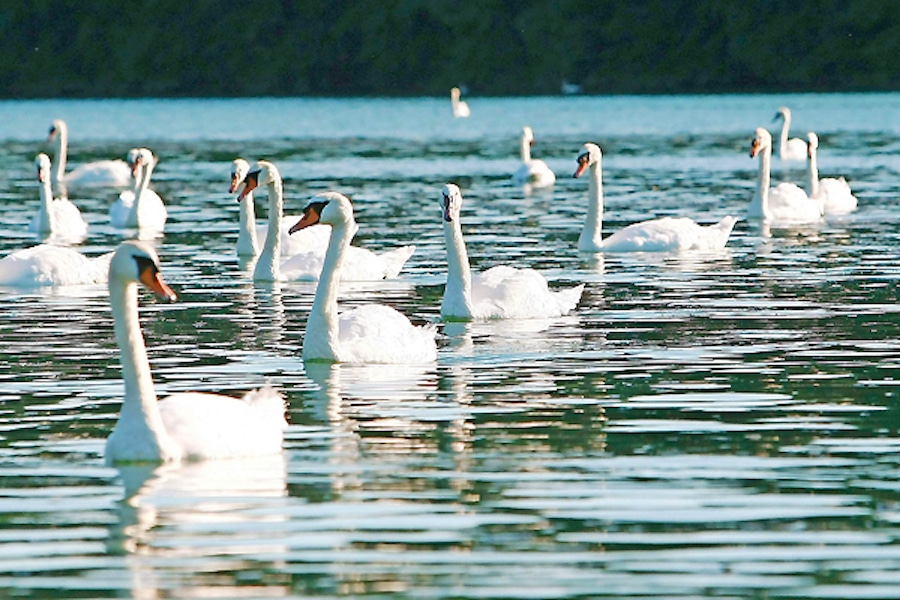 Lake Zbilje is an artificial lake, created in 1953 near the small town of Medvode.
A children's playground and several cafes are located at the shore at this popular family destination. The lake is home to many bird species, but it is mainly known for its numerous swans. Kids love feeding them with maize, which can be bought at the Dotik café.
Sadly, the water is not suitable for swimming, but you can rent a boat, fish, or hike around the lake. Have you ever had a meal in a restaurant while being watched by a flock of swans? Well, if not, this is the place to do it.
Lake Rakitna (Rakitniško Jezero)
The area around Rakitna Lake is famous for its climate, which is supposed to help with curing pulmonary illnesses. That is why this plateau is also home to the Youth Climatic Health Resort Rakitna.
Lake Rakitna is popular for day trips and an excellent base for longer hikes in the area. Several cycling routes also start or pass by; the most popular one leads to Mount Krim (1107 m). If you prefer shorter walks, try a circular path from the lake, pass the vacation houses to the center of the village with a Baroque church.
Even in the winter, there is much to do here. Cross-country skiing, ice-skating if the weather is right, or drinking hot tea next to the lake in the hotel. A modern four-star hotel, Rakitna offers comfortable accommodation for nature lovers on the weekends and hosts larger groups for teambuilding or different events during the week.
Lake Podpeč (Podpeško Jezero)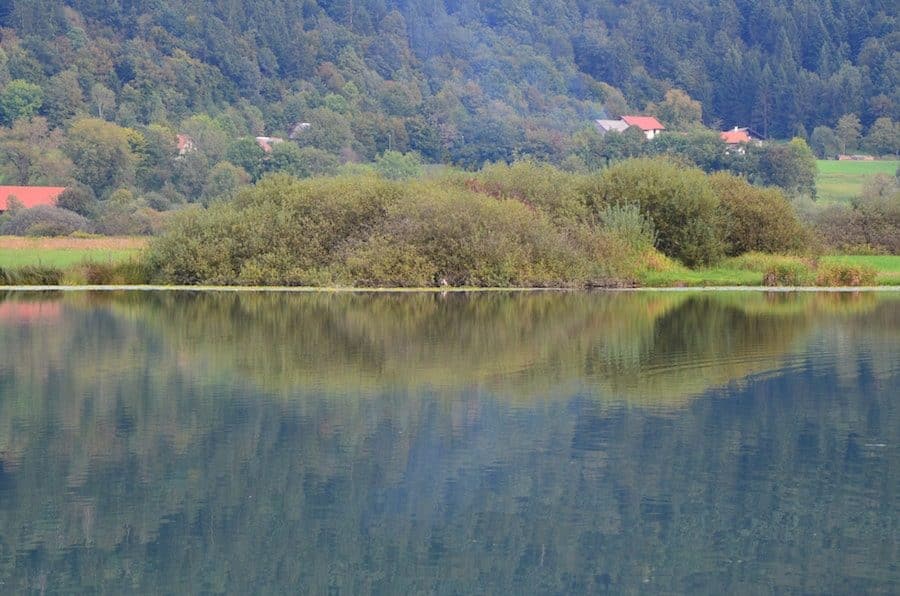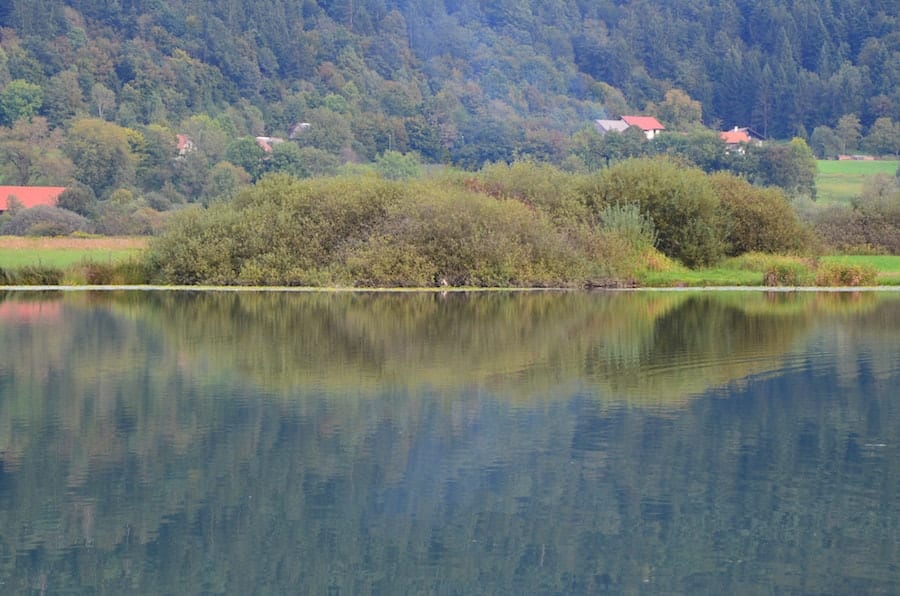 Do you prefer swimming in really deep water? Then Lake Podpeč, which is located at the UNESCO Ljubljana Marshes, which is 50 m deep, is for you.
This almost entirely round lake is small and not excessively crowded. This lake, unlike most on our list, was made by Mother Nature herself. It very rarely freezes in winter, which brings joy to winter fishing enthusiasts.
It is close to Jezero (a lake) village, and on its coast, you can find a small restaurant with the same name. After swimming and possibly some lunch you can walk to the top of the local hill, Sveta Ana. The hike takes approximately 30 minutes. Since this is the highest hill in the area, it offers a great view of the surrounding Ljubljana Marshes.
MORE SLOVENIA TRAVEL BLOGS