Nestled between Austria, Italy, and Croatia, Slovenia is a hidden gem of Central Europe, and my guide on how to spend five days in Slovenia will kick-start your love affair with this stunning country.
This tiny country offers so much, from hiking in the Julian Alps to coastal beaches and everything in between. 5 Days in Slovenia is not enough to fully explore this beautiful country, but it will allow you to explore the highlights.
This 5 Days in Slovenia guide is a road trip that starts and finishes in Ljubljana. We will explore famous crystal lakes, medieval castles, underground caves, a beautiful coastline, and even visit a few wineries.
This itinerary can also be completed if you base yourself in Ljubljana and take day trips to all these locations.
It sounds like a lot to do in 5 days, but since Slovenia is a tiny country with endless natural beauty, all of those things are possible to see and experience quickly. For the best experience, we highly recommend renting a car. Buses and trains are, unfortunately, too inconvenient for this tightly packed itinerary.

5 Days In Slovenia Itinerary Summary
Day 1: Ljubljana – Explore the beautiful and underrated capital city of Slovenia
Day 2: Lake Bled – Enjoy a visit to the island in Lake Bled or the Bled castle with stunning views of the lake in the morning and either choose to hike or go canyoning in the afternoon
Day 3: Lake Bohinj – A less crowded lake in Slovenia with a plethora of things to do on the lake or around the lake
Day 4: Goriska Brda & Piran – Visit Slovenia's most beautiful wine country and finish the day on the Adriatic coast
Day 5: Caves – Explore the unique natural beauty of Slovenia's underground.
Day 1: Ljubljana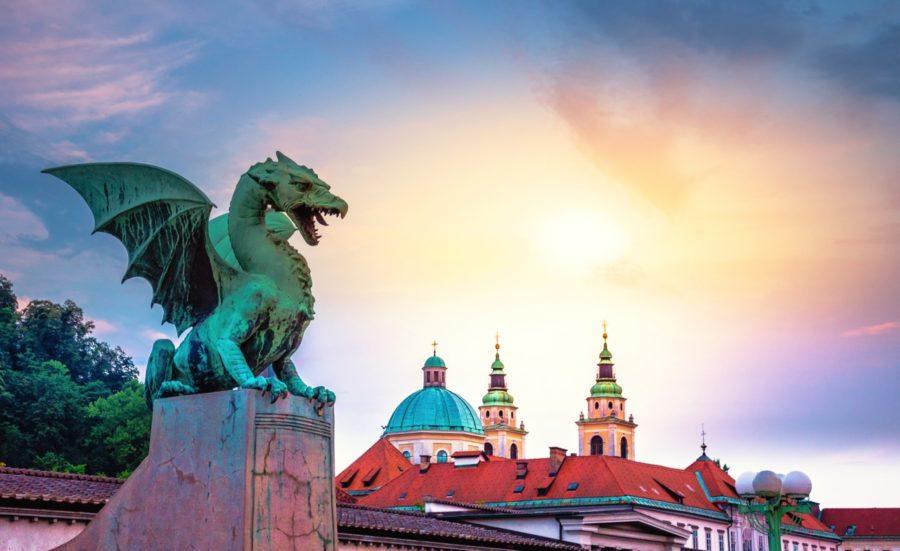 Ljubljana is the capital of Slovenia and the largest city in the country. The Ljubljanica River divides the city into Old Town and modern town. Spend the day exploring the city.
First, walk through the Old Town, exploring narrow streets and cozy squares with cafes offering refreshing beverages, ice cream, or crepes. Cross many of Ljubljana's pedestrian bridges between Old Town and "New" Town to get different city views.
After exploring the city, find your way to Ljubljana Castle. A medieval fortress towering over the city offers amazing views on a clear day. To get to the castle, you can either:
Take a funicular: This is the easiest way to get to the castle, with stunning views to boot. The funicular station is close to Krek Square
Hike up to the castle: You can take a few different paths to lead you to the castle. All of them are relatively easy walking paths
Take the urban tourist train: This is an electric train that connects some of the best-known city landmarks with the Ljubljana Castle
Bike up to the castle: Cycling is prevalent in Slovenia, and there are many bike rental places in the city
Once at the castle, explore the courtyards, walk on the walls, and climb the towers for endless city views. You can also grab an audio guide while walking around.
If you have some daylight left after the visit to the castle, you can explore the most significant green space in the city – Tivoli Park. Tivoli Castle is the center of the park, with many trails and beautiful gardens around it. Perfect for the early morning or the evening stroll.
Day 2: Lake Bled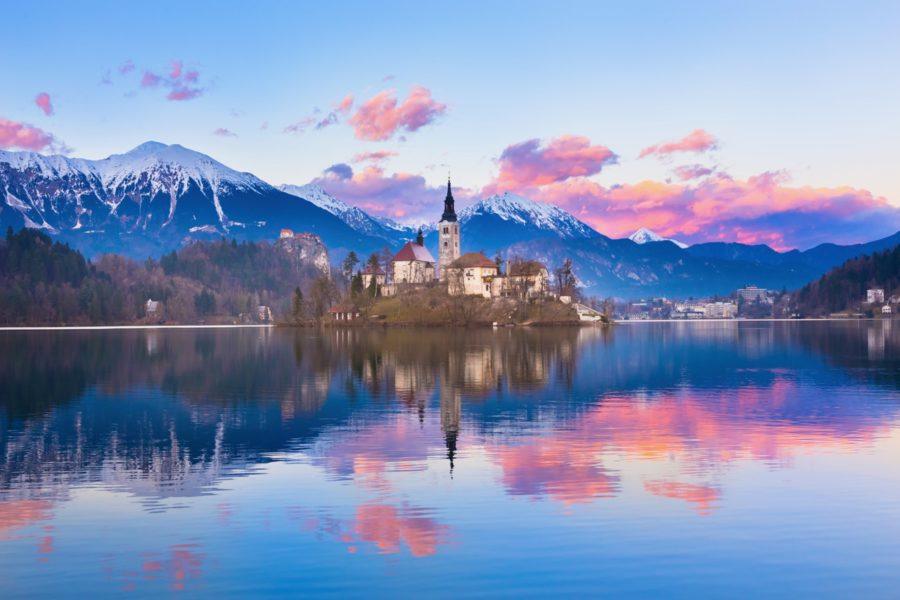 Start early, as we have another fully packed day planned. The drive from Ljubljana to Lake Bled is less than an hour. However, Lake Bled is a popular destination that gets crowded early. Besides, there is a lot to do here today, so you will want to start as early as possible.
Spend the morning either rowing a boat on your own or taking one of the Pletna boats to Bled Island, exploring the island, and climbing the tower for some incredible views. Or go to the Bled Castle, sitting on the sheer 130 ft. cliff overlooking the lake for a different kind of view, nonetheless just as stunning.
Once again, you get to choose what to do for the afternoon. Either hike up to Mala and Velika Osojnica for more beautiful views of Bled or go canyoning in Sava. We decided to go canyoning, which was one of the best (and scariest) adventures ever had.
Canyoning requires that you can swim and are comfortable jumping from significant heights into the water and repelling into the canyon. If you decide to do this, it is a great adventure; ensure you are prepared and able to do everything.
Hiking to Velika Osojnica takes over an hour, and it is a pretty steep climb, but the views at the end are worth the effort.
Whatever you choose to do on Day 2 in Lake Bled, you will not be disappointed as all these options are amazing.
Day 3: Lake Bohinj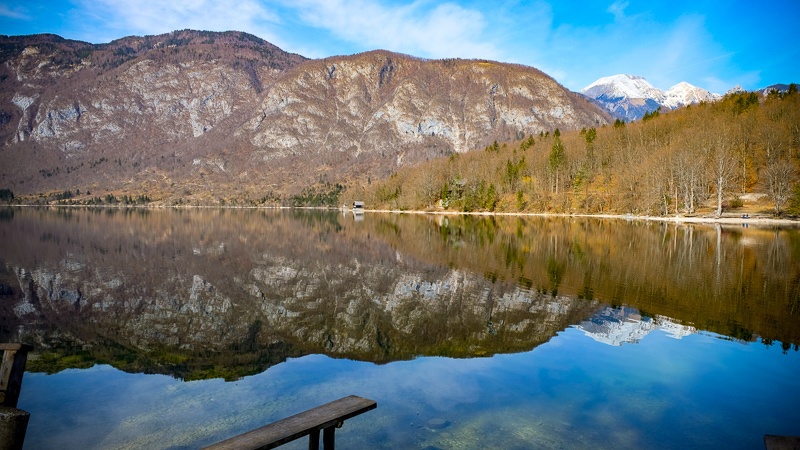 Lake Bled is the more popular of the two lakes, but Lake Bohinj is just as stunning, with so many things to do in and around it. Everything from simply swimming in the lake to water sports or hiking to waterfalls and viewpoints to exploring many gorges.
For the first timers with only one day in Lake Bohinj, I recommend visiting Savica Waterfalls first thing in the morning before it gets too hot and crowded. This is a short hike from the Savica Waterfalls parking lot, no more than an hour round trip.
After Savica Waterfalls, find your way to the Vogel cable car for breathtaking views of Lake Bohinj and the Julian Alps. Once up at the Vogel, you can enjoy the view, do a few short hikes, and grab a lunch with the view. You can do more serious hiking from here, like Mount Sija or Vogel Summit.
If more hiking is not for you, take the cable car back and spend the afternoon relaxing on the beach, swimming in the lake, paddle boarding, or walking/biking around the lake. There are many trails and paths to explore, with incredible mountain views and, the picturesque stone bridge, and the historic church of St. John the Baptist.
Another option is to take a hike to Mostnica Gorge – a beautiful natural attraction with crystal clear water hiding in and out of massive rocks. There is a shorter (~3hrs total) and longer (~5hrs. total) hiking option here. Either is a good choice; it just depends on your available time.
As you can tell, there is a lot to do here, and if you can spend more than a day in this area, I highly recommend it.
Day 4: Goriska Brda & Piran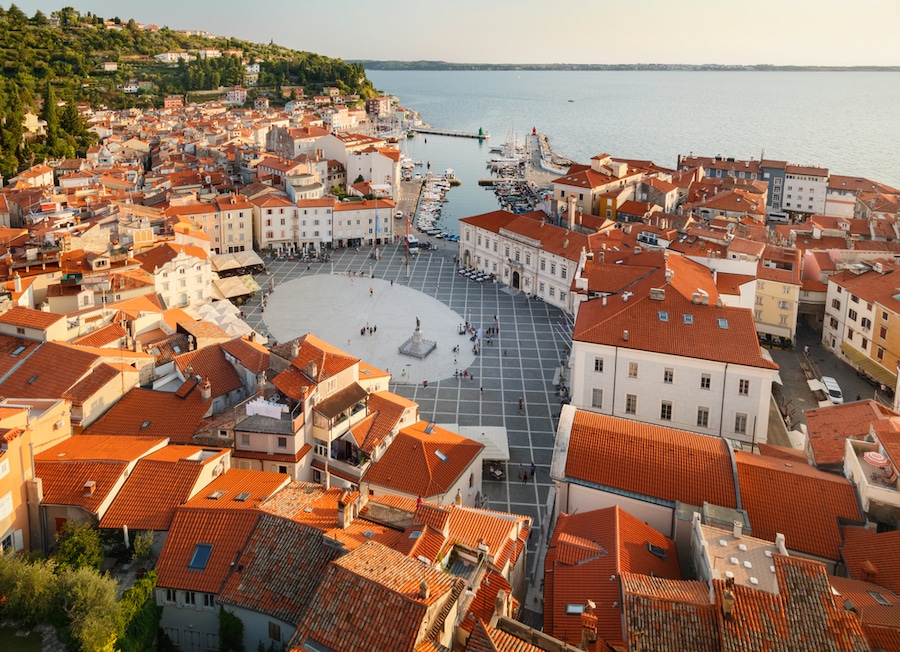 The final destination for today is Piran; however, on the way there, the plan is to stop in Goriska Brda – Tuscany of Slovenia, for wine tasting. A few popular wineries to check out are Kristalvina, Klet, and Scurek.
Even if you are not a wine lover, this part of Slovenia is simply beautiful, and you can enjoy driving through with views of beautiful green, lush rolling hills with vineyards all around.
Smartno is a medieval walled village settled on top of the hill in Goriska Brda. It is excellent to explore or grab some traditional Slovenian food.
If nothing else, you can climb up over 140 steps to the top of Gonjace Lookout Tower for panoramic views of the region. On a clear day, you can see as far as the Julian Alps and the Dolomites, not something to skip.
Piran is only an hour and a half south of Goriska Brda and a stunning coastal town right on the Adriatic. The town is car-free so you must park outside the city. A lot of hotels will allow you to check in, drop the bags off, and then follow their shuttle to the nearest parking lot.
Once settled in, I recommend relaxing at the beach while you have daylight left. The water in this part of the Adriatic is usually much calmer, warmer, and great for swimming.
If lying out in the sun is not part of your vacation style, explore the city, or you can save this for the morning. Start in Tartini Central Square, walking through narrow streets and visiting different shops and cafes. Walking around town, you will feel the strong influence of Italy, as this region was part of the Republic of Venice once.
Climbing the tower of St. George's Parish Church or walking the Walls of Piran offer exquisite views of Piran and the surrounding area.
Don't miss out on finishing the day with fresh seafood in the old town or along the harbor.
Day 5: Caves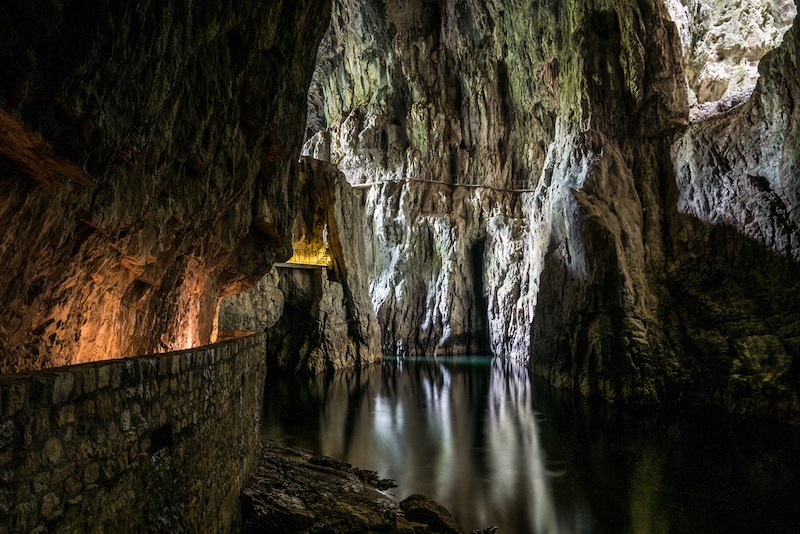 Slovenia surprised us in many ways (all good!), but the number and accessibility of many underground natural caves was probably the most surprising thing about Slovenia. I guess it was just not something we expected to experience here.
A short drive from Piran, about 45 minutes, are Skocjan Caves, a UNESCO Heritage site; another 25 minutes away is Postojna Cave, and then another 15 minutes from here is Predjama Castle. All these sites are worth a visit. If strapped for time, I would recommend a visit to one of the caves and the castle.
Due to its proximity, the Postojna Cave and Predjama Castle tours can be combined and are handled by the same tour company.
The Skocjan Caves guided tour lasts 2.5 to 3 hours, mostly on foot through underground walkways and bridges. The Postojna Cave tour lasts about 90 minutes, and the visit to Predjam Castle is another 60 minutes. Audio guides accompany tours.
The drive to Ljubljana from here is approximately an hour or an hour and a half.
More Things to Do in Slovenia
Where Else To Go After Slovenia
Since Slovenia is so conveniently located close to Croatia, Italy, Austria, and Hungary, it is easy to combine a visit to one of these places with a 5 Day in Slovenia Itinerary.
In 2019, we combined a visit to Italy and Croatia with Slovenia, and it was a blast.