Privacy & disclaimers →
Winter In Montenegro, What To Expect & How To Enjoy Montenegro In Winter
Just because the winter months are almost upon us, that doesn't mean you have to halt your travel plans and stay at home, huddled up until the warmer weather arrives. Countless destinations are made for winter, and several within the Balkans too.
Have you considered traveling to Montenegro during the winter months? If not, this is a destination you should add to your winter wish list!
So, Why Should You Visit Montenegro During The Colder Months Of The Year?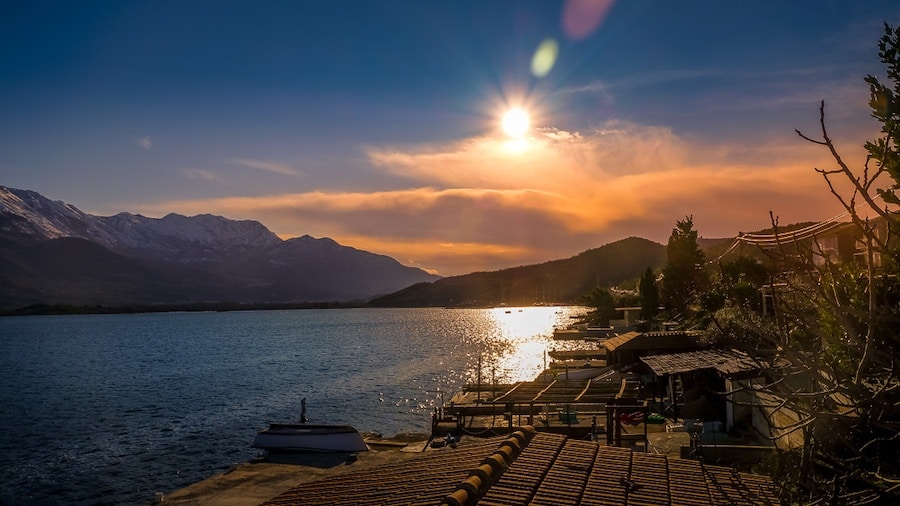 Montenegro in winter is a cheap place to travel when money is low: Let's be honest, everyone's a little short on cash after the end of summer and Christmas on the horizon. Montenegro is a cheaper option compared to some other winter destinations, and it allows you to see more and do more for less! You can quickly grab a cheap flight (or drive from Croatia) and accommodation, and once you're there, food isn't costly either.
Fewer crowds mean more to see: It's far easier to explore a place when groups are far less, and during the winter months, most people are tucked up at home and not out exploring cities far afield! Some of the country's biggest tourist attractions will have a handful of people inside! That means more space for you to roam and more time to see what's in front of you without having to pass it all too quickly.
A more authentic way of life: When the crowds are less, you'll see a more authentic way of life wherever you go in Montenegro, which means actual travel, authentic travel. You'll also have more time to enjoy the food, which is something to behold! There are still loads of restaurants open, ready to fill you up and keep you warm. It's also a great idea to sit and share a bottle of wine in relative peace and quiet!
Plenty of insta-worthy photos: When fewer people are milling around, you'll be able to grab plenty of Insta-worthy snaps to make everyone back home super-jealous!
Weather In Montenegro In Winter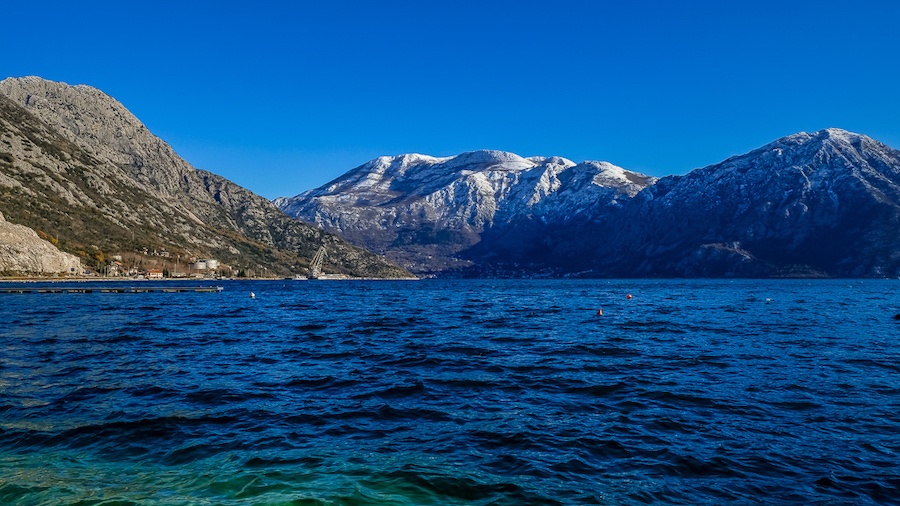 You've read why you should g to Montenegro in winter, but you've probably got one question on your mind: what is the Montenegro winter weather like? You'll probably think it will be freezing simply because the word 'winter' comes into the equation, but you might be pleasantly surprised.
Let's check out each winter month to give you an idea of what you can expect and, of course, what to pack!
Montenegro In November
The beginning of November can be very mild indeed and can feel a little like the end of summer is still hanging on. You'll see plentiful blue skies, and while the evenings are a little chilly, it's undoubtedly an excellent time for walking around and exploring. However, as November progresses, you'll notice a change as winter starts to show up at the party.
You're probably not going to be spending too much time around the beach unless you're wearing a jacket and jeans, and the wind can be biting at certain times, especially if there is a storm on the horizon. Towards the end of November, winter storms are likely, and you'll notice more rain than before. Despite that, heading around the country at this time is ideal.
Montenegro In December
December sees winter picking up the reins, and the coastal areas start to see more in the way of grey skies and rain. Despite that, there are still plenty of (chilly) blue sky days. If you head into the mountains, you'll see snow. As the end of December nears, you will want a very warm jacket and boots, as the temperatures are in single figures towards the New Year. Evening figures can be in the minuses, especially in the mountains.
If you're heading to Zabljak for a spot of snow, you're in luck, as there is usually plenty of the white stuff at this time of the year! The same can be said for Kolasin, a tiny bit warmer than Zabljak.
If you're attempting to drive around Montenegro during December, be aware that snow and road closures can be a problem, and you must have winter tires on your car.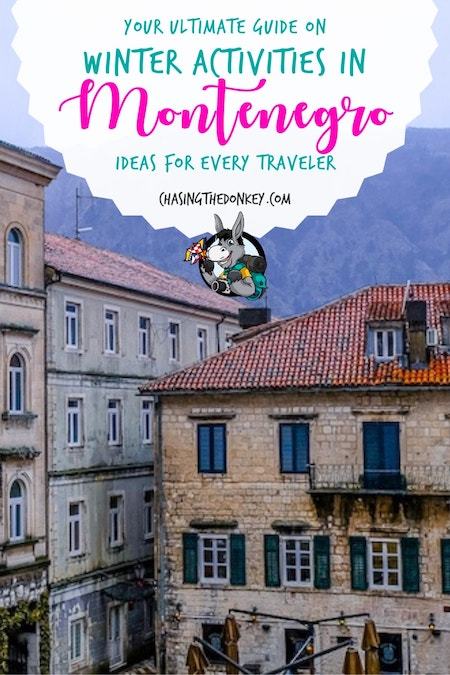 Montenegro In January
The first month of the year is usually the most depressing of all of the winter months – though I was there in January 2019, and though it rained the whole time, we still had a great time.
It's an excellent time for walking and heading out (take your brolly with you!) for a spot of fresh air.
Temperatures hover around the 10-degree mark at the most, so warm clothes are a must, and you will likely see wind and rain at some stage. Despite that, there are plenty of sunny but chilly days, especially in the north.
Montenegro In February
February is when spring starts to show signs of turning up, but don't think you can ditch the coat just yet! The start of February is a continuation of the end of January. However, you'll notice slight warming as you move throughout the month. You'll see that the sunsets are a little later too, but that doesn't mean there won't be rain or even snow, which is still likely to fall in the mountains.
Visiting Montenegro in February requires some preparation and proper packing. It's challenging to know what to expect weather-wise, so pack a little of everything and go with layers to be on the safe side!
PLAN AHEAD TO GET THE BEST DEALS
Things To Do In Montenegro During Winter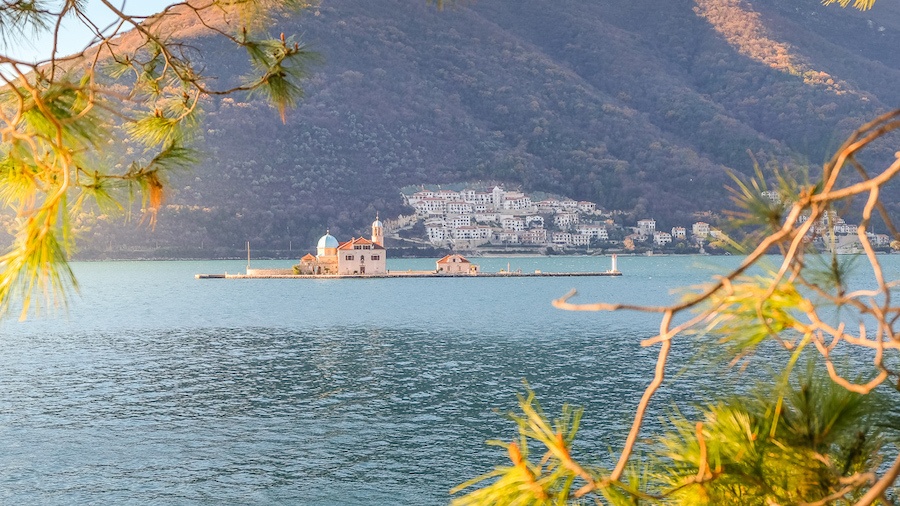 Of course, you can do many of the things you would do in summer (like this extensive list of ideas), apart from sunbathing, but without the crowds. However, we suggest you also check out these fun wintertime activities in Montenegro.
Road Tripping Is Easy In Montenegro In Winter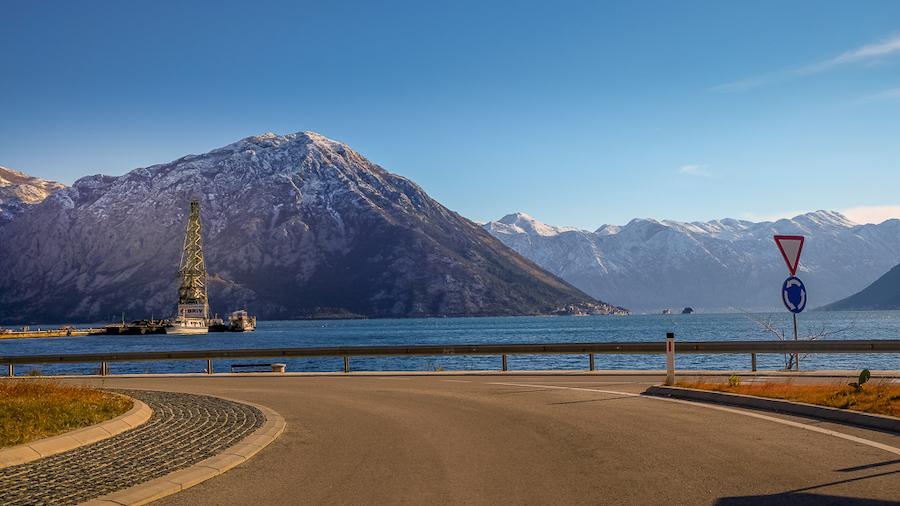 WIn January, we packed up the kids and took grandma along for a week-long road trip from Zadar, Croatia, to Montenegro. Because there is no summer traffic, you can drive easily, park even easier (and often pay nothing), and stop at small towns and villages to get a feel for the local, authentic way of life. One great stop we made was to Perast – totally insta-worthy!
Other places worth mentioning are:
Skiing Or Snowboarding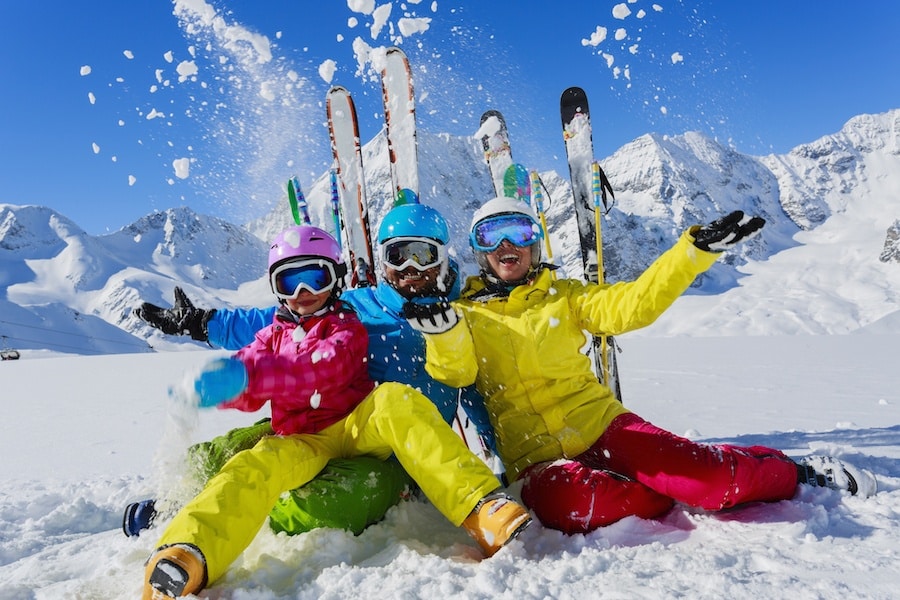 If you love winter sports, Montenegro treats you with several mountainous areas covering 30 km of skiing fun. Several resorts, such as Zabljak and Kolasin, are very popular with skiers and snowboarders during winter in Montenegro.
If you want to differentiate between the two, Kolasin has more slopes than Zabljak, but the latter has a run of 2213 meters high, so it's the highest out of the two. All up, there are 22 ski lifts in Montenegro – so not massive, but cheaper than Austria!
You don't have to indulge in winter sports if you don't want to, as the area is simply beautiful and ideal for a winter getaway with plentiful hot chocolate, views, and log fires!
Take A Luxurious Off-Peak Resort Style Vacay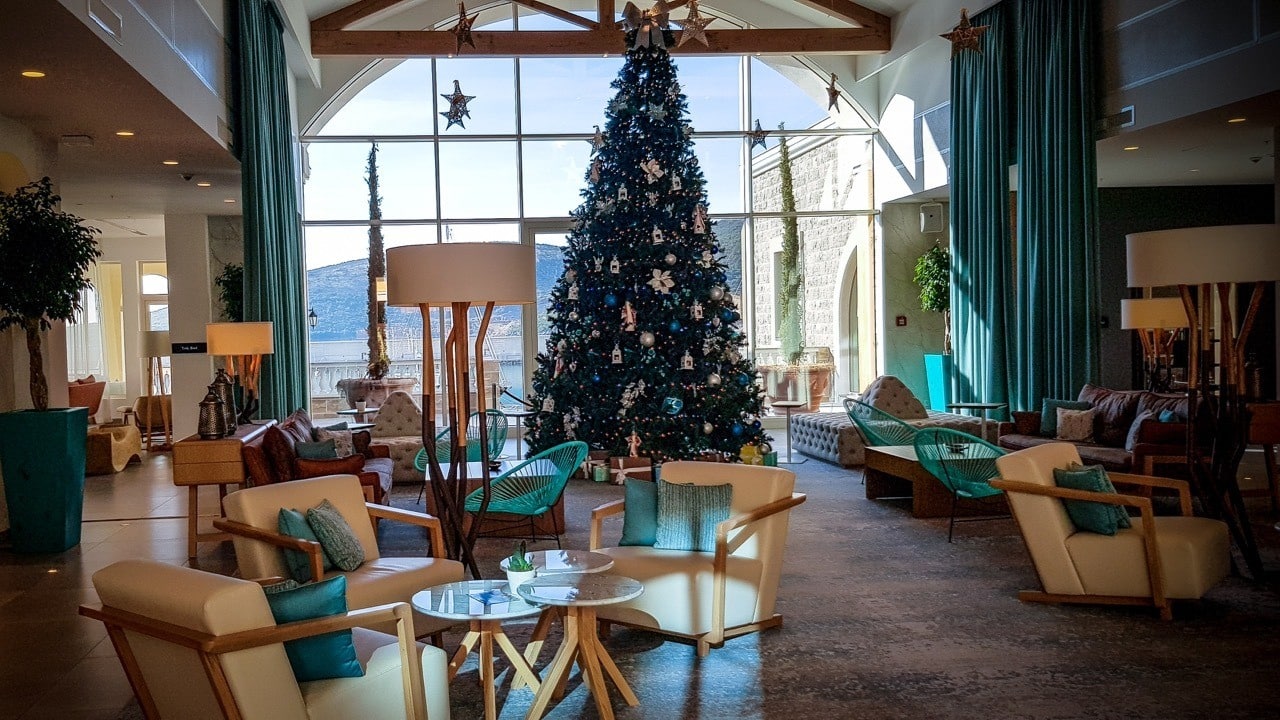 While in Montenegro, we stayed at The Chedi Luštica Bay Montenegro, in Tivat.
I was initially expecting some shiny steel and grey hotel complex to greet me when we arrived – and, instead, what I saw below in the secluded bay was more reminiscent of a typical Adriatic seaside village – and not a brand new 5-star resort.
You'll undoubtedly have heard the name 'Chedi' – the global hospitality and entertainment brand with luxurious Chedi Hotels in Muscat, Oman, and Andermatt, in the Swiss Alps. And, they've spared no detail or expense in their newest hotel – The Chedi in Luštica Bay, which is merely the first of seven planned hotels along the bay.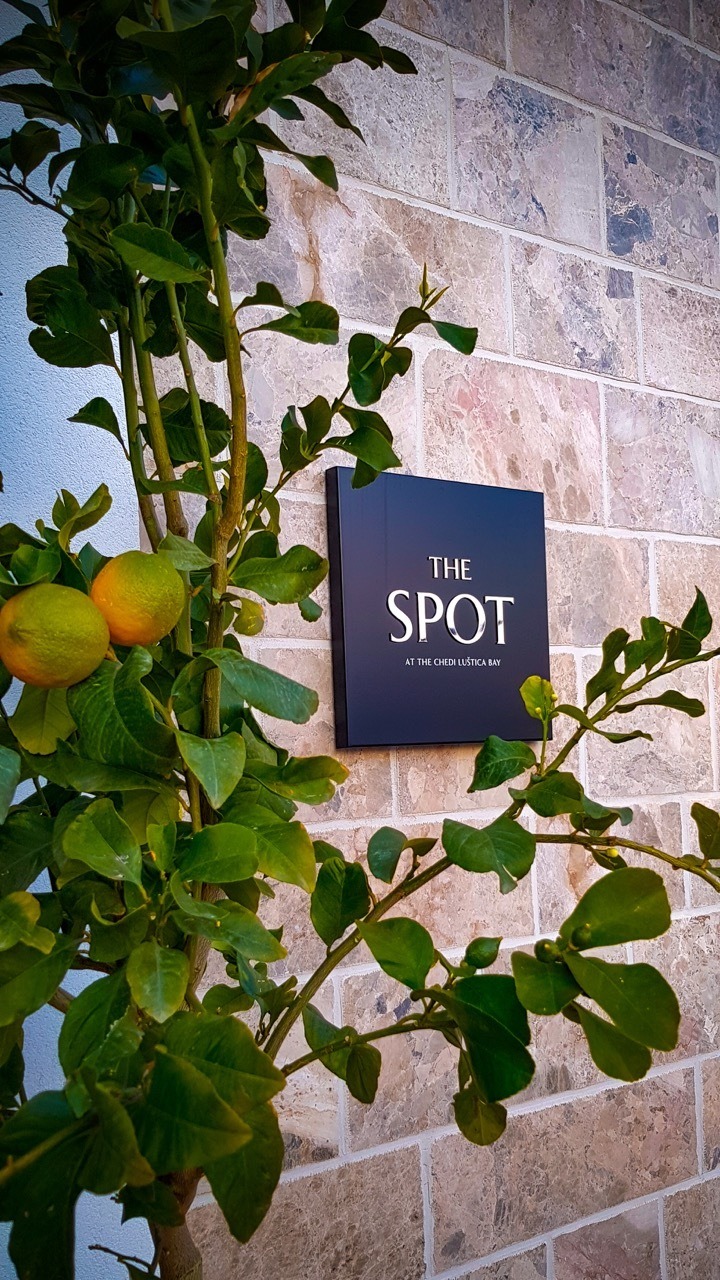 Well, actually, The Chedi in Montenegro isn't just any hotel; it's part of a fully-packed complex that includes a striking marina, beachside area, a planned golf course (2020), two restaurants, shops, apartments, spa, and wellness area, and entertainment facilities – all of them perfect for a winter vacay in Montenegro.
Tara River Canyon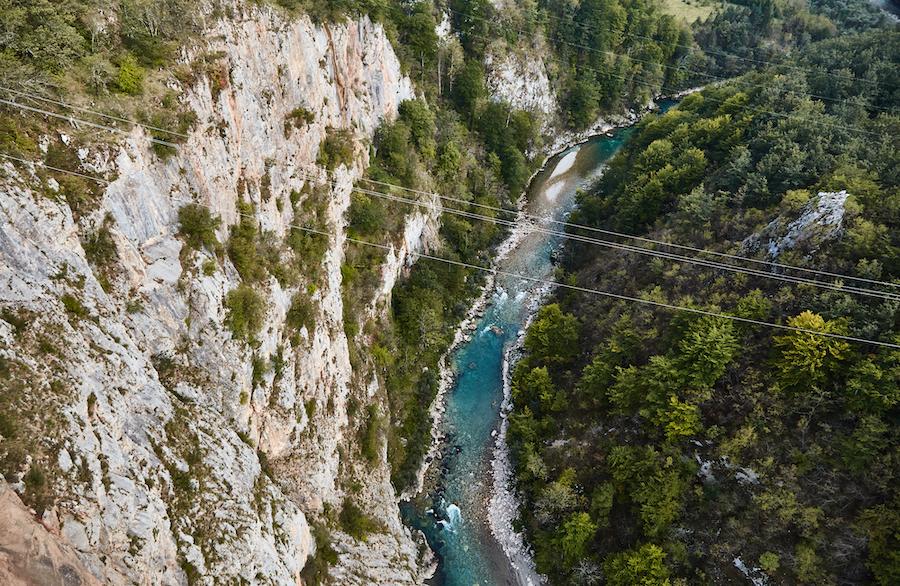 This is the deepest of Europe's canyons and is ideal for nature spotting, wildlife, photography, and rafting during the summer. Tara Canyon has an icy glisten in the winter, with snow and breathtaking scenery.
The Tara River Canyon is also known as Tara River Gorge and is part of Durmitor National Park. This is one destination that really will take your breath away and certainly fill up your camera memory card!
It is possible to hike in the canyon, but check weather conditions and ask locals about the conditions to ensure it is safe.
Mount Lovcen
If the weather isn't too snowy or icy, it's possible to take a road trip up Mount Lovcen and enjoy the views. It's a very scenic drive from Kotor, and once you reach the top, you'll be able to check out a panorama that stretches right across the bay.
If you want to check out views and feel a little energetic, head to Lake Peak and climb up the 400 steps, which take you to old buildings and an altitude of around 1660 meters.
Enjoy Kotor In Peace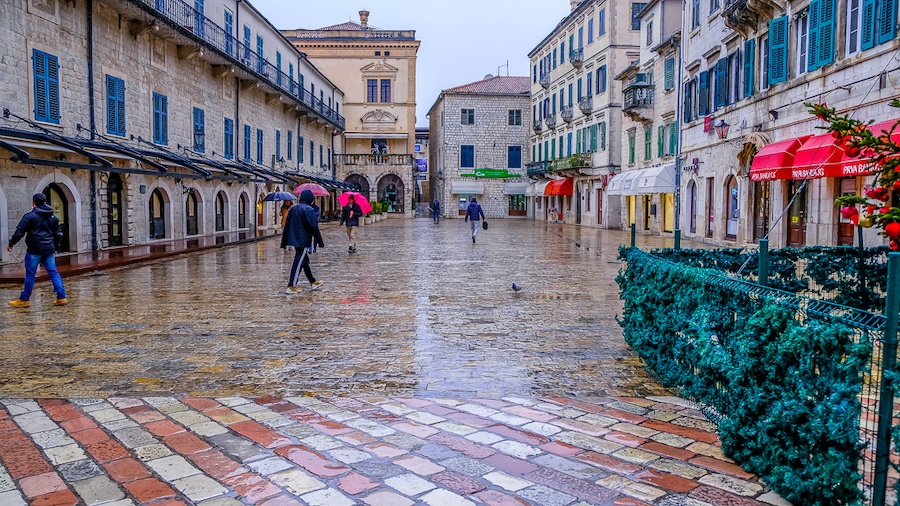 It's almost impossible to explore and enjoy Kotor in peace and quiet during the summer months. However, during the wintertime in Montenegro, it's a different story. The Old Town is somewhere you need to explore slowly and thoroughly, and the quieter months allow you to do just that.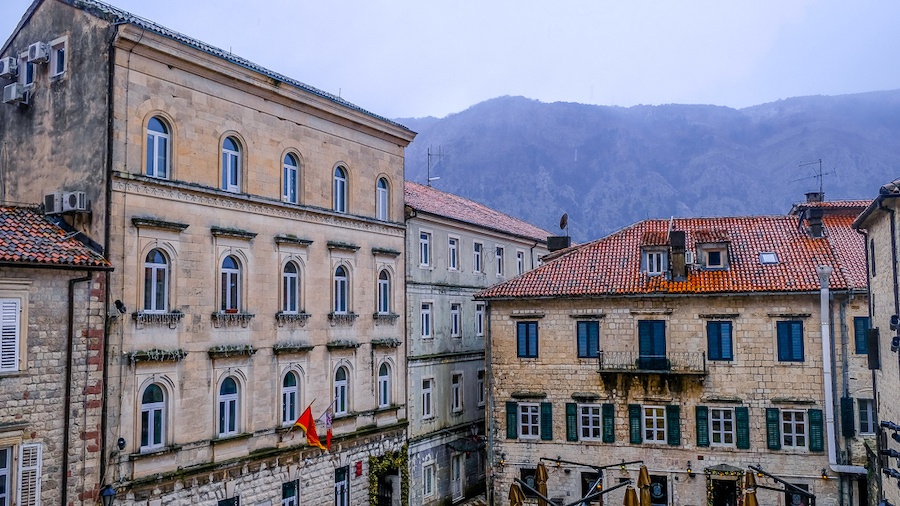 While there, we walked through the alleyways and sat and drank coffee just with the locals. You can establish an easy convo with the locals and shop in the small boutiques and gift stores.
Lake Skadar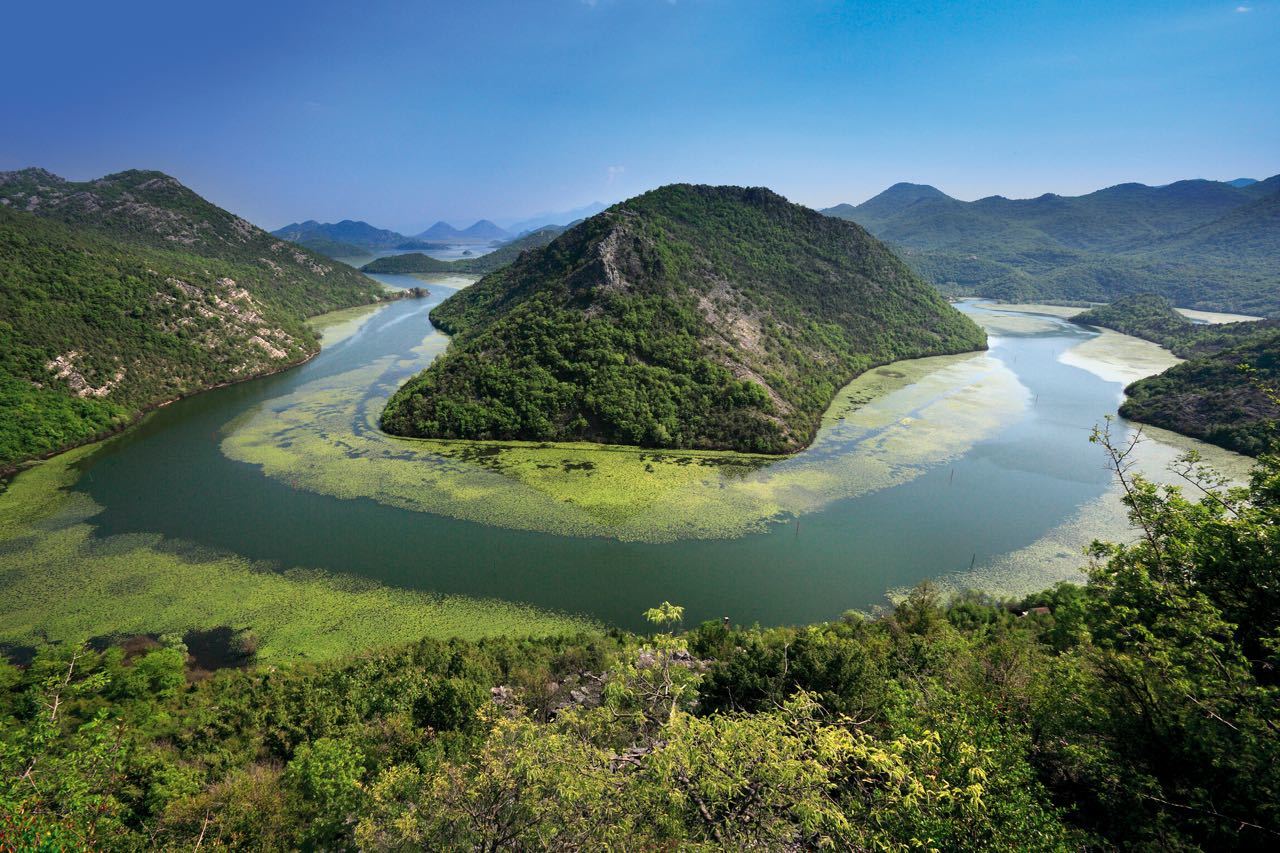 On the border with Albania, you will find the beautiful Lake Skadar, which is packed with wildlife, particularly birds. If the weather is fine, you can head out on a boat trip, walk, hike, enjoy photography opportunities and, of course, enjoy delicious local food at one of the many small restaurants which sit on the banks and surrounding area.
Again, Lake Skadar is crowded during the summer months, and the cooler weather allows you to enjoy the changing beauty in greater detail without having to elbow your way around for a little personal space!
Trekking Routes
The winter months are ideal for donning your walking boots and heading out into the great outdoors! There are many trekking routes, with some of the most popular starting at Crno Jezera. These are marked trails, which means you're not going to get lost, and most of them will give you amazing views and a chance to take in your surroundings.
Javorovaco Peak is a very popular route, too, and one which will show you the best of the snowy or icy weather around you. This is part of the country's ski area, and they do night hikes too, which are lit by huge floodlights and allow you to see everything slightly differently!
As you can see, Montenegro is not just for the summer months; this is just a handful of things you can expect to enjoy while in Montenegro in winter!
MORE MONTENEGRO TRAVEL BLOGS