Leading Hotels Of The World: The Chedi Luštica Bay, Montenegro
I had read that tourism has been on the rise in Montenegro, and let me tell you that after spending a week in Montenegro researching the best things to do and see, I can tell you that I have never seen so many new hotels and property developments in one area ever in my travels across the world.
By far and away, the most luxurious is The Chedi Luštica Bay.
We just came home from a far-too-brief stay at The Chedi Luštica Bay, and I am so excited to share this find with you.
Our experience began as we reached the first of multiple serpentine bends from the top of the hill and could see the red tile roofs hugging the bay below.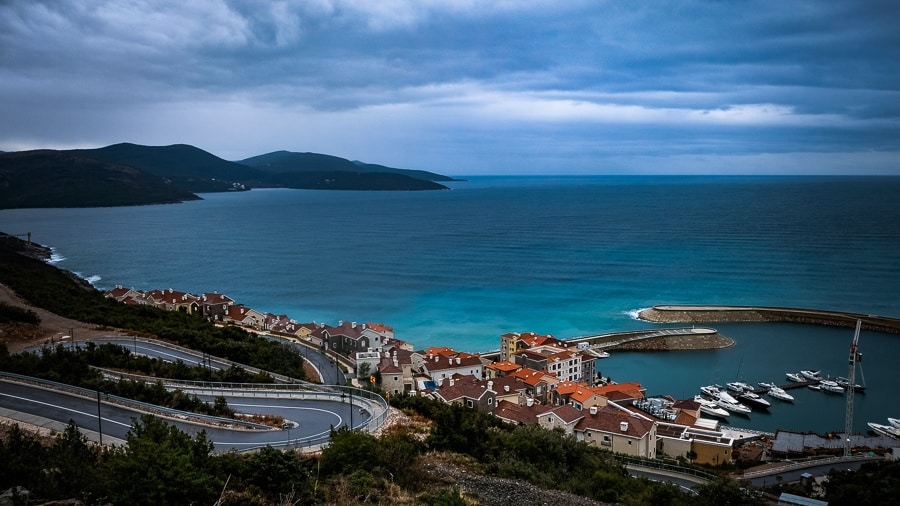 I was initially expecting some shiny steel and grey hotel complex to greet me – and, instead, what I saw below in the secluded bay was more reminiscent of a typical Adriatic sea-side village – and not a brand new 5-star resort.
You'll undoubtedly have already heard the name 'Chedi' – it's the global hospitality and entertainment brand that have luxurious Chedi Hotels in Muscat, Oman, and Andermatt, in the Swiss Alps. And, they've spared no detail or expense in their newest hotel – The Chedi in Luštica Bay, which is merely the first of seven planned hotels along the bay.
Well, actually, The Chedi in Montenegro isn't just any hotel; it's part of a fully-packed complex that includes a striking marina, beachside area, a planned golf course (2020), two restaurants, shops, apartments, spa and wellness area, and entertainment facilities.
If you're looking for five-star luxury in a quiet bay in the Adriatic Sea, then this Chedi resort is for you.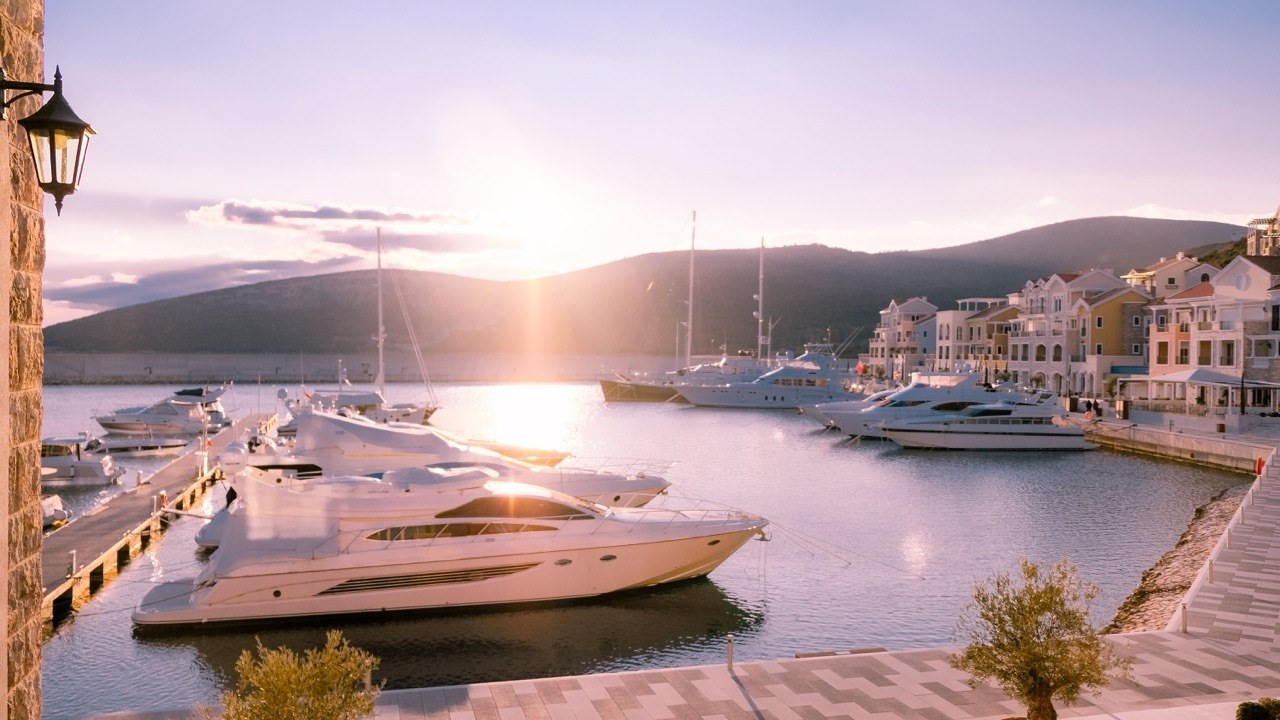 I had read a lot about The Chedi Montenegro hotel, not only because of its remarkable location but also because it's brand-spank'n-new. I had seen The Chedi Luštica Bay opening in July 2018 thanks to Total Montenegro News – and though I rarely travel to beachside destinations in the summer, I booked marked it as a trip for the offseason.
I am ever so exhilarated I did.
Of course, the hotel is sparkling and brand new – but the hotel's chic decor (and signage) is contemporary yet understated and has a real harmony with the surrounding nature of the tranquil Traste Bay.
The Chedi's decor has aquamarine accents, and the buildings and landscaping use a locally sourced stone, which provides a rustic feel to this otherwise extremely modern hotel.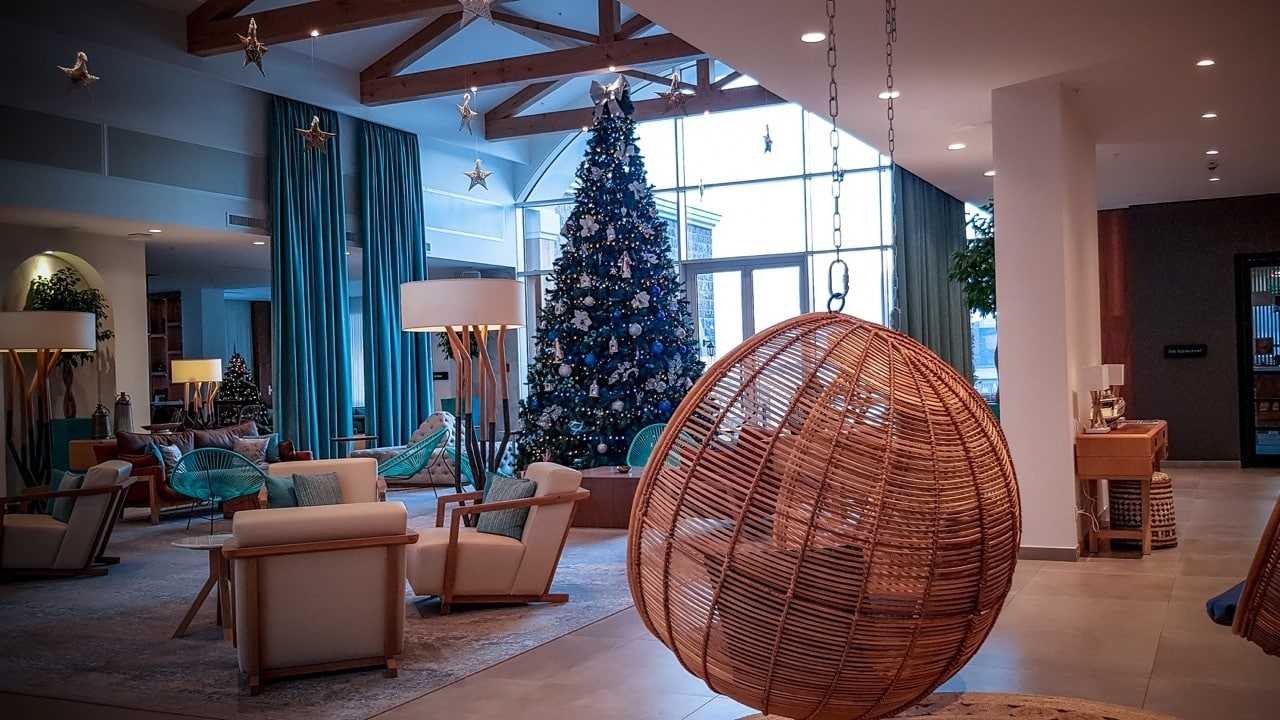 We stayed during Christmas, and the place was decorated with a seasonal – yet tasteful – touch (no tacky Santas to be found any place!)
TRAVEL COMPANIES WE USE AND TRUST
What I loved About The Chedi
It's fair to say that I enjoyed the stay – or else I'd never write about it and tell you to go there, but there are a few key points of difference to The Chedi that make it stand out against the competition.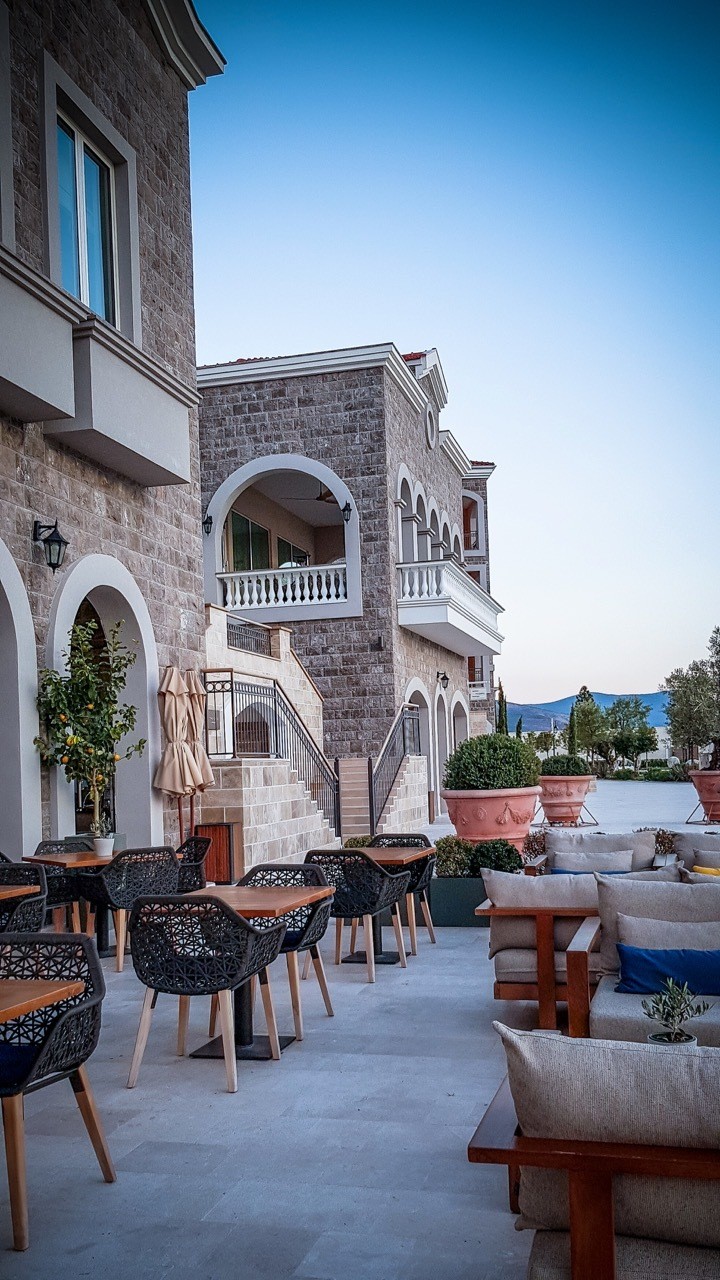 Staff: All of the team that I encountered spoke perfect English – and had extensive hospitality careers around the globe before being recruited by The Chedi. They were friendly (which can be a rarity in the Balkans), knowledgeable about the food, wine, and the local area. (yes, I tested a few with a couple of tricky questions)
Food: There are no cevapcici and fries in sight – hallelujah! Instead, at one restaurant – "The Spot" – they have a small but excellent Asian menu (as well as local food). Now, this may not mean much to everyone, but it's a big thing when you can say you've eaten world-class Asian cooking in the Balkans. The chicken satay was as good as what we ate in Malaysia. I have to go back to try the many other dishes at the second restaurant.
Location: Just try to find such a luxurious hotel in Montenegro – or Croatia – or across the Balkans – in such a secluded bay – no highrises around you – no day-trippers filling up the beach – and no noise from traffic passing by. Le-sigh, what a spot it is!
Amenities: The hotel has a big spa area, plus you can sit outside and sip your cocktail or gobble up your tasty dinner. You can also choose to stay in the Luštica Bay apartments, which have shared pools and range in size from 37 to 138 sq.m.


What You Should Know About The Chedi Hotel
You want to know about the hotel facilities- right? Let me explain: the hotel has 111 rooms, including standard rooms, suites, and a penthouse if you have a little extra cash to splash.
We stayed in the grand deluxe room – and it's so large and feature-packed – I thought it was a suite.
The hotel room had a fully equipped kitchenette, two toilets, a huge bathroom with a rain shower and an enormous tub, and a balcony that overlooked the Luštica Bay Marina. It was luxury with a capital L.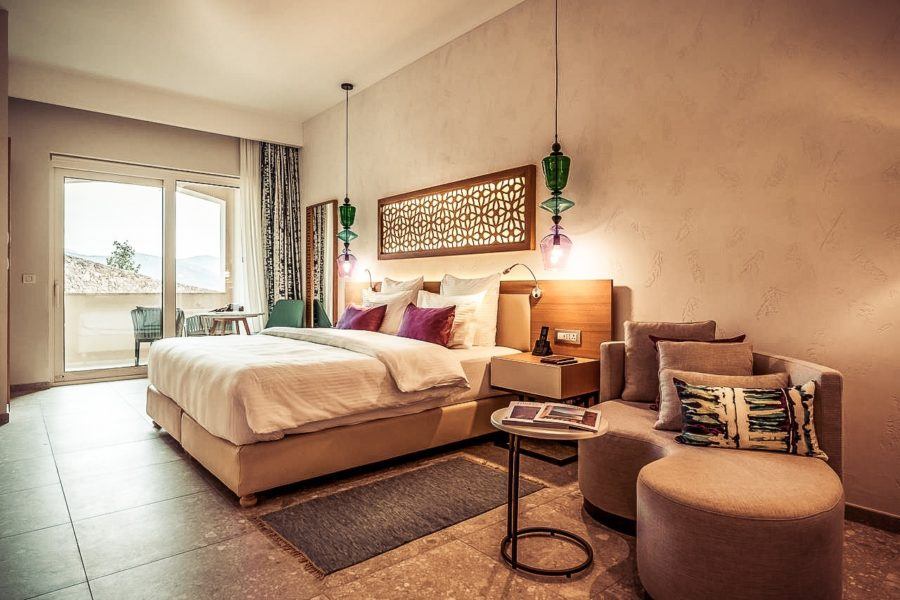 Aside from the rooms, which I imagine are all fantastic, there is plenty to do at this Luštica Bay Hotel:
Private beach area reserved for guests only
Swimming pools, both indoor and outdoor, with refreshments available from the poolside bars
Large sundeck for soaking up the sun
Marina area and shopping promenade: These a short walk from the hotel, and guests have direct access via a private walkway
Market: If you are staying in the apartments, there is no need to bring food and whatnot with you as the on-site market has all you need, including things like fresh produce, milk, drinks, and bread.
Two Tesla Destination Chargers
Business center if you need to do any work, as well as event rooms, meeting rooms, and a function area
A large spa with all manner of delicious treatments on offer, including massages
24-hour fitness center (you can also book a personal trainer)
Entertainment options in the recreational areas of the hotel, e.g., yoga on the beach
Two on-site restaurants. We ate at 'The Spot,' which offers an a la carte local menu of local food and authentic Asian dishes. We enjoyed Serbian and Montenegrin wine – both exceptional – as well as a few sneaky cocktails
Plus, a large golf course is currently being built, which will be the first one in Montenegro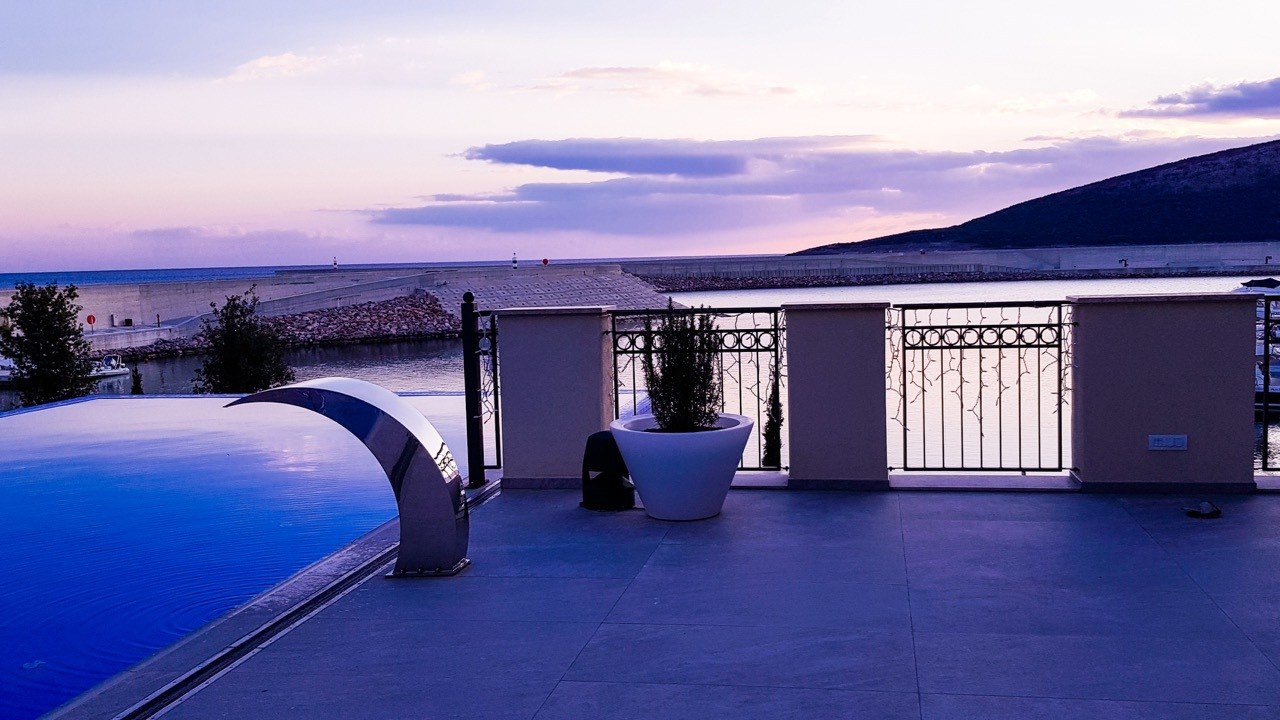 Is The Chedi Family-Friendly
Note: Construction is an on-going process in the area – as there are still six more hotels to be built, but there was no noise and rest assured, the construction no way impacts your stay.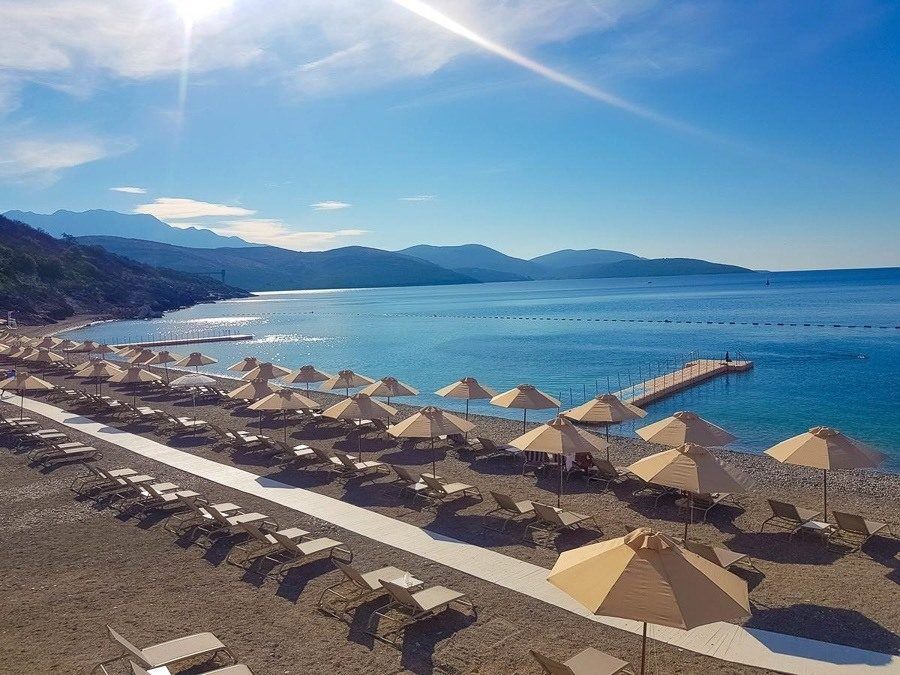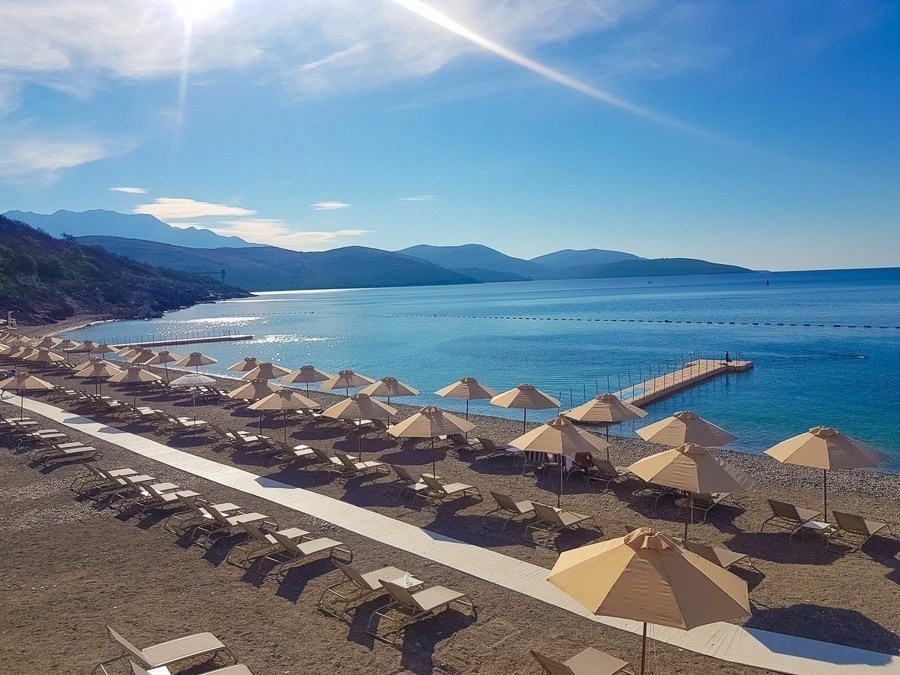 Why Should You Stay At The Chedi Hotel
Most guests agree that the Chedi Hotel offers a vacation with a homely feel – from the giant wooden beams that greet you at reception to the beyond-friendly staff – The Chedi hotel feels more like a little family-run B&B.
That said, the facilities on offer are second to none – and it's obvious you're staying at a 5-star hotel. We've stayed at several 5-star hotels in Croatia and the Balkans, and we always leave saying that while the stay was great, it was not exactly world-class 5-star standard – the same can not be said here. It's undoubtedly worlded standard 5-star hotel, as agreed by "The Leading Hotels Of The World."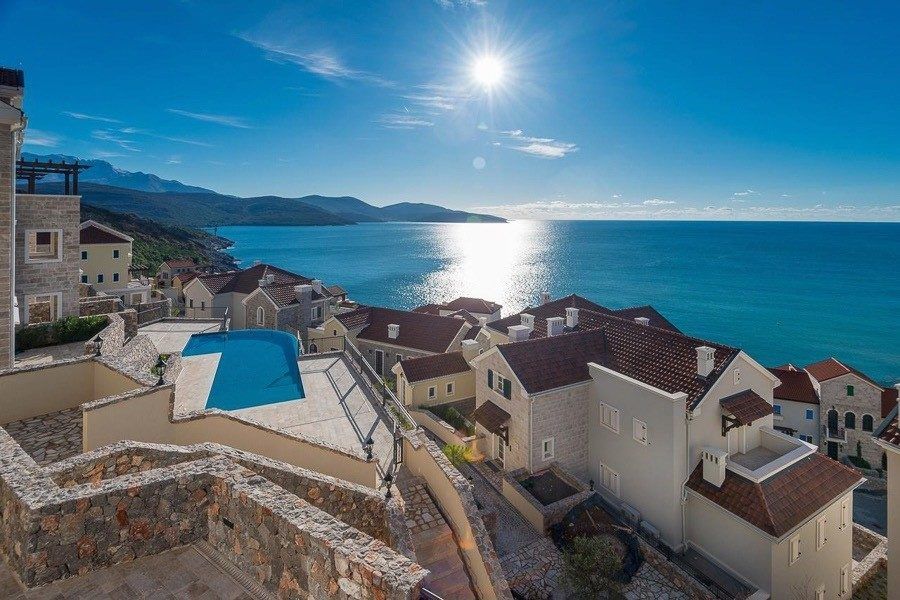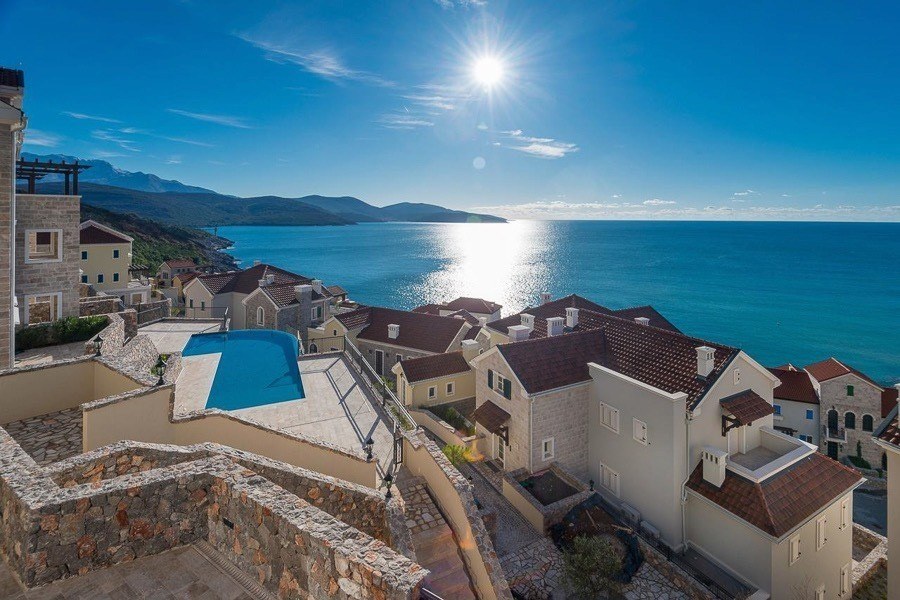 It's not that surprising to see why, as the hotel is part of a mega international brand, which focuses entirely on luxury. This hotel will not disappoint couples who are heading off on their honeymoon or for a special romantic break. Despite that, children are welcome at the hotel, and there is plenty of space for them to roam (though within limits), and there are lots of activities offsite in the surrounding area to keep them occupied.
You'll be able to kick back and relax in remarkable surroundings while being waited on hand and foot by tentative staff.
Don't let the fact that the Montenegrin coastline is not as well known as the Croatian coast put you off – quite the opposite – let that guide you – to become the first to experience the magic of the Traste Bay.
Where Is The Luštica Bay Montenegro?
This Luštica Bay hotel is set on the waterside, with mountains on either side, and is in close proximity to the Bay of Kotor and Tivat. Did I already mention that it is quiet and secluded? Wink!
12km (7mi) from Tivat Airport (TIV)
62km (38mi) from Dubrovnik airport (DBV)
61km (37mi) from Bar Rail Station
The hotel can arrange private transfers to and from the airports or railway with advance notice for a reasonable surcharge. And, if you are feeling extra splurgy – get The Chedi helicopter from Dubrovnik Airport. It turns a journey from 3-8 hours (due to the unpredictable Croatia-Montenegro border crossing) into one of just 20 minutes. Bliss.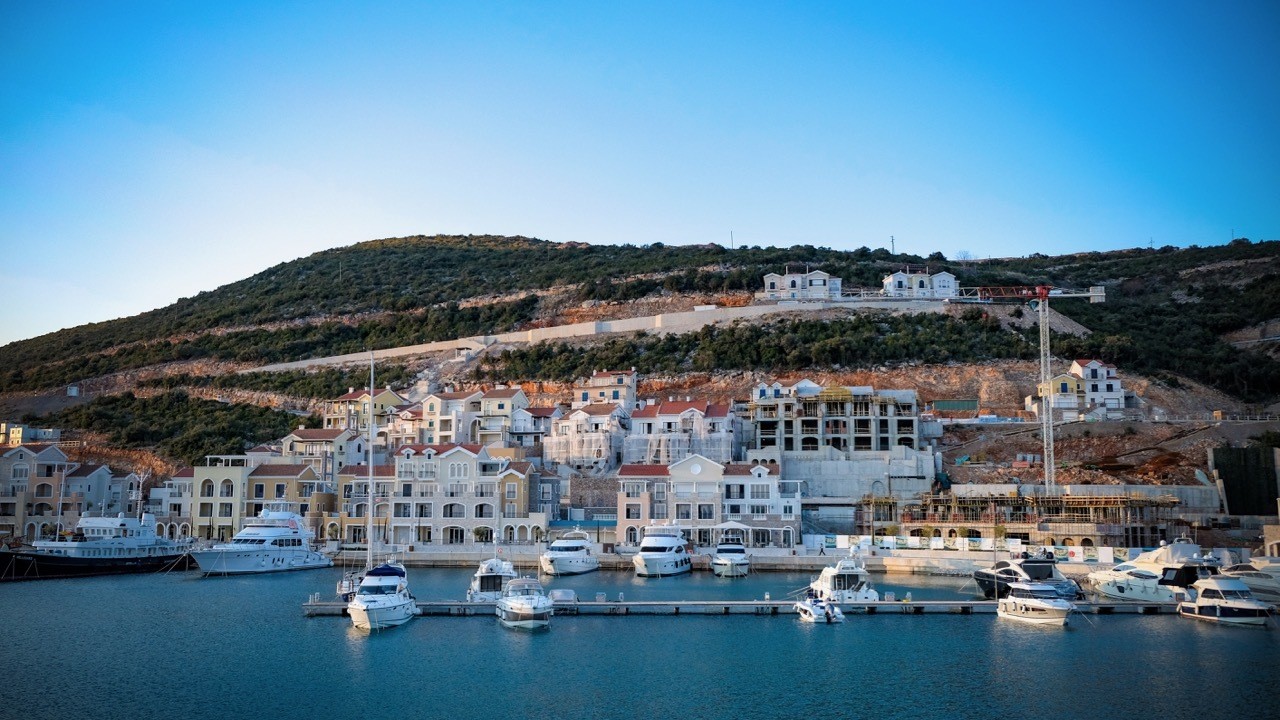 Flights To Montenegro
Check out options with Eurowings (low-cost carrier) who offer services between Dusseldorf and Tivat
Brussels Airlines have one flight per week from Brussels to Tivat
Austrian Airlines services Montenegro all-year-round between Vienna and Podgorica (capital city)
There are reports of new flights to Montenegro which begin in April 2019 thanks to Lufthansa, who plans to fly into the tiny Tivat airport (from Frankfurt & Munich) during peak season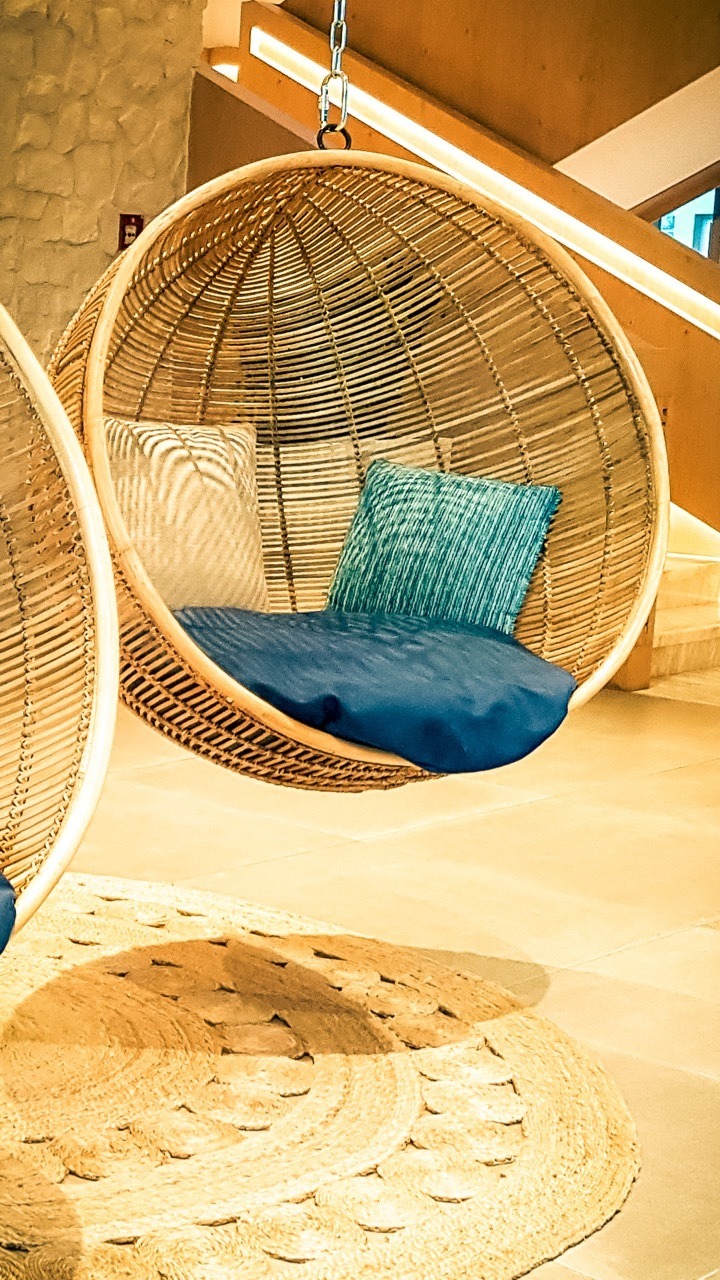 Things To Do Around The Surrounding Area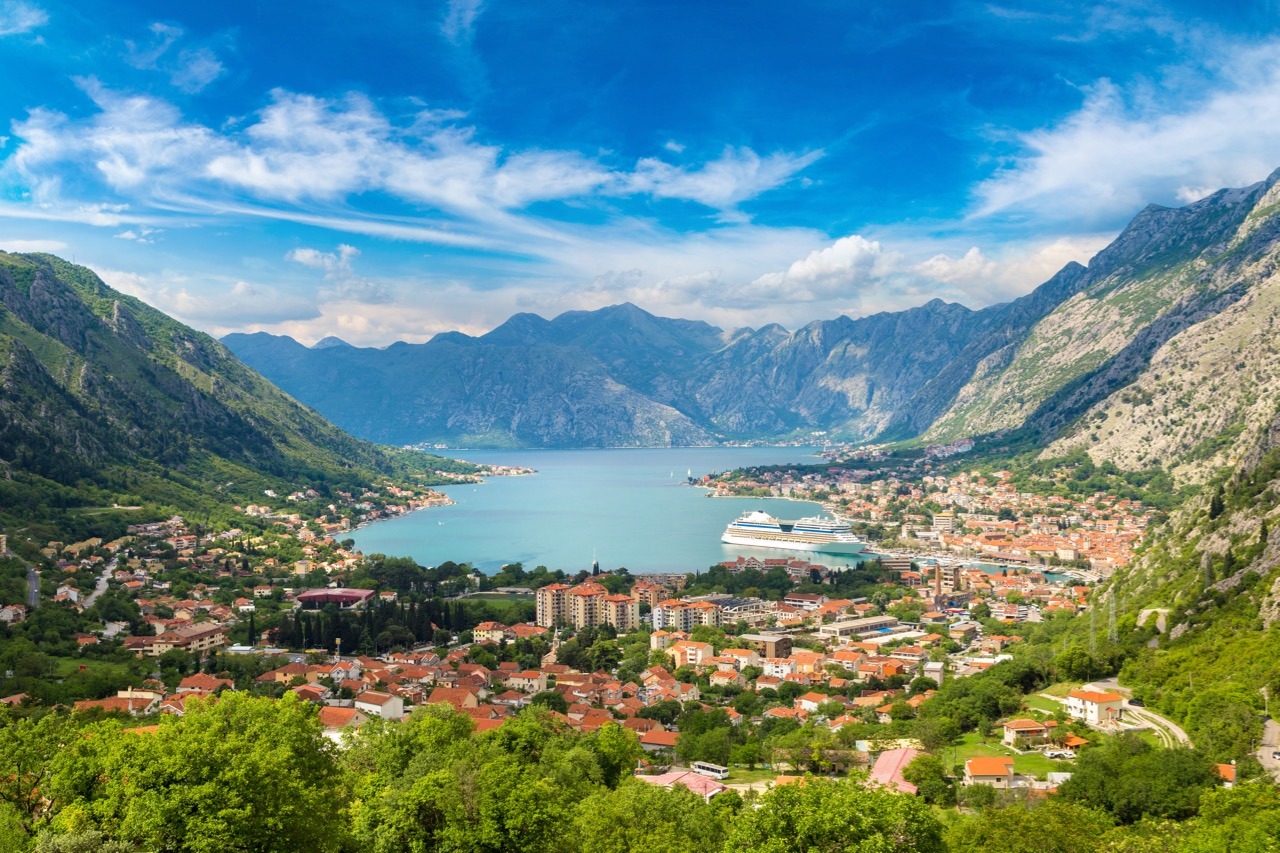 If you're not one to just sit in your room or poolside and gaze in wonderment, the good news is that there is plenty to see and do in the surrounding area Tivat, Kotor, and the whole Montenegro, which is very easy to access.
Plus, there'll soon be Montenegro's first golf course on-site, which is currently under construction.
Just 20 minutes away, you will reach Kotor, a UNESCO-World-Heritage Site, which has a whole host of activities to enjoy, including a large beach
Luštica Bay is around 1 hour by car from Skadar Lake, with all manner of outdoor activities and stunning scenery to enjoy.
You could also head out hiking in the mountains and mountain biking, walking, and birdwatching.
You're never really too far from a day of adventure, especially if you hire a car, this way you'll have even more freedom to explore the area around this new development. Or, maybe, you'll become so enamored with how beautiful the hotel and facilities are, you won't want to leave – either way, a stay at The Chedi is sure to satisfy.
On your way back from a day trip – stop at the lookout and snap yourself in a cheesy Instagram frame as I did – just for giggles.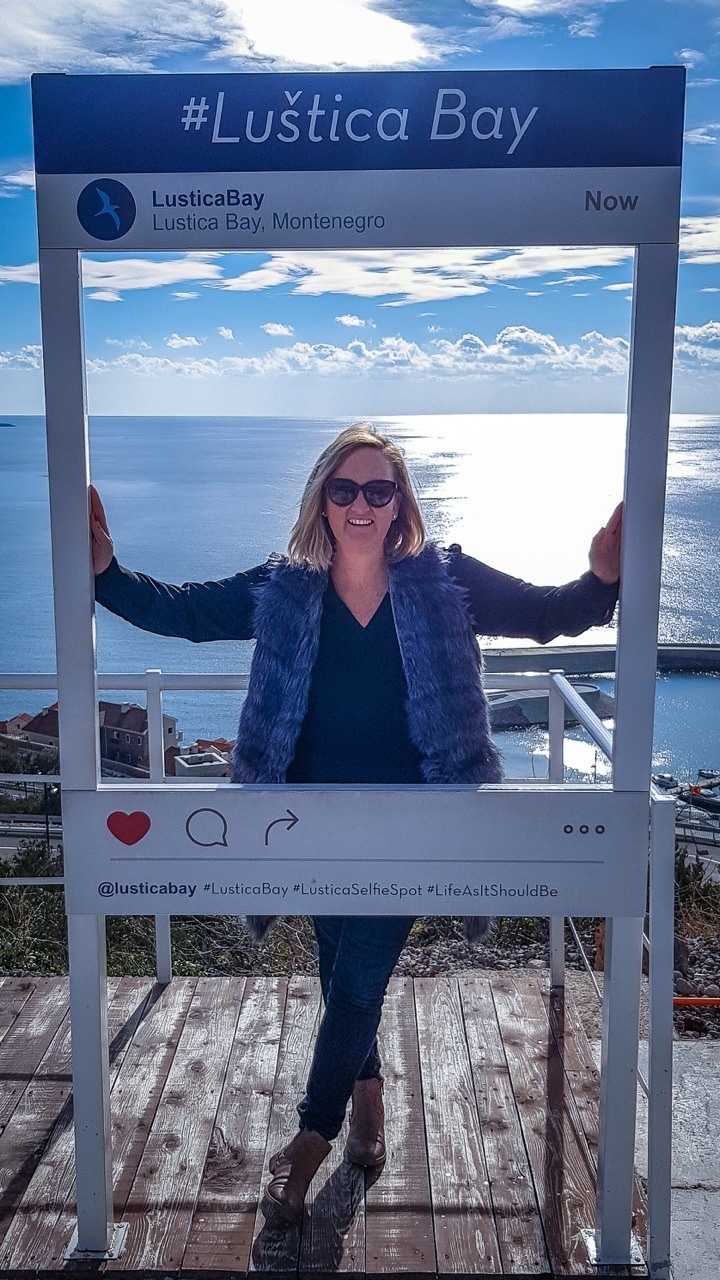 Finally, here is one last reason to book a stay: The Chedi, Luštica Bay: did you know that Montenegro has an annual average of 270 days sunny days? Enjoy life as it should be in Luštica Montenegro.