Privacy & disclaimers →
Best Restaurants In Dubrovnik (& Where To Get Drinks)
Written by Alexandra Schmidt and updated by the Chasing the Donkey team.
The trouble in Dubrovnik is not finding a place to eat; it's deciding where. Yes, the "Pearl of the Adriatic" has such an abundance of restaurants that it can feel overwhelming. Half of the restaurants all talk, while the other half let the cuisine do the talking.
As an American blogger in Dubrovnik with 3+ years of living here under my belt, I'm here to help you see the difference. I've realized that the culinary experience usually makes or breaks tourists' impression of Dubrovnik.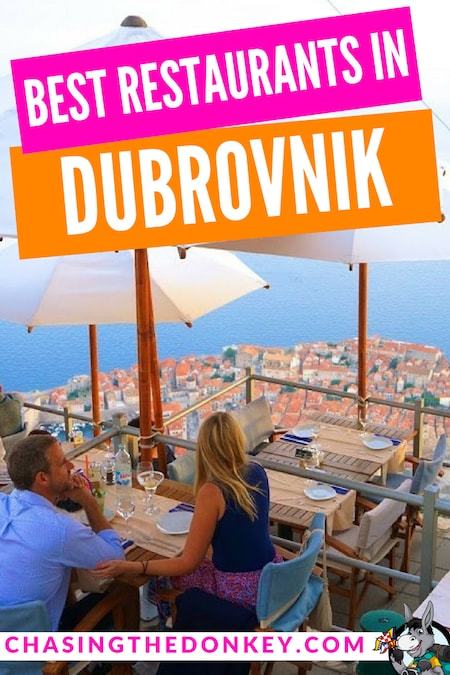 What To Eat In Dubrovnik
Dubrovnik combines Italian, Bosnian, and traditional Mediterranean cuisine flavors at the southern tip of Croatia. It's an ideal destination for fresh seafood, slow-cooked meat, and lots of risotto. Most restaurants reflect this diversity of dishes, so you'll surely be able to find something to accommodate your taste buds.
For seafood dishes in Dubrovnik, I would recommend trying to order something with octopus or squid. Octopus salad is quite common and equally delicious, as well as black risotto with squid. Some of the higher-end restaurants have octopus Carpaccio, one of my favorite dishes in Dubrovnik.
Keep in mind that when ordering fish in Dubrovnik, as well as the rest of Croatia, you will most likely receive a plate with an entire fish (head, tail, and all!) instead of just a fillet. This is the traditional way of eating fish in Dalmatia.
I recommend ordering the sea bream or sea bass, a popular fish found off Dubrovnik's coast. Most fish dishes come with potatoes and blitva, a green similar to spinach or chard.
It's also safe to say that there is just as much meat as fish on the table in Dubrovnik. Especially at some of the restaurants a bit further inland in town, you'll find ćevapi (a skinless sausage popular in the Balkans), veal, and lamb cooked under the bell.
Other local specialties to try include "young cheese," the dessert of Rozata, and dirty macaroni.
Best Restaurants In Dubrovnik
One mistake many tourists make when coming to Dubrovnik is limiting themselves to only restaurants in the Old Town. Sure, this is where you'll find the highest concentration of restaurants, but be prepared for higher prices and bigger crowds.
Dining in the Old Town is definitely an experience to have, but I'd also recommend eating outside in the surrounding Dubrovnik areas at least once when you visit. Below I've combined restaurants that are in both the Old Town and outer regions.
Best Restaurants With A View Of The Old Town
Panorama (Srd)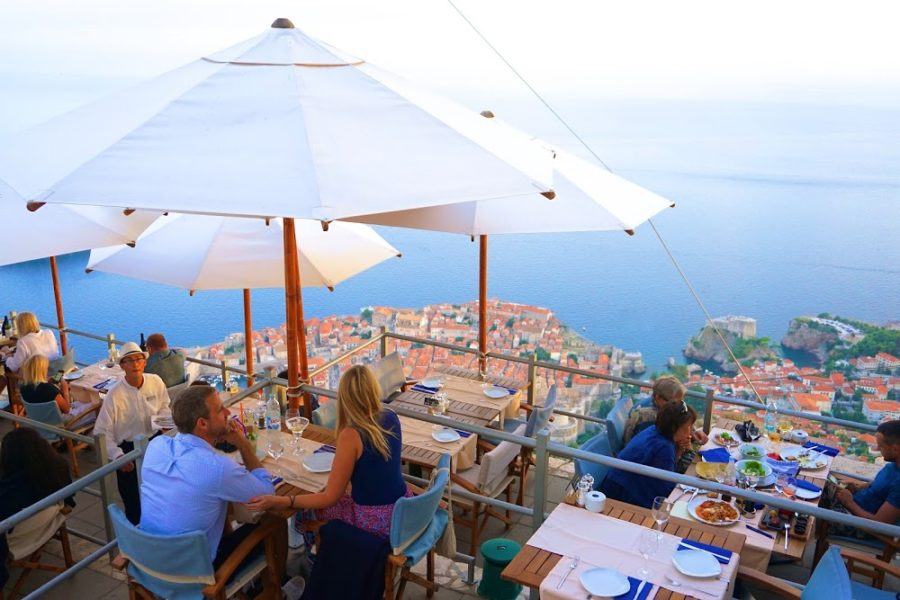 Without a doubt, the best view of Dubrovnik is from atop Mount Srd. You'll have to pay to take the Cable Car in Dubrovnik or hike here to get up, but the view is worth it. The best time of the day to come here is during sunset for a cocktail or dinner. You'll want to make a reservation, especially during the high season in the summertime.
360, Dubrovnik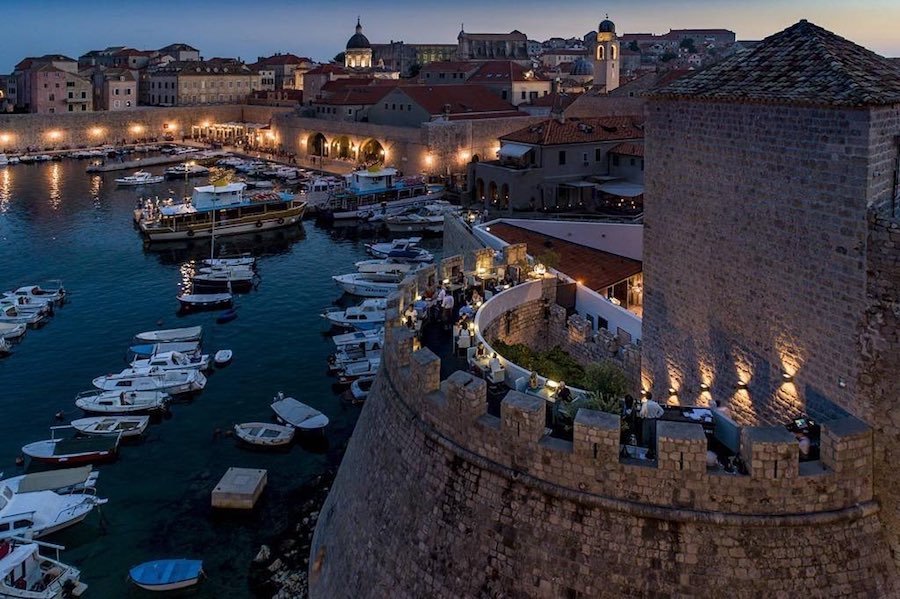 Located in the heart of the city, with a fantastic view of the Old Town, 360 is one of the top restaurants in Dubrovnik, the second-best, actually! It holds a Michelin star and is famous for its black pork and beetroot risotto. The extensive menu concentrates mainly on seasonal choices and wonderful modern interpretations of Croatian classics. Dining here is an event that won't be cheap, but it's an experience you will never forget!
Above 5 (Old Town)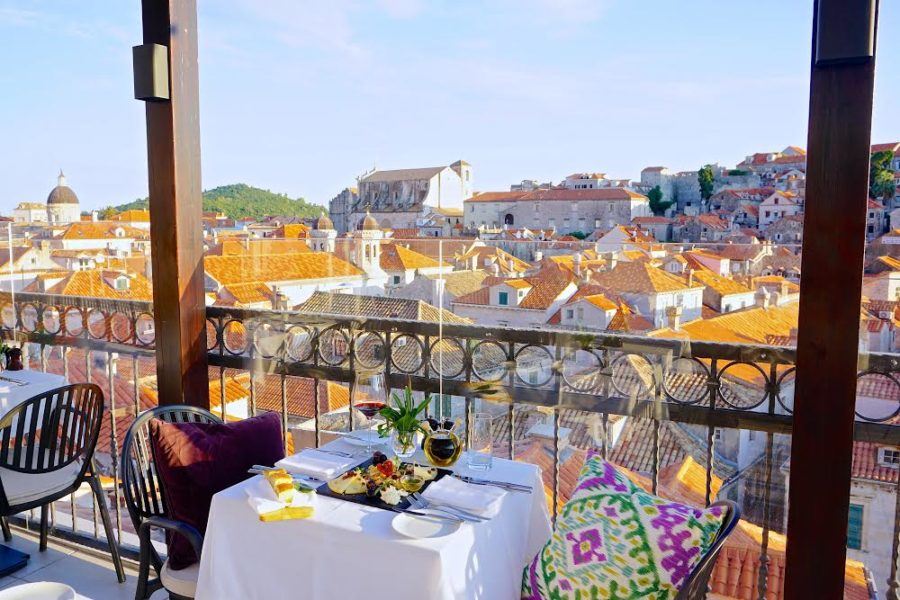 Above five is one of my favorite restaurants in Dubrovnik, with one of the best views from within the Old Town. Attached to a boutique hotel, this exclusive rooftop restaurant serves locally sourced food full of thought and flavor. I think this place is perfect for a nice meal out on the town, and the prices are fair for the quality of food, service, and epic view.
Komarda (Near Old Town)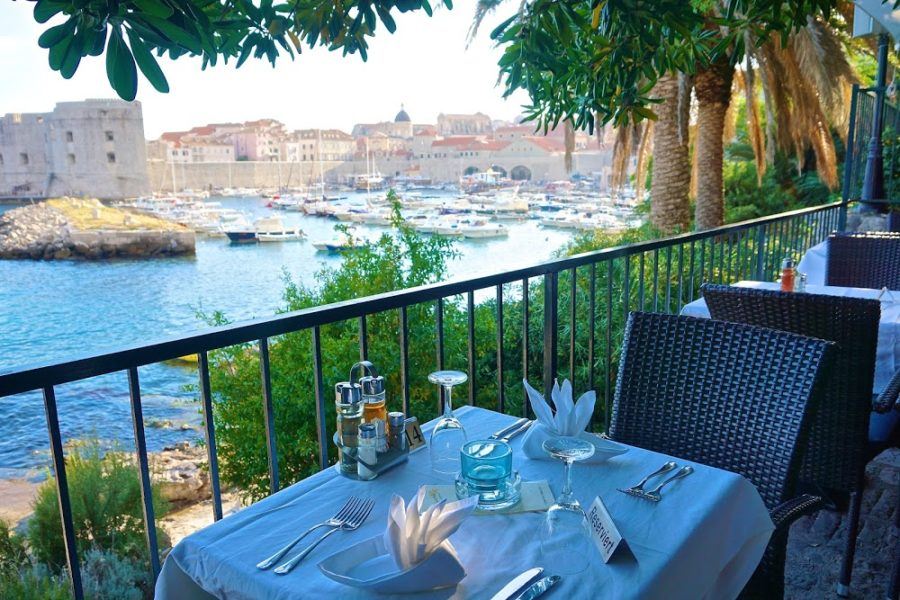 You probably wouldn't find this place unless you were looking. Komarda overlooks the Old Town's harbor and is perfect for relaxing in a bit of shade. The prices are less expensive than those above, and the menu has a variety of Mediterranean cuisine.
Nautika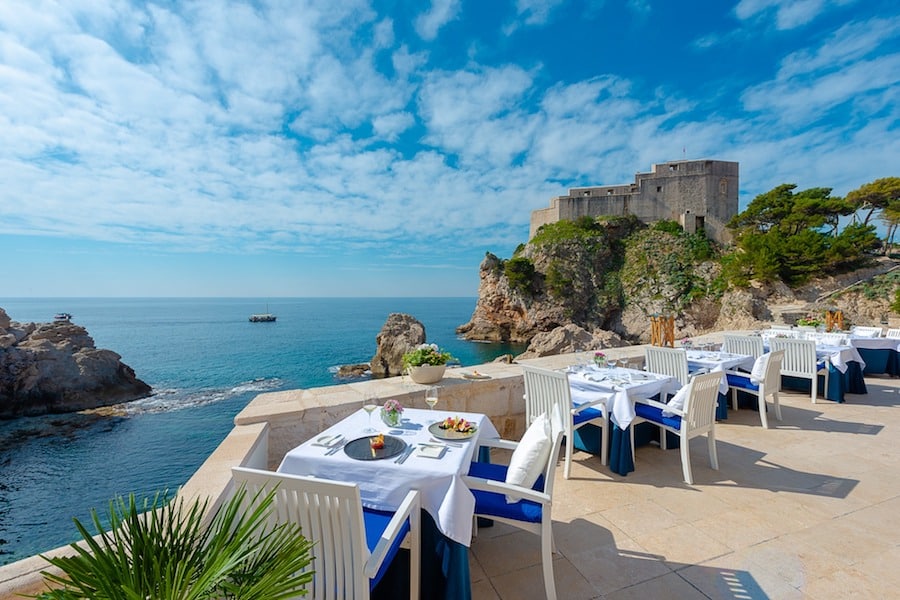 Along the western entrance to Dubrovnik's Old Town, the upscale Nautika offers diners a one-of-a-kind view of the Adriatic and the fortresses of Lovrijenac and Bokar. This romantic dinner destination is one of the most formal in the city, truly fit for Hollywood stars (in fact, many have dined here). With two Michelin star ratings, you can expect a phenomenal menu. Locally sourced ingredients are used to create innovative Mediterranean dishes, which include extensive vegetarian options.
Best Restaurants For Local Cuisine
Ragusa 2 (Old Town)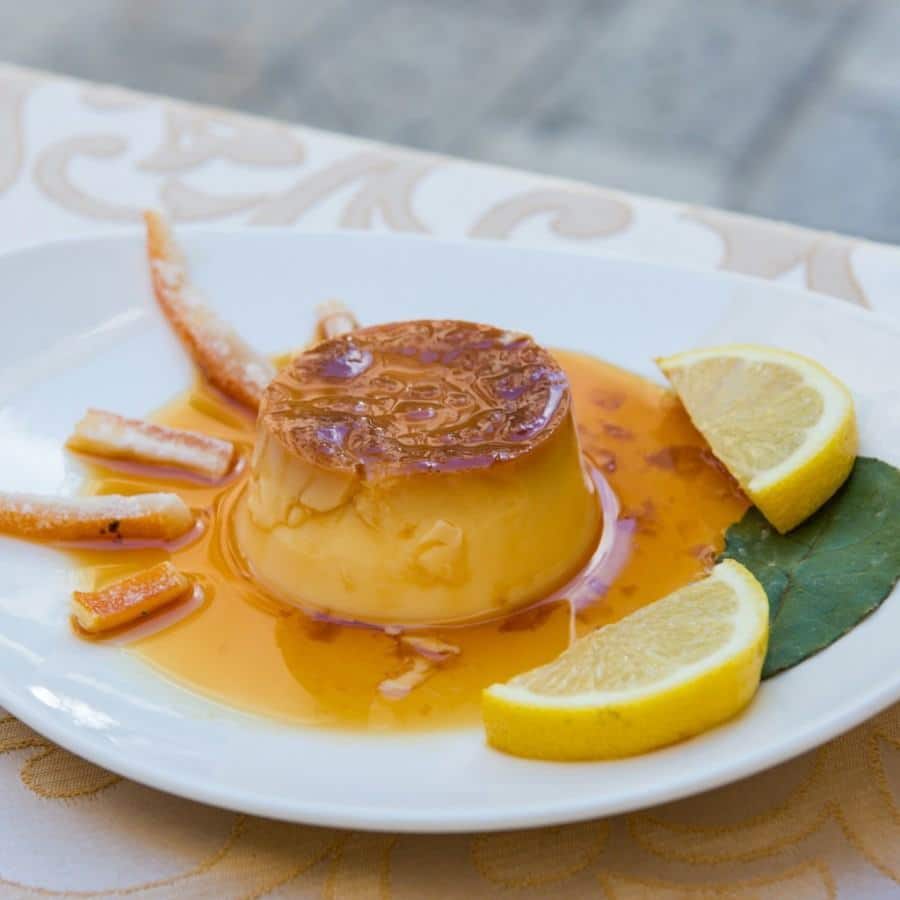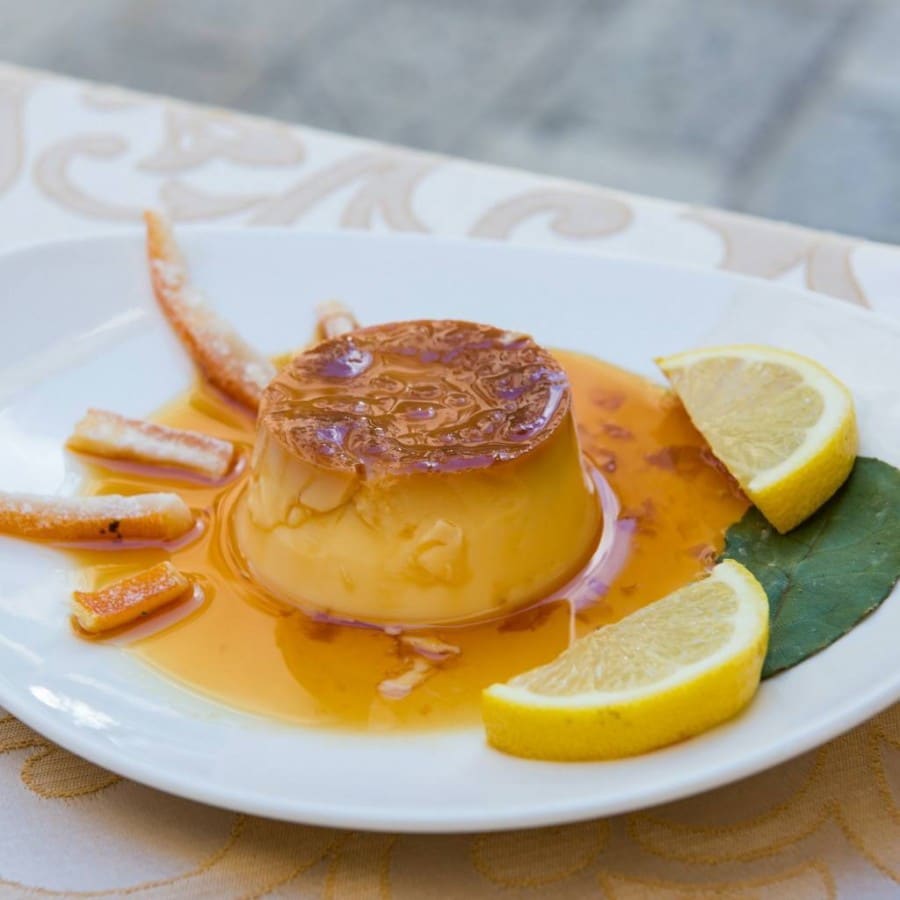 This was one of the first places I went to when I came to Dubrovnik, and I've been returning ever since. A very traditional restaurant with fair prices, Ragusa 2 has many authentic Dalmatian and Dubrovnik dishes. I recommend getting the seafood platter and the Rozata dessert.
Taj Mahal (Old Town and Lapad)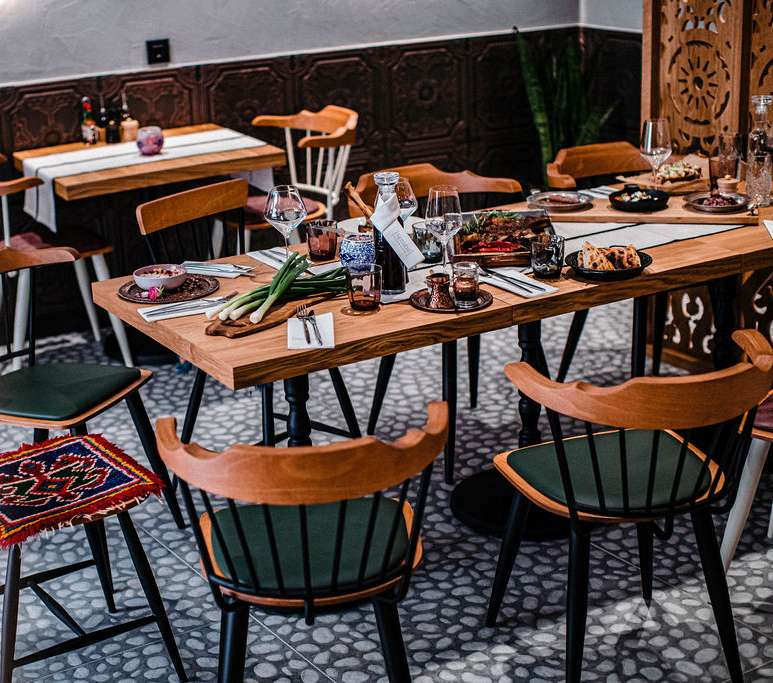 Don't be fooled by the name. This isn't an Indian restaurant or a Croatian restaurant, either. Taj Mahal is known for having the best Bosnian cuisine in Dubrovnik, with two locations, one in the Old Town and one in Lapad. It's an excellent place to try Bosnian dishes like kebabs, cevapi, Turkish coffee and desserts.
Pantarul (Lapad)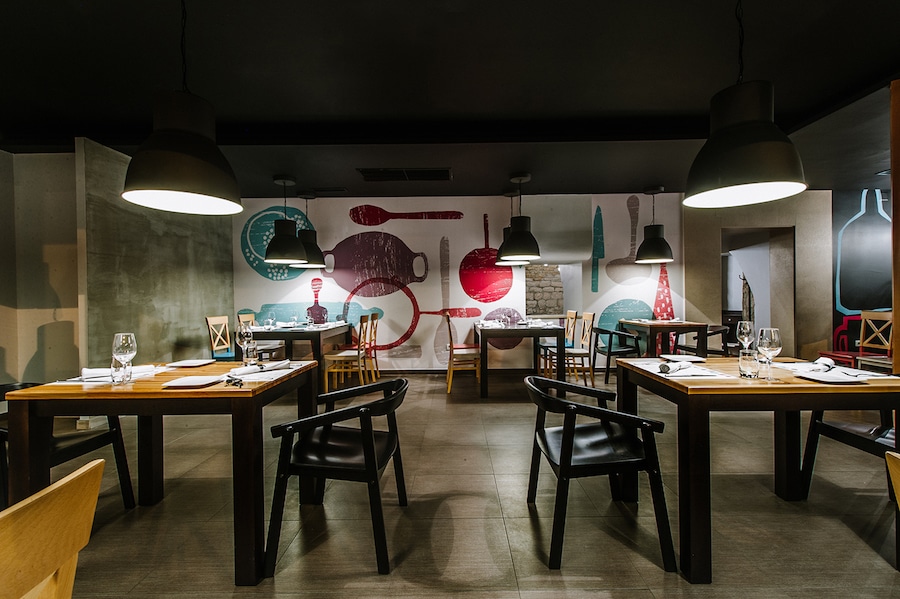 Pantarul is a family-run restaurant that serves a variety of local Mediterranean dishes. The intimate and romantic setting is great for a date night or even a dinner out with friends. I recommend getting the sea bass and the gluten-free cake.
Konobo Vinica Monkovic (Konavle)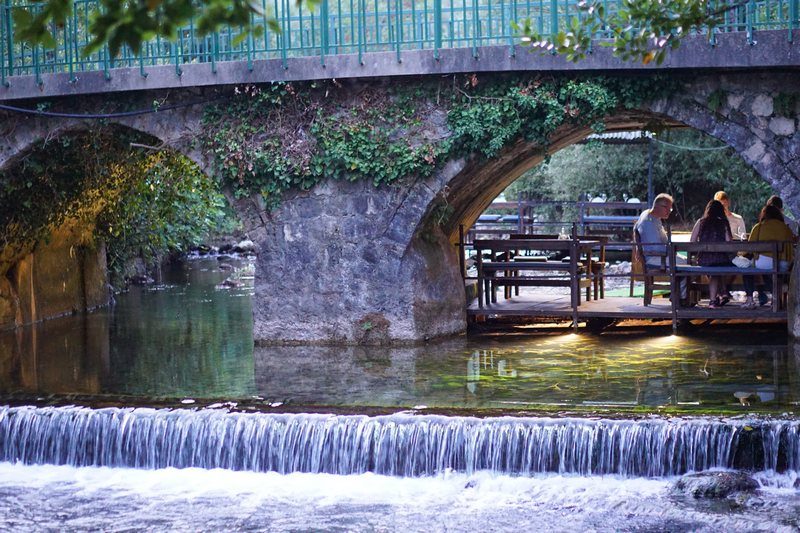 Although this restaurant is located a bit outside of the Old Town, believe me when I say that it is worth the trip. Monkovic sits atop a river in the Konavle region, which is where the Dubrovnik airport is. This family-owned restaurant is ideal for trying Konavle specialties such as lamb under the bell or veal. Though, you will have to call ahead if you order these dishes since it takes at least 3 hours to prepare.
Restaurant Dubrovnik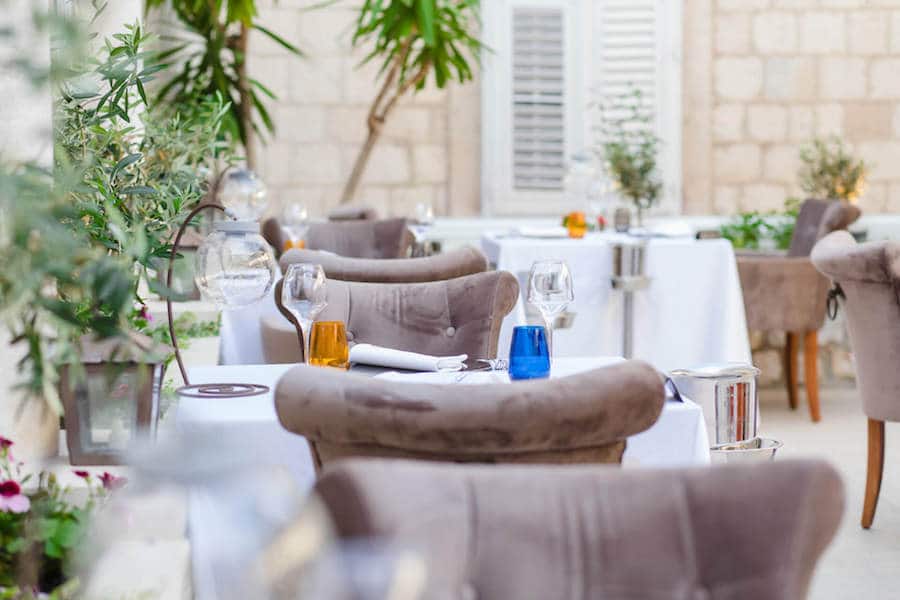 Found on an enchanting street corner, this Michelin guide restaurant is the perfect place for a romantic dinner. Using Croatian produce, the menu features flavorsome Mediterranean fare with a modern Dalmatian twist. Pick from the chef's tasting menu for the evening, or order al-a-carte. Highlights include the sea bass, the lamb, and the specialty white fish baked in sea salt. An extensive wine list along with cocktails and beer will round out your meal.
Bistro Tavulin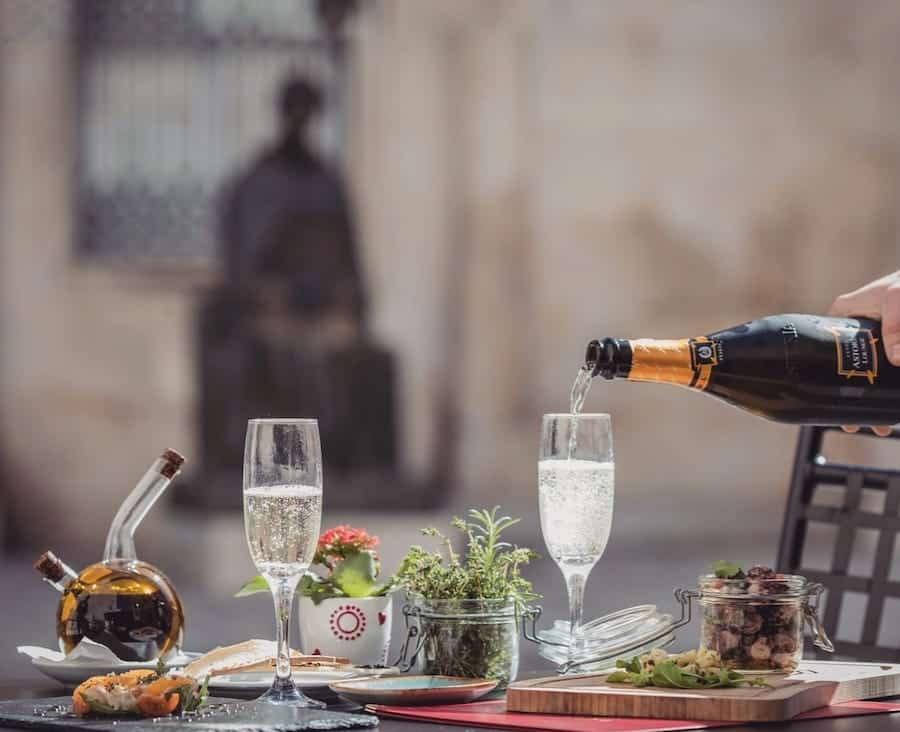 Because Old Town is packed with tourists, it's easy to assume most restaurants in the area are tourist traps. That's certainly not the case with it comes to Bistro Tavulin. With a spot in the Michelin Guide, this restaurant boasts a menu that is entirely locally sourced. While the menu isn't loaded with options, the octopus, mussels, and oysters make for a compelling seafood spread, and an evening in the rustic atmosphere can't be beat.
Klarisa Restaurant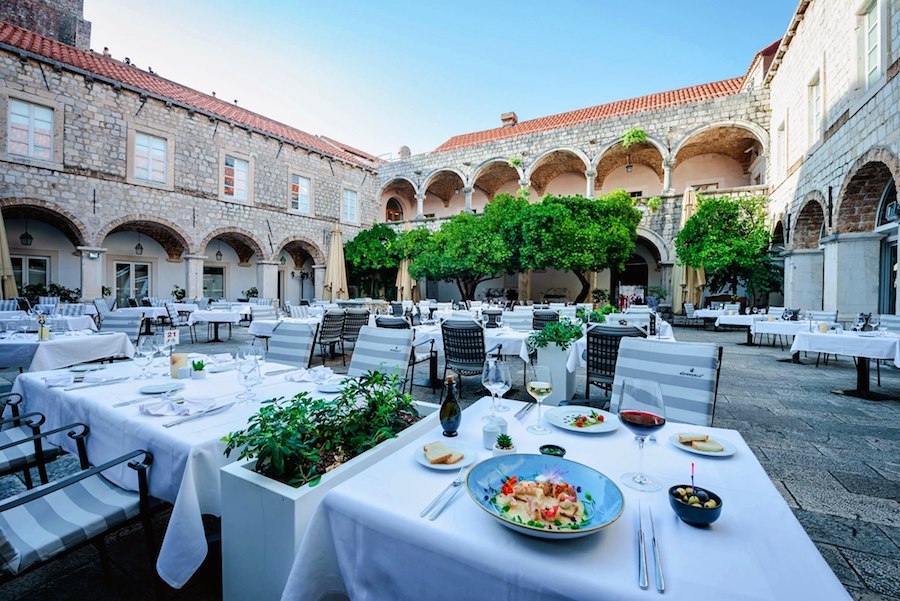 Another great Old Town favorite is Klarisa Restaurant. The restaurant is found within the walls of the old Convent of St. Claire, and so it features incredible courtyard terrace dining, making it the perfect place on a warm day. The cuisine focuses on specialties from across Croatia, with main dishes prepared using traditional recipes from the regions they originated from.
Kopun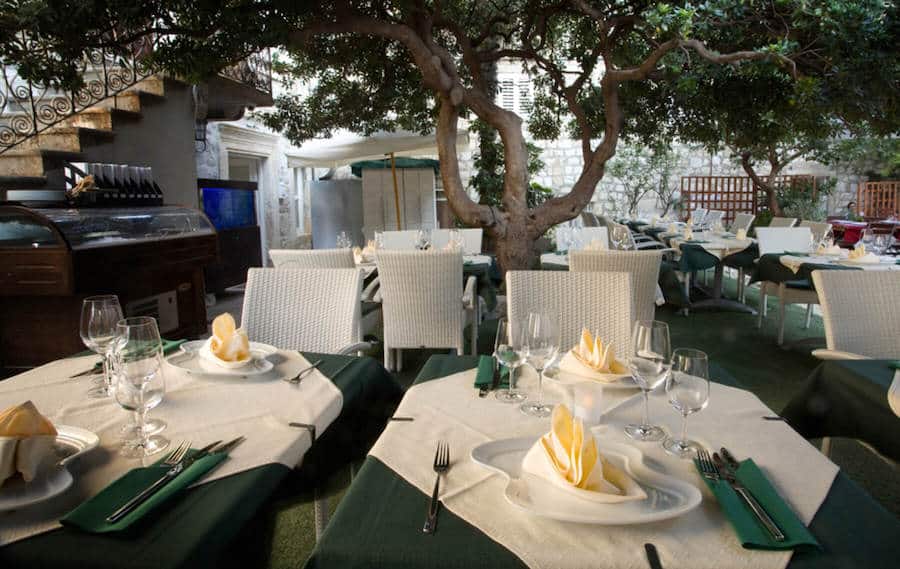 It's recommended that you try and make a reservation at Kopun, especially if you're visiting Dubrovnik during high season. It's a very in demand spot! This is probably down to the quality of service and the range of special dishes on offer. All ingredients are freshly sourced and in season, giving you the very best flavor on offer.
Best Restaurants For Something A Little Different
Bura Bistro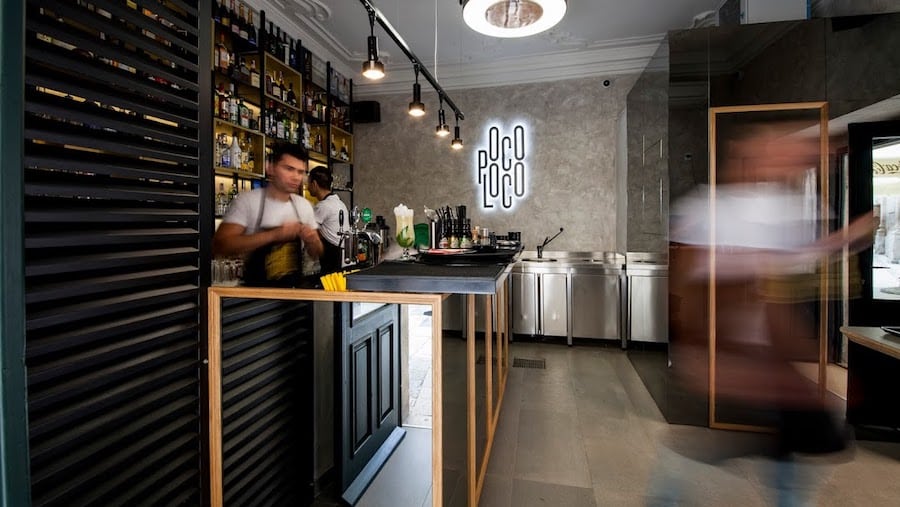 For a modern take on Croatian food, be sure to head to Bura Bistro. You'll find it directly behind the beautiful Cathedral of the Assumption of the Virgin Mary and the menu will make your mouth water just by looking at it.
Be warned however, the plate sizes are large, so you won't really need to order too much to be full. Although, you might want to keep eating, such are the flavours!
Azur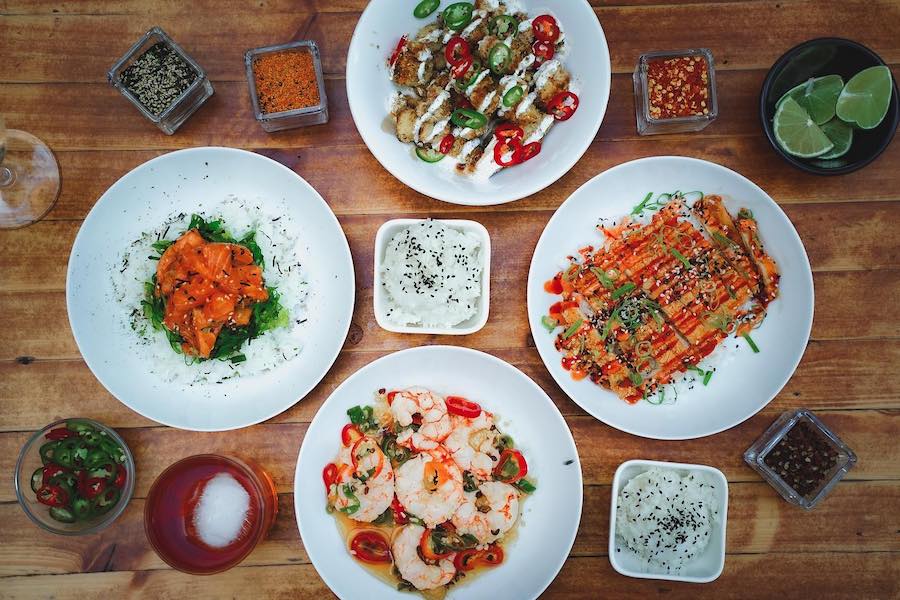 If you want to try something a little different, be sure to head to Azur. The chef was living in China when he decided to open his first restaurant, before heading back home to Croatia and continuing his legacy. As such, the menu is a mixture of Mediterranean dishes with a little Asian thrown in for good measures.
Alamaka Tapas Bar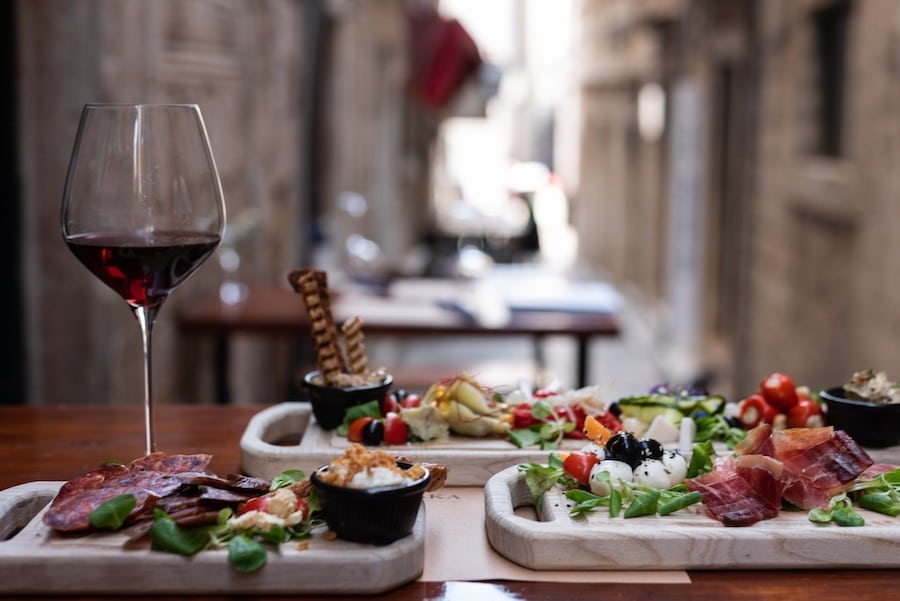 Just off the main street in the old town you'll find Alamaka Tapas Bar, which will give you a true taste of Croatia without having to deal with crowds of tourists in the process.
Tapas are made with totally fresh and seasonal ingredients, served on small platters, in the traditional tapas way. You'll get to try lots of different things by coming here and you can be sure that everything is as authentic as it's possible to be.
TRAVEL COMPANIES WE USE AND TRUST
What To Drink In Dubrovnik
While in Dubrovnik, I recommend trying to look for a wine from the regions of Korcula or Peljesac. Korta Katarina, Rozic, and Matusko are all brands from the Peljesac region. Posip Cara is from Korcula, and Dubrovacka Malvazija is from the Konavle region of Dubrovnik.
If you like liquor, I recommend trying the various types of Rakija. These are usually served as a digestive with meals. The Medica grappa is made from honey and is sweet, best served on the rocks. Orahovac is another grappa made from walnut, also lovely and served on the rocks.
To try the stronger Rakijas, you can try drinking the anise Rakija, which is famous in the Dubrovnik region.
Last but not least, the best beers to drink in Dubrovnik are Karlovacko and Ozujsko. You can also try local beers from Dubrovnik's Beer Factory that opened up in the Old Town.
Best Places To Drink In Dubrovnik
Coffee culture is an integral part of Croatia culture, and especially in Dubrovnik. If you want to experience the city like a local, pick a coffee bar and sit outside chatting with friends for hours.
You may notice that the best places for drinks in Dubrovnik are "coffee bars," which are coffee shops in the day and turn into bars at night. Here are a few of my favorites in and around Dubrovnik:
Gradska Kavana (Old Town)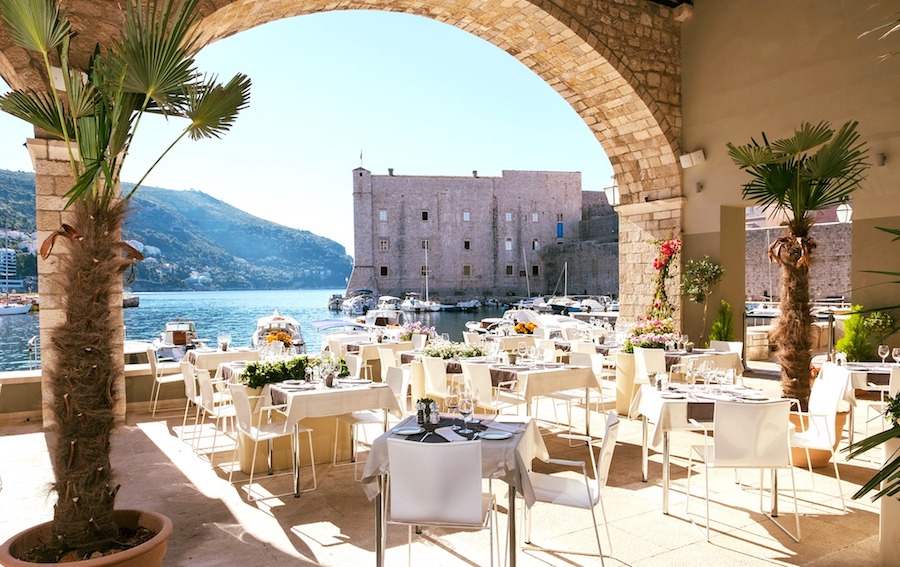 If you're looking to drink coffee with an epic view of the Old Town, Gradska Kavana is the place to be. It is one of the most popular spots in town for locals and tourists alike. The prices are a bit expensive, but for the upscale and environment and view, it is worth the price. They also serve food and cocktails in the evening.
Buza Bar (Old Town)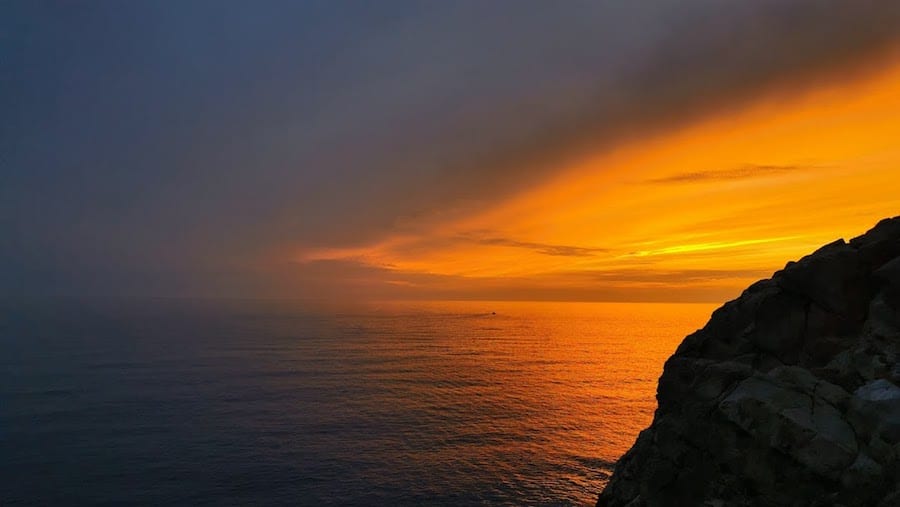 Buje is the popular cliff-side bar through the hole in the Old Town walls. It is a popular spot for watching the sunset, swimming, and cliff jumping. They do not serve food or cocktails, but it's an excellent spot for cold drinks, wine, or a cold beer while enjoying the seaside view.
Art Café (Near Old Town)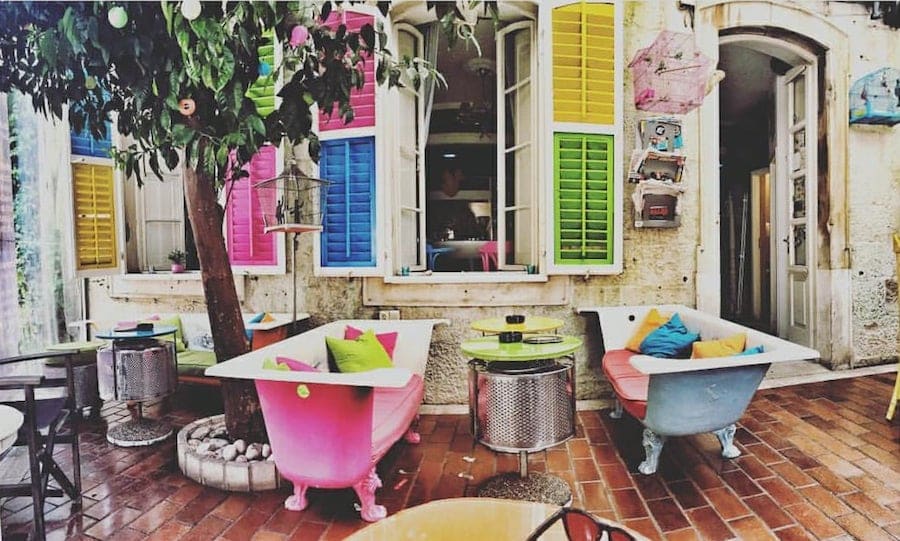 Just outside the Old Town's Pile gate is a funky coffee bar called Art Café. Decorated with eclectic decorations like bathtub chairs and old records, it's an ideal hotspot for sipping a smoothie or cocktail while listening to deep house music.
Cave Bar More (Lapad)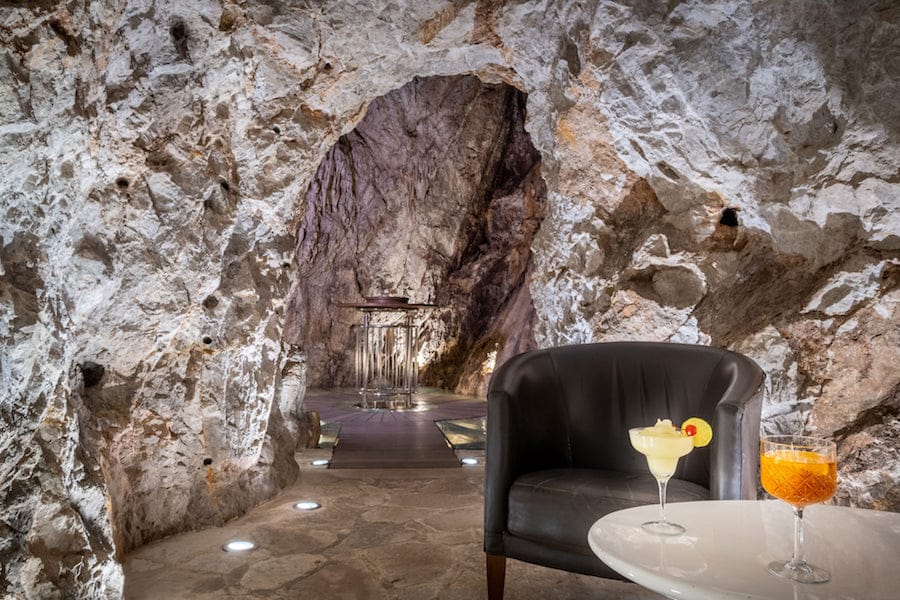 Inside the More, Hotel is where you'll find the legendary Cave Bar in Dubrovnik. The upscale yet rustic design is perfect for having a craft cocktail and escaping the heat. I recommend the mojitos or the gin and tonics.
Zenith Bar At Kompas Hotel (Lapad)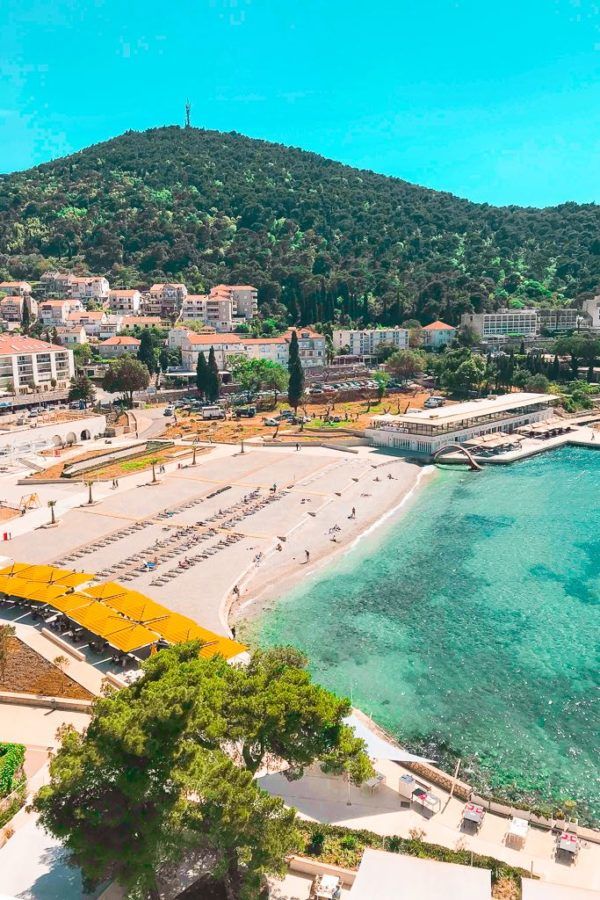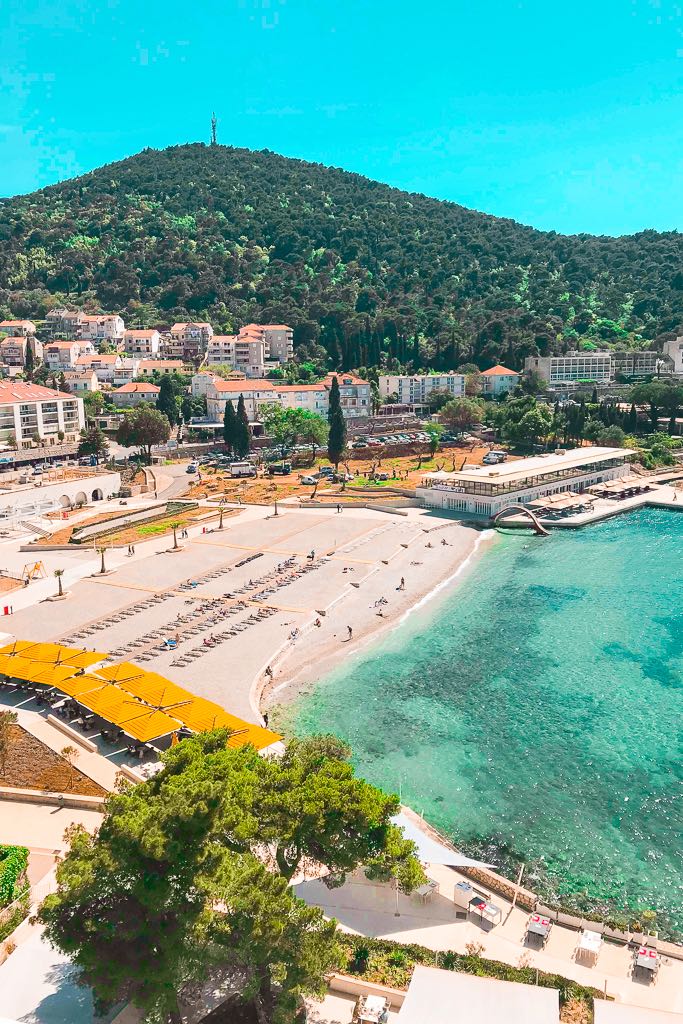 Another popular hotel bar called the Zenith bar within the Kompas Hotel is not too far from Cave Bar More. It is known for having an epic view of the sunset beach area of Lapad, right at the end of the Uvala walkway. They do weekly specials on cocktails, such as raspberry mojito for 10 euro.
Lokal (Zupa)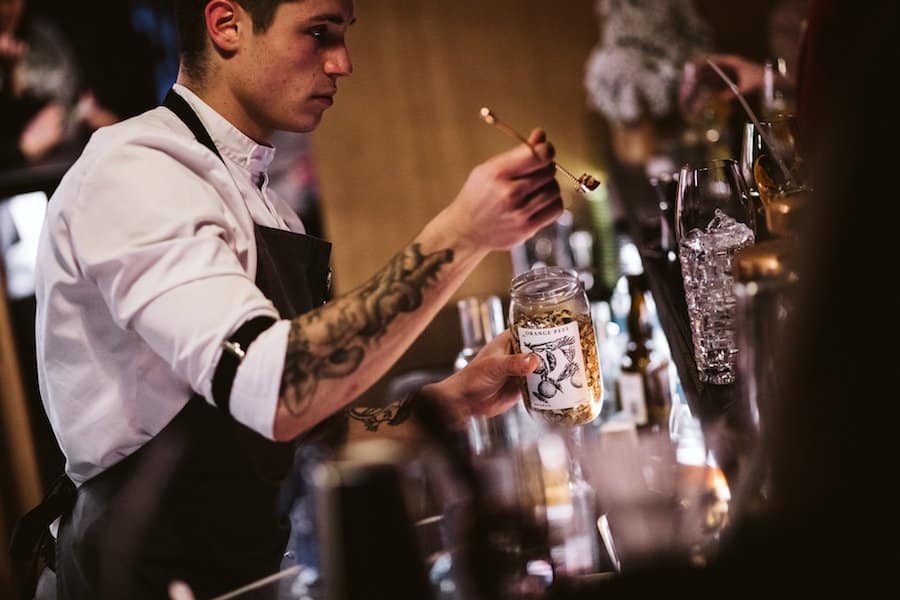 Over in my neck of the woods is a new and secret spot known as the place to be on Thursday nights for us locals. Yes, literally called Lokal and a part of the One Suite hotel, this place is excellent for craft cocktails, brunch, and small bites. It's one of the only places where I can find my favorite Titos vodka and an excellent espresso martini. On Thursdays and Saturdays, they have a DJ, and the place fills up pretty fast. But during the day, it is a quiet spot for coffee or brunch.
Whatever your drink or meal of preference, Dubrovnik is sure to have something for you. People may come to the Old Town and Adriatic beaches for vacation, but the food is a huge part of why people like myself never leave Croatia.
MORE CROATIA TRAVEL BLOGS