Some posts contain compensated links. Please read this disclaimer for more info.
Croatian Recipes: Rižot od Kozica – How to Make Shrimp Risotto
Along the Dalmatian coast, you'll find many types of risotto on the menu in most Konoba's. Clearly, the origin of this dish is not Croatian. However, it has definitely been adopted, and the Croatian version of this dish is delicious. Interestingly, many of the Croatian versions of the recipe call for the rice to be cooked separately and then added to the shrimp sauce.
This recipe is my Croatian version where I use the typical absorption method.
Tip: Make sure you make the best seafood stock you can. It makes or breaks the dish.
What You Need To Cook Rižot Od Kozica
400 grams of cleaned shrimp. In Croatia, the shrimp available to me are quite small, but they work really well and provide a delicate sweetness.
1 onion – diced
2 cloves of garlic – diced
EVOO
100ml dry white wine
1 tbs chopped parsley
3 cups of short grain rice. I like to use Carnaroli.
3 liters of seafood stock. Make your own using, shrimp heads, fish bones and heads, and any other fish bits. It's a little effort but its worth it (Just do not forget to season the stock)
A knob of butter
Salt and Pepper to taste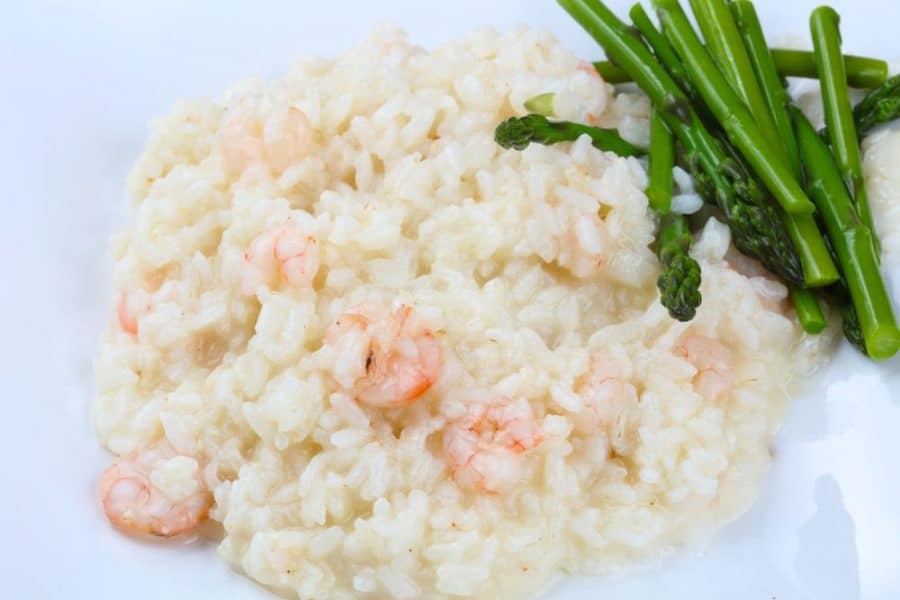 How to Make Rižot Od Kozica
Put a few lugs of EVOO in your large heavy-based saucepan and add your diced onion over medium heat
Add your garlic after a couple of minutes and cook these until they are soft and translucent
Add your rice and mix it all around so it's coated with the oil
Add your wine and cook it off
Start adding your stock a couple ladles at a time. As the stock is absorbed by the rice, keep adding more stock and continue to stir
When your rice is a couple of minutes from being complete, add your cleaned shrimp. They don't take much time to cook and will remain nice and delicate. You don't want to overcook them.
When the rice is done, take the saucepan off the heat and add your knob of butter and put the lid on the saucepan and let it sit for a couple of minutes.
Give it one last stir and add your parsley.
Evo, you have Rižot od Kozica!
Tasty Croatian Recipes & Cooking Tips
Bijela Pita (White Slice Traditional Cake)
Share