Some posts contain compensated links. Please read this disclaimer for more info.
5 Not-to-be-Missed Sights In Romania
Written by Marius Iliescu is the founder of Romanian Friend.
Whenever fellow travelers asked me where I'm from, to which I replied Romania, the usual responses were 'Oh, land of vampires! I've never been but want to go see Dracula's Castle!' or 'I've never been, but I heard it's beautiful! Any suggestions on what to visit?' Soon enough I realized that HRH Prince Charles does a better job at promoting his beloved Transylvania (where he owns two guesthouses!) than local authorities do.
So it's up to us, locals, to do our part and tell people about our country's beauty and some of the best Romania destinations. And the list is quite long!
Sitting at the crossroads between Western culture, Balkan spirit, and Oriental influences, Romania is a melting pot of cultures, customs, and influences from neighboring countries.
Going for a walk in popular cities in Romania can take you from modern skyscrapers to medieval or Belle Époque times, while young crowds gather in trendy coffee shops and bars. Let's hit five top Romania sights that you just can't skip.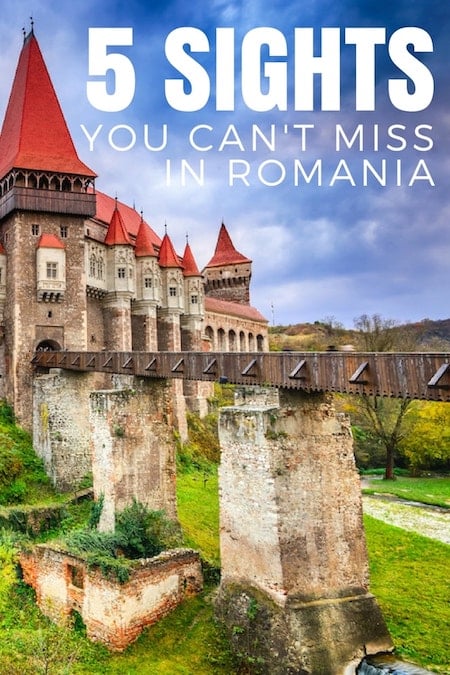 Outside of major cities, you'll see unspoiled Romania scenery with rolling hills dotted with traditional villages where locals live is as they did 50 years ago. And going deeper into the country, you'll be met by the dramatic Carpathian Mountains, home to rich wildlife and the largest brown bear population in Europe.
Did I mention the plot-twisting history we had? A large number of castles and citadels will speak for that!
Really, for those of you who've never been to Romania and wondering what to visit in Romania, there's a big surprise in store! The number of famous Romania points of interest is huge. And for those returning, you already have a taste of Romania and therefore should know there are so many things to see in Romania! To help you plan your next trip, here are five of the best places to visit in Romania you should consider.
Corvin Castle – A Gothic-Renaissance Jewel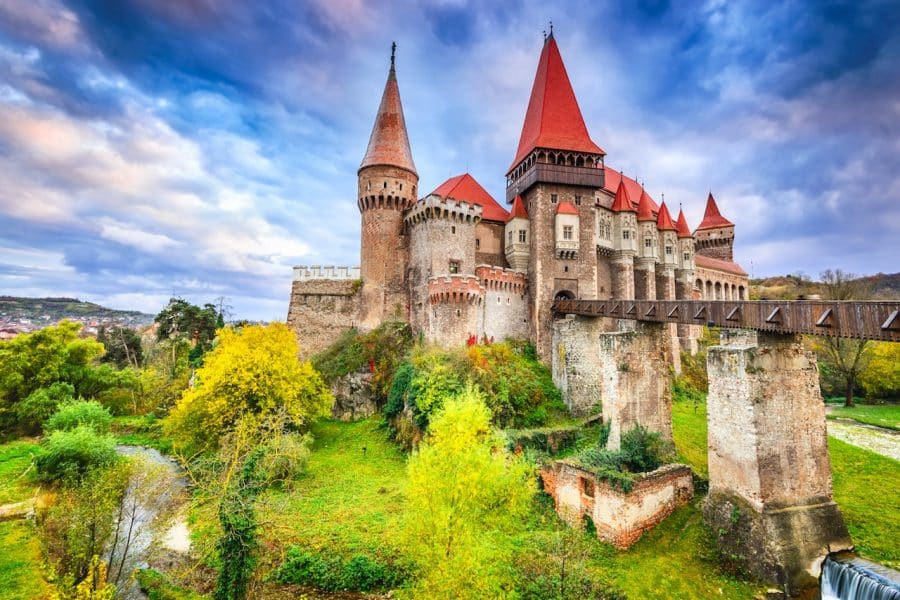 If it weren't for the Dracula myth boosting Bran Castle's popularity, Corvin (Hunyadi) Castle would surely be Romania's #1 medieval attraction! This gorgeous Gothic-Renaissance jewel is no less than 600 years old and is one of the best-preserved castles in Europe. No wonder Huffington Post named it as 'one of the ten most fairytale-like constructions of this kind in the world.'
This medieval fortress was used as a residence by feudal lords and belonged to the famous Corvin dynasty that ruled Hungary and parts of Transylvania.
There are many legends surrounding the castle's symbol – a raven with a golden ring in his beak – which you can find out more about if you visit the castle. Located in Central Romania in Hunedoara, Corvin Castle can be visited year-round on day trips from Timisoara, Sibiu, or Cluj-Napoca.
The Danube Delta – Nature's Miracle Garden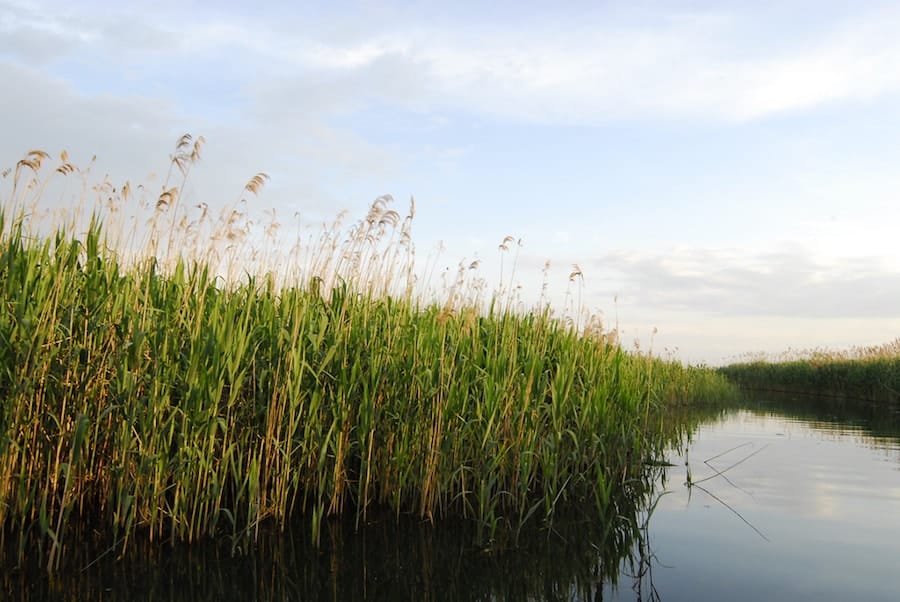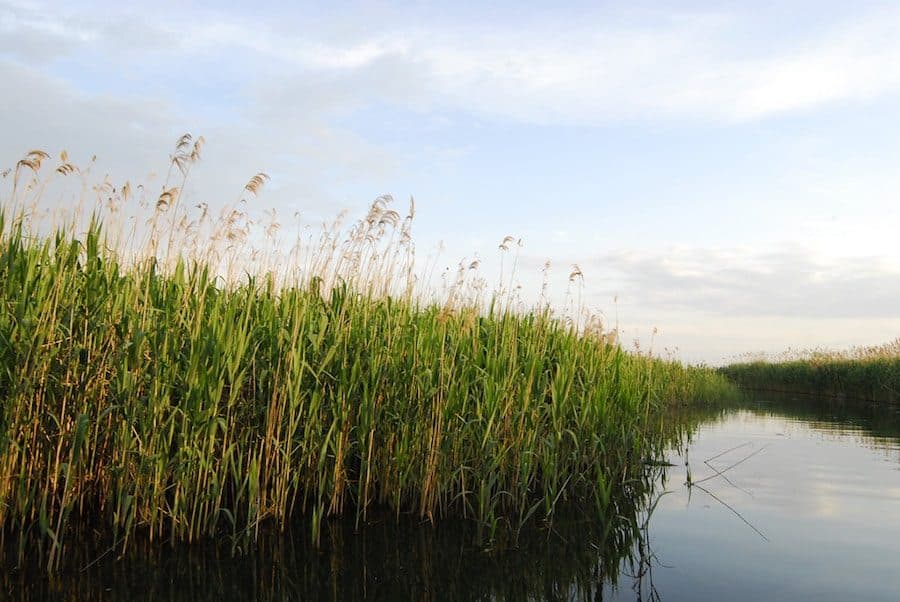 One of the top tourist attractions in Romania for nature lovers, the Danube Delta is Europe's newest patch of land, a natural biosphere formed by the Danube River before it flows into the Black Sea.
This area is three times bigger than Greater London, and over 3,500 animal species and 1,700 plant species live in its canals, river beds, and patches of land. Think of it as a vast outdoor living natural museum that you can visit from a boat!
Besides the rich wildlife, tourists (especially photographers) will be impressed by the natural landscapes infused with sunrise light (the Delta faces the East). If you're keen on taking some great Romania landscape pictures, this is a fantastic destination for you. Another highlight is the fish-based cuisine of the locals who preserve their authentic charm and fishermen way of life.
The Danube Delta is a unique natural attraction in Europe and even globally, but travelers should be mindful of its importance as a natural habitat and visit responsibly.
Suppose you want to visit the Danube Delta. In that case, you should aim for April to October, spend at least 2-3 days and consider hiring a locally-licensed guide because navigating its canals and knowing the best spots for wildlife watching require lots of on-the-ground knowledge.
Sibiu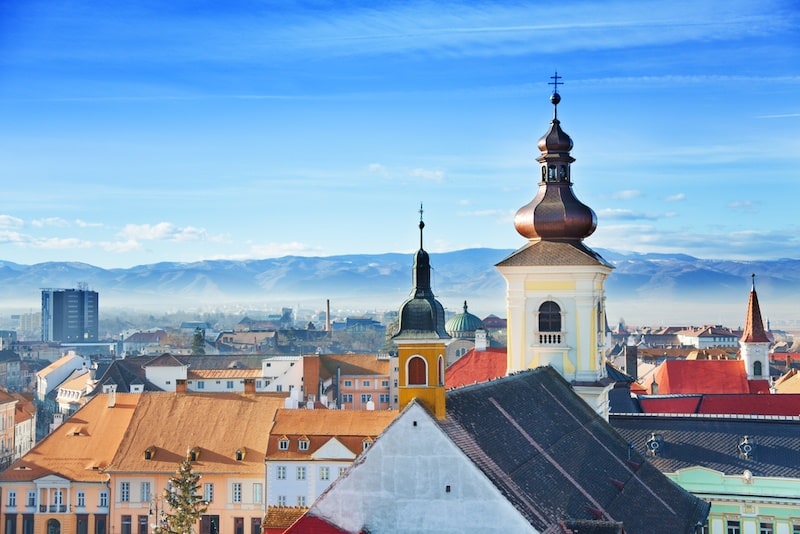 Ah, Sibiu – where should I begin? 2007 European Capital of Culture, ranked 8th by Forbes as one of Europe's most idyllic cities and 6th most charming by Huffington Post, the city of Sibiu is genuinely one of the best Romania vacation spots for locals or foreign tourists alike!
Also known by its German name Hermanstadt, the city is representative of Transylvania's multiculturalism and displays many signs of its Saxon heritage. It has a rich and varied cultural agenda with internationally renowned theater, jazz, and other arts events. There's also a booming food scene, drawing on modern reinterpretations of Transylvania's rural gastronomy.
Much like Brasov, Romania's other 'darling' city, Sibiu's medieval air can be felt everywhere, whether in large open squares where people enjoy a drink or meal with friends (Upper Town) or in the narrow cobbled-stone streets where sturdy houses have small details to offer (Lower Town). It's one of the most historical places in Romania, after all!
Did I mention how friendly and welcoming the locals are? They're very proud of their city and heritage. Just ask them about it!
And since we're entering the festive winter season, you should know that Sibiu's Christmas Market is, undoubtedly, Romania's best! The Main Square is taken over by small huts where you can find everything from cured ham or cheese, handmade decorations or gift, local pies and sweets, and, of course, plenty of mulled wine and… mulled țuica, the traditional Romanian spirit! One glass of this, and you're good to go for 1 hour in any type of freezing weather, trust me!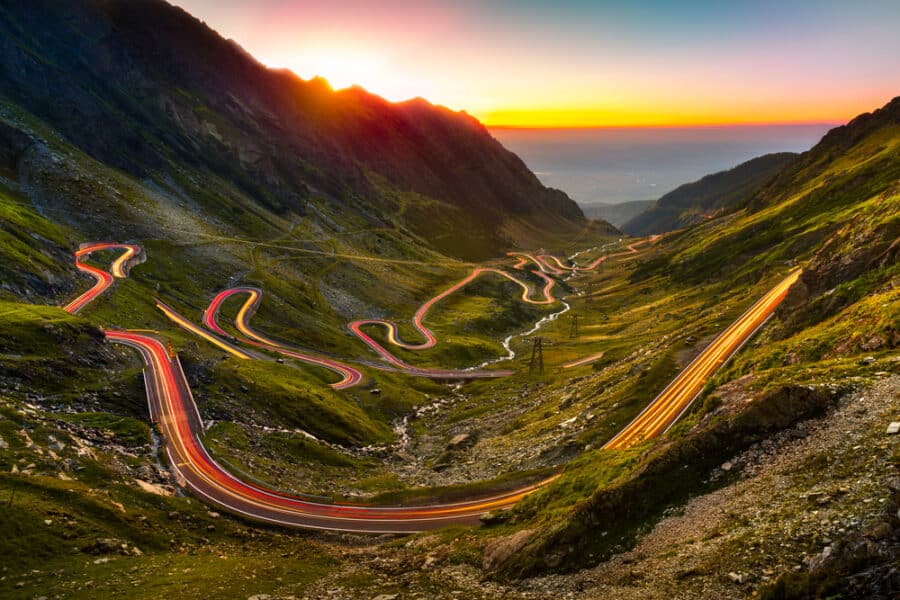 You may have heard of this one. Named by Top Gear as the world's best driving road, Transfagarasan Road crosses the majestic Fagaras Mountain range of the Carpathians and is among the best of Romania's attractions. Located in the country's center, it can be accessed from its northern side coming from Sibiu or Brasov or from the south coming from Bucharest or Craiova.
At its highest point of 2042 meters, it offers views that are nothing short of breathtaking! Between the ridges of Fagaras Mountains and with Transylvania's plain in the distance, you will definitely stop for a long while to take in the views and the fresh mountain air!
Tip: Before planning your dream trip on the Transfagarasan road, make sure it is open. Due to heavy snow, this mountain road is usually closed from the beginning of winter / late autumn until July. Or until the snow melts entirely.
Turda Salt Mine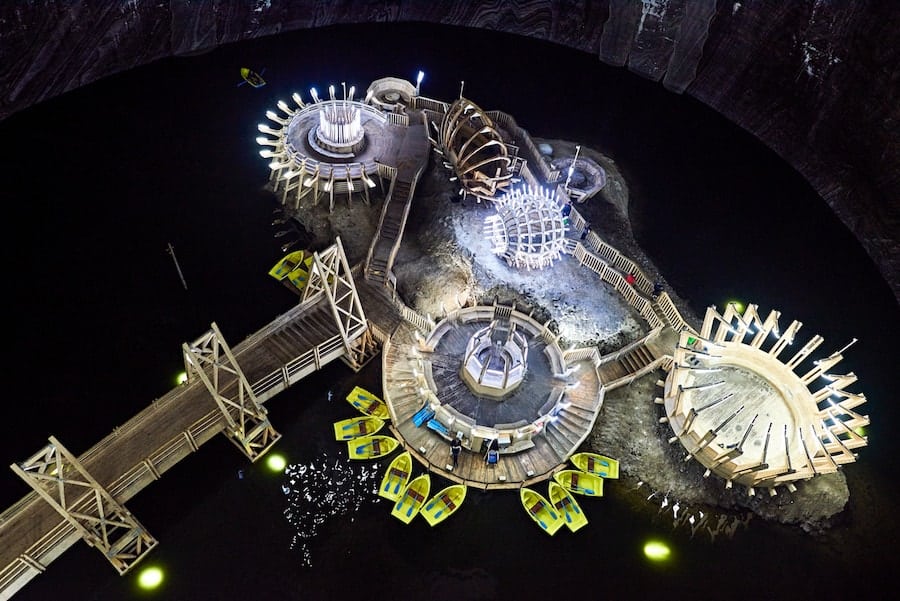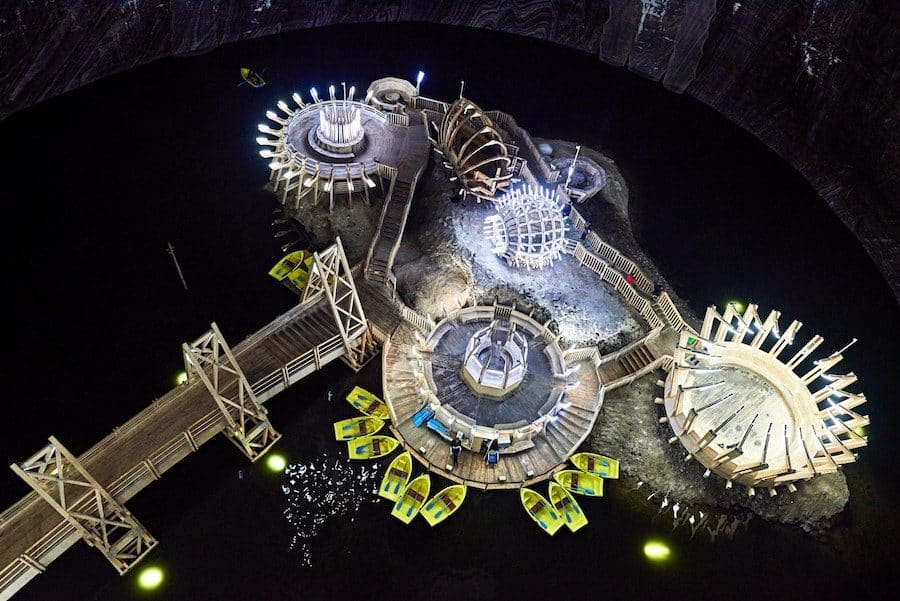 With a history of over 2,000 years and opened for tourists since the early 1990s, Turda Salt Mine near Cluj-Napoca is among the most popular Romania tourist destinations for two reasons.
First, its underground galleries and large, high-ceiling caverns hosts an amusement park complete with a theater, Ferris wheel, ping-pong tables, and mini-golf courses.
There's even an underground lake where you can practice your rowing skills (or impress your partner!) if you rent a boat! The best part is the artificial lighting installations. Everything was designed to highlight the salt mine's natural beauty and artificial galleries and give visitors a magical experience.
The second reason – well known among Romanians but less so by foreign tourists – is that inhaling salty air is good for your lungs and treating respiratory diseases. This is something even the Romans knew! Romanian doctors regularly prescribe salty air therapies and Turda Salt Mine, along with other salt mines such as Praid or Ocnele Mari, is a preferred destination for this.
What do you have to do to get these health benefits? Nothing! Just spend 2-4 hours in the mine. Take a tour to learn about its salt exploitation history and the interesting tools used, play some games or bring a book with you. Beware, though, as no food or drinks (other than still water) are allowed inside the mine as they will interfere with the air!
Now that you know five of the best tourist places in Romania, you have to travel to Romania and come back and tell us your favorite.
MORE ROMANIA TRAVEL BLOGS
Share