Who has seen the movie, Troy?
Probably quite a few people. If not for the history, then for Orlando Bloom, Eric Bana, and Brad Pitt all in one movie!
But did you know that the site of Troy is actually in Turkey, not Greece? Of course, back in the day, it did use to be Greece, but these days, the site of those legendary battles and the famous Trojan horse is on mainland Turkey, driving distance away from Istanbul.
If you're spending time in Istanbul, you'll no doubt have plenty to fill your time. There is enough to keep even the fidgety very occupied in Istanbul. But, it would be a shame not to head out and explore the country a little more while you have the chance.
In that case, a visit to Troy is entirely doable from Istanbul, and you can easily venture back again the same or the following day.
Let's explain how.
About Troy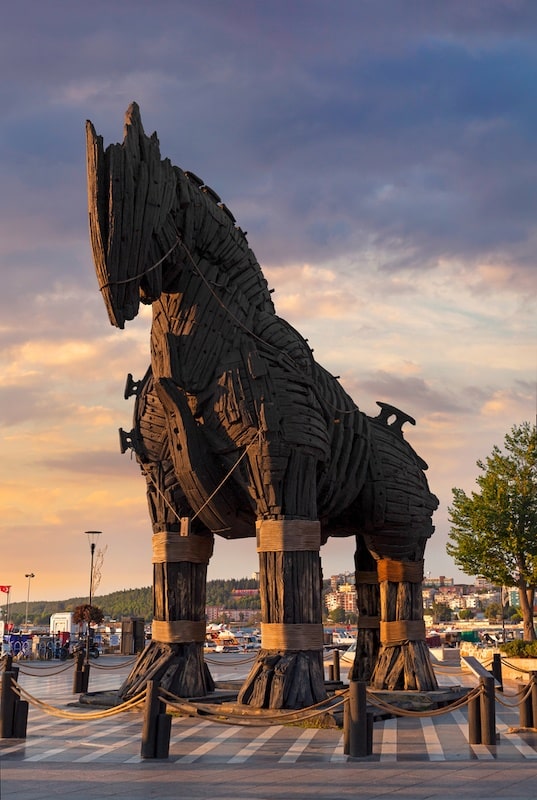 If you're unsure where Troy is or what it is, let's just explain briefly.
Troy is the site of the famous Trojan War, a major city that was conquered by the Greek army after they sneakily hid themselves inside a wooden horse, supposed to be a peace offering to the Trojans. Of course, the horse was simply a ruse, a way to get inside the fortified city gates. After that, the Greek army sprung their attack, and Troy fell.
While many people go to Troy to see the reconstructed horse itself, Troy is a beautiful place to explore. Packed with ruins and artifacts, it's a place that has whispers of the past at every corner, dating back around 5000 years. A few highlights include the Troy Museum, the Roman Temple, South East Tower, Mycenaean Houses, the Temple of Athena, the Fortified Wall, the Palace, and the Citadel.
Troy is located around 31km from Canakkale and approximately 1km from Tevfikiye, a small town.
TRAVEL COMPANIES WE USE AND TRUST
How To Get To Troy From Istanbul (And Back Again)
There are several ways to get to Troy but they all include more than one connection, apart from simply driving yourself. Thankfully, the connections aren't complicated, and you'll undoubtedly find that you're not the only one venturing to Troy on any given day!
Ferry & Bus (And Back Again)
The first option is to take a ferry from Yenikapi in Istanbul and sail over to Bandirma, via the Istanbul Deniz Otobusleri. The ferry sails once daily and takes 2 hours and 47 minutes. From there, you'll take the bus to Canakkale, which runs every 3 hours. The journey takes around 2 hours 38 minutes, and Kamil Koc is the service you need to look for. You can book tickets with Kamil Koc online or from any central bus station when you see the blue and white Kamil Koc sign.
Once you arrive at Canakkale, you can take a taxi to Troy, which should take you around half an hour, covering 31km.
To return back to Istanbul, reverse the information. However, this option will require you to stay overnight before venturing back to the city, as the last ferry sailing isn't particularly late in the day and varies depending upon the season.
Bus & Taxi (And Back Again)
The next option will take you almost 9 hours but is perhaps a little easier. First, you will take the bus from Istanbul Otogar, known as Esenler. You can quickly get to Esenler via the Metro system or bus. The long-distance bus from Esenler to Ezine takes 7 hours 20 minutes and leaves once daily. This bus is serviced by Metro, and you can book tickets at the bus station or online.
Once you arrive at Ezine, you can take a taxi to Troy, which should only take you around 20 minutes. Buses back to Istanbul to Ezine run throughout the day, so you should have no issues returning to the city the same day if you wish.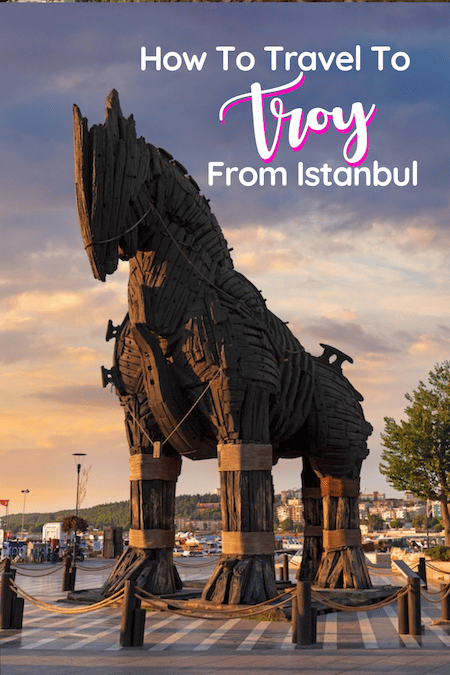 Fly & Bus (And Back Again)
One of the fastest ways to get to Troy, and therefore one of the best if you only want to take a day trip, is to fly to Edremit and then take the bus to Ezine, with a taxi to Troy from there.
Head to Istanbul Airport, and you can fly to Edremit in just 1 hour. Flights leave several times per day, every day except Tuesdays and Thursdays. Once you arrive at Edremit, you can take the bus to Ezine, which takes just 1 hour 30 minutes and leaves twice daily. Then, jump in a taxi to Troy, which should take around 20 minutes,
To head back to Istanbul, reverse the information.
By Car (And Back Again)
You can hire a car, venture to Troy, and back again in just one day if you choose to drive. Of course, driving is the easiest and fastest way to explore Troy. The journey will take around 5 hours 10 minutes, although heading in and out of Istanbul can take a little time, thanks to heavy traffic at certain times of the day.
The journey is quite scenic and will take you to the Asian side of the city, down towards Bursa, past Balikesir, over to Edremit, and then up to Troy. You will cover 471km and find plenty of parking once you arrive in Troy.
Of course, reverse the information when driving back to Istanbul.