Privacy & disclaimers →
Your Guide To Bursa – A Green & Lush City
Turkey is much bigger than people think! This isn't a country that's only about beach resorts and kebabs; there's a huge amount to explore, and it's definitely worthwhile getting off your sun lounger and checking out some other locations!
While the majority of the beach resorts sit on the south coast, most people choose to visit only Istanbul or Izmir if they're considering a city break. But what about Bursa?
The great thing about Bursa is that it's only a couple of hours away from Istanbul, so it's perfectly doable as a day trip from the city. But Bursa has plenty to offer in its own right, and it will take you more than a day to experience the beauty and traditions this city has to offer.
If you're keen to get out and explore a little more, let's learn about Bursa.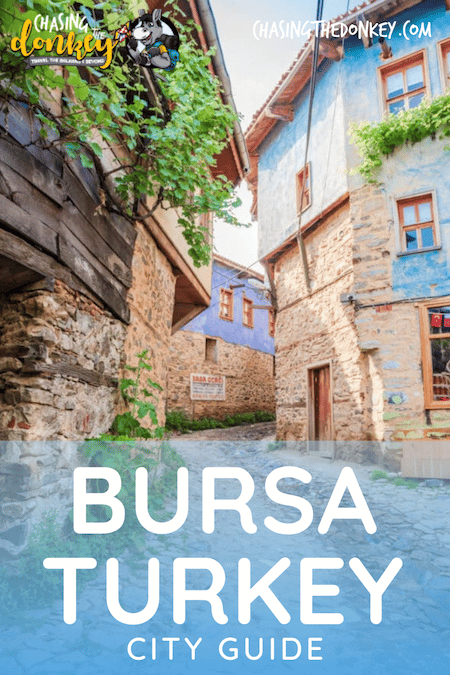 Where is Bursa
Bursa is located in the northwest of the country and is the fourth most populated city in Turkey. It is a large university city, but it is also where most of Turkey's automobile production happens, and a very industrial place.
Bursa was the first major capital of the Ottoman Empire between 1335 and 1363, and its original name, Hudavendigar, means "God's Gift" in the original language. However, it was sometimes different from this. These days, you'll hear Bursa called "Yesil Bursa," which means 'green Bursa.' This is because the landscape in and around the city is surprisingly green and lush for such a large city, and it's overlooked by the huge Uludag mountain range – a very popular ski area for locals and international visitors alike.
A Little History About Bursa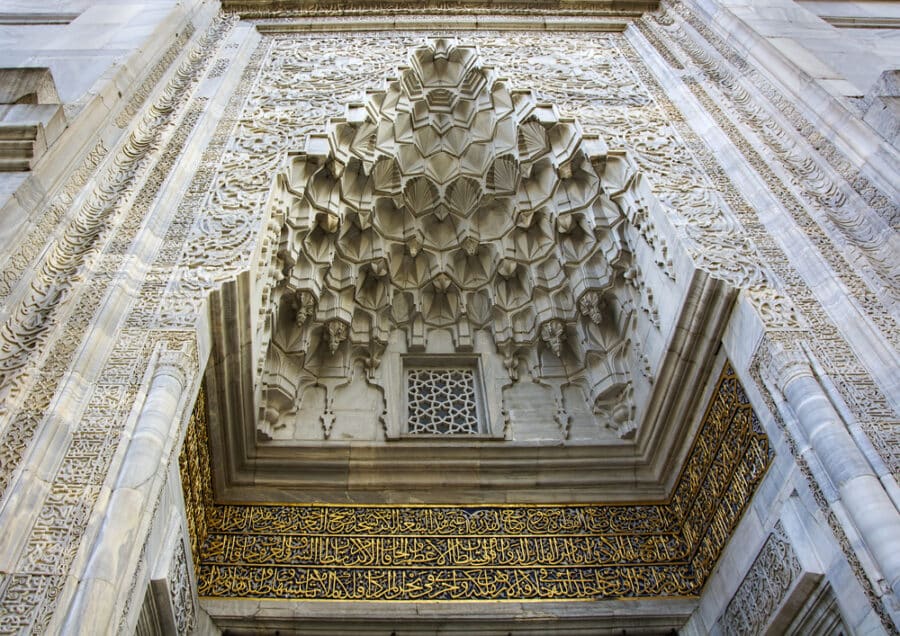 We already know that Bursa was the main capital of the Ottoman Empire, but what else? There was much more going on before that time, as Bursa's history dates back to around 5200 BC. Cius, the ancient Greek city, also stood on modern-day Bursa, which then passed to the Romans, who renamed it Prusa, which remained until 74 BC.
Like most cities in the region, Prusa moved to Byzantine rule and became a bustling city famed for its silk production. Once the Ottomans captured the city in 1326, it was renamed Bursa, and the population and industrial business grew. This is also the site of the first Ottoman mint.
The Ottoman capital moved to Edirne in 1363, but Bursa remained extremely important to the empire, and you can see this even today in many of the structures that still remain.
TRAVEL COMPANIES WE USE AND TRUST
How To Get To Bursa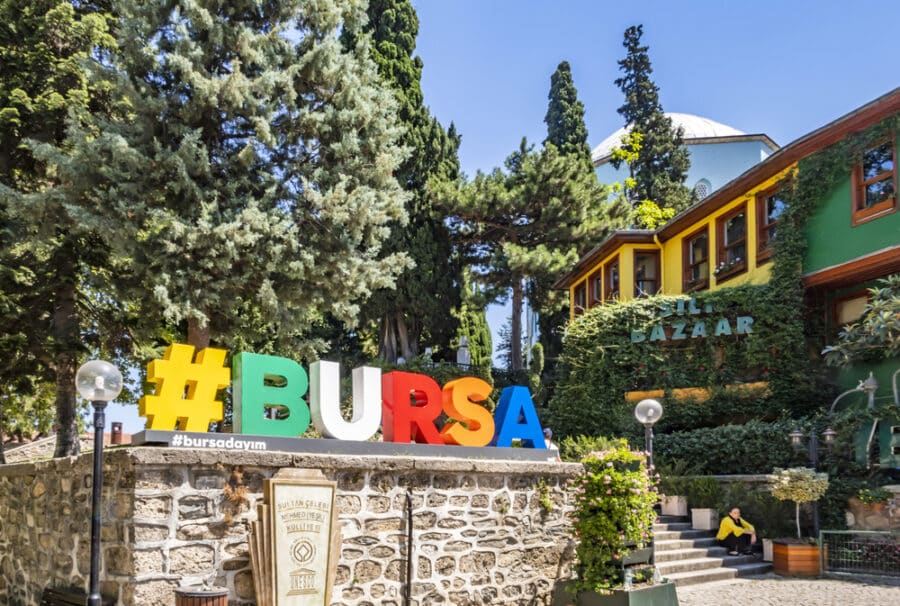 While Bursa does have an airport (Bursa-Yenişehir airport), this is a domestic airport that only receives flights from other Turkish cities. Unless you're flying to Bursa from perhaps Ankara, Antalya, or Izmir, you should look at road options instead. However, if you are connecting from one of those cities, you'll find domestic flights at reasonable prices throughout the year.
The most likely scenario is that you're traveling from Istanbul, and in that case, there are a couple of options.
Bus From Istanbul To Bursa
The bus from Istanbul takes around 3.5 hours, although this does depend on traffic in and around Istanbul, which can be extremely heavy. The main bus networks operate between the two cities, including Pamukkale and Kamil Koc.
Drive From Istanbul To Bursa
You can also choose to drive yourself if you have your own car with you or if you're hiring a car. Be aware that there are road tolls between the two cities, which you can pay by card. However, the journey time by car is only around 2 hours, so it's certainly the fastest route.
Ferry & Bus From Istanbul To Bursa
The other option is to take the ferry and bus. The ferry leaves from Yenikapi in Istanbul and travels to Yalova. You will then connect by bus to Bursa. This will take around 3 hours and 20 minutes and is undoubtedly a scenic journey.
Things To Do In Bursa & What To See
There is plenty to see and do in and around Bursa, and much of it is historical.
Grand Mosque Of Bursa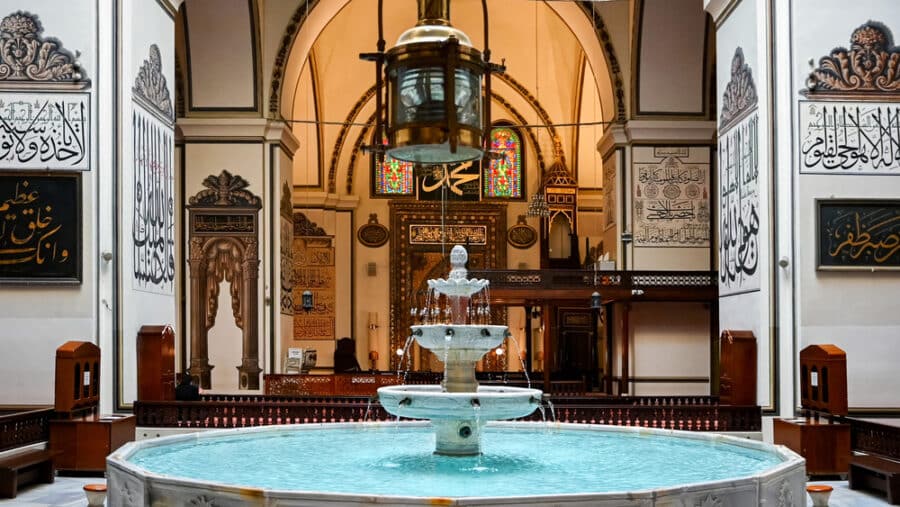 This is, without a doubt, a must-visit during your stay in Bursa. The temple was built in 1399 when the Ottoman Sultan wanted to create a mosque commemorating his battle success. This mosque is now on the UNESCO list of World Heritage Sites.
The mosque has been renovated a few times throughout its history, mainly due to earthquake damage. However, this is still the center of life in the city, and as it's located in the Old Town, it's effortless to visit. The fountain located in the center of the mosque is magnificent, and it's a very spiritual and beautiful place to explore.
The Green Mosque & Tomb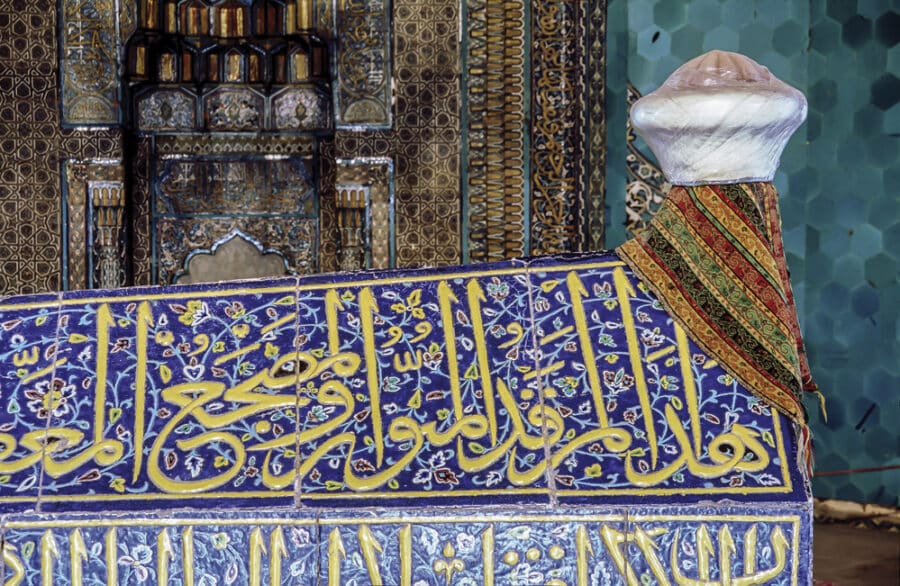 Another beautiful mosque you should visit is The Green Mosque, named due to the trees and gardens surrounding it. The mosque itself was constructed in 1419, and the architecture and carvings are incredibly detailed. Inside, be sure to look at the intricately decorated ceilings.
This mosque also houses the Green Tomb, the final resting place of Sultan Mehmed I.
Bursa Grand Bazaar
If shopping is your thing, be sure to haggle for some bargains inside the Grand Bazaar. This is a bright, colorful, and bustling place, and you'll undoubtedly find plenty of souvenirs to take home for your loved ones. There are also numerous spots inside to drink a refreshing glass of Turkish tea (cay).
The bazaar was covered and built in 1340, earning its spot on the UNESCO list.
Bursa Castle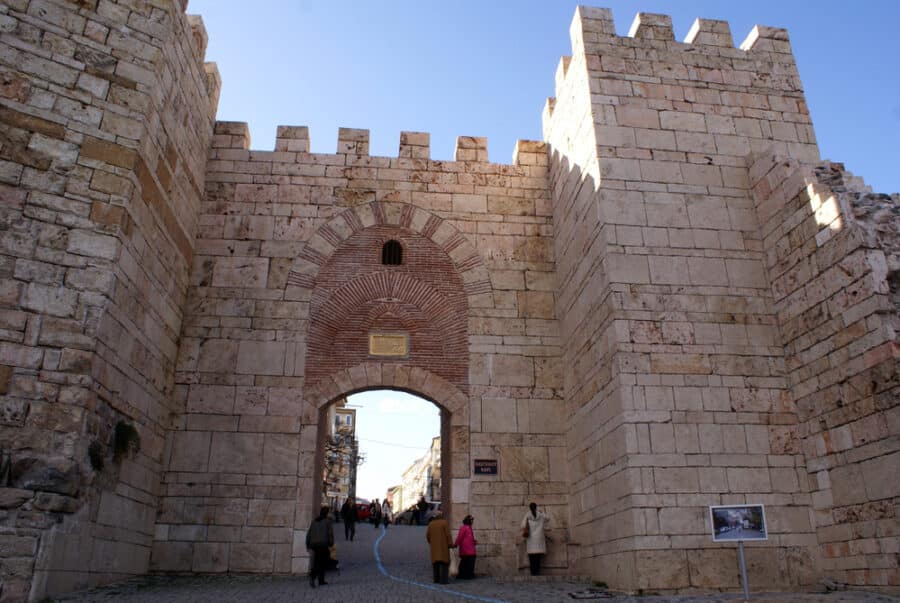 The castle overlooks the city and is a fantastic place to head for views and sunsets. Osman Gazi built the castle in the 13th century once the Ottomans had taken control of Bursa and made it the empire's capital.
The toms of Orhan and Osman Gazi are located within the castle complex, inside a Byzantine Monastery, which is also UNESCO-listed. You should also visit the Tophane Clock Tower, just across from the castle park, with amazing views.
Bursa's Many Museums
There are many museums to visit in Bursa, which isn't surprising considering the history of the area. Be sure to visit the Ataturk Museum, where Ataturk actually lived during the '20s and '30s. There is also the Archaeological Museum and the Karagoz Museum to add to your list.
Yeni Kaplica – Bursa's Best Thermal Bath
If you're a fan of thermal baths, you'll find plenty in Bursa, and it's considered one of the best spots for this healing exercise. Yeni Kaplica is a must-visit, and it's been in place since 1522 when Suleyman the Magnificent ordered its construction. There are eight columns inside the building, marble walls, and stunning decorations on the ceilings.
Uludag Mountain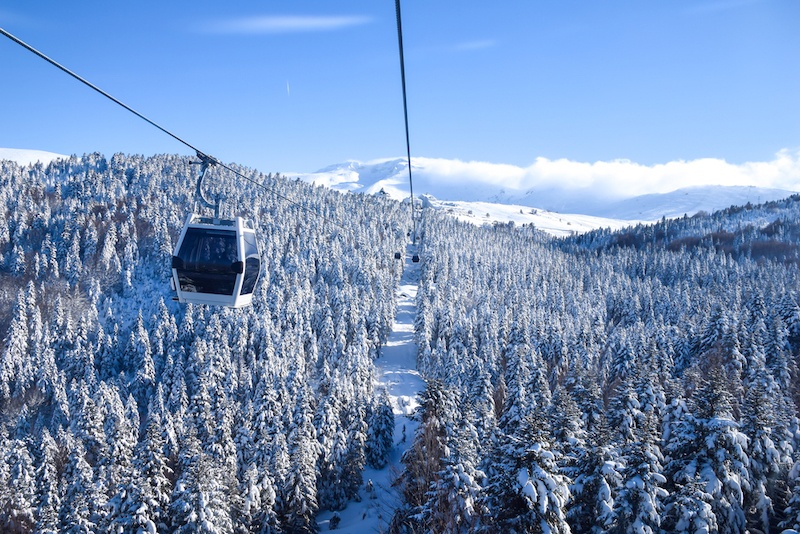 If nature is your thing, Uludag Mountain won't disappoint. This is a very popular ski resort, but even if you don't plan to ski, it's perfect for views and nature, regardless of the season. You can easily take the cable car from Bursa, giving you impressive views.
The cable car is 5.5 miles long, and that station is just outside the city center, around half an hour on foot, although there are buses that go there too. There are three stops on the cable car; the only service back down is from the top.
Once you arrive at Uludag, you'll find many facilities, including hotels, restaurants, and coffee shops.
Visit Cumalıkızık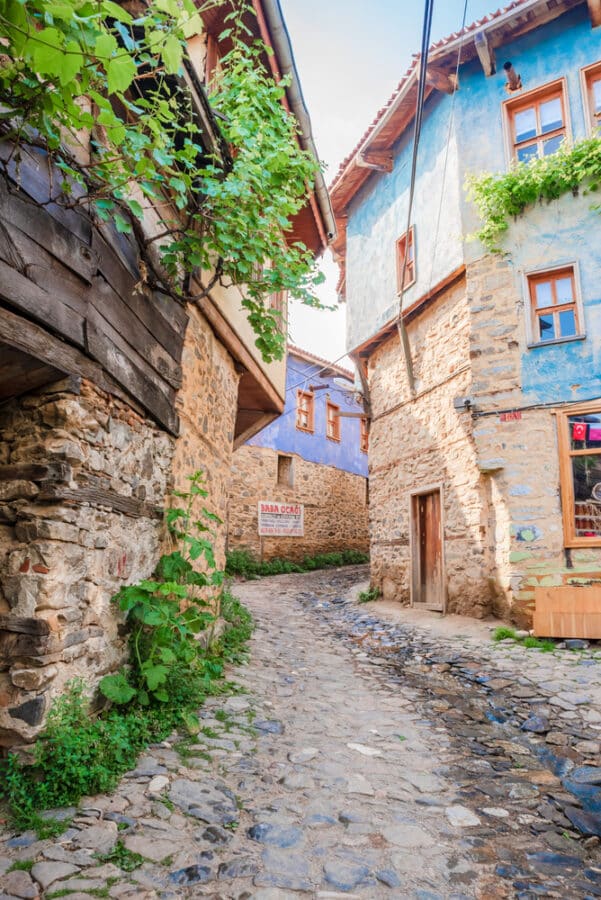 At the bottom of Uludag, you will find this charming village that is UNESCO-listed. With a much calmer and slower pace of life, you won't only experience history, but you'll be able to get a real feel of authentic life.
The cobbled streets are full of surprises, with exceptional restaurants where you can try homemade food. You'll also find old houses to explore too.
What To Eat In Bursa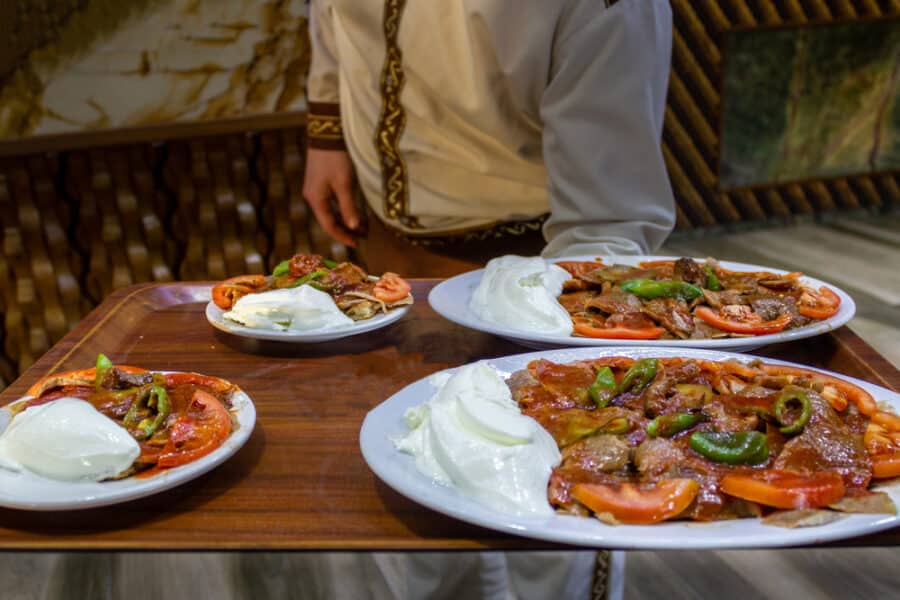 When visiting Bursa, you have to try one dish at the very least – iskender kebab. This dish is famed in the city and is a delicious thing to try.
You'll find sliced pieces of lamb laid on top of flat bread, with peppers and tomatoes on top. But that's not where it ends. The dish is then drizzled over with a sauce made of butter and tomatoes, along with yogurt. It's a must-try!
While you're in the city, be sure to check out these spots:
Uzan Et Mangal
Located in the city center, this restaurant serves traditional grilled meats and kebabs, including the famous iskender we just talked about. Frequented by locals and visitors alike, you'll always find many tables full simply because the food is so delicious!
Kayhan Koftecisi
Turkish meatballs are called kofte, and you'll find many places serving them; however, this spot is considered one of the best. With an extensive menu, you'll discover servings are large and prices are reasonable.
Golyazi Gonul Sofrasi
If you're after a beautiful spot for a traditional Turkish breakfast, this is the place to go. With a fantastic view, and an outdoor seating area for the warmer days, you'll be able to fill up for the rest of the day, and you'll probably still be full at dinnertime!
Where To Stay In Bursa
There are countless places to stay in Bursa, and there are also many hotels at the top of Uludag too. However, these three picks are ideal for those who want to stay in luxury, those who want to stay somewhere moderate, and those who are on a tighter budget.
Luxury Pick – Crowne Plaza Bursa Convention Centre & Thermal Spa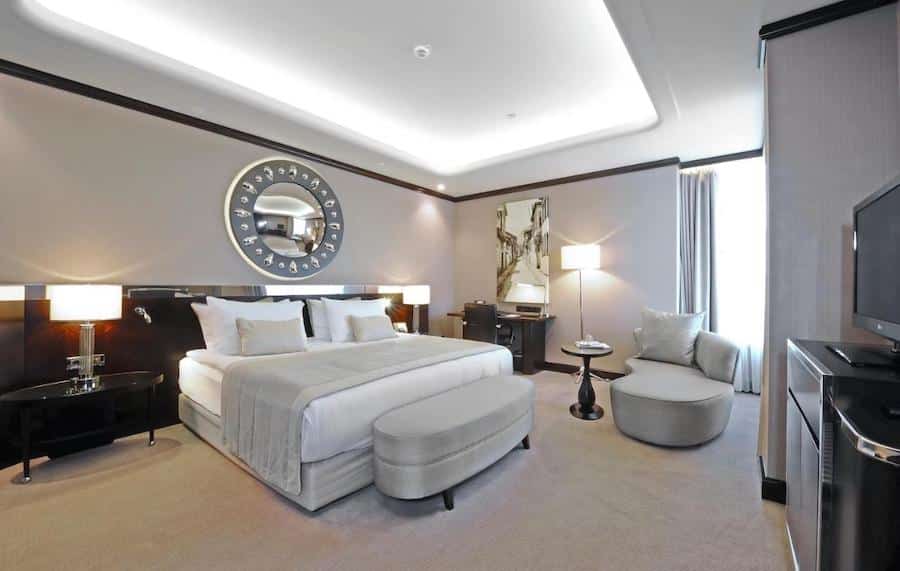 If you want to stay somewhere a little special, this hotel is the one. Located in the Nilufer district in central Bursa, this hotel is a 5-star choice and boasts a spa and a full-sized convention center.
This hotel has won awards in the past, and it's no surprise when you see the interior. Rooms are enormous and beautifully decorated, including tea and coffee-making facilities, free wifi, flat-screen TVs, and air conditioning. Some rooms also have a sauna and jacuzzi, as well as an in-room kitchenette and dining area. There is a large restaurant on the 19th floor that has fantastic views, and there is also an a la carte service. The on-site thermal space is huge and features massages, swimming pools, and a fitness center.
.
Mid-Range Budget – Hampton by Hilton Bursa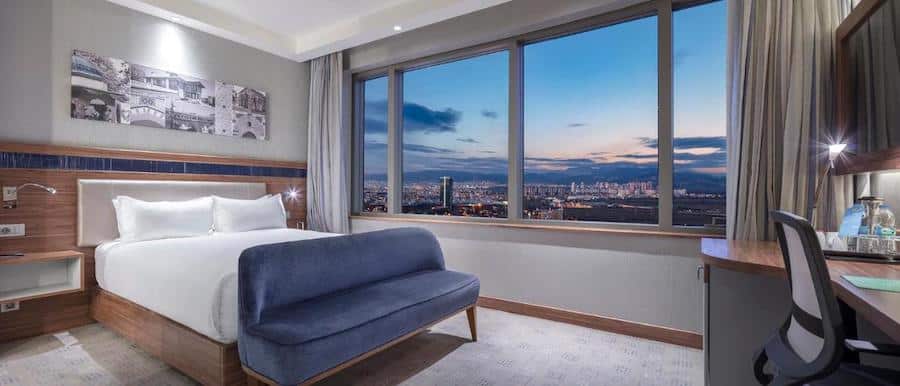 Just 2.5 miles away from the city center, this hotel is a terrific choice for those who want something in-between luxury and budget. Rooms are large and have flat-screen TVs, free wifi, private bathrooms, a seating area, and a mini fridge. There is a large restaurant on site, which also has an a la carte service. The bar is also open until late for refreshments, and a fitness center is on site.
.
Budget Choice – B Loft Hotel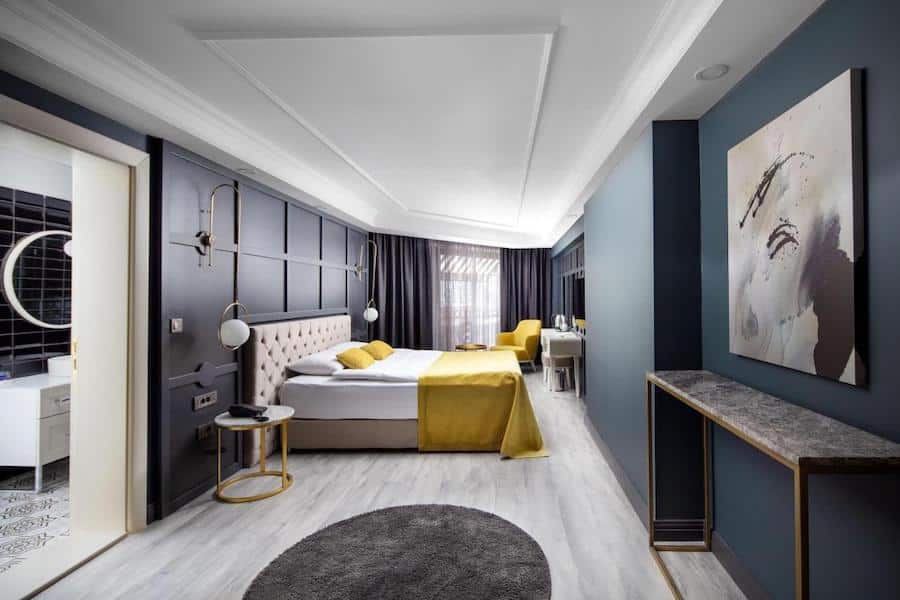 Located in the central Osmangazi region, the B Loft Hotel is a great budget choice. Rooms are large and comfortable, and there are family rooms available. All rooms have air conditioning, kettle, minibar, flat screen TV, and private bathrooms. Breakfast is included in the price and is served in continental or budget style in the on-site restaurant.
.