A Greek Island Getaway To The Island Of Chios
Greece's fifth biggest island is waiting to be explored. Tucked in the Eastern Aegean, the remote island of Chios has been sheltered from mass tourism. With quaint seaside villages, interesting medieval castles, and a renowned mastiha industry, Chios is the perfect Greek island getaway.
Here is everything you need to know for a trip to this wonderful Greek island.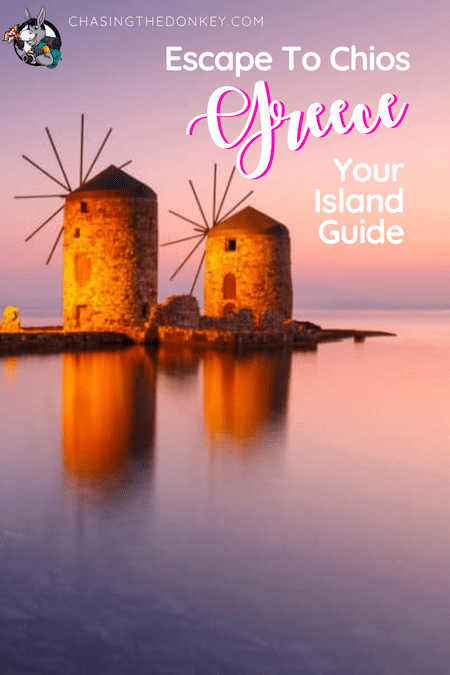 How To Get To The Greek Island Of Chios
The Greek island of Chios can be reached by plane or ferry.
By Plane
The island's airport is just three kilometers from the main town and is mainly serviced by domestic flights from the Greek hubs, Athens and Thessaloniki. You may also find connecting flights from nearby islands, Samos and Rhodes, throughout the year.
By Ferry
While ferries run three times a week from Athens' main port, Piraeus, these ferries can take longer than nine hours. If you plan to island hop, ferries are available from neighboring Lesvos, Samos, Ikaria, and even Mykonos.
Given the island's proximity to Turkey, you can also fly to Izmir and take a ferry to Chios Island from Cesme Port on the Turkish coast. The ferries between Cesme and Chios run year-round, and the crossing takes only thirty minutes.
TRAVEL COMPANIES WE USE AND TRUST
Things To Do In Chios, Greece
The low-key Greek island Chios is perfect for relaxed travelers who want to explore a traditional Greek island. With brilliant hiking routes, exciting towns, and a great culinary scene, here is a list of the best things to do on the island.
Windmill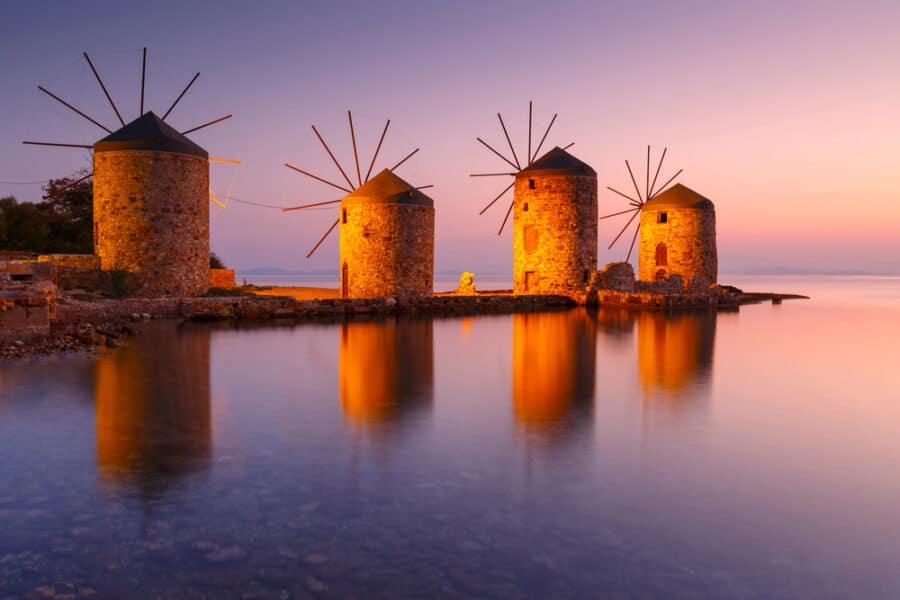 Chios is well-known for its four traditional windmills. To reach them, you follow the main road to Vrontados from Chios Town, 1.5 km north of the town.
Located over the sea, the windmills were once a part of the island's industrial past. They are now a very photogenic place to catch the sunset.
Their construction dates back to the late 19th century, and they have been fully restored. The stone-built windmills are almost 10 meters tall so you can't miss them.
Try Mastiha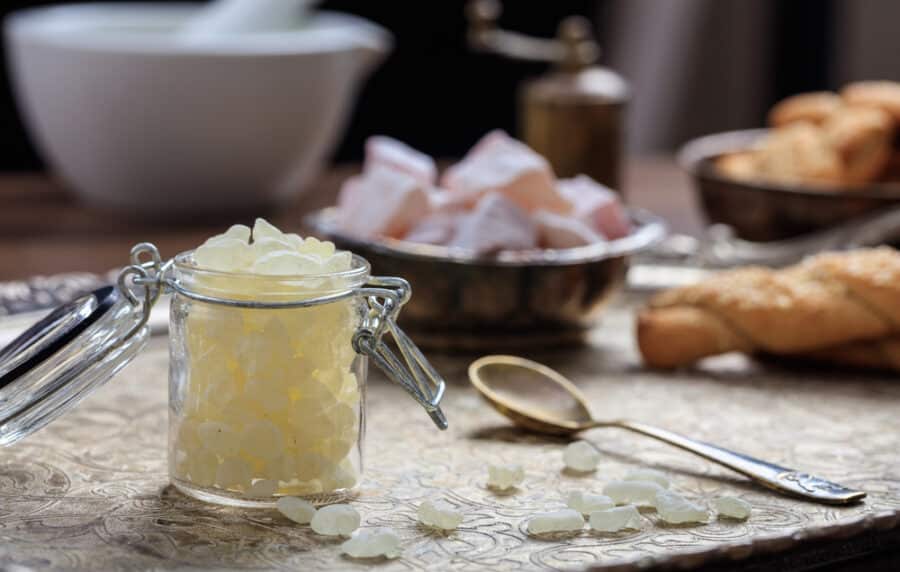 Chios' most famous export, mastiha, is the natural resin that comes from the island's native mastic tree. Used extensively in specialty desserts and beverages throughout Greece, mastiha is a unique flavor you must try while on the island of Chios.
The island's ancient tradition of gathering the resin has even been placed on UNESCO's Intangible Cultural Heritage of Humanity list and is celebrated at Chios' Mastic Museum in Pyrgi.
Visit The Medieval Towns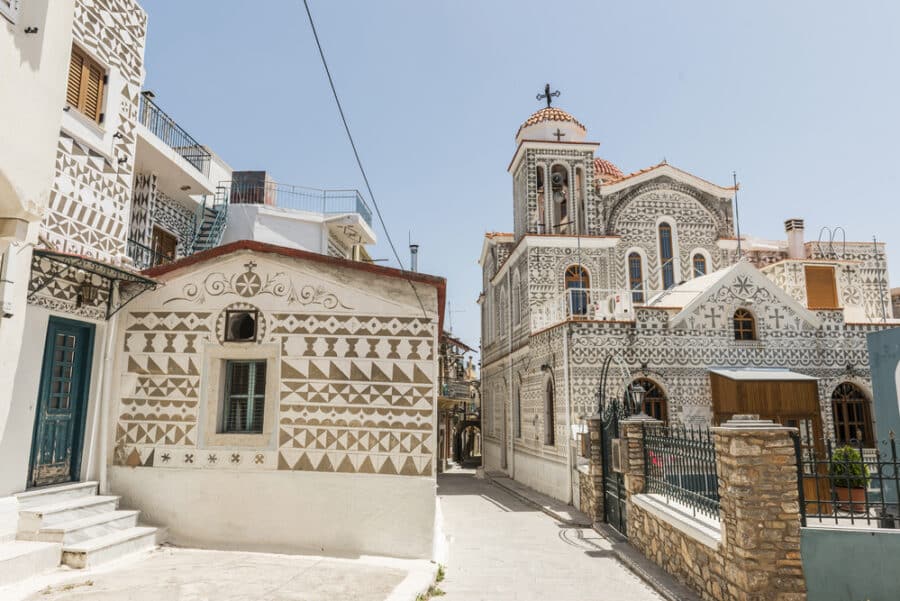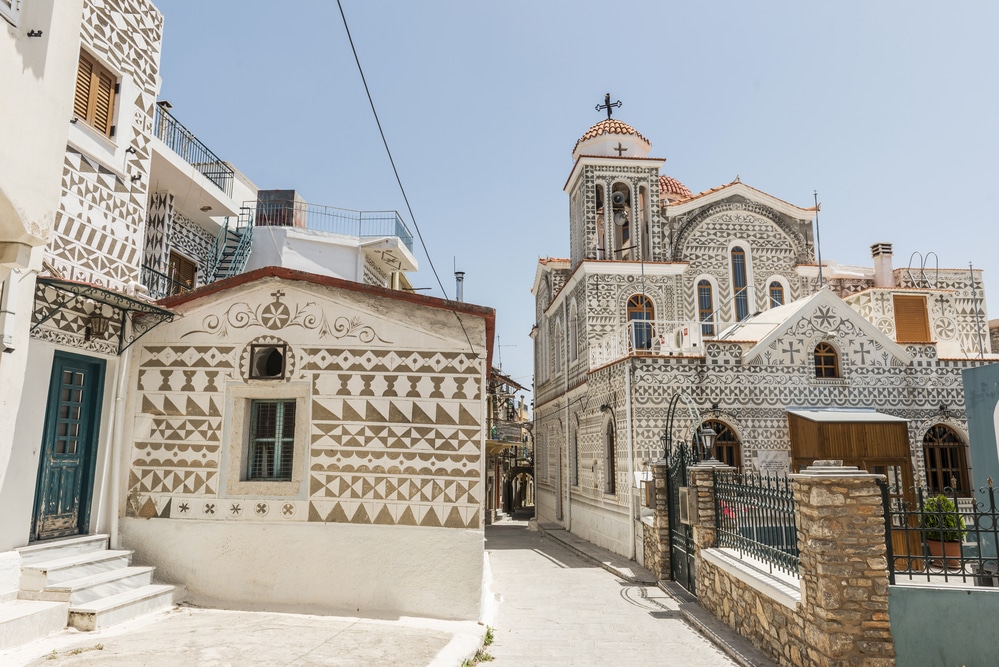 Chios' rich history means it has been left with beautiful medieval towns. The most popular of these are Pyrgi and Olympi.
A picturesque medieval town, Pyrgi's buildings are all painted with unique geometrical patterns. The town is culturally significant for its history of mastiha production, which inhabitants specialize in to this day. Wandering through the town's narrow streets and arches, you will discover the Tower of Dotia, the Folklore Museum, interesting churches, traditional tavernas, and many shops selling items made from mastic gum.
The town of Olympi was built like a fortress, with winding maze-like streets hidden within ancient town walls. What was once a fiercely guarded town served by one gate is now an interesting place to explore. With cobbled streets and remarkable architecture, Olympi feels like a journey back in time.
Explore Caves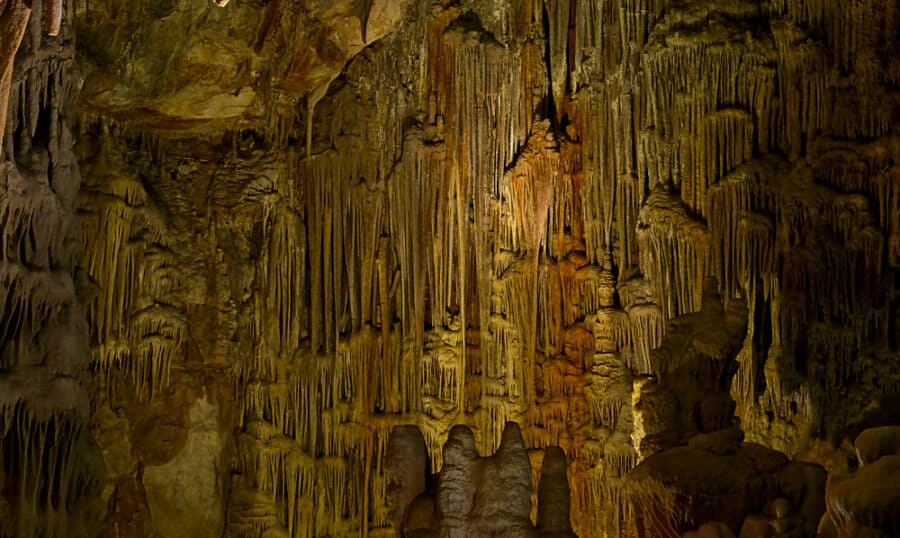 An important archaeological site, the Agio Gala Cave, holds a fascinating history. The cave's most important archeological findings are exhibited at the island's Archaeological Museum in the main town.
Nearby to the town of Olympi is Olympi Cave. Dating back 200,000 years, this cave is filled with magnificent geology and is worth the trip. After exploring this cave, you can head to the stunning Agia Dynami beach nearby.
Go On A Day Trip
Day trips leave from Chios island to its small neighbors, Oinousses and Psara.
Situated between Chios and mainland Turkey, the island of Oinousses is known as the "shipowners island" owing to its long maritime history. Popular with Greek shipowners, the island boasts a Naval museum, a harbor filled with many yachts, and beautiful turquoise coves.
The mountainous island of Psara is well-known for its importance and tragedy during the Greek War of Independence. Throughout the 19th century, the Greeks battled against the Ottoman Empire, with Psara acting as a fundamental naval force. Now a peaceful island with natural beauty, Psara is the perfect day trip for those seeking a tranquil escape.
Marvel In One Of Greece's Oldest Monasteries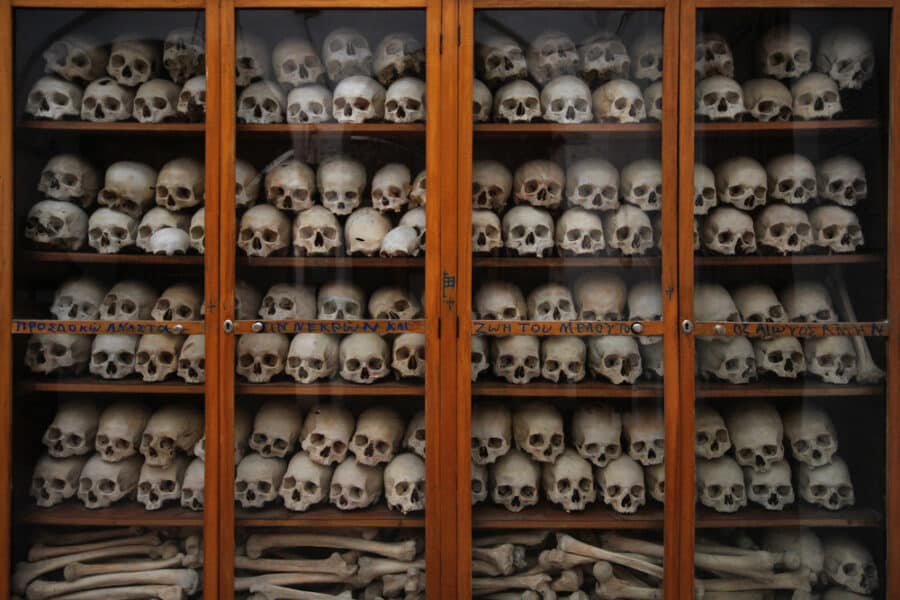 Built in the 15th century, the huge Nea Moni Monastery has been declared a World Heritage Monument. Home to stunning mosaics, and only three nuns, the monastery has suffered substantial damage over the years of war but still remains a stunning site to see.
In the temple of the Holy Cross, is the Museum, where skulls and bones of slaughtered victims are kept along with relics and valuable objects.
Spend The Day At The Beach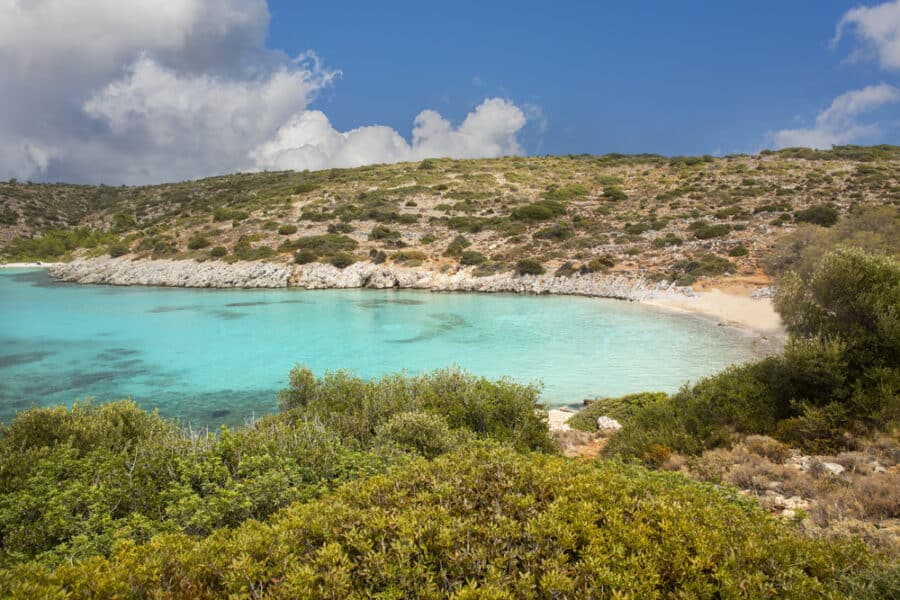 Any Greek island trip wouldn't be complete without some beach time. Luckily, Chios boasts beautiful beaches. The most famous beaches on the island are
Giasonos
Agia Fotini
Glar
Mavros Gialos.
Each beach has facilities like shade loungers, tavernas, and shops. For a secluded beachside escape, check out Lithi, Trachili, and Vroulidia.
Where To Stay In Chios, Greece
As the fifth largest island in Greece, there are plenty of options for where to stay on Chios Island.
Chios Town
The island's capital is excellent for those who want to be close to the port, nightlife, great restaurants, and shops. The town's accommodation is mainly centered around the port area, which can get busy with partygoers throughout the summer nights.
Karfas
Close to the airport is the tourist district of Karfas. With a long sprawling beach and plenty of hotels and activities for all ages, Karfas is an excellent spot for all budgets.
Kardamilla
A large town on the northeast of the island, Kardamilla is built on the site of an ancient city and offers visitors cute narrow streets to explore a range of accommodation options and great restaurants.
Volissos
On the northwest of Chios is the village of Volissos. The village boasts a picturesque castle, great cafes, and food with views out over the Aegean. If you are looking for a unique cultural stay with seclusion, then Volissos is perfect.
The Mastic Villages
The mastic villages (Pyrgi, Mesta, and Kambos) are perfect for cultural travelers. These interesting, beautiful villages have some accommodation options for couples or groups.
As you can see, the greek island of Chios is an excellent destination for a Greek island escape!