The largest county in Croatia, Lika-Senj County, comprises a region in the middle of the Croatian coast. Squeezed between the Adriatic Sea and the Dinaric Alps, it's a very varied county, home to gorgeous natural scenery, cultural events, and historic sites.
However, nature steals the show here, and most things to do in Lika-Senj County are outdoors.
Although the biggest county, Lika-Senj, is also Croatia's least-populated county. There are no major cities here, only small-ish towns and an abundance of glorious landscapes. This is where you'll find iconic tourist attractions such as Plitvice Lakes National Park, but also less-known yet totally visit-worthy areas such as Pag Island and the Gacka River.
If you're wondering what to do in Lika-Senj County, continue reading. We've got a bunch of excellent suggestions for you.
What To Do In Lika-Senj County
Here are just 17 ideas to keep you busy in the Lika-Senj country – there are, of course, loads more!
Plitvice Lakes National Park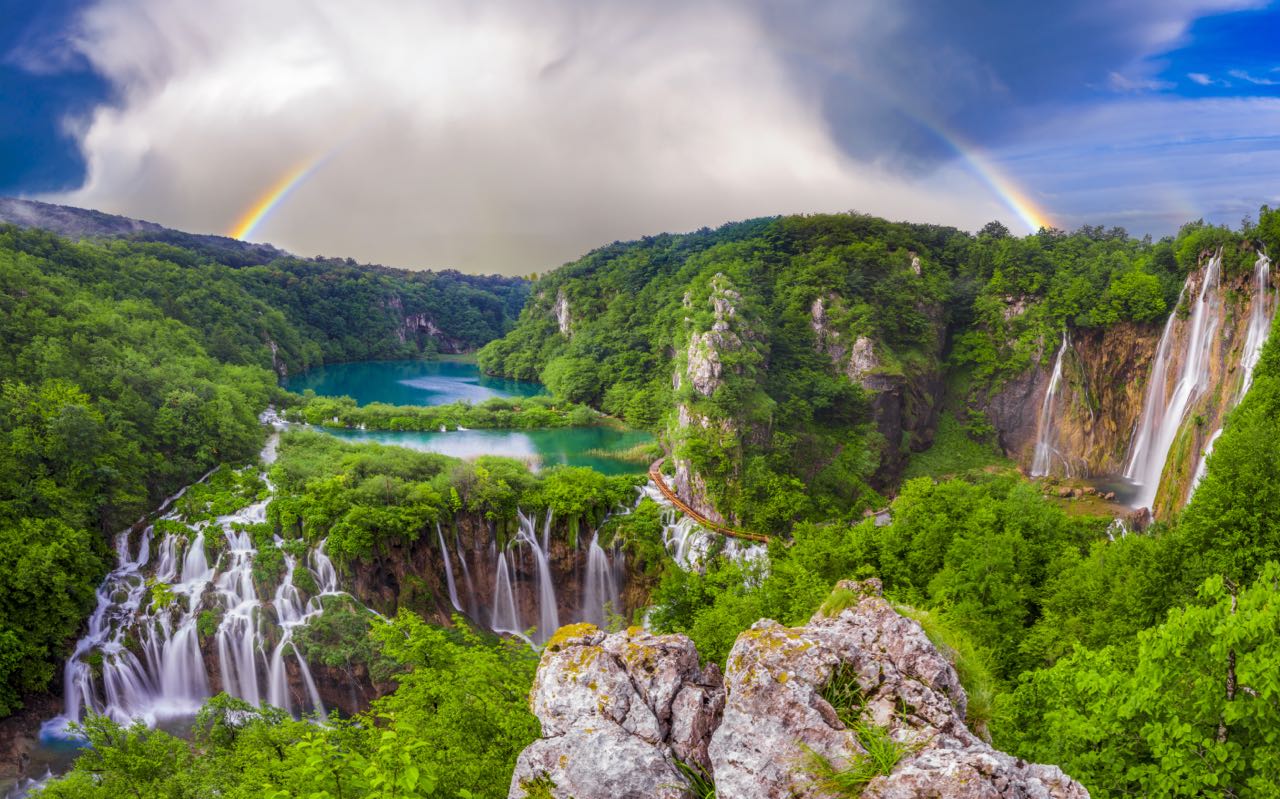 The jewel in Croatia's natural crown is Plitvice Lakes, National Park. Of course, visiting this sensational park is also one of the—if not the—major things to do in Lika-Senj County.
One of the oldest and largest national parks in Croatia, Plitvice Lakes is without question Croatia's most famous. It's so extraordinary that UNESCO designated it World Heritage in 1979.
About 90% of the park lies in Lika-Senj, the other 10% in Karlovac County in central Croatia. The sixteen Lakes of Plitvice are world-famous for their amazingly clean water, lush woodland scenery, and countless waterfalls—from loudly roaring to peacefully cascading. All the lakes are interconnected, flowing into one another and resulting from the confluence of subterranean karst rivers and above-ground streams.
Plitvice is one of the highlights of Croatia, a place of stunning natural beauty, easily reachable from all major cities, including Zagreb, Split, and Dubrovnik. While you can get there on guided bus tours, it's recommended to rent a car yourself for some more freedom or get a private transfer. The best time to arrive, after all, is early in the morning, before those big tour buses arrive.
TRAVEL COMPANIES WE USE AND TRUST
Folklore Festival In Otočac
If you'd like to add a dash of culture to your Croatia trip, few things to do in Lika-Senj County are better than attending the Otočac Folklore Festival. This annual event takes place in Otočac and celebrates the rich cultural heritage of the region.
This one-of-a-kind event features kids, men, and women wearing traditional clothing. Local folklore bands play live music, and folk dance troupes perform, while visitors can enjoy an abundance of traditional food and drinks. For immersion in Croatian culture, this is the place to be, a festival promoting cultural diversity and keeping alive valuable traditions.
Eko Etna Gacka Event
Another fun festival in Otočac is the annual Eko Etna Gacka Event, an eco-ethno festival organized by the Otočac Tourist Board. This popular event attracts thousands of visitors each year, many of whom are from the area. Some foreign guests also find their way there.
This festival mainly focuses on local cuisine and other local products. Various foodstuffs are prepared and offered at stalls. Food preparation competitions are always a hit among visitors as well. Additionally, there is also live music and other kinds of family-friendly entertainment.
Water Sports On The Gacka River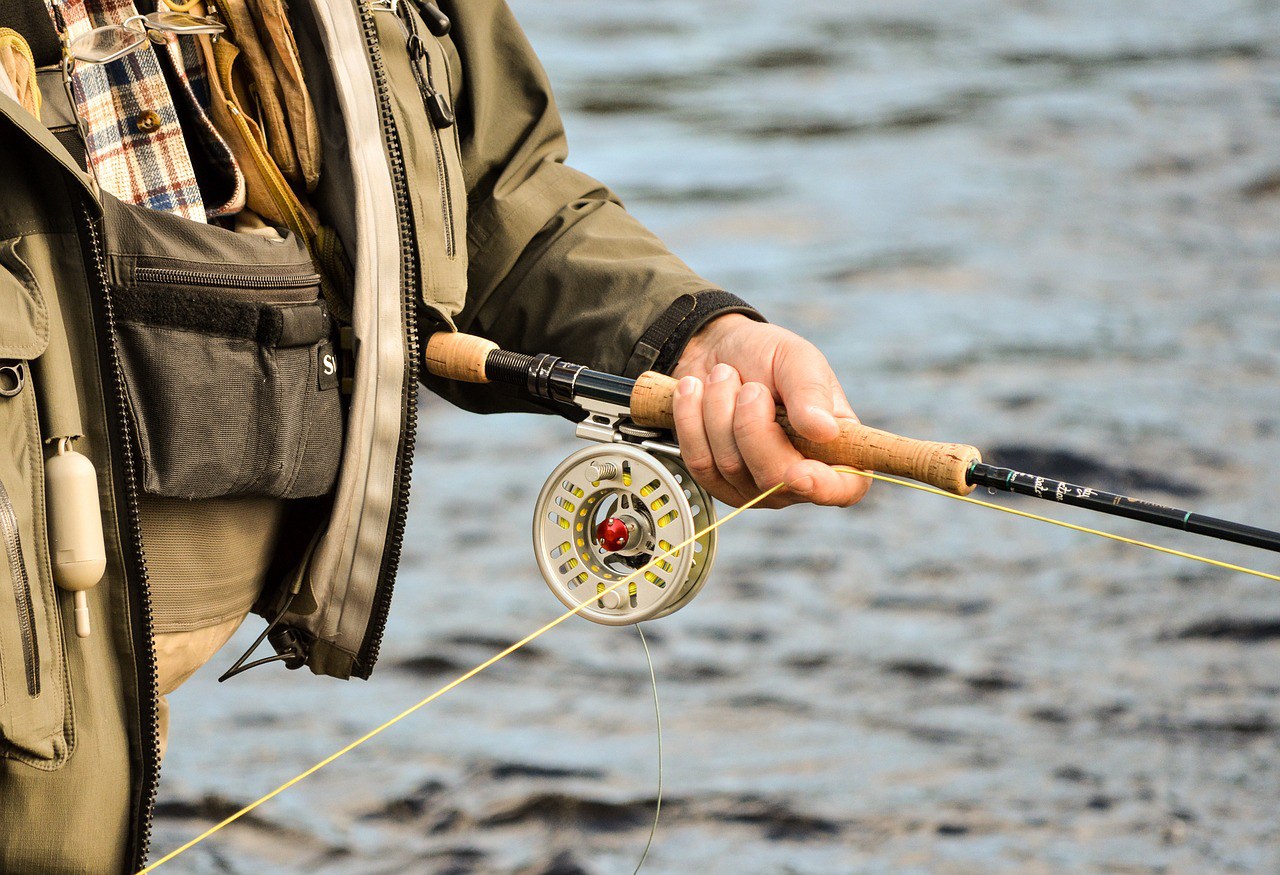 Another partially subterranean river in Lika-Senj County is the Gacka River. The headwaters of this undiscovered natural gem in Croatia are the most interesting section of the river. Called "the jewel of Lika," the Gacka River is well-known for its abundant flora and fauna and plethora of outdoor activities.
If you're looking for adventurous things to do in Lika-Senj County, the Gacka River area is where you need to be. The river is particularly suitable for canoeing and kayaking. A typical boating adventure on the Gacka River kicks off at the Vrilo Gacka Restaurants and ends at the bridge in Ličko Lešće.
Alternatively, there is also epic fly fishing at the Gacka River headwaters, arguably one of Croatia's best fishing destinations.
Quad Tour Near Gacka River
Adventure travel rules the Lika-Senj tourist industry. Another popular activity in the region is quad safaris in the Gack River valley. A quad adventure in the valley and, especially, on Velebit Mountain is something you won't soon forget.
On a 45-kilometer quad tour, you'll ride on all kinds of terrain, from asphalt to fields and forest roads. The excursion lasts about three hours, and you'll visit a variety of local attractions, including a mine under Velebit Mountain, an airplane museum, and a Gacka River spring.
Visit The Bear Sanctuary In Kuterevo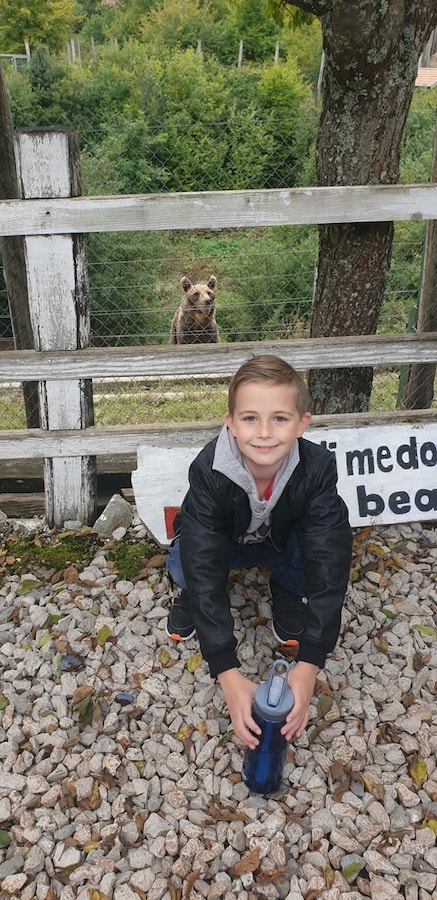 Ever since it was founded in 2002, the Kuterevo Bear Sanctuary has been the town's main attraction. The association's purpose is to protect orphaned brown bears in Croatia. At the moment, the sanctuary is home to eight brown bears, two of which came from the zoo. The other six lost their mom during their first year, eliminating their chance of surviving in the wild.
Some 1,000 brown bears live in Croatia in the wild, calling the Dinaric Mountains home. They're considered a vulnerable species, which is precisely why sanctuaries like the one in Kuterevo are so important.
This is definitely a place to take kids – this kid-friendly activity will be both fun and educational.
Kruščica Lake
Located in Kosinj, Kruščica Lake is a human-made lake created by a dam on the Lika River, the region's namesake. The Lika River in itself is somewhat of a natural wonder. It is about 78 kilometers long; it is known as a "sinking river" because it disappears underground toward the end of its course.
Surrounded by incredible forest scenery, this quiet lake lies upstream of the series of swallow-holes in which the river drops. The lake, which is technically a reservoir, is a popular destination for kayaking, canoeing, and fishing.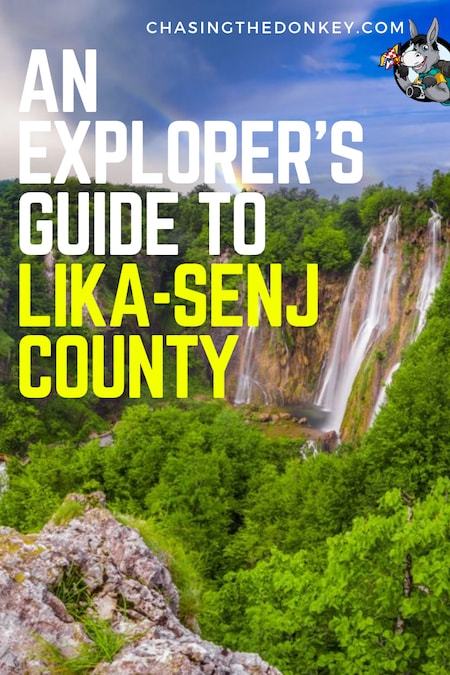 Cerovačke Caves
Situated in the southern part of Velebit Nature Park, the Cerovačke Caves are one of Croatia's most significant speleological destinations. The cave complex comprises three caves—lower, middle and upper—and has 7 kilometers of explored passageways. Tourists can visit the first 700 meters of the Donje Gornje Cave.
In addition to numerous stalagmites and stalactites and karst chimneys and ravines, the Cerovačke Caves are also home to important archaeological sites. Ancient human remains, bronze tools, and fossils of animals such as cave bears have been found there.
In fact, this is one of the largest cave bear sites in the country. Visiting the Cerovačke Caves is one of the most popular Lika-Senj attractions. It makes, for example, a great day trip from Zadar.
Perušic
Perušic is a municipality in the very heart of Lika-Senj County. People have lived in the area since ancient times. Artifacts dating from the Stone and Bronze Ages have been found around town, as well as a Roman monolith. Perušic' modern history begins in the 15th century.
As long as human history in the area may be, it is once again nature that draws all attention. Perhaps the number one point of interest is the Grabovača Cave Park.
This park consists of no fewer than six caves and one pit, located about 2.5 kilometers from the town center. The caves are home to a multitude of underground karst formations, and, interestingly, a quarter of all protected cave structures in Croatia are found here.
Besides cave tours and spelunking, Perušic also offers many above-ground activities. The peaceful natural scenery surrounding the town invites visitors to go hiking, biking, kayaking, fishing, or whitewater rafting.
Hiking In Northern Velebit National Park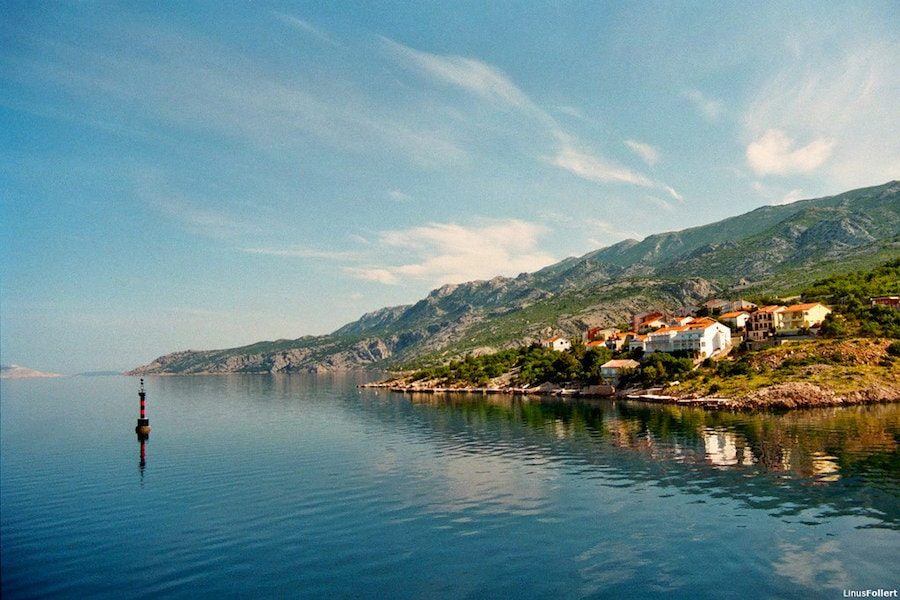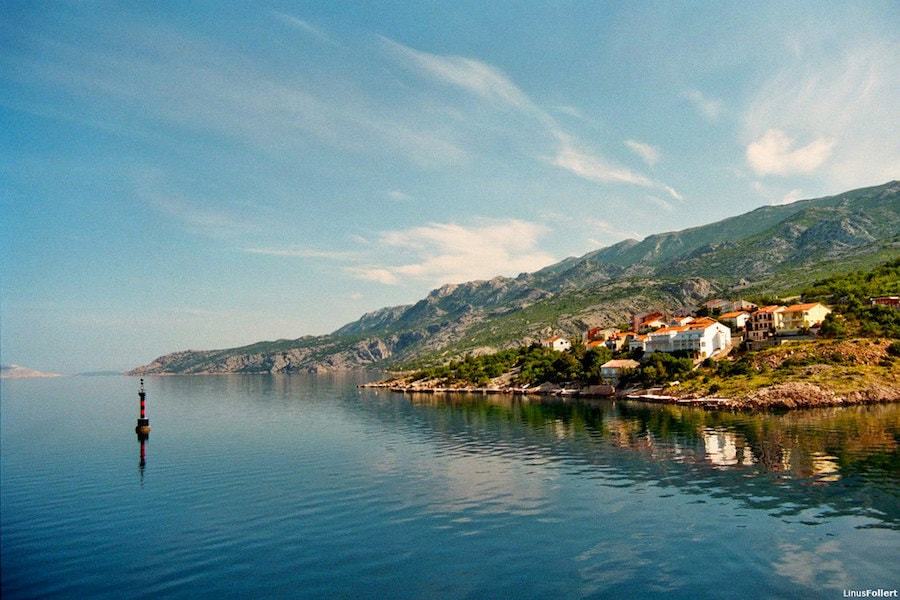 Protecting more than 100 square kilometers of landscapes in the northern Velebit Mountains, Sjeverni Velebit National Park is the counterpart of Paklenica National Park, which lies in the mountains' southern section.
Pristine wilderness characterizes this park, a region with rich biodiversity and gorgeous natural features. The park's purpose is to preserve natural resources as well as ensuring sustainable development for surrounding communities.
Hiking and mountaineering are the two things to do here. Numerous trails criss-cross the mountainscapes, the most famous of which is Premužić's Trail, running through the park's most beautiful parts and offering incredible views.
Many peaks are accessible via regular hiking trails and provide superb vistas of the inland mountains and toward the Kvarner Riviera on the Adriatic coast.
Velebit Botanic Garden
The Velebit Botanic Garden lies within Northern Velebit National Park but is worth zooming in on. Established in 1967 by Zagreb Faculty of Pharmacology and Biochemistry professor, the garden lies only 15 minutes on foot from the Zavižan mountain hut.
Nowadays, the Velebit Botanic Garden is home to about 300 species of plants. Some of those grow wild, while others were transferred from other parts of Velebit. They include several indigenous and rare species.
A walking tour of this beautiful mountain garden takes about an hour. The best months to visit are June and July, which is when most of the plants bloom. Additionally, this is also the starting point of trails leading to nearby mountain peaks, such as Balinovac, Velika Kosa, and Veliki Zavižan.
Zavratnica Bay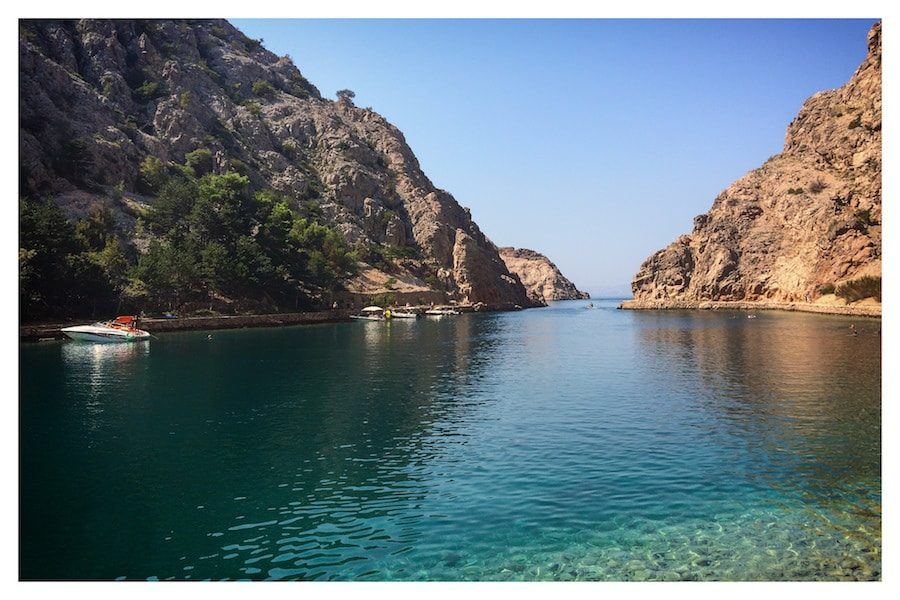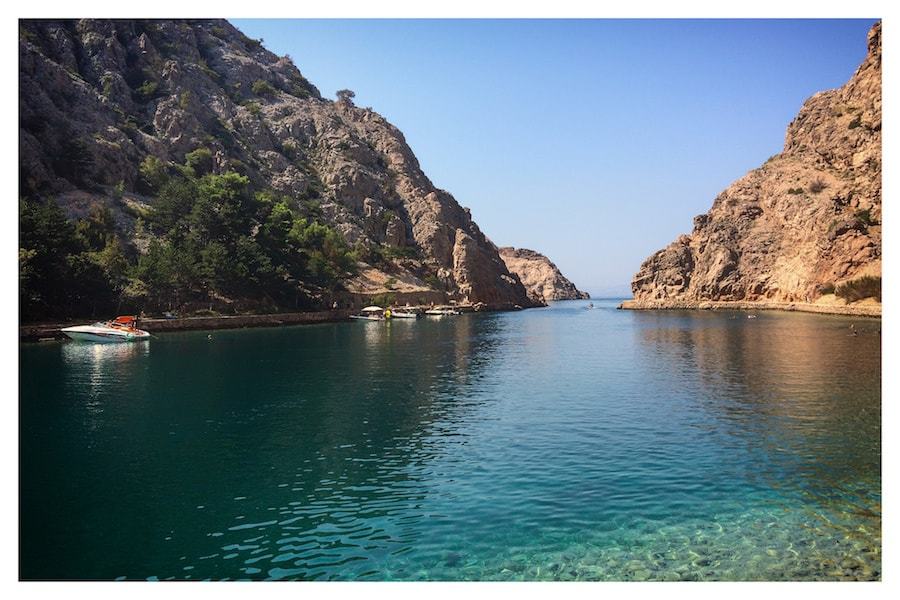 One of the most underrated places on the coast of Croatia, Zavratnica Bay is a 900-meter-long inlet right at the base of the towering Velebit Mountains. Only 50 to 150 meters wide, the bay is exceptionally sheltered and has crystal-clear, blue water. Because it's so narrow and flanked by high mountains, it looks a bit like a Mediterranean fjord. (It isn't, though. Those don't exist.)
A protected landscape, it is part of Velebit Nature Park. A 30-minute walk on a coastal path takes you to Zavratnica Bay from Jablanac, a ferry port. Alternatively, the bay is also a popular boating destination. Not surprisingly, sunbathing and swimming are the top things to do in this part of Lika-Senj County.
Historic Gacka River Mills
One of the many small springs of the Gacka River, Majerovo vrilo is a magnificent historic site in Lika-Senj County. While once there were approximately 60 mills on the Gacka River and its tributaries, nowadays, only a few are still in use. They're located at Majerovo vrilo, where you can experience local history first-hand.
Set along crystal-clear water, these mills are open to the public. You can visit the flour mill, see how grain is turned into flour with the power of water. Afterward, you can buy flour that was milled in this traditional way—a souvenir as authentic as they get. During your visit, you can also sample roasted bread made with this flour.
Otočac Christmas Market
In the days before Christmas, the Otočac Tourist Board organizes Advent in Otočac, a traditional Christmastime festival where all local organizations, businesses, and residents participate. This two-day event is just what you can expect from a Croatian Christmas market. There's plenty of festive music, Christmas carols, decorations, flickering lights, joy and love, and local handicrafts and food.
Olive Gardens Of Lun, Pag Island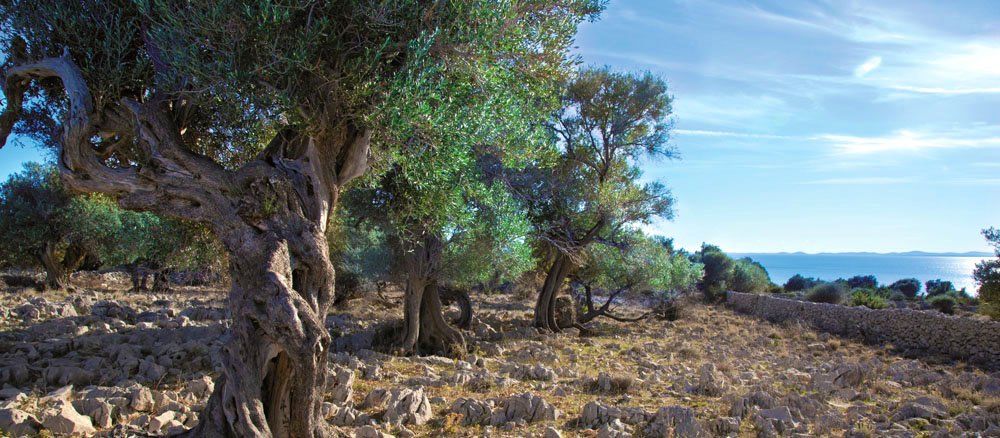 A visit to the gorgeous Adriatic island of Pag is one of the top attractions in Lika-Senj County. The northern part of the island lies within Lika-Senj, while its central and southern sections are in Zadar County. There's plenty to see and do here, from sunbathing to sampling locally made Pag cheese.
One of the main attractions, however, is the Olive Gardens of Lun. The Lun olive groves are a lush oasis on an otherwise-barren island. It's made up of countless olive trees, about 1,500 of which are wild and higher than 5 meters. This collection of wild olive trees is the only one of its kind in the Adriatic, and its botanical value is why it's been a protected area since 1963.
Brinje
Located in the far northern reaches of Lika-Senj County, Brinje is a medieval town dating back to the time of the Frankopan and Gorjanski families. In the Middle Ages, it was an important fortified town, a history that's still visible in the Sokolac Castle, set atop a hill in the heart of the town.
The castle is home to Holy Trinity Chapel, which is considered one of Croatia's best-preserved Gothic chapels and among its most magnificent medieval monuments.
Senj
One of the namesakes of Lika-Senj County, the historic town of Senj, lies on the northern coast of Croatia. Backed by the Velebit and Mala Kapela Mountains, this wonderful coastal town boasts a long and rich history, dating back 3,000 years.
Nowadays, it is a peaceful seaside town, a superb base from which to check out some of the things to see in Lika-Senj mentioned above.
The town itself also has its own attractions, though. The mighty Nehaj Fortress is impossible to miss, and make sure to visit the City Museum housed in a local palace, Cilnica Square, and medieval Uskočka Street.
There are even more sights to discover in Lika-Senj- if you have a favorite that we missed, let us know in the comments below.
More Helpful Croatia Travel Blogs