Privacy & disclaimers →
Imotski – Red And Blue Lake Croatia
Imotski is a hidden Dalmatian vacation that we bet you've never heard about; with 11 breathtaking lakes, distinctive wines, fantastic food, and villas, Imotski is a delightful Dalmatian vacation town.
Everyone knows Dalmatia has some of Europe's best beaches and summer vacation spots. During the summer season, beaches and restaurants became packed with people. So if you are looking for a day trip to get away from crowds, a day trip to Imotski is the perfect solution for you.
Imotski is an old town located in the south of Croatia. Thanks to its climate and architecture, it has the characteristics of a Dalmatian town. Moreover, the sea is just 30 km away. It is a town with a slow pace of life, full of calmness in the air—the perfect place to relax mentally. In addition to that, the surroundings in Imotski are breathtaking.
Imotski has 11 lakes waiting to be included on the UNESCO World Heritage List. They are also ideal for a wide range of activities. Specifically cycling, walking, and swimming. There are also small wineries for anyone wanting to try local Croatian wine. Additionally, the Dalmatian hinterland's cuisine is impressive. It combines everything from the Adriatic sea with continental food. The bonus thing is; the farther away from the shore you go, the lower the prices at restaurants get.
TRAVEL COMPANIES WE USE AND TRUST
How To Get To The Imotski Lakes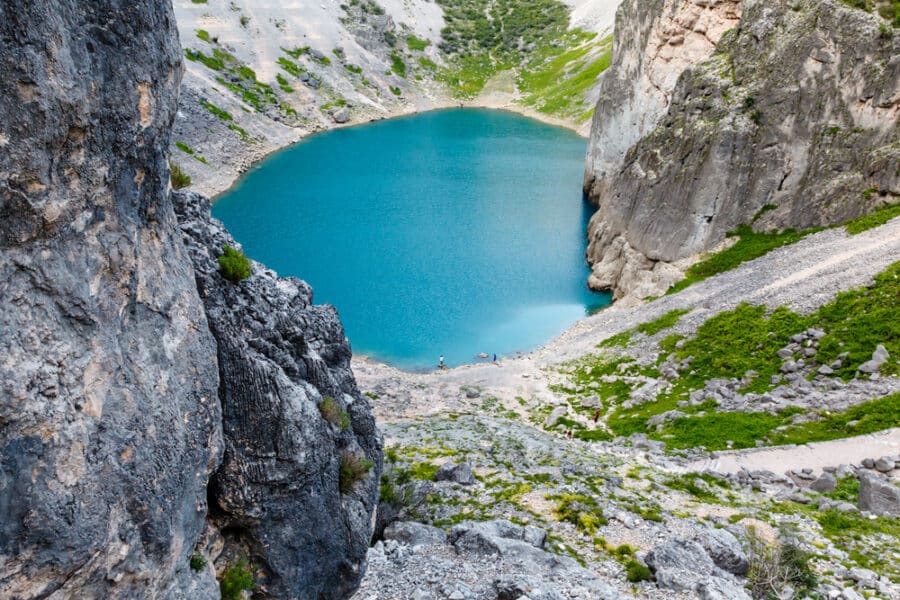 If you are traveling from Split or Zadar, bus rides to Imotski are available daily. From Zadar to Imotski, it costs about 20 euro (one way), but that ride will take a few hours. From Split to Imotski price is about 10 euro, and it is a 1-hour ride. The best option is if you can visit by car, as it's only half an hour's drive from Split.
Things To Do In Imotski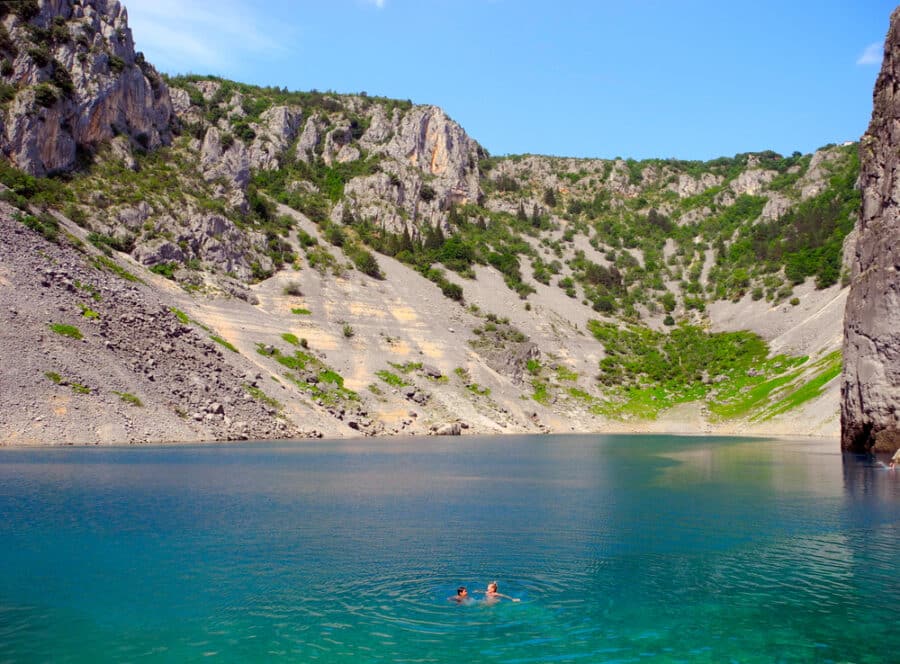 Imotski Lakes
Blue Lake is the largest and most well-known of the Imotski lakes on the outskirts of the town. Therefore, this Imotski lake receives the most visitors. In fact, many choose to swim here during the summer rather than in the sea. And after you give it a try, you'll understand why. Swimming in its serene, pure waters is undoubtedly a memorable experience. It's definitely a lot different than swimming in the sea. There are also interesting stone steps that zigzag all the way down to the lake.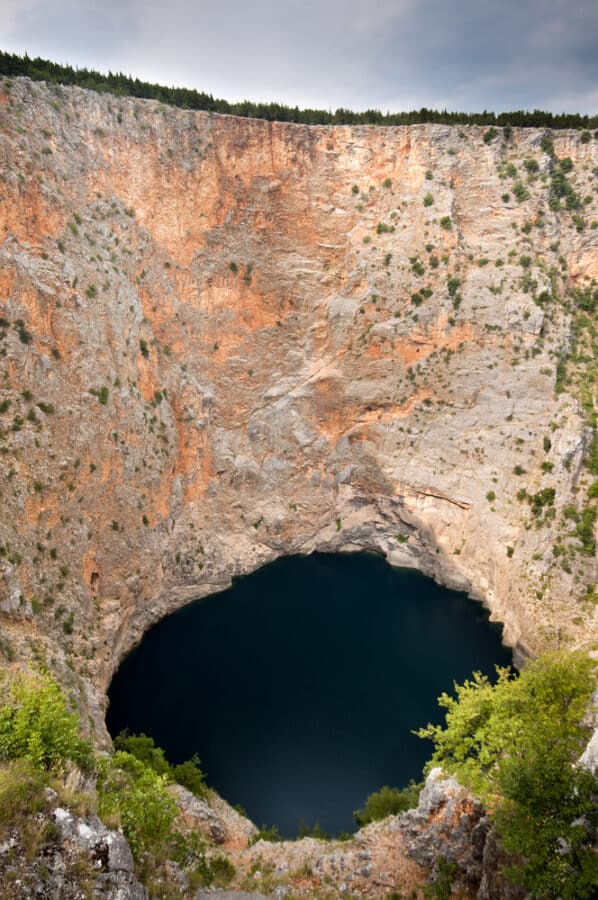 Visitors can typically only admire Red Lake from the upper edges because it is inaccessible without significant preparation. While you are up there, you can try the traditional local challenge. Grab some stones and try to throw them into the water. Because of the height difference and strong wind above the lake, it's nearly impossible. The lake's name refers explicitly to the clay-colored rock wall surrounding it. Red lake is about 245 meters deep, making it one of Europe's deepest lakes.
Imotski Fortress Topana
Imotski's fortress, which overlooks the town's Blue lake, is one of the most obvious signs of the town's history. It has been inhabited since the Neolithic era. Furthermore, the town's name has remained primarily unchanged since the time of the Romans. Since the middle ages, a central fortification has stood on this site, which is considered strategically significant. The tower of the Topana still dominates the skyline in Imotski despite being a shell of what it once was. During the summer, theater and musical performances use the fortress walls as a backdrop.
Bicycling In Imotski
Stunning mountain scenery surrounds a landscape of lakes, hills, waterfalls, wineries, and natural wildlife. These are the sights that riding in Imotski offers.
Kayaking
Imotski is undoubtedly a fantastic location for kayaking. The majority of this activity, however, doesn't happen at the lakes. Kayaking is most frequently done in the Vrljika river, which has its source close to Imotski. It would be a shame to stay out of all the water surrounding Imotski. Try to keep afloat because the water is still freezing – even in summer.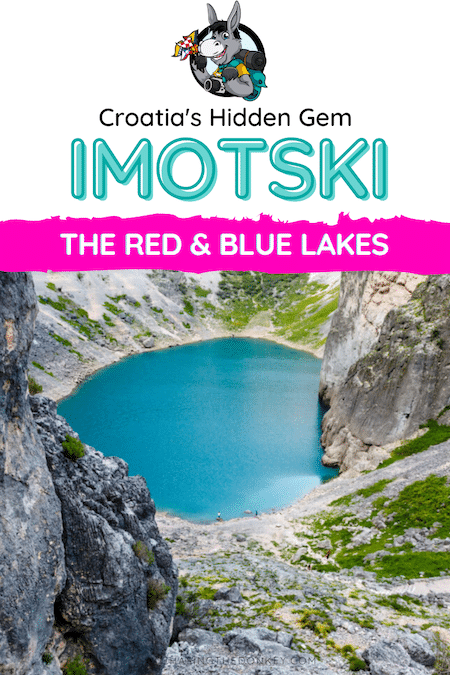 Where To Eat At The Imotski Lakes
There are many different restaurant options in Imotski, so that we will give our recommendations based on food type.
Pizza
Pizzeria Antonio and Bistro Pizzeria Lučica are unquestionably your two best choices if you are in the mood for some Croatian pizza. Antonio is a casual indoor location in the heart of the city, while Lučica is only operational during the summer. However, it has a great terrace, a playground for kids, helpful staff, and tasty meat options.
Restaurants
The two best sit-down restaurants are Hotel Restaurant Venezia and Euphoria Restaurant. Restaurant Venezia has the best terrace view in the town, you get large portions of food, and it is reasonably priced. Euphoria is a typical modern restaurant. The food is terrific and well-prepared.
Quick And Cheap
For those searching for something quick to bite, Zalogaj and Pek-Pek are great fast food choices. They offer burgers and ćevapi, and tortillas.
Authentic Croatian
But for those who want to try the authentic food Imotski offers, we recommend, next to a Green lake. They prepare superb local cuisine and also have a beautiful view from their terrace. Another great option would be to go on a wine tour, where hosts offer lunch as part of the tour.
Cafes And Bars In Imotski
Imotski's bars and cafes are typically very similar to one another. You just need to take a walk around the city center to find someplace where the ambiance is right for you. Caffe Bar NU is one of the more popular bars, in large part due to the courtyard they have in the backyard.
Now to plan your visit to see the Imotski Red And Blue Lakes – get ready to wander Imotski, taking incredible pictures!