Where To Stay In Bratislava, Slovakia
Even though Bratislava is one of the smaller capitals in Europe, Bratislava tourism is on the rise. This city in Slovakia sits on the banks of the River Danube and the River Morava and has much to offer the culture-hungry tourists.
Cultural influences in Bratislava come from the Hungarians, Germans, Slovaks, Jews, Serbs, Croats, Bulgarians, Czechs, and Austrians; and Bratislava has many museums, galleries, castles, parks, and churches that will make you fall in love with this city during your trip here.
Are you looking for recommendations about where to stay in Bratislava? We've put together a list of the best hotels in Bratislava from booking.com just for you.
Where To Stay In Bratislava, Slovakia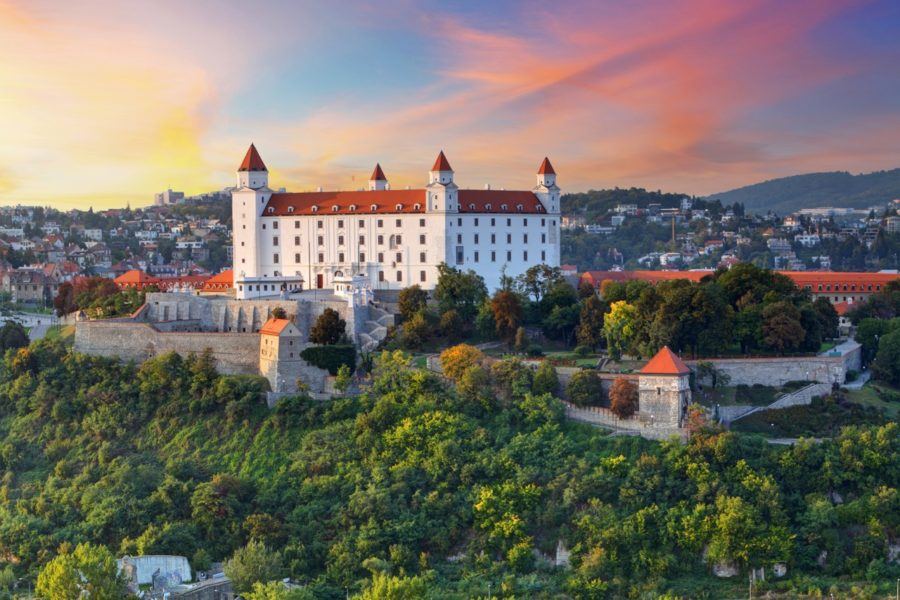 There are quite a few answers to the question of resorts and hotels in Bratislava, Slovakia. If you'd prefer to be closer to the monuments and attractions, choose hotels in Bratislava Old Town. If you don't mind a bit of a walk, there are many more options for hotels near Bratislava airport or near the River Danube. Here are our favorite picks of hotels in Central Bratislava.
Hotels In Bratislava Map
Bratislava Luxury Hotels
Hotel Albrecht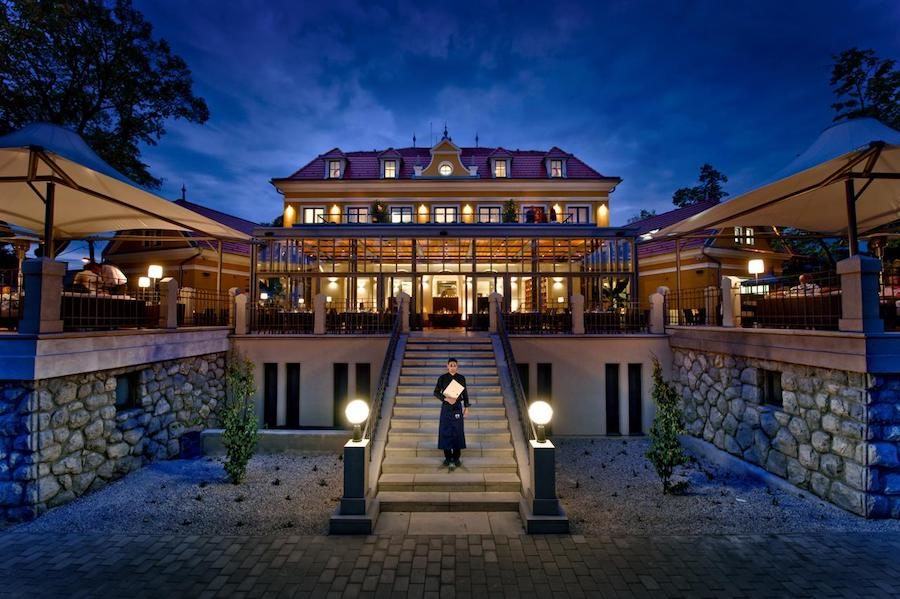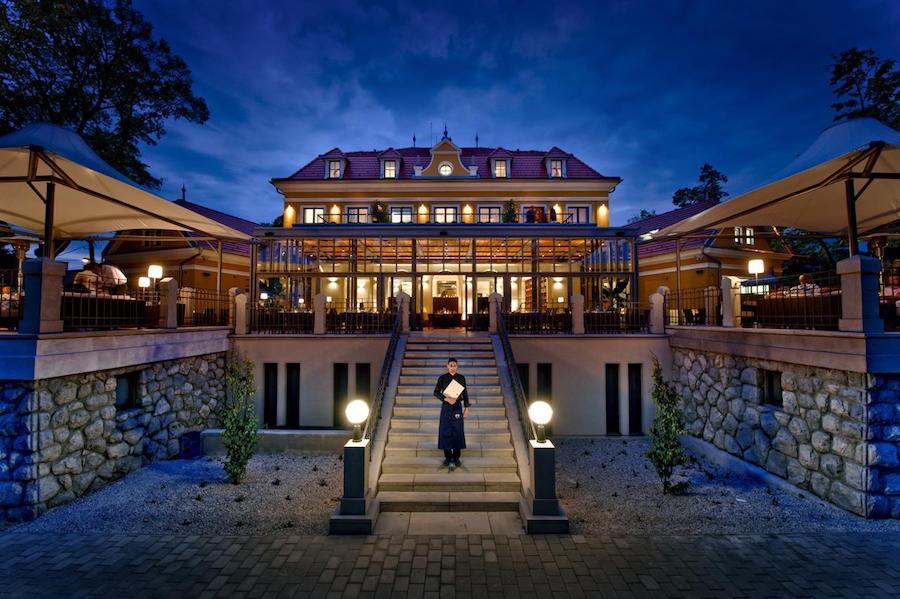 The Hotel Albrecht is one of the top hotels in Bratislava that is also a spa hotel in Bratislava. Located about 20 minutes walk from Bratislava city center, the hotel has been rated highly for its comfy beds. The luxurious rooms are all air-conditioned and have heated bathroom floors. Rooms also include satellite TVs, DVD players, free WiFi, minibars, safety deposit boxes, and hair dryers.
The upper floors are only accessible by stairs. So if you have difficulty climbing, request a room on the ground floor. Guests can enjoy gourmet Slovak and international cuisine at the restaurant that also features a winter garden. This wellness hotel in Bratislava also includes an indoor pool, accessible spa facilities, a Finnish sauna, and a hot tub. Free onsite parking is available if booked in advance.
Pets are allowed at extra charges. Babysitting services can be availed at a cost, and there is also a children's playground. With its homely wood-centric décor and luxurious feel, the Hotel Albrecht can easily be the best hotel in Bratislava, Slovakia.
Marrol's Boutique Hotel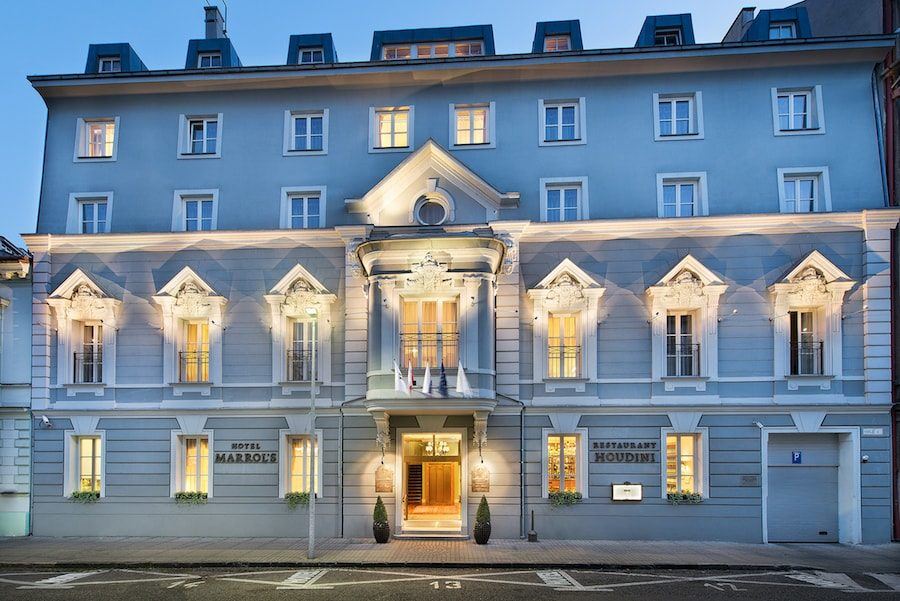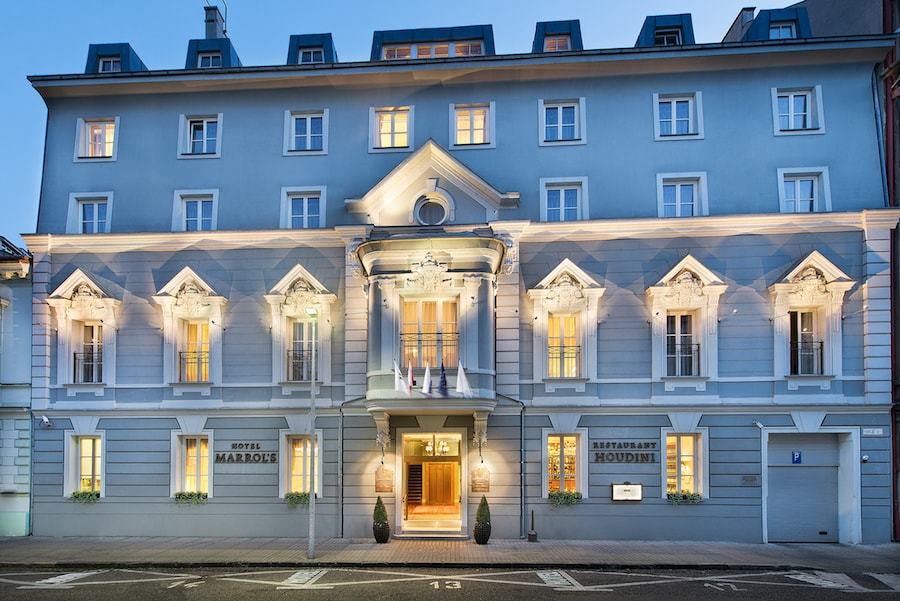 Staying at this 5-star hotel makes you feel like you're back in the early 1900s, with all its class and grandeur. Fifty-four beautifully furnished rooms provide you with an elegant sense of comfort. Elegant is probably an understatement here.
The pretty spacious rooms include free WiFi, a free minibar that's stocked daily, air conditioning, a hairdryer, a safety deposit box, a kettle, and a flat-screen TV with satellite channels.
The onsite Spa – the Jasmine, is available exclusively to the person booking it with a maximum of 6 guests for a minimum of 2 hours. Of course, this is subject to availability, and it's better to book in advance. The restaurant's hotel Houdini offers a rich buffet breakfast and a la carte lunch and dinner.
Most of the attractions, including the Slovak National Theatre, the Primate's Palace, Main Square, St. Martin's Cathedral, St. Michael's Gate, the UFO Observation desk, Bratislava Castle, Grassalkovich, and Michalska Tower, are all less than a km away.
Roset Boutique Hotel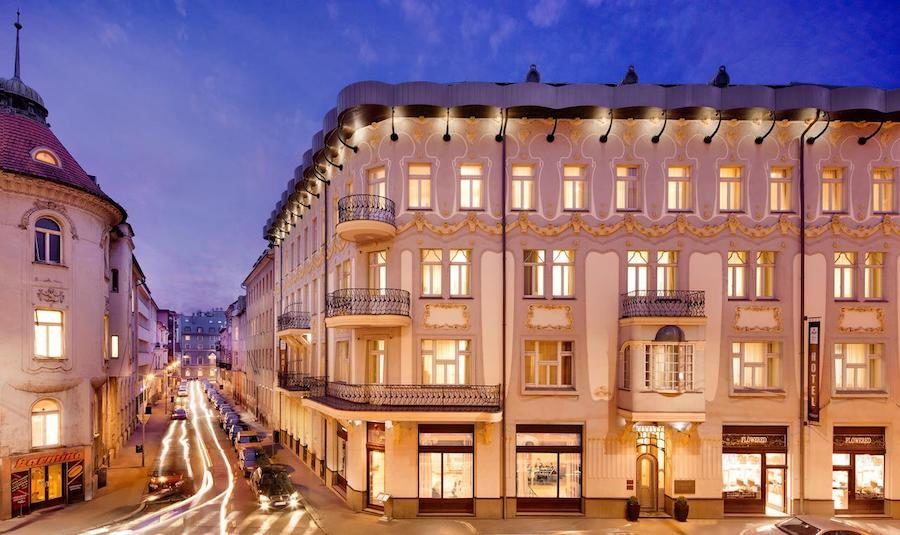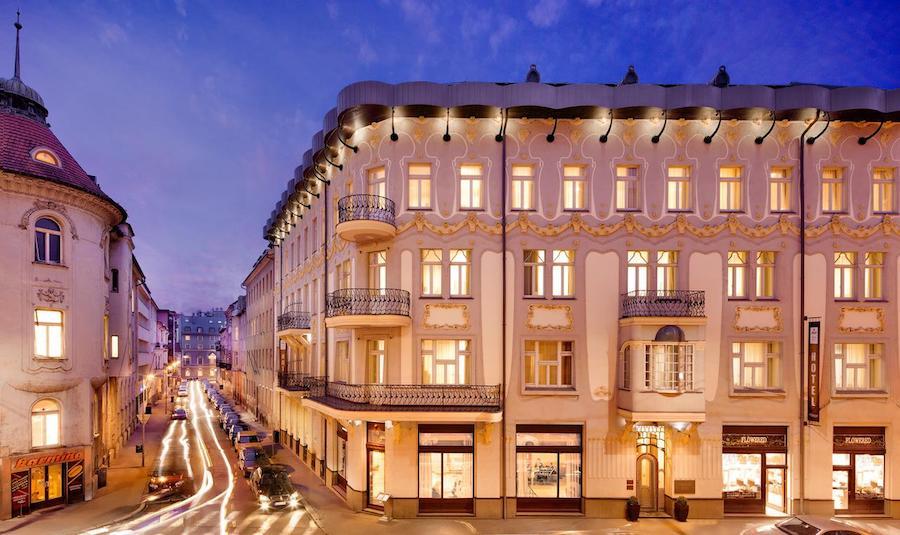 Formerly the Tulip House, the Roset Hotel is situated right in the heart of Bratislava. It is less than a few meters away from Primate's Palace, Slovak National Theatre, St. Martin's Cathedral, the Blue Church, St. Michael's Gate, and Eurovea.
The 28 apartments are all designed with a luxurious boutique feel. The smallest rooms are more than 50 m² in size, and most of them have a balcony. The bigger rooms are almost a luxurious home away from home.
The rooms include air conditioning and heating, safety deposit boxes, hairdryers, kitchenettes, irons, radios, refrigerators, microwaves, dishwashers, stovetops, sofas, and flat-screen TVs with satellite and cable channels.
The luxury apartment is 87 m² and overlooks the hotel terrace. The penthouse is 210 m² with interconnected rooms and a private balcony.
The Tulip Cafe and Restaurant serves light meals and gourmet dinners. Guests can also avail themselves of spas, massages, and fitness facilities or spend a relaxing time on the summer terrace. The Roset Hotel meets all the expectations of its guests.
TRAVEL COMPANIES WE USE AND TRUST
Semi-Luxurious Bratislava Hotels
Radisson Blu Carlton Hotel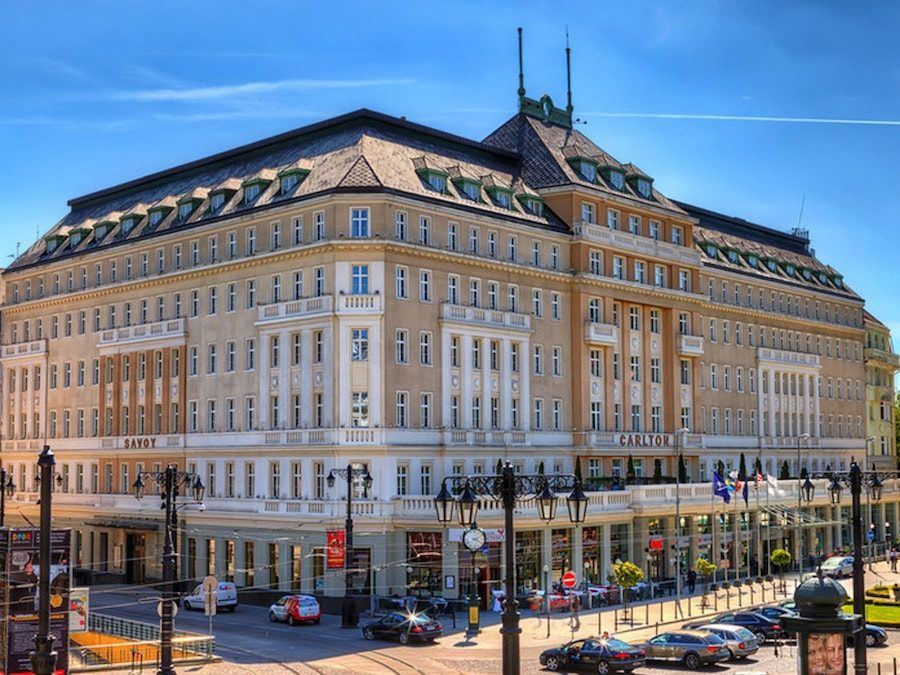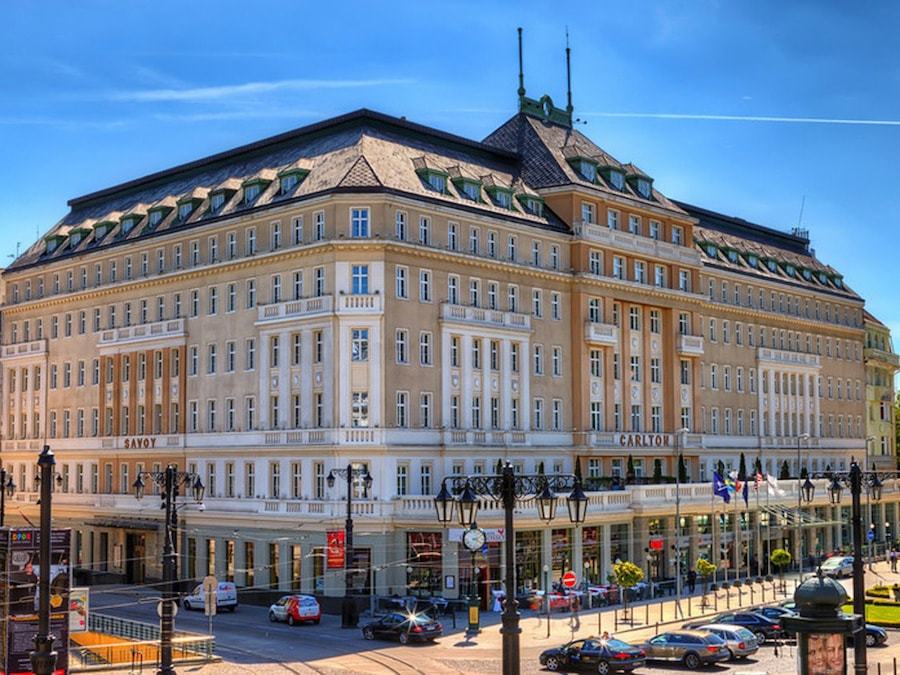 Right in the heart of Bratislava city is the Radisson Blu, Bratislava. This is one of the hotels in Bratislava city center that occupies a historic building dating back to the 13th century. Traditional Bratislava cuisine is served at the Savoy restaurant, which also has an outdoor terrace service in summer. For refreshing and relaxing drinks, the library-themed Mirror Bar is furnished with comfy leather chairs and a crackling fireplace.
The rooms at this old city hotel Bratislava combine traditional charm and modern sophistication. The rooms are soundproofed, and the bathrooms have heated floors. Rooms at the Radisson Blu include a minibar, flat-screen TV, laptop safe, iron, safety deposit box, hairdryer, radio, a drying rack for clothes, and a Nespresso machine for that perfect cup of coffee. WiFi is available throughout the hotel.
The Radisson Blu Carlton Hotel is just a 10-minute drive from Bratislava Airport and a 30-minute drive from Vienna Airport. The lovely Blue Danube is only 100 meters away. Simultaneously, the Slovak National Theatre, Main Square, St. Martin's Cathedral, St. Michael's Gate, Primate's Palace, and Michalska Tower are fewer than 400 meters away. The Radisson Blu is genuinely the best place to stay in Bratislava.
Botel Pressburg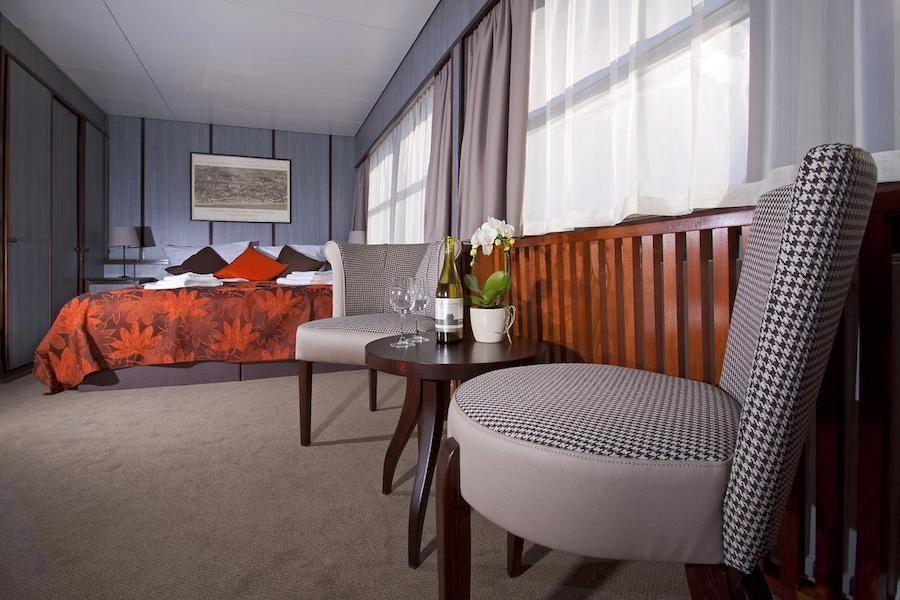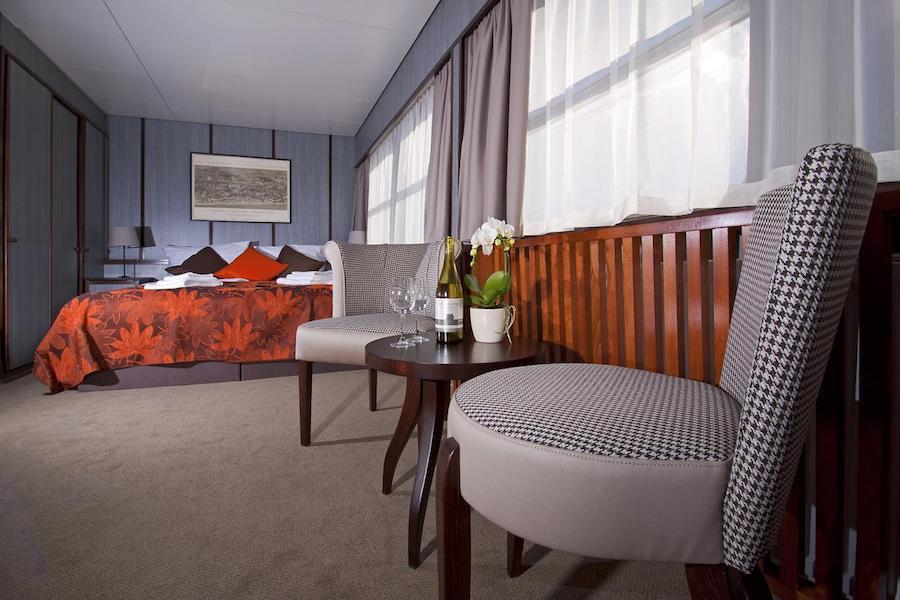 When you're looking for places to stay in Bratislava, you can't go wrong with this Botel Bratislava. The Botel Pressburg is a liner docked on the River Danube less than 600 meters from Bratislava Castle. It has a sun terrace and a restaurant.
WiFi is available throughout the ship, while rooms have flat-screen TVs, telephones, fridges, safety deposit boxes, and a wardrobe. You don't have to worry about a view while staying here since all the rooms aboard the Botel Pressburg have a great view. Some rooms overlook the UFO Bridge, while some have a view of the Old Town and River Park Square.
Many of the attractions are within walking distance. The closest at around 1 km are St. Michael's Gate, the UFO Observation Deck, St. Martin's Cathedral, the Primate's Palace, and Michalska Tower.
Comfy And Cheap Hotels In Bratislava
Ibis Bratislava Centrum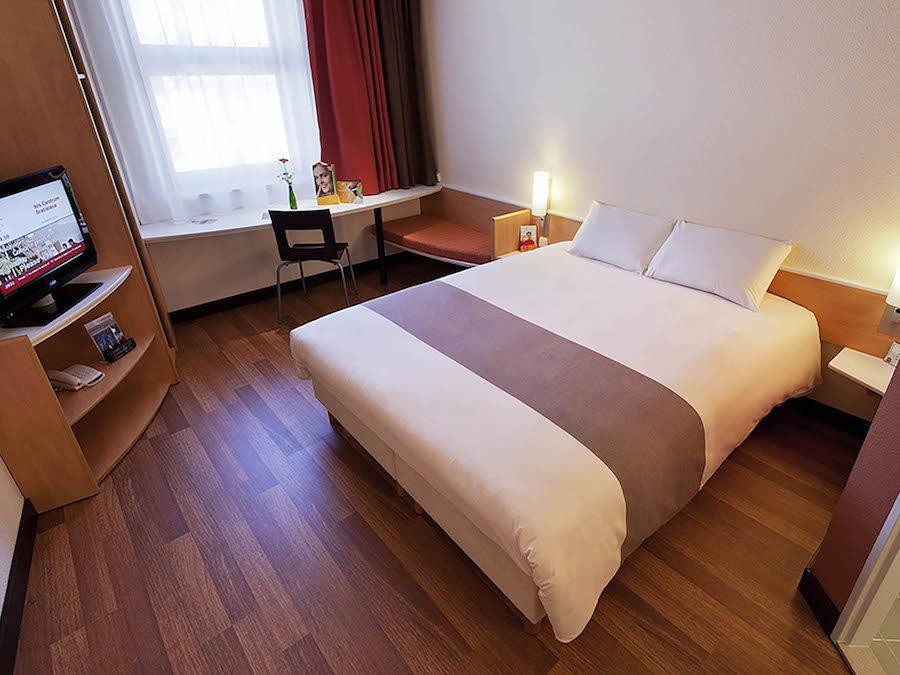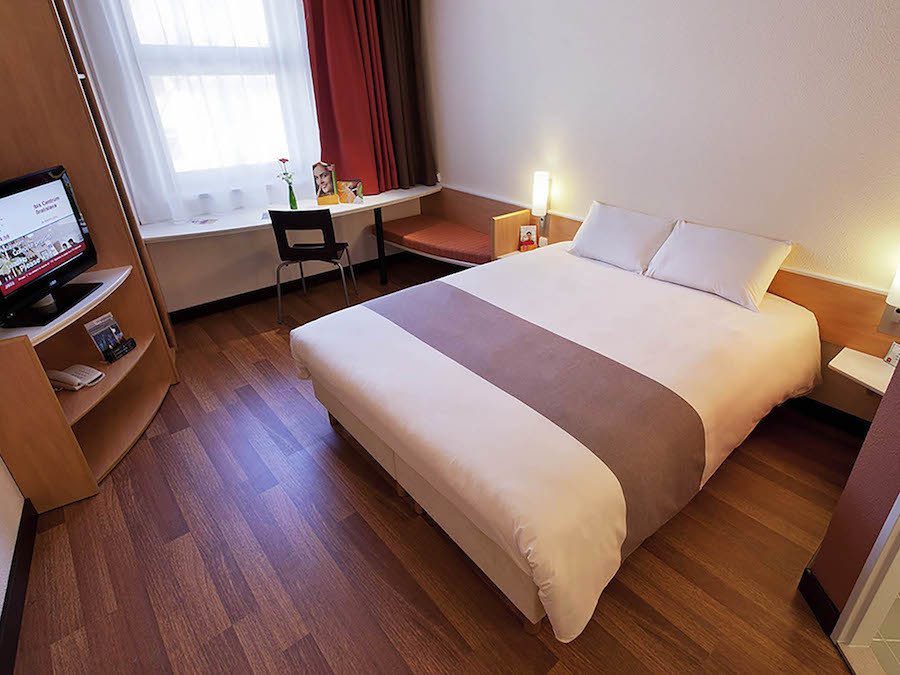 If you're looking for cheap hotels in Bratislava city center, look no further than the hotel ibis Bratislava. The Ibis Hotel Bratislava is set below Bratislava Castle and is just 450 meters from the heart of the city.
The hotel offers a 15-minute satisfaction guarantee, which means that all guest requests are taken care of in 15 minutes.
All the rooms at this Bratislava hotel Zentrum have free WiFi and radio, along with heating and air-conditioning. The satellite TV can also be used for pay-per-view channels and video games.
The supermarket is just 100 meters from this Bratislava hotel, and all the attractions are within walking distance.
Danubia Gate
The Hotel Danube Bratislava is another cheap and affordable hotel in Bratislava, Slovakia, located just five minutes walk from the Old Town and the Danube. The Slovak National Theatre, the Primate's Palace, and St. Martin's Cathedral are less than 500 meters from the hotel Danubia Gate.
Rooms include free WiFi, radio, and a TV with satellite, cable, and pay-per-view channels. Other accessories include minibars, electric kettles, a CD and DVD player, a safety deposit box, and a laptop safe. The hotel does not have a pool but has a good fitness center.
The deluxe room is very spacious at 36 m² and additionally has sofas, a computer, and a hydromassage bath that fits two people.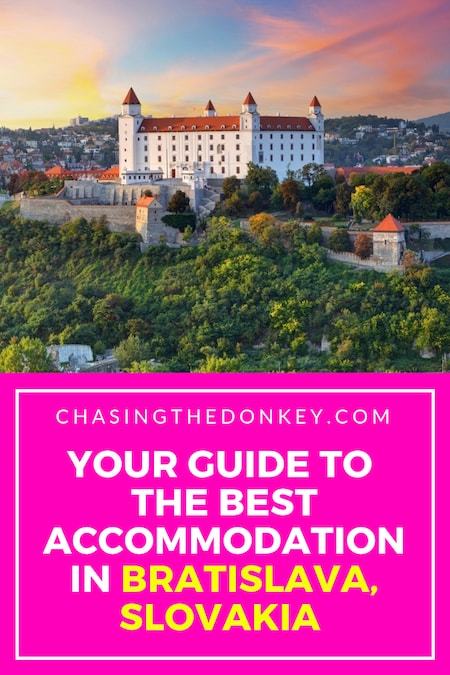 Private Accommodation In Bratislava
Apart Hotel Virgo
Located just 250 meters from the Old Town, the Virgo Residences are the perfect Bratislava accommodation for anyone looking for that added level of privacy. Much better than staying in Bratislava Slovakia hotels!
You can choose from 20 different studio apartments to deluxe apartments, depending on your needs. The apartments are spacious and clean and have bathrooms with bathtubs and a washing machine.
Both WiFi and wired internet are accessible here. Guests also have access to tea/coffee makers, flat-screen TVs, kitchenware, irons, radios, stovetops, dishwashers, washing machines, tumble dryers, refrigerators, drying racks for clothes and more.
The Virgo Residences are loved by many for professional services, unbeatable prices, and easy accessibility to almost all major attractions.
Apartments Blue Danube
If you're looking for absolutely cheap accommodation in Bratislava that is still well kept and comfortable, the Blue Danube Apartments are your choice. The apartments are simple and clean but well equipped with sofas, flat-screen TVs, free WiFi, hairdryers, irons, and microwaves. Some of the apartments also feature garden views.
EUROVEA, Samoska, and My Bratislava are the supermarkets close to the apartments. There are many cafes, bars, and restaurants close to the apartments.
All of the attractions are less than a km away from the apartments, while the Dunaj River is just 100 meters away. The Male Karpaty or Little Carpathian mountains are just 10 km away from the apartments. All the apartments either show incredible views of the National Museum or rivers.
Bratislava Hostels
Freddie Next To Mercury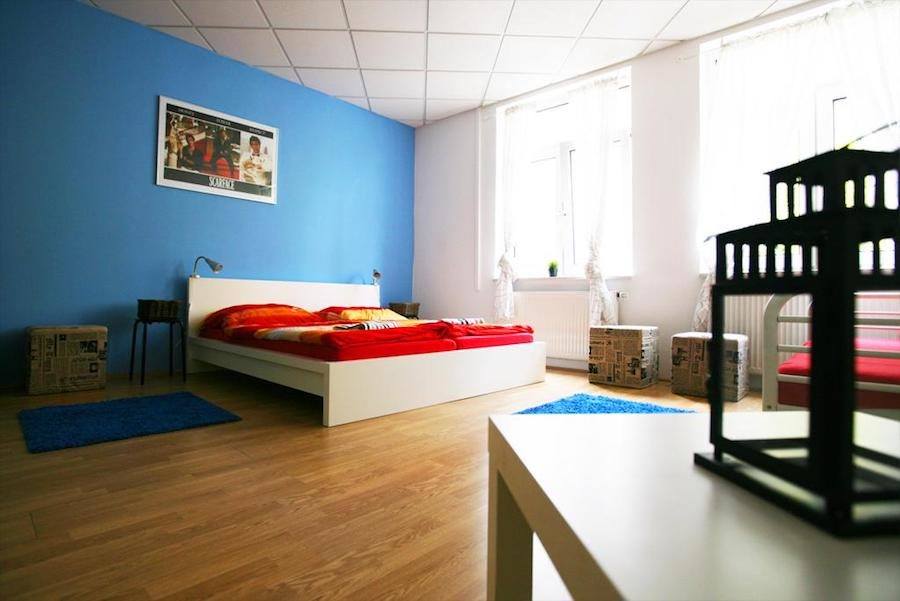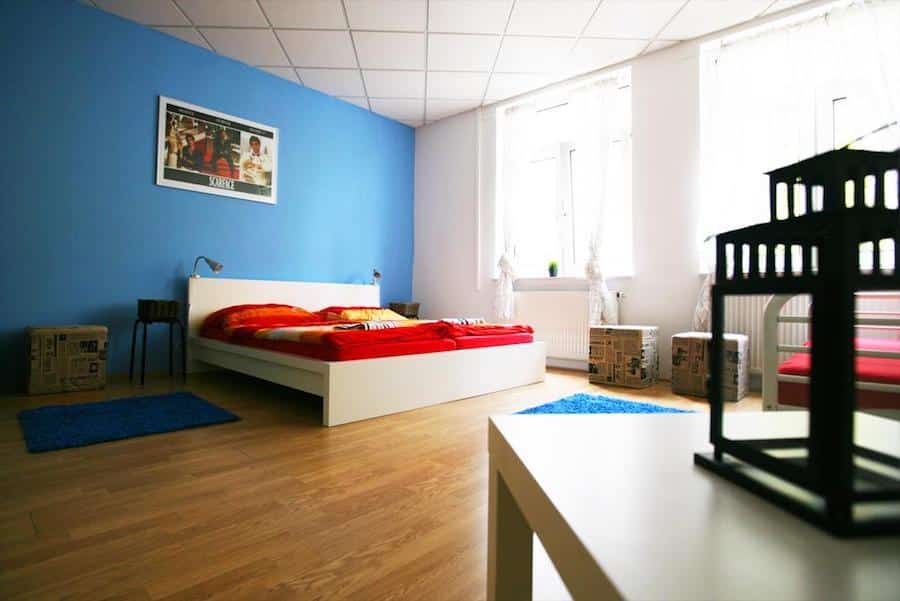 This city hostel, Bratislava, is a 10-minute walk from Old Town Bratislava and features a summer terrace. Guest staying here can make use of the free WiFi, kitchenette, and laundry rooms. There are safety lockers in the dorms as well. Guests with families or in groups can opt for studio apartments instead of dorms.
Guests can relax in the two onsite lounges or walk to the nearby restaurants. Most supermarkets and restaurants are less than 100 meters away.
The hostel is just 600 meters from the Bratislava train station and less than 1.5 km away from all the major attractions. The closest attractions are the Museum of Transport, the Slavin Memorial Cemetary, and the Grassalkovich Presidential Palace.
Bed And Breakfast Bratislava
Bastion Apartments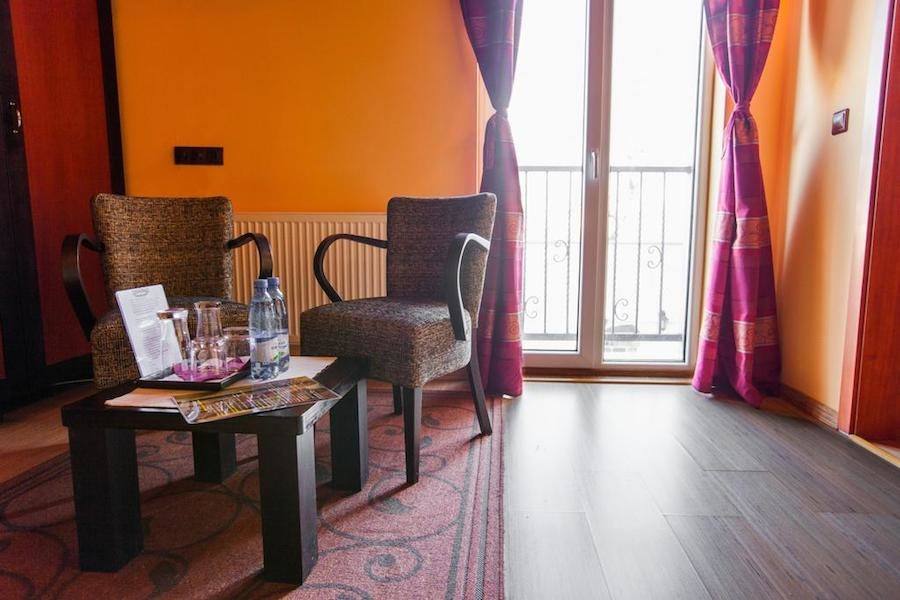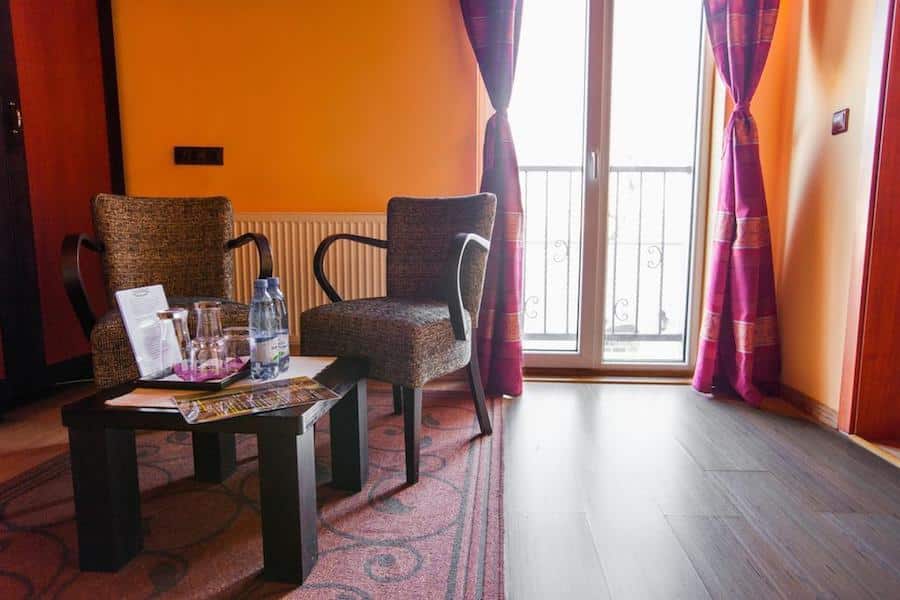 If you prefer a B& B instead of a hotel in Bratislava, the Bastion Apartments is the place to be. This three-story villa has been converted into rooms of varying sizes to cater to different needs. But they all come with rich breakfast included!
The apartments are a short 20-minute walk from the historical center of Bratislava and 15 minutes away from the Ondrej Nepela Winter Stadium. If you book your room in advance, you can also request free parking that's under CCTV surveillance. Rooms feature heating, air conditioning, tea and coffee makers, hairdryers, safety deposit boxes, flat-screen TVs with satellite and cable channels, and much more.
In addition to serving a rich breakfast, the onsite restaurant is open Monday to Friday till 11 pm and serves meals that were part of the old Bratislava.
Here's some additional information about Bratislava to help you plan your trip.
Where Is Bratislava?
Bratislava is the Capital of Slovakia and its largest city. Although Slovakia also shares borders with Poland, Hungary, the Czech Republic, and Ukraine, it lies in Central Europe, quite close to Austria.
Sights And Attractions In Bratislava
There are a lot of sites to visit in Bratislava:
Bratislava Castle
Old Town Hall
St. Martin's Cathedral
Primate's Palace
Grassalkovich Palace
Michael's Gate
Blue Church
Slavin
Devin Castle
Rubberneck
Schoene Naci
Matej Kren Passage
UFO Bridge
Slovak National Gallery
Sculpture Park
Slovak Radio Building
Other Accommodations In Europe And The Balkans
Chasing the Donkey - Balkan travel blog includes affiliate links. If you decide to make a purchase through these links, we receive a commission without any additional cost to you. We appreciate your support helping to keep this site free. Find our disclaimer & privacy policy here.