No matter what time of the year you find yourself in Split, Croatia, there are always fun events to attend – and as a Split local, I know them all. Regardless of whether you are traveling with a group or by yourself, a wide variety of events can be chosen from, ranging from cultural heritage to modern classics.
In this article, I will go through each season and cover the most important Split events that locals and tourists love to attend.
Split is a city of music, sports, culture, and gastronomy. People living in Split enjoy spending time outside, playing sports, taking long walks, or simply relaxing in a cafe on a sunny day. As you can already tell, this city truly lives a Mediterranean lifestyle.
Cultural Events In Split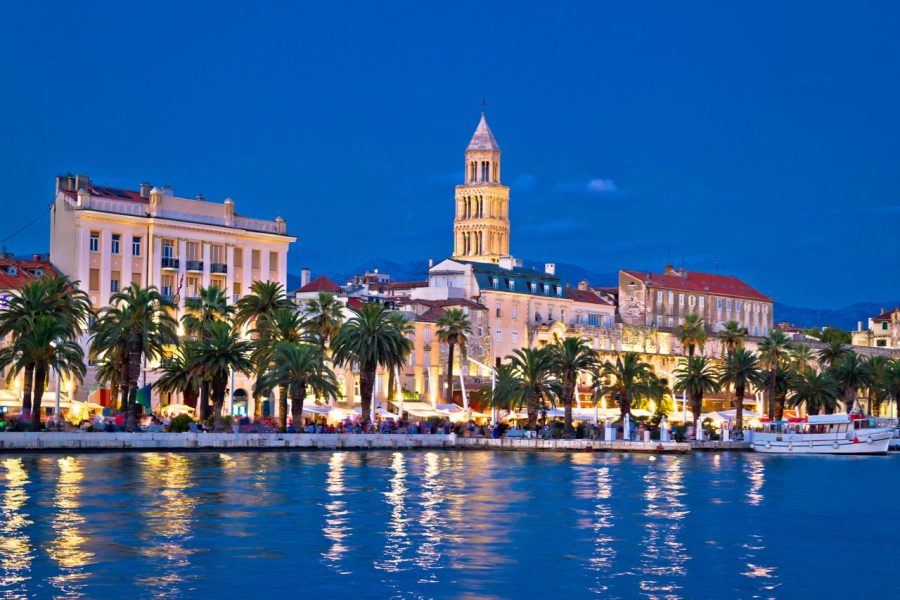 1. Sveti Duje
The most important day in Split's year is on May 7th – Sveti Duje. This is the day when citizens of Split celebrate its protector, Saint Dujam, who was a Catholic martyr during the 4th century, in the years of the Roman Empire.
Regardless of which day of the week it falls on, the majority of locals will work short hours (if possible), and they will participate in many events during the day in the city center.
Everything starts in the morning when a Catholic mass is held in public, followed by a procession. Afterward, visitors can enjoy local food from the food stands, shop for wooden objects (that bring them luck), or hang out with their friends and family.
In the afternoon, there will be live music and a traditional bingo-style game for everyone interested. If anything, try your luck to mark all the announced numbers before the others and win the grand prize.
2. Mediteranski Festival Knjige
This is an annual event dedicated to the written word. Although it was planned to be a yearly event in May, the last two editions were held in September.
During the five festival days, visitors can expect to find many publishers offering books in English and Croatian at promotional prices, ranging from novels to professional literature. The event is held in the main hall at the Gripe Center, and access in previous years has always been free of charge.
Besides the mentioned events, visitors can expect new book promotions, talks with authors, workshops for children, and much more.
3. Mediteranski Film Festival
This film festival is a 15-year tradition that is still running strong, growing its popularity year after year. It is one of the favorite movie events in the 'City beneath Marjan Hill,' as it allows visitors to watch movies at venues that are, unfortunately, not very popular in everyday life.
The main location is a summer cinema, 'Bačvice,' settled under the open sky, right above the sandy beach, and the festival is growing each year, adding more locations. These include Kinoteka Zlatna Vrata, Fortress Gripe, Dom Mladih, and potentially many more in the upcoming years.
This is the place to be if you are interested in filmography from Mediterranean countries on three different continents.
Lastly, it's worth mentioning that all the movies have subtitles in English and are played in the original language in which they were filmed.
4. Splitsko Ljeto
Founded in 1954, it's the largest, oldest, and most representative national theater festival hosted in ambient spaces. Held in July and August each year, theater lovers can expect a wide range of drama, opera, ballet plays, and concert programs.
Although it is held in more than ten locations in the city, ranging from Marjan Hill to Peristil in the heart of Diocletian's Palace, the program can be quickly followed on the official web pages of the festival.
If you are a lover of theater, art, or classical music, or simply curious to experience the best art theater has to offer in this part of the world, be sure to check the program on time and book your tickets, as they usually sell out fast.
5. Priigin, A Festival Of Short Stories
This one might be hard to participate in, as it is usually held in Croatian. The idea is that various performers are telling stories to the audience in the form of a monodrama, but it can also be stand-up or any other form of humor theater.
What's unique about this event is that it is organized at the end of March each year and that it also features a workshop for children who learn not only how to tell stories but also how to listen to those who tell them actively. It's a truly unique experience to attend, as it is always held in an intimate atmosphere, creating a time capsule to some more simple, slower times.
If you don't speak Croatian, try to find a company to go with so that they can at least provide you with context during the performance.
TRAVEL COMPANIES WE USE AND TRUST
Musical Events In Split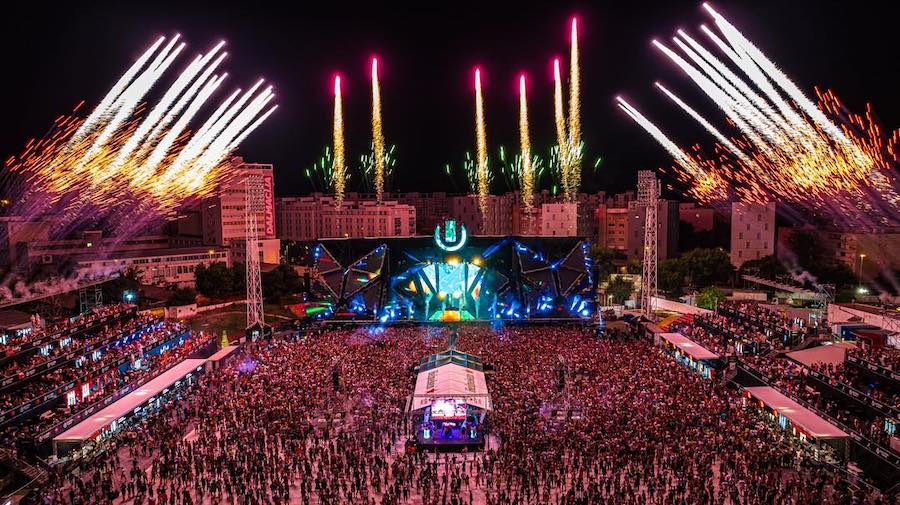 6. Ultra Festival
This dance and electronic music festival made the world rediscover and fall in love with Split. It started as a one-time experiment, and now, almost a decade later, it is still running strong.
Here, you can expect three days of half-day partying in a stadium atmosphere. The event features amazing DJ sets, light shows, and traditional fireworks at the end of the first night. It is an event that brings together young adults from around the world, Croatia, and the wider region.
If you are a fan of this kind of music, even a single-day ticket will be enough to 'nail' the party of the summer early in July.
7. Splitski Festival
A little bit later that month (July), one of the oldest festivals of Croatian pop music is held in Split too. Since 1960, this has grown to be the Croatian version of Italy's San Remo, gathering the best singers of pop music in one place and competing for the Song of the Year.
For years, this has been the place where the biggest Croatian music stars gained their glories, such as Mišo Kovač, Oliver Dragojević, Gibonni, and many more,. In recent years, it has consisted of a memorial night, in which famous singers sing the biggest classics of Croatian music, and a competition night, where the audience has the chance to pick the song they like the most and award it with the Title.
If you still have second thoughts, take a look at that stage on Prokurative Square.
8. Ego Free Festival
Ego Free Festival, the urban culture festival, is held annually on Turska Kula, an intimate forest just 15 minutes away from the city center.
During the three days in April, visitors can participate in workshops such as crafting, painting, and learning new skills and enjoy the ambient rhythms of DJ music and food and drinks until the sun sets down.
An after-party is held at Judino Drvo Club, Split's most famous underground music and culture venue.
Sporting Events In Split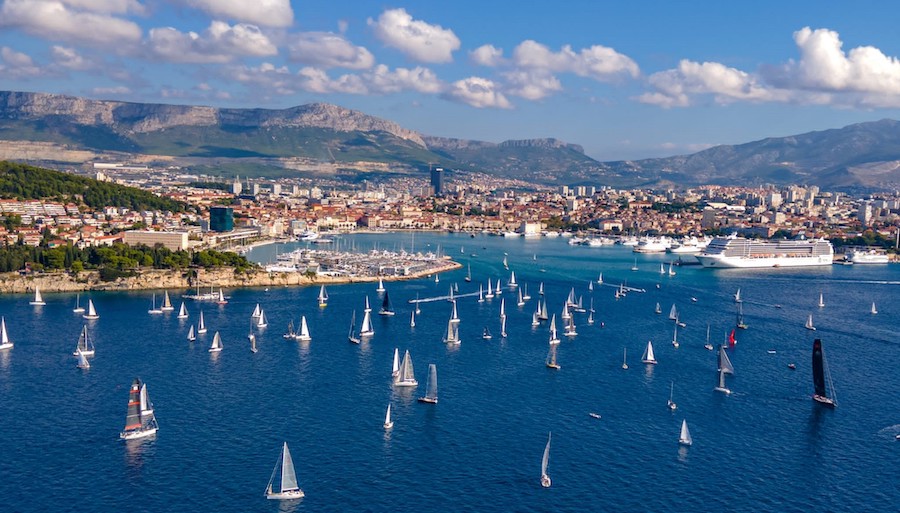 9. 4 Kafića
Every year on December 26th, lovers of futsal join for an evening event with a humanitarian character. As this is Christmas time and most football leagues are taking a league pause, many famous Croatian players (active and retired) join for the event.
It is a truly unique opportunity to see masters of football competing in a 4 team knockout tournament. A part of its charm comes from not knowing who will actually show up, and the anticipation really holds until the teams are announced at the event, taking place in Dvorana Gripe in Split.
If you are a football fan, this futsal event is a must-experience. Otherwise, at least catch a few segments on national television, as they are usually broadcast live.
10. Torcida Kup
One could say people get tired of football, but not in Split. When their favorite club, Hajduk Split, is not in action during the summer, the Torcida Cup is held at the Vukovarska Ulica playground. This cult event gathers amateur teams competing for a futsal championship in a tournament format.
It is very local, and don't expect any side activities here. Usually, people bring their own drinks and food, and the event is often considered a meeting place to go out for a night and have a chat while observing the games.
11. Regata Mrdulja
Regata Mrdulja, the oldest sailing race in Europe, is held annually in October. To participate, you really need to have a certain level of sailing skills. However, pre- and post-party events are a nice way to get to know the sailing community, learn more about its characteristics, and watch the sails at the start and finish lines.
The event got its name from a small island located between Brač and Šolta islands. The boats compete to reach Mrdulja Island first, circle around it, and get back to Split, all with the power of the wind.
If you are a fan of photography, we highly recommend going up the hill (Marjan) and taking some stunning shots over the sea canal and the sailing boats on it.
IT & Science Events In Split
12. DumpDays
Each year in May, a job fair for students is held at the Faculty of Electrical Engineering, Mechanical Engineering, and Naval Architecture. If you are visiting Split in May or studying in Split or Croatia, make sure to reserve some time to visit the event.
During two days (Friday and Saturday), daily programs will offer panel discussions and presentations held by professionals from local and regional companies. Expect topics from the IT sector, Digital Marketing, and personal development. This is an excellent event to learn more about jobs and internship opportunities directly from company representatives at their booths.
Trade Fairs In Split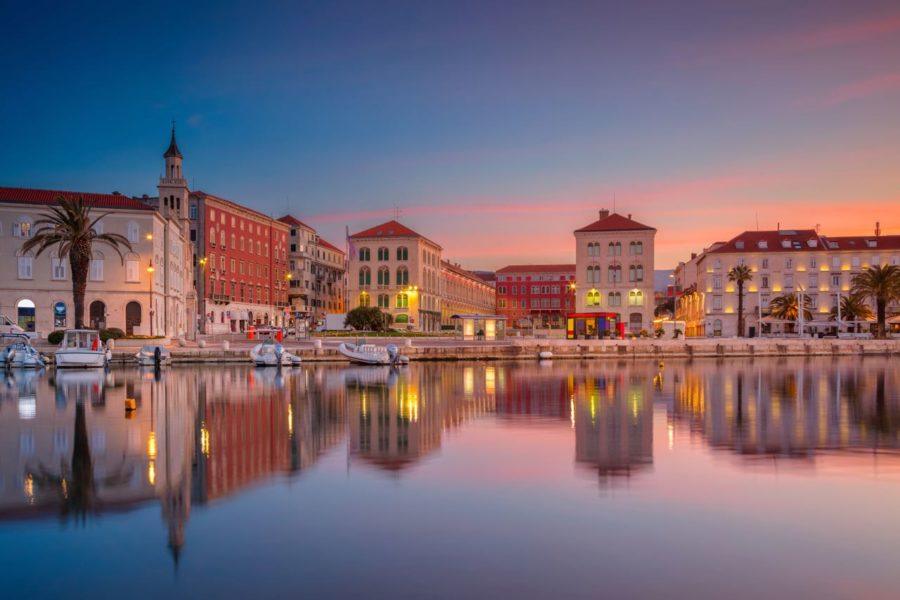 13. Croatia Boat Show
If you are missing the breeze of Monte Carlo or Nice in Croatia, look no further as Split becomes the center of the yacht industry for one weekend in April.
Regardless of whether you are a fan of sailing or speedboats, there is something for everyone, even those who are interested in how a luxurious yacht looks from the inside.
This very cool event showcases the best of Croatian commercial shipbuilding and provides an opportunity to see the latest trends from around the world. The ships are located in the city's main harbor, which is much nicer than seeing them on the ground floor in a fair hall if you ask me.
As the weather is usually lovely in Split in April, expect a nice walk, visits, and even some cool Instagram photos.
14. Gast And Saso
Gast and Saso are the last two events on the list.
Although similar, they cover different aspects of the gastronomy, hotel, restaurant, and cafe businesses. Events are aimed more at professionals; however, the dish presentation and gastro events are worth checking out.
Expect (after paying for the event ticket) to try free finger foods prepared by highly praised chefs.
Split Events Wrap-Up
Naturally, more events are held in Split, but these are the most iconic. This list didn't include national events such as Labor Day or a traditional Christmas Market held each year.
We hope you have learned more about Split's identity and what makes it unique and inspired you to visit Split in other months outside the high summer as the city has so much to offer.
Whether you prefer literature or luxury yachts, there are events for everyone in Split.
AUTHOR
For more guides about Split, consider visiting LifeInSplit, a guide-focused website designed to ease Expats' and students' lives in this historical city full of tradition and heritage. The owner and primary author is a local tour guide who will also answer any follow-up questions you might have, even as a tourist.