Here is everything you need to know about the beautiful island of Büyükada Istanbul. The perfect day trip just 2 hours from Istanbul.
Büyükada, meaning "big island," has a rich history dating back centuries. Located in the Princes Islands archipelago, a ferry ride from Istanbul, Büyükada has a mixed and varied history.
During the Byzantine Empire, Büyükada and the other Prince's Islands served as a location for exiled royal family members and high-ranking officials. The island gained prominence as a destination for Byzantine emperors, who built lavish palaces and monasteries along its shores.
Fast forward hundreds of years, and in the 19th century, Büyükada once again experienced a period of transformation as wealthy Greek and Armenian families built large mansions on the island.
Büyükada became a popular summer retreat for international visitors and Istanbul's elite, attracting artists, writers, and intellectuals who sought inspiration in its tranquil surroundings.
Today Büyükada is a popular holiday destination primarily with local Turkish visitors, though it also attracts tourists from many other international countries.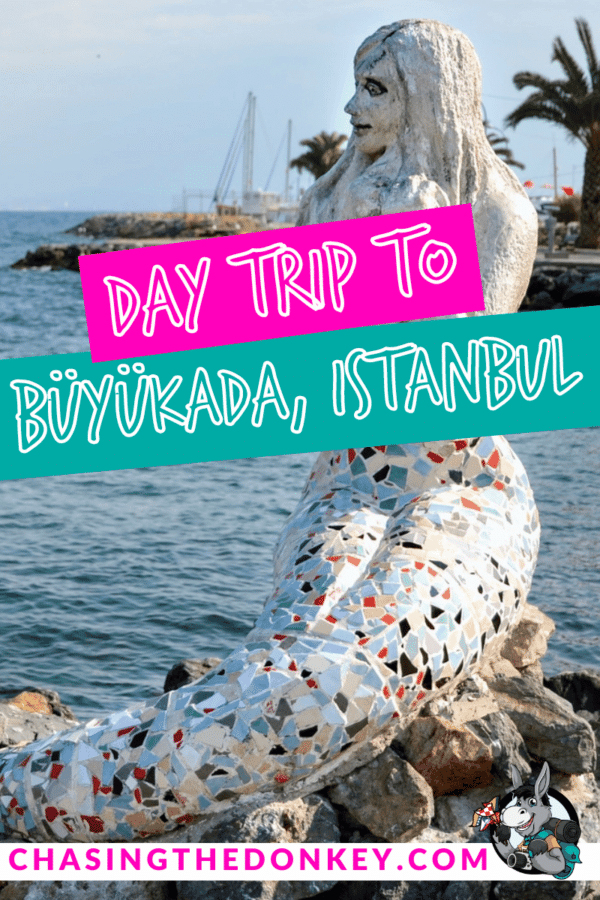 How To Get To Büyükada – Istanbul To Büyükada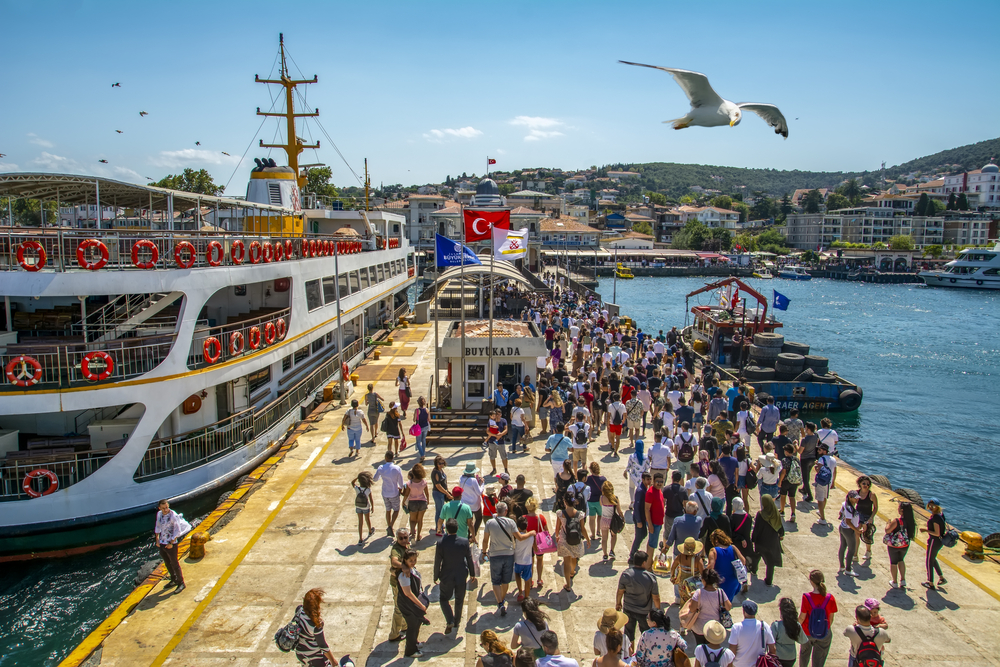 There are ferries to and from Büyükada throughout the day, which run from multiple stations in Istanbul.
From The European Side Of Istanbul
The privately run company Mavi Marmara offers multiple daily ferries running from Kabatas & Eminonu to Adalar, the main township of Büyükada.
The ferries from Kabatas take around 90 minutes; from Eminonu, you can expect around an hour and 15 mins. It is worth noting that it is the same ferry; it just stops at Eminonu on the way to Büyükada.
Timetables are reduced in the winter, with only 2-3 ferries running daily. Over the summer months, you can expect ferries every 2 hours.
The government-owned Sehir Hatlar has ferries from Eminonu on the European side and from Kadikoy and Bostanci on the Asian side.
From The Asian Side Of Istanbul
If you are staying on the Asian side of Istanbul, the quickest way to get to Adalar, Büyükada will be to get a train to Bostanci and then the ferry from there.
TIP: The ferries run from different terminals, so be sure to head to the right pier for your departure from Büyükada.
TRAVEL COMPANIES WE USE AND TRUST
How To Get Around Büyükada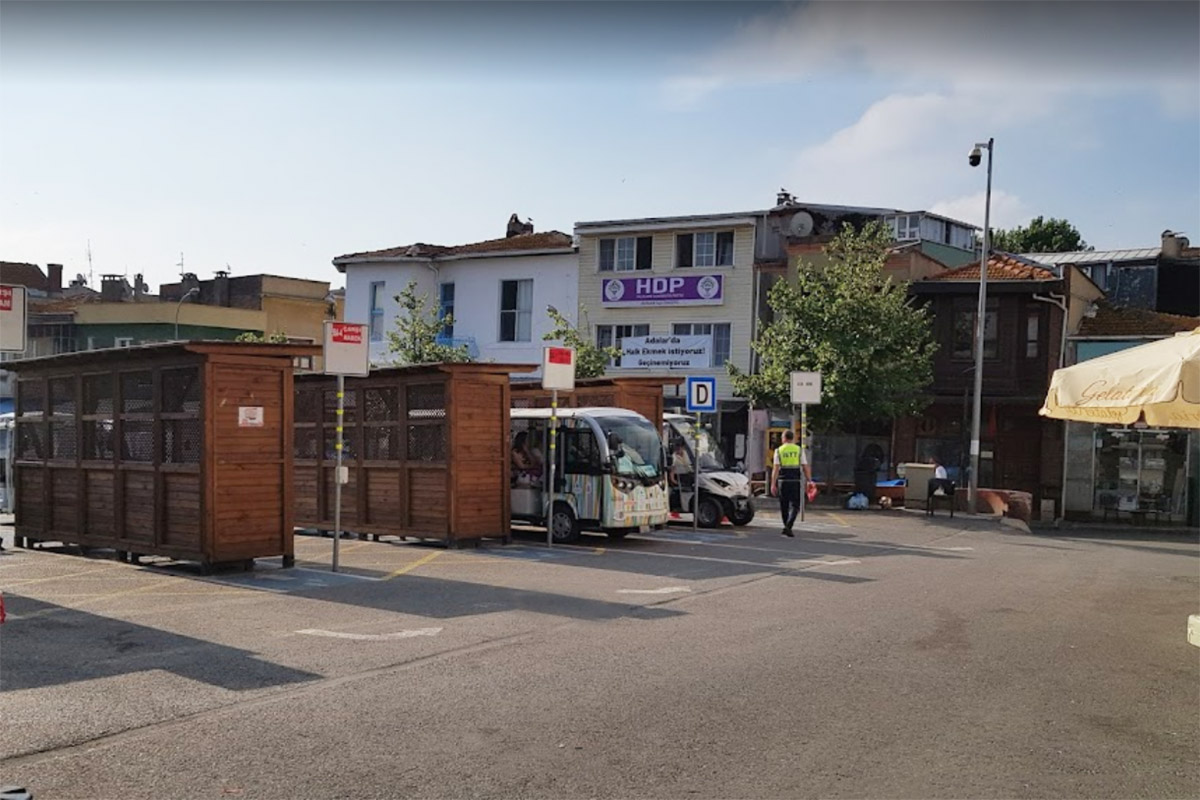 There are no cars on Büyükada. Up until 2020, Büyükada was known for its horse-drawn transportation. Transport around Buyukada Island is now done with electric buses.
Right in the middle of the village is a "bus stop" where all the electric buses congregate. Different routes around the island and the buses line up next to the corresponding route sign. Some of the more frequented destinations have set times or depart more frequently, and some lesser visited locations may wait for the bus to have a few guests before they leave. You can usually ask a driver or the locals if you are unsure which bus to take. The location of the bus stop is central in the main village of Adalar.
Alternatively, you can hire push bikes in multiple places around the island. Beware that once you get away from the main area, the island is very steep, so unless you are a dedicated cyclist, you will find yourself pushing your bike up some of the steeper hills.
Things To Do In Büyükada
Many visitors to Büyükada come on day trips from Istanbul, so if you are looking for a relaxing getaway from the crowds of Istanbul, spending a few days on the island will be something you won't regret.
Aya Yorgi Church
This Greek Orthodox church at the top of Aya Yorgi hill initially appears to be not worth the hike (you have to walk up the hill to access the church as it's very steep and also because bikes are not allowed). The modest exterior hides the stunning quality of the interior fit out of this church. Originally a monastery sat on this site in the mid-1700s, with the current church having been constructed in 1905.
Photography inside the church is not permitted. Though I noticed that they are pretty random with this rule, so you may or may not be allowed to take photos inside the church.
The church is free to enter and is open from 9 am to 4:30 pm from Monday to Saturday. Sunday is for worship only.
Make The Most Of Aja Yorgi Viewpoint
While visiting the church, you can make the most of hiking up the hill and take in the viewpoint of the Marmara Sea. Yucetepe, a small, locally owned restaurant, is situated right next to the church and is the perfect location for taking in the fantastic view. Time your visit right, and you can also catch the sunset; just please be careful walking down the hill after dark.
Spend A Few Hours At Viranbağ Plaji (Viranbağ Beach Club)
Swimming is possible at many beaches in Buyukada and various locations in Büyükada. Just keep in mind that the northern end of the island around the village and where the ferries come and go from isn't the best place to swim. Viranbağ Plaji (Viranbağ Beach) is a great place to spend a few hours, an afternoon, or even a whole day. While the beach is pebble, there is a jetty for access directly into the ocean, so if you don't have your reef shoes, you can still get in and out of the water via the stairs off the jetty.
There is a restaurant, sun beds, and umbrellas, and during the summer months, they usually run a boat transfer from Adalar. Check Viranbağ Plaji's website for more info.
Nizam Plaji is another beach club you could head to if you wanted to stay closer to town. It is popular and smaller than Viranbag, so head early to secure a sun lounge. Nizam Plaji is about 2 kilometers, or 30 mins walk from the clock tower in the town center, so accessible for most people.
See The Mansions Of Büyükada
Head up Çankaya Street (which turns into Nizam Street) to view the historic mansions of Büyükada. Many different architectural styles are constructed from everything from concrete, brick, and timber. Some of the homes have been turned into hotels, so it is possible to stay in this area.
If you are walking, there is a great little spot, Büyükada Görkemli Hotel & Cafe, that signals the end of most of the mansions. It is an excellent spot for a cold drink before you turn around; however, like most places on Büyükada, make sure you ask for the price of anything that isn't marked on the menu. Prices fluctuate with the availability of everything on Büyükada, so if you see something that doesn't have a price, that doesn't necessarily mean it's unavailable; you have to ask. Alcohol is often unpriced, so be sure to ask about the cost of that beer to avoid paying way too much.
You can walk back to town, get on a bus, and let your feet rest.
Check Out Trotsky's Abandoned Mansion
About halfway from the village to the cafe, you will also find the home where Trotsky spent four years after his exile from Russia. The house is now abandoned and, despite efforts to sell, still sits empty and forlorn. It is easy to find, and with a decent imagination, you can see how grand it must have been in its heyday. The house sits at the end of the cul de sac on Hamlaci Sk.
If you are sure-footed, you can walk down a small path past the house to the water's edge to see the homes that back onto the waterfront. Oceanfront pools and private boat docks are popular in this area.
Prinkipo Greek Orthodox Orphanage
Thought to be Europe's largest wooden building, the Prinkipo Greek Orthodox Orphanage is worth seeing. Closed to visitors and falling into severe disrepair, this was once a luxury hotel and casino.
Built in 1898, it was sold in 1903 after a permit to run the casino would not be issued by the then-sultan. The wife of a Greek banker purchased the facility and donated it to the Ecumenical Patriarch of Constantinople, who proceeded to use the building as an orphanage. It is thought to have housed almost 6000 orphans during its use. The orphanage is in a significantly deteriorated state. However, the Greek community, who now owns the building, are trying to raise funds for its repair. Sadly it seems almost beyond that now.
You cannot enter the property, but you can see it through the fence, and the sheer size of the building is in itself stunning.
Visit The Local Fresh Food Market
An excellent fresh food market is on the corner of Guzeller Sk and Hamidiye Cail Sk. It is a great place to purchase fresh fruit and vegetables, cheeses, and cured meats and interact with the locals. Open daily in the morning; it's a short walk from the center of Aladar.
Hike Around The Island And Take In Multiple Locations
If you like walking, consider hiking from the village, past the fresh food market, and up through the hills to the orphanage. Once you have checked out the orphanage, head down the other side to take in the mansions of Çankaya Street. It is a simple hike and not more than 6.5km. The hike up from the village to the Orphanage does have a couple of steep parts, but the steep sections aren't more than a few hundred meters long.
You pass through some lovely forest as you walk up toward the top of the hill and then have a great view here and there along the coastline as you head back down toward the village.
There are a couple of little outdoor cafes after the Orphanage, which is a great place to stop and get a cold drink. Asiklar Cafe is a great one – keep in mind that you will need cash.
From the cafe, walk the lovely streets down to Trotsky's house past the mansions and boutique hotels before finally heading down to the Clock Tower Square in the middle of Adalar.
Where To Eat In Büyükada
There are many options for eating in Büyükada with restaurants and cafes all over the village. The restaurants along the esplanade are often more expensive than those in the village, but as a plus, they usually have a greater selection of seafood options.
Breakfast
Breakfast is usually a Turkish breakfast, and many cafes around the town are open for breakfast. They don't usually open too early, though, so if you plan an early start to the day, it is probably best to arrange breakfast at your hotel.
Lunch
Most of the restaurants are open from lunchtime so you will have no trouble finding a meal. There are some smaller cafes along Cinar Cd that are great for more cost-effective options for lunch. They serve typical Turkish sandwiches and more Western hamburgers and hot food.
Dinner
There are restaurants everywhere in Büyükada, and most are focused on seafood. They all serve other dishes, but dedicated vegetarian food can be hard to find. There are always salads, but you may have trouble finding specifically vegetarian meals. Vegan meals are almost non-existent, so please check what dressings and sides are added to any salad or vegetable dishes before ordering if you are vegan.
Prinkipo Mayhanese Fistik Ahmet is a great local place at the far eastern end of Gulistan Cd (the street along the foreshore). It is very affordable, the staff are friendly, and you can sit and watch the local kids swimming in front of the restaurant.
Secret Garden Restaurant has a wide range of options in a lovely setting. The waiter staff are friendly, they have some local cats who befriend you, and it does feel like you are in a secret garden.
Afternoon (or after dinner) coffee and cake
Cenar Konak Otel has a great cafe that opens until around 9 pm. They have good coffee and cake options and both inside and outside seating for you to choose from.
Ice cream
Büyükada has embraced the ice cream culture, and you can find more than a few ice cream shops in the village. Typically they are all clustered around the ferry terminal, but some cafes serve ice creams throughout the village. The ice creams are enormous and typically covered in sprinkles, chocolate, or syrup. Make sure you see the size of them before you order one each. Typically they are very shareable.
Where To Stay In Büyükada
There are many hotels and holiday rentals around Büyükada, and finding something to suit your style and budget won't be difficult. These hotels are rated nine and above on booking.com and are affordable and within the main village.
How Long Should You Stay In Büyükada?
Many visitors spend the day in Büyükada, arriving on the ferry early and leaving late afternoon. You can get a great sampling of everything Büyükada has to offer in just a day; that said, I would recommend a stay of 2-3 days to really relax and settle into the island.
What Is The Best Time To Visit Büyükada
Summer is the most popular time to visit Büyükada. This does make the summer months very busy on the island, though there are enough services to cater to everyone who visits, so while it will be busy, you won't have trouble finding a restaurant. Summer sees temperatures in the high 20s but rarely does it go above 30 degrees Celsius.
Spring and fall shoulder seasons are a great time to visit as it is quieter, but most services are still available. Winter sees a significantly reduced offering, with some of the smaller hotels closing for the winter season. It can still be a great time to visit; nevertheless, temperatures sit around 8-10 Celsius during the day and can drop to freezing overnight.
BUYUKADA ISTANBUL FAQs
What is Buyukada, and where is it located?
Buyukada is the largest of the Princes' Islands in the Sea of Marmara, near Istanbul, Turkey. It is a popular destination known for its beautiful nature and historic buildings.
How can I get to Buyukada from Istanbul?
You can reach Buyukada by taking a ferry from Istanbul. Ferries depart from several locations, including Kabatas, Besiktas, and Bostanci, and the journey typically takes around one to two hours.
What are the main attractions on Buyukada?
Buyukada offers several attractions, including the Ayia Yorgi Church, Hagia Triada Monastery, Aya Nikola Monastery, and the historic wooden mansions that reflect the island's nostalgic atmosphere.
Can I rent bikes or horse-drawn carriages on Buyukada?
Yes, you can rent bicycles or take a pleasant horse-drawn carriage ride to explore the island. Both options are popular among visitors to enjoy the tranquil surroundings.
Are there any beaches on Buyukada for swimming?
Yes, Buyukada has several beaches where you can swim in the clear waters of the Sea of Marmara. Some of the popular beaches include Buyukada Beach and Nakibey Beach.
What are the best activities to do on Buyukada?
Apart from sightseeing, you can enjoy activities such as hiking, picnicking, and exploring the island's charming streets and historical landmarks. It's a perfect place to relax and escape the bustling city life of Istanbul.
Are there any good restaurants on Buyukada?
Yes, Buyukada offers a variety of restaurants and eateries where you can enjoy delicious Turkish cuisine, fresh seafood, and traditional dishes.
Can I visit Buyukada in one day from Istanbul?
Yes, you can visit Buyukada in one day from Istanbul. It's an ideal destination for a day trip, but if you want to fully explore the island and enjoy its serene ambiance, consider staying overnight.
Wrap Up In Visting Büyükada
Now that you have all the information, you can start to plan your trip to Büyükada in the Princes Island group off Istanbul. Büyükada is an excellent place for just a day or a few days RnR to escape the heat and the crowds of Istanbul over the summer. It is easy to get to, affordable to stay and eat and has some great swimming spots on the Marmara Sea.
MORE ISTANBUL TRAVEL BLOGS