When visiting Croatia, you should certainly make an effort to move around as much as possible. The tourist resorts are fantastic and will more than meet your needs, but the inland regions are special. Here you can get a real taste of authentic Croatia and feel like you've traveled back in time.
A short distance away from Zagreb, easily doable by day trip, is a beautiful city called Varaždin. Put this on your visit list!
Packed with beautiful baroque-style architecture, culture, and plenty of history, you'll love walking around the cobbled streets and finding hidden gems to explore. There is also delicious cuisine to try too.
Varaždin used to be the country's capital but a destructive fire wiped out most of the town in 1776. At this time, the capital was moved to Zagreb. The good news is that much of the city was rebuilt and recaptured its importance by the start of the 19th century. Despite that, there is still a rich history and a sense of being far away from the hustle and bustle. It also looks a little like it wouldn't be far removed from the set of Harry Potter too!
How To Get To Varaždin & Getting Around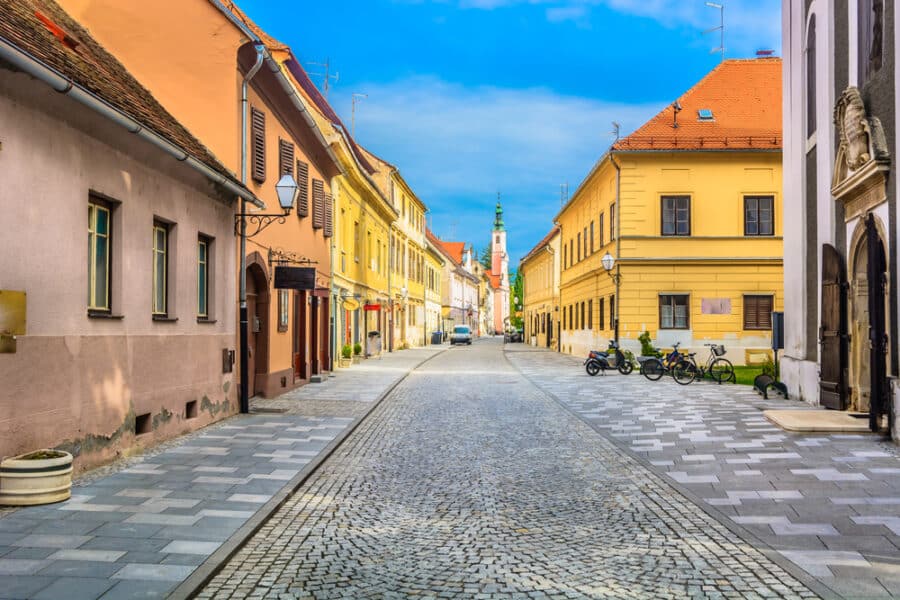 You can easily reach Varaždin from Zagreb in around one hour, traffic permitting. It is only 54 miles away, and the route is pretty scenic, so be sure to stop along the way.
You can easily rent a car and drive or use the local bus service. You can expect to travel for around 1 hour and 30 minutes by bus, and several buses run in either direction daily. Once you arrive at the bus station in Varaždin, you need to walk around 5-10 minutes, and you're right in the heart of the main sightseeing spots.
Varaždin is a very walkable city, so there are no issues with taxis or buses once you're there.
TRAVEL COMPANIES WE USE AND TRUST
When To Visit Varaždin Croatia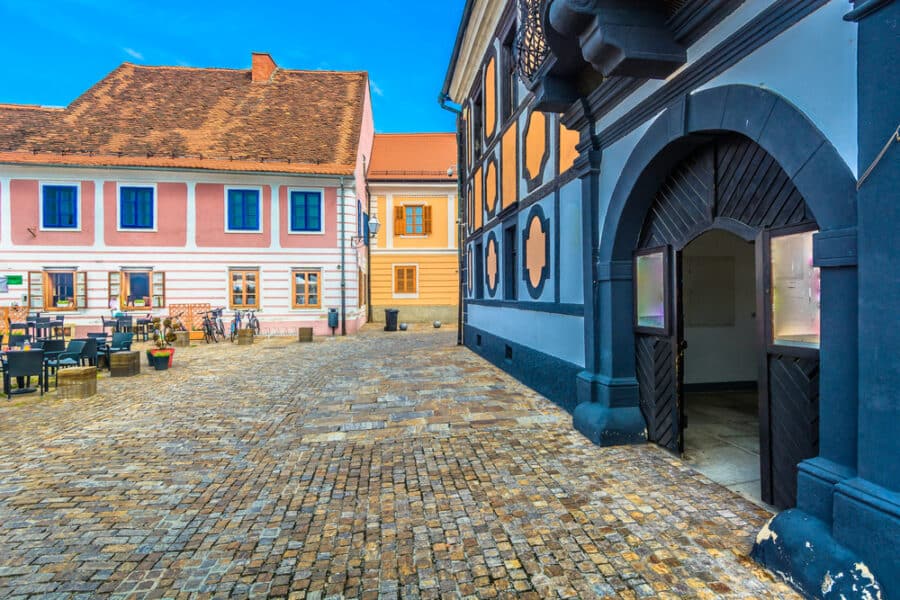 The high temperatures between June to August may make exploring a little difficult, but certainly not impossible! However, if you visit between April to June and September and October, you'll find pleasant temperatures and fewer crowds.
It's entirely possible to visit during the winter months, but be aware that it could snow, probably rain, and it will be cold, so bring a jacket! Although Christmas is a beautiful time to visit, the fairy lights and music will create a magical scene.
Things To Do In Varaždin Croatia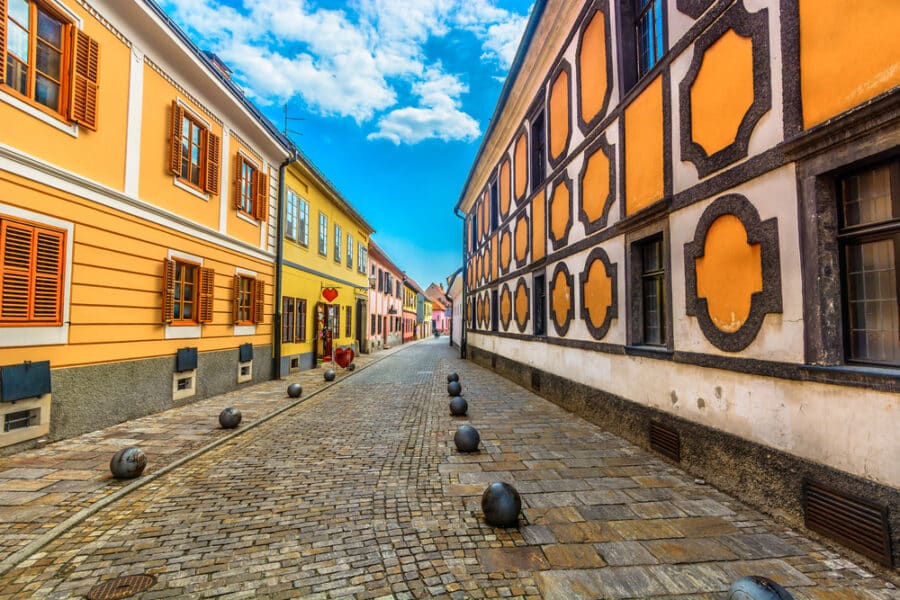 There is plenty to keep you occupied during the day in Varaždin. Expect to be pretty tired by the end of it! Here is our list of what to do in Varazdin.
Purchase Handcrafted Goods At The Square Of Traditional Crafts
This beautiful square is not only a fantastic people-spotting area but also a great place to purchase handcrafted goods, such as clothes, shoes, and any other crafty item you can think of. The square is located in front of the Ursuline Church.
Check Out The Creepy Crawlies At Hercer Palace
Hercer Palace is home to the World of Insects collection, which aims to teach visitors about nature's weird and wonderful side. Whether you have a creepy-crawly loving child with you or not, this is a great spot to spend an hour or so and will probably teach you a thing or two you didn't know before!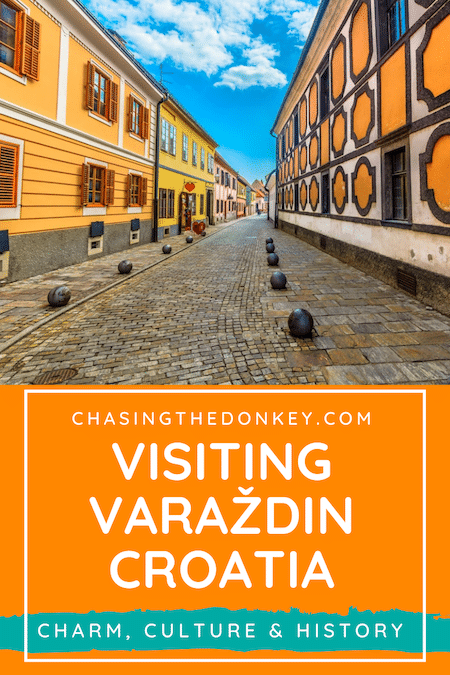 Explore History At The Varaždin City Museum
In the Old Town, you'll find a permanent exhibition that explores the history of Varaždin, which happens to make our list of top museums to visit in the country. It's a fantastic spot to visit, and you'll see all manner of items from days gone by, including glass, clocks, ceramics, and even weapons. There are 20 rooms in total, so make sure you take your time exploring.
Appreciate Art At Miljenko Stancic Gallery
Art lovers should definitely put Miljenko Stancic Gallery on their visit list. Dedicated to the famous local artist, you'll be able to explore 40 of their most famous paintings and learn more about them.
Fill Up Your Photo Reel At Sermage Palace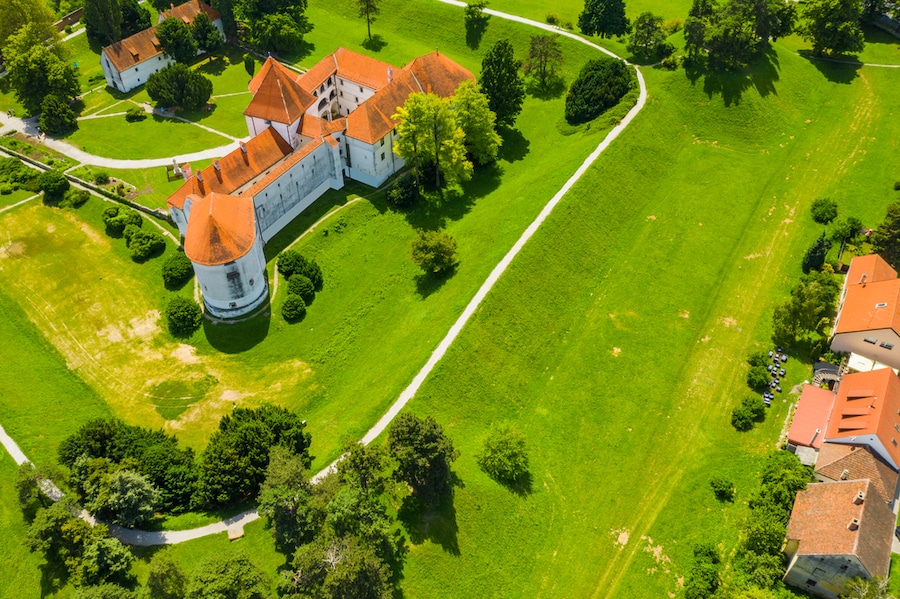 There are a few buildings that are beautiful as Sermage Palace. The palace dates back to the 17th century and is still in fantastic condition. This is a short walk away from the castle in the Old Town, and the Rococo architecture will make your jaw drop. You'll also find an art museum inside.
Check out the Old Town
Stari Grad, or the Old Town, is a 100% must-visit and the city's heart. The cobbled streets echo with whispers from the past, and you'll be able to explore the small hidden gems within the city walls. The walls themselves date back to the 12th century, but the city's drawbridge and moat date back to the 16th century. Expect crowds during the summer months!
The castle is beautifully designed in Baroque style, and this is where you'll find the Varaždin City Museum, with countless artifacts to check out.
Explore Varaždin Cemetery
Cemeteries are not depressing places; they're spots to celebrate life and explore history. Varaždin Cemetery is around 15 minutes from the Old Town, but it's a beautiful spot to enjoy, and you'll be able to appreciate the calm and peace too.
The cemetery is beautifully kept with trees and sculptures. It's one of the most beautiful cemeteries you'll ever set your eyes on, while also one of the oldest, dating back to the 18th century.
Visit The Croatian National Theatre Building
In the center of the city, you'll find the beautiful Croatian National Theatre, and it's a sight to behold, for sure. Designed in Viennese style, the building dates back to the 19th century. Surrounding the building, you'll also find plentiful small cafes, boutiques, and galleries.
People Spotting At King Tomislav Square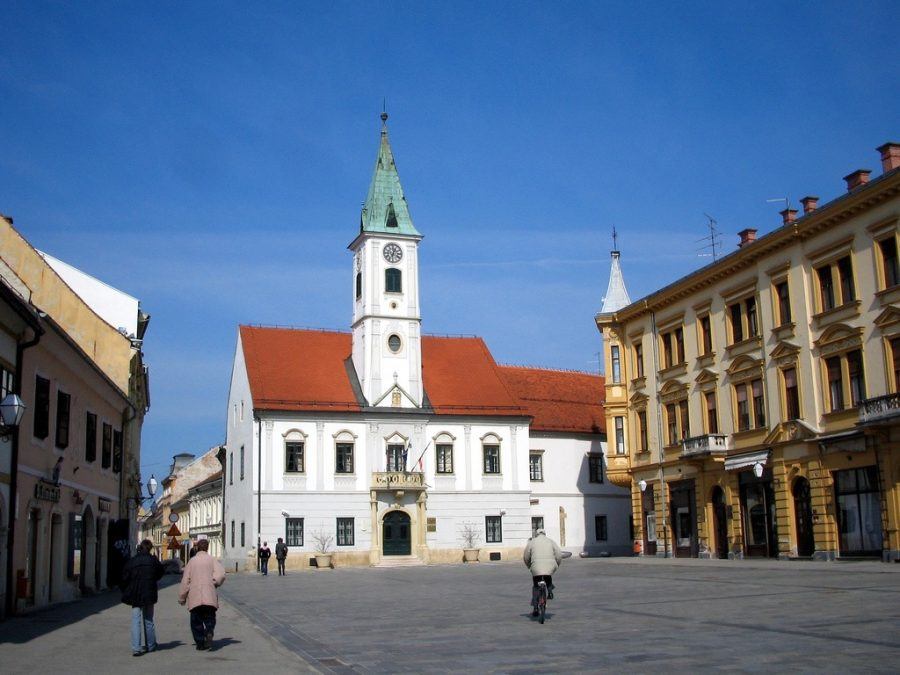 You will find King Tomislav Square in the heart of the historic center. Not only is this an excellent coffee and people-watching spot, but it's also packed with unique architecture to explore. This is also where locals meet, so it's a busy square with plenty to see, including cafes, restaurants, and a few shops to check out.
Stand In Awe At The Museum Of Angels
The Museum of Angels is a unique celebration of art, namely the work created by Zeljko Prstec and his baroque angel paintings. Although small, the museum is close to Miljenko Stancic Square and has plenty to keep you occupied.
Explore Varaždin Cathedral
The city's cathedral, formally known as the Cathedral of the Assumption of the Virgin Mary, is a beautiful pastel pink, a Baroque cathedral dating back to the 17th century. Located in the city's center, the church is magnificent, and the inside is decorated in the most opulent ways.
If you're visiting Varaždin during September, check out a series of events called Varaždin Baroque Evenings centered around the cathedral. You'll be able to listen to traditional music and enjoy a cultural feel in the air.
Chow Down On The Local Cake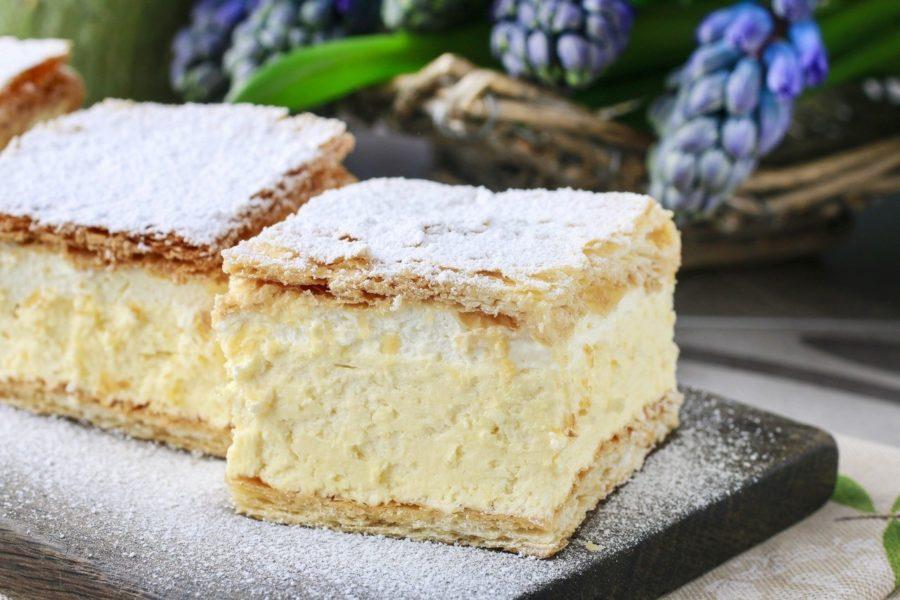 While you're exploring the city, be sure to take a load off for a few minutes and enjoy the most delicious cream cake you've ever tasted. Custard cream encased in flaky puff pastry layers is a famous cake in the region and has a unique chocolate layer. You'll be hooked and want to take more home with you!
Varaždin is undoubtedly a fantastic choice for a day trip from Zagreb. You might even choose to stay for a night or two!
MORE CROATIA TRAVEL BLOGS