Some posts contain compensated links. Please read this disclaimer for more info.
Croatian Recipes: Christmas Cookies Two Ways
We are officially into the Christmas season. Advent festivities have kicked off in Croatia with the biggest celebration happening in Zagreb. One of the things I love about Christmas is all the Christmas cookies. Today's Croatian recipe is a bonus – it's a two-for-one.
Two of my favorite Croatian Christmas cookies. Like all other festivities in our house, during the lead up to Christmas the cake Mafia, lead by my mother, get their heads together and produce some spectacular Croatian cookies and other treats. We hope you like them.
Croatian Christmas Jam Cookies Ingredients:
500g plain flour
300g cubed butter

5tbps cream
4

egg yolks

Pinch of salt
1/2 lemon juiced & the

rind (no pith)

200g

jam of your choice – we love plum!
Note: You will need a cookie-cutter. We like to use a star with and without a center hole as pictured.
How to Make Croatian Christmas Jam Cookies:
Rub the flour and butter in a large bowl with your fingers
Mix in the cream, egg yolks, salt and lemon juice & lemon rind with your hands until in turns into a pastry ball. Let it rest for 1 hour
Warm the oven at 180°C. Prepare a baking tray lined with baking paper
Roll the pastry out to a thickness of 3-4mm
With cookie cutters cut out the shape of your choice. Remember to make an even number of cookies with and without holes
Bake for about ten mins – or until light brown. Repeat until all the cookies are baked and allow them to cool.
Spoon the jam onto the cookies without holes – you can also use a piping bag to make the jam application easier. Add the second cookie on top – if needed add a little more jam to the center
Finally, arrange the cookies on a plate and sprinkle powdered with sugar or you could do as Christine – a reader suggested and brush the top with egg white, and dip them in ground walnuts, instead of the powdered sugar. Either way – dobar tek.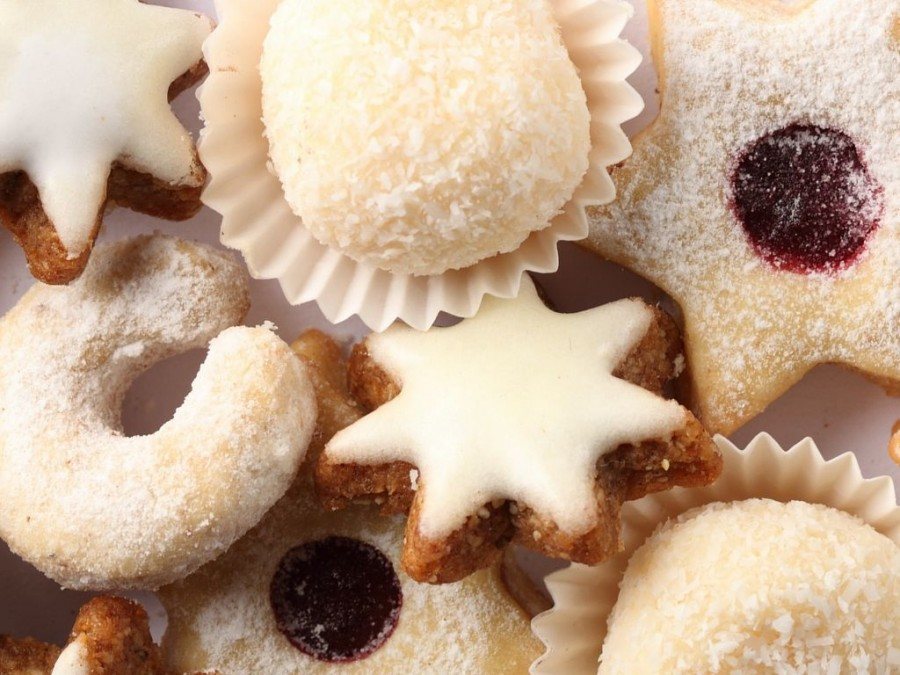 Coconut Ball Ingredients
200g of powdered milk
1 cup of sugar (you can use less if you wish)
2 tbsp vanilla extract
120 mls water
200 desiccated coconut (always use fine desiccated coconut so that it's easier to roll)
125 g butter
100g skinned & toasted hazelnuts
How to Make Coconut Balls
Warm the water with butter and sugar in a medium-size bowl
When it comes to a boil, simmer for another 5 minutes and set aside to cool slightly
Add to the bowl vanilla, powdered milk and half of the desiccated coconut, stir through and pop in the fridge to cool – while you are waiting for it to cool
Once cooled, roll the mixture into small balls – adding a skinned hazelnut into the center of each coconut ball
Roll each of the balls into more desiccated coconut, place onto a decorative plate.
How do you make your Croatian Christmas cookies? We'd love to add others to this list – let us know below.
More Tasty Croatian Recipes
Share