Some posts contain compensated links. Please read this disclaimer for more info.
Croatian Cooking: Sinjski Arambaši Recipe
The most famous dish from Sinj cuisine is also protected as an item on the Unesco Intangible Cultural Heritage List.
This is another Croatian food that has its origins from Turkey. Most people are familiar with a dish called sarma, and this is one variety of it, but it is very much different.
In this case, you do not mince the meat but, instead, cut it with a knife. You also don't use rice or any other grain as you do with sarma, and in Sinjski Arambaši, you place several different spices that are not so typical in salty dishes, as I have said, almost the same but totally different.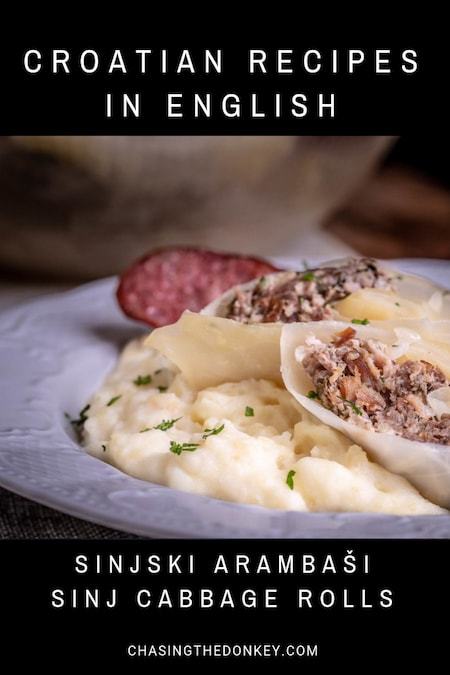 It is believed that this dish originally came to Sinj from the Turks during the period of the Turkish empire. The people of Sinj changed the dish by adjusting the recipe to their tastes and gave it a new name.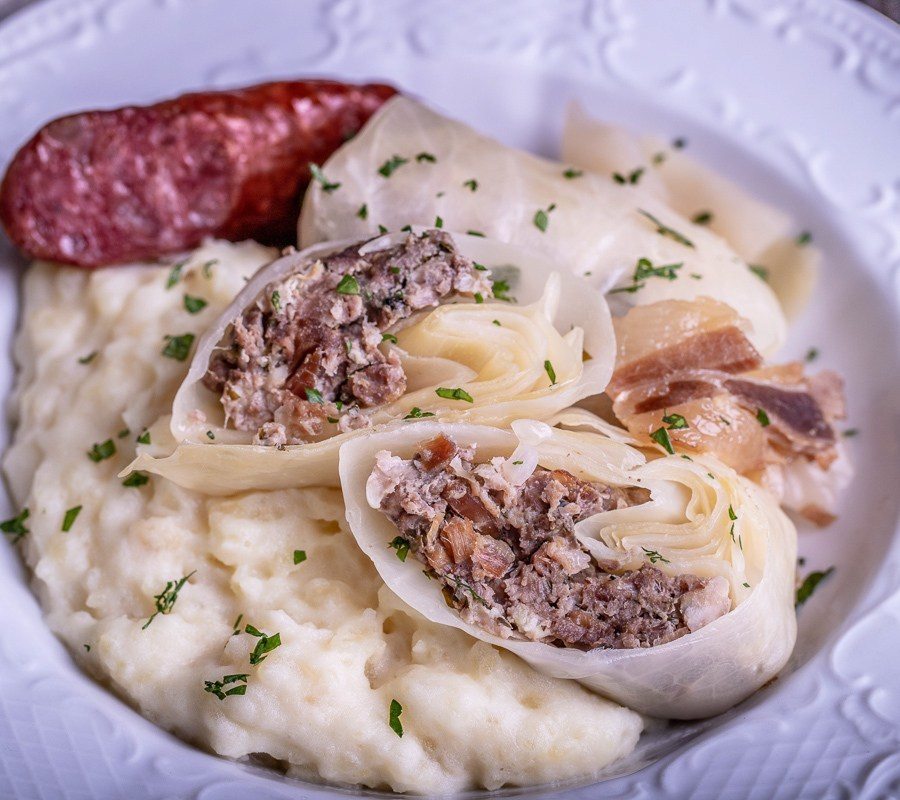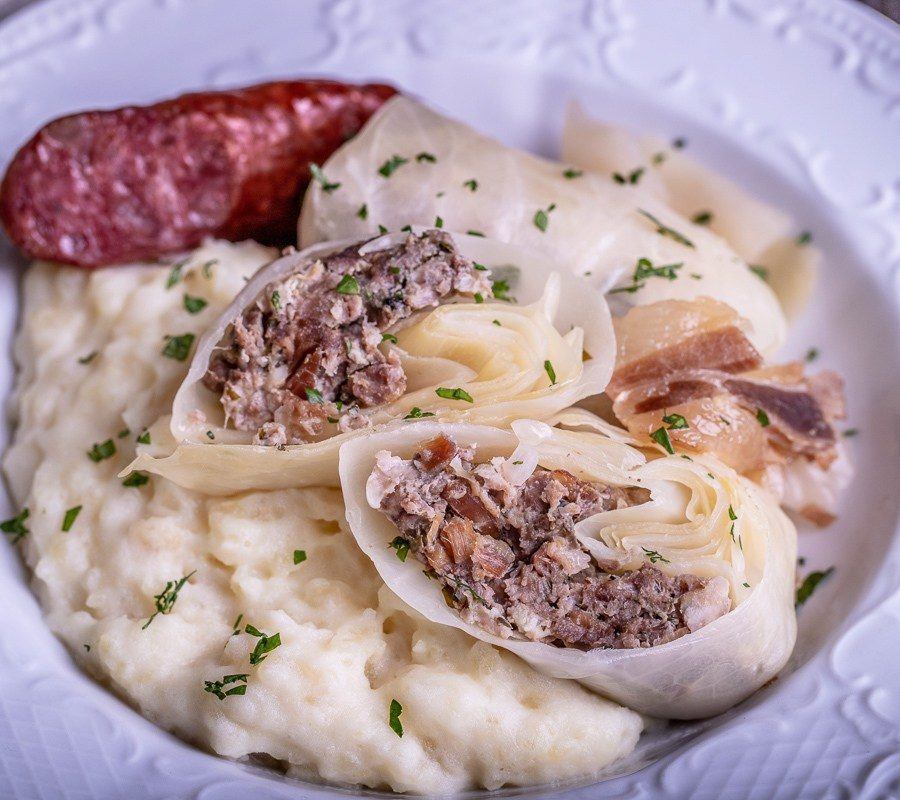 The name of this Croatian meal probably originated from the name of harambaša, leader of the army, since the rolls were arranged in clay pots like little soldiers. Sinjski arambaši make one of the most important festive dishes to be enjoyed at all of the big occasions – like Easter, Christmas, Assumption of Mary, and it's prepared in bulk during August when the Sinjska Alka is performed.
The most famous dish from Sinj cuisine is this Sinjski Arambaši recipe, and it's protected as an item on the UNESCO Intangible Cultural Heritage List. Here is an easy to make it.
Ingredients
700 g beef neck (no bone) (1.5 lbs)
300 g pork loin (10 oz)
150 g špec or smoked bacon (5.2 oz)
2 red onions
3-4 cloves of garlic (or more if you love it)
2-3 cloves
Nutmeg - either use fresh (2-3 gratings) or 1/4 teaspoon powdered nutmeg
1/2 teaspoon cinnamon, ground
Zest of 1 lemon
1  pickled cabbage head
Several kransky sausages (2-4)
1/2 bunch parsley
Salt and pepper
Smoked and cured meat
Instructions
Using a very sharp knife, chop the meat very fine (both the beef and pork)
In a bowl mix the red onions, 3-4 cloves of garlic, smoked bacon and the parsley. Add the spices and the grated peel of a lemon and leave it for an hour in the refrigerator
This amount of meat will be enough for around 20-25 "arambaša" so prepare the same number of pickled cabbage leaves. If the cabbage is too salty, feel free to wash it under the cold water to remove the excess salt
Cut the rest of cabbage head in smaller pieces and add half of them to the bottom of the pot you plan to cook in
Make the rolls, by taking a spoonful of the mixture and adding it to the center of the cabbage leaf. Then roll the leaf as shown in the pictures on the blog post. Continue wrapping up the mixture of meat and spices in sour cabbage leaves until you have rolled them all
Place the rolls in the pot and cover them with a second portion of sliced cabbage
Add the smoked and cured meat together with the sausages and pour in enough water to cover the rolls
Simmer for around 2 hours
Serve with mashed potatoes while still hot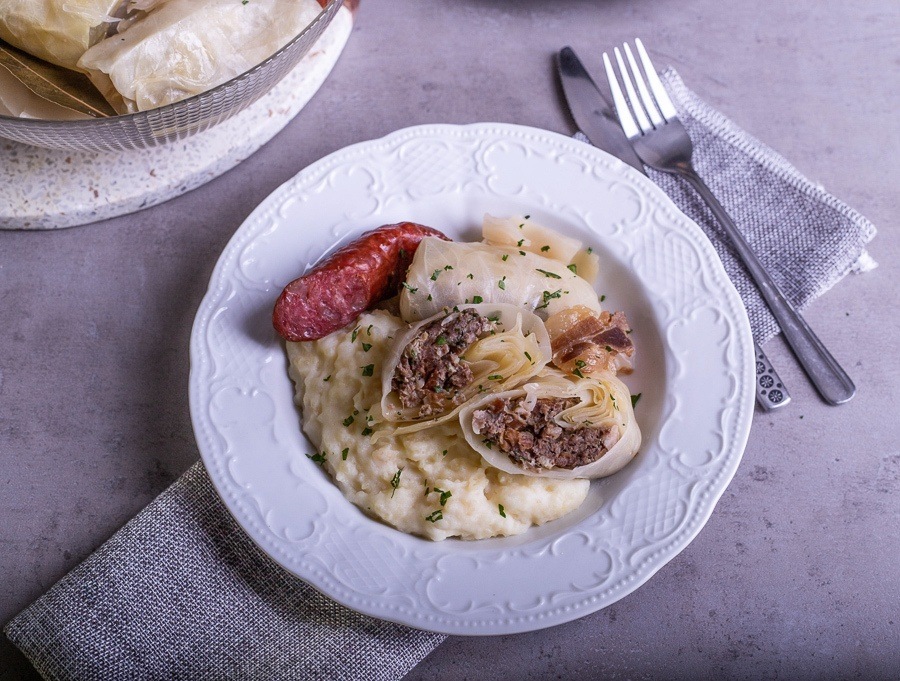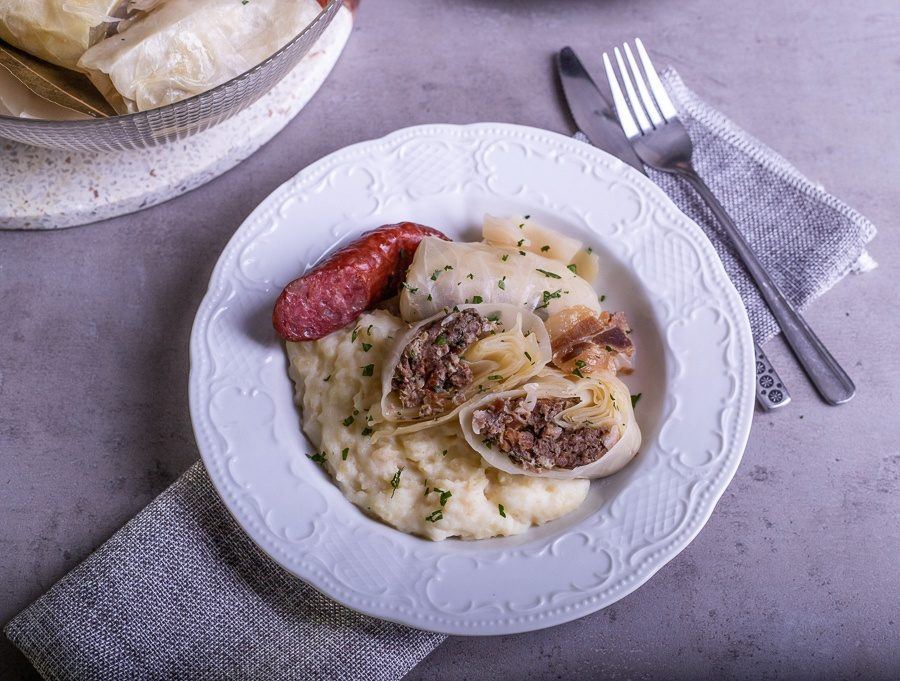 Tasty Croatian And Balkan Recipes & Cooking Tips
Share