Christmas is a great time to visit Europe. Most people immediately jump at the chance to visit Germany or Switzerland to experience a Christmas market, and for this reason, they can be extraordinarily overcrowded and unenjoyable.
Balkan countries like Croatia, Slovenia, and even Bosnia and Herzegovina offer some genuinely remarkable Christmas activities and markets for visitors to plan their trips around.
One of the oldest Christmas traditions comes from the Balkans! The custom of badjnak or the yule log actually originated in the Balkans. Traditionally, this is when the family's patriarch has to go out and find a Yule Log, and on Christmas Eve, the log is then used to start the fire that will burn through Christmas Day.
With Christmas fast approaching, we wanted to bring you some of our favorite Christmas markets in the Balkans to help plan your trip around.
Most of these markets will open at the end of November or early December and stay open through Christmas and some even into January.
From mulled wines to beautiful handmade gifts, Christmas markets are a great way to get outside, get in the mood for the holidays, and experience something a little different.
These markets are worth a place in your travel plans! The most important question is, which Christmas Markets in the Balkans will you be visiting this Christmas season?
TRAVEL COMPANIES WE USE AND TRUST
Celebrate The Winter Holidays At These Balkan Christmas Markets
Ljubljana, Slovenia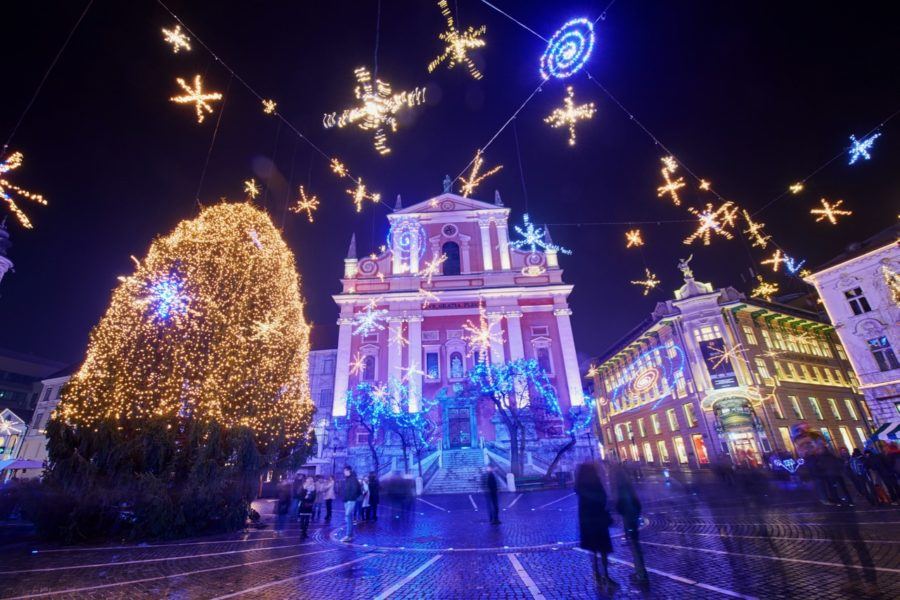 The Ljubljana Christmas Market will not astound you with its size, but it is arguably the prettiest market in all of Europe. Recently voted Europe's Green Destination, Ljubljana is a beautiful destination for those looking to explore Slovenia this winter!
The primary market takes place in Preseren Square and is full of stalls with gifts, trinkets, food, and plenty of drinks! After you take in the square, enjoy a walk along the Ljubljanica River and shop the stalls that have set themselves up with this beautiful backdrop.
Stick around the area until nightfall as the entire city famously lights up in the weeks leading up to Christmas, including the Ljubljana Castle and the famous Triple Bridge.
Athens, Greece
Athens beautifully transforms at Christmas time into a Christmas wonderland. From ice skating to towering Christmas trees, Santas, and magically-lit boulevards, Athens is a wonderful destination to celebrate the holidays.
The city comes together in Syntagma Square to host a beautiful market featuring demonstrations, celebrations, and plenty of activities for all ages.
Sarajevo, Bosnia, and Herzegovina
Bosnia and Herzegovina offers visitors the chance to visit an incredible Christmas market, but the Sarajevo Holiday Market is a fabulous place for families to experience the holidays.
With a Santa's Village and Children's playground set up just for the market, this is a great place to bring children to experience the holidays. Visitors can also take in local crafts, organic food, and plenty of beverages!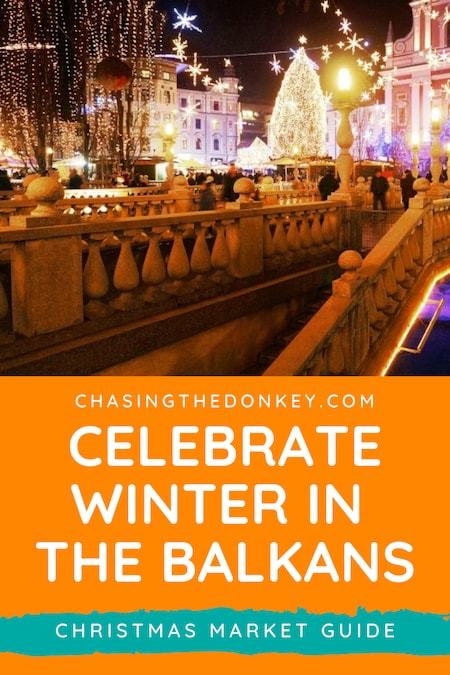 Sofia, Bulgaria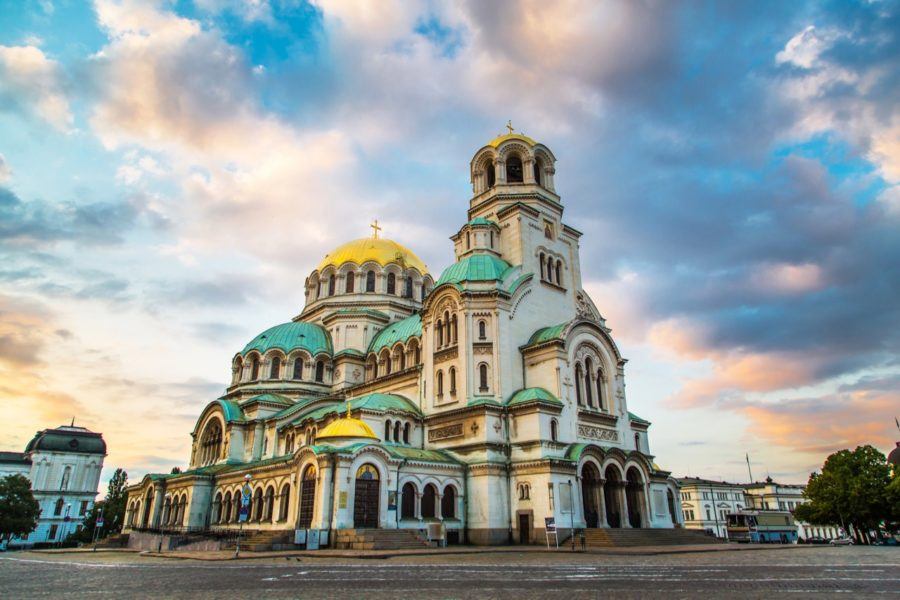 Get a taste of a German Christmas market without going to Germany at the Deutscher Weihnachtsmarkt in Sofia.
Visitors can enjoy traditional German sausages, mulled wine, and plenty of decorations. The market sets up in the City Garden at Battenberg Square and is over 700 years running! This Berlin-style market offers visitors plenty of Christmas toys, decorations, and handmade jewelry for purchasing.
Sibiu, Romania
The Sibiu Christmas Market is a popular festival located in the center of the city in the Greater Square of Sibiu and has been running for over ten years. Over 70 merchants from 20 countries set up stalls within the square to sell unique gifts and trinkets for Christmas market-goers to purchase.
To fully make it a Christmas market, visitors can sip on mulled wine and munch on roasted chestnuts while exploring the handstands and stalls. Children visiting the market will also have a great experience. Bring them to the Little Gifts Factory, where they can make their own Christmas gifts to take home!
Zagreb, Croatia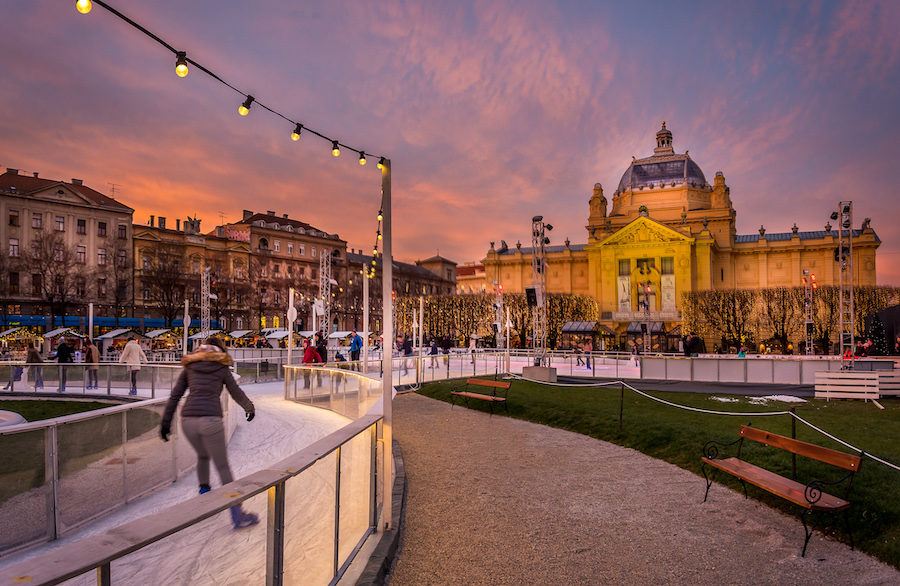 Winner of the esteemed award for "Best Christmas Market," The markets in Zagreb may not be the first one you think of, but it is well worth a trip to experience! The market is more than the typical shops and stalls offering handicrafts and snacks.
Demonstrations are ranging from pastry making to children's art workshops. Enjoy a wonderful stroll around the city after a visit to the market to take in all of the beautiful decorations that the people put forth.
Dubrovnik, Croatia
The seaside city of Dubrovnik may not be the first place that comes to mind when considering where to go for a Christmas market, but the market that takes place in the city's walls is well worth a visit. However, the most stunning part of the market is the lights and decorations that light up this UNESCO site's architecture.
The market is a great place to sample local Croatian dishes like fritule and kontonjata and pick up some handcrafted goods!
Fascinating Christmas Traditions In Croatia And The Balkans
Although the Balkans is a distinct geographical region, it's still home to various peoples, cultures, religions, and customs. There are even differences in how people celebrate Christmas in-between regions in the same country. These are some fascinating Christmas traditions in Croatia and some other Balkan countries.
Wheat grains are planted in early December and will have grown by the time Christmas rolls around. The wheat symbolizes the force of life and hope
Homes are typically decorated with wreaths, where a candle is lit on the four Sundays of Advent. They're a symbol of light, which leads up to the birth of Christ
Advent Sunday is the fourth Sunday before Christmas. This is when the first Advent wreath candle is lit
In many local villages and towns, no large events or even weddings occur in the weeks leading up to Christmas (except for maybe Christmas markets)
Traditionally, the Christmas tree isn't decorated until Christmas Eve
After Christmas Eve dinner, families traditionally go to the Midnight Mass, after which the Christmas Day celebrations kick-off
Orthodox churches in the Balkans still follow the old Julian Calendar, celebrating Christmas on January 7. Serbia is a famous country where people generally celebrate Christmas in January. The same applies to certain places in Bosnia, North Macedonia, and Montenegro.
Traditional Christmas food in the Balkans varies significantly from one region to another, but there are some noticeable parallels. Usually, fish and meat are an important part of the Christmas meal, while typically, desserts like fritule, strudels, walnut, and other cakes are essential.
WAYS TO ENJOY THE HOLIDAYS IN THE BALKANS