7 UNESCO Villages In Romania With Fortified Churches
Written by Maria from Its All Trip To Me & Chasing the Donkey.
Romania is a wonderfully diverse country with many historical and natural treasures waiting to be discovered. The best way to get to know Romania and its charms is by visiting some of the UNESCO World Heritage Sites scattered across the country. Among them, Transylvania's seven villages with fortified churches stand out for their fascinating history and architectural value alike.
The stunning region of Transylvania is one of the best places to visit in Romania. Its gorgeous countryside, picturesque towns, and unique architecture make Transylvania one of Europe's most fascinating destinations.
A road trip across Transylvania is by far the optimal way to explore the region. Nothing beats driving on some of Europe's most scenic roads and knowing you can stop whenever and wherever you want. Moreover, driving is the easiest way to visit every one of Transylvania's 7 UNESCO villages with fortified churches.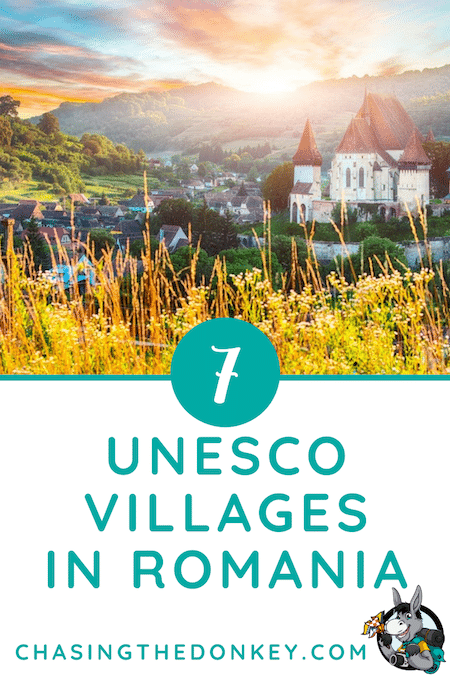 What Are Transylvania's Fortified Churches
No trip to Romania is complete without a trip to some, if not all, of the country's unique fortified churches. But what are those exactly?
The Transylvanian Saxons founded Transylvania's villages with fortified churches. The latter were German populations who settled in the area in the 12th century. The colonists enjoyed a special status, and the communities they created thrived. However, life in the Saxon villages of Transylvania wasn't always easy. Or safe.
The entire region was invaded continuously by the Ottomans and Tatars. Therefore, people had to find ways to protect themselves from these frequent invasions. The most important towns had large-scale fortifications and impressive fortresses, such as Rasnov in Transylvania. But what about the smaller villages?
Each Saxon village in Transylvania created strong fortifications around the settlement's main church. Situated at the very heart of the town and usually on a hilltop, the latter was thus turned into the core of an elaborate defensive system, complete with watchtowers and drawbridges. People also made sure they built large storage rooms to keep the community's goods safe during long periods of siege.
There used to be about 300 fortified churches in the past. Nowadays, almost 150 well-preserved fortified churches still dot Transylvania's countryside, among which the magnificent seven were awarded UNESCO World Heritage Status in 1993.
UNESCO decided to include Southern Transylvania's seven villages with fortified churches in its list of World Heritage Sites because they represent a settlement pattern that has remained unchanged since the Middle Ages. All 7 of these villages are dominated by their fortified churches built between the 13th and 16th centuries.
Transylvania's 7 UNESCO Villages With Fortified Churches
TRAVEL COMPANIES WE USE AND TRUST
Viscri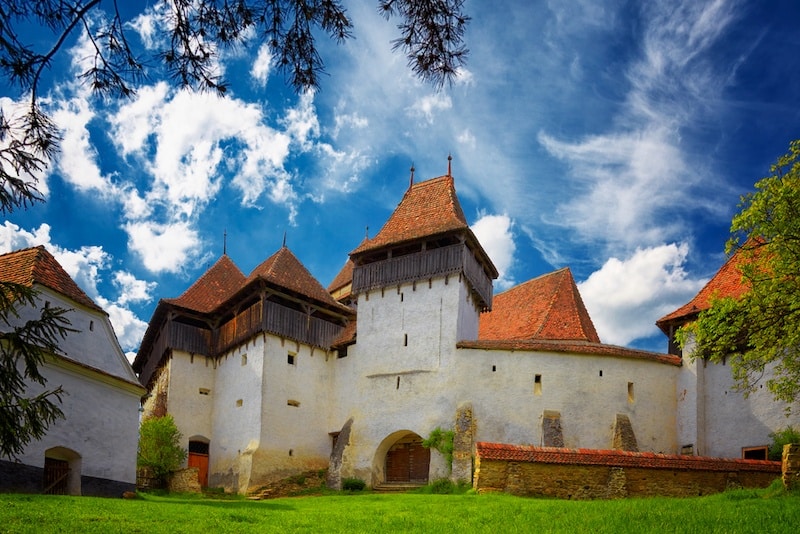 Probably the most popular of all of Transylvania's UNESCO villages with fortified churches are Viscri, a quaint, colorful village where time seems to have stood still for centuries on end.
The fortified church of Viscri is perhaps the prettiest one in the entire region. The Gothic-style church features a marvelous chapel and a small on-site museum that showcases the Saxon way of life. The museum displays items such as traditional clothing, furniture, handmade tools, and exquisite embroidery pieces.
The church also boasts magnificent views of the village and the surrounding countryside from the top of one of its watchtowers.
Viscri itself is one of the most beautiful villages in Romania. It is one of a kind destination with an inescapably vintage aura. There are no paved streets, only dirt ones lined with picturesque medieval cottages. Don't be surprised if you see cows, ducks, and roosters wandering around the quaint village. Viscri is all about the simple and authentic way of life.
Be it either royalty or ordinary people, nobody can resist Viscri's charm. Just like Charles III, the King of the United Kingdom, who fell in love with the village and decided to buy and restore an 18th-century Saxon house in 2006 to promote sustainable tourism in a place that respects and honors responsible travel values.
Viscri, like all the Saxon villages of Transylvania, is very compact. Therefore, you won't need more than a couple of hours to see pretty much everything there is to see. That said, Viscri is worth a more extended stay, so perhaps you should consider an overnight stay at one of its traditional guesthouses. If that's not possible, you must try some handmade food at one of the village's homelike restaurants.
Important Church Information
FORTIFIED CHURCH OF VISCRI
Church Visiting Hours: 10 am – 1 pm and 3 pm – 6 pm, Monday through Sunday
Church Entrance Fee: 5 Lei
How To Get To Viscri
Viscri is situated almost halfway between Brasov and Sighisoara. It's a 45-minute drive from the latter and a little more than one h from the former. To reach Viscri from either, you must exit the main road (E60) at some point, and that's when the magic happens. Despite being quite damaged and abundant in potholes, the road winds each way through the incredible scenery, you could never dream of.
If you're not driving, things can get tricky as you can't get to Viscri using public transport. You can always hire a taxi or join a guided tour with a transfer from Brasov or Sighisoara.
Biertan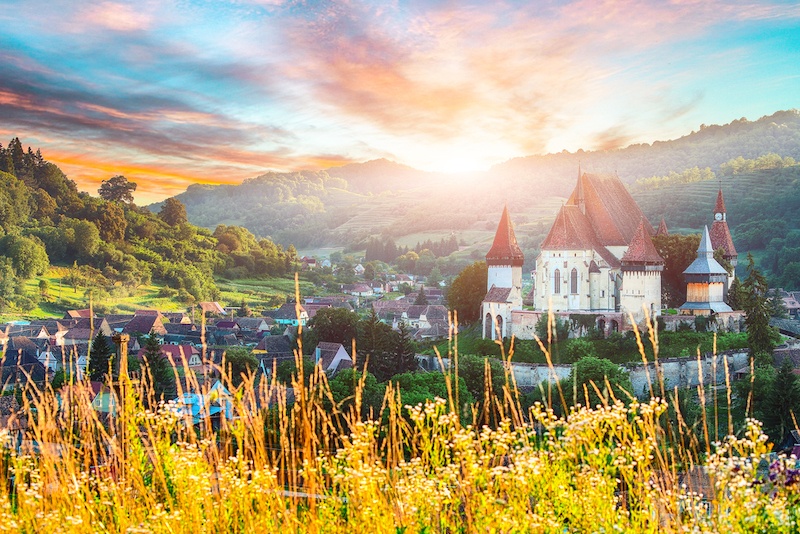 The second most visited village with a fortified church in Transylvania is Biertan, a wonderful town built amid hills and vineyards.
Saint Mary's Church is a medieval construction built atop a hill in the middle of Biertan. The 15th-century church is an excellent example of late Gothic architecture. It features an impressive door that boasts an elaborate system of locks and padlocks, considered a marvel of engineering of its time.
Another fantastic thing to see at the fortified church of Biertan is the marital prison, precisely what its name suggests. Legend has it that whenever a married couple in Biertan wanted to divorce, they had to go through a particular test first. They were locked inside a room within the fortified church walls and forced to use one bed, one chair, and one set of cutlery for two whole weeks.
After this period, they were free to do so if they still wanted to divorce. However, in 400 years, only one couple is said to have gone through with the divorce in the end. If that's not exemplary couples therapy, I don't know what is.
Biertan was founded in 1283, and it's regarded as one of the most important strongholds in Transylvania. Moreover, the village used to have a long winemaking tradition, which is almost extinct nowadays.
Walking around, Biertan is absolutely fascinating. The village is home to picturesque, brightly colored cottages, and its quaint narrow alleys cross paths with small running streams on more than one occasion. Similar to what happens in Viscri, you will most certainly stumble upon the occasional duck or hen during their carefree stroll around Biertan.
Important Church Information
FORTIFIED CHURCH OF BIERTAN
Church Visiting Hours: Tuesday – Sunday: 10 am – 1 pm and 2 pm – 7 pm.
Church Entrance Fee: 10 Lei
How To Get To Biertan
Biertan lies 30km west of Sighisoara and 80km north of Sibiu, so it's an easy drive from either. It's not accessible using public transport. The best way to get to Biertan is with a guided tour from Sighisoara if you're not driving.
Prejmer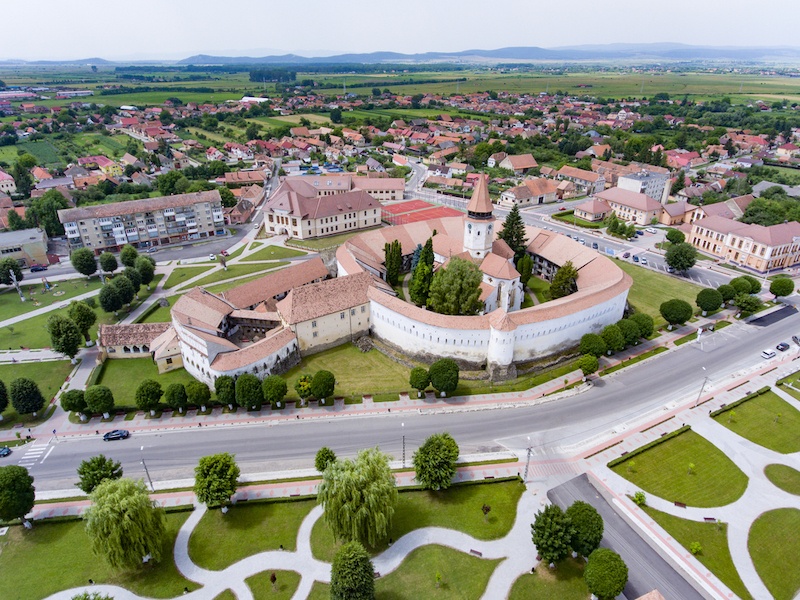 The fortified church of Prejmer is the largest of its kind in southeastern Europe. Throughout its long history, which spans five centuries, and because it was the easternmost Saxon village in Transylvania, Prejmer went under siege at least 50 times. Yet only once did it fall into enemy hands.
A visit to Prejmer offers the opportunity to wander around a perfectly preserved defensive medieval construction and step inside one of the oldest Gothic churches in Romania. Last but not least, Prejmer is probably the best example of how Saxons managed to attribute defensive functions to their places of worship, which ultimately spared their lives from enemy attacks.
Important Church Information
FORTIFIED CHURCH OF PREJMER
Church Visiting Hours:

May 1 to October 31: Monday – Friday: 9 am – 6 pm.
Saturday: 9 am – 5 pm.
Sunday: 11 am – 5 pm.
November 1 to April 30: Monday – Saturday: 9 am – 4 pm.
Sunday: 11 am – 4 pm.

Church Entrance Fee: 15 Lei
How To Get To Prejmer
Prejmer lies less than 20km from Brasov, and it's super easy to reach either by car or train.
Calnic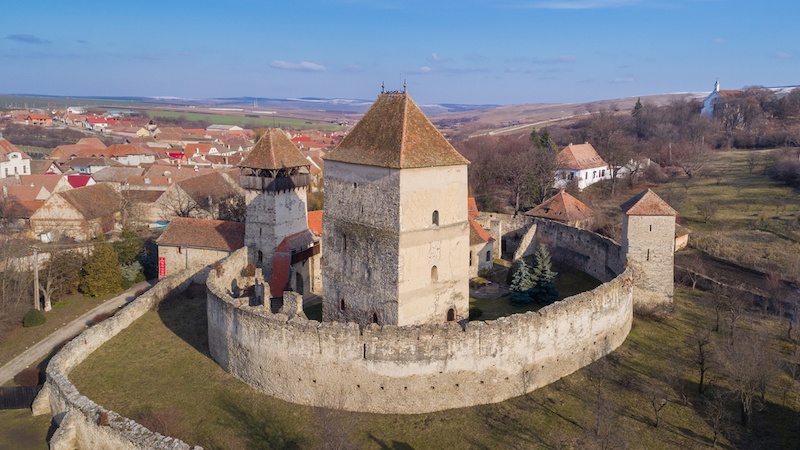 Built in the 13th century, the fortified church of Calnic is one of Transylvania's most imposing defensive structures. Its most striking feature is Siegfried Tower, a five-story high construction that looms above the tiny village. Calnic is one of the most off-the-beaten-path places to visit in Romania. Apart from wandering around the fortified church's peaceful grounds, you can also see an on-site medieval art museum while there.
Important Church Information
FORTIFIED CHURCH OF CALNIC
Church Visiting Hours: Monday – Sunday: 9:00 am – 6:00 pm.
Church Entrance Fee: 5 Lei, Camera/ Photo fee: 7 Lei
How To Get To Calnic
Calnic is a 40-minute drive from Sibiu or a 30-minute drive from Alba Iulia. Alternatively, you can visit Calnic by joining a guided tour, which starts from Cluj Napoca.
Darjiu
Initially built in Roman style in the 14th century, the main church of Darjiu was later rebuilt in the Gothic style and fortified during the 16th century. The church's interior boasts impressive frescoes, among Transylvania's most remarkable medieval art pieces.
The fascinating thing about the fortified church of Darjiu is that locals still use their storage rooms to keep their grains and cold cuts. A unique tradition that has been around for centuries still takes place there every week.
Every Wednesday, at the sound of the church bell, the fortress gates open so that villagers can go inside and grab their weekly supplies. Visitors are most welcome to attend this ceremony of sorts. For a small fee (6 euro), they can even try mouthwatering local delicacies.
How To Get To Darjiu
The only way to get to Darjiu is by private means of transport. The closest town is Sighisoara, which lies about 36km from Darjiu.
Saschiz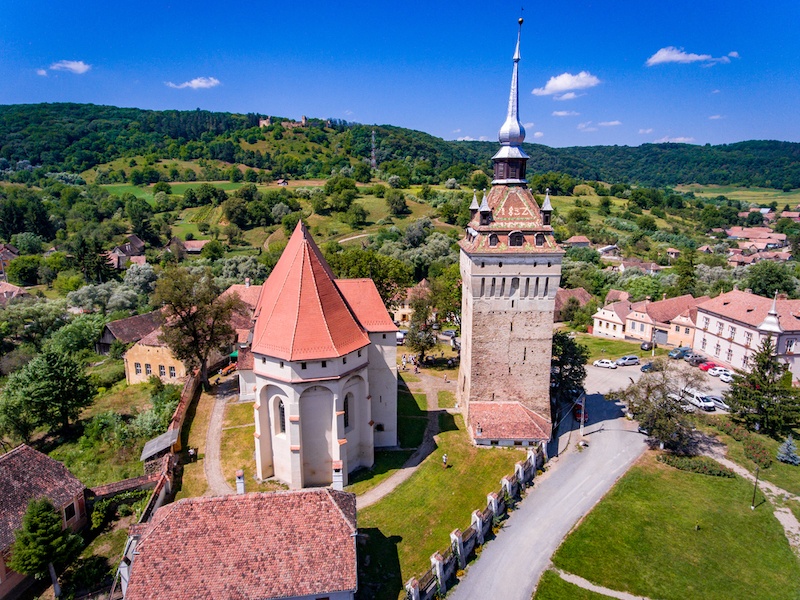 If you've been to Sighisoara, then the clock tower of the fortified church in Saschiz will ring a bell. The tower's shape and its roof's decoration with colorful tiles are almost identical to Sighisoara's iconic clock tower. Apart from its impressive fortified church, Saschiz is also famous for being an important center for carpentry and wood-painting crafts.
Saschiz is one of Transylvania's best-kept secrets, as few travelers add it to their itineraries. As such, it offers visitors the rare opportunity to experience an authentic Saxon village like no other.
Important Church Information
FORTIFIED CHURCH OF SASCHIZ
Church Visiting Hours:

Wednesday to Monday: 10:00 am – 6:00 pm.
Tuesday: closed
How To Get To Saschiz
A mere 20km drive from Sighisoara, Saschiz is only accessible by private transport.
Valea Viilor
This massive fortified church is visible from a great distance as it dominates the Vineyards Valley, where it is located. The church features Saxon decoration and furniture, and it is also famous for having a well in its center, which proved life-saving for the villagers who sought shelter within its walls in times of siege.
Important Church Information
FORTIFIED CHURCH OF VALEA VIILOR
Church Visiting Hours:

Summer: Monday – Sunday: 9 am – 12 pm and 2 pm – 5 pm.
Cold season: Please call to announce/schedule your visit.

Church Entrance Fee: 5 Lei
How To Get To Valea Viilor
You can get to Valea Viilor by private means of transport. The closest town (14km) is Medias.
Other Romania Villages Worth Visiting
While not designated with UNESCO World Heritage status, these unique villages are worth visiting!
Sfantu Gheorghe
The only way to get to this village is via boat, which means you can expect a very peaceful and quiet experience. Sfantu Gheorghe is located in the Danube Delta in the east of Romania. Here you'll find beautiful beaches, wilderness, and fantastic food – be sure to sample the seafood here as it's unlike anywhere else.
How To Get To Sfantu Gheorghe
River boats leave Tulcea on Mondays and Wednesdays only, with the first and only boat at 1.30 pm and the returning at 7 am on Tuesdays and Thursdays. There are slow ferries too. However, this takes 5.5 hours, with the riverboat only taking 2 hours. You can also take the orange speed boat from Murighiol, which only takes 50 minutes and has several sailings per day.
Barsana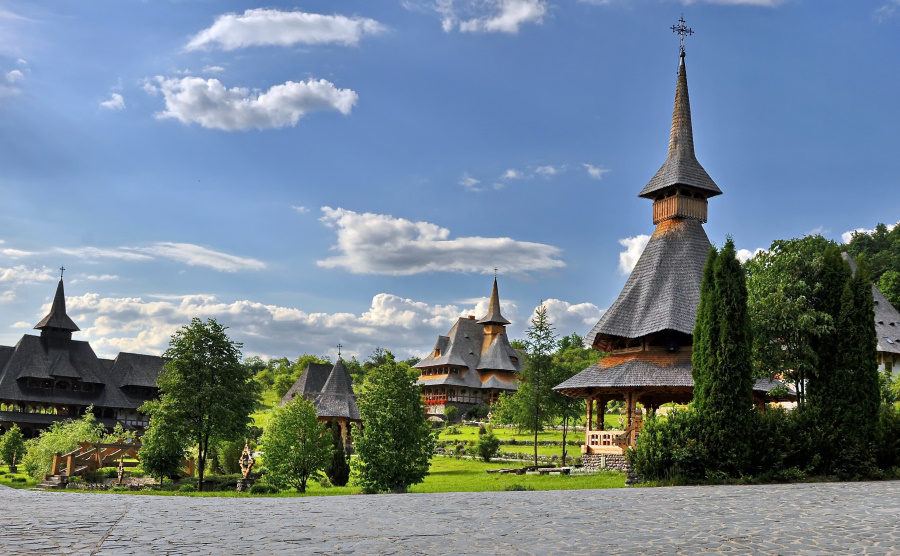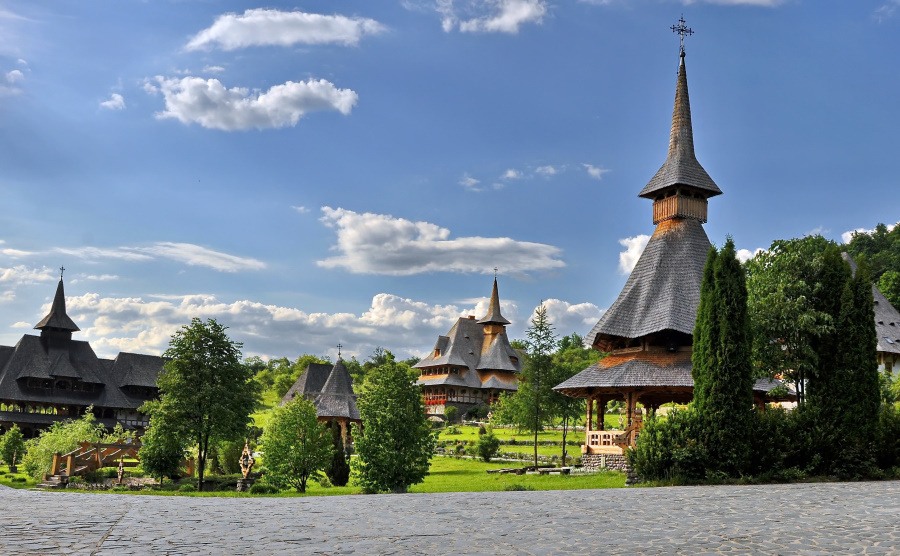 Barsana enjoyed its first mention in the history books in 1326, and it's one of the most beautiful villages in the country. Located in Iza Valley in the Maramures area of northern Romania, this village is where you can see authentic life, with many locals still wearing traditional dress. You can also be sure of delicious cuisine here, and you certainly won't leave hungry!
Be sure to check out the wooden details on the houses and Barsana Monastery, which is one of the tallest wooden churches on the planet.
How To Get To Barsana
To reach Barsana, you must take the bus or train from Bucharest, with a journey time of around 13 hours.
Garana
Garana's claim to fame is that it is the location of the Garana Jazz Festival, the only open-air version in Europe. Located in the Western Carpathians, the scenery here is beyond believable, and aside from the jazz festival, it's a peaceful spot to visit and appreciate nature at its finest.
Located close to Valiug and Semenic, Garana is home to just 126 residents, and its elevated position promises fantastic views.
How To Get To Garana
To reach Garana, you can take the bus or train from Bucharest, with the journey taking 10 or 8 hours respectively. Alternatively, you can hire a car and drive for 7 hours.
Roșia Montană
In western Transylvania, Rosia, Montana, is a beautiful spot with fantastic scenery and friendly locals. This village is also the location of Romania's largest gold deposit! The village dedicates itself to mining, and more than 100km of underground mining galleries go back as far as Roman times. In fact, this is the oldest mining village in the country.
How To Get To Rosia Montana
To reach Rosia Montana, you can fly from Bucharest to Cluj Napoca and then get the bus, with a total travel time of 6.5 hours. A stopover to explore Cluj Napoca is always a great idea!
Sapanta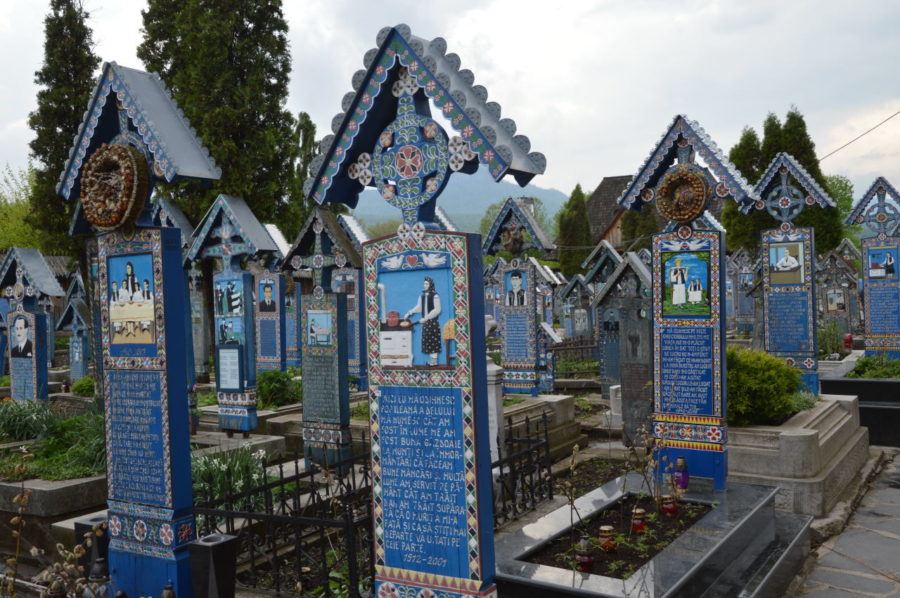 Sapanta is most famous as the home of the Merry Cemetery, a graveyard that refuses to mourn negatively and instead celebrates life. You'll see brightly colored crosses on tombstones created by a local craftsman.
The village is a bright and enjoyable place to visit with amiable locals and a vast array of delicious cuisine. The locals are always ready to help you learn a few words of Romanian and help you explore their village.
How To Get To Sapanta
To reach Sapanta, you can fly from Bucharest to Baia Mare and then take the bus. The flight should take only a few hours.
Giroc
If you enjoy learning about traditional ways of life, Giroc is the place for you. This is a village where you can learn about folk costumes, with an extensive private collection of different costumes on display; more than 1000 other pieces date back many years.
The village is beautifully scenic, and there are many walking trails to breathe fresh air and enjoy the views.
How To Get To Giroc
To get to Giroc, you can fly from Bucharest to Timisoara, which will take 2.5 hours, and then take a short bus ride to the village.
Now you know everything there is to know about some of Romania's most precious treasures. So, what are you waiting for? Start planning a fantastic trip to explore Transylvania's seven villages with fortified churches now!