Turkish Airlines is the national flag carrier airline of Türkiye, headquartered at the Turkish Airlines General Management Building on the grounds of Atatürk Airport in Yeşilköy, Bakırköy, Istanbul. It operates passenger services to 272 destinations in Europe, Asia, Africa, and the Americas. The airline serves more destinations with non-stop flights from a single airport than any other airline in Europe.

The company has won several awards and recognitions, including being named the "Best Airline in Europe" by Skytrax many times, including in 2022. It was also awarded "Best Airline Worldwide" several times, as well as "Best Transatlantic Airline" in 2021.
The airline was once again awarded a 5-star global, and after flying with them several times this past 12 months, I am totally agree and see why Turkish Airlines have so many awards.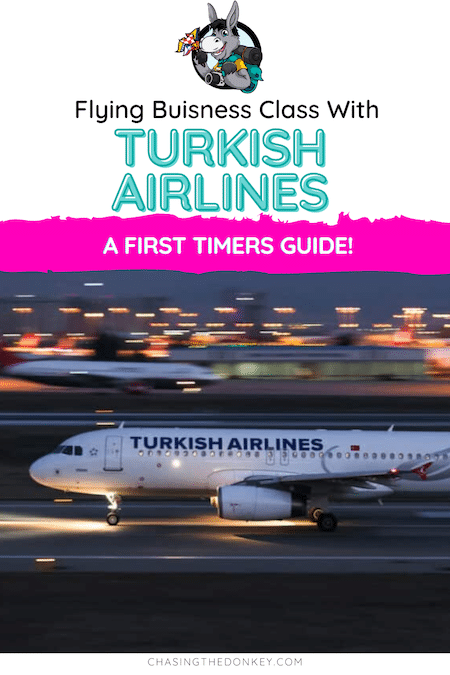 First Time Flying Business Class

I was so excited to travel in business class for the first time! I had always heard that it was a much better experience than flying economy, and I couldn't wait to try it out. I was a little worried about what to expect since I had never flown in business class before. I didn't know if there would be a lot of people or if it would be very quiet.
But when I got on the plane, I found that it was, in fact, so much more comfortable than "cattle class," as we all loving refer to the cramped seats in economy. I arrived at my destination feeling refreshed and relaxed, and the trip started off so much better without that jet laggy-tired feeling.
If you are flying business class for the first time with Turkish Airlines, here is a guide to show you what you can expect.
TRAVEL COMPANIES WE USE AND TRUST
What Is Turkish Airlines Business Class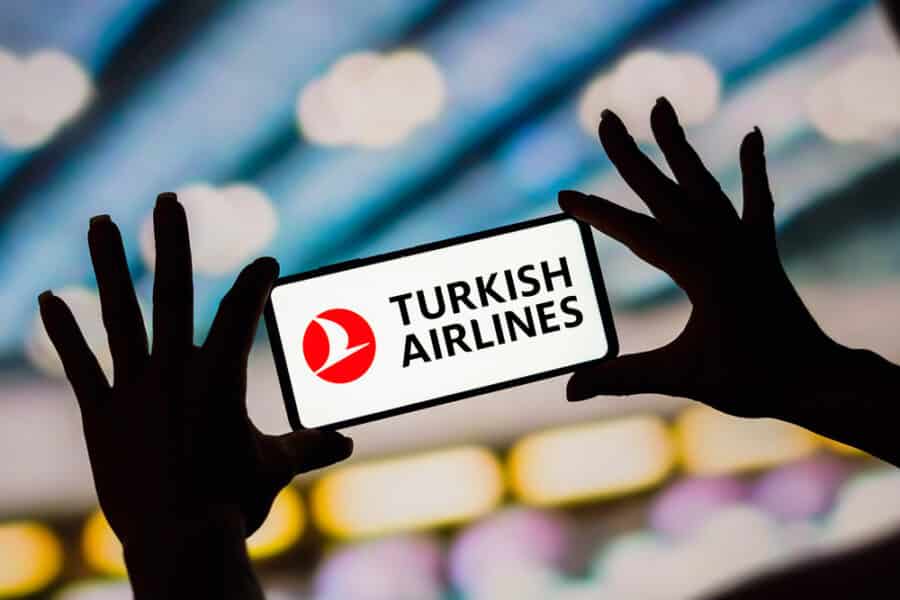 Turkish Airlines offers one of the most luxurious and comfortable business-class experiences in the skies. From their spacious seats to their delicious food and drink options, Turkish Airlines leaves nothing to be desired when it comes to flying business class.
One of the best features of Turkish Airlines' business class is the seat itself. The seats are some of the most spacious, with plenty of room to stretch out and relax. They also feature a lie-flat bed, so you can get a good night's sleep on long flights. In addition, each seat has its own personal entertainment system, complete with a large selection of movies, TV shows, music, and games.
The food and drink options in Turkish Airlines business class are also top-notch. The airline offers a wide variety of both hot and cold dishes, as well as a full bar service. No matter what your taste buds are craving, you're sure to find something to enjoy on your flight.
If you're looking for a truly luxurious and comfortable business-class experience, Turkish Airlines will not dissapoint. With spacious seats, delicious food and drinks, and plenty of entertainment options, you'll have everything you need for a pleasant flight.
My Thoughts On Flying Business Class With Turkish Airlines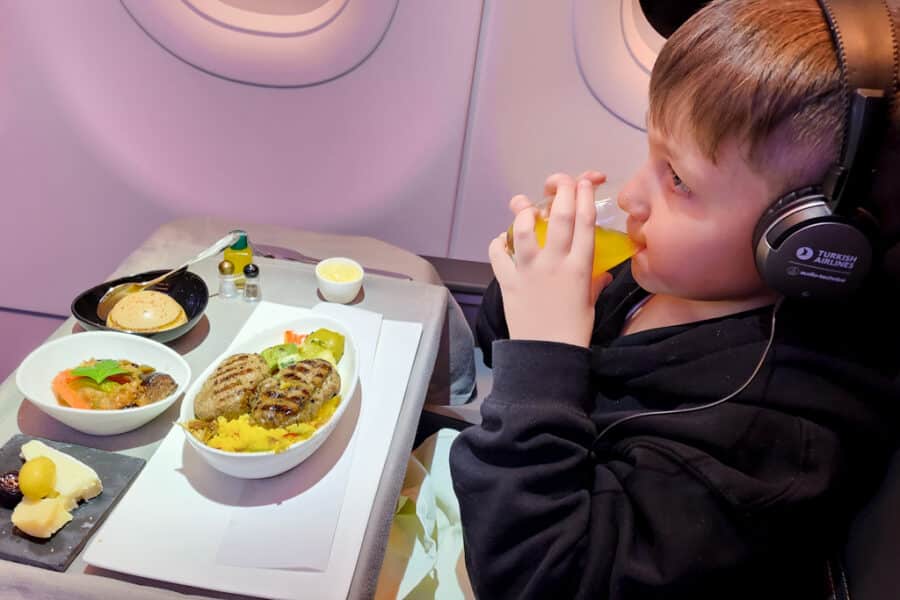 I have to say; I was really impressed with Turkish Airlines' business class. The seats were extremely comfortable, and the service was amazing. I felt like I was truly taken care of during my flight. The food was also incredible. Overall, I would highly recommend Turkish Airlines business class to anyone looking for a relaxing and enjoyable flying experience.
My kids were so excited to fly business class on Turkish Airlines! They loved the extra legroom and being able to recline their seats. The meals were also a big hit – they loved the meatballs and juices.
Benefits Of Flying Turkish Airlines Business Class
There are many benefits to flying Turkish Airlines business class.
Spacious and comfortable seating, with plenty of legroom
Excellent service with delicious food
Complimentary amenities such as an amenity kit, noise-canceling headphones, and a blanket and pillow
Access to the business class lounge, a pre-departure haven
Priority check-in and priority boarding
For those who are looking for a little bit of extra luxury when flying, Turkish Airlines definitely delivers. Their business class lounges are spacious and well-equipped with everything you need to make your travel experience as comfortable as possible. From free Wi-Fi to private workstations, you'll find everything you need to stay productive or relax before your flight. And if you're looking for something to eat or drink, the lounge's buffet selection is sure to please even the most discerning palate.
What To Expect On A Business Class Flight With Turkish Airlines
Assuming you're flying in business class with Turkish Airlines, you can expect a few things. First, the airline has one of the best business class products in the sky. The seats are spacious and comfortable, with plenty of legroom and storage space. The inflight entertainment system is top-notch, with a large selection of movies, TV shows, and music to choose from. The food is also quite good, with a variety of international dishes on offer. Finally, the service is excellent, with friendly and attentive flight attendants who are always happy to help.
Review Of Services And Amenities With Turkish Airlines
When it comes to flying business class with Turkish Airlines, you can expect nothing but the best in terms of service and amenities. The airline offers a wide range of services and amenities to its business class passengers, which makes it one of the most popular airlines among business travelers.
Some of the services and amenities offered by Turkish Airlines include:
A dedicated check-in area for business class passengers
Fast-track security clearance at Istanbul Ataturk Airport
Complimentary access to the airline's exclusive lounges
5-Star inflight meals and beverages
A wide selection of inflight entertainment options
Comfortable lie-flat seats with plenty of legroom
Generous baggage policy
Food And Beverage Options With Turkish Airlines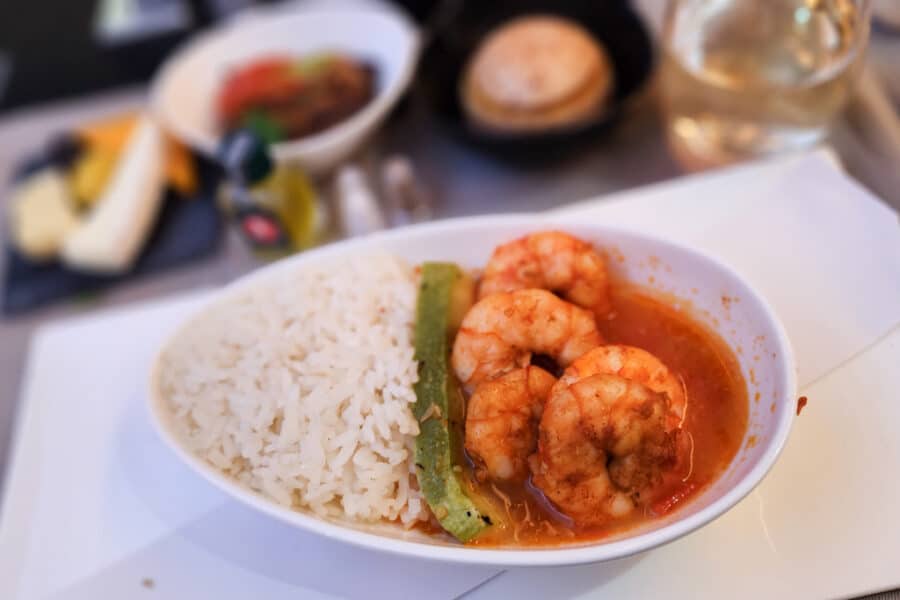 Food and beverage options on Turkish Airlines business class are excellent, with a wide variety of both hot and cold dishes available. The airline also offers a good selection of wine and beer, as well as spirits and liqueurs. All meals are served with complimentary bread, butter, and water.
As soon as you board your business class flight, you will be offered a welcome drink. One thing to note is that, unlike other airlines, the welcome beverage on Turkish flights is non-alcoholic, and instead, you'll be offered strawberry juice, orange juice, lemonade, or water.
But do not worry; as soon as you've reached the cruise phase of the flight, you'll be offered anything you like from the menu -including champagne and other alcoholic beverages.
Once you are cruising, you can freshen up with your warm towel that the crew will hand out, as well as slip into your travel socks and slippers provided as a part of your in-flight amenities kit (you'll need to pack your own pj's, as Turkish Airlines do not provide these).
The food offered by Turkish Airlines is, without question, quality and abundant. All meals are presented with linens, porcelain tableware, and silverware.
The business class crew will bring you a tray of items to nibble on, such as cheeses and olives, and then bring you the salads and hot meal. Some of the meal options I've been served include Turkish cuisine options such as meatballs, karnıyarık (eggplants with minced meat), mantı (Turkish ravioli), and stuffed grape leaves, but the menu is ever-changing, so you'll always have something new.
On transatlantic flights, three meals are served, as well as snacks if you need them. On night-time intercontinental flights, I was offered the choice of when I'd like to eat. So you can sleep as you wish and not be forced to eat at a set time.
All non-alcoholic and alcoholic beverages are complimentary for passengers and can be requested by using your call bell or politely raising your hand to the passing crew member.
Entertainment Options Tips With Turkish Airlines
When it comes to flying Turkish Airlines in business class, there are a few things that you should keep in mind in order to make the most of your experience. First and foremost, be sure to take advantage of the airline's inflight entertainment options. With a variety of movies, TV shows, and music available, there is no question you will find something to keep you entertained during your flight.
You'll be given a pair of excellent quality and comfortable noise-canceling headphones to use during your flight to enjoy the movies and TV shows without being distracted from what is happening around you.
In addition, the airline's turndown service makes the trip even more comfortable. This service provides you with a comfortable duvet and pillow and a lie-flat bed so that you can get some rest as you wish. I always set my time to local time and try to sleep according to my destination's schedule to avoid as much jet lag as possible.
Turkish Airlines Business Class Lounges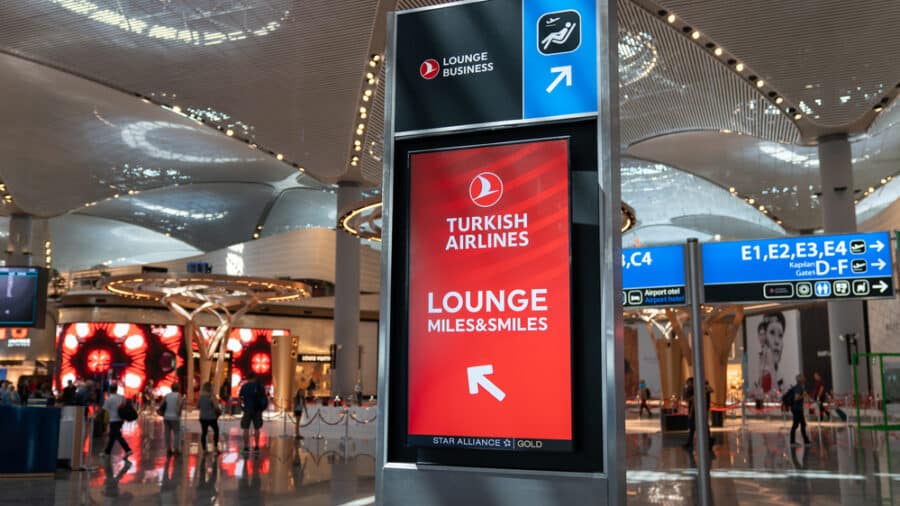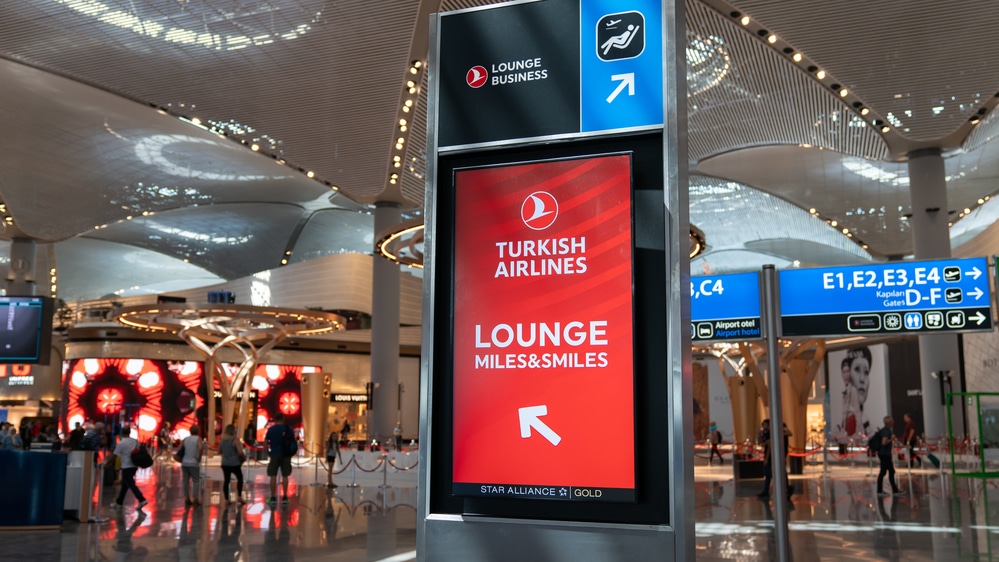 Here is everything you need to know about Turkish Airlines Business Class lounges. From luxurious amenities to exclusive services and perks, these lounges are designed to offer an unmatched travel experience. Get ready to elevate your journey.
If you're flying Turkish Airlines business class, you'll have access to one of the airline's many lounges. Here's what you need to know about these lounges, including where they're located and what amenities they offer.
Where Are The Turkish Airlines Business Class Lounges In Türkiye
Istanbul
Trabzon
Ankara
Izmir
Antalya
Bodrum-Milas
Adana
Hatay
Kayseri
Rize
Coming soon: Gaziantep (renovation works are in progress, but no doubt held up due to the earthquake)
Where Are The Turkish Airlines Business Class Lounges Worldwide
The Turkish Airlines worldwide lounges include:
Bangkok
Washington
Miami
Moscow
Nairobi
Coming soon: New York
Each lounge has different amenities, but all offer a comfortable place to relax before your flight. All lounges have food and drink available for purchase, as well as complimentary WiFi. Some lounges also offer showers, massage chairs, and other amenities.
The Istanbul lounges are some of the most popular due to their convenient location within the airport and their spacious design. The Ankara and Izmir lounges are also well-regarded, offering a quieter environment for those looking to escape the hustle and bustle of the main terminal.
In some lounges such as Istanbul and Izmir, when you're ready to board your flight, you can do so directly from the lounge – no need to go back to the regular boarding area.
Business class lounge access is perfect for travelers looking to avoid crowds and relax or grab refreshments before their flight.
Amenities And Services Offered In The Lounges
The Turkish Airlines Business Class Lounges offer a variety of amenities and services to business class passengers. Amenities include complimentary refreshments, high-speed internet access, private workstations, meeting rooms, showers, massage chairs, prayer rooms, and concierge services..
Travel Tips For Using Turkish Airlines Lounges
As the national flag carrier of Türkiye, Turkish Airlines offers its passengers a network of lounges at its Istanbul hub and beyond. If you're flying business class with Turkish Airlines, you'll have access to these lounges as soon as you arrive at the airport
Arrive early: Lounge access is typically granted to all business class passengers, giving you plenty of time to relax and unwind before your journey – or make important calls and read emails
Make use of the amenities: All Turkish Airlines lounges offer complimentary Wi-Fi, so be sure to take advantage of this if you need to catch up on work or stay connected with family and friends back home. You'll also find a selection of hot and cold drinks, as well as light snacks, available
Know when to leave: It's important to give yourself enough time to head to your gate and board your flight if your lounge does not have direct access. Be sure to check the departure time listed on your boarding pass and listen to the lounge staff will also announce when it's time for passengers to start making their way to their gates
Traveling With Kids On Turkish Airlines
Assuming you are flying Turkish Airlines business class with your kids, you will not regret it.
Turkish Airlines takes rather good care of families traveling in business class; the only thing missing for kids in business class was a kids' meal. That said, my kids enjoyed the Turkish meatballs; they just wasted all of the olives, cheese, and other more mature food options.
Booking Tips With Turkish Airlines Business Class
Turkish Airlines Business Class is one of the most popular airlines among business travelers. And for good reason – the airline offers an excellent product with comfortable seats, great service, and a wide range of destination options.
When booking your Turkish Airlines Business Class ticket, there are a few things to keep in mind to get the most out of your experience.
First, be sure to book early. The airline offers its business class seat inventory at reduces rates to economy passengers a week before departure, so if you wait until the last minute, you may not get the seat you want
Second, choose your seat carefully. The window seats offer the most privacy, but the aisle seats are more convenient for getting up to stretch your legs. I always use SeatGuru to look up my exact plane, and see which seats are best – and which ones to avoid before I select my seats
Third, take advantage of the airline's generous baggage allowance. Each passenger is allowed two checked bags and two carry-ons, so pack everything you need for your trip, and shop, shop, shop while you are on vacation.
Baggage Allowance
You'll be able to bring two pieces of carry-on baggage with you. Each piece of baggage can weigh up to 8 kg (17 lbs) and have dimensions of up to 55 cm x 40 cm x 23 cm. If you need to bring more than two pieces of carry-on baggage, you can purchase an additional baggage allowance.
Equally, you can check in two bags in business class, though the weight varies depending on the destination. From 23 kg (50 lbs) up to 32 kg (70 lbs) per bag. You'll need to look at that when you buy your ticket.
Miles & Smiles Loyalty Program
Miles&Smiles is the airline's points program, and it is a great way to earn points while you travel. It is free to join the program, and you earn points for every mile (kilometer) you fly, as well as for every purchase you make at a participating program via the airline, such as rental cars.
You can then use these points to redeem free flights, upgrades, and other rewards as you collect points. The program is easy to use, and it has tools to calculate how many points you need for that free business class upgrade we all desire.
BUSINES CLASS FLIGHT FAQs
Are drinks free in business class?
Yes. You have unlimited beverages. Turkish Airlines offers water, hot drinks, sodas, juices, champagne, wine, beer, and spirits
Do you get free lounge access with Turkish Airlines business class?
Yes. As a business class passenger, you have access to the lounges for as long as you need.
Do seats in Turkish Airlines business class lie flat?
Yes. For long-haul flights, all Turkish Airlines seats lie flat. For shorter flights (under 8 hours), they will not.
What are the best seats on a Turkish Airlines business class flight?
They are all great. But, to be specific, you'll need to look at the exact type of aircraft, as some have a few drawbacks, such as shared overhead storage.
How many checked bags can I take on Turkish Airlines business class?
Two. The weight of each varies from 23 kg to 32 kg, depending on your destination.
How many carry on bags can I take on Turkish Airlines business class?
Passengers may carry two cabin bags (23x40x55 and 8 kg each) and one personal item (40x30x15 4kg)
Is food served in business class on Turkish Airlines?
A thousand times, yes! The Food on Turkish Airlines is extra ordinary, and you will not be left hungry.