Privacy & disclaimers →
Backpacking Guide To Egypt's Western Desert's Siwa Oasis
Egypt is a land of many wonders and Siwa Oasis in the Western Desert is a must-visit destination for backpackers. This stunning oasis is located in the heart of the Egyptian desert and offers a unique experience that is hard to find anywhere else in the world. With this backpacking guide to Siwa Oasis, you can make the most of your adventure and create unforgettable memories.
When planning your backpacking trip to Siwa Oasis, it is important to start with your EgyptAir online booking. This will ensure that you have a smooth and stress-free journey to the oasis. To make the most of your backpacking adventure, it is also important to pack wisely. Be sure to bring comfortable and lightweight clothing, as well as sturdy footwear for trekking. It is also a good idea to bring a first aid kit and plenty of water to stay hydrated in the desert climate.
Overall, Siwa Oasis is a truly unique and unforgettable destination for backpackers. With proper planning and preparation, you can make the most of your trip and create memories that will last a lifetime.
Getting To Siwa Oasis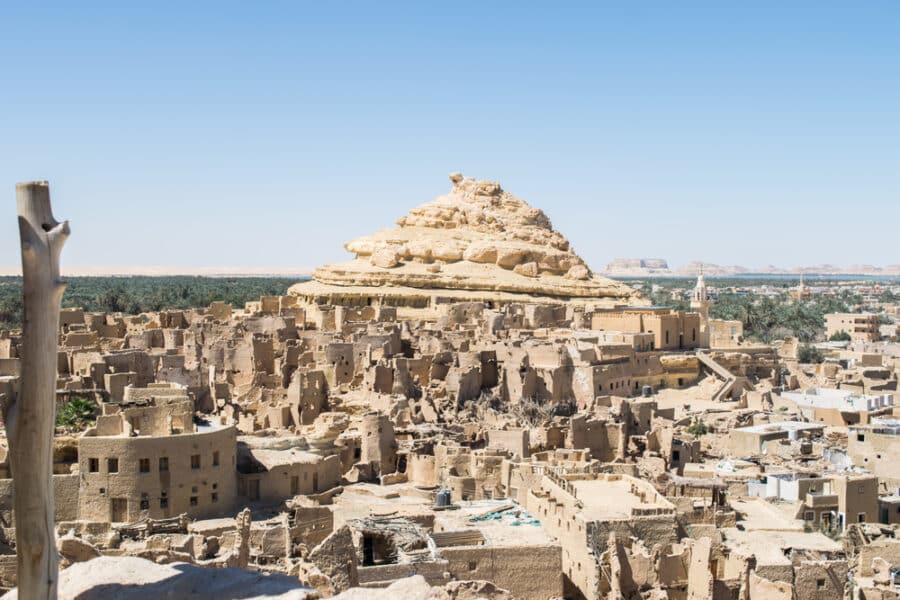 Siwa Oasis is located in the Western Desert of Egypt, about 550 km from Cairo. You can get to Siwa Oasis by taking a bus from Cairo, which takes about 10 hours. Alternatively, you can hire a taxi or rent a car to reach Siwa Oasis. The road is long and desolate, but the scenery is breathtaking.
TRAVEL COMPANIES WE USE AND TRUST
Where To Stay In Siwa Oasis
Siwa House: The Siwa Oasis offers a range of accommodations for backpackers, from luxurious hotels to simple campsites. If you're looking for an affordable option, the Siwa House is a great choice. This guest house is located in the heart of the town and offers a comfortable and authentic experience. The Siwa House has a beautiful courtyard, comfortable rooms, and friendly staff.
Adrere Amellal Ecolodge: If you want to be close to the hot springs, you can stay at the Adrere Amellal Ecolodge. This eco-friendly hotel is located in the middle of the desert and is made entirely out of local materials. The hotel has a unique charm and offers an unforgettable experience.
Exploring Siwa Oasis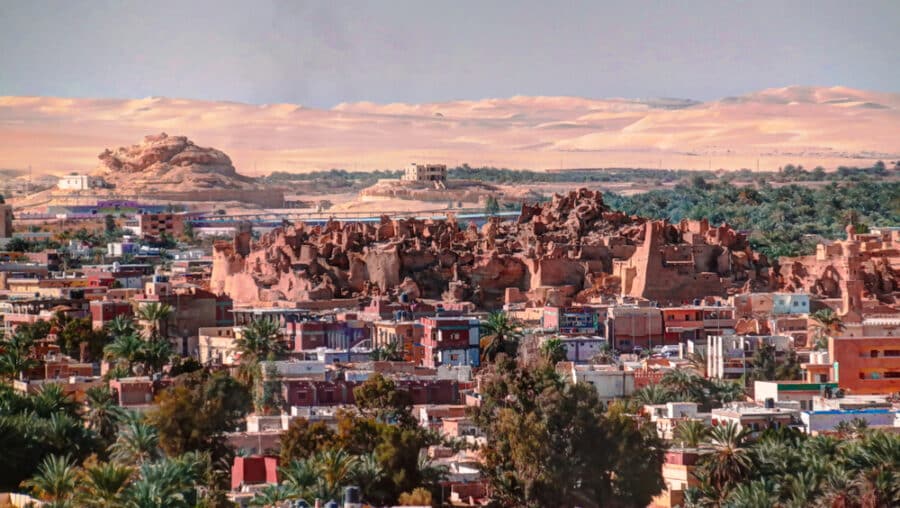 Temple of the Oracle: The Siwa Oasis has many attractions that are worth exploring. One of the most popular attractions is the Temple of the Oracle, which was built in the 6th century BC. This temple was dedicated to the god Amun and was used for divination. The temple is located on a hill and offers stunning views of the oasis.
The Shali Fortress: The Shali Fortress is another popular attraction in Siwa Oasis. This fortress was built in the 13th century and was used to protect the town from invaders. The fortress is made of salt and clay and offers a glimpse into the ancient history of Siwa Oasis.
The Siwa House Museum: The Siwa House Museum is also worth a visit. This museum is located in a beautiful old house and offers a glimpse into the traditional way of life in Siwa Oasis. The museum has many interesting artefacts, including traditional clothing, pottery, and tools.
Adventure Activities In Siwa Oasis
Sandboarding: The Siwa Oasis is a great destination for adventure activities. One of the most popular activities is sandboarding, which involves sliding down the sand dunes on a board. This activity is suitable for all ages and is a great way to experience the desert landscape.
Quad Biking: Another popular activity is quad biking. You can rent a quad bike and explore the desert at your own pace. This activity is suitable for all skill levels and is a great way to see the desert landscape up close.
Desert safari: If you're feeling more adventurous, you can go on a desert safari. This activity involves driving through the desert in a 4×4 vehicle and exploring the landscape. You can also go on a camel ride and experience the desert like the ancient Bedouin people.
Relaxation Activities In Siwa Oasis
If you're looking for a more relaxed experience, Siwa Oasis has plenty to offer. The hot springs in Siwa Oasis are a great place to relax and unwind. The hot springs are located in the middle of the desert and offer stunning views of the oasis.
You can also visit one of the many spas in Siwa Oasis. The spas offer a range of treatments, including massages, facials, and body wraps. The treatments are designed to help you relax and rejuvenate.
Food And Drink In Siwa Oasis
The Siwa Oasis has a unique cuisine that is influenced by its location and history. As a remote desert oasis, the food in Siwa relies heavily on local produce and ingredients. One of the most famous dishes in Siwa is the Siwan Berber pizza, also known as "Tanoor." This pizza is made with a special type of dough and is cooked in a clay oven, giving it a unique flavour and texture.
Another popular dish in Siwa is the "Shakshouka," a spicy tomato and egg dish that is usually eaten for breakfast. It is also common to find dates, olives, and other local fruits and nuts in many dishes. One must-try drink in Siwa is "Baladi," a traditional Egyptian drink made from fermented bread, water, and sugar.
In addition to traditional Siwan cuisine, visitors can also find international dishes in some of the restaurants and cafes in Siwa. However, it is recommended to try the local cuisine for a unique and authentic culinary experience. Overall, the food and drink in Siwa Oasis is a blend of local flavours and international influences, making it a unique and delicious experience for visitors.
Siwa Oasis is a unique destination that offers a combination of natural beauty, cultural heritage, and relaxation. Despite its remote location, it is well worth the journey for those seeking an authentic and off-the-beaten-path experience in Egypt. With a range of activities and accommodations available, Siwa has something to offer for every traveller. From exploring ancient ruins and tombs to relaxing in natural hot springs and gardens, Siwa Oasis is a must-visit destination for any backpacker in Egypt's Western Desert.