Written by Christin Theilig from Christin Theilig.
Albania should be on top of your list if you are looking for an affordable, offbeat summer destination that combines pristine nature, enchanting castles, idyllic beaches, and recent history together!
Singing cicadas in pine trees, turquoise water, friendly people, and some of the Balkan's best food – this post will give you ideas on how to best spend seven days in this (wrongfully) underrated country!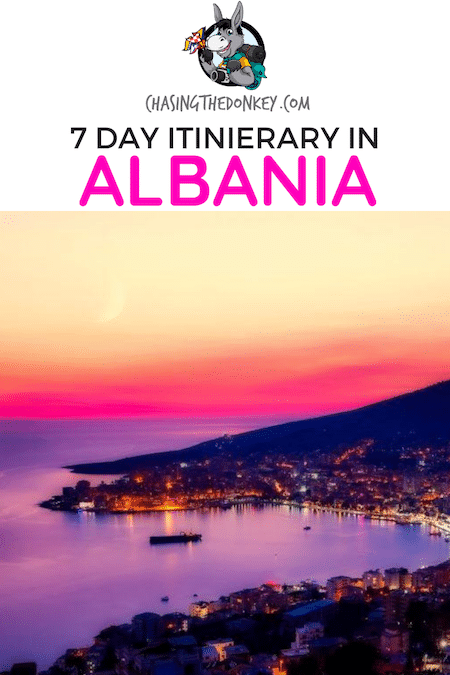 Albania is a small mountainous country in Southeast Europe, belonging to the Balkans. Albania has access to the Adriatic and Ionian coastline and has a Muslim majority. Furthermore, the country's only Nobel Prize winner (born in the now-capital of Macedonia), Mother Teresa, was Albanian!
Hiring a rental car will be the best option to get the most out of one week in Albania, especially if you like to explore places and want a total Albania road trip. Prices start from as low as 20 Euro per day and include insurance.
The Albanian public transport system is another option if you are more money-conscious (& adventurous). You mainly find buses and furgons (shared minibusses) that work reasonably well, connecting most cities with each other.
This 1 week Albania itinerary will provide distances and timings for both options.
7 Days In Albania Itinerary
Let us help you make your Albania travel itinerary action-packed and enjoyable.
Experience Diverse Tirana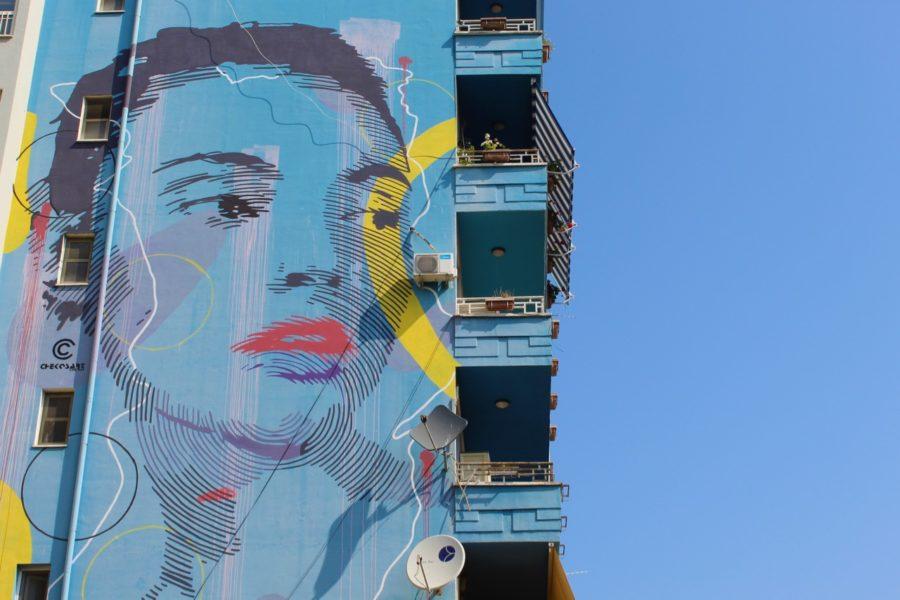 Tirana, Albania's capital, is a refreshing city with a mix of colorful Ottoman architecture, street markets, and a hip food scene. Walking within the city center is easy, and there is enough to explore for at least 2-3 days! A lot of Tirana's sights are at a close distance from each other.
How To Get Into Tirana
Tirana can be easily reached by plane from every major European city. The international airport is well-connected and is only 17 km from the city center. A shuttle bus (called Rinas Express) drops you off in the middle of the city. The ride takes roughly 30 minutes and costs 250 leks (2 euro).
Alternatively, you can take a taxi for 2500 lek (20 euro), which would take around 20 – 25 minutes, or get your rental car from the airport.
Tip: Bring some cash in Euros to pay for the fare and change it later in the city rather than at the airport.
Highlights Of Tirana For Your Albania Itinerary
For a complete list of what to do and see in Tirana, see here, or else these are my must-see sights we suggest you add to your itinerary in Albania.
Skanderbeg Square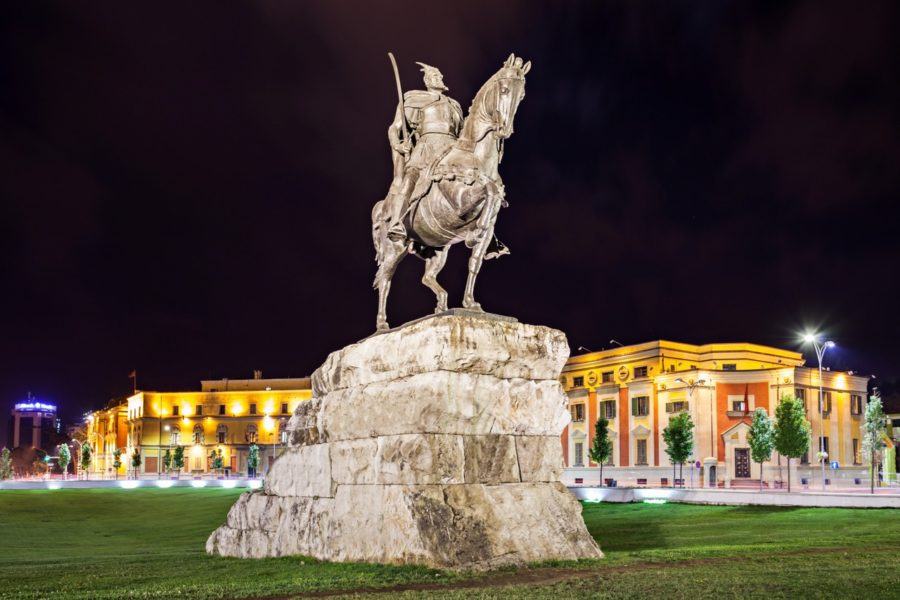 The central plaza in the center of Tirana covers an area of 40.000 sq and assembles many major sights of the city. The National Opera, the Palace of Culture, the National Historical Museum, the famous Clock Tower, and the City Hall are to name a few. Join a free walking tour to learn about Albanian history from the source!
Bunk'Art Museum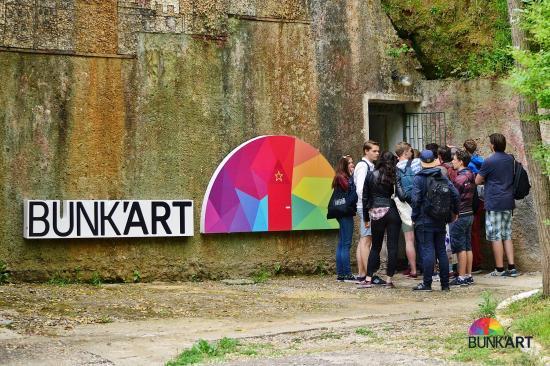 If you ever wanted to visit a real bunker – in Tirana, you have the chance to do so. The Bunk'Art museum is a highlight when visiting the city. Converted from a Cold War bunker, it spreads over 3000 sq meters underground. It lets you discover dark tunnels, private chambers as well as exhibitions of contemporary art.
Take the City Centre – Porcelan bus line near the Clock Tower.
Et'hem Bey Mosque
A stunning city landmark, the little Et'hem Bey Mosque depicts waterfalls, trees, and other motifs not usually shown in Islamic art.
Where To Stay In Tirana
Situated in an old 1930s-era villa, Padam Hotel is one of Tirana's most stylish boutique hotels, with one of the Balkan's best restaurants on site. For a social and cheap stay, opt for Trip'n Hostel near Skanderbeg Square.
Where To Eat In Tirana
No itinerary for Albania would be complete without information on where to eat.
For some of the luxurious Albanian cuisine sourced directly from small farmers, head to Mullixhiu. Enjoy panoramic views of the town from a rotating restaurant at The Sky Bar, and make sure to try Rakija, Albania's national drink! If you are after a cheap, traditional meal, go to Oda – Traditional Albanian Cuisine and try their stuffed peppers!
How To Get Out Of Tirana
After your week in Albania, the most convenient way to get out of town is by rental car. Tirana has no central bus station yet, but three terminals are distributed throughout the city.
Day Trip To Historical Shkodër
Tirana – Shkodër: 1 hour 50 minutes by car | 2 hours by bus
One of the oldest cities in Europe, Shkodër is a real gem that quickly enchants you with its cultural heritage. Many poets, artists, musicians, and photographers were born there, serving as the gateway to the Albanian Alps.
Get Into Shkodër
Get settled into your rental car and make your way up north early morning. Buses from Tirana towards Shkodër leave roughly every hour and cost around 500 leks (4 euro). Head to Zogu I Zi, and you'll find the furgon bus stop nearby.
Highlights of Shkodër
Rozafa Castle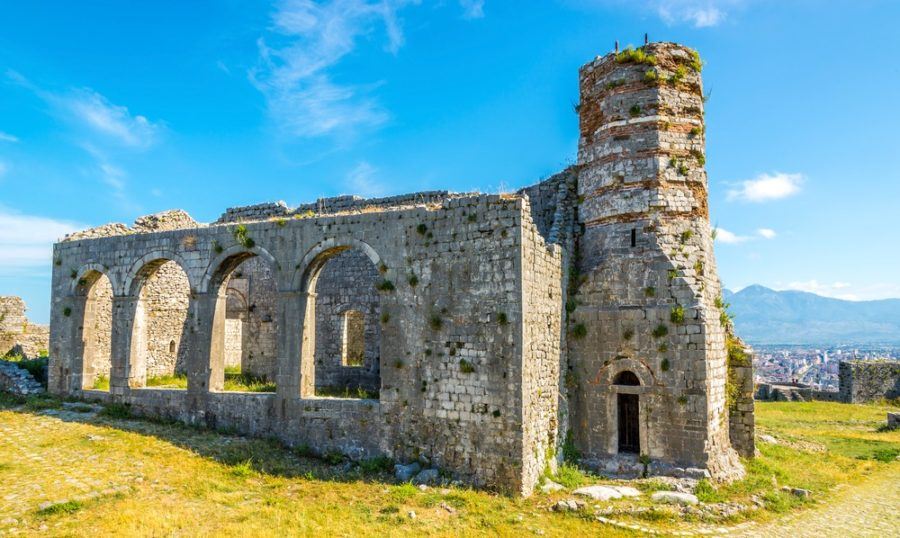 The Rozafa Castle is a special place and a must-see when in Shkodër—a legend accompanying it that a woman had to be sacrificed to finish it.
Price: 200 leks (1.50 euro)
Lake Skadar

On a sunny day, hire a bike to cycle along the shores of the beautiful Lake Skadar. It's a great half-day trip that leads you past fishing villages and carpet weavers and rewards you with the best scenic views!
Price: 9 euro | Duration: 3.5 hours
Venice Art Mask Factory
If you are after something very unique, go and visit the Venice Art Mask Factory. It got the most diverse and magnificent collection of Venetian masks! Each mask is a unique piece of art that went through the hands of 12 to 13 professionals. Just stunning!
Where To Eat In Shkodër
Settled in a beautiful old villa, Vila Bekteshi offers outdoor seating and outstanding traditional food. For some tasty, reasonably priced seafood, head to Rozafa Sea Food and try their octopus!
Tirana To Berat
Tirana – Berat: 1 hour 45 minutes (123km) by car | 2 hours 15 minutes by bus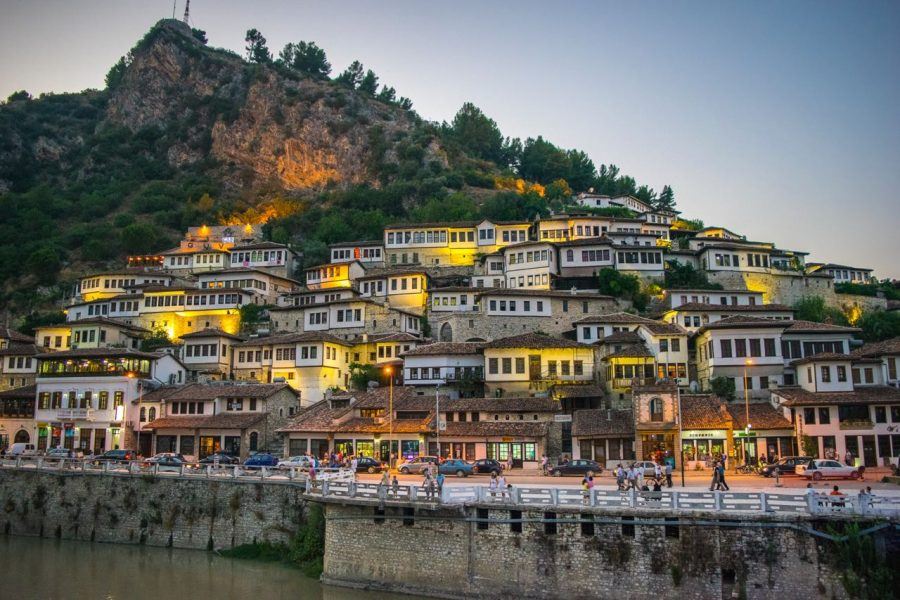 To continue your journey towards Berat, take a bus from the Terminali i Autobusave të Veriut dhe Jugut for around 500 leks (4 euro). Berat, "The Town of a Thousand Windows," as it's lovingly called, is an absolute must-visit. A prime example of Albanian architecture, Berat is a UNESCO world heritage site over 2,400 years old.
How To Get Into Berat
Berat, take a bus from the Terminali i Autobusave të Veriut dhe Jugut for around 500 leks (4 euro) and to Terminali i Autobuzave të Jugt for buses going the North and the South of Albania. They regularly leave towards Berat and the coast for around 400 leks (3.25 euro).
The bus will stop at Terminali i Autobuzave Berat, from which you will take another local bus to the center.
Highlights Of Berat
Berat Castle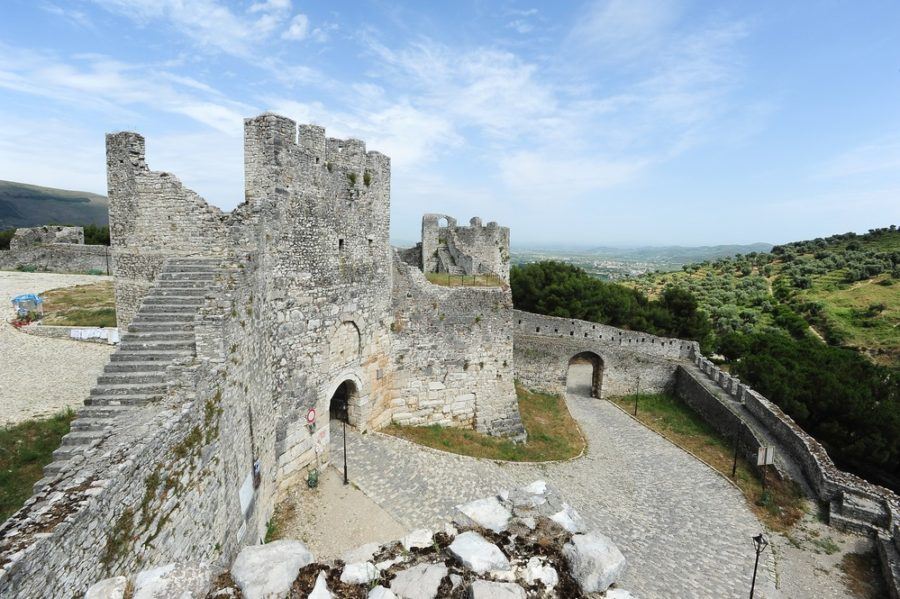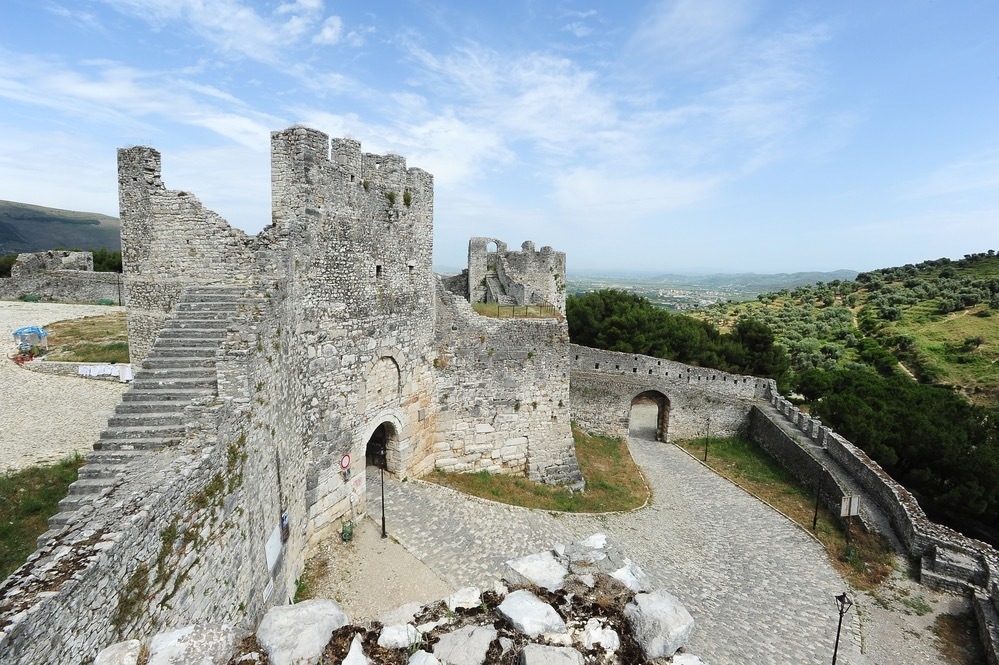 Towering over the city, Berat Castle (or the Citadel of Berat) is a well-preserved fortress with many Ottoman mosques and Byzantine churches. You get the city's best panoramic views and the Osum River from the courtyard.
Unlike other castles, there is still a fully functioning town inside the castle! One with houses, bars, restaurants, churches, and museums. Don't miss this one!
Price: 300 leks (2.45 euro)
Mangalem Area
On the bottom of Berat Castle lies Mangalem, a traditionally Muslim area. It's most famous for its three mosques and the Ethnographic Museum featuring artifacts from the Ottoman area.
Price: 300 leks (2.45 euro)
Tip: For the perfect photo opportunity of Mangalem's white Ottoman houses, head over the bridge into the Gorica area.
Where To Stay In Berat
For a cheap stay in a 300-year-old UNESCO house with many original features, book a night in Berat Backpackers. If staying a night in the castle intrigues you, book yourself into the traditional Hotel Klea.
Where To Eat In Berat
A unique dining experience, Homemade Food Lili is a restaurant run from the owner's family home. There are only 3-5 tables, so make sure to arrive early – it's worth it! For a wallet-friendly option serving vegan options, head to Temi Albanian Food.
Adventure Day Trip To Osum Canyon In Çorovodë
Berat – Çorovodë: 1 hour by car
Çorovodë is not only a convenient stopover on your way to the Albanian Riviera, but it also is a must-stop for every adventure and watersport lover! A tour through the Osum Gorge is one of Albania's most exciting activities. The Osum Gorge is 26km long, with many unexplored caves and underground passages.
One way of exploring this natural attraction is going on a rafting tour. Rafting through the gorge allows you to explore the imposing Bogova Waterfall and impressive vertical slopes ranging up to 80 meters. The rapids are considered a Class II, which means no prior white water experience is needed – perfect!
Another option is to put on your hiking shoes and go on a guided walk through the gorge, with spectacular vistas of the surrounding area guaranteed!
Where To Stay In Çorovodë
To extend your time (and spend a night) in Çorovodë, think about ending your day at the Nurellari Winery Cellar and Guest House. The family-owned winery offers beautiful tours around the winery, followed by a wine tasting. They also serve delicious traditional food! Why not spend a night at their adjacent guest house?
Berat To Sarandë
Çorovodë – Sarandë: 3 hours 15 min or Berat – Sarandë: 3 hours 30 min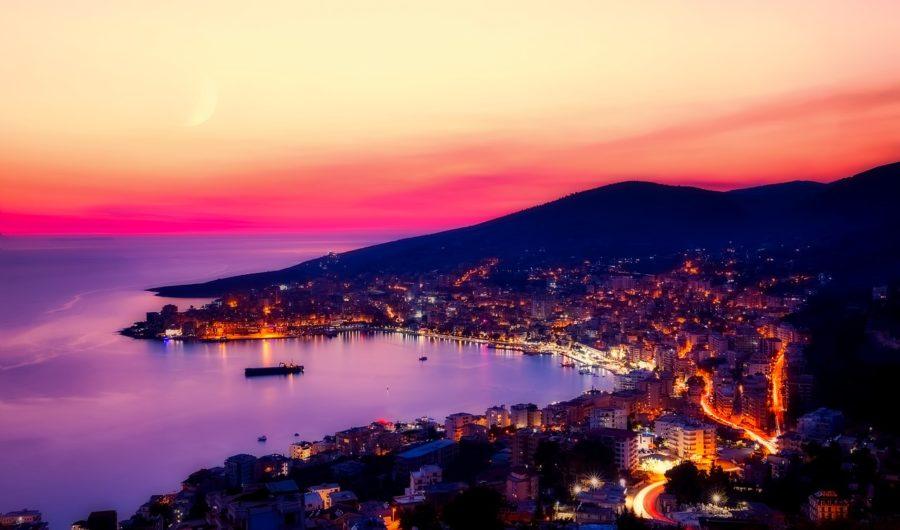 Considered the unofficial capital of the Albanian Riviera, Sarandë is the perfect place for a summer getaway. If you are looking for pristine beaches, some vitamin sea, and a thriving nightlife – Sarandë has got all of this and more!
How To Get Into Sarandë
Two buses run from Berat to Sarandë, around 8 am and the other around 2.30 pm from the main bus stop. The bus will take 5-6 hours, with a visit to Girokaster, and costs 1200 lek (9.70 euro).
Highlights of Sarandë
Ksamil Beach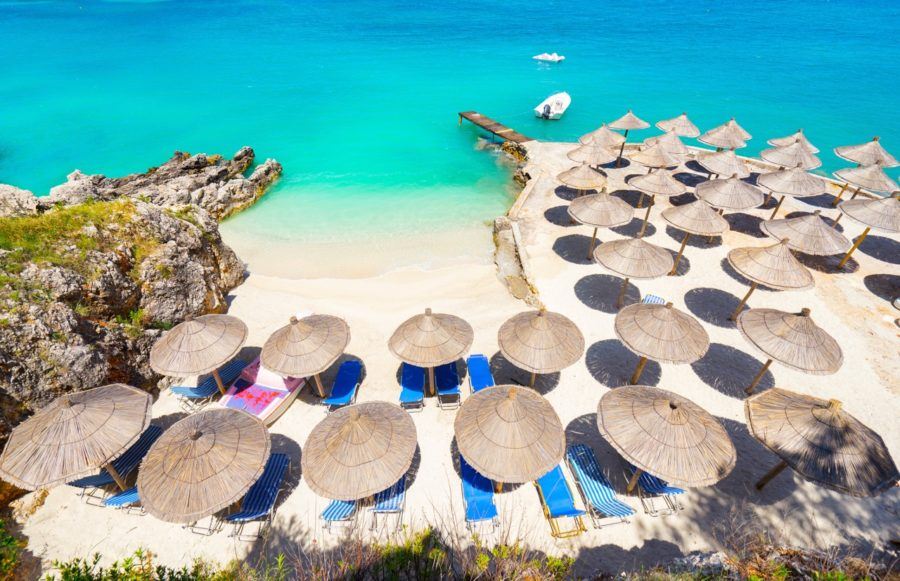 Ksamil Beach, with its clear turquoise water, is a place you could easily mistake with a beach in a tropical country. This gem on the Ionian Sea is a famous summer destination for locals and tourists alike. The area comprises many small coves wrapped around a jagged coastline.
Butrint National Park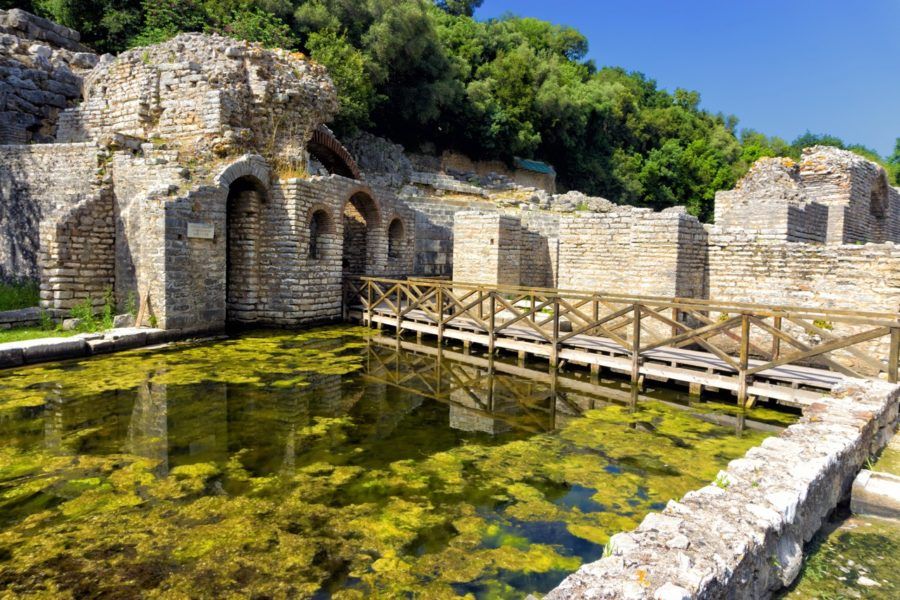 Easily the most romantic of Albania's ancient sites, a visit to the UNESCO site of Butrint should definitely come onto your list! Settled within a national park, the ruins have been inhabited since prehistoric times and used to be a Greek Colony site and a Roman City.
Only 20 km from the city, it takes around 2-3 hours to explore.
Price: 700lek (5.70 euro)
Buses from Sarandë leave outside the ZIT Information Centre on the hour and take 20 minutes.
Price: 100 leks (0.80 euro).
Tip: Try to visit early morning or late afternoon to avoid the cruise ship tourists!
Where To Stay In Sarandë
For a hostel with great views, friendly hosts, and 20 meters from the sea, choose Hairy Lemon Hostel. For a top-notch 4-star hotel on the beach, with breathtaking views of the ocean and in proximity to many bars, book at night at Hotel Brilant.
Where To Eat In Sarandë
For an authentic meal or coffee next to the ocean, head to Limani Bar & Restaurant. This family-owned restaurant offers fine Mediterranean dining since 1998. Dishes are cheap, and portion sizes are big, a win-win! To see the sunset, try SunSet Saranda Restaurant.
How To Get Out Of Sarandë
The most convenient way to end a fantastic week through Albania is by leaving from Corfu, Greece. From Sarande, you can take a ferry (70 minutes) or a speedboat (30 minutes) to get to Corfu to catch your flight back home.
Whatever option you choose, make sure to leave enough time between you leaving Albania and having to get to the airport 2 hours ahead of your scheduled flight!
Depending on the season, 2 – 13 departures are available, and ticket prices range from 18 to 24 euros. Three different companies operate the lines, so check for times for each individually: Ionian Seaways, Finikas Lines, or Joy Lines.
From the Port of Corfu, you only need 15 minutes to the Corfu airport. An airport taxi costs around 15-20 euro and operates 24/7. Bus Line no. 15 costs 1.5 euro, takes about 20 minutes and runs between 7.50 am – 9.50 pm.
Hopefully, this post gives you enough ideas on how to spend seven wonderful relaxing, adventurous, and history-packed days in this Balkan gem.