Privacy & disclaimers →
Hearty Bulgarian Bean Soup Recipe (Bob Chorba Recept)
The bob is pronounced bop, meaning bean in Bulgarian, while chorba means soup. This bean soup is a part of the traditional Bulgarian cuisine that consists of beans, peppers, onions, and carrots, and some variations have sausages, tomatoes, meat, and even more bean types.
In our version, we stick to a very simple version that is vegetarian-friendly and very cheap to make. While we were in Bulgaria on our road trip, my husband ate this as a main meal with crusty bread as it's so filling. Though you could also serve it as a first course. Either way, this dish tastes better the next day as leftovers
There are a lot of combinations of spices that Bulgarians use for this dish. We use dried Bulgarian mint (dzhodzhen) – use fresh if you have it. You can also add parsley, chubritsa, and oregano. I like the combination of chubritsa and mint the best. Dry peppers are optional, but they add a lot of flavor. The peppers in bob chorba can be used whole or cut into pieces depending on your preference.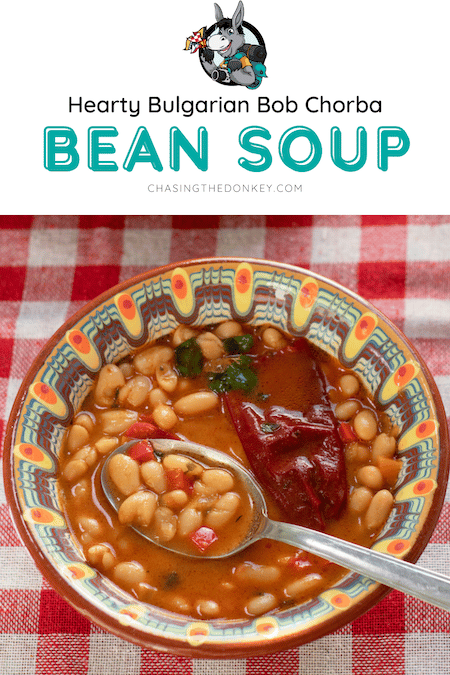 Start the preparation 12 hours ahead if you are using dried beans!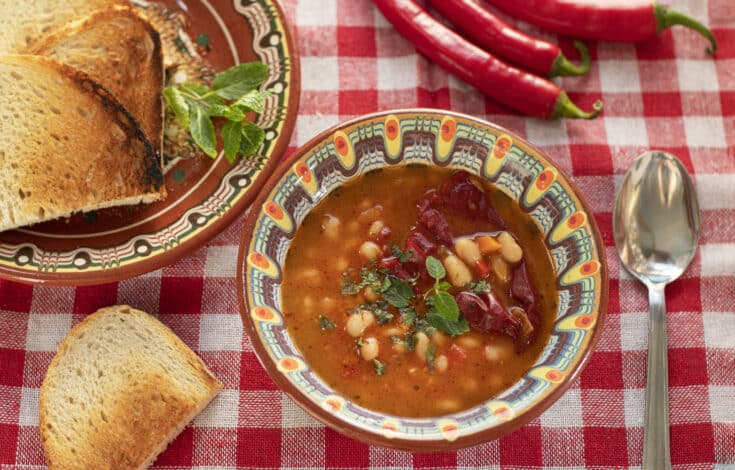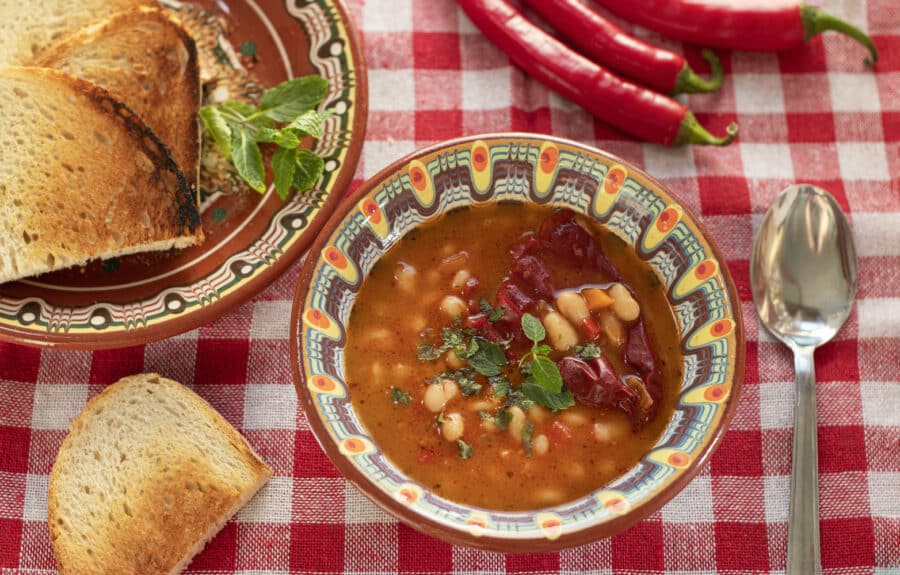 Bulgarian Bean Soup (Bob Chorba)
Here is how to make Bulgarian bean soup. This bob chorba recipe is made in the traditional Bulgarian way that consists of beans, peppers, onions, and carrots along with Bulgarian herbs.
Ingredients
300 g of dried white beans (or use canned beans if you are short on time)
1 onion
1 carrot
100 g of celery
2-3 dried peppers or chilli (optional)
6-8 tbsp of sunflower oil
1 tsp of sweet paprika
1 tsp of salt
½ tsp of Bulgarian chubritsa spice (or substitute with thyme or oregano)
Black pepper to taste
Bulgarian mint dzhodzhen (spearmint) or substitute with parsley. Dry 1/2-1 tsp or fresh 2-3 tsp, chopped
Instructions
If you are using dried beans: soak the beans in water overnight
Drain the beans, add them to a pot and pour half a liter of cold water over them and bring them to a boil
Drain the beans again, pour 2 liters of cold water, and cook until almost soft.
If you are using canned beans, start here: Dice the onion, carrot, and celery into small pieces, using a large frypan on low heat, and cook them in the oil until translucent
Remove from the heat, and add the paprika and the flour and mix well and add to the pot with the beans and water
Add the dry red peppers (optional) along with the other spices – salt, black pepper, chubritsa, Bulgarian mint, and/or parsley
Cook on medium heat until the beans are soft, stirring occasionally
Serve with chopped fresh parsley or Bulgarian mint and crusty bread