Some posts contain compensated links. Please read this disclaimer for more info.
Palmižana Meneghellos: A Retreat To Nature In Your Own Private Bungalow
Written by Tash from www.tashpericic.com
This is an interesting time to be writing about travel and we take our duty to be responsible in promoting travel very seriously. However, as mentioned, Croatia has opened borders and we are expecting to welcome some travelers.
With this in mind, we decided to share stories about unique travel options available in Croatia where you can avoid the crowds (respect social-distancing) but still experience the best of Croatia.
As well as the destination and food, part of a great holiday story can also be built around good accommodation – especially if you are looking to really relax.
If this is the case, we might know just the spot – how about a private villa in Hvar town or a quaint bungalow in amidst a botanic garden on Sveti Klement, which makes up part of the Pakleni islands in front of Hvar?
Meet Palmižana Meneghellos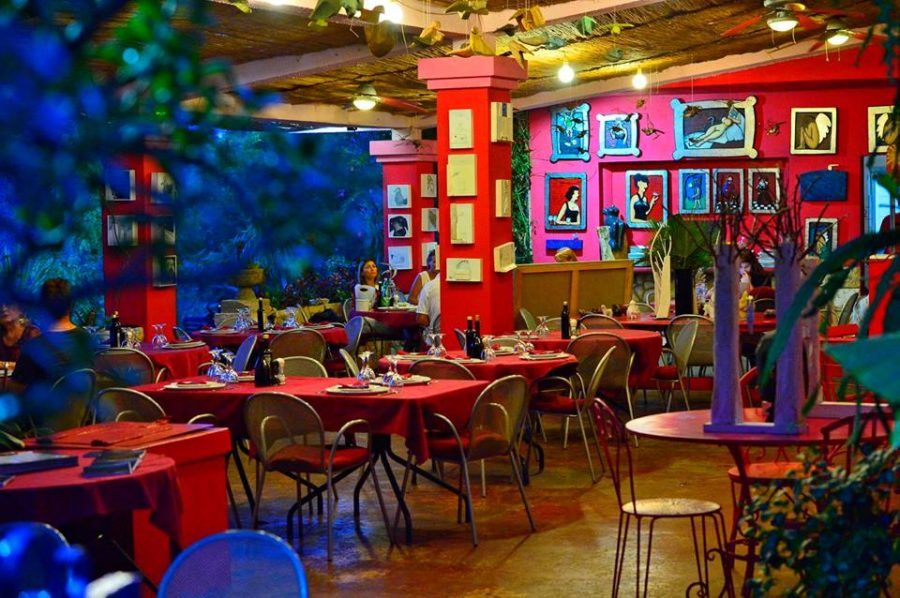 Palmižana and particularly Vinogradišće bay have always been beloved by sailors, now the secret is out… thanks to the help of its crystalline waters and well-known restaurants, in recent years it has become a must-visit for all those who travel to the island of Hvar.
The story of tourism with the Meneghello family goes back more than a century; Eugen Meneghello began with tourism in 1906 when he converted a 19th Century stone house into a guesthouse for travelers – well, mostly sailors, since Palmižana is only accessible by boat.
Eugen also started a forestation of plants including exotic specimens, beginning the makings of what is now a vivid and lush botanical garden – a real-life oasis. Don't be surprised when you stroll around the gardens to come across some regal peacocks either!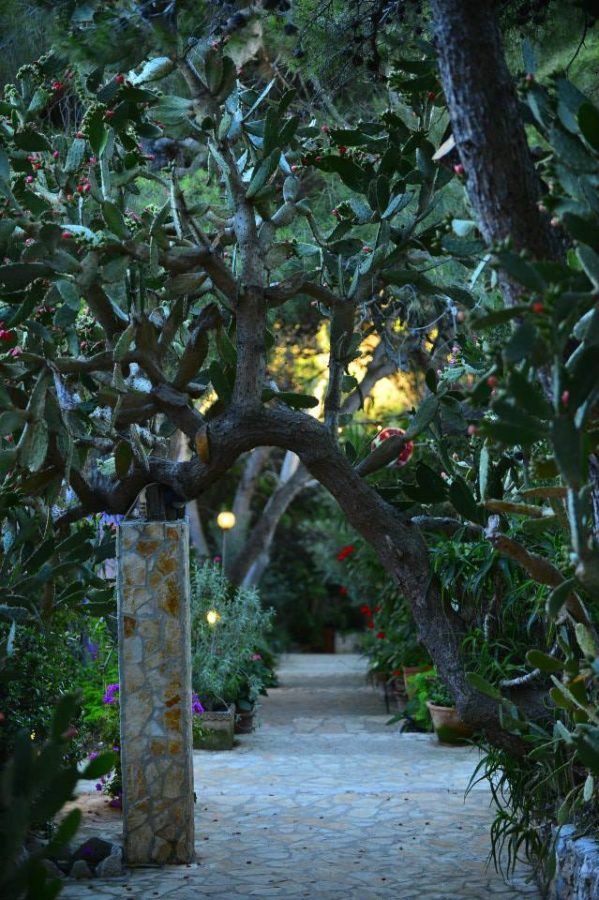 Dagmar Meneghello is a local icon and National treasure; she first arrived in Palmižana more than 50 years ago – following her heart. Since then and with the help of her children (Đenko, Romina, and Tarin), the Meneghellos have transformed Palmižana into what we see today – a botanic paradise and artistic haven.
As you wander the grounds you will discover many artworks and art installations; including a 5-meter aviary covered with colored plexiglass 'leaves' that plays with the sunlight, creating a magical atmosphere in the surrounding trees. Meneghello's restaurant also has a constant rotation of art exhibitions by local artists, as do the bungalows and villas.
Meneghello Villas, Bungalows and Houses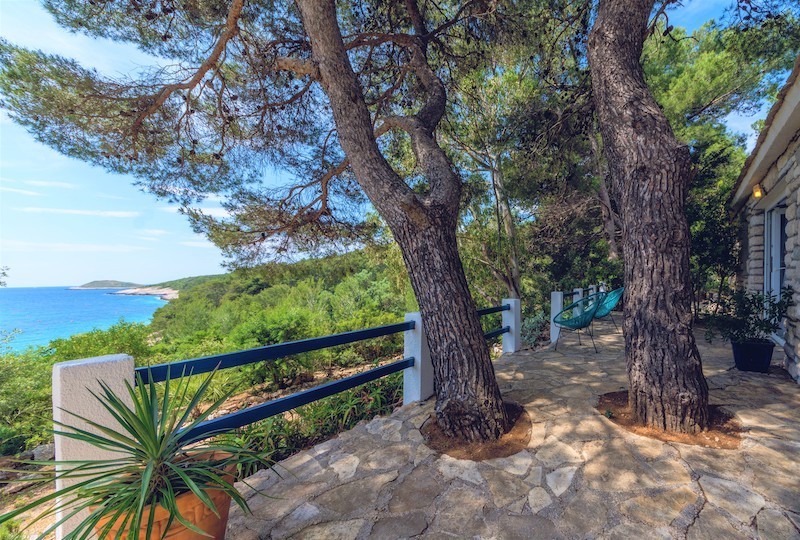 In the shade of centuries' old pine trees and rich tropical vegetation, lies the Meneghello villas, bungalows, and houses. The quaint stone bungalows offer all comforts, including 1- 2 bedrooms, living room, private terrace, air-con, and refrigerator.
The Villas can accommodate up to 6 guests in 2 double bedrooms and living area, with kitchenette and private terrace and gardens.
Each bungalow, villa, and house has a theme – pink, purple, turquoise. The buildings are painted in these colors and also represented by unique artworks inside – adding a splash of color and quirk to your holiday.
The beauty of these accommodations is that you are set in amongst nature but still within meters of the sea, fantastic restaurants, or a boat ride away if you want to explore Hvar Town. Boats run regularly between Palmižana and Hvar town.
Villa Meneghello Hvar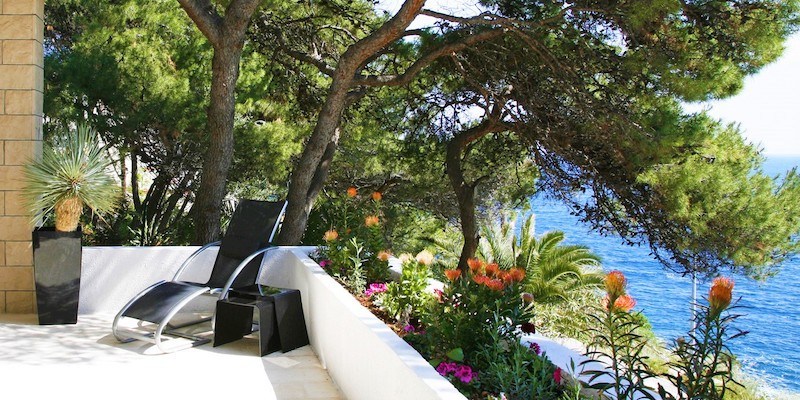 Villa Meneghello is situated on the waterfront in Hvar with an amazing view of the glistening Adriatic; it is surrounded by an exotic garden of pine, palms, yuccas, and cacti, yet is only a 15-min walk from Hvar town.
The two luxurious apartments cover 300m2 and are nestled comfortably within a 1,000m2 garden; the villa can be rented separately or as a whole.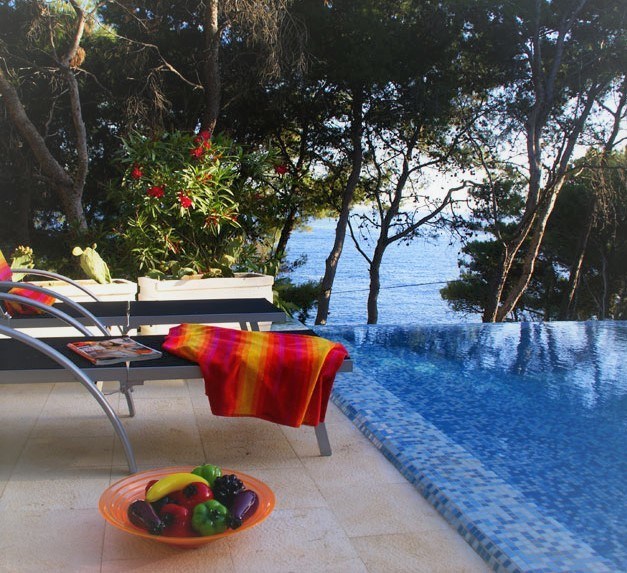 Both apartments consist of three double-rooms, a living room, two bathrooms (the lower apartment also has a Master with en-suite), kitchen with dining area, and large private terraces.
In the park, there is a private swimming pool with hammocks, deck chairs, coffee tables, sun decks, and entertainment; or if you prefer swimming in the sea, it is only a short stroll down the path and the Adriatic is at your feet.
We spoke to the team to understand a little more about Meneghellos…
What Is Unique About Your Business And Why Do You Think It Is A Great Option For Travelers?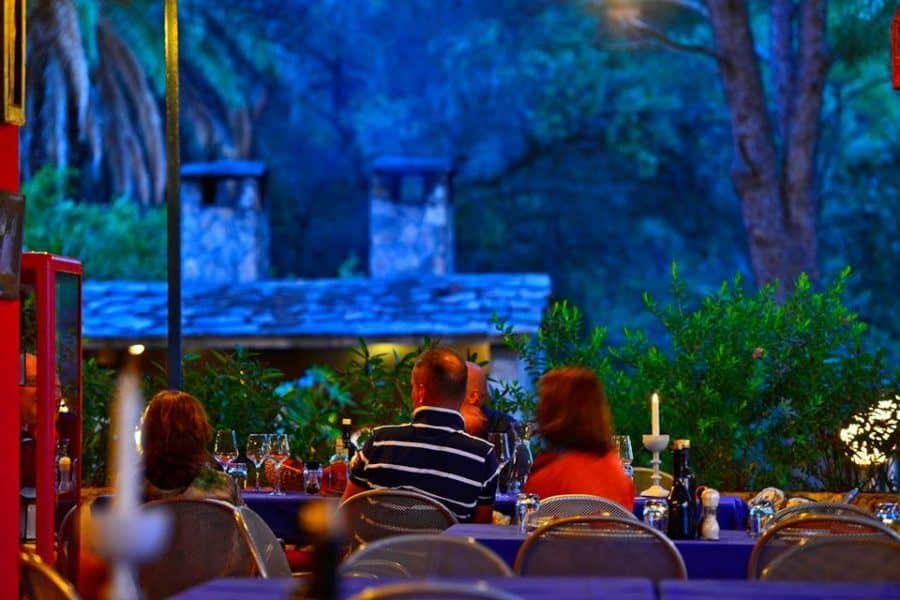 We have such a unique story in tourism, spanning more than 100-years. We have been featured in numerous travel guides worldwide; every sailor who visited the Adriatic made Meneghellos' a compulsory stop for nature, genuine hospitality, food, and wine – how many businesses on the Adriatic can say this? We also love that this story of tourism and hospitality has been continued with love and dedication by the family.
Everyone who visits Palmižana comments on the serenity they feel when they wander the grounds, there really is a special energy here. Our guests travel to us because they are looking for an element of social distancing.
They love the fact that our resort consists of only a few villas and bungalows and is surrounded by lush vegetation, cared for by our staff, which allows privacy. Given the current situation, this kind of holiday and escape seems to make even more sense.
In the low season, we usually host a variety of workshops – for authors, writers, singers… we have had yoga and swimming retreats and 'art colonies' for sculptors and painters. It is a place where many come to find inspiration. Unfortunately, we have had to postpone all workshops for 2020 thanks to Coronavirus but we are certain we will return with more passion, enthusiasm, and inspiration next year.
How Will Your Business Adapt To New Measures, Social Distancing?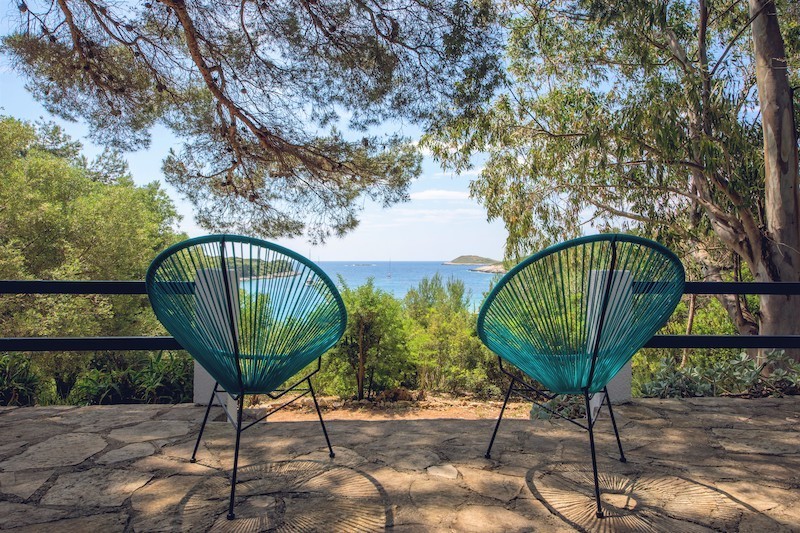 We have easily adapted to the new measures precisely because the concept of our resort is that each accommodation has its privacy, outdoor space guaranteed by enchanting vegetation and the right space to enjoy a lovely stay in tranquillity.
The large airy terrace of the Meneghello restaurant, managed with love by Romina Meneghello, continues the tradition of serving delicious Dalmatian specialties and great Croatian wines and allows plenty of space (social distancing).
Here you can enjoy the local delicacies in peace, surrounded by seaviews, contemporary art, and our very own botanic garden.
All of our staff have always been dedicated to taking care of the cleanliness and maintenance of the entire property and our accommodations. We continue to offer a free daily cleaning service; this means our guests can enjoy a carefree morning on the beach and return to a tidy space with fresh scented towels. It's a small gesture of love from our side.
Moreover, we leave sanitized dispensers available to our guests if they deem it appropriate. Everything we do is in compliance with current regulations.
Anything Else You Would Like To Let Travellers Know?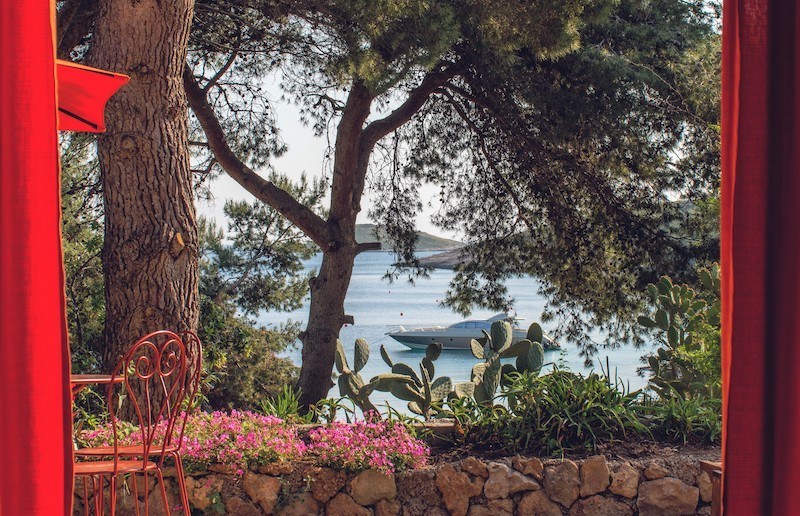 Slowness has become a luxury today and we are happy to create an atmosphere where our guests can return to the slow rhythm of life. A place where kids can run and play safely, where guests are suspended in time and carried away by the gentle breeze of the sea… to be inspired by the bright colors of our accommodations and restaurant, by the wild paths and scents of surrounding nature.
We have guests who have been staying with us for more than 30 years, choosing to spend their time with us year after year is one of the greatest compliments we can receive. Guests return because they know they will find consistent quality, a relaxed atmosphere, and that everything we offer is in the name of simplicity and a love for nature, art, and the joy of living.
We understand the particularity of this period, so have honored our guests by allowing any current bookings to reschedule and we are offering special discounts for those interested in staying with us at Palmižana or at Villa Meneghello (Hvar).
We invite all lovers of nature, the sea, and simple pleasures (with a touch of elegance) to come and stay with us and become a part of the Palmižana story. We look forward to welcoming our dear guests and old friends.
Let's be inspired!
Do you want a retreat to nature in your own private bungalow or villa? If 'losing yourself' in nature, while being near enough to divine restaurants or the Renaissance town of Hvar with its boutique shops, winding alleys, vineyards and gastronomy sounds like your kind of getaway, then the team at Meneghello's may have the perfect accommodation for you.
If you found this article useful, be sure to show it some love, share it with friends.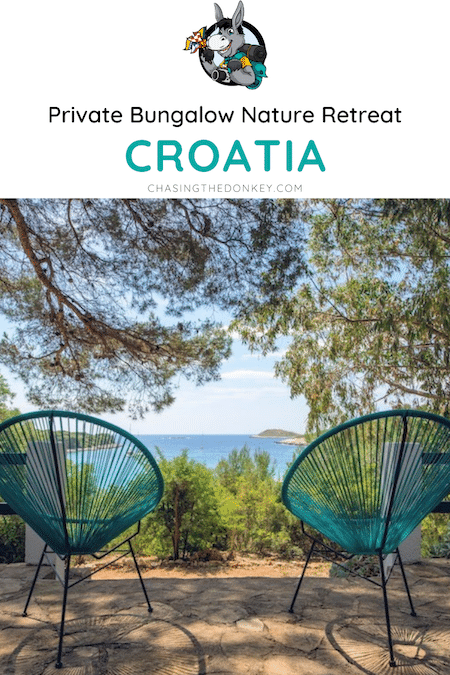 More Ways To Discover Croatia With Social-Distancing
Share