Some posts contain compensated links. Please read this disclaimer for more info.
7 Holiday Parks In Croatia You'll Love
Also known as camping grounds, holiday parks in Croatia have many things to offer if you are due for a little relaxation. These are not like the parks or campgrounds that you might be accustomed to, though. Many of these are resort-style settings that offer much more than a place to pitch a tent.
At many holiday parks in Croatia, you will find different options for housing, several options for food and drinks, and options for entertainment as well. Moreover, most of them are well equipped with several different types of sporting activities suitable for all ages. This all makes a holiday park an excellent place for that family vacation.
Please take a look at my top picks from the list below, try one out and see why Croatia is such a popular tourist destination for travelers worldwide. Oh, and if you're planning on buying an RV, head here first.
Camping Bi Village

Holiday Park, Fažana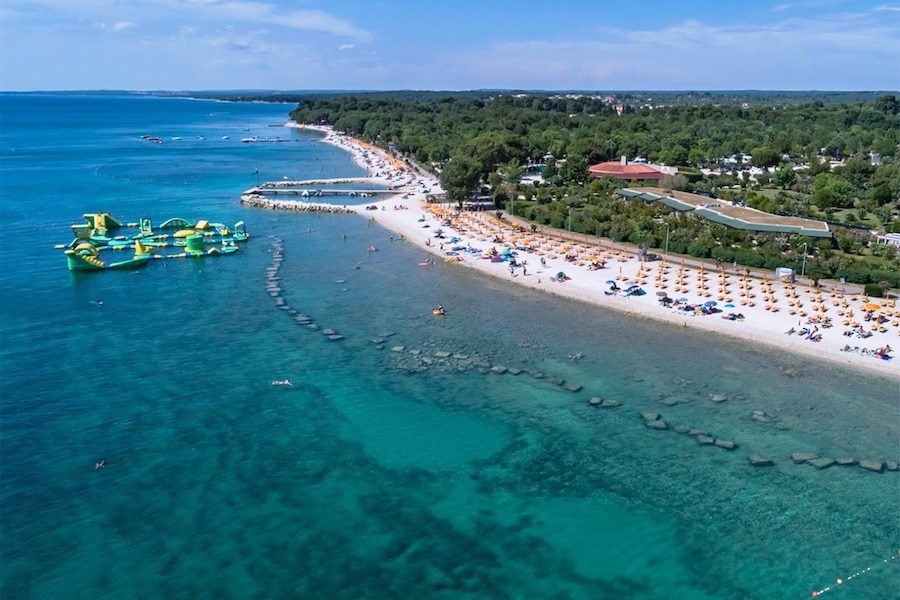 The outdoor swimming area features a water slide for kids that is very popular. There is also an extended area for paddling and a bar pool that features spa jets for the grown-ups.
At Bi Village, you will find various sports to keep your sport-loving family happy, from table tennis and two shared walls to football, scuba diving, and fishing to keep everyone in your family engaged. There is indeed no shortage of activities to keep you occupied during your stay here.
As for other forms of entertainment, there are outdoor shows and cabarets during the summer and an indoor disco open to those aged 16 and older. You may also purchase an activity card that will give you special discounts on some of the activities and programs the resort has to offer.
You won't get hungry either. There are plenty of dining establishments on site, catering to you either having a sit-down meal or getting your food to go.


Lanterna Park

Holiday Park, Poreč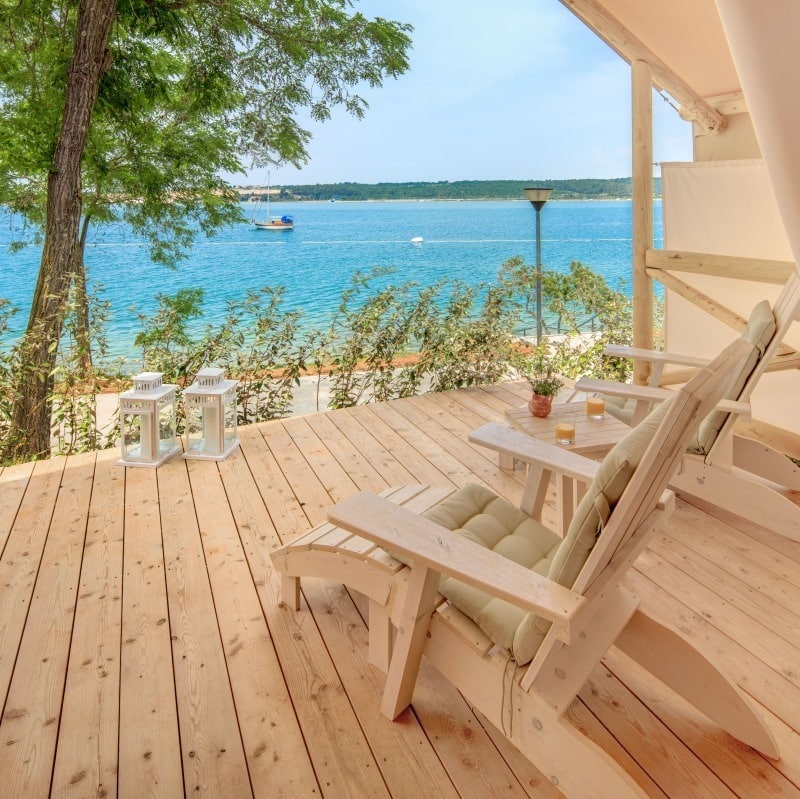 Lanterna is one of the more popular parks for lounging around pools that overlook a bay. However, the real reason people flock to Lanterna is the nightlife. This is one of the more lively parks in Croatia.
Lanterna features campsites for pitching your tent or travel trailer, as well as mobile homes that are air-conditioned and spacious. The swimming pool features a paddling area for children, a whirlpool, as well as a Jacuzzi for easing tense muscles after a long activity-filled day. There are also several pebble beaches scattered around the area.
On top of that, there is an activity games room for kids, as well as an on-site mini-golf course, and of course, trampolines for little feet to bounce the day away. Outdoor activities include volleyball and tennis while you enjoy a meal at the restaurant, pizza place, snack bar, or cook your own over a charcoal barbecue. If you feel like throwing a steak on the grill, a local supermarket is on-site to meet your needs.
Plus, you can enjoy a night at the disco with your family between June and August.
Mobile Home TourISTRA, Umag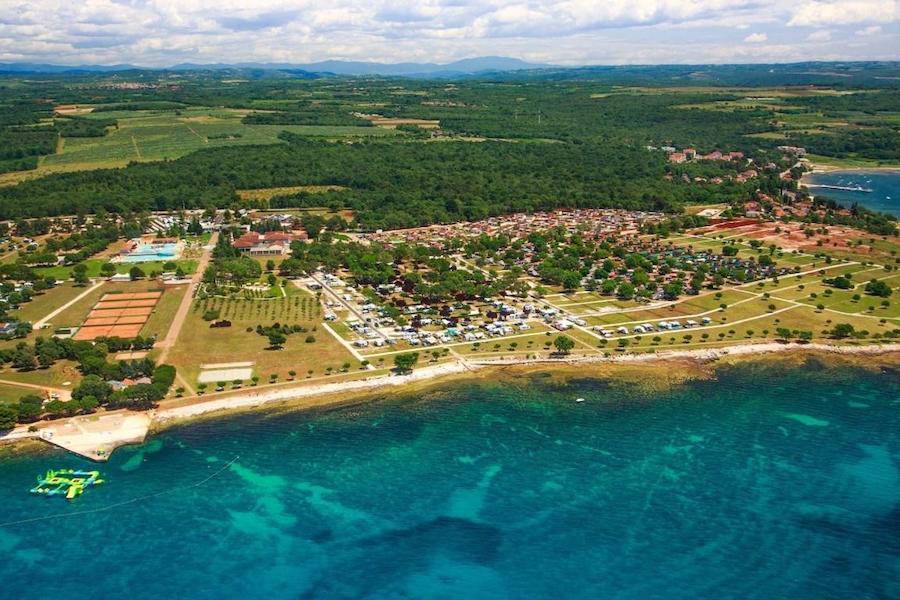 This is one of the largest parks in the region, boasting a capacity of over 6,000 guests at one time. It is an ideal place for family getaways. The swimming pools here feature luxurious waterfalls, a pirate ship, and other fortresses for you and your family to enjoy and explore together.
The landscape here has been designed to be eco-friendly. Accommodations feature sites that have electrical hookups for motorhomes should you need them.
Part of Park Umag's appeal is the numerous bars, restaurants, and fast food outlets on site. No need to cook while you are on your family vacay! Relax with a drink in the evening, or sit down and dine formally together when you want to. Grab some of that fast food if you are on the go and need to eat quickly.
Besides the usual tennis and volleyball sports activities, this park also has more extreme sports, including diving. There are various daily entertainment programs for people young and old and a special club that caters specifically to younger visitors.
If the holiday park does not fulfill your thirst for fun, check out this water park less than 30 minutes away.
Boutique Camp Materada Beach, Poreč

Located just over a kilometer from the Poreč town center, well within walking distance, and right next to a beautiful beach, Boutique Camp Materada is an excellent place for a family vacation. Surrounded by lush and fragrant Mediterranean vegetation, this holiday park offers accommodation in mobile homes or safari-style tents.
All units feature a private bathroom with a shower, kitchenette and dining room, and TV. The mobile homes have to air-condition, too. The park also provides free WiFi to all guests.
Additionally, there's an a la carte restaurant on site, which serves delicious seafood, fish, and meat meals, as well as some truly superb wines. Besides super-easy beach access, guests can also enjoy the outdoor pool. This Croatia holiday park is especially awesome for families and couples looking for a relaxing getaway on the coast of Istria.
Bungalow & Mobile Homes Solaris, Šibenik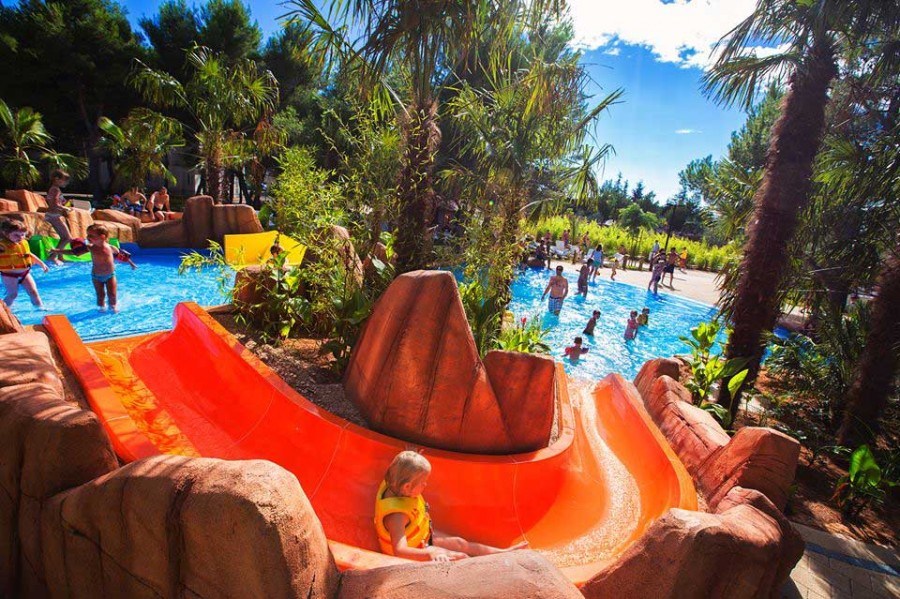 One of the most fun holiday parks in Croatia is found in Šibenik. Part of the Solaris Beach Resort, the Bungalow & Mobile Homes Solaris holiday park, lies about 2.5 kilometers from the famous St. Nicholas Fortress and has all the necessary facilities for a stress-free vacation in Dalmatia.
All units come with a terrace, satellite flat-screen TV, and kitchen with microwave, stove, fridge, and coffee machine. They have three bedrooms and two bathrooms with a shower and a dining room and living room. It's really like a home away from home. However, if you don't feel like cooking yourself, you can hit up the camp restaurant, where you can indulge in various traditional meat and fish dishes so typical of Dalmatia.
In terms of amenities, there's complimentary WiFi and several on-site sports, including basketball, football (soccer), tennis, and volleyball. Guests can also take part in several different water sports. This holiday park in Croatia has its own water park, too, complete with water slides and other fun stuff. This makes Solaris a fantastic destination for families with kids, for sure.
Mobile Homes Camping Plitvice, Plitvička Jezera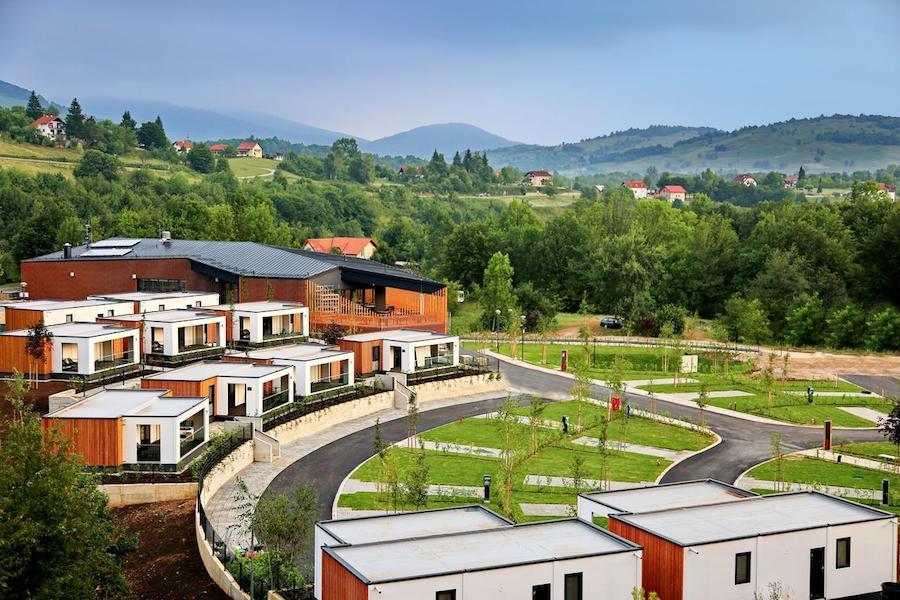 Anyone looking to explore Plitvice Lakes National Park, one of Croatia's most magnificent natural attractions, in detail and in-depth, while enjoying some luxury, should definitely look into Mobile Homes Camping Plitvice. This is one of the best-rated holiday parks in Croatia's Plitvice area.
It's a fantastic location to base yourself for a few days as you discover this gorgeous region. Accommodation is available in a variety of mobile homes, which range from double to deluxe two-bedroom. Both private parking and WiFi are complimentary.
In addition to that, this Plitvice holiday park also has a 24-hour reception, kids' playground and kids' club, outdoor pool, lush garden, and a bar. The distance to Plitvice Lakes National Park is about 8 kilometers. This is a particularly popular holiday park among couples.
Zaton Park Holiday Park Resort, Nin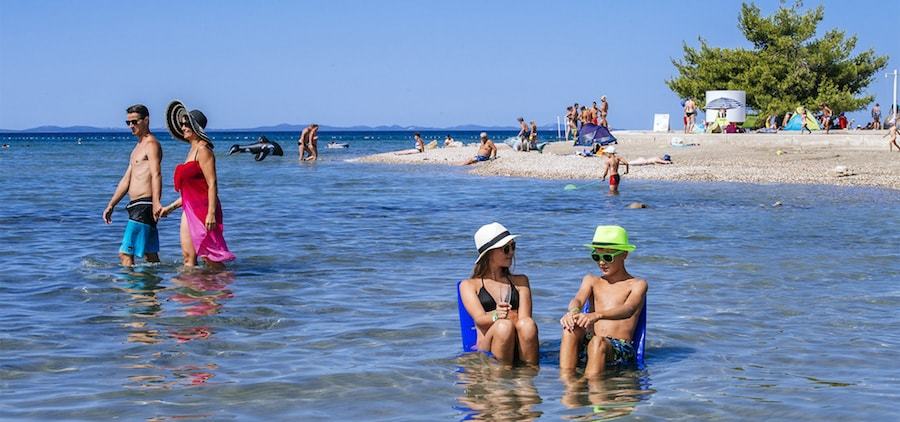 Zaton Holiday Park is located right on a bay. Many of the plants chosen for the park landscape have essential oils that are known to be beneficial for your health. These promote relaxation and help you recharge after a long day.
There are several accommodation options on-site, which include apartments, mobile homes, and campsites. All of those are finely appointed and can support families of six or more depending on your needs.
Beyond the accommodations, there are several other great features. For starters, there are many activities for kids to do during the day, from climbing a rock wall indoors to jumping around in the ball pit. They even have their own mini-disco, where they can dance the day away.
If you want to take a dip and like your water warm, check out one of their heated outdoor pools. These are sure to relax your muscles and will undoubtedly make you want to stay a bit longer. You can enjoy one of the many sports activities or take a stroll along the sandy beach. There are many shops and restaurants for you to enjoy on-site, making this a sought-after park during the holiday season.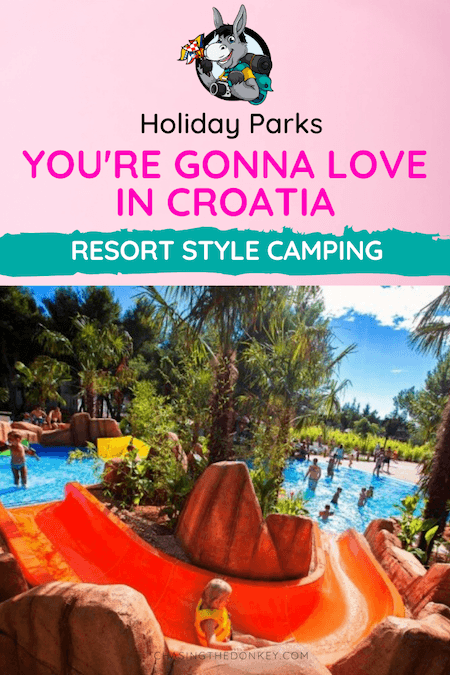 Have you ever stayed in a holiday park? Let us know in the comments your tips for enjoying a great vacation camping in.
More Accommodation Options In Croatia
Share