Some posts contain compensated links. Please read this disclaimer for more info.
Yacht Week Croatia: What's The Deal?
You might have heard of Yacht Week Croatia, you might be considering whether to go or not, or you might have questions about your upcoming trip, but whichever camp you fall into, Yacht Week Croatia is a hugely popular event and one you should certainly do some preparation for.
We are always asked questions on what to take, where the flotilla will go, how much money is needed, and basically what the whole Yacht Week deal is, so consider this your one-stop guide on everything Yacht Week Croatia, and look forward to the sunshine and sailing ahead.
What is Yacht Week Croatia?
As the name would suggest, Yacht Week Croatia involves a boat, and it involves sailing around the beautiful Croatian coastline.
Look at it this way; you sail around the beautiful sights with a bunch of friends, on a luxurious yacht, you have a lot of fun doing it, and you are surrounded by around 50 other yachts, full of people doing the same thing.
Yacht Week is a worldwide event, but the Croatian version is certainly the most popular. Why? Because the Croatian coast is beautiful! The whole week is basically a floating party, and you will meet countless people from nations spanning the globe.
When is Yacht Week?
The event runs every week during the summer months of July and August, so you can take full advantage of the beautiful sunshine and great weather.
Who goes to Yacht Week?
Everybody and anybody! There is no particular 'type' of person that goes to Yacht Week; anyone who wants to see some beautiful scenery, have some fun, and get a tan at the same time! So long as you are ready to party non-stop, then get on a boat.
Can I go to Yacht Week & Ultra Music in Croatia?
Yes, you can! You can easily combine the two, and many organized vacations fit both into their itinerary. Just remember that prices for accommodation around the time of Ultra Music Festival are super high compared to normal, and the best hotels fill up fast.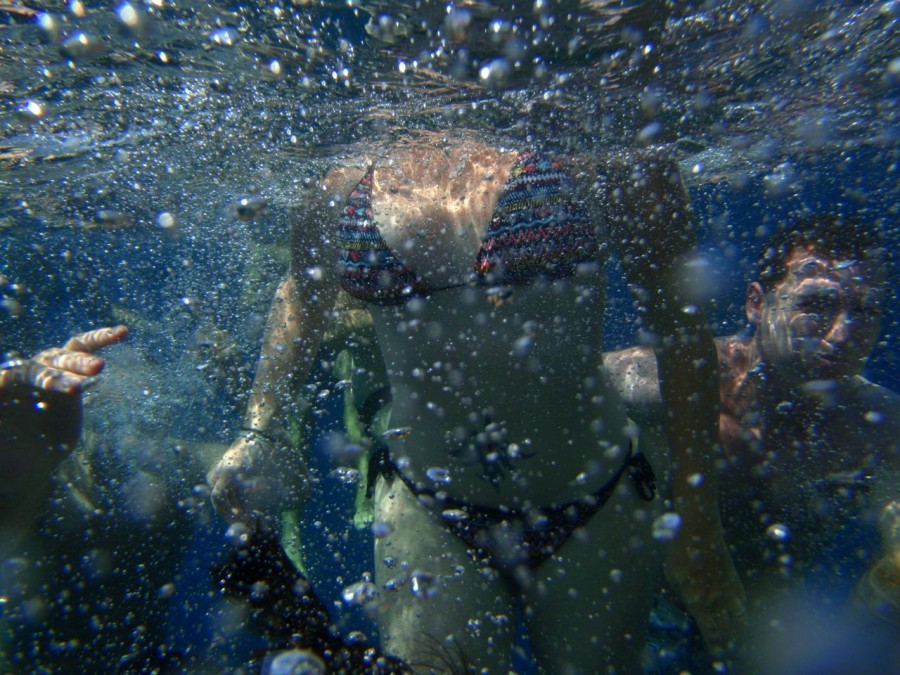 Port Stops Made on Yacht Week
Yacht Week consists of a red and black route, and each one has around 50 yachts on each at any one time. Both routes visit some of the same locations, however, they simply visit those locations on different days to each other. Either way, the nearest airport is Split, and it's a very good idea to combine Yacht Week with a few days checking out the city, as well the vibrant nightlife.
Stops include Rogac on Šolta, Milna and Bol on Brac, Hvar Town on Hvar, as well as Vis Town and Komiza on Vis. There is also a stop at Vela Luka on Korcula and Scedro.
How Many People Fit on Each Yacht?
It depends on the type of yacht you go for, but a catamaran is without a doubt the best. Catamarans are much more spacious allowing you to spread out and claim your piece of the deck. Most boats, however, are around 45-50 feet and fit around nine people – just remember that you need to keep one bed for your Captain.
What Marinas do Yacht Week Start at?
There are various marinas which are all relatively close to Split Airport. The marina you depart and return to really depends on the yacht you book, and you will find out your departure marina when you have completed your booking. Marinas include:
Marinas include Kastela Marina – 20 minutes from the airport,
ACI Split Marina – 50 minutes from the airport
Seget Marina – 20 minutes from the airport
ACI Trogir Marina is 20 minutes from the airport
Frapa Marina is 45 minutes from the airport
Kremik Marina is 50 minutes from the airport
Zaton Marina is 70 minutes from the airport
Mandalina Marina is one hour from the airport
How Much does The Yacht Week Croatia Cost?
It totally depends on the yacht you choose; obviously, if you go for a bigger yacht, it's going to cost you more. You also need to allow around $1000 for drinks, activities, food and tips.
How do I Book Yacht Week, and When is the Best Time to Book?
As soon as possible! This is a hugely popular event, so booking early is the best advice. The same can be said for booking a flight to Split, because during this time the region is hugely busy. As for how to book, online is the way forward!
How Much Money do I need to Bring With me to Yacht Week?
Well, it's hard to give a round figure, because everyone can live on a different amount, but if you're only going to do it once, make sure you save up as much as possible! You're going to need cash for food and drinks, and as this is a rather party-fuelled affair, you're going to need booze! Consider buying it duty-free on the way in, to save cash or stock up before you leave the port and drink on the boat to save money buying drinks at the venues. That said you're probably going to need around $1000 USD for the week.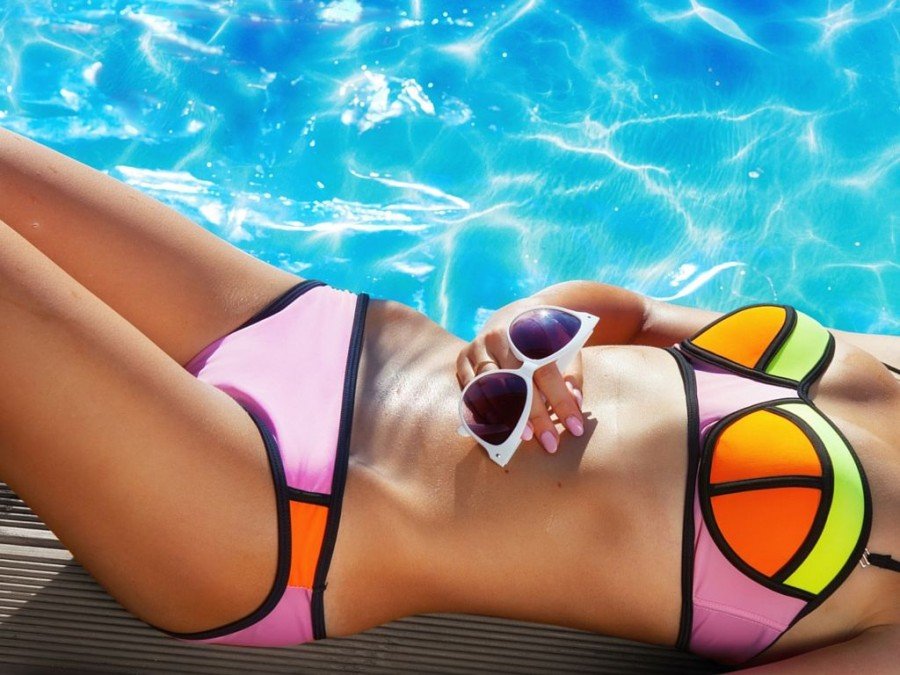 What Do I Need to Pack For Yacht Week?
Packing ideas for both him and her can be a complicated process, because what do you do if you forget something important and you're out on the open water? Well, there's not a lot you can do after you've set sail, other than shop at ports which are quite limited, and what they do have will be pricey, so it's important to make sure you have everything you need before you set off.
These are a few ideas:
Sun-cream, high factor!
After-sun cream
Insect repellent and bite cream/antiseptic
Swimwear
Towels
Flat shoes – leave the heels at home girls!
Low maintenance party wear
Camera
Chargers
Motion sickness tablets… just in case!
Not totally essential, but pack a water gun, noodle and a lilo or two like these that are super cheap and light to pack. They really do make things so much more fun.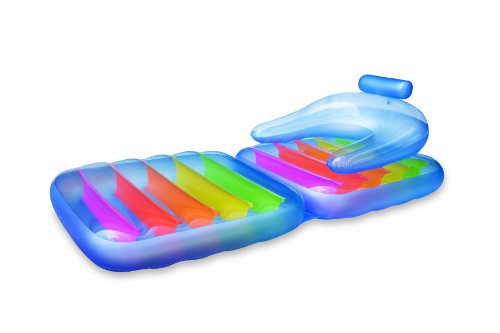 What Else do You Need to Know About Yacht Week
Can you grocery shop along the way?
Yes, you can! There are port stops, and there are supermarkets at all of these, so you can top up your supplies accordingly. You can also book and pay for a chef to join your boat who will do all of the shopping and cooking for you – how lush huh!
Who cooks and cleans?
Well, if you go all out all luxury and get a chef like we mentioned they will, however, if you do not get one you have to take care of it all with your boat mates.
Who sails the boat?
You will be assigned a skipper if you so wish, however, if you are an experienced sailor, you can do it yourself. But, I'd recommend a local skipper – they know the routes, the cool swim spots and even better – all of the best places to eat and drink. It's a no-brainer if you ask me.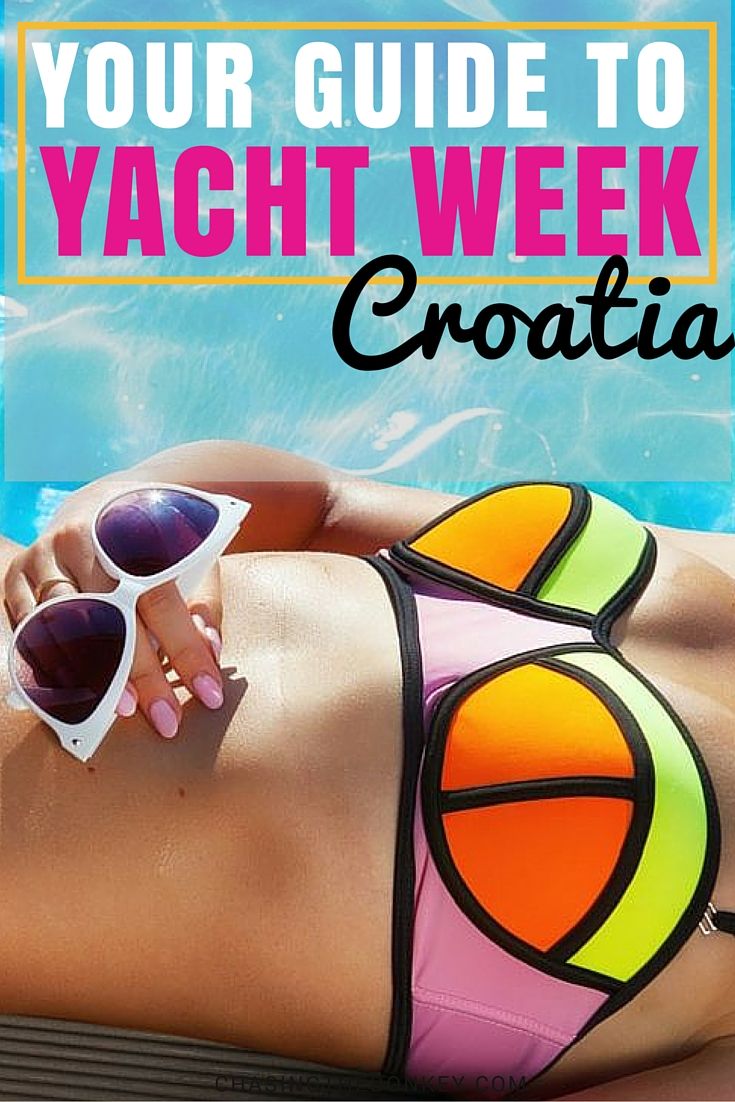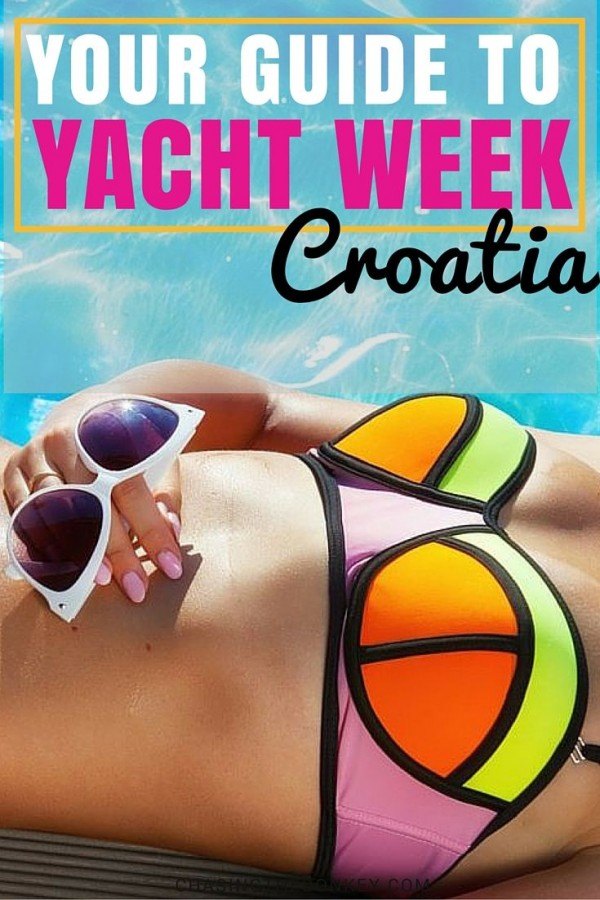 Money
Bring Kuna. That's the Croatian currency, not Euro. You should know that Euro is not accepted and lots of places won't take credit cards and the lines to use the ATM's are so long you'll be wasting good drinking and partying time. Think about a travel safe to keep your stash safe. They are fairly inexpensive and you can lock up your passport to save it from ending up at the bottom of the Adriatic.
What is the dress code?
Whatever you like – within reason! Long days in the sun obviously requires swimwear, so make this your priority, and think laid-back casual for evenings and port stops. You can't walk the town in your swimwear – so bring cute coverups & shorts with you.
Are cooking facilities/equipment included on the yacht?
Yes, your yacht is basically a home away from home and will have everything you need including glasses and plates as well as a fridge.
WiFi
Ask your skipper to turn it on – it will be so slow and very intermittent but you'll be able to check the basics. If you want a fast connection that'll work all over the country – and at sea. Contact here to get a super fast connection that you and your whole boat can share (up to 10 devices) for the week.
Where to Stay
Make sure that you stay in Croatia at least a day two or before your planned departure. Can you imagine the sinking feeling (pun intended) that you'll get when your flight is delayed and your party boat sails off without you? OMG, I'd die. Come a day early, please.
Split Accommodation is expensive at this time of year, we have a whole bunch of Split hotel suggestions here, but the main hostels are:
Zadar is far less expensive and we have a huge list of ideas here for you.
Car Rental & Private Transfers For The Yacht Week
If you want to explore before or after Yacht Week, you can book a car. Check out RentalCars.com an easy to use search system, or you can get private transfers from Octopus Transfers

Did we answer all your questions on Yacht Week? If not, ask away in the comments below and we'll get back to you
Share