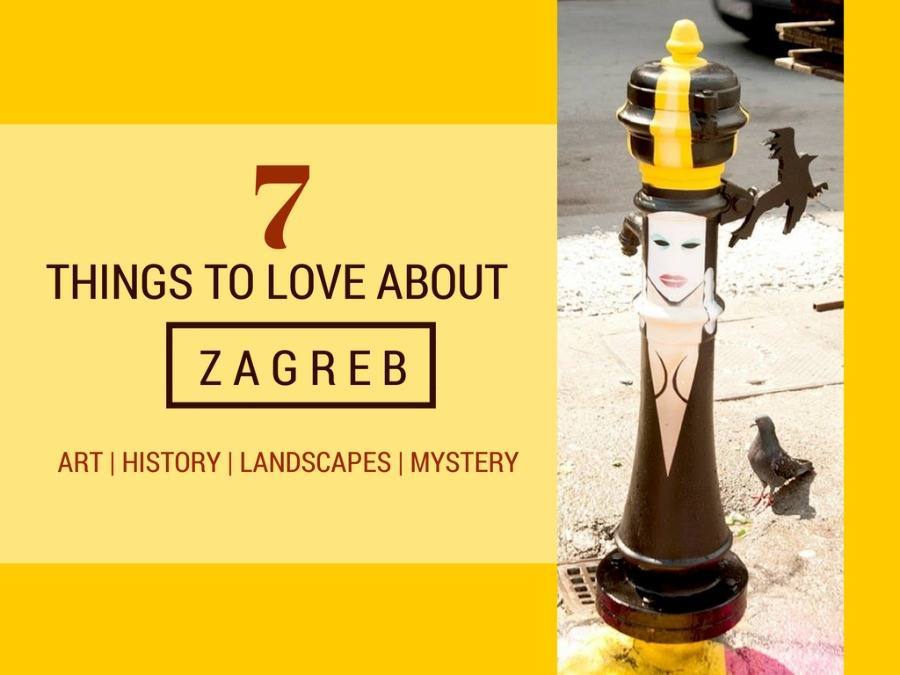 7 goofy, mystical and artsy things to love about Zagreb
Written by Zagreb local, and Secret Zagreb Walks owner Iva Silla
People who travel to Croatia sometimes underestimate Zagreb before they actually get here. And even when they get here, they often decide to take a trip outside Zagreb. No wonder, since Zagreb is a great starting point for interesting day trips, including a visit to the incredible Plitvice Lakes.
But that often results with people leaving the city without even noticing the real Zagreb. It's incredible how such a small capital, with less than a million inhabitants, can remain so unexplored. Here are just some of the features worth exploring, parts of the city's soul that make Zagreb irresistible.
Street Art Paradise
Zagreb is a city with the largest number of museums per square meter, but you don't even have to enter one of them to get your dose of art. The streets of Zagreb serve as a true gallery. Even before the graffiti artists became popular and praised by the public, the city had always been known for incredible amount of sculptures.
You can find a lot of pieces of world-famous Croatian sculptor Ivan Mestrovic. Another interesting sculptor is Ivan Kozaric, creator of the Grounded Sun. The golden ball inspired another artist Davor Preis aka Daworp Earthman to build a fun art installation called Nine Views, also known as the Zagreb Solar System.
Zagreb is becoming the hotspot of marvellous street art. There are in fact several street art museums in different neighbourhoods. The most popular street art initiative around is definitely Pimp My Pump. Old water pumps can be found throughout the city, but they used to be invisible. However, they can't go unnoticed once they get their makeover done by the Pimp My Pump crew. More Pimp My Pump info and photos can be found here.
Zagreb's strangest jobs
If your dream job is to fire a cannon every day at noon? Then Zagreb it is… The only problem is, that job is already taken. And the person who does it seems to really enjoy it. There is a cannon explosion every day precisely at noon.
Firing a canon is very unique, but what about gas lanterns that must be lit by hand every single evening?
Another cool job, right? Don't miss the opportunity to walk through the historical part of Zagreb just before sunset, because that's when you get to see the live action, with each one being lit.
These fun facts are unique enough to be considered touristy. Surprisingly enough, they're not so touristy just yet.
On the other hand, it's so comforting to know that in Zagreb you find yourself in a city that cherishes such unnecessary traditions. Croatia has been through so many difficult periods and devastating wars, yet the idea of keeping these lovely memories of times long past alive has never been questioned, not even for a single moment.
People in Zagreb love their writers
This is probably not something that you notice at first glance, but when you find out that there are several statues dedicated to characters from local books, it suddenly hits you. Not only is Zagreb a creative city, but we also tend to honour that fact.
Unfortunately, you can't really find a lot of translated works of Croatian writers so you will just have to trust us: they're amazing and we adore them. We even use nicknames for some of the writers, like Fritz for famous Miroslav Krleza or Gustl for poet Antun Gustav Matos.
There are memorial museums dedicated to some of the writers, bars that have kept memories of the other ones, and statues of authors and their fictional characters all over the city. Hey, there's even a football team that we call Pjesnici – The Poets. Zagrebians just love their authors.
Movies
When I say movies, I'm not speaking about that occasion when Jackie Chan destroyed the entire Dolac market in his famous Armour of God car chase scene. I'm not even speaking of all those awarded movies that have been filmed in Zagreb, including Sophie's Choice, Fiddler on the Roof and Orson Welles's The Trial.
I'm actually suggesting you should just go to the movies when in Zagreb. Allow yourself a little break during your travels, and visit an old-school cinema, like Europa or Tuskanac, because they don't make them like this anymore. These cinemas often screen festival programmes, and there are indeed a lot of film festivals here in Zagreb.
If you're really lucky, there'll be a film screening in the summer cinema Tuskanac during your stay in Zagreb. That is a real unique experience, a cinema well hidden in the very city center. And best of all, in Croatia we still use subtitles, no dubbing.
Open air markets
Now that we've had enough of culture, you're probably in the mood for some shopping. One of the city's top attractions is the open air market Dolac. It's actually the biggest, most popular and most convenient fresh food market. Still, it's hard to believe this city has more than 20 similar markets.
If you like the laid-back approach of shopping in the open air markets, I'm sure you're going to love the vintage atmosphere surrounding the antique fair on the British Square.
But if you really want to get a sense of true Zagreb, you should definitely visit Hrelic, the flea market. Wednesdays and Sundays people of different background come over to Hrelic and try to sell anything they don't need anymore. Or to find something they can't find anywhere else.
Active life and nature
If you you like hiking Zagreb is perfect. Zagreb was built on the slope of a mountain, so you can start hiking straight from the city. Swimming? There are  two lakes. Skiing? Water or alpine? Zagreb has it all. If you're an outdoor-activities type, you've come to the right place. Parks, lakes, forests and even a mountain, they're all just around the corner.

Mystical Zagreb
You can't really visit the old tunnels below the city, but I'm sure that one day they'll be unlocked. Yes, there are secretive tunnels. A tunnel called Gric runs below the historical area of the city and it's not open to the public. No wonder people are getting imaginative with their guesses of what's inside. Everything from dragons and snake queens to military secrets comes to mind.
That brings us to another pretty mystical subject: infinite legends and incredible history of Zagreb. While you're walking the streets of this modern capital, every now and then you will suddenly find yourself immersed in history.
Zagreb guards a lot of amazing stories and so many sites worth exploring. That's what makes it a perfect destination for a curious urban traveller, but it also makes Zagreb a perfect home.
Have you been to Zagreb and experienced  any of these?
This post was written by Iva, who is a Zagreb local and the host of Secret Zagreb Walks. By far the best storytelling walking tours in Zagreb, which are inspired by the mysterious side of Zagreb.
Find out more about her tours: Website | Blog | Twitter |Facebook | Instagram | YouTube | Google+